I'm always on the lookout for unique and creative gifts so I was delighted to come across a new company called
AwesomeBox
. First, let's talk about the name. I just love it. Who wouldn't want to receive an awesome box created just for them?
The premise is simple, AwesomeBox lets you easily collect photos and special messages from loved ones and prints them out on 5.25″ x 5.25″ cards, packaged in a keepsake "Awesome Box."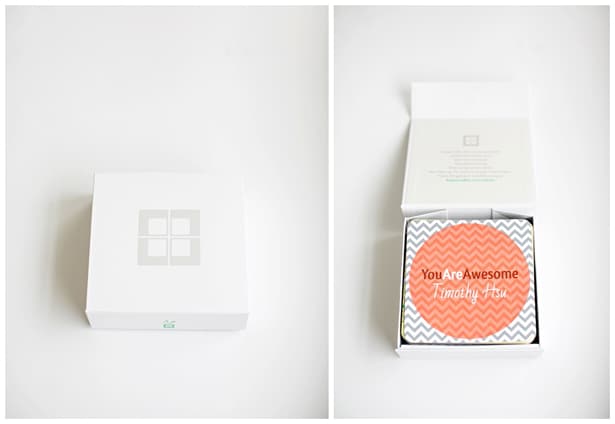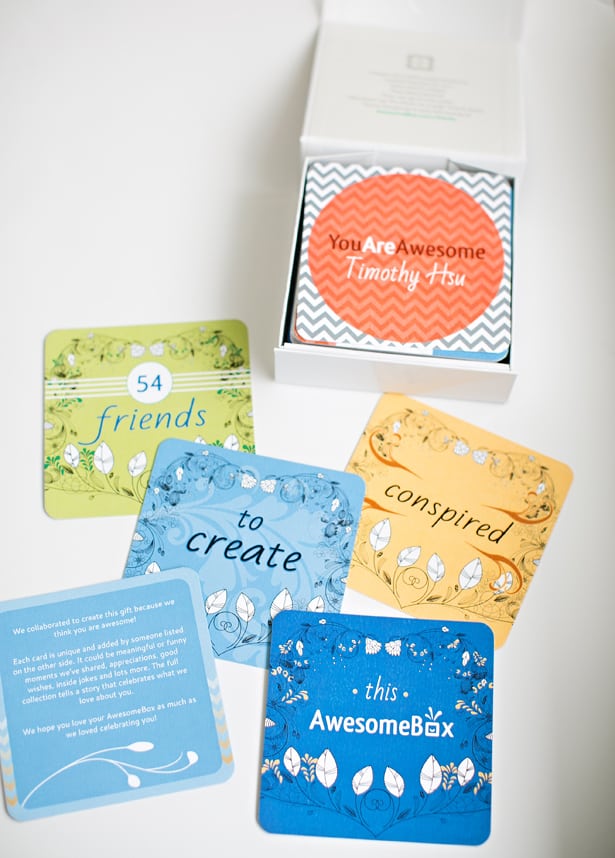 Here's one I created for my husband recently (pictured above and below). AwesomeBox lets you collaborate with friends and families to include a photo on one side and special note on the other to make custom prints for your gift recipient.
For now, AwesomeBox integrates with Facebook to make the process seamless. You must have a Facebook account to start an AwesomeBox and you can easily choose friends from your list to add to the box once you're in. The chosen friends get a Facebook message and you can check in anytime to see when they've uploaded photos and messages.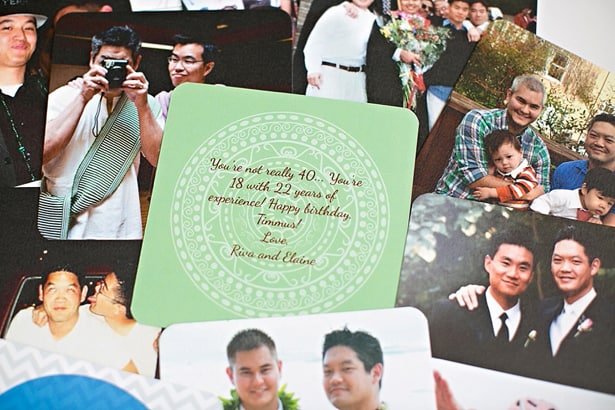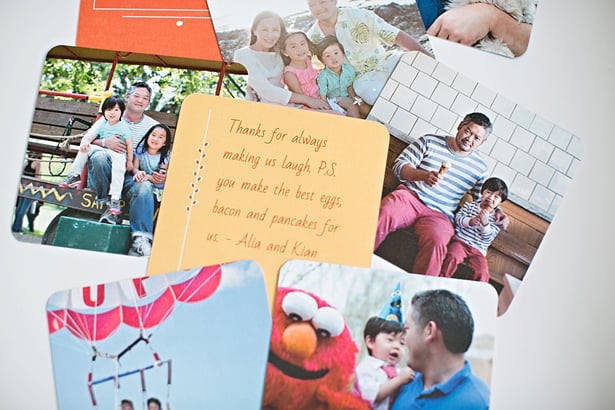 AwesomeBox gives friends you've selected about a week to fill out cards online and then the box gets processed and ships using FedEx 2-day shipping. The whole process takes about 2 weeks from starting to receiving your box, but you have the option to adjust the deadline.
I know not everyone is on Facebook, and that was my big question. AwesomeBox addresses these questions and more on their FAQ section. I was able to work around it by emailing people I know my husband would want to hear from (who are not active on Facebook).
Of course that included his parents and sibling who emailed me some special vintage photos of when he was a child. Any photo can be uploaded (just note that they'll be resized to a square 5.25″ x 5.25″ format when printed.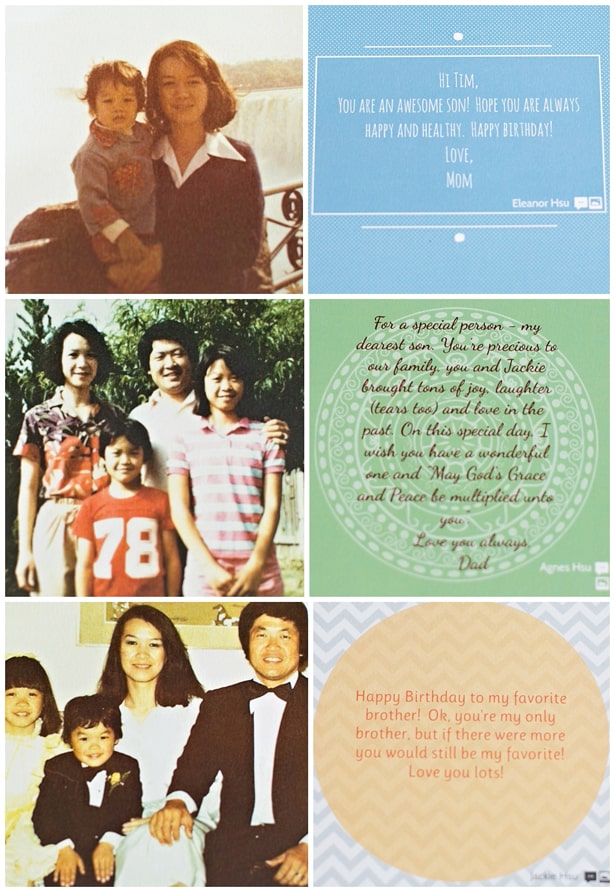 And of course my children aren't on Facebook, so I asked them what special messages they wanted to give Dad and uploaded photos of them along with their notes.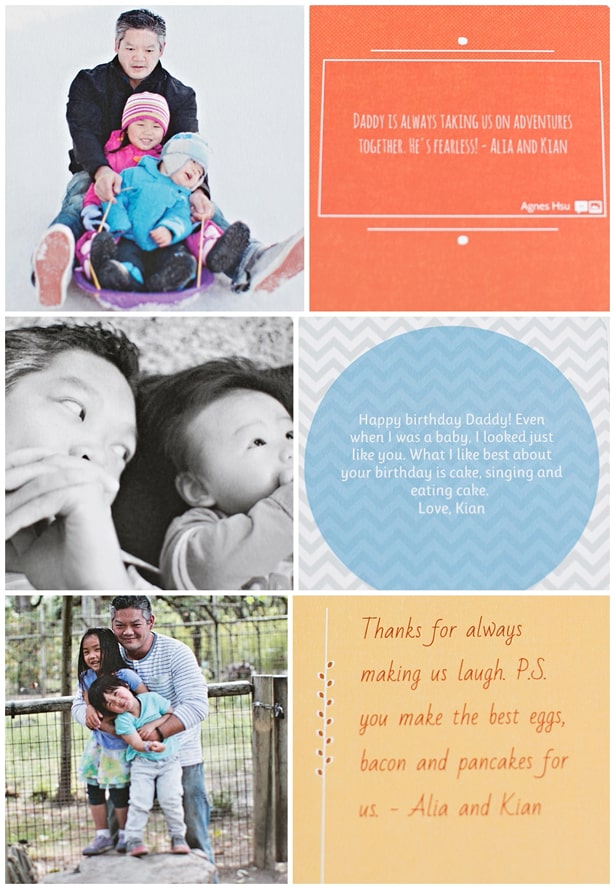 What I love are the colors and designs in the AwesomeBox – they're bright, fun, cheerful and appeal to a wide range of occasions. I would love if you could customize your own fonts and colors, which I'm sure will be the case as the company grows and gets more feedback from people using the service.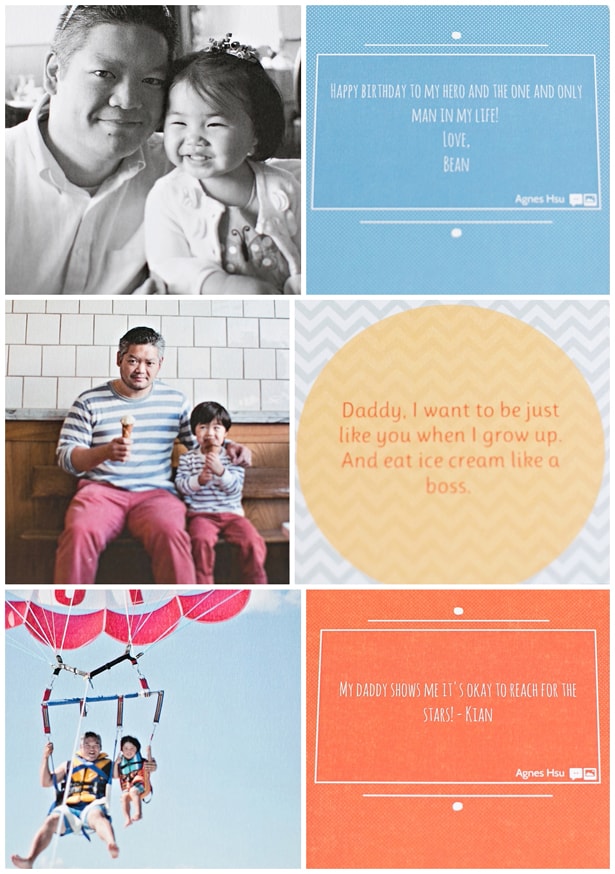 My husband was beyond touched to receive such a special box dedicated just for him. Overall, 54 friends were able to contribute to his box. We ended up with a great collection of photos and cards that ranged from funny, touching, and silly – from his family, co-workers, and oldest college buddies.
The printed cards are well-designed and print quality is exceptional, especially for the price.The box is sturdy and I love how everything is packaged neatly inside so you can go back and look through your cards anytime.
Although birthdays are the occasions that come to mind when putting together something like this, I can imagine using AwesomeBox for many kid and family friendly events – like teacher's gifts from the class, or placing your child's art work on cards.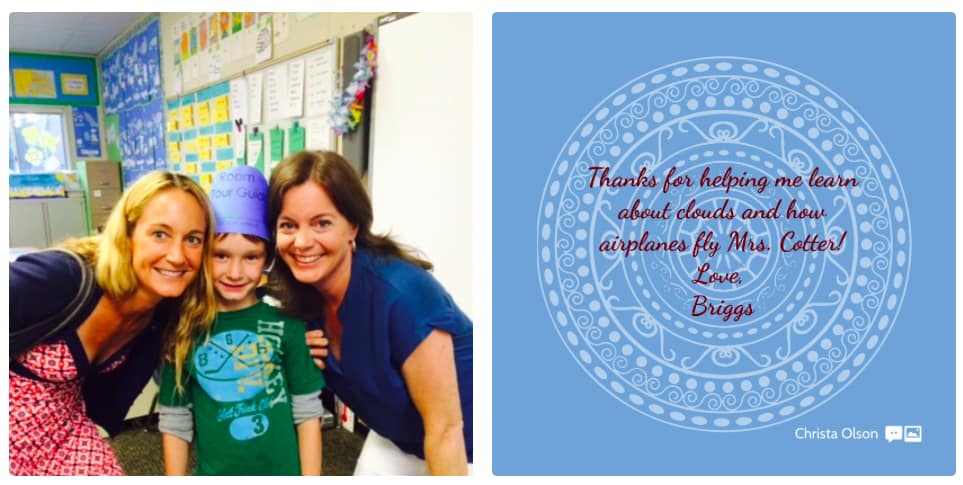 (photo credit: Awesome Box)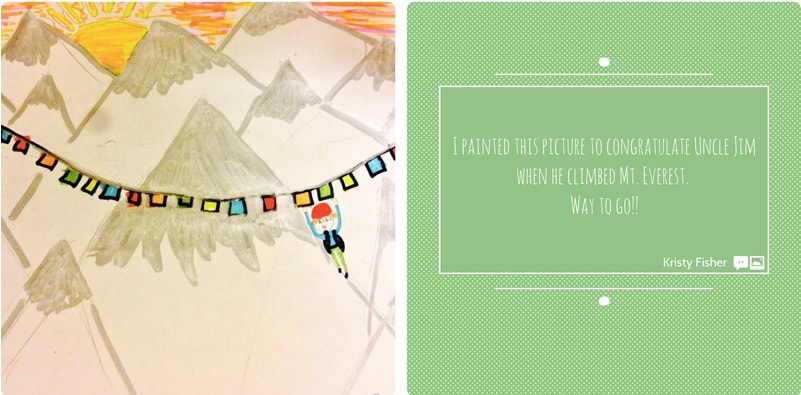 (photo credit: Awesome Box)
AwesomeBox offers 3 box options at this time: 25 cards ($39), 50 cards ($49) and 100 cards ($79). The good news is that they're offering hello, Wonderful readers a unique discount of 30% off your total. Use code WONDERFUL through March 1, 2015.
Note, there's still time to get in a box before Christmas, use the code by tomorrow (12/17/14) to gift someone a special holiday gift.
(This post is not sponsored. I truly love the idea of AwesomeBox and after creating one, reached out to them and they were kind enough to provide a discount to our readers. Happy gifting everyone!)