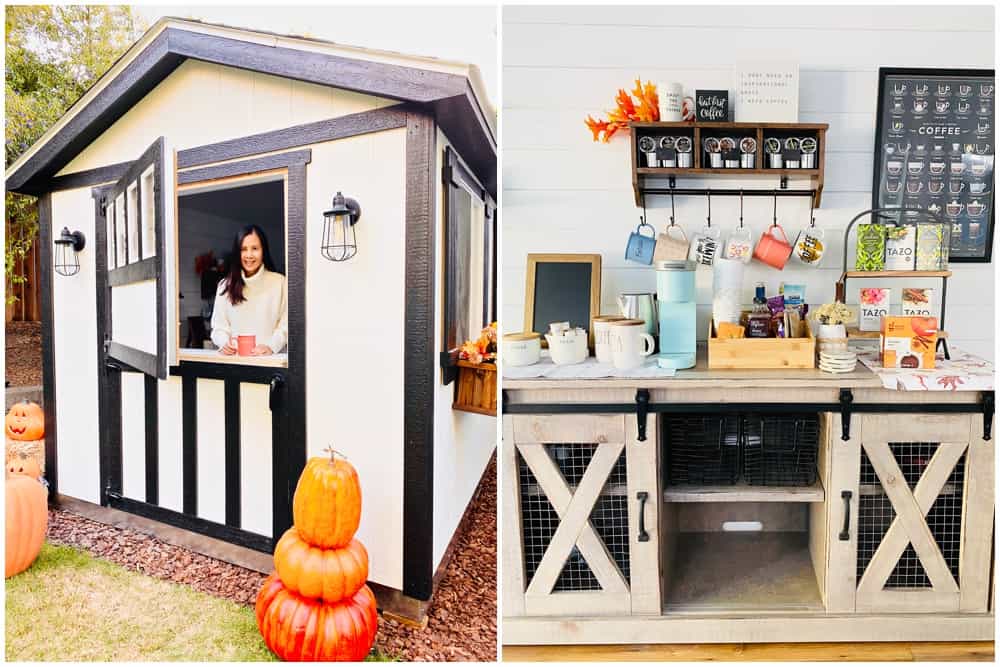 Follow us on Instagram for more fun ideas for kids!
Watch the video in this post to see the this amazing coffee bar "she shed" upclose and time lapse of how it was built!
Get all the details on how I built my modern farmhouse dream coffee bar "she shed" in one week! Perfect cozy shed to relax with a nice cup of coffee.
I shared my modern farmhouse coffee bar "she shed" on Instagram and Facebook and never realized the incredible response it would get! Thank you for all the lovely and kind comments on it. I also received many many questions regarding the build and items I purchased for it. So here is a post detailing everything you need to know about my coffee shed. I want to inspire everyone who is thinking of having one to go for it!!
With most of us staying home and indoors, I have been thinking of ways to keep our family entertained at home. The thought of building a coffee bar "she shed" didn't come right away. I was originally looking to build an outdoor playhouse for my kids. However, with two of my kids entering their tween years (age 9, 11) it didn't make sense. I do have an almost 3 year old, but I'm all about practicality when it comes to investing in what makes sense in the near future. It didn't make sense to build something just for one child to enjoy.
I remember reading about an amazing dad who built a coffee bar in his backyard and thought it was brilliant! A coffee bar would be a perfect "she shed" for myself. Anyone who knows me knows I live for coffee. I don't know many moms who don't run on it!
So the concept was set, I'll build myself a coffee bar she shed – forget about the kids 😂 But of course I couldn't do that to them. Once the idea was in motion I rationalized how I'd make it worth it for our family. The shed will primarily be a coffee bar – a fun place to get away, drink a cup of coffee, or read a book, but it will also be fun for the kids.
Watch the video in this post to see the this amazing coffee bar "she shed" upclose and time lapse of how it was built!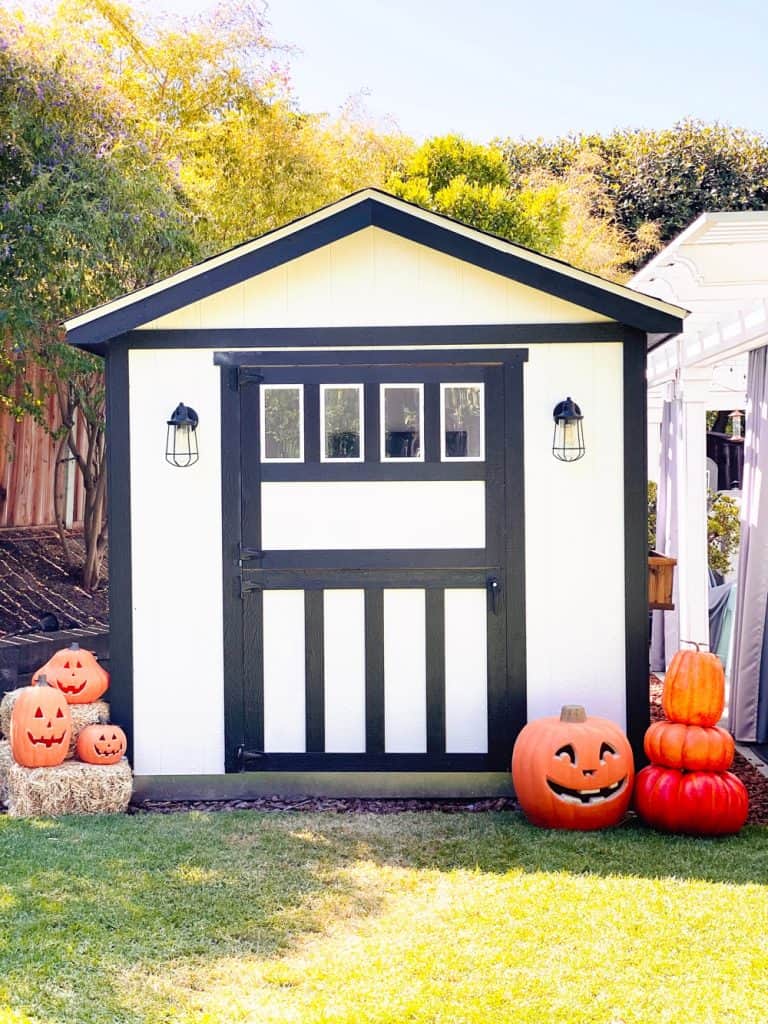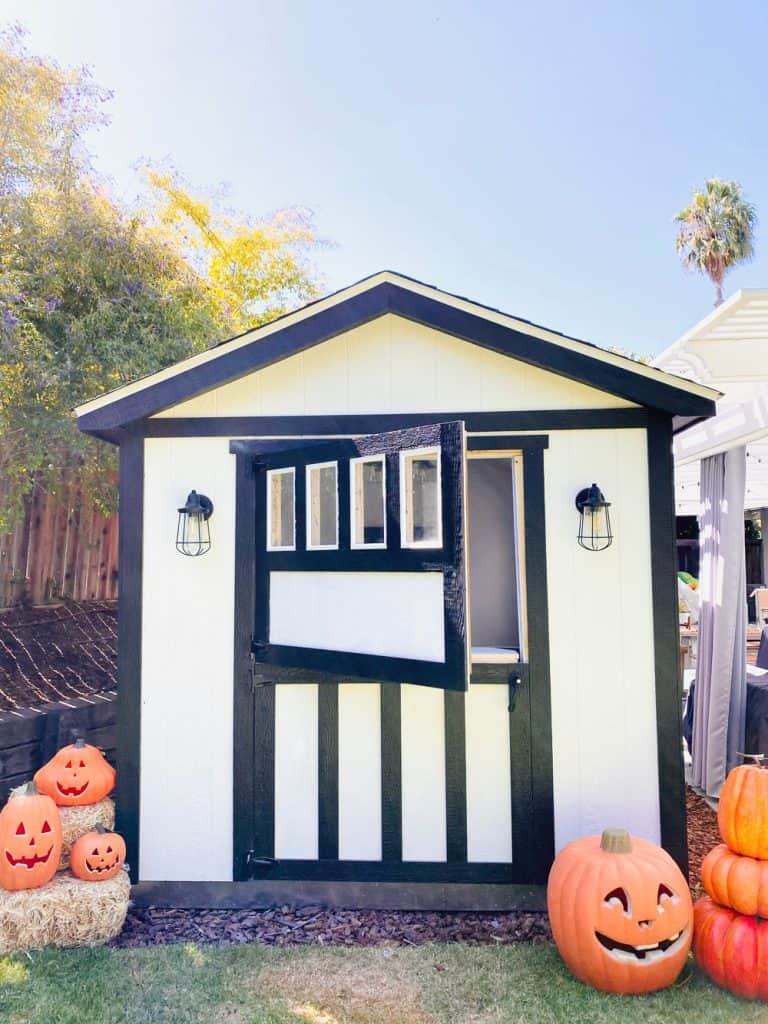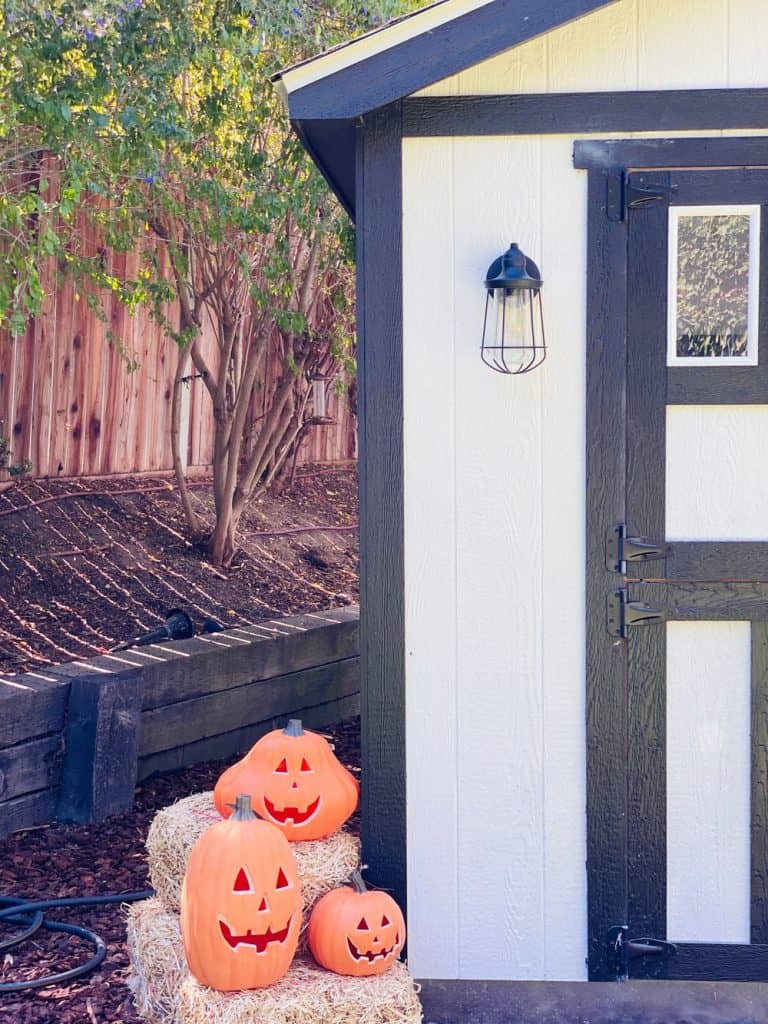 How will the shed be fun for kids?
Each season or holiday I will turn the shed into a fun themed house. E.g. Haunted House for Halloween, Gingerbread House for Christmas. I'll get the kids involved in making seasonal crafts and decor.
As the kids get older, the shed will become their fun clubhouse, their getaway from home but still "at home." I know teenagers and how they want their own space, but I still want to keep my kids close. I want this place to be a fun place for them and their friends ongoing. Not just mine.
From a practical standpoint, creating this shed is a great value to add to your home. We added a sleeper sofa couch, so it instantly becomes a spare bedroom for guests. By adding almost 100 square foot, we've added value to our home. If we should sell, we can market it as an additional den or office.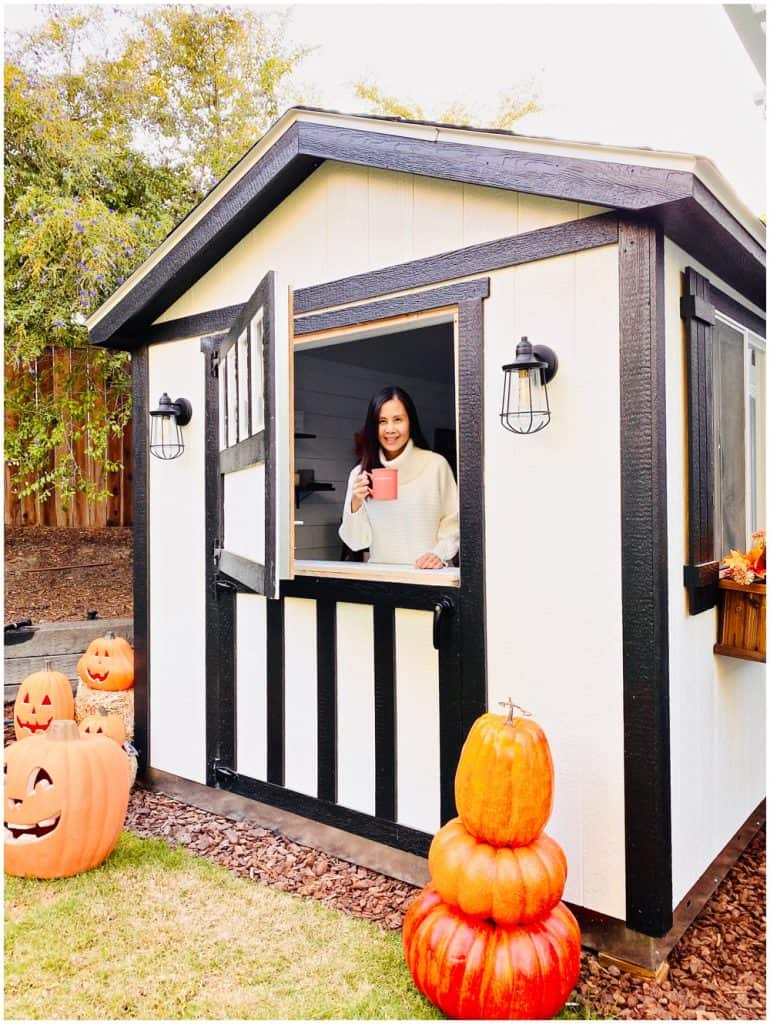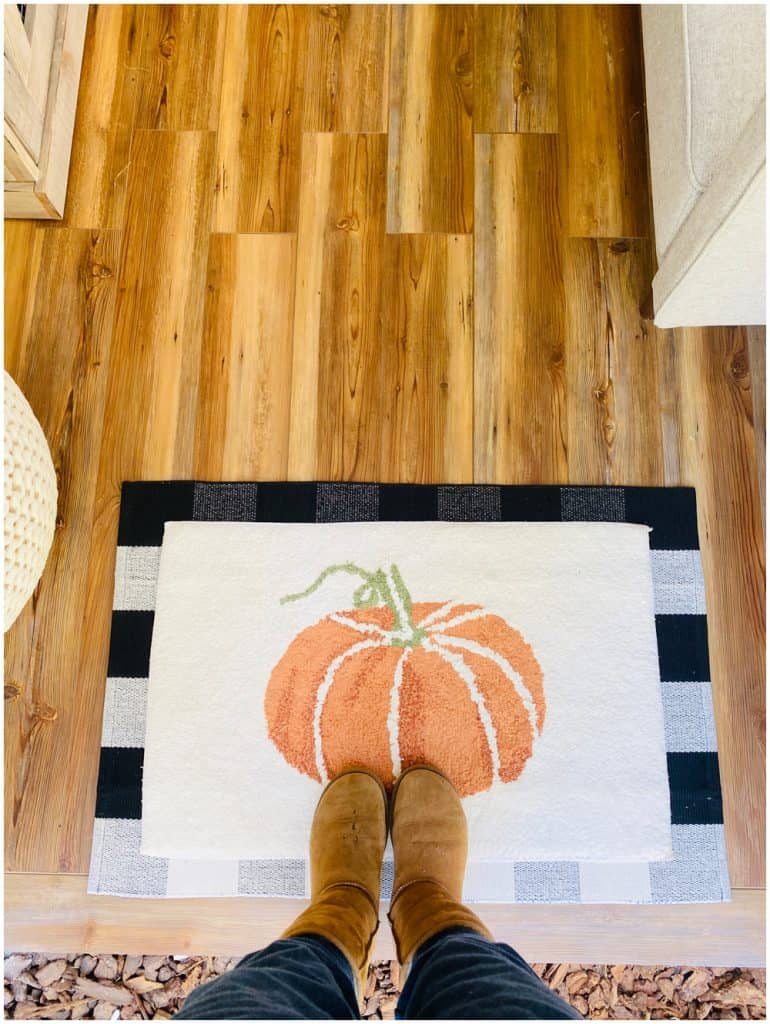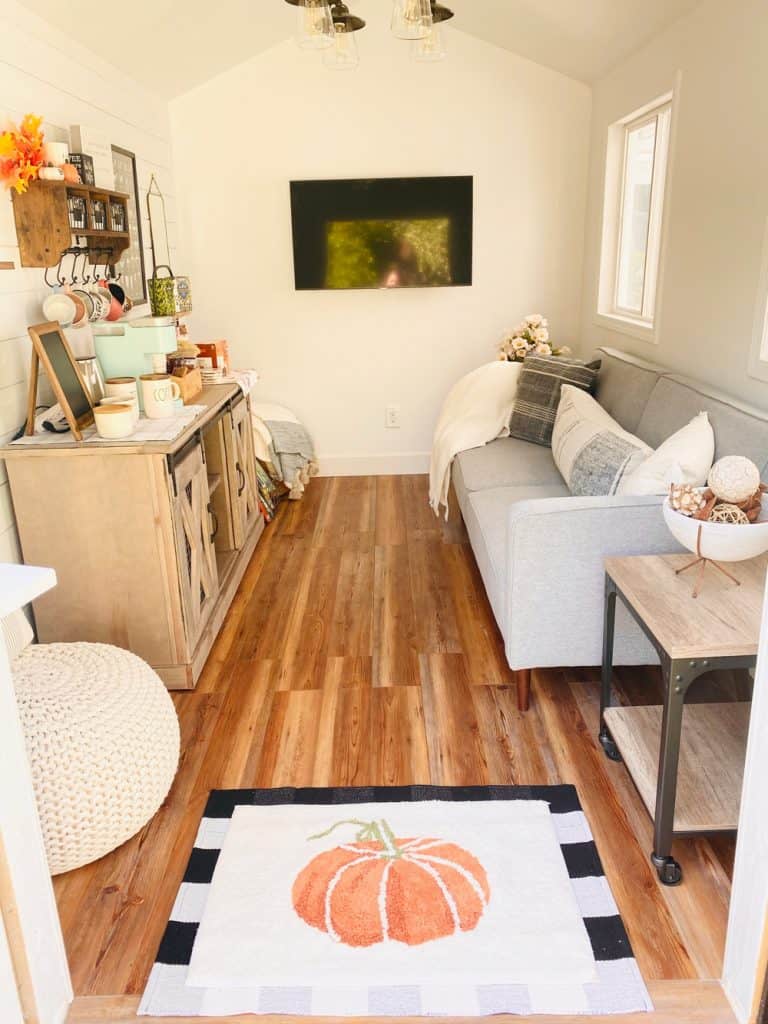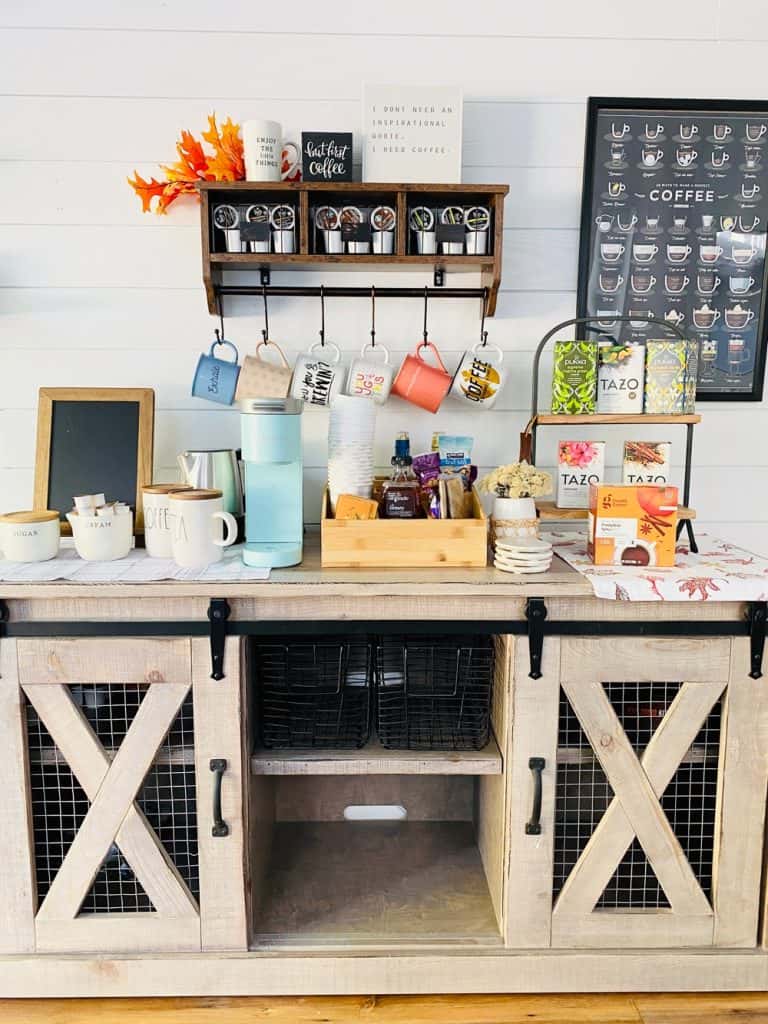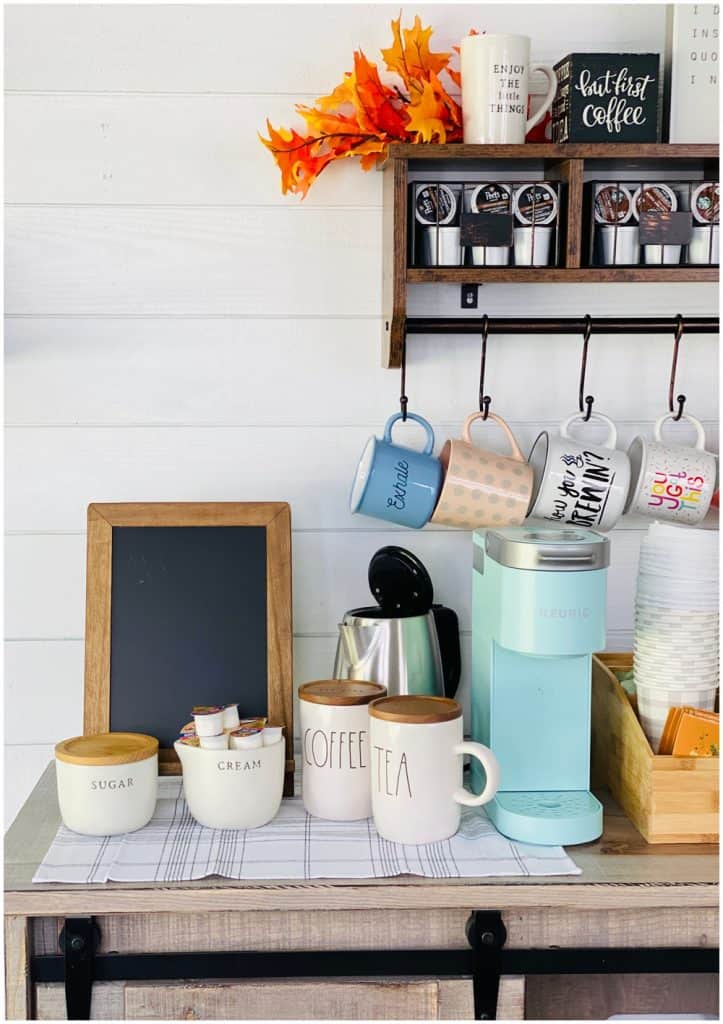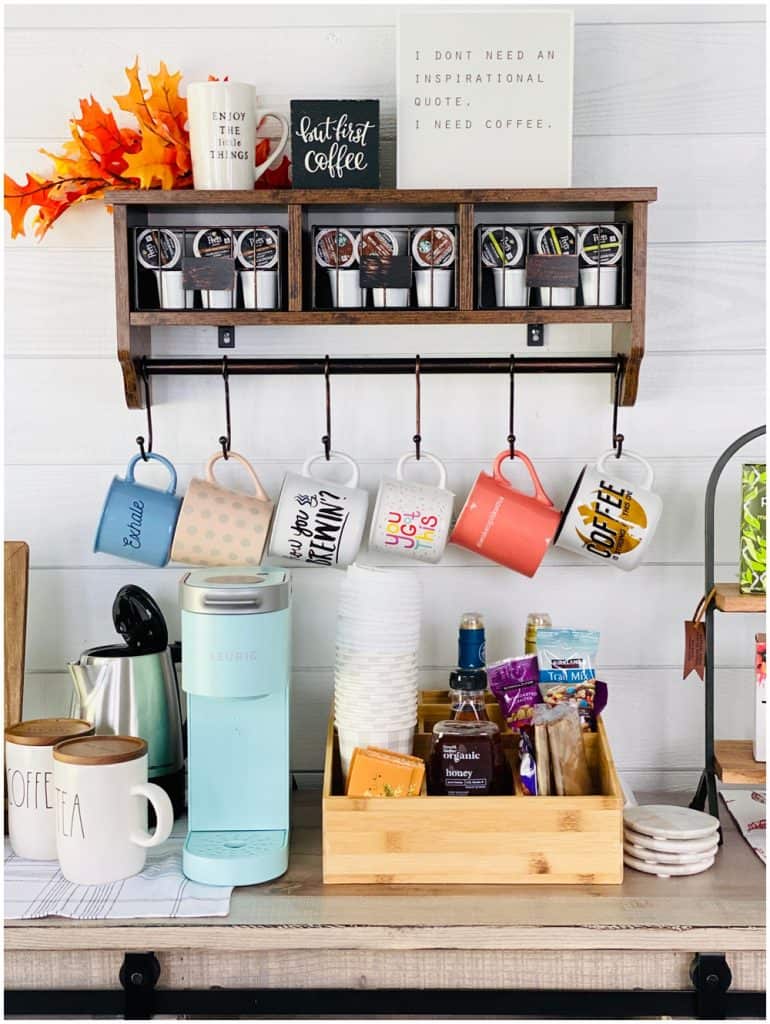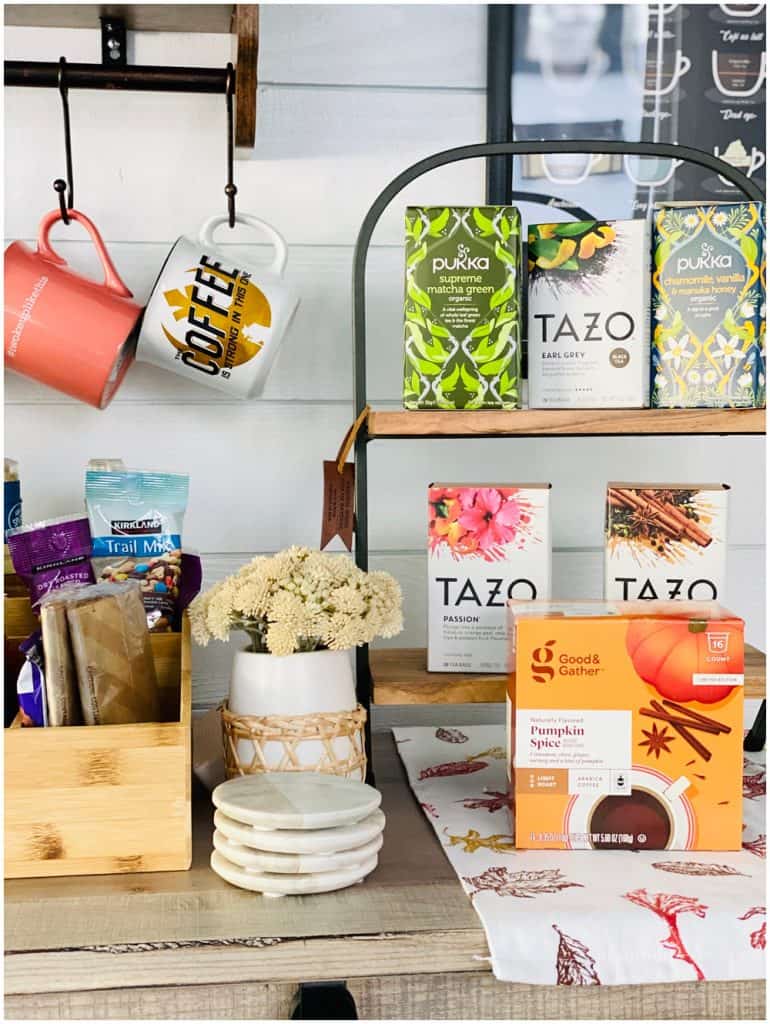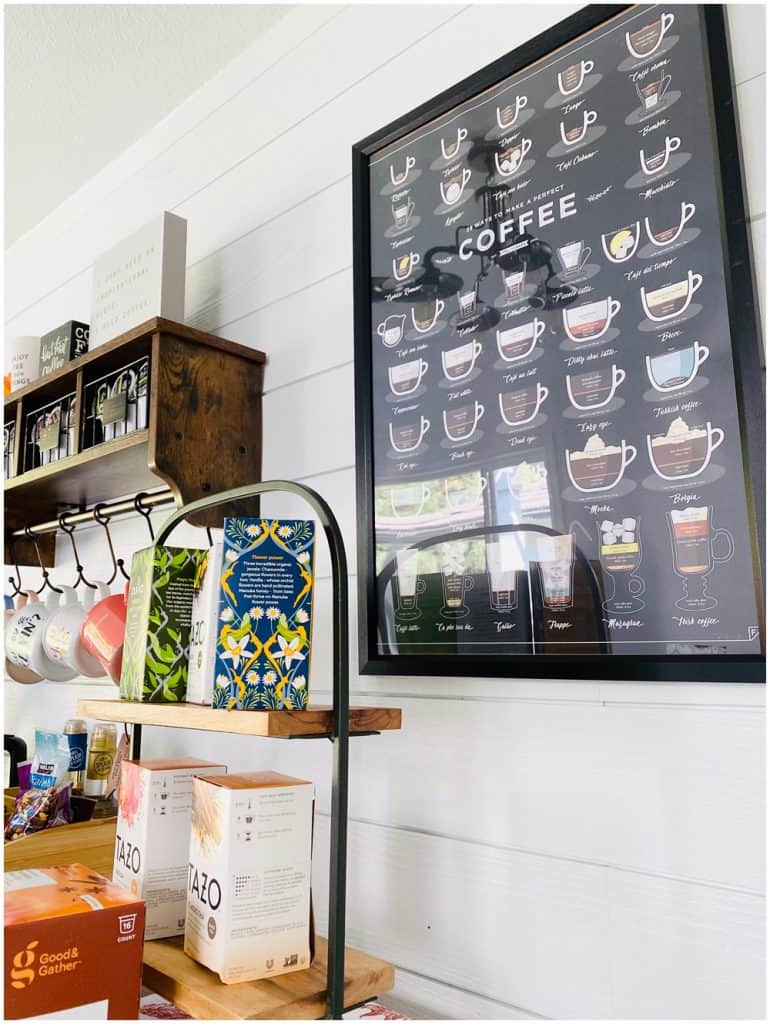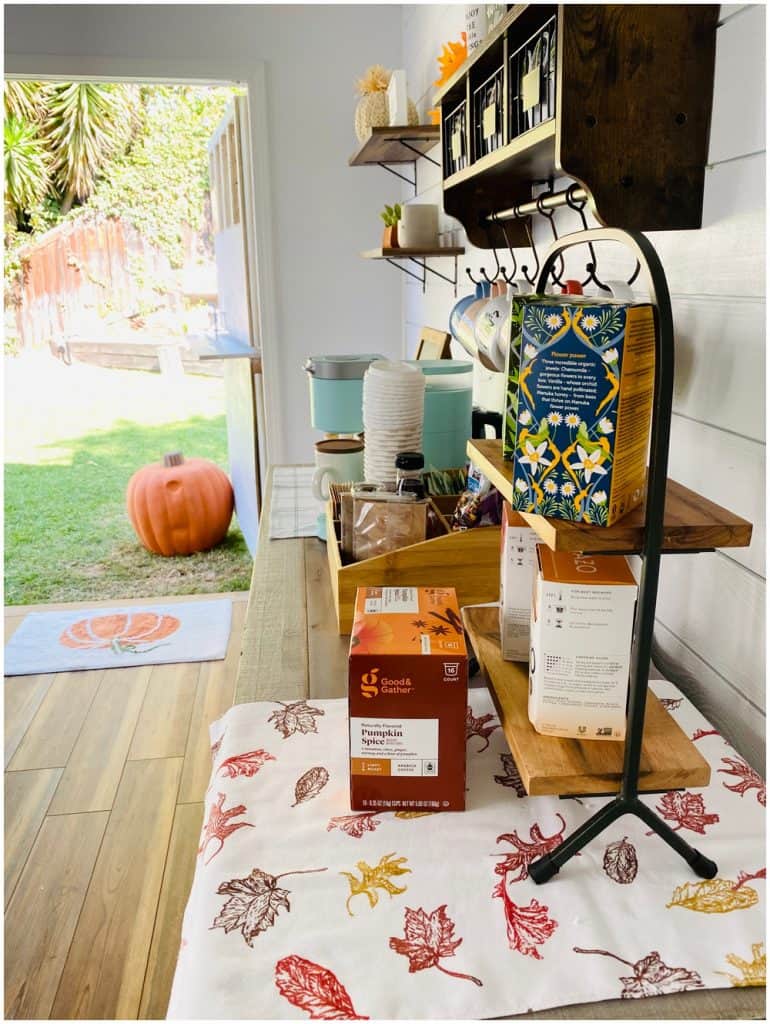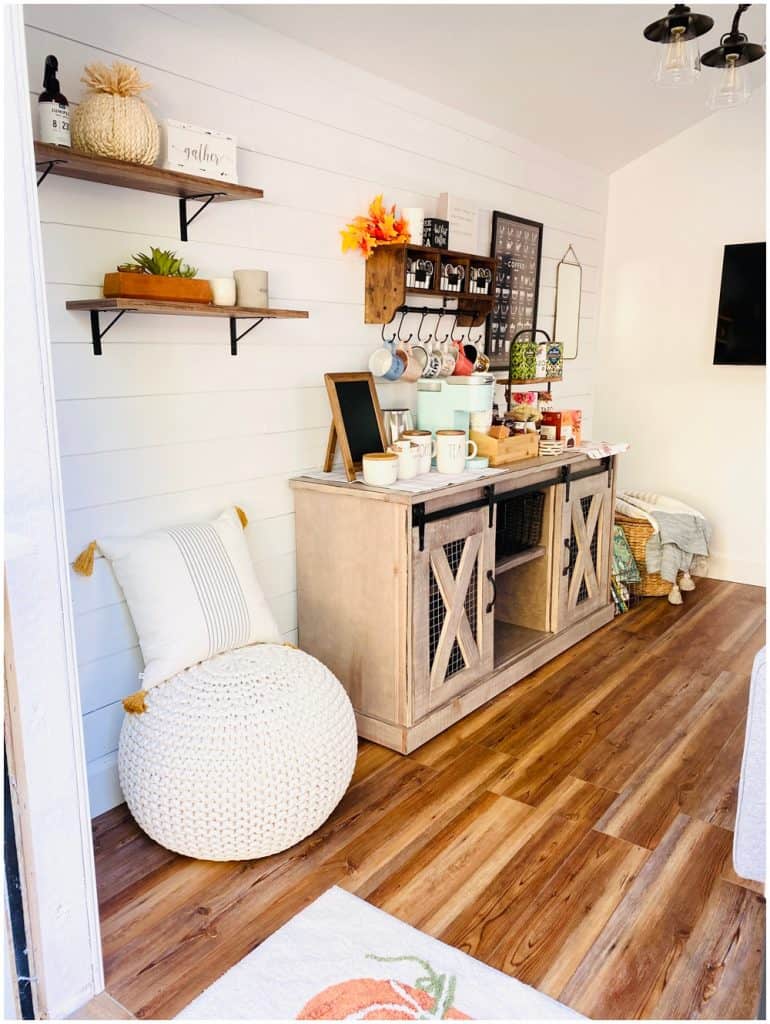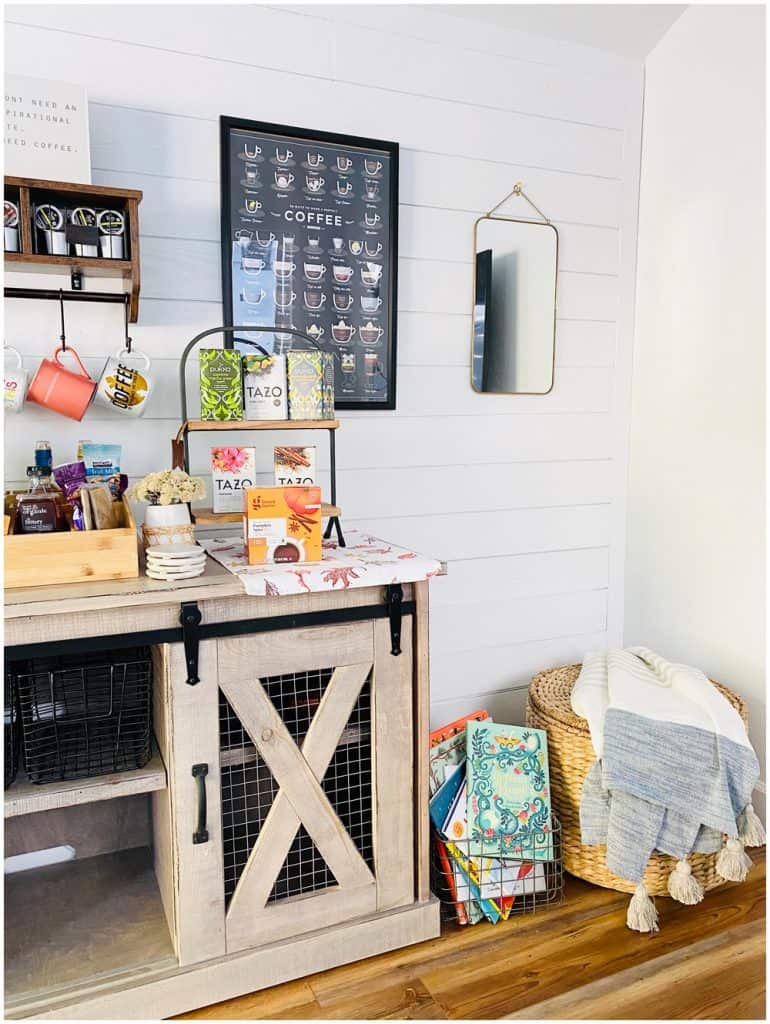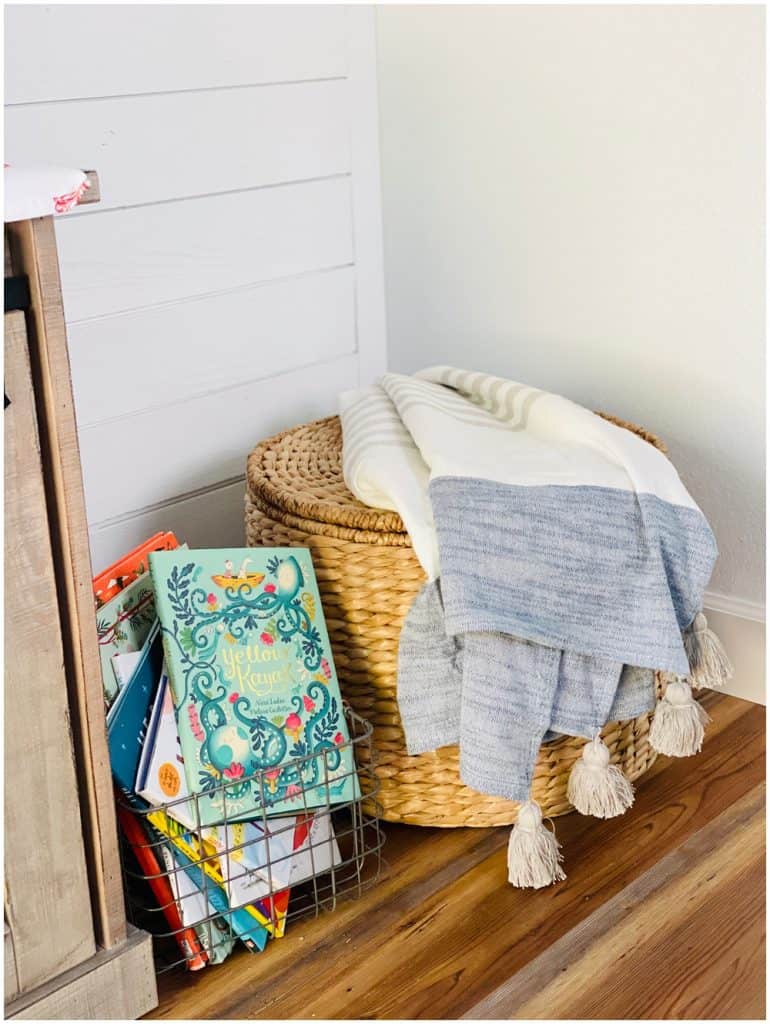 Watch the video in this post to see the this amazing coffee bar "she shed" upclose and time lapse of how it was built!
Here are the considerations I thought off when creating this coffee bar "she shed" to keep costs down.
I didn't want to spend a ton of money so searched for a pre-fabricated company. Details below on who we ended up choosing. By using a pre-fabricated company you are getting the Ikea of sheds. The parts are pre-cut and can be built on site quickly. You don't need a contractor which is more costly and takes more time.
To keep costs down, I kept the size reasonable. Our shed is 8'x12′ so 96 sq feet. When you add drywall and paint it measures actually 7×11 so it's tiny at 77 sq ft but that also means you don't need a humongous yard and the decor and interior work is affordable and manageable.
I scoured discount home stores like Home Goods and affordable places like Target, Walmart and Amazon to keep decor down.
I kept the floors laminate but added a high end touch like shiplap planks and wooden planter boxes to "feel" premium. I got these and the interior and exterior lights at a big box home improvement store to also keep costs low.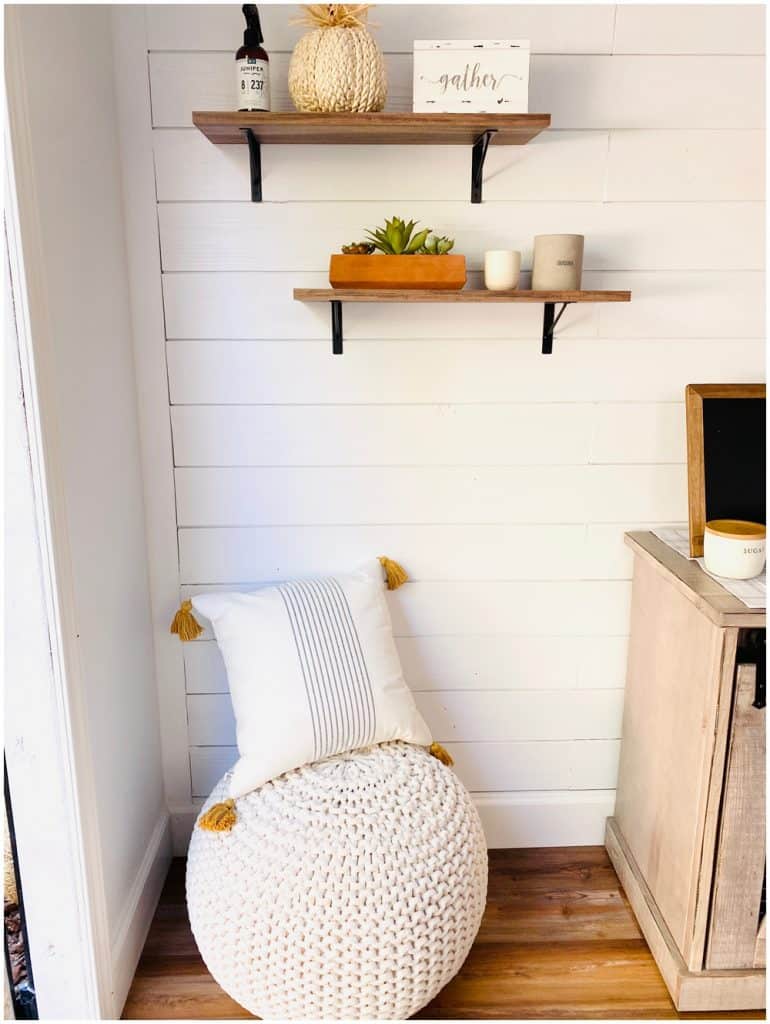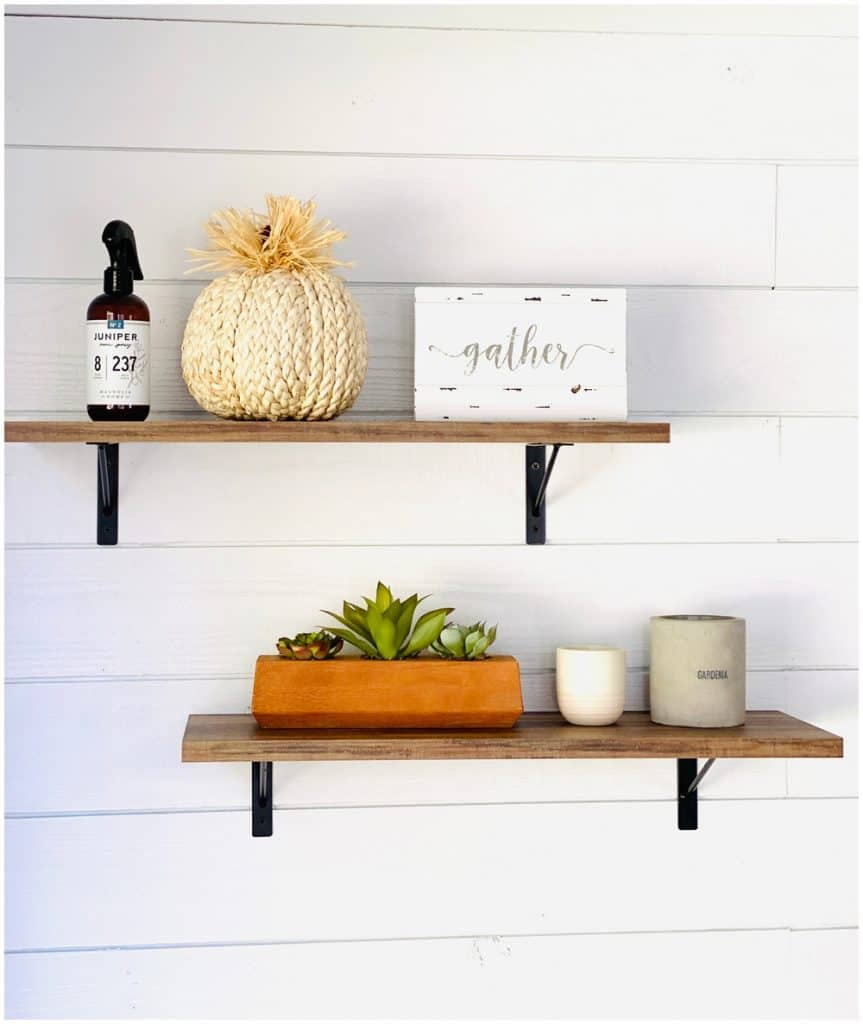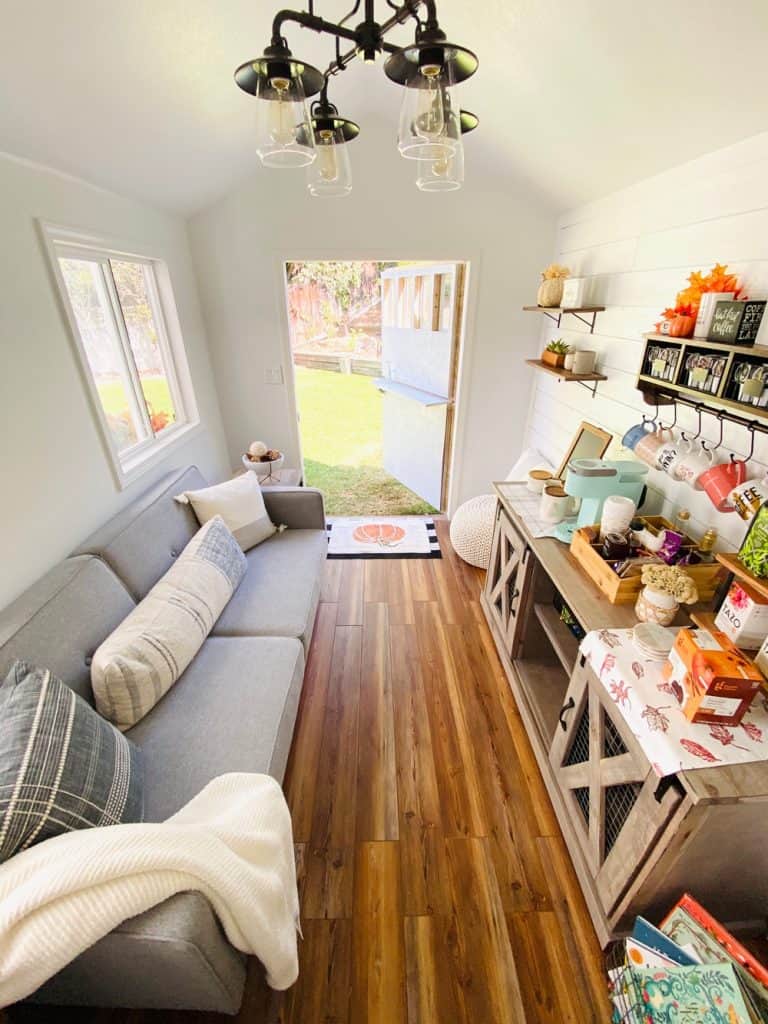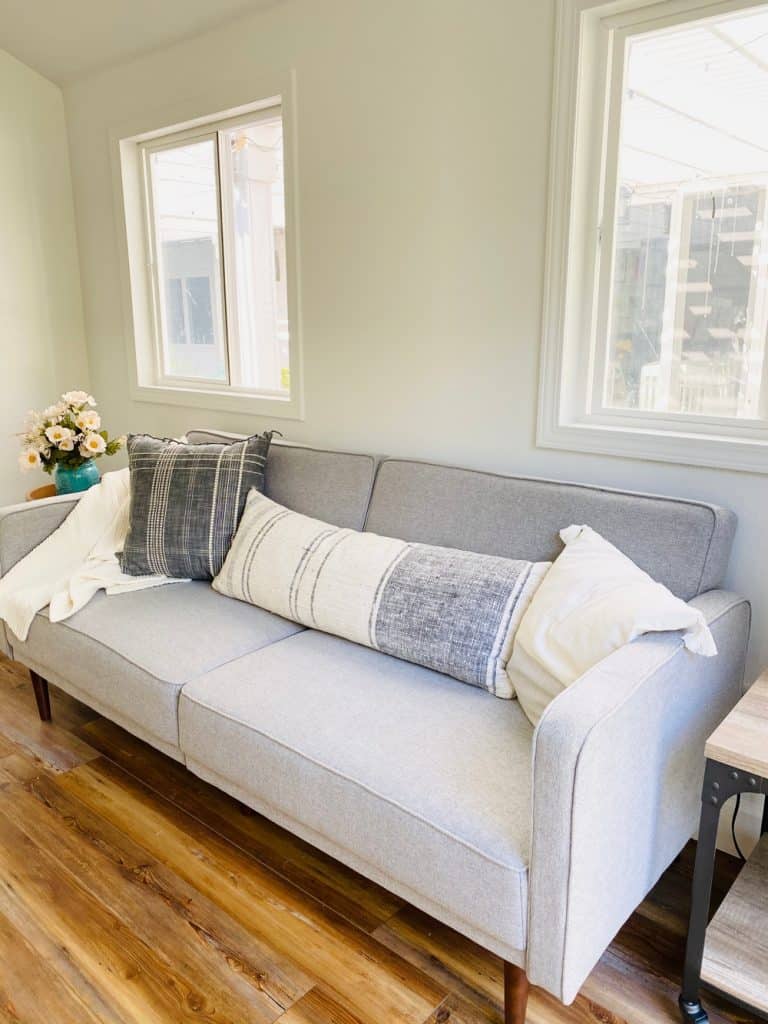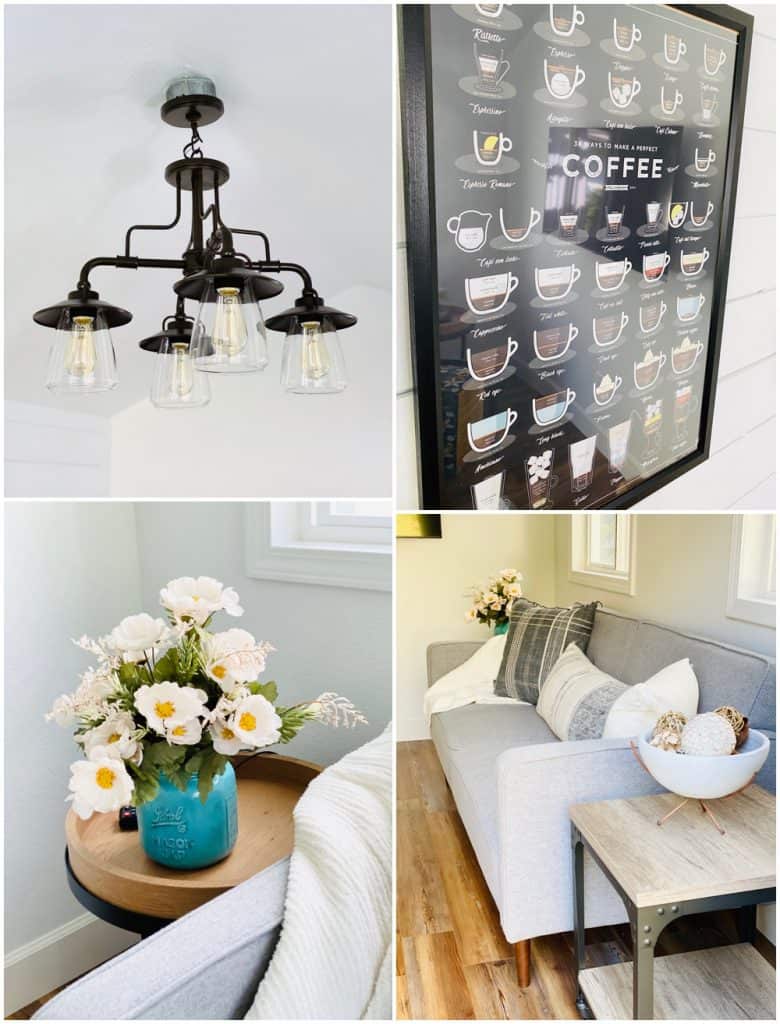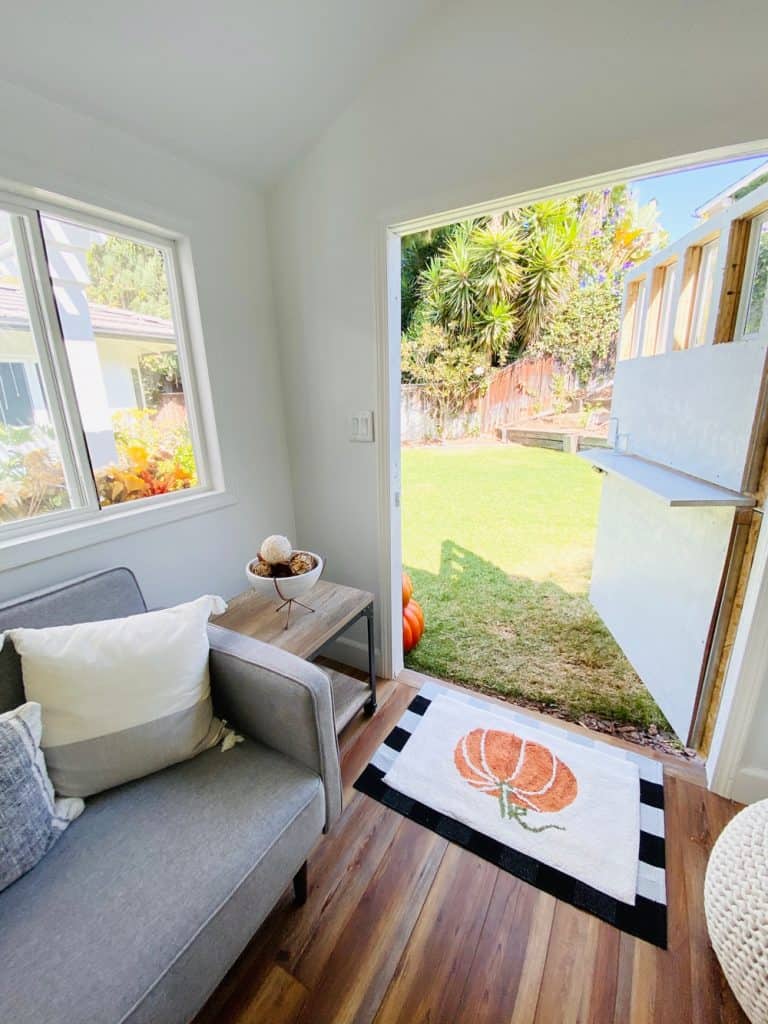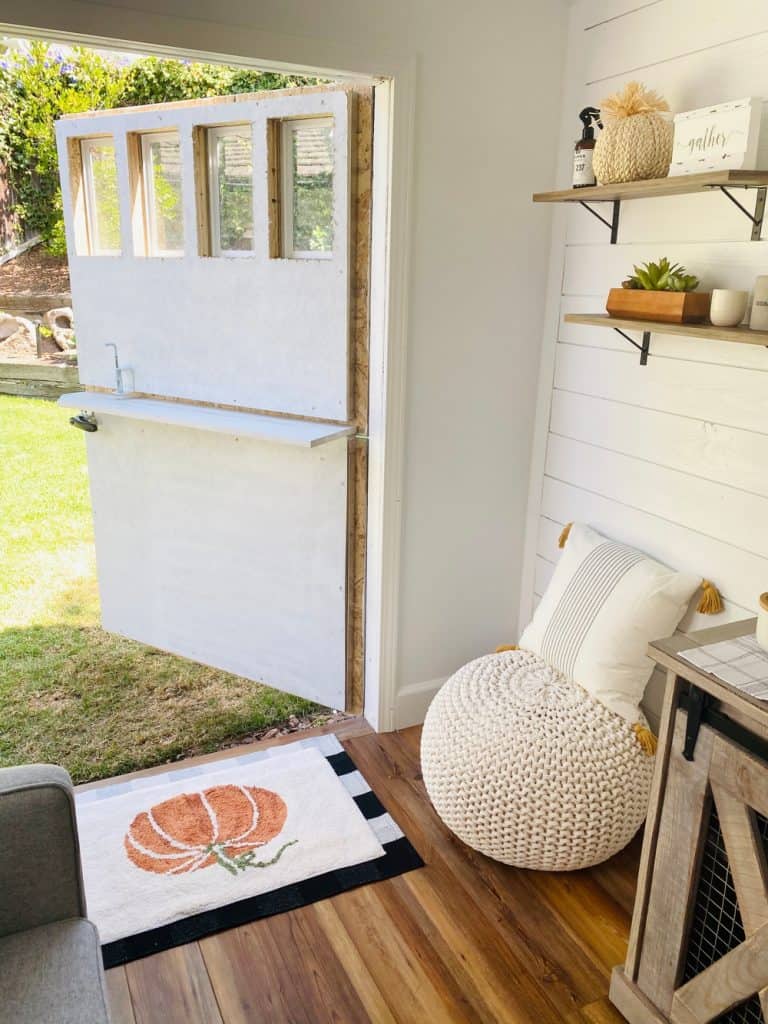 Other considerations when building a shed – a level floor and permitting:
You will need a relatively level floor – most shed companies won't level your ground. Hire a landscaper or someone to do that beforehand. I happen to have pretty flat grassy area so hired someone to take out the grass and add wood chips that was the cheapest option vs a wooden deck or pavers. How is the shed leveled on wood chips? The shed I got is pre-fabricated remember? So it already comes with a flat base and when they come install it, further leveling is done by adding wood shims (shed companies usually do this at no extra costs)
Permitting – you will need to check your city or county but most areas allow small sheds under 120 sq feet to be built without a permit. Another reason we went with a 100 sq ft shed. No need for building permits equals a faster turnaround and lower costs.
How to build a shed in a week?
Yes it's true this coffee shed was built in 7 days! By using a pre-fabricated shed company, it took 2 guys and 5 hours to build the shed on site.
The handyman we hired then took 6 days to finish the interior. That included: insulation, drywall, paint, adding floors, electrical, lighting.
The rest is just the finishing touch like adding cozy decor. That's super easy, I suggest scouring your home discount stores or online for seasonal finds and deals.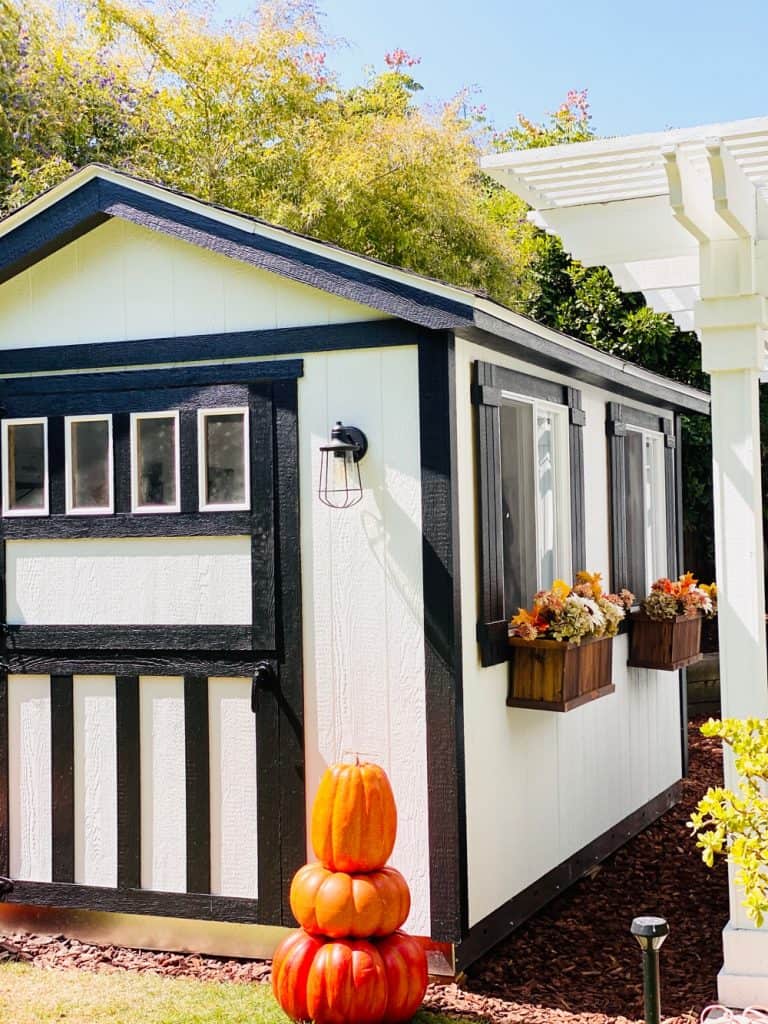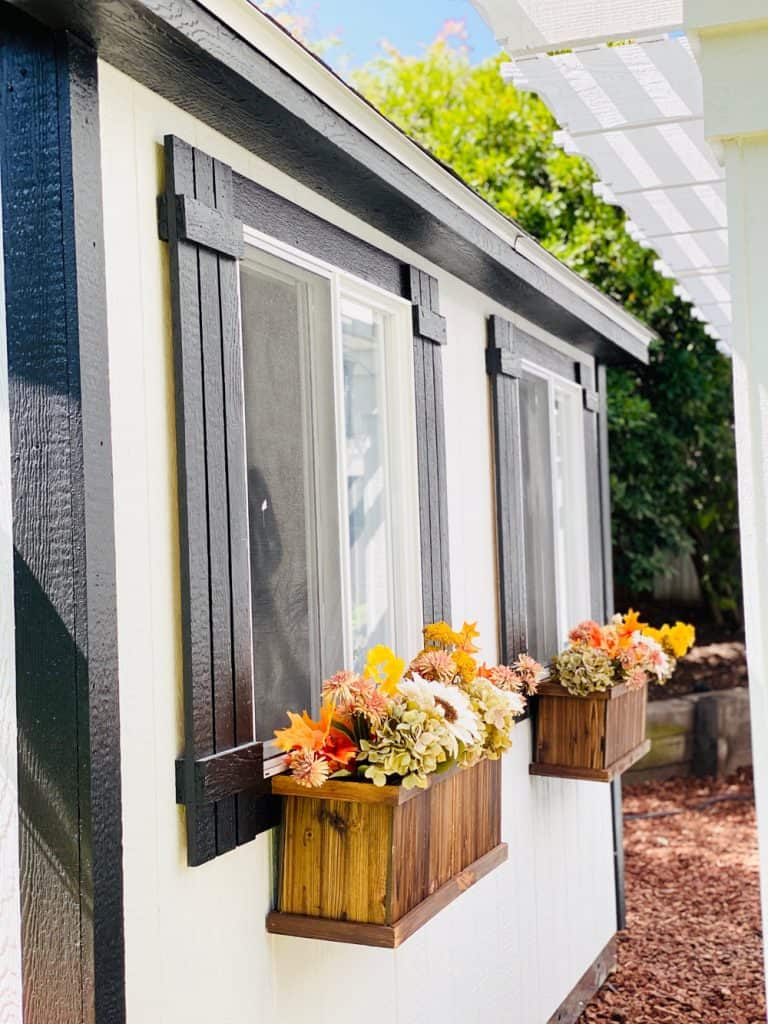 Since I've gotten so many inquiries, below are all the links to the shed company, Tuff Shed, and decor item I used in my shed. I love Home Goods and Target's Magnolia Hearth and Hand collection for that modern farmhouse feel!
*Home Goods does not have an online store so you'll have to just go visit one.
Watch the video in this post to see the this amazing coffee bar "she shed" upclose and time lapse of how it was built!
Coffee Bar Barn Door Buffet (our is actually a TV stand): Home Goods (see similar on Wayfair)
Two wooden Shelves: Amazon
Coat rack coffee shelf: Amazon
Coffee Bar Print: Amazon
Coffee Bar Frame: Amazon
Coffee Bar Condiments Organizer: Amazon
Chalkboard Table Easel: Amazon
Coffee Bar Sign: Amazon
Couch (converts into a twin bed): Walmart
Round Coffee Table: Target
Square Coffee Table: Target
White Pouf: Target
Wire storage baskets: Target
Striped Tassel Pillow: Target
Color Block Tassel Pillow: Target
White/Blue Throw: Target
Long Blue/White Couch Pillow: Anthropologie
3 Tier Wooden Display: Home Goods
Buffalo Checkered Mat: Amazon
Pumpkin Mat: Target
Coffee Machine: Target
Assorted mugs: Home Goods
Fall flower for planters: Target
Decorative items (candles, room spray, fall bowl decorations, etc): Target
Exterior Lights: Lowes (ones I found not in stock so these are not exactly same but similar)
Interior Pendant: Lowes
Wooden Planters: Lowes