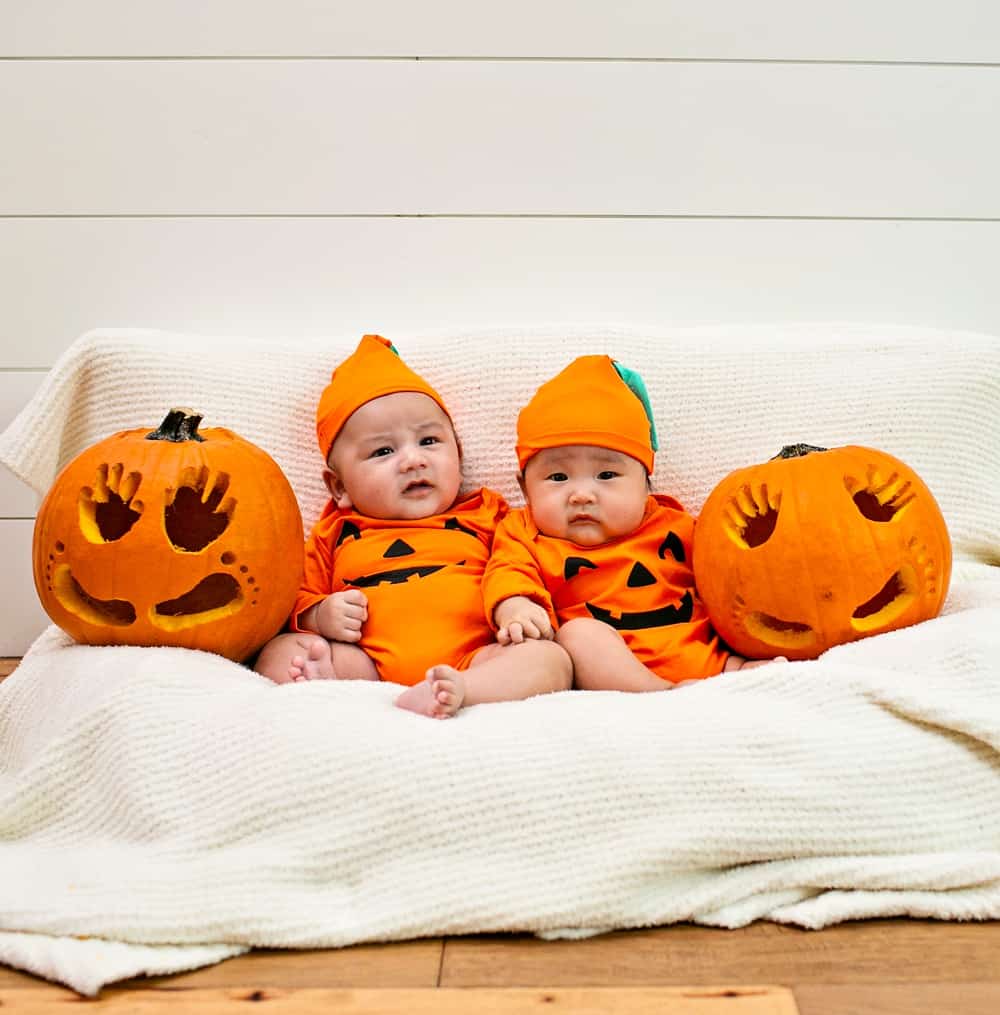 By using this site, you agree to our Terms of Use. This post may contain affiliate links. Read our disclosure policy.
Follow us on Instagram for more fun ideas for kids!
This adorable baby pumpkin handprint art is a fun way to celebrate baby's first Halloween! It makes a great photo prop to commemorate baby's first pumpkin season!
Is your baby experiencing his or her first Halloween? This adorable baby pumpkin handprint art is a sweet way to celebrate their first Halloween! Capture baby's tiny handprints and footprints on a pumpkin and carve them out! Not only will you have a fun baby activity with your little pumpkin, but also create a super cute fall photo prop. The fun memories will live on past the pumpkin's expiration date! Halloween handprint art is a great way for kids to have fun on this spooky occasion!
I first saw this idea floating around the internet as a meme, but with no credit. If you know the original creator, please let me know as I'd love to properly credit!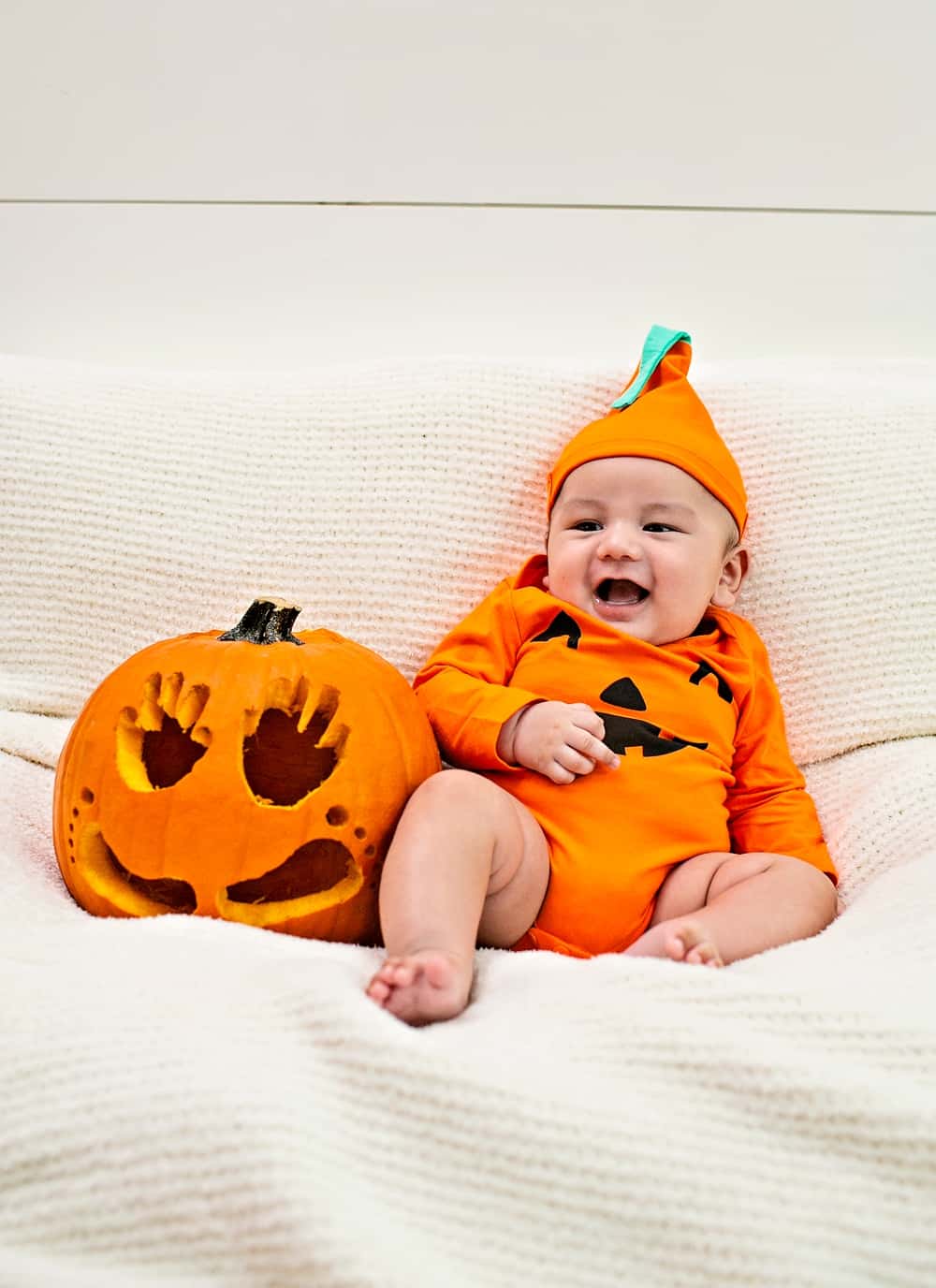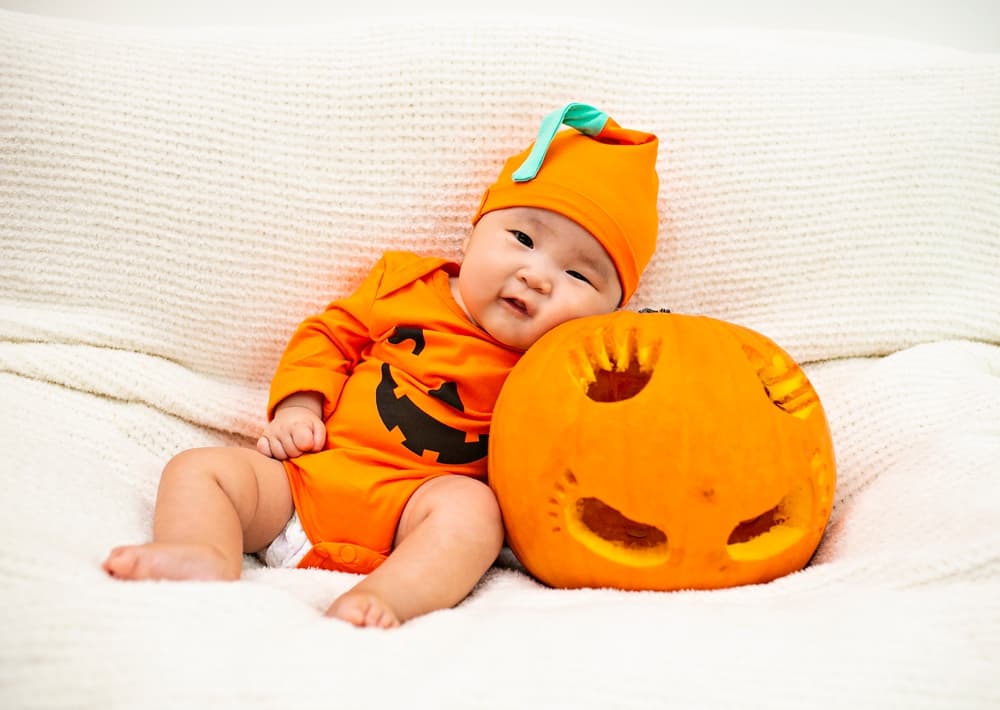 How do you create pumpkin handprint and footprint art?
The concept is super simple! All you need to do is to carve out your child's handprints and footprints on a pumpkin! You can do this one of two ways: 1) Trace your baby's handprint or footprint on a piece of paper, cut that out and trace onto a pumpkin to carve out; 2) or do what we did which was placing baby's handprint and footprint directly on a pumpkin and then carving the shape out.
Just note this second method requires a baby that's not too wiggly. Either way, a second person is super helpful to help spread those tiny fingers and toes apart!
I'm past the baby phase and done with my 3 kids 🙂 So I had the pleasure to set up this fun baby pumpkin activity for my two cousins who just had babies! If you do set this Halloween activity up, make sure to invite some friends and family over because it makes a super cute photo opportunity too!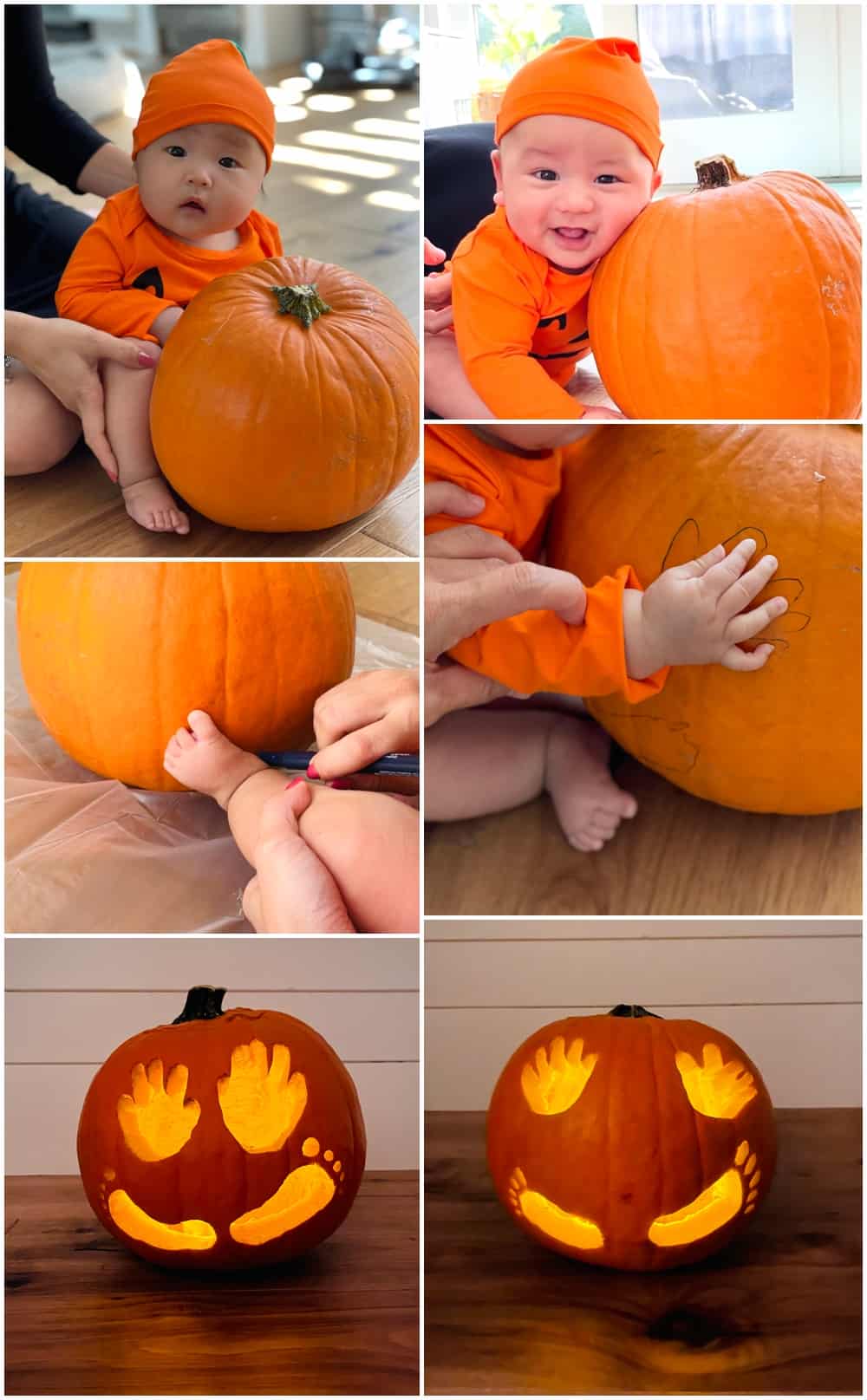 What do I do with my pumpkin handprint footprint carving?
Depending on where you live the pumpkin won't last too long outdoors (less in warmer weather). So you can leave a few electric tealights out until they start to go bad. However, we all know this activity is all about the cute photos! We highly recommend dressing up your baby as a little pumpkin! I got my cousins' babies these adorable affordable pumpkin onesies from Amazon.
Take photos of the baby next to their carved pumpkin to remember those little and feet. If you have more than one baby, be prepared to fall into baby pumpkin heaven 🙂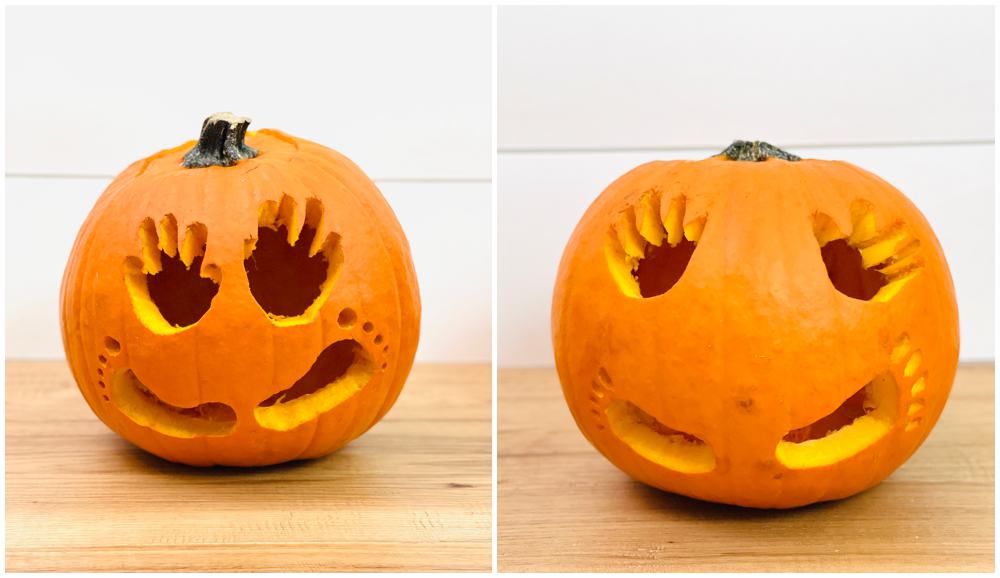 Baby Pumpkin Handprint Carving – Materials
Pumpkins
Black marker
Pumpkin Onesies (optional)
Disposable tablecloth, newspaper or something to lay out to catch pumpkin carvings and insides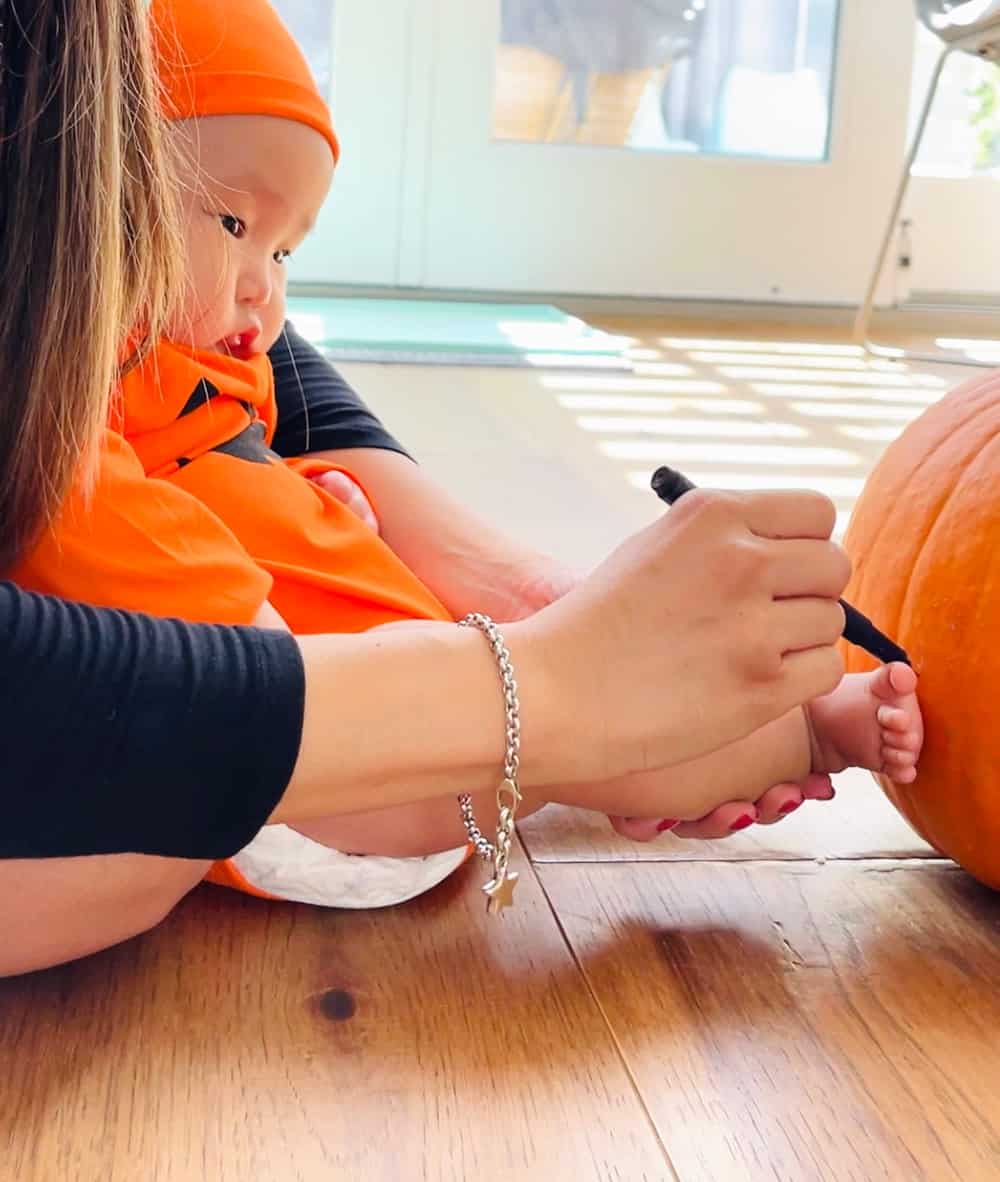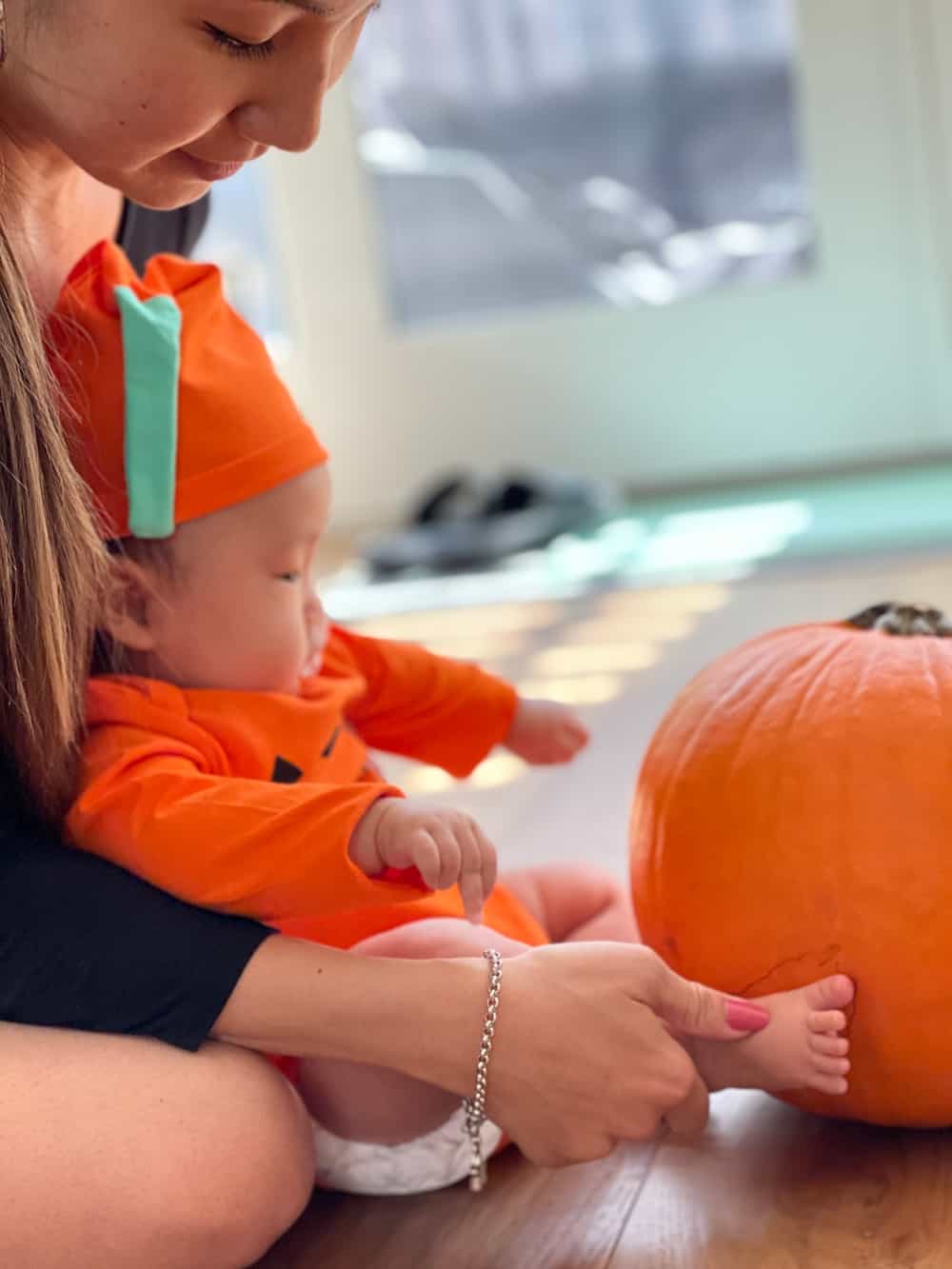 \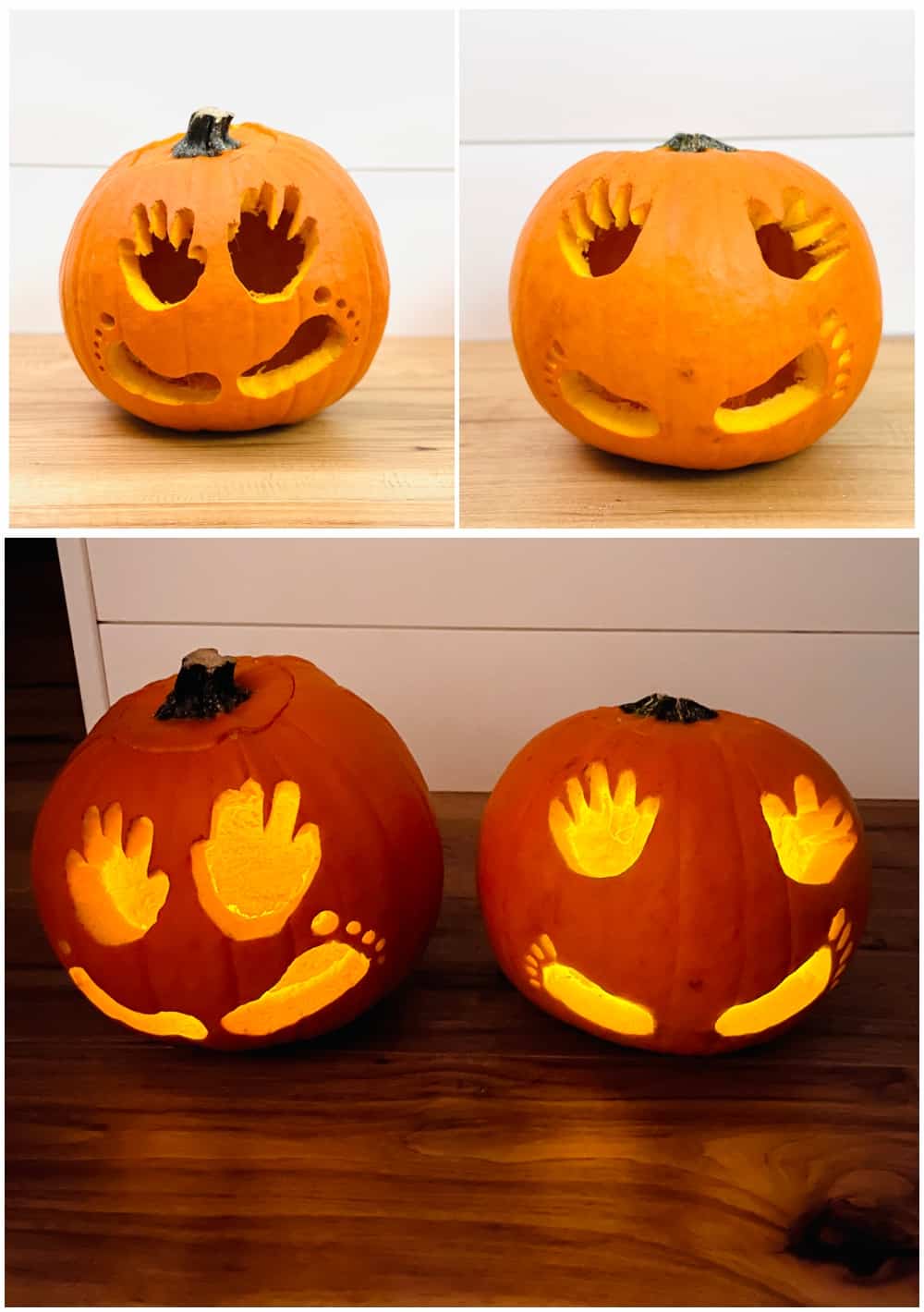 Instructions:
Watch the video in this post to see how to make this cute pumpkin baby activity
Lay out your disposable tablecloth or newspaper and lay pumpkin on top
Gently place your baby's handprints and footprints on the pumpkin (one at a time of course) and trace with a black marker
Carve out the tracings
Take some adorable photos of your baby with their pumpkins!
Add an LED tealight inside for a spooky and cute effect to place outside
Tip: if you need help wiping off some of the black marker, a Magic Eraser scrubs it right off!