When I asked my 3 year old boy what he wanted to be for Halloween this year, he turned to me and said "a blue dinosaur!" Of course this wasn't surprising as he's been roaring around like the crazy wild animal he loves so much. Here's an easy dinosaur costume you can make using 3 cardboard boxes and some paint. I promise it IS totally achievable to make. And just think how adorable your kid will be in it afterwards.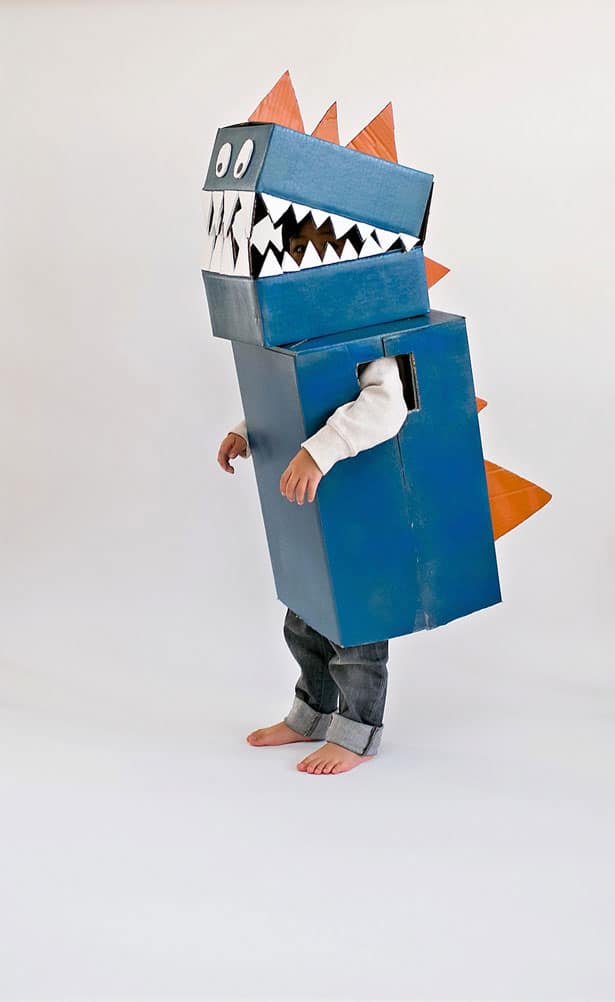 DIY Cardboard Dinosaur Costume – Materials:
– You will need 3 cardboard boxes, two small ones (12″ x 9″ x 4″ each) for the head and one rectangular box (24″ x 12″ x 12″) for the body. You will also need scrap cardboard for the scales.
– Spray paint in the color of your choice for the scales and body. We chose blue for the body and orange for the scales.
– White foam craft board for the teeth (or use white cardstock, paint cardboard pieces white, whatever is easiest for you)
– Scissors, knife to cut through cardboard, and a hot glue gun or strong craft glue
Steps: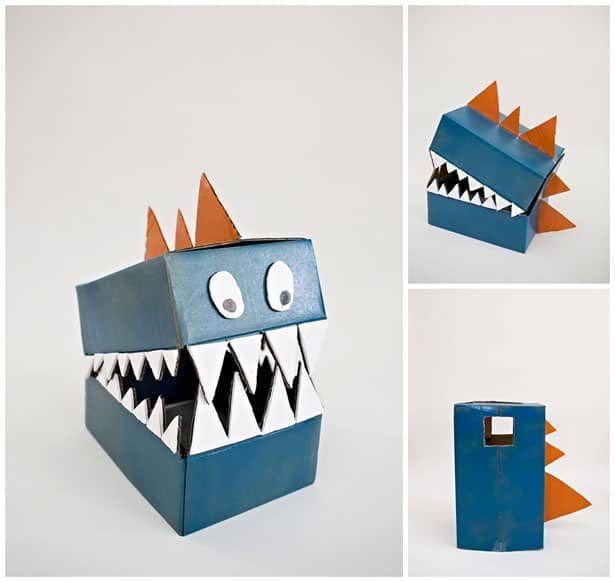 1. Lay out your 3 pieces of cardboard flat and spray paint each side, allowing each to dry first. Make sure of course that you are in a well ventilated area.
2. Cut out scales for the head and body from scrap cardboard. I just freehand a small and medium scale, and one extra large scale for the tail. Once you cut out one scale, you can use it as a template to trace other ones. We ended up with 5 scales on the head and 3 on the body.
3. Spray paint both sides of the scales, allow to dry.
4. Cut out your teeth on the white foam board. I liked using a foam board so I didn't have to go through the additional step of painting the teeth. Like the scales, I drew out two sizes of teeth and used them as a template to trace the other teeth.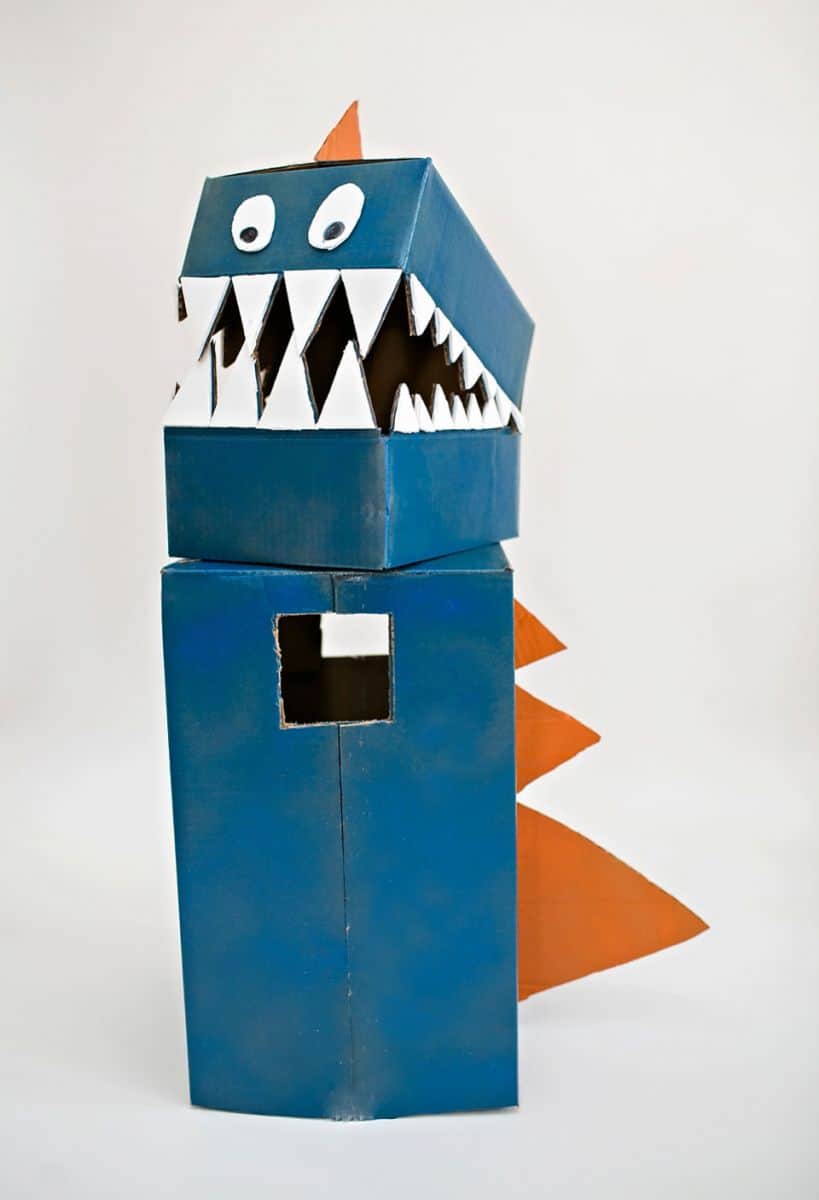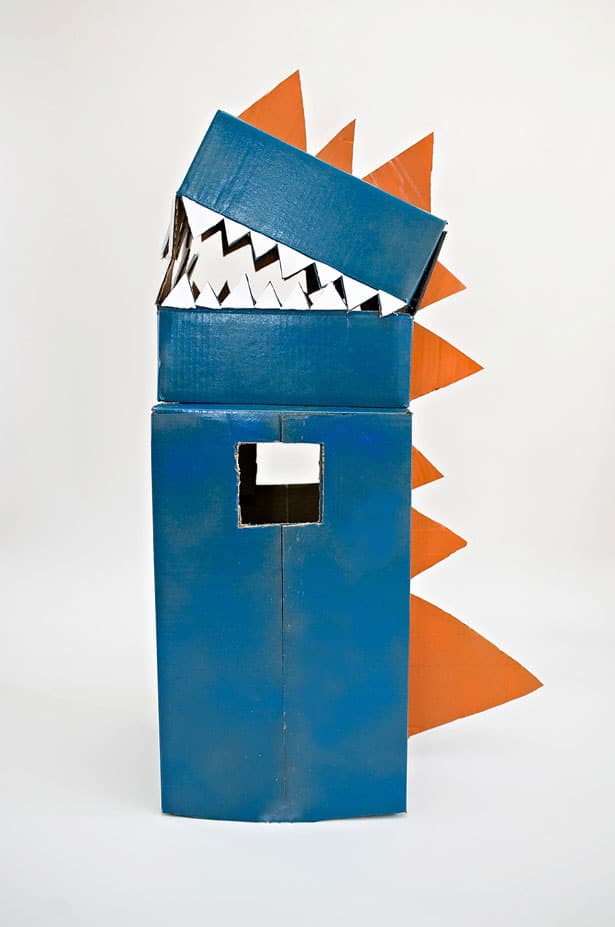 5. Once you have all the parts cut and painted, the assembly begins. For the body, cut out a neck hole and two arm holes. The length of our cardboard was a bit too long for my son so I also cut off about 8″ off the bottom, but of course that will depend on how tall your child is.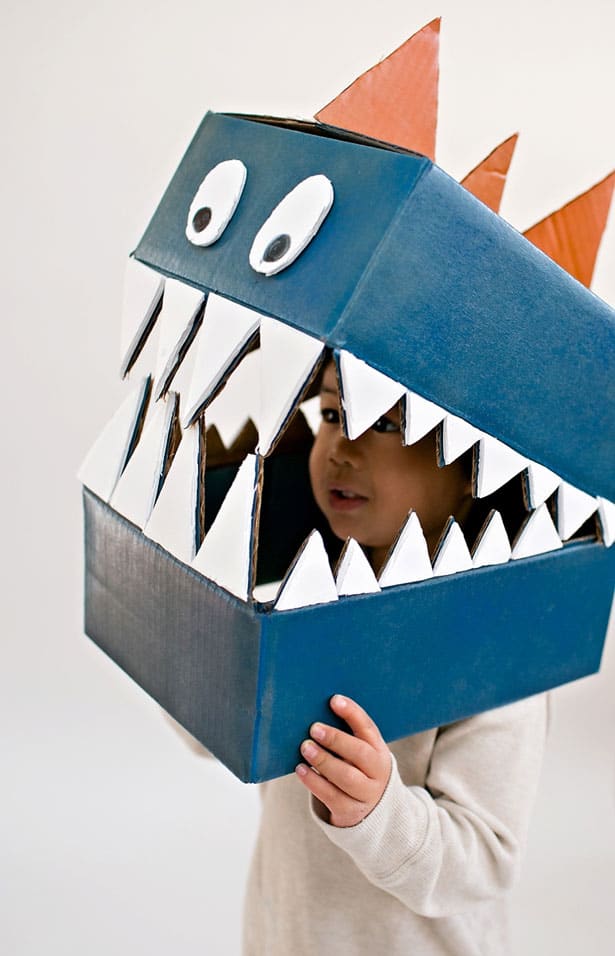 6. For the head, glue one flap down so it hinges with the other box. For the teeth, it helps to keep the box flaps down, glue the teeth on, and cut around the teeth so they are more stable.
7. Don't forget to cut out some eyes! I just cut out two circular pieces of the white craft board and used a black marker.
You're done! Now take your dinosaur out for some fun.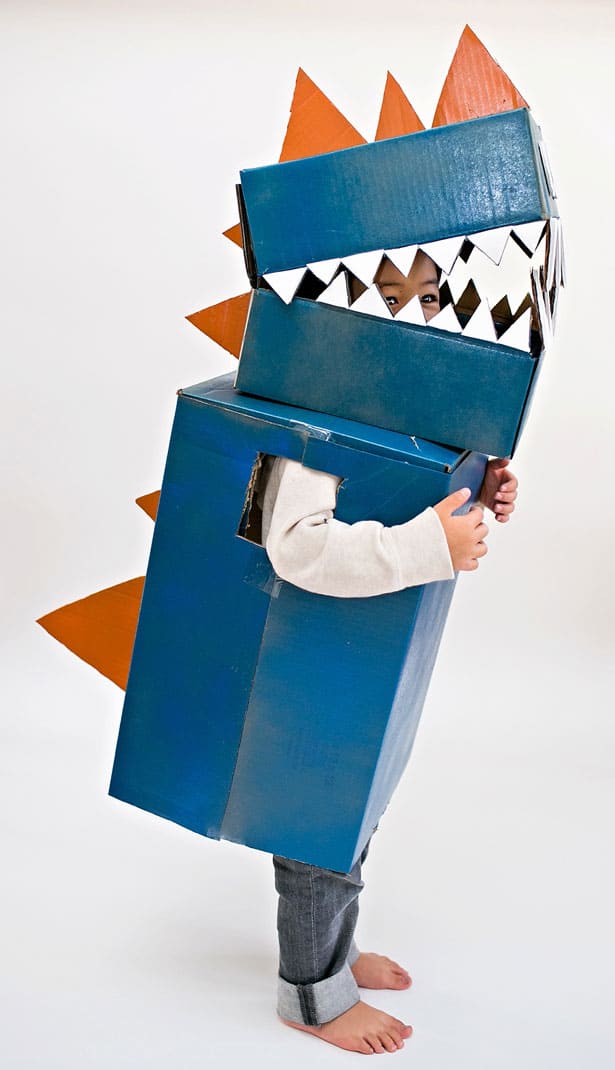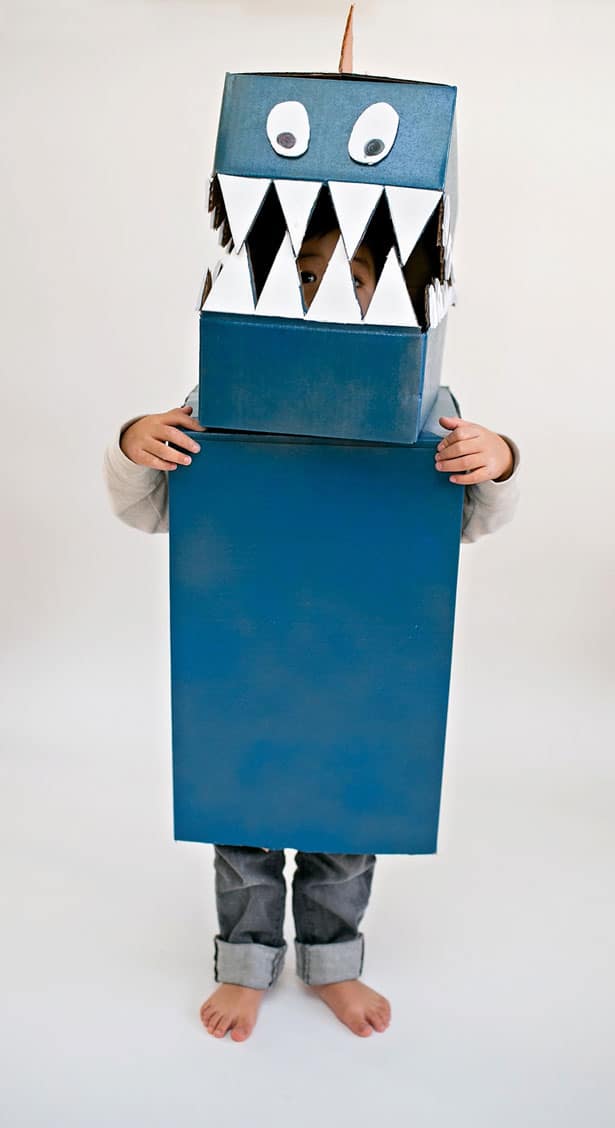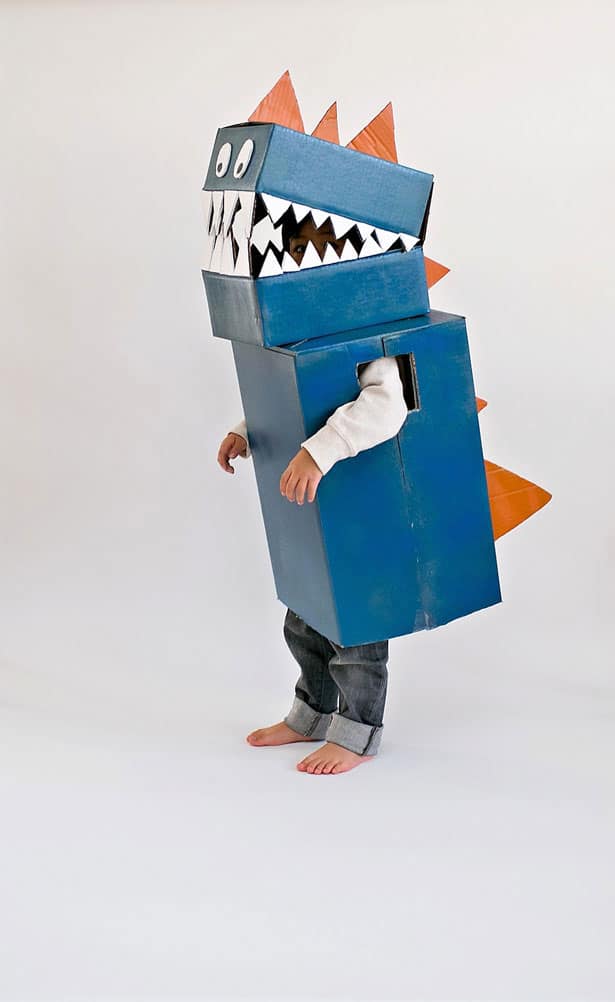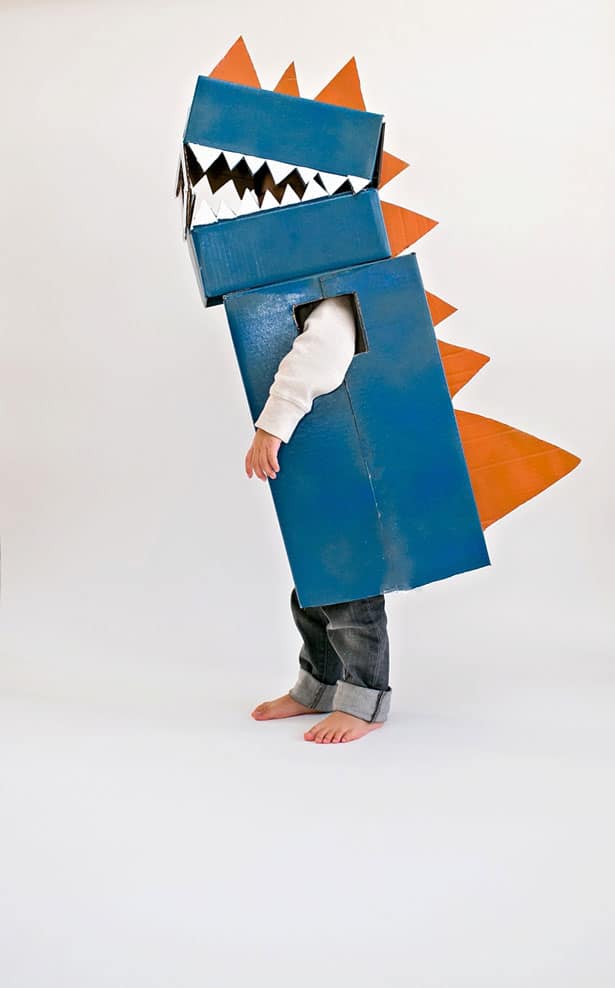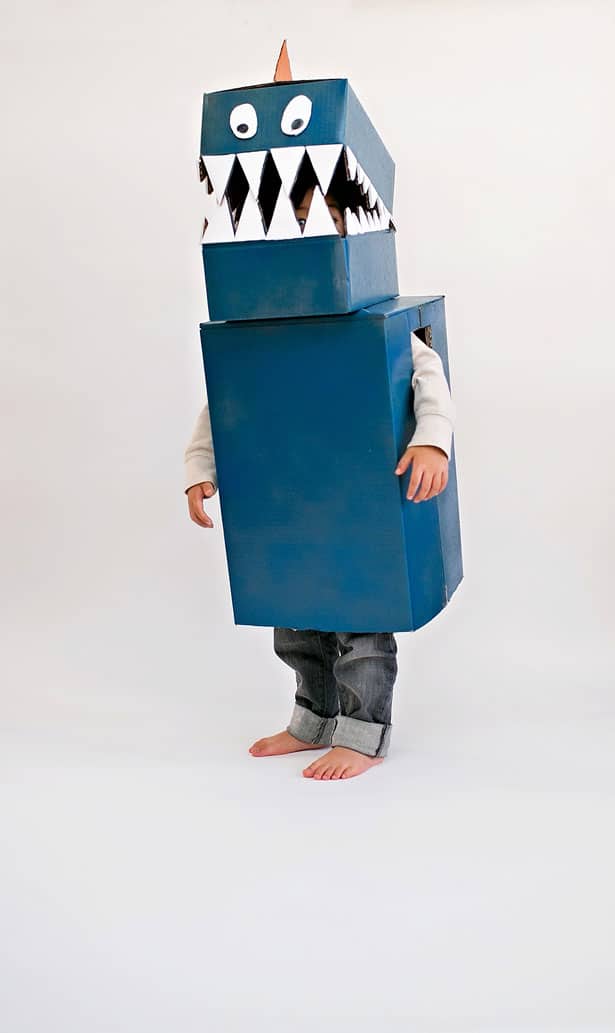 I like how the head is not attached so if it gets too heavy, it can be taken off for a bit. In case you're wondering, you can totally see through the mouth as you're walking. This was a huge hit with my son and he loves his dinosaur costume! It would be awesome fun for pretend play or a dinosaur themed party too.
What are you dressing up the kids as for Halloween this year? For more Halloween ideas for kids, take a look here!