We all know kids love to scamper, climb, and dangle off any nook or piece of furniture. Why not give them their own climbing wall to burn off all that energy?
Rock climbing is a great sport that builds strength, motor skills, and coordination. And there are some great options out there that range from simple to more complex walls.
Whether you want to build a simple indoor structure or an impressive backyard maze, take a look at these inspiring rock climbing walls for kids to get you started.
Outdoor Climbing Wall for Kids
There's a lot of appealing qualities of a fantastic climbing wall for toddlers and children. Unlike swinging from a tree, an outdoor climbing wall provides a much safer environment for kids of all ages.
From the comfort of your backyard, you can easily watch over your toddlers or young children and enjoy some time in the outdoors. Older children have the freedom to bring their friends over for a thrilling day outdoors.
Here is a variety of inspiring kid's outdoor climbing walls that come in a variety of shapes and colors, as well as unique and playful designs.

Whether you live in a city with a tiny garden or don't have the means of setting up an outdoor playground, a climbing wall is a quick fix for a fun activity.
Transfer a lonely wall into a colorful playground for the little ones! Simply give the wall a good paint and attach the quirky climbing holds in a color that your kiddies will love.
2. Sandbox Climbing Wall for Kids (via The Wright Family)

This is a particularly brilliant idea for those of you with tiny toddlers. There's nothing kids love more than playing in the sand and finding anything interesting that can be climbed. Create a climbing wall alongside a sandbox filled with their favorite beach toys.
3. Children's Rock Climbing Wall: Backyard Wonderland (via Houzz)

Provide soft, foam tiles beneath your DIY climbing wall and you've got yourself the coolest contemporary outdoor playset in the neighborhood.
4. Playhouse Climbing Wall (via Houzz)

An outdoor playhouse is a kid's wildest dream. Allow your youngsters to enjoy spending time in the sun with a rainproof treehouse that also features a kids climbing wall.
Indoor Climbing Walls for Kids
Perhaps you live in a place that doesn't have the greatest climate. Not to worry, indoor climbing walls allow your kids to keep active, embrace their childlike imagination, and spend some quality time together as a family.
Below you'll be inspired by indoor climbing walls that are safe, easy to set up, and fun for all ages.
5. Indoor Children's Climbing Wall (via Mocoloco)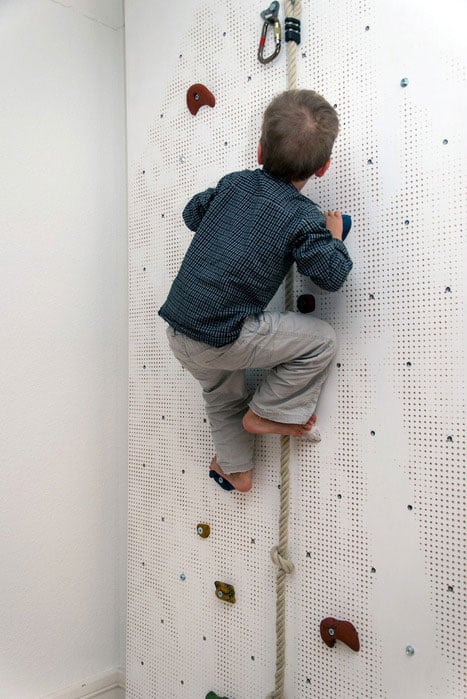 Nothing is cuter than your child climbing up a wall that is inspired by Patagonia's famous peak, Mount Fitz Roy. Let them dream big and wiggle their way through the winding peaks and adventurous terrain.
This indoor kids indoor climbing wall is a DIY project that can be done super easily by drilling holes into a plywood wall.
6. Indoor Treehouse Rock Climbing Wall for Toddlers (via I Am Hardware)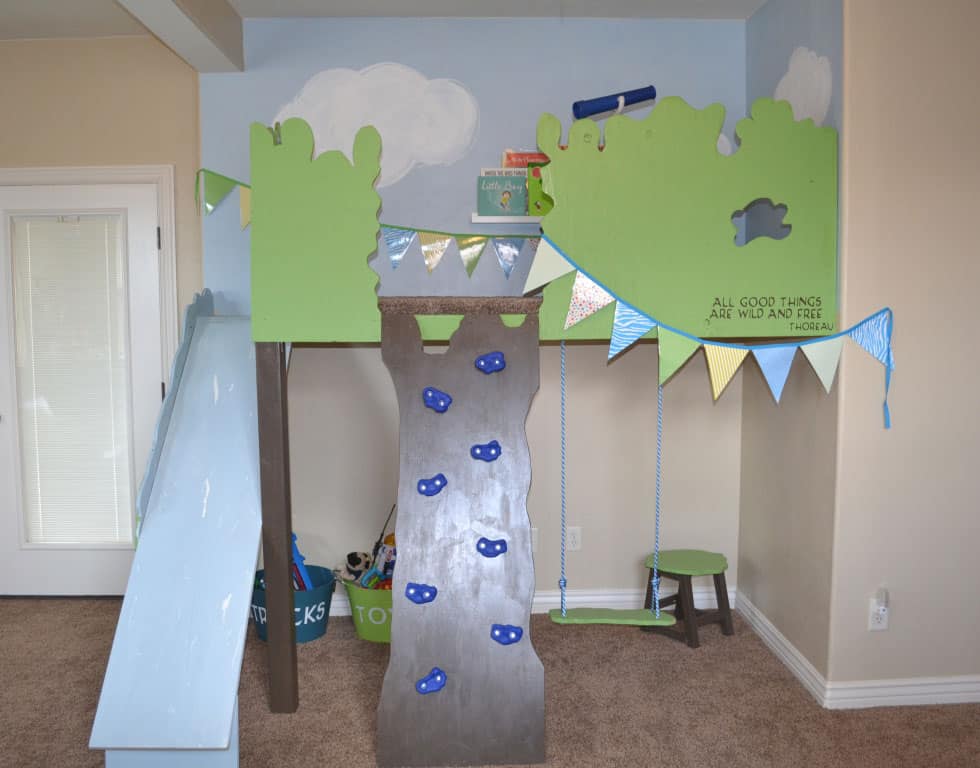 Get your creative cap on and create a magical indoor treehouse from recycled plywood and some bits and bobs. With supervision, older toddlers can develop their mobility and have fun while doing it.
7. Contemporary Wall (via Houzz)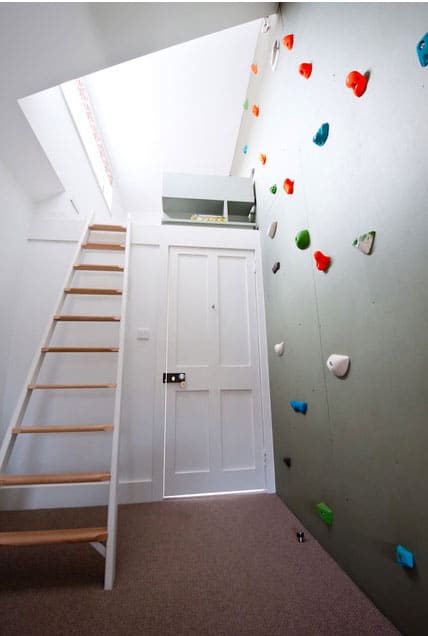 Older kids might not be a fan of the flashy colors and child-like appearance of a climbing wall. Perhaps, your house might not agree with the decor? There's always the option of creating a contemporary and stylish wall in the house, without attracting too much attention.
8. Modern Indoor Climbing Wall (via DecoPeques)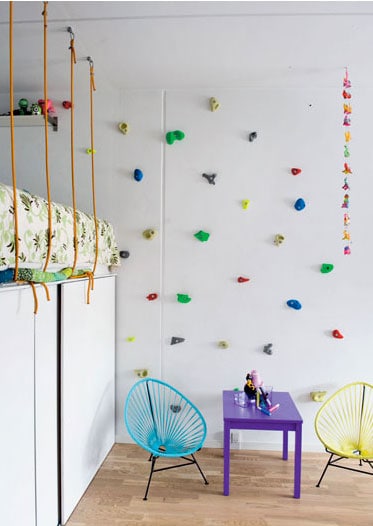 This is another example of adding something amusing for the kids, while still remaining modern and beautiful.
9. Secret Hideaway Climbing Wall (via Dwell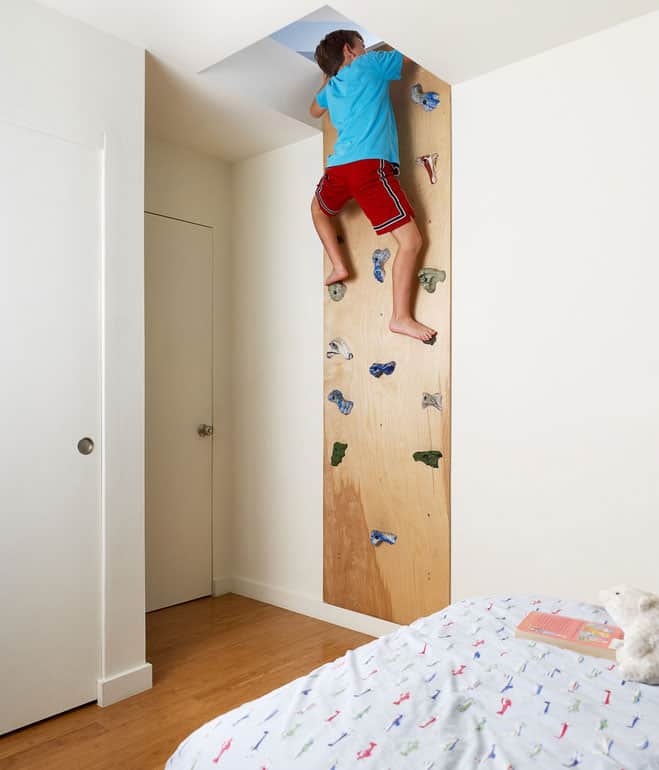 This is a spectacular idea for houses that feature attics. Instead of a ladder reaching into a hidden room, construct your very own climbing wall with colorful grooves and a funky wooden pattern.
Do it Yourself Climbing Walls for Kids
Of course, there's always the option of sending your kiddies to a climbing gym. But rather than spending money on a membership, dedicate the time to create a wall in your own backyard or child's bedroom.
There are plenty of inspiring designs to get the creative juices flowing. With a drill, paint, plywood, and climbing holds a day of work is all it takes to transform your home into a kiddie's wonderland.
For more inspiring creative goodies, see these posts:
15 Inspiring and Cozy Reading Nooks
10 Awesome Hanging Chairs For Kids
8 Bright and Colorful Playrooms

8 Super Cute Toy Bins and Baskets

12 Ways To Add Pops Of Colors To Your Kids' Room

11 Creative Arts and Craft Spaces For Kids

11 Bright and Cheerful Indoor Plant Ideas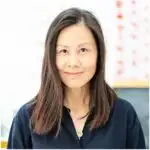 Agnes Hsu is a mom of three and has been inspiring parents and kids to get creative with easy activities and family friendly recipes for over 10 years. She shares her love for creative play and kids food to her 2MM+ followers online. Agnes' commitment to playful learning and kindness has not only raised funds for charity but also earned features in prestigious nationwide publications.