I remember the one year my daughter was a unicorn for Halloween. We still have the costume hanging up and yes, she continues to wear it pretending to be a magical flying horse with horn from time to time. Unicorns are magical, fun, colorful and make the best make-believe besties for your kids. Just ask Pinkalicious and her pet unicorn, Goldilicious. These charming unicorn crafts will delight your children. Make unicorn necklaces, stick horses, crochet softies, and even unicorn poop cookies (!).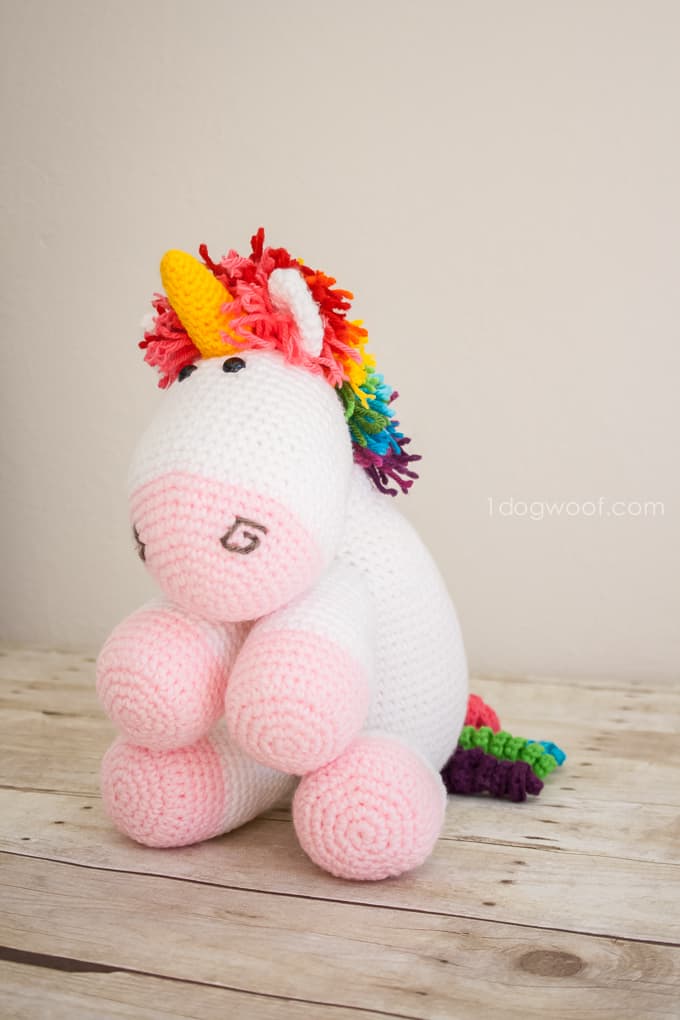 Crochet Rainbow Unicorn (via One Dog Woof)
This soft and fluffy unicorn is one your kids will love cuddling with and comes with a step-by-step crochet pattern to make your own.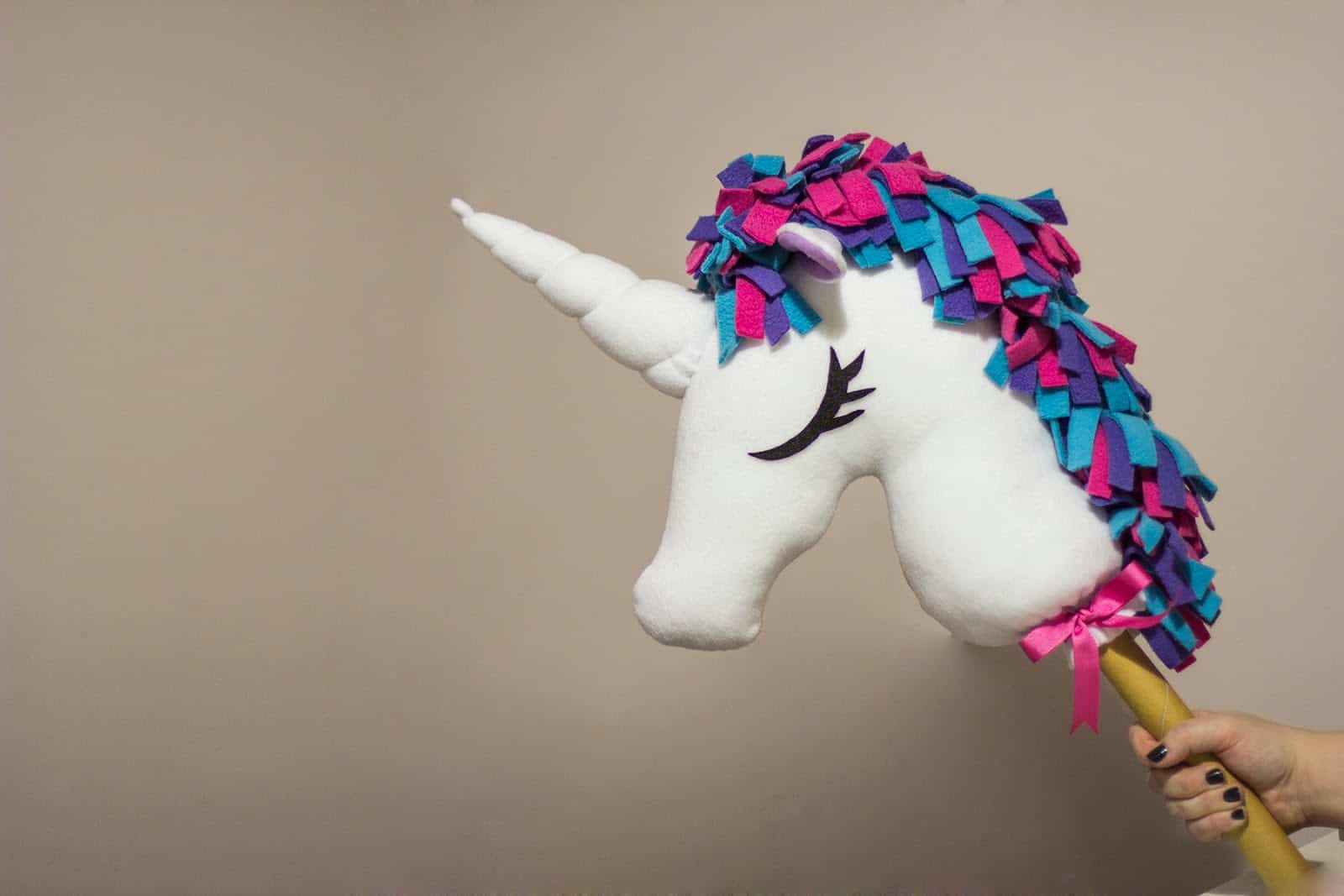 Unicorn Hobby Horse (via Live It. Love it. Make It.)
Little ones will love prancing around with their own unicorn horse on a stick with colorful mane of felt hair. Get the free pattern to design your own.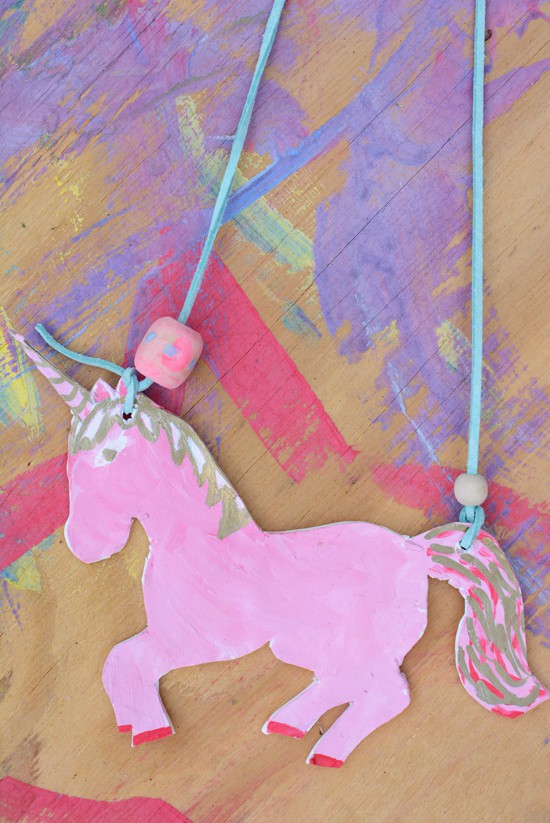 Sculpey Unicorn Necklace (via Meri Cherry)
Make a unicorn necklace out of clay! Kids will love painting these pretty horse charms away with beaded details.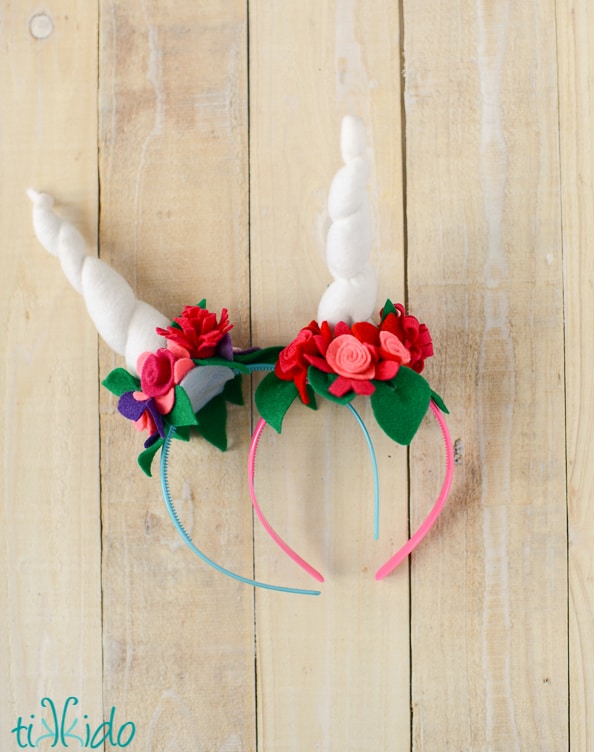 Unicorn Headband (via Tikkido)
Fun for pretend play or a magical rainbow party, find out how to make your own felt unicorn horns with minimal sewing involved. A free template is provide.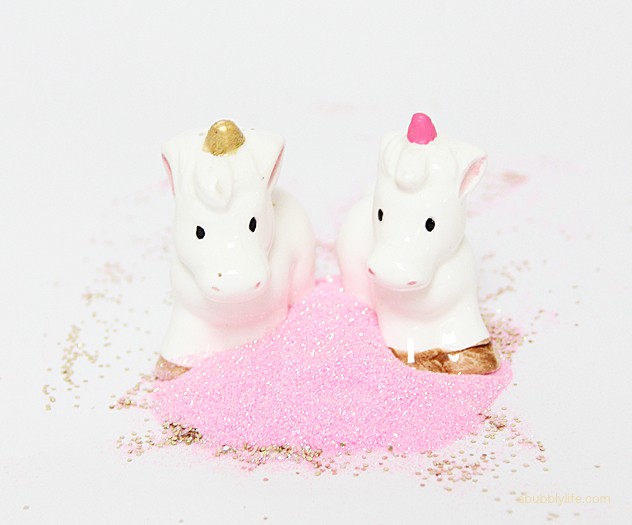 Unicorn Glitter Shaker (via A Bubbly Life)
This idea is just plain fun, whimsical and sure to put a smile on any kid's face. Make them their own glitter shaker to sprinkle fun on any project!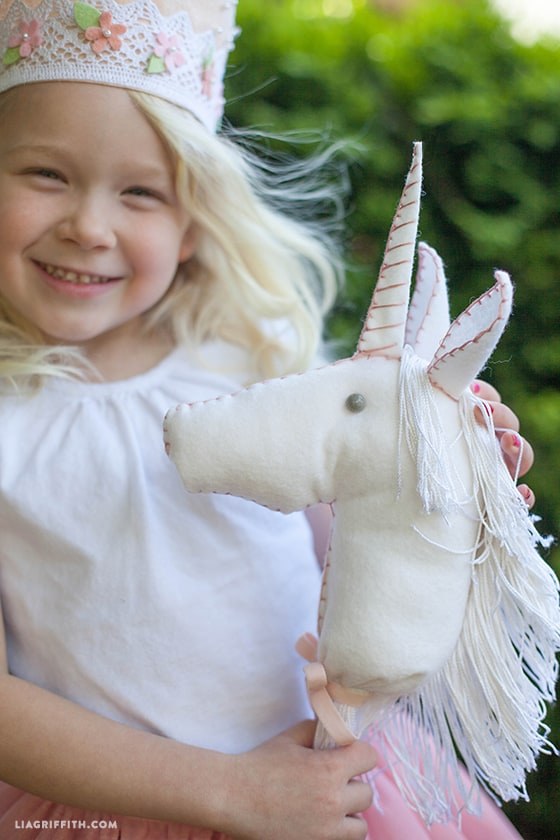 Felt Stick Unicorn (via Lia Griffith)
Here's another fantastic hobby stick unicorn with a subtle and classic felt palette that brings any party alive. Free pattern is included in the tutorial.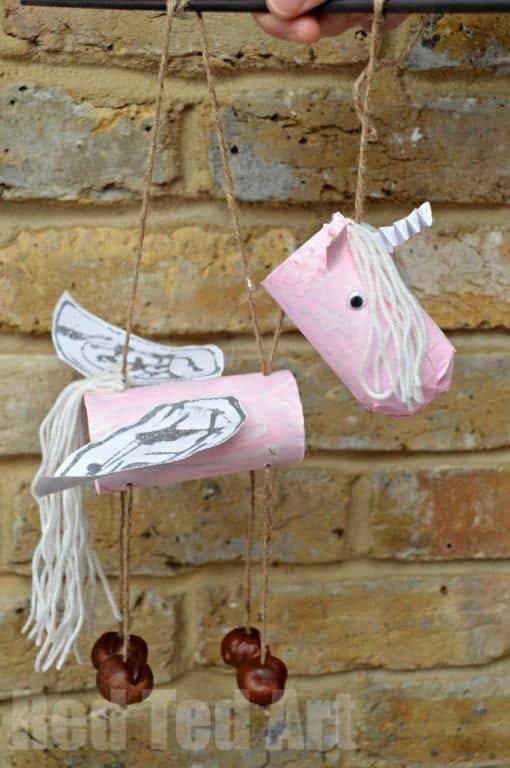 Unicorn Marionette (via Red Ted Art)
Make a moving and shaking unicorn horse out of simple toilet tubes. A fun hands-on craft project kids can dive right into making.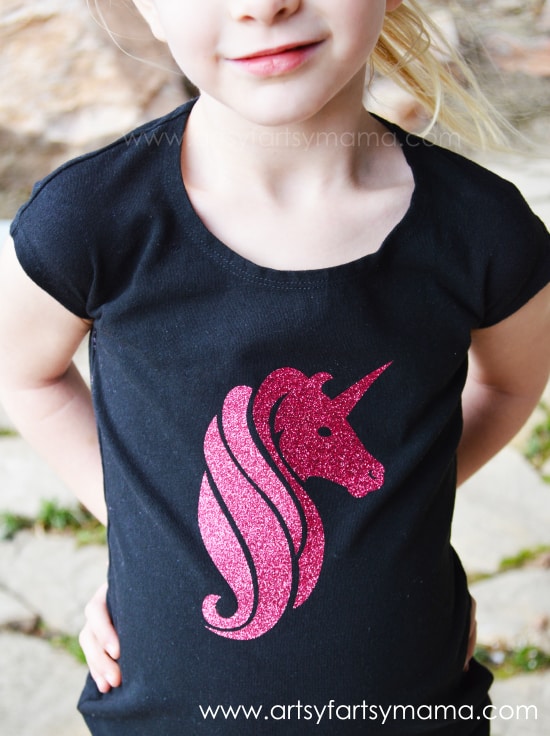 Unicorn Glitter Tee (via Artsy Fartsy Mama)
Any true unicorn believer deserves her own shirt to prove it. Find out how to make this easy glittery unicorn shirt with iron on vinyl.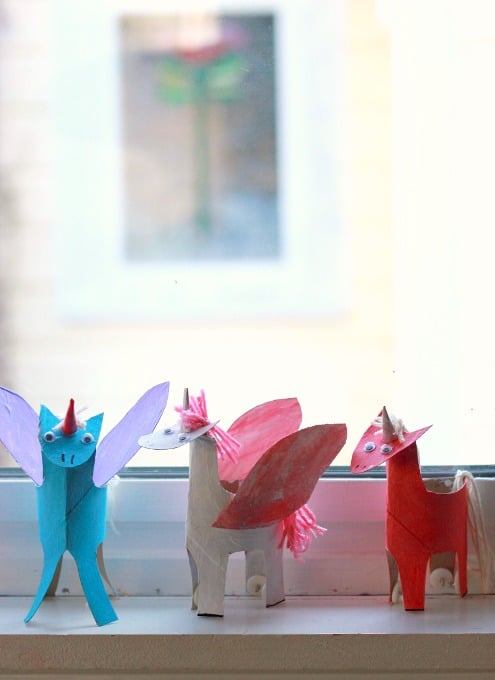 Unicorn Paper Tube Craft (via The Artful Parent)
Pain cute unicorn characters in all sorts of fun colors with this simple recycled craft from the Happy Handmade Craft eBook.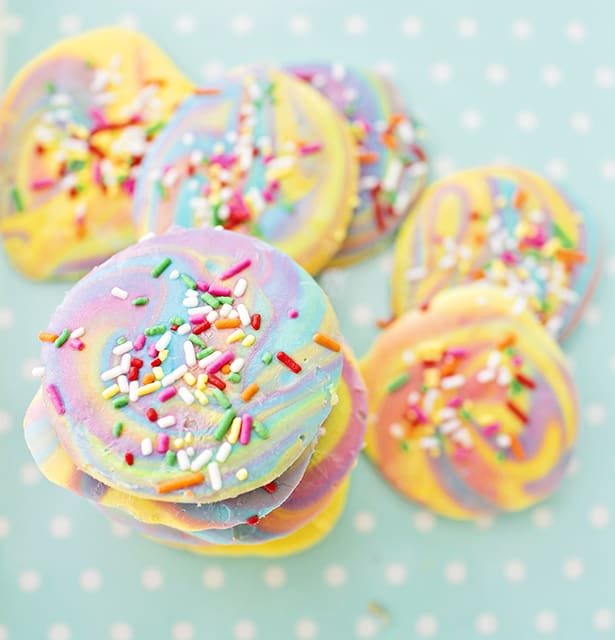 Frozen Yogurt Unicorn Poop Cookies (via hello, Wonderful)
Make your kid's day by making these hilarious rainbow unicorn poop cookies. Plus you can feel good about them since they're made from healthy yogurt!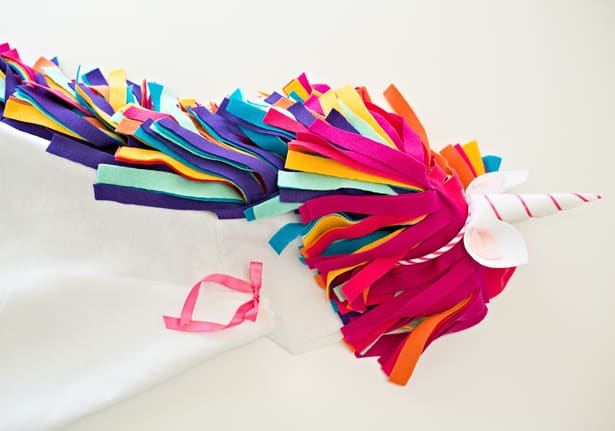 Unicorn Rainbow Costume (via hello, Wonderful)
Make your kids' magical dreams come true with this simple, no-sew felt unicorn costume!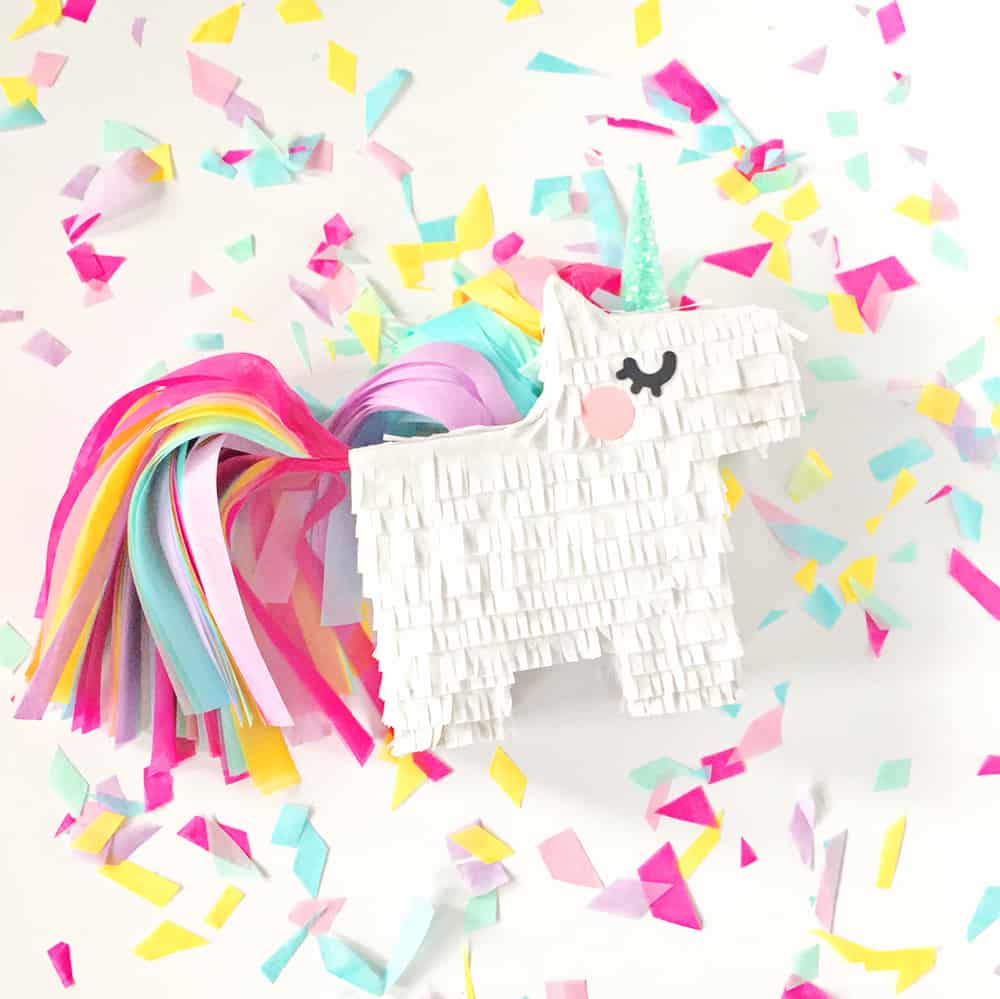 Mini Unicorn Pinata (via hello, Wonderful)
What's a unicorn or rainbow party without a pinata? These are mini size so you can turn them into favors for your little unicorns to take home.
Check out more fun kids' projects and crafts here!