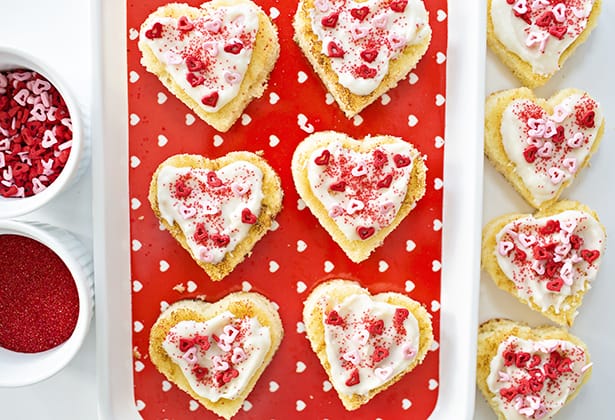 Make sure to visit our new food site, hello, YUMMY for a cute Sheet Pan Bear Heart Pancake version!
There's nothing more my kids like than cookies. But I don't always want them to eat sugary desserts. These Valentine pancake heart "cookies" are a happy medium between giving them a treat with less sweets added. We used frosting on top but you can keep it lighter by adding whipped cream or even yogurt. You can also substitute the sprinkles with fresh, diced fruit.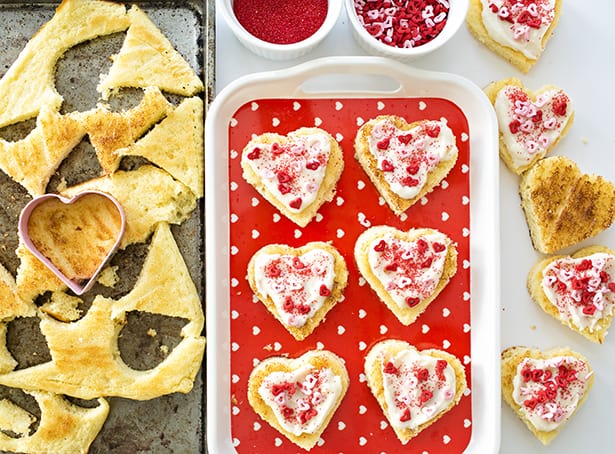 In making these pancake cookies, I also had a light bulb moment. I'm often cutting up pancakes into cute shapes for the kids and decided to try making one large sheet pan pancake. This makes prep super easy (no standing over the griddle or stove, flipping pancakes, there is one uniform layer of pancake size, less messy clean up, and so easy to cut into shapes! You can make pancake fingers, squares, etc. I'll definitely be making more sheet pan pancakes in the future with different toppings and shapes! Read more below on my tips to get the perfect pancake browning on top.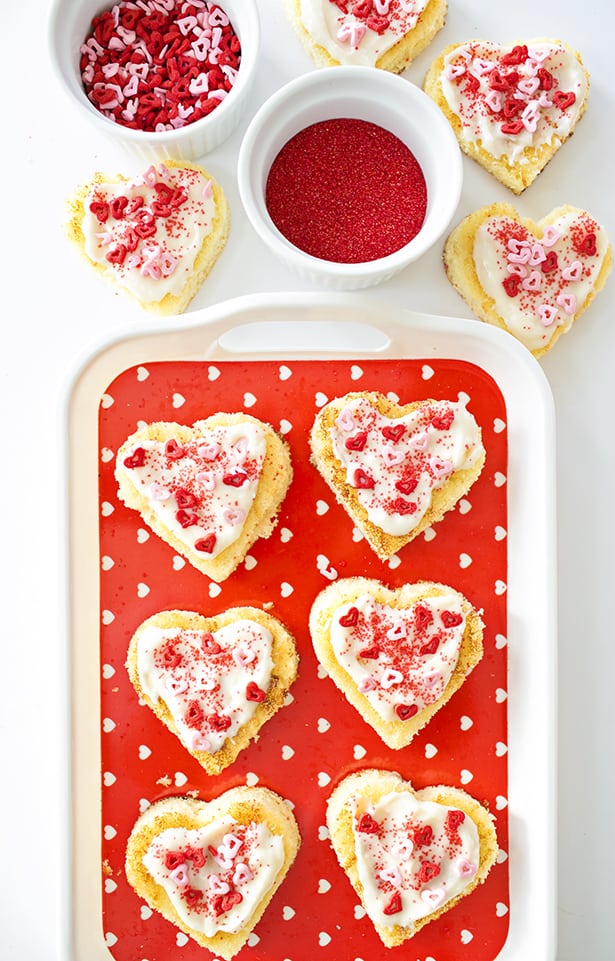 Valentine Pancake Heart Cookies in a Sheet Pan – Ingredients:
– One rimmed sheet pan (we used an 18″ x 13″ inch pan)
– 2 tablespoons melted butter
– Pancake batter (we used a mix and double the recipe which called for two cups of mix)
– Aluminum foil
For the cookies:
– Frosting
– Heart sprinkles
– Heart cookie cutter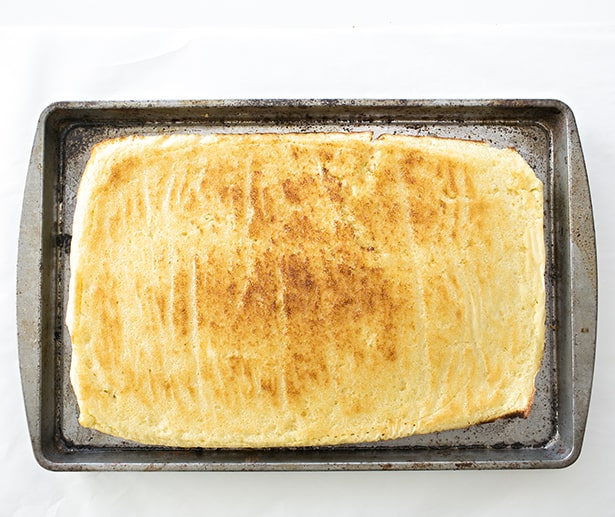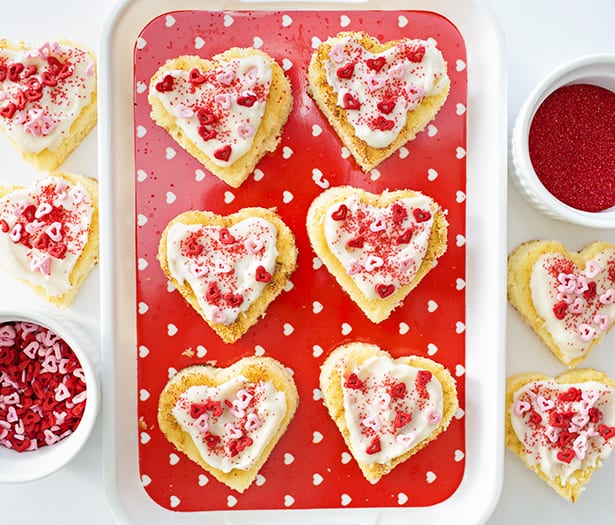 Instructions:
Step 1. Prepare your pancake batter (you can use a mix like we did or make your own). As mentioned, we doubled the recipe on a mix (which called for 2 cups of the dry mix) to fill an 18″ x 13″ pan.
Step 2. Preheat your oven to 425 degrees. Line your sheet pan with aluminum foil, brush the melted butter on top. Pour your pancake batter evenly, it should be no taller than 3/8″ tall.
Step 3. Bake your sheet pan pancake for 12-15 minutes. It will look very light in color. The trick to getting it toasty and brown on top is to turn on your broiler and let it broil for a minute or two, making sure to rotate the pan every minute until you get the browning you want. You can then take the sheet pan out, flip it over and broil for another minute or two.
Step 4. Remove the sheet pan and allow to cool completely, cut out heart shapes with a heart cookie cutter. Spread frosting and sprinkles.
Enjoy your pancake heart cookies!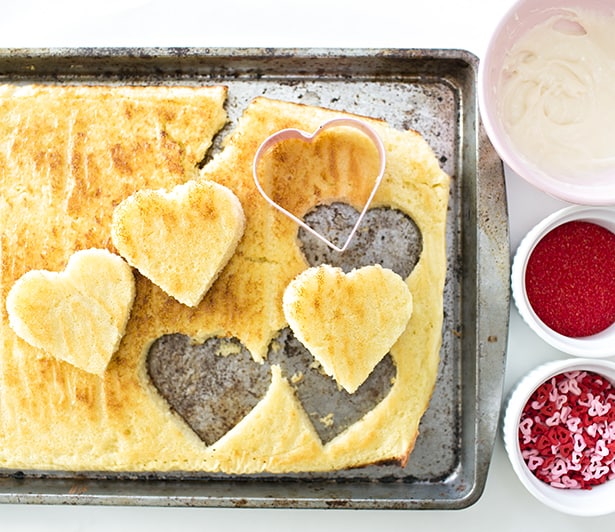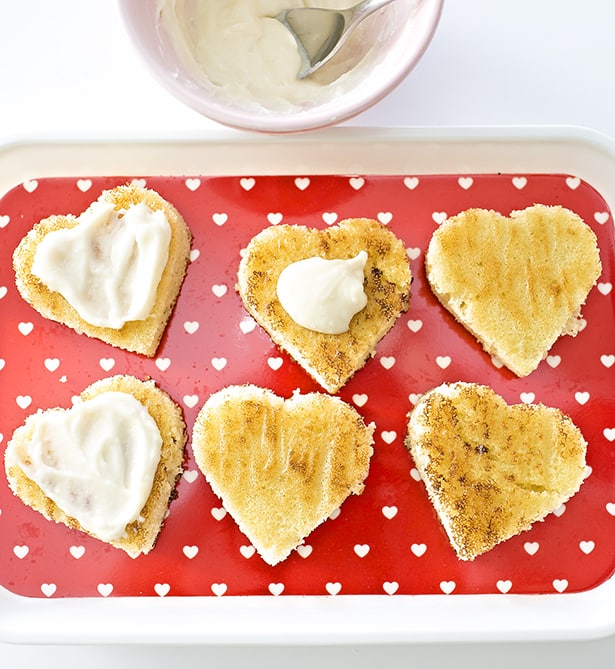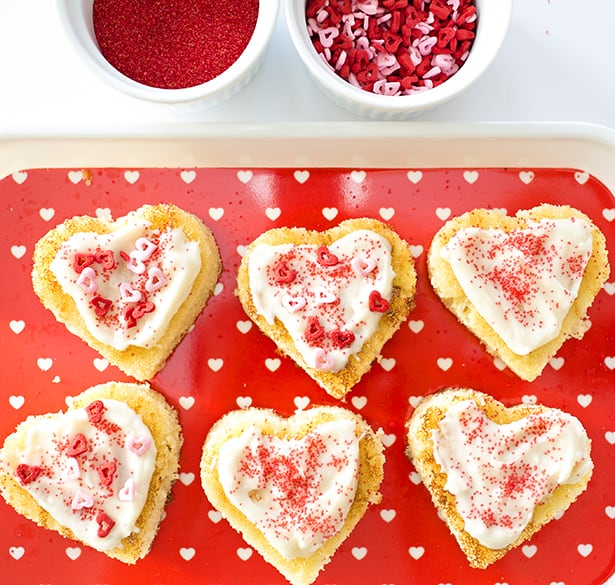 Making one large sheet pan pancake made it SO easy to cut out these pancake heart cookies. This makes a lighter Valentine treat for kids and they will have a blast decorating the hearts for a love-filled Valentine brunch or breakfast!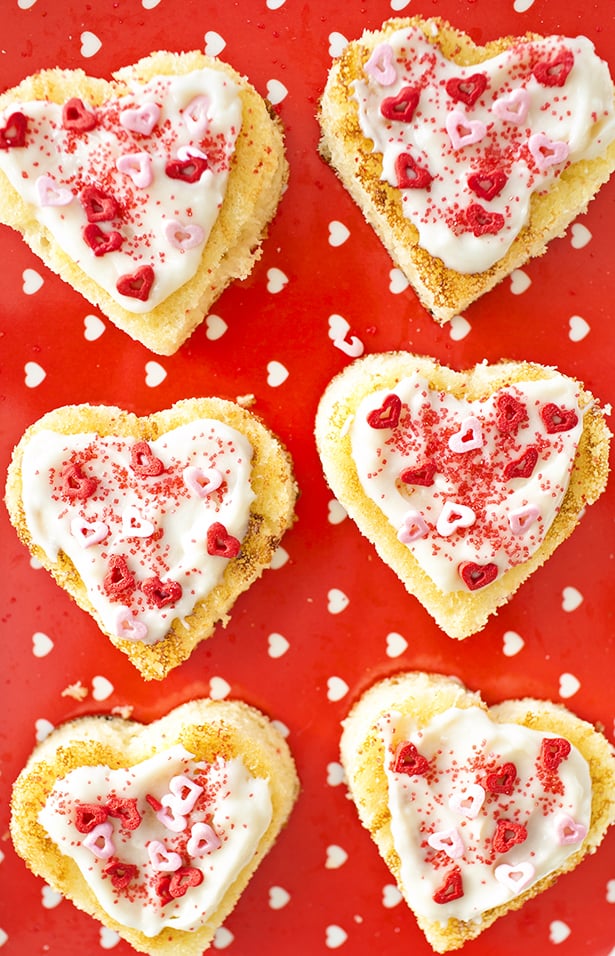 What are your favorite Valentine treats for kids? Check out more creative Valentine ideas!
______________________________________________________________________________________________________
Disclosure: Some of the links in the post above are "affiliate links." This means if you click on the link and purchase the item, we will receive a small affiliate commission. Regardless, we give our promise that we only recommend products or services we would use personally and believe will add values to our readers.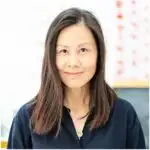 Agnes Hsu is a mom of three and has been inspiring parents and kids to get creative with easy activities and family friendly recipes for over 10 years. She shares her love for creative play and kids food to her 2MM+ followers online. Agnes' commitment to playful learning and kindness has not only raised funds for charity but also earned features in prestigious nationwide publications.