Check out our new fun food for kids site, hello, YUMMY to see an adorable version of Bear Heart Cookies!
When I saw these adorable bear cookies hugging nuts from Japanese Chef Maa Tamagosan, I immediately thought this would be a cute idea for Valentine's Day, with a bear holding a heart instead.
I wanted a brown bear, so I decided to tweak a gingerbread recipe and used red fondant for the heart. This was a fun project the kids helped me make in the kitchen and make super cute Valentine's Day treats!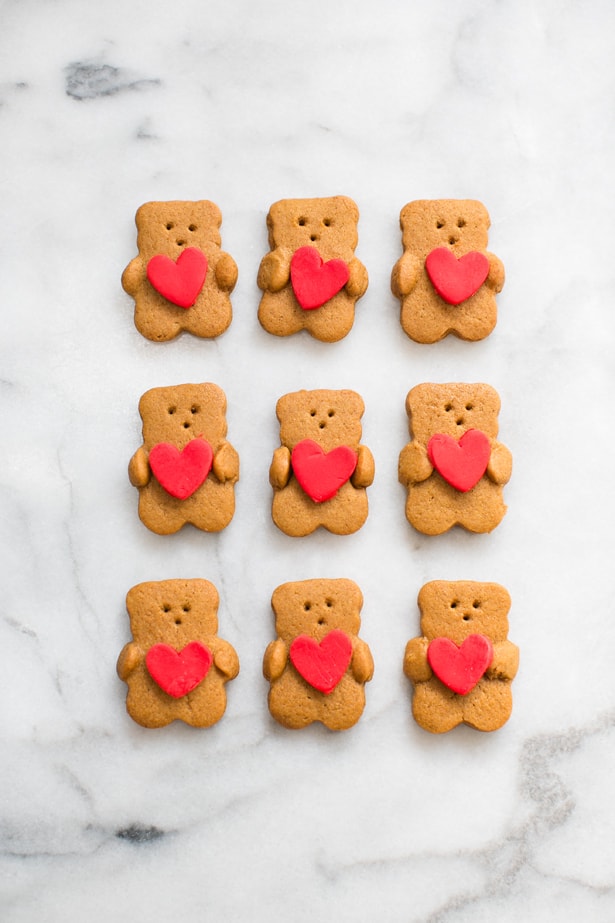 Valentine Bear Holding Heart Cookies – Materials:
Since I wanted a brown bear, I decided to use my favorite gingerbread recipe from the Joy of Baking, except omit the spices except for the cinnamon. This makes it less of a holiday and more of a cinnamon spice cookie. You can omit the cinnamon if you want for a molasses flavored cookie, instead.
Cookie Ingredients:
(makes approximately 90 bear cookies, 1.5″ tall)
– 3 cups flour
– 1/2 tsp kosher salt
– 3/4 tsp baking soda
– 1 teaspoon ground cinnamon
– 1/2 cup or 1 stick unsalted butter, softened
– 1/2 cup white sugar
– 1 large egg
– 2/3 cup dark molasses
– red fondant for the hearts
*You'll also need a bear cutter like this (use the largest size) and small heart cutters, parchment paper, a rolling pin, something like a skewer to make the bear eyes and nose, and piping gel or icing to attach the fondant heart.
Instructions: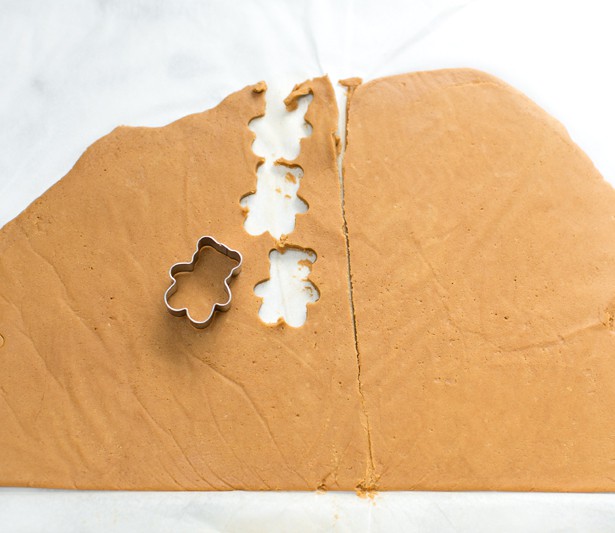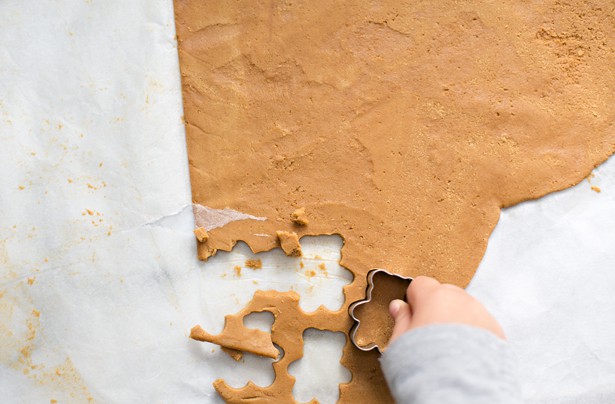 Step 1. Whisk the flour, salt, cinnamon and baking soda in a bowl. Cream the butter with sugar for a few minutes until soft and fluffy using a stand or hand mixer. Add egg and molasses and beat well to combine. Stir the flour in until incorporated. Separate the dough into two. Place each on a piece of parchment paper. Add another piece of parchment paper on top and roll out to 1/4″ thickness. Refrigerate flat and chill dough for at least an hour or until firm. This makes it easy to cut out shapes without using flour.
Step 2. Take your cookie dough out, cut out shapes with the bear cutter. This is a great time to involve your kids! When the dough gets too soft, roll it back up between parchment paper and place it back in the refrigerator until it's chilled and easier to cut out.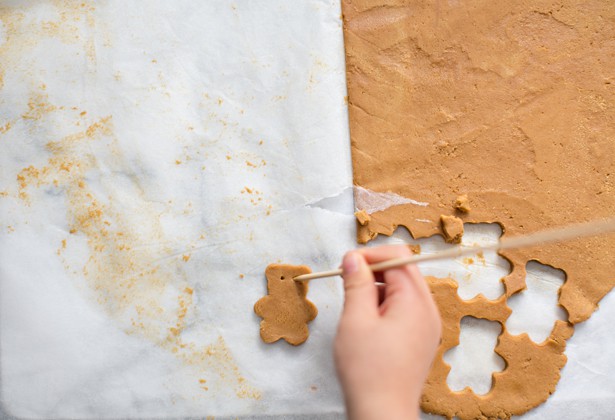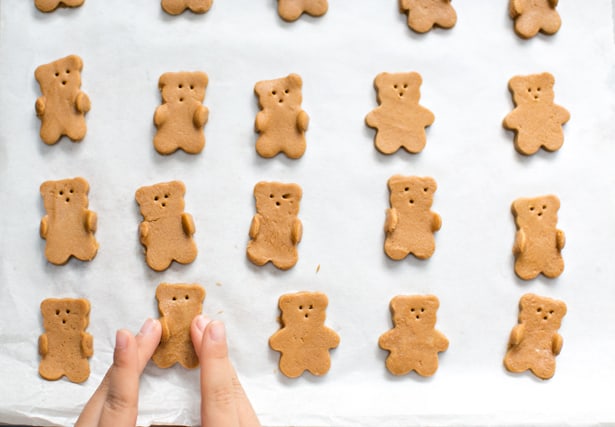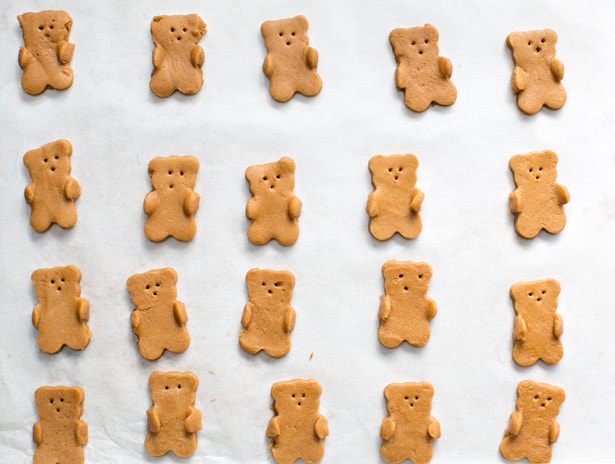 Step 3. Preheat oven to 350 degrees. Place the cut out bear shapes on parchment lined baking sheets. Using a skewer, add eyes and a nose. Fold his arms inwards so it looks like he is holding something. Again, these are great steps to involve the kids in doing. Bake the bears for about 10-11 minutes. Allow to cool.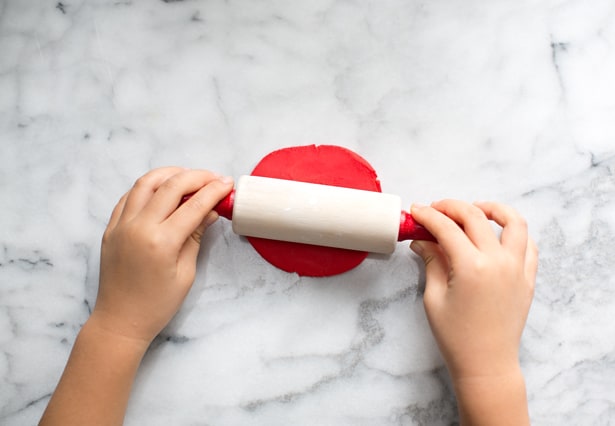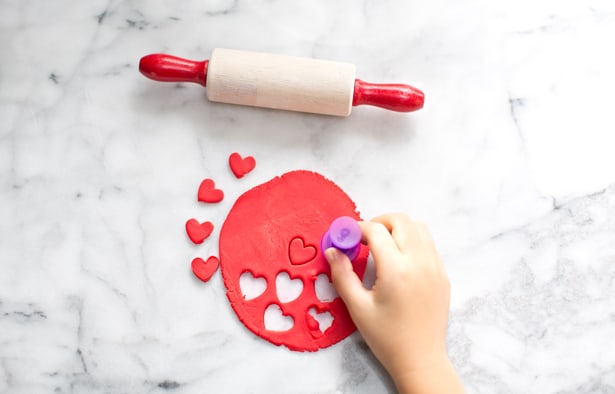 Step 4. While the bears are baking, roll out red fondant. You can buy fondant already colored or white and use food coloring to color your own. Give kids their own small rolling pin and involve them in rolling and stamping out the fondant hearts.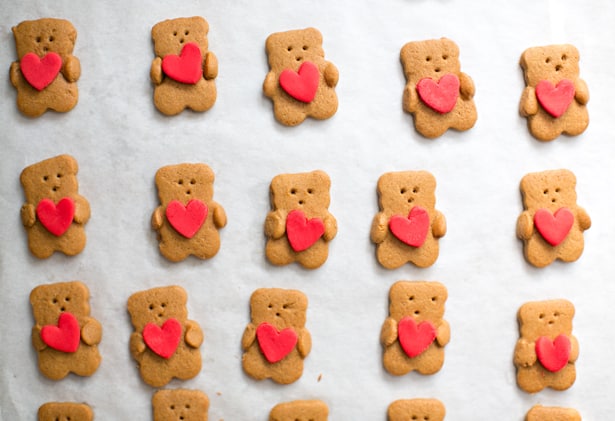 Step 5. Use a bit of piping gel or icing and/or frosting to attach the fondant heart to the bears. Although you may skip this step if you press down the hearts while the bears are still warm from the oven. The heat sort of allows the heart to stay in place.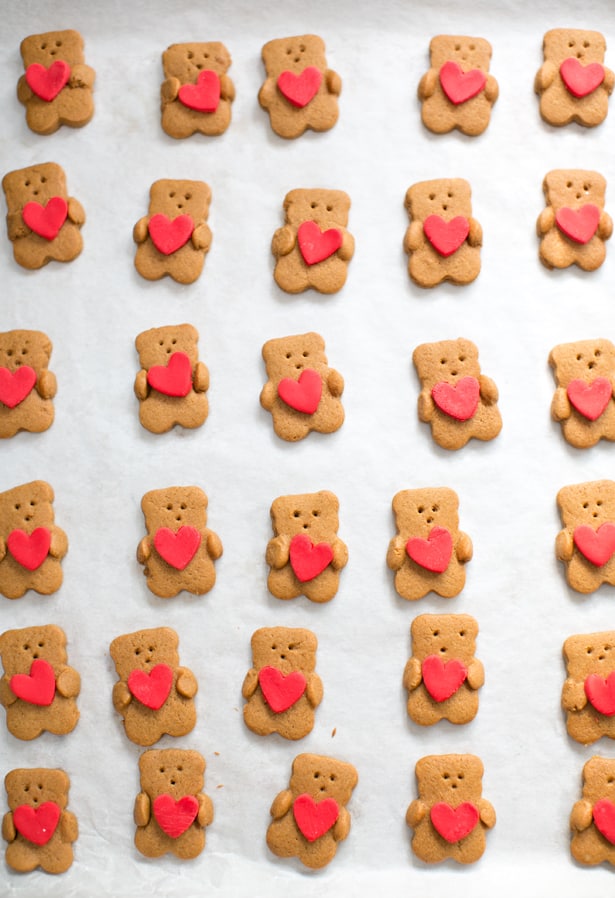 These sweet bears look too adorable to eat! But that didn't stop us. They're soft from the molasses but still firm on the outside. And have a delicious cinnamon flavor.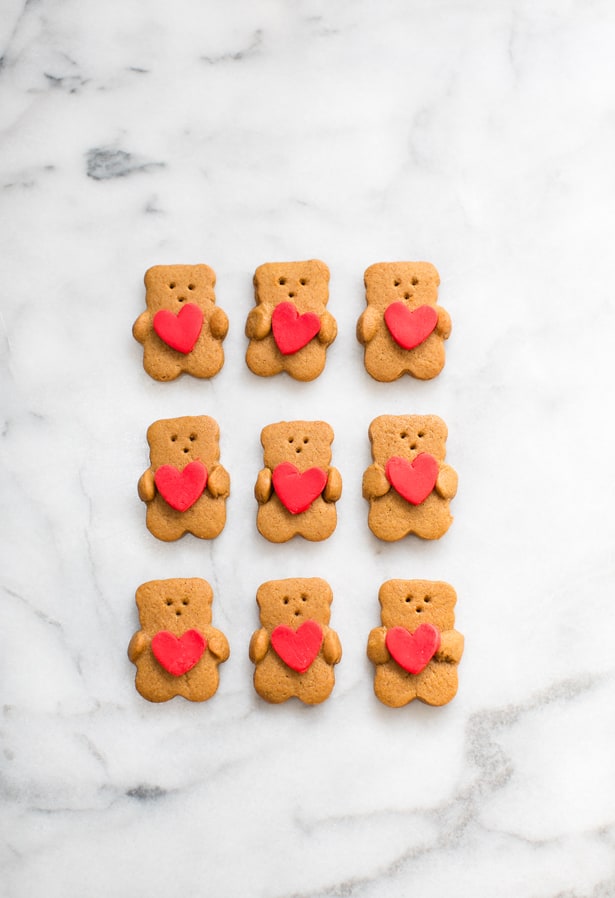 They look super cute packaged in a clear bag with a cute hand-written note 🙂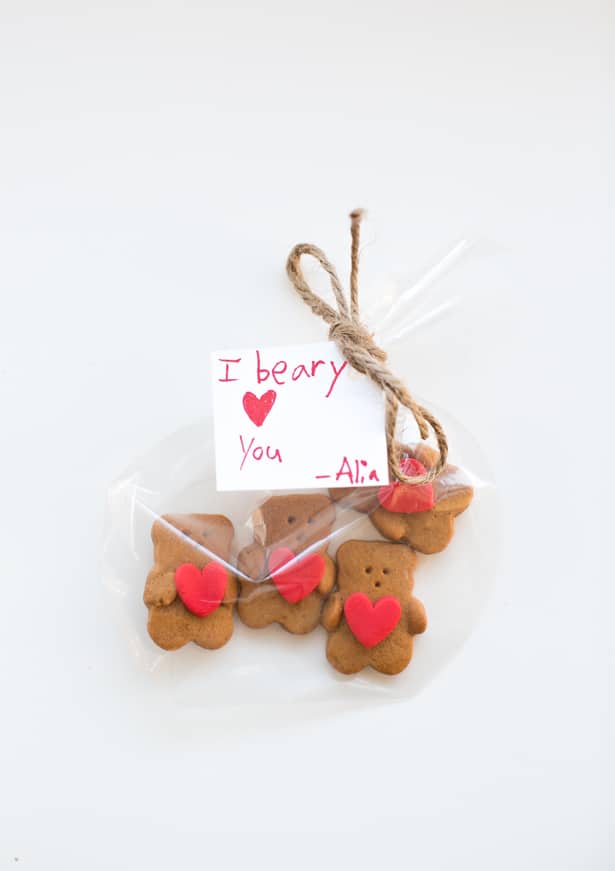 What are some of your favorite Valentine's Day treats to make with kids?