It's not too late to add some St. Patrick's Day fun into the mix with your kids. Here's an easy baked donut recipe that's just the right size to leave as mini treats for leprechauns. Plus they're made from only one ingredient and are super easy for kids to help make in the kitchen!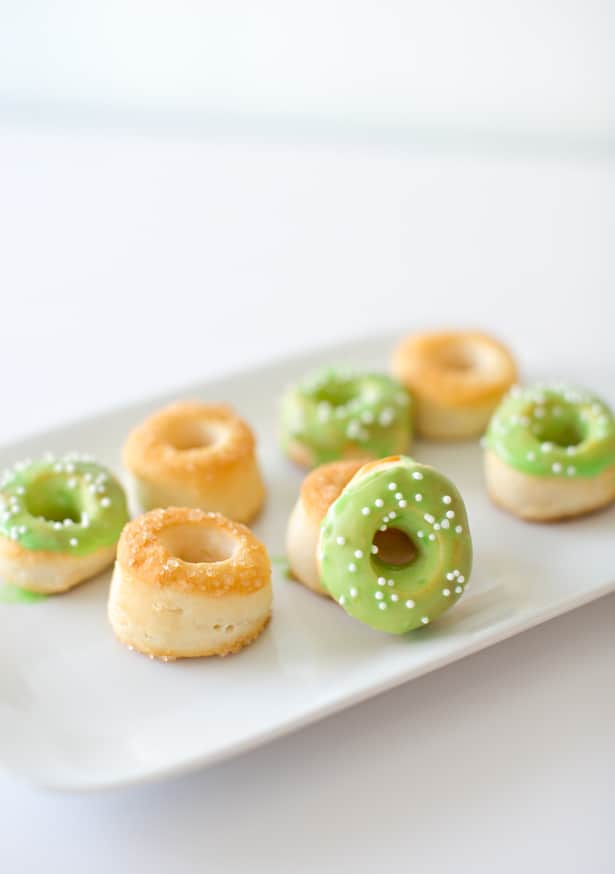 Tiny Leprechaun Donuts – Ingredients
– One can of refrigerated buttermilk biscuit dough
– Melted butter
– Demerara sugar (This is a gold sparkling sugar I put on half the donuts to resemble "pots of gold." You can always substitute plain white sugar if you'd like a plain sugar donut, without the gold effect).
– 1 Cup powdered sugar
– 2 Tablespoons milk
– Green food coloring
– White non-pareils or any white sprinkles
– 1 1/2 inch circle cutter and 1/2 inch circle cutter (I used the small end of a pastry tip for the smaller circle. If you don't have cutters, you can use milk bottle caps for the outer circle and straws for the inner).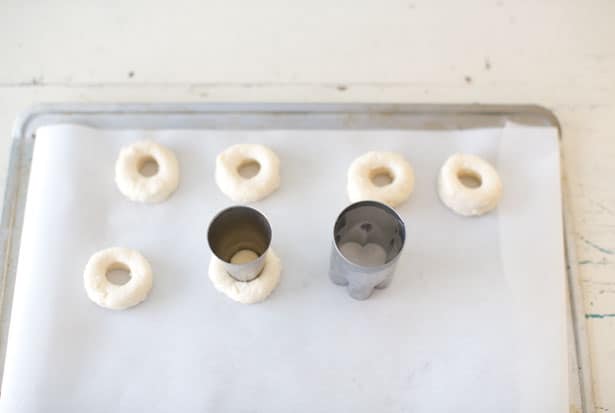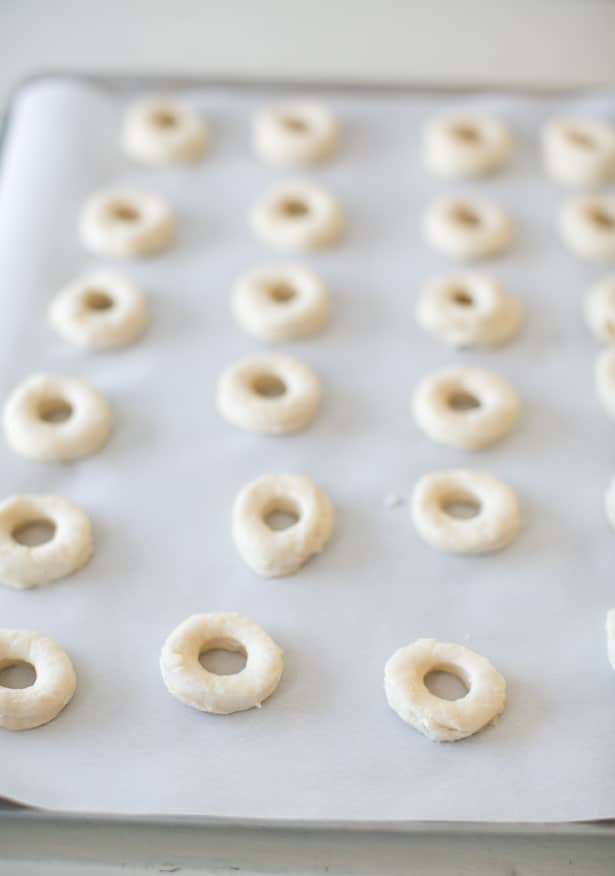 Steps:
(Preheat oven to 375 degrees)
1. Pop the biscuits out of the can. You should have 8 biscuits. Flatten each with your hands. Use the 1 1/2 inch cutter to cut out circles. You should get 3 circles from each biscuit rounds (so you will have 24 mini donuts total). Use the smaller circle cutter to cut out your donut hole center.
2. Brush each donut with melted butter. Sprinkle Demerara sugar on half of them.
3. Bake for 11-12 minutes until the tops are golden brown. Let cool.
4. Mix powdered sugar with milk and food coloring until you get the green color you desire. Dip each cooled donut (the ones without Demerara sugar) into the icing and sprinkle white non-pareils. Let set before eating.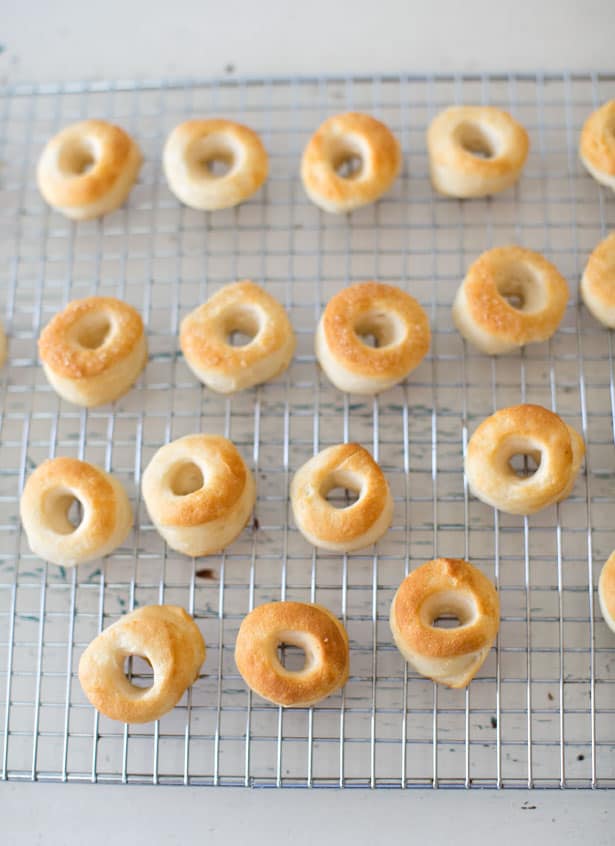 These come out golden and buttery and looking like donuts! Notice the ones with sugar have a more golden top.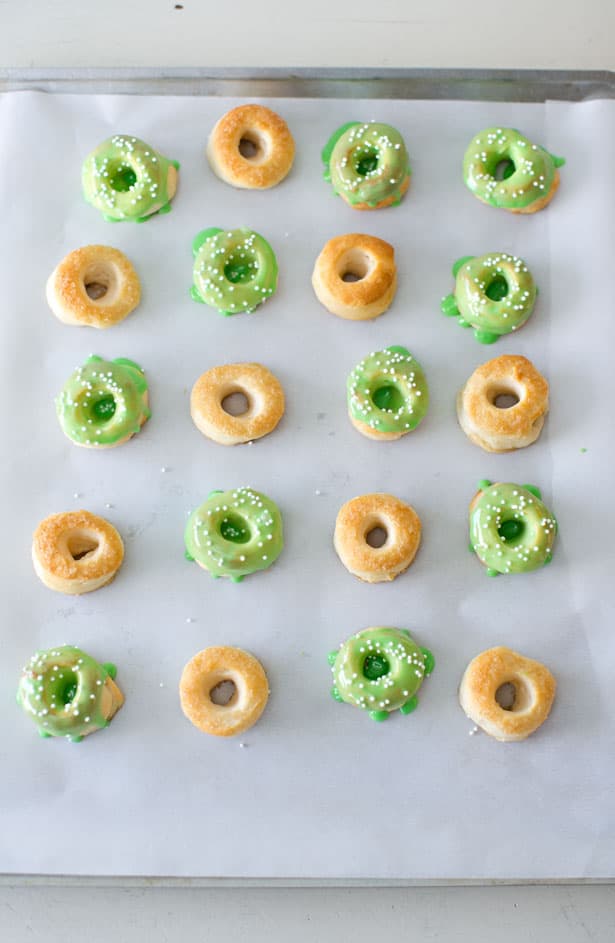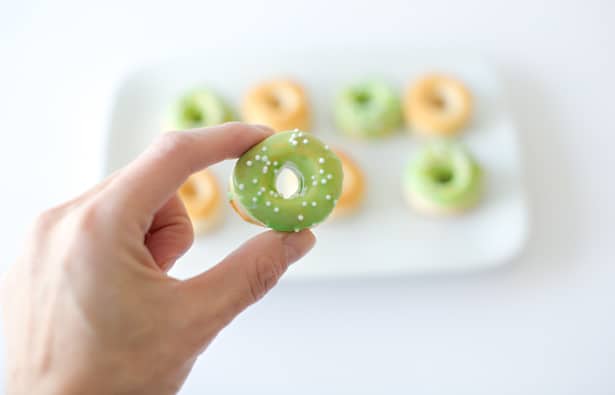 These 1.5 inch, bite-sized baked donuts are so scrumptious and like little bits of sweet, doughy heaven. The hard part is keeping yourself from eating a few in one sitting.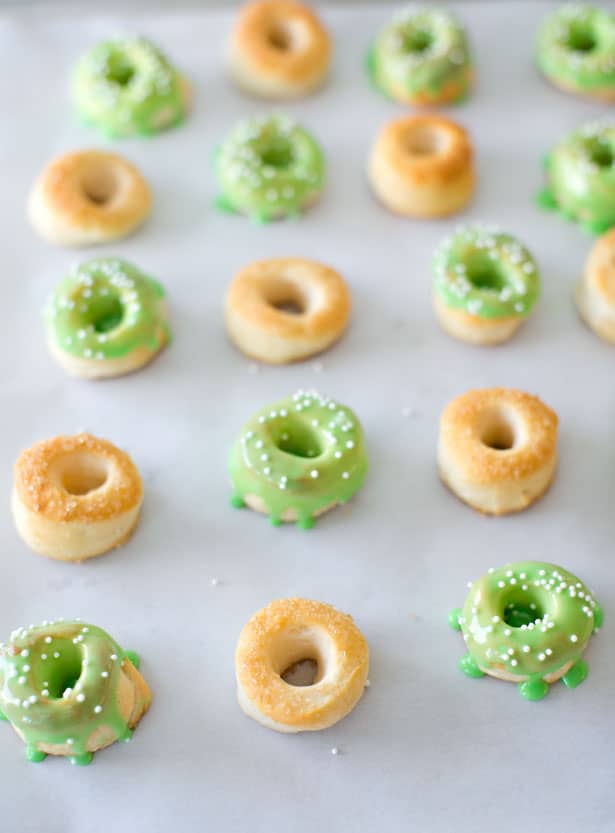 These mini donuts were so easy to make and the kids loved the idea of leaving them out for leprechauns. Who knows, they might even get something back in return.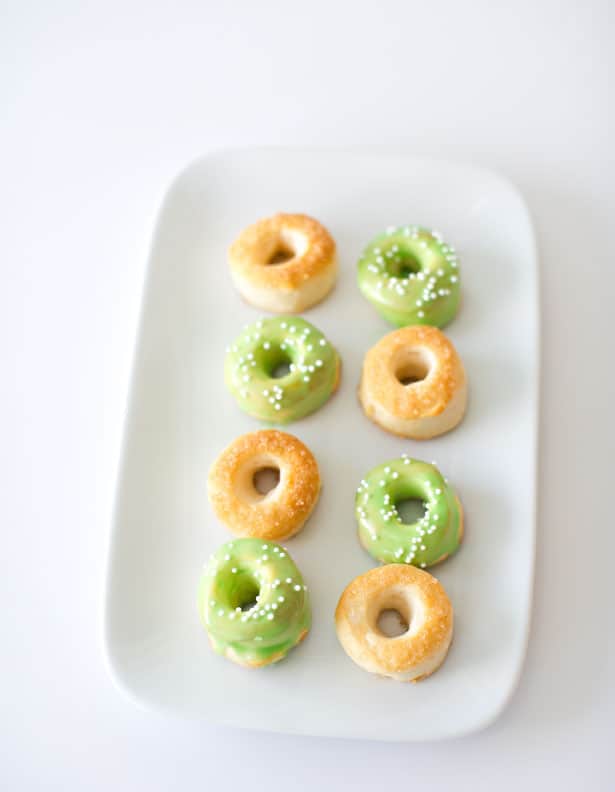 Although we made these for St. Patrick's day, these easy baked donuts would be fun to make for any party or special treat – they're very kid-friendly!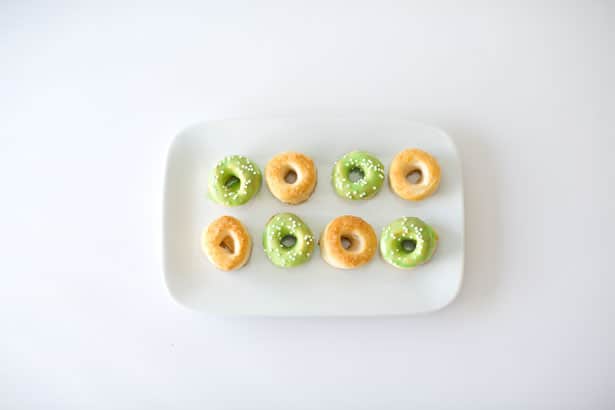 Have you ever made baked donuts?
Also see:
12 Scrumptious Baked Donuts Kids Will Love