The kids and I had so much fun making these easy rainbow salt crystals and came up with a few different ways to use them. First up is this easy rainbow salt painting. I've never tried salt painting, but have seen it done a couple of different ways, such as these beautiful salt paintings from A Little Pinch of Perfect and watercolor salt paintings from Inner Child Fun.
Our salt crystals are large, so in our case, we decided to do a little "painting" with glue so they could stick on the paper. The result was a beautiful textured rainbow. Read more below on how to make your own rainbow crystal rainbow art!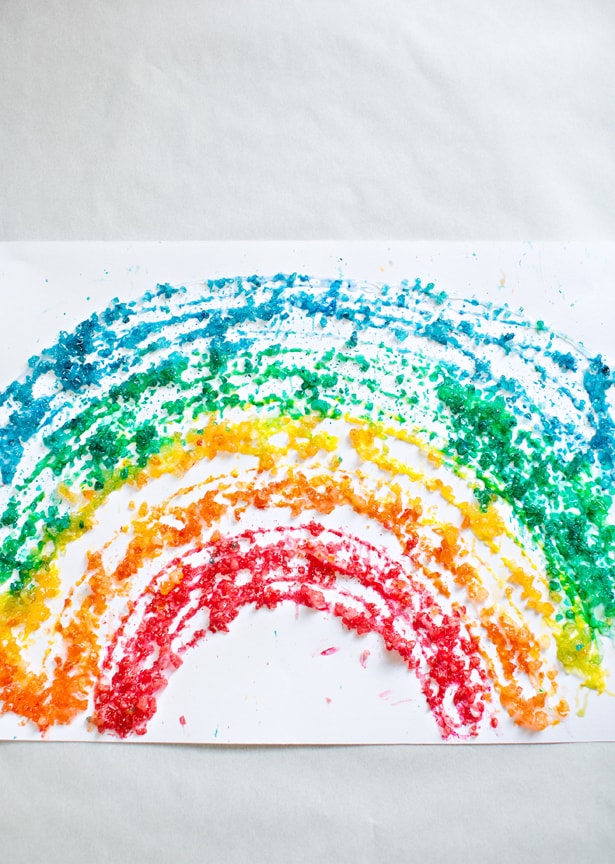 Rainbow Salt Crystal Painting – Materials:
– Rainbow salt crystals (see how we made them here)
– Glue (we used clear craft glue)
– Thick cardstock or watercolor paper
Instructions: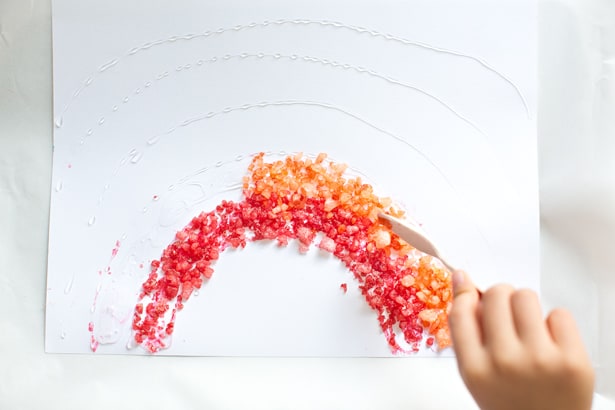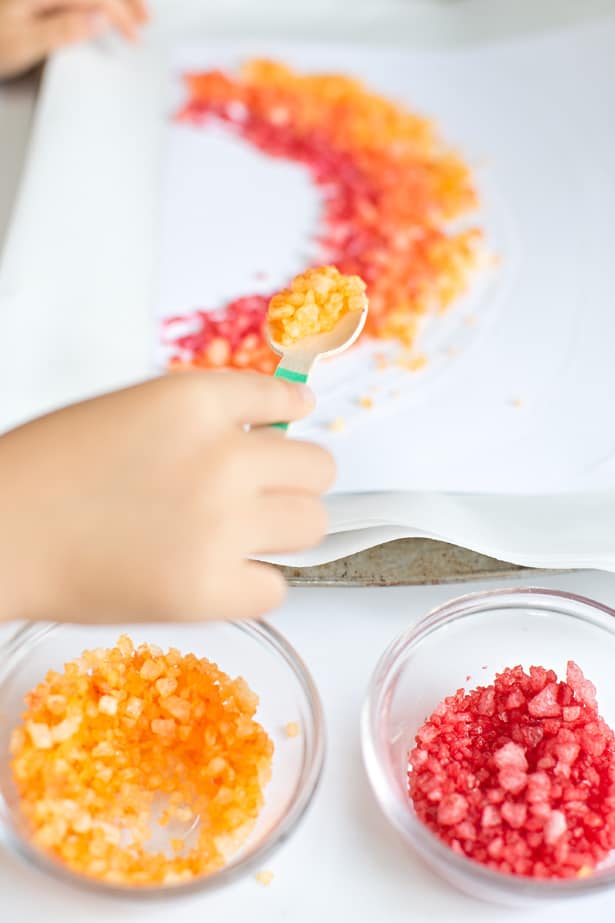 Step 1. It helps to line a baking pan with parchment paper and place your paper on top to contain the mess. Lay out your crystals in small bowls for easy access.
Step 2. "Draw" a rainbow with the clear glue so you know where your rainbow lines will be.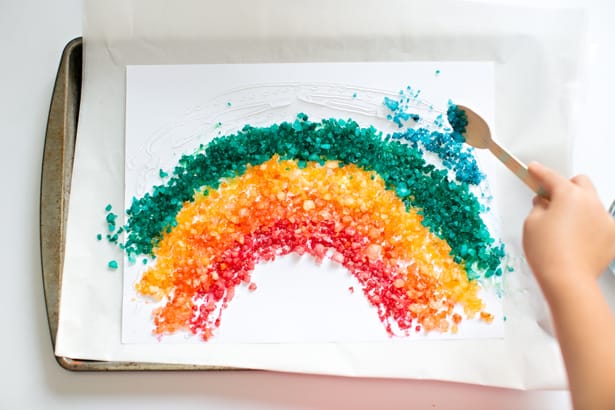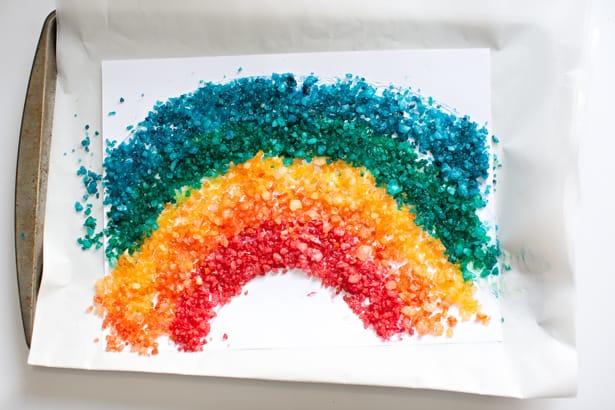 Step 3. Starting one color at a time, fill in your rainbow line entirely with glue. With a spoon, ask your child to fill the line in one at a time with the salt crystals. Pat down the crystals with your hands.
Step 4. Let your "painting" dry. Remove the excess crystals. Quite a few of course came off since the glue was only one one layer (and my daughter liked to pile up the crystals!) but you can still see a beautiful textured rainbow after the fact. If you want your rainbow to be more filled, you can go back, add more glue and repeat the first few steps a couple of more times.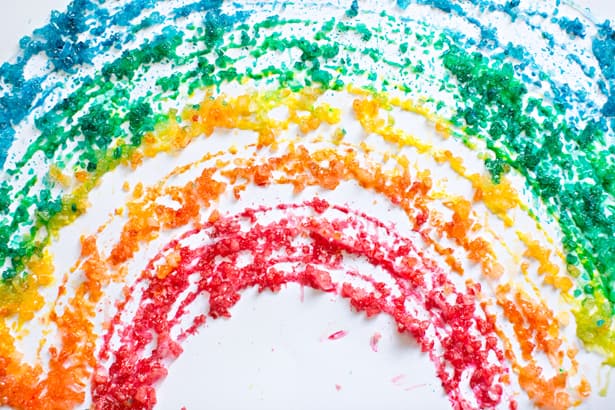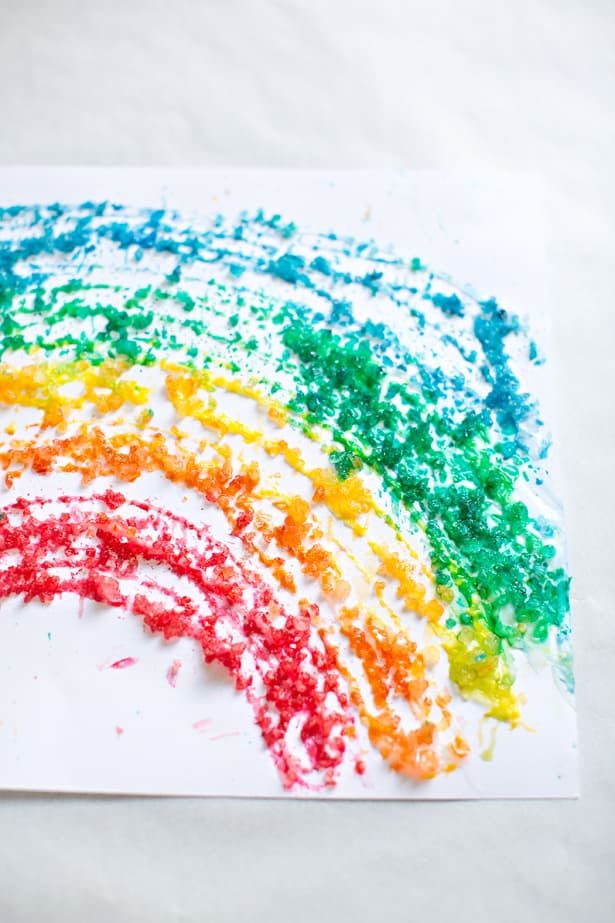 Remember to keep the crystals that have fallen off for another use! All mixed up together, they make pretty colors. Keep them in a jar for another project.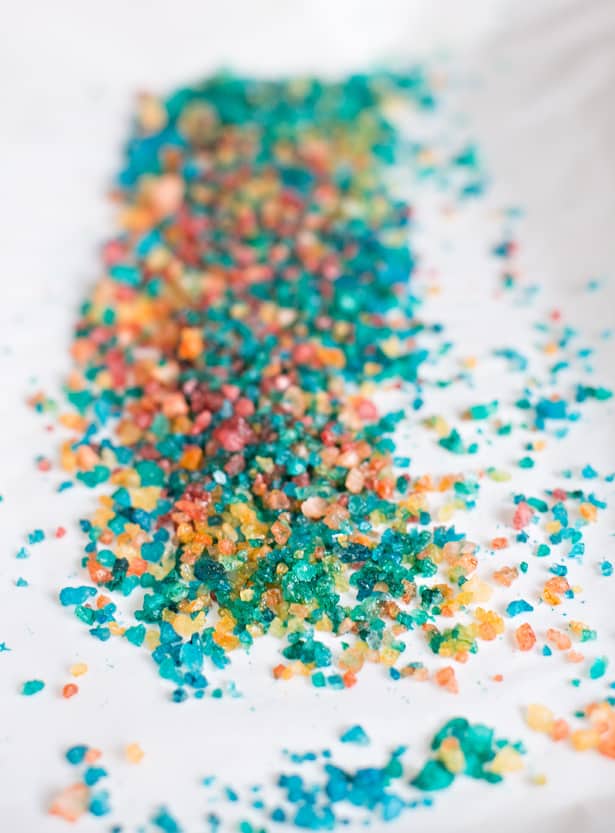 Have you tried salt painting with the kids? It's such a pretty textured effect. We'll definitely be trying it again in different ways!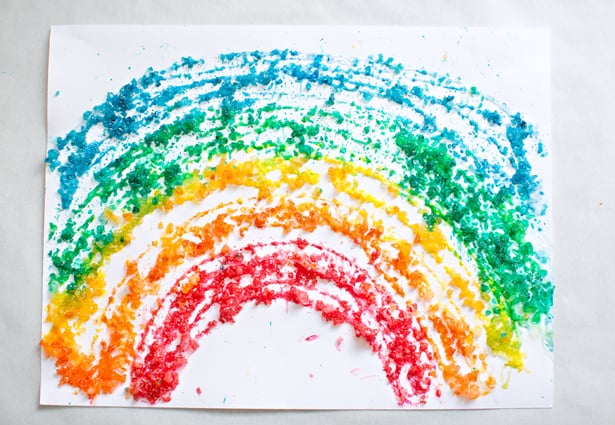 This is a simple art activity or St. Patrick's Day craft!
______________________________________________________________________________________________________

Disclosure: Some of the links in the post above are "affiliate links." This means if you click on the link and purchase the item, we will receive a small affiliate commission. Regardless, we give our promise that we only recommend products or services we would use personally and believe will add values to our readers.