We're so excited to introduce you to a new Maker Mom today, Lisa Fyfe from Little Monster. Lisa's creative projects caught my eye recently due to their simple aesthetics and impeccable design. It wasn't a surprise then, to find out that Lisa was a former art director as every project she shares is so thoughtfully designed, some resembling actual toys you might buy. The beauty of it all is that the crafts are actually simple to make right at home using common materials. You'll see a variety of handmade toys and interactive crafts along with cute free printables that celebrate play and childhood on Little Monster. Thank you Lisa, for stopping by and sharing your creative process with us!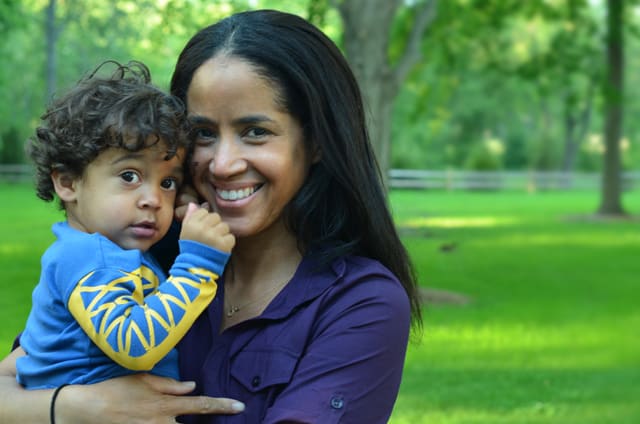 Please tell us a bit about yourself and your blog.
Hello! My name is Lisa Fyfe, proud mama to Rowan our four year old little monster. I was an art director at a book publishing, and living in New York City when my son was born. Soon after, we moved to Connecticut and most recently San Diego, so a lot of change, but a lot of inspiration!
With motherhood, came a new form of creativity and influence. I had this little life by my side, and all I wanted to do was make him happy and give him an enriched, beautiful life. As he grew, I started creating and making things for us to do together. Our little projects were fun for both of us. Rowan got to play with paint and dough and make big messes, and I got to be a kid again. Little Monster started as a space for our projects to live and breathe, and an outlet for my ever-present creativity.
What are your tips on getting creative with kids?
My biggest advice, would have to be, have patience, give them space, and join in. Set them free to invent and create. They are much better at it then us adults with our rules and ideas of what we think things should look like. You may be tempted to direct and instruct, but stop yourself. They don't need it.
Also, cleanliness is a creativity killer. Let them feel the slimy paint on their hands, the dirt between their toes and sit back (it's hard!) and watch the goo as it slides down their beautiful hair (that's what shampoo is for!). The experience is what matters here, and you don't want to stop that energy by frenetically sweeping up scraps and cleaning up the craft table while they are trying to work.
The best times I have had with Rowan are when I have fun too. When I am equally invested in my own project, Rowan feeds off that energy and gets excited and engaged too. When it comes to creativity our children are the experts, and we are the facilitators. Supply them the tools, the space and a place to wash up when they are done, and that is all they need.
Where do you draw your creative inspiration?
My inspiration starts with Rowan. Light bulb moments usually pop up when I am with him. He may ask me to buy him a toy or game, and I then it will occur to me "Wait, we can make that!" So we go home, search the house for materials and get working.
Boredom is another great motivator. When Rowan and I have run out of ideas and are bored to tears, we visit the good old craft closet or go get ourselves outside. A blue bird flying by, flowers in the garden or a colorful stack of construction paper all serve as the beginning for a fun afternoon.
Also, I am a lover of type and design, so I am inspired now by the same things that influenced me when I was an art director. I keep up with other graphic designer's, illustrator's and photographer's work as a part of my daily creative ritual.
What are a few of your favorite activities you've done with your kids?
1. Upcycling has become a favorite pastime. These little animal puppets made from wine corks are a favorite of my son's. It is a pleasure to hear him dreamily creating little storylines with these critters. Also, since he had a hand in making them, they are extra special.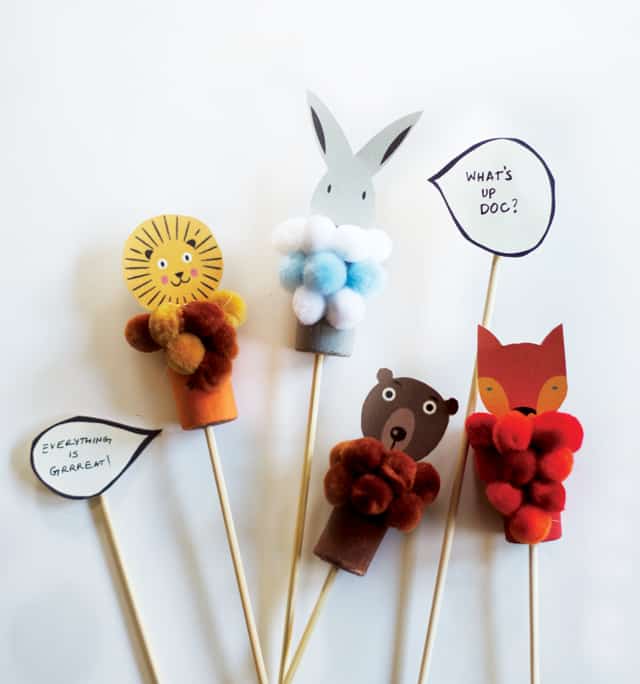 2. The tactile nature of working with clay is perfect for small hands. A big blob of clay will keep Rowan engaged just long enough for me to get dinner on the table. This Fishing Boat Game and Smiley Face pins made from homemade air drying clay are our latest creations that we are loving.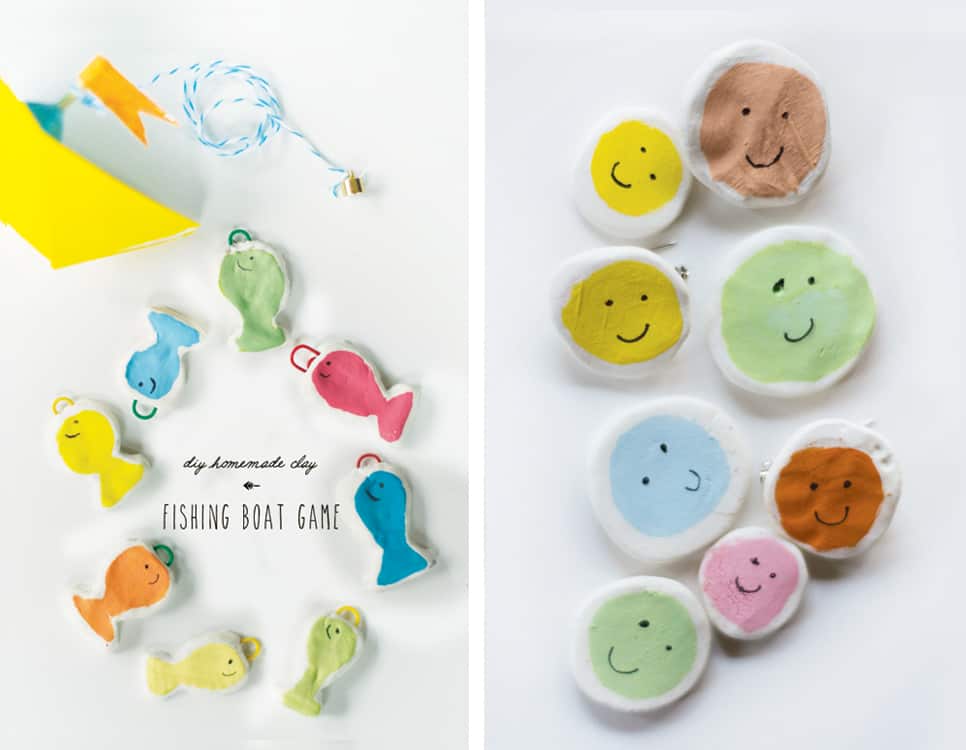 3. This Scavenger Hunt game came out of a trip to downtown LA when I needed something to keep Rowan occupied while walking around the city streets. Now, we play other versions of it in the car and on our walks to the beach.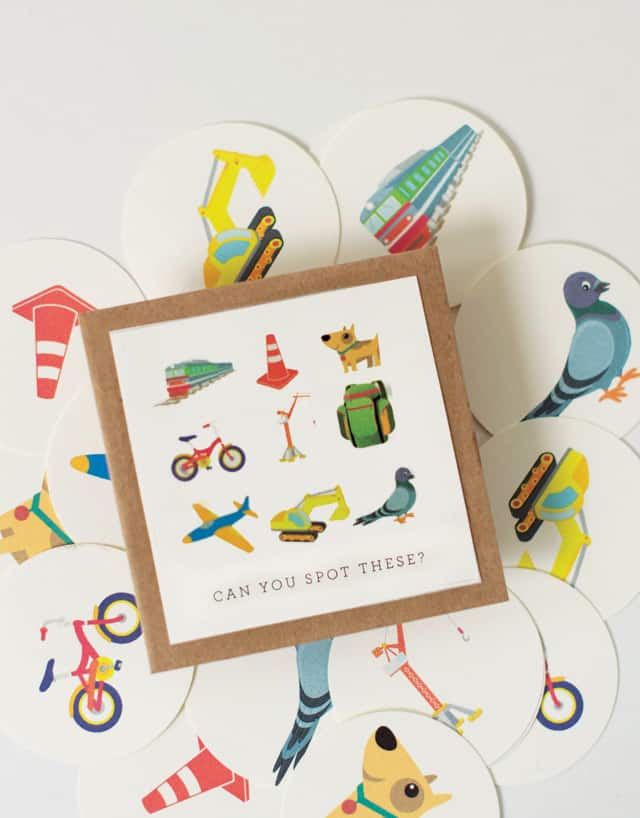 If you were stuck on a deserted island what craft supplies would you bring?
Paints and brushes. Paint is absolutely my favorite craft supply. I love that a child can splash his paintbrush on a plain piece of paper, and it is transformed to abstract art. Plus, a deserted island is rich with it's own canvases like palm leaves, seashells, tree bark and more. You don't even need paper!
And because we love books and are always looking for good recommendations, what are some of your favorite children's books?
One of my favorite times of the day is right before bed when my husband and I read to Rowan. He loves to sit between us both, and insists that we squeeze in real close and snuggle him tight. He won't let either one of us start reading until we are all three present. He runs a tight bedtime ship. I know these moments are going to make my fondest memories of time spent with my son.
We have many favorite books, but these are the few that have stuck with us.
Winnie the Pooh: We have been reading stories from this book on and off since we got the book on Rowan's 4th birthday. I think all three of us are charmed by Christopher Robin, Pooh, Piglet, Kanga and Roo.
Locomotive, Brian Floca: This book has the most beautiful illustrations, and writing. It tells the story of the long ride across country on the early locomotives. Rowan loves anything train related, so he is riveted.
The Barefoot Book of Animal Tales: This is a book of retold folk tales from around the world that we have been recently loving. The stories are magical, dramatic and a little strange. They stir the imagination and give us a window into the folklore from other parts of our world.
Anything by Dr. Seus especially Horton Hears a Who: We love Dr. Seus. We started reading these to Rowan straight out of the womb. Plus, Horton is one of my all time favorite fictional heroines. If we could all be like Horton!
Last, who are some of your favorite bloggers or maker moms who inspire you?
This is a great time for women entrepreneurs. There is such a presence of creative women going for it while maintaining strong family lives. Striking that balance is such a struggle, so other creative parents are a source of huge comfort and encouragement.
Joanna Goddard's, Cup of Jo, is one of my first favorite blog reads. Her fresh honest posts are always on point. Plus, seeing her success as her family grew is inspirational.
Gabrielle, of Design Mom, is such a creative force. I am in love with her Olive Us productions featuring her big beautiful family, and can't wait to see what else she comes up with.
Handmade Charlotte and Mer Mag are two of my favorite craft blogs for their clean modern, projects.
Molly Moo, The Art Bar Blog, Willowday and hello Wonderful(!) are such an inspiration. I am amazed at how you all keep the ideas coming while the projects stay fresh and beautiful.
Thank you Agnes for including me along side all of these wonderfully talented women.
It's been such a pleasure having you here Lisa! I love this quote of yours, "when it comes to creativity our children are the experts, and we are the facilitators." So well-said and so true. Children have the most imaginative minds and I have found myself constantly inspired by my own.
How do you stay creative with kids? Let us know in the comments!
To follow Lisa's creative projects, check out Little Monster on Facebook, Pinterest, Twitter, and Instagram.


P.S. If you'd like to be featured as a Maker Mom, please drop us a note here!