There are so many talented and creative moms from all over the world and today I'm thrilled to introduce you to another one all the way from Sweden! Karin runs creative blog Pysselbolaget with her daughter Freja who is often the source of inspiration and ideas for the blog. How wonderful is that? Karin and Freja are masters at upcycling things into the most clever and new uses. You'll be amazed at their ideas for recycling egg cartons, containers and other objects into new things for the home – from decor to furnishings! Karin also has a sweet approach to making crafting a family bonding event with her children which you'll have to read more about below.
Welcome, Karin (and Freja)!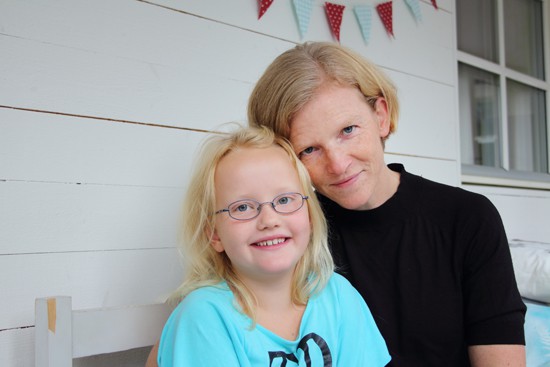 Please tell us a bit about yourself and your blog.
Hello, my name is Karin and I run the Swedish blog Pysselbolaget.se together with my daughter Freja. My mum spent a lot of time crafting with me when I was a kid. I remember those moments with joy and I want to pass it on to my kids. Crafting for me is a way to shut out the daily chores and focus on my loved ones. It works, I find it impossible to think about work and laundry when I'm crafting!
I was born in Sweden and we live on an island in the beautiful archipelago of Stockholm. It's not however a very big place, in a not very big country, but the blog has given us access to makers all over the world and we now have friends and followers from many of countries.
Freja and I aim to show easy and fun crafts to inspire parents and kids and we do it in Swedish and English. We create most of our crafts out of things we find at home and we always work together. All our crafts are made in our spare time. I work as a freelance graphic designer and Freja is in school.
What are your tips on getting creative with kids?
It doesn't have to be hard. It doesn't have to be perfect. It's not what you make that matters – it's the making and the time you spent together. Keep it simple, but make it happen.
Freja has lots of ideas and she's not limited by the who's and but's. I tend to be a bit more practical and turn her ideas to a level we can handle. Making a castle doesn't have to be a week long project, stacking boxes on to each other. It can be making a silhouette to tape to the wall. If you're like me, practical and constantly short of time, you might find theses suggestions helpful.
1. Try to make something you can use. If your kids like to work with colors – make thank you cards, Christmas decorations or notebook covers! If your kids like Hama beads – decorate matchboxes with the bead artwork. There are lots of useful things to be made.
2. Make something to play with. For years a pair of binoculars, made out of two toilet rolls and a ribbon to wear around the neck, was the most used toy in our house. It took 10 minutes to make.
3. Find new use for something you've already made. One day I found Freja folding fortune tellers – a lot of fortune tellers. To make use of the colorful pile of folded paper we glued them on to a plain white lampshade. The result was amazing and the lamp is a jewel in our living room. Do I need to say Freja is as proud as can be?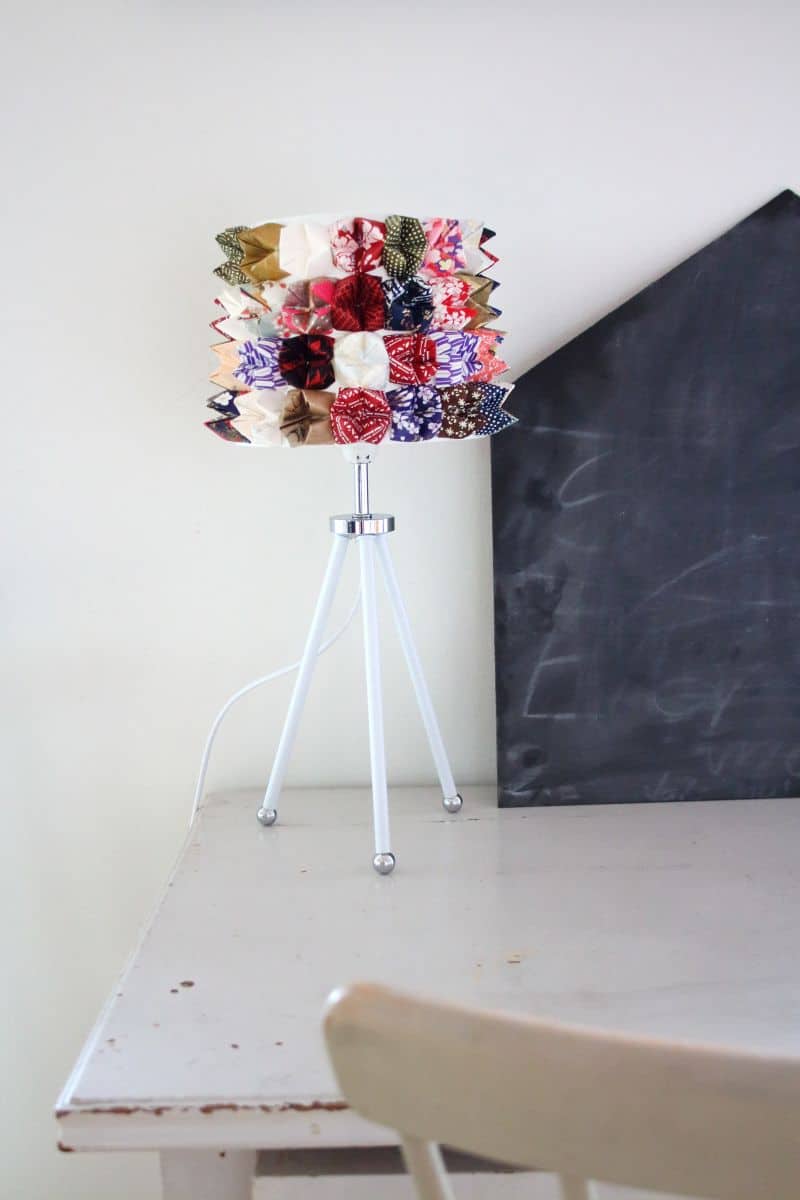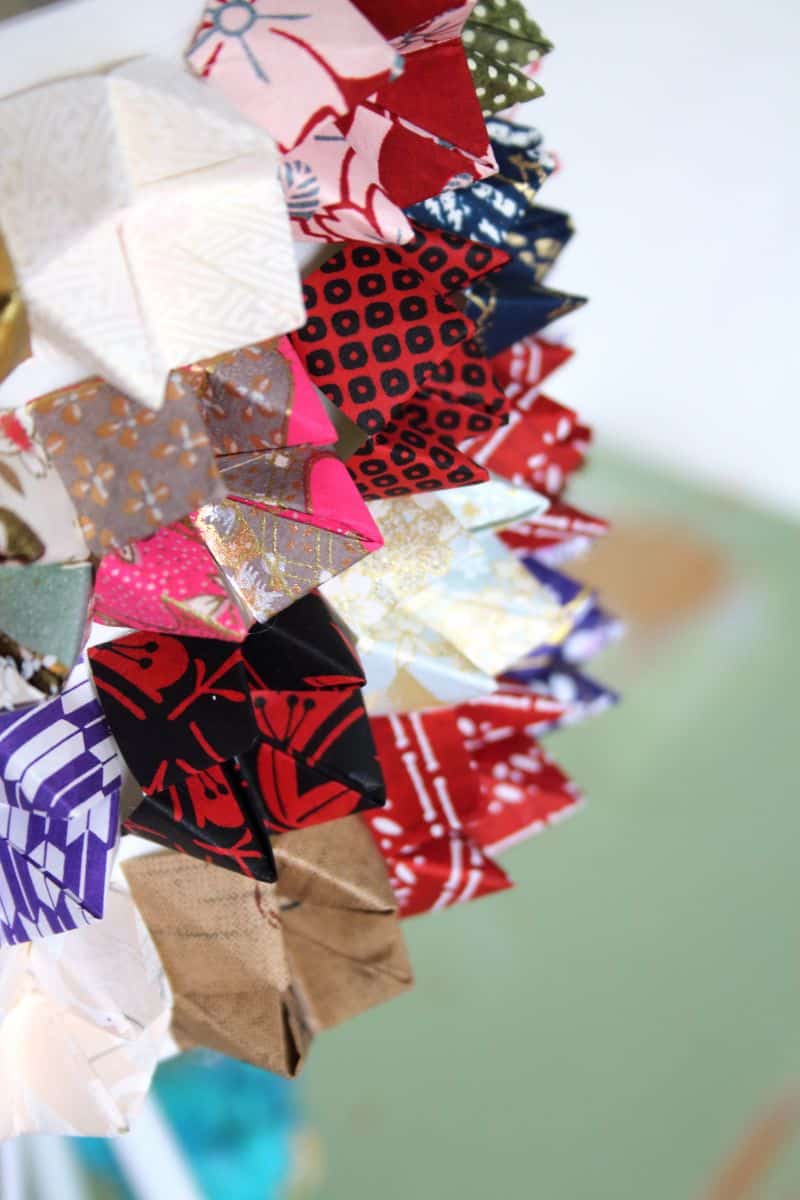 Where do you draw your creative inspiration?
I'm blessed with very creative and generous friends and they are a great source of inspiration. The recycling bin has also proven to be inspiring, or rather the content of the recycling bin. Often I find myself thinking, "this is too good to throw away – we must be able to make something with it". And if you look through our crafts a lot of them are made of things other would consider to be trash.
Freja, being a creative kid, is of course also incredibly inspiring. I love to tap into her way of thinking and she has a great sense of colors.
What are a couple of favorite activities you've done with the kid(s)?
I love to use the kids old toys! Some toys have simply been too loved to through away, they're not played with anymore, but still loved. My son's superheroes have been turned into lamps and beach games. Frejas' animals are now a row of hooks.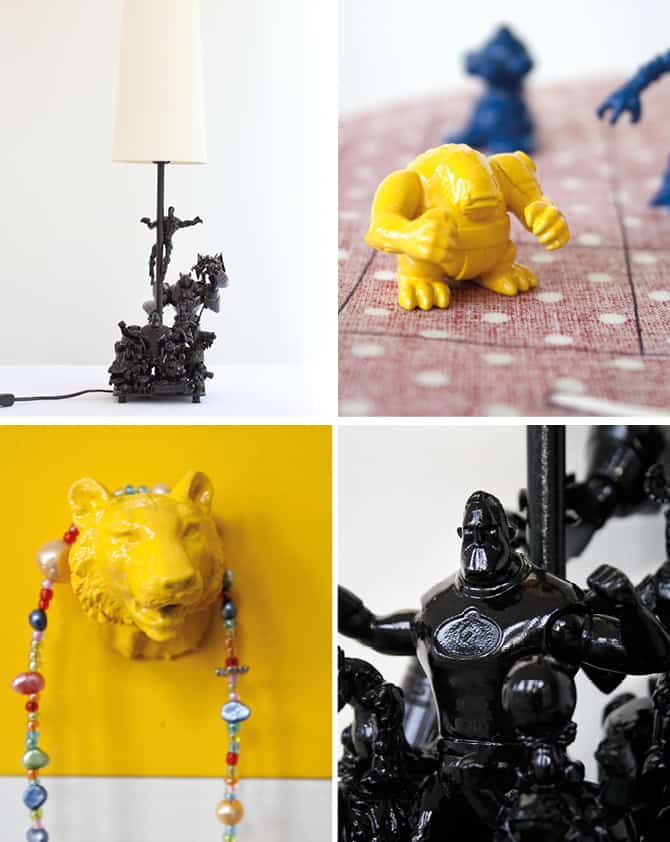 We also like upcycling! Old egg cartons are turned into ice cream cones or lights.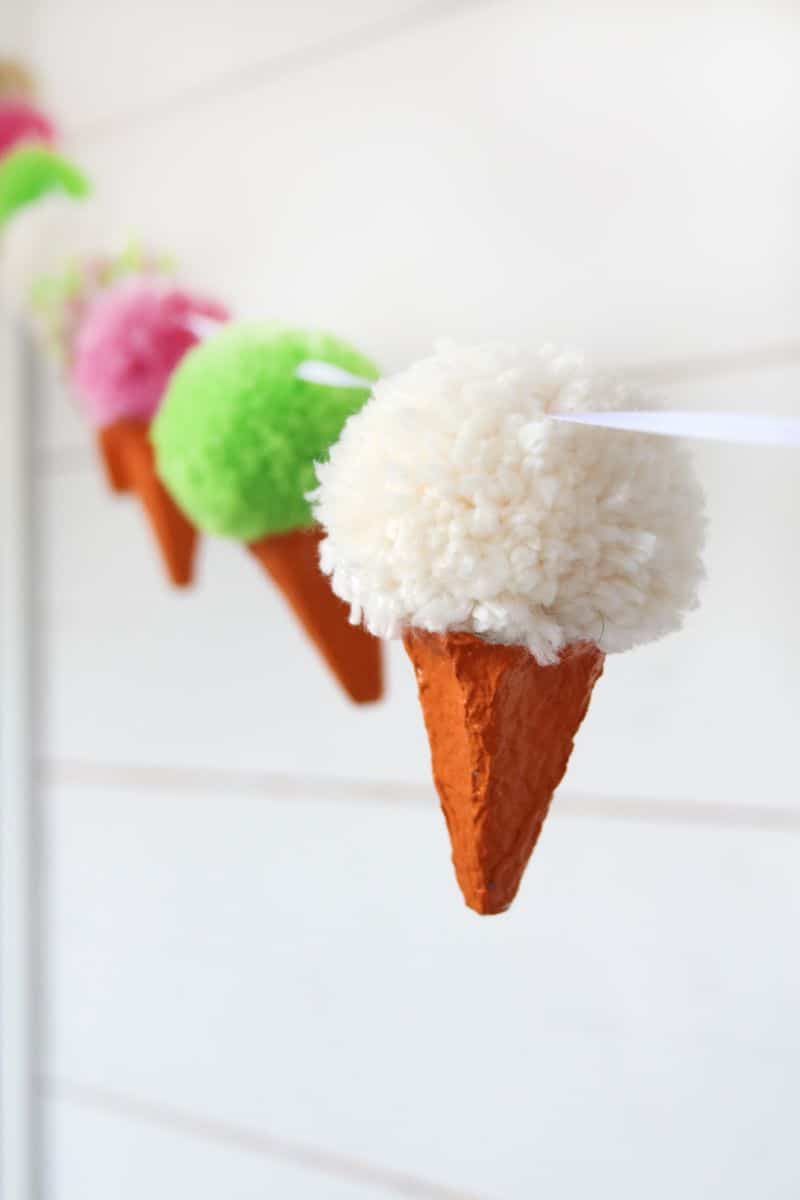 Yoghurt bottles and worn out jeans have also been transformed into other fun things.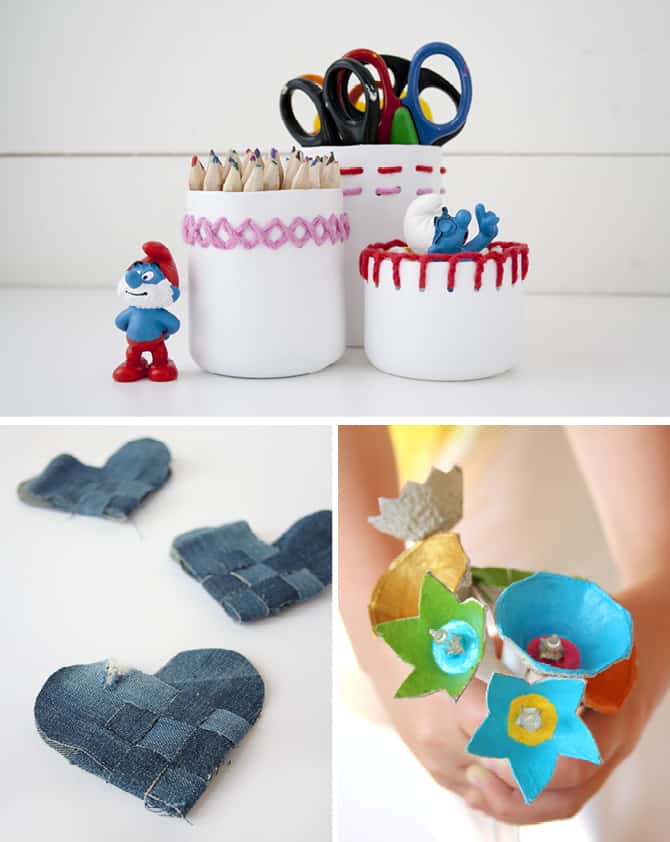 If you were stuck on a desert island with the kid(s), what crafting materials would you absolutely need to have?
If we had scissors, glue and paper we'd be happy for days!
And because we love books and are always looking for good recommendations, what are some of your favorite children's books?
I'd like to take the opportunity to recommend two of my favorite Swedish authors; Astrid Lindgren and Lennart Hellsing. I have been brought up with Astrid Lindgrens books about Pippi and Emil and so has my kids. Lennart Hellsing writes books in verse, illustrated by the designer Stig Lindberg or Poul Ströyer. Jimmy Potter Buys a Lollipop can be found in English but the ABC book and The book about Bengtsson the Baker I have only found in Swedish, unfortunately.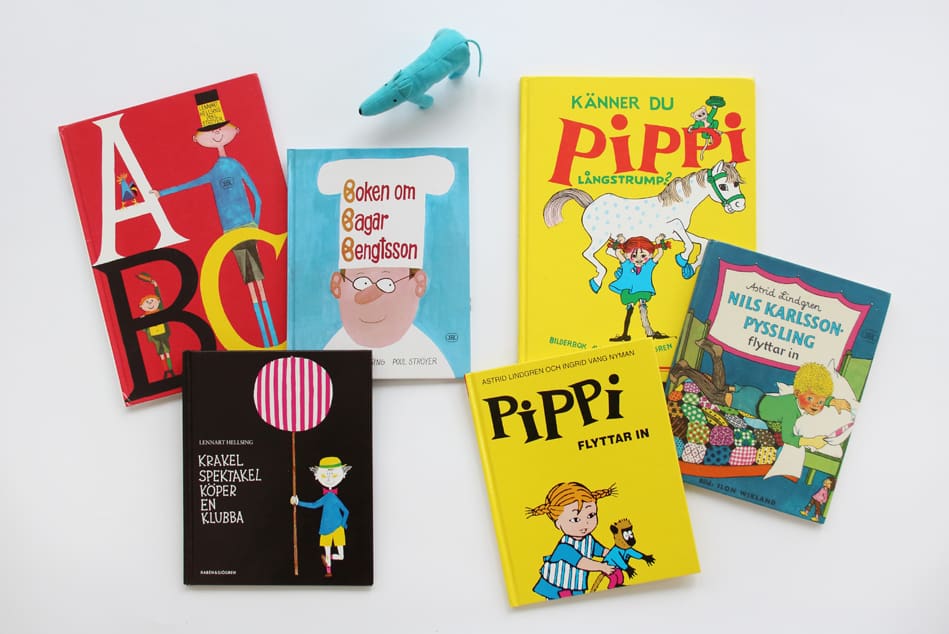 Last, who are some of your favorite bloggers or maker moms who inspire you?
I love and follow most of you featured Maker Moms. What a fantastic group of ladies! My creative friends in Sweden are very important to me; Helena from Craft & Creativity and Gina from Willowday are two very talented crafters. Freja and I love to get together with them and their kids for fun crafternoons. For more fun I regularly check in with Isabelle McAllistar and Jenny Brant from Dos Family and the fabulous Maker Dad Erlend at Morning Creativity.
Thank you so much Karin, for sharing your creative tips and passion for crafting with kids. I just love your approach to making showcasing your daughter's ideas and making her a part of the creative process. Your crafts are not only unique, they are useful too! I would have never thought to make a pretty ice cream garland out of egg cartons or turning my kids' toys into functional decor! You children must feel such a sense of pride to look around and see their inspired ideas around the home. Thank you also for the wonderful list of Swedish authors. We're always looking to broaden our search for great children's literature!
To follow Karin and Freja's crafting adventures, follow them on Facebook, Pinterest and Instagram.
P.S. If you'd like to be featured as a Maker Mom, please drop us a note here!