If you're looking for a simple way to repurpose those old, broken, and worn down crayons, you're going to love these simple St. Patrick's Day Shamrock Crayons. Just like that, your child will have a new and fun crayon that they'll be able to use over and over again!
I don't think I'll ever get tired of melting crayons to make new shapes. It's a great way to re-purpose old, stubby crayons and bring them back to life! To celebrate St. Patrick's Day, we decided to make shamrock shaped crayons. These make fun favors to hand out and bring good luck!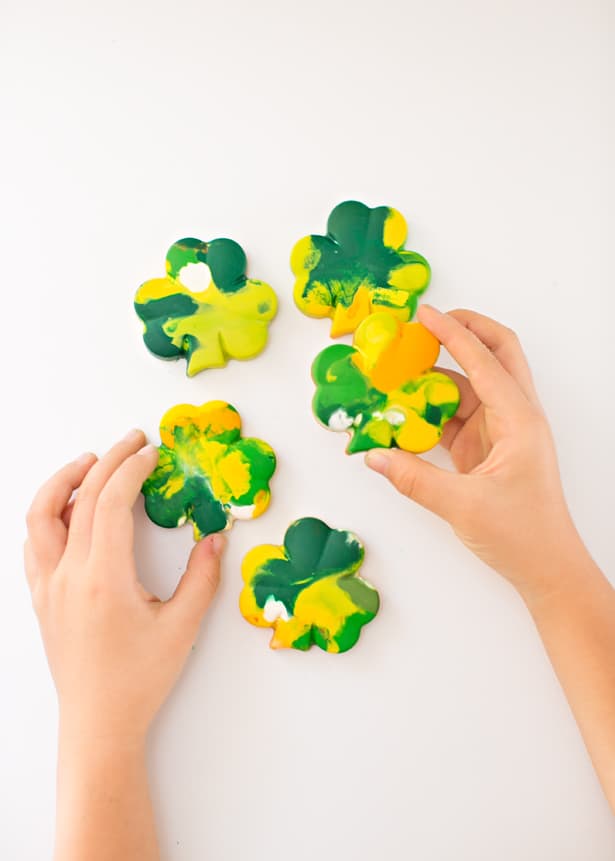 As you can tell, these crayons are simple to make but what really sets them apart are the green and yellow colors that showcase their shamrock shape. And the best part? They'll be able to color with them once they're dry and set!
How can I reuse old crayons?
This is such a valid question! We all know that kids love to color but when those crayons get to be a little too short or broken, it just doesn't work as well as the others. Instead of throwing them away, reuse them instead. In this simple St. Patrick's Day Shamrock Crayon Craft, you'll see just how simple it can be to make new crayons out of broken ones quickly and easily.
Is it safe to melt crayons?
It is! As long as you're there as an adult and helping, it's perfectly safe to melt crayons in the oven. Just know that you'll need to be there to take the hot pan in and out of the oven but besides that, there's really no other hard part to it!
What temperature do crayons melt at?
For your oven, you're going to want to melt your crayons at 300 degrees for about 15-20 minutes. This is a good temperature to break down the already broken crayons without having to worry about if you're burning them or not.
Can I melt crayons in silicone molds?
You bet! This is what this simple craft is all about. Using the silicone molds makes it super simple as well because once they're melted, they just literally pop out and are good to go. Other baking pans will work, too but the silicone is great because they don't stick on the inside as bad as other options.
St. Patrick's Day Shamrock Crayons
These Shamrock Crayons are so much to make! Just keep in mind that you can easily do this for other holidays out of the year as well.
All you would need is a silicone pan that offers different shapes as well as different colors of broken crayons.
One easy idea for Valentine's Day would be to take a heart-shaped silicone baking pan and some broken red and pink and purple crayons to get the same results. See how simple and easy it can be?
If you like this crayon activity, make certain to check out some of our other fun crayon art crafts, too: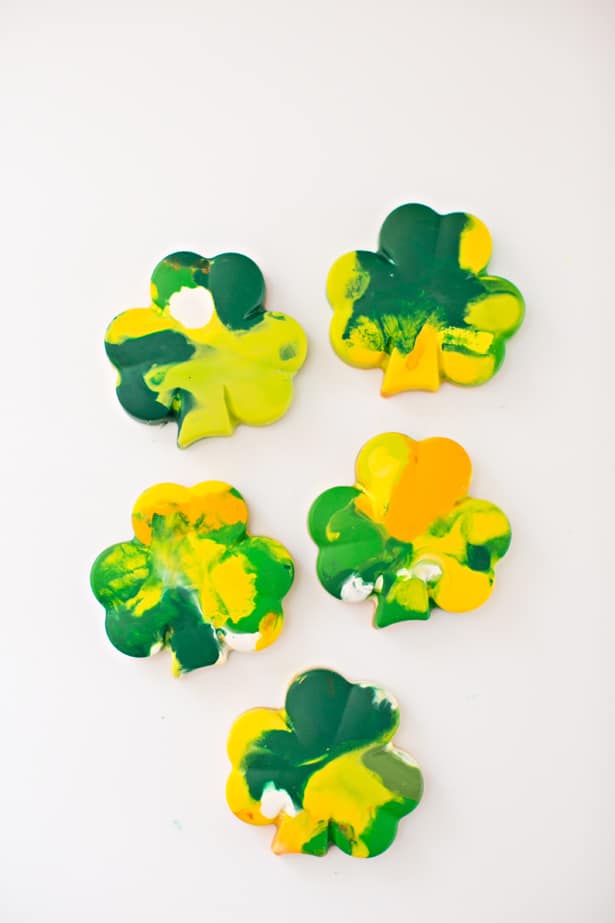 Are you ready to learn how to make these fun Shamrock Crayons? Just follow the simple steps below to get started!
St. Patrick's Day Shamrock Crayons – Materials:
– Old crayons (we mixed up greens, oranges, and yellows)
How to make these St. Patrick's Day Shamrock Crayons: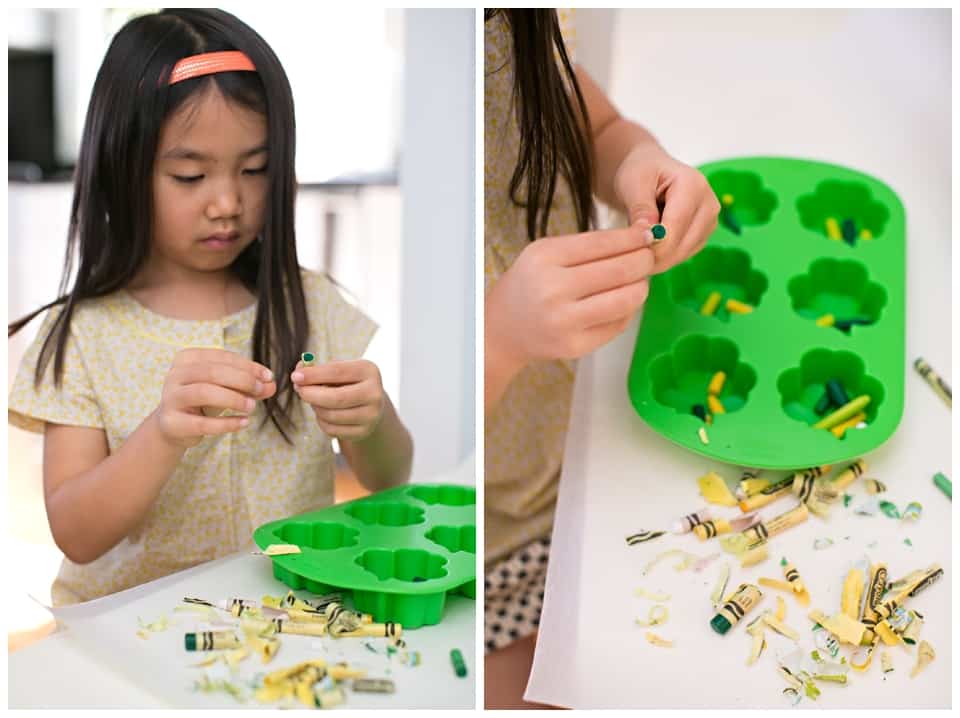 Step 1. Take the paper wrappers off your old crayons. Break the crayons in small pieces. The smaller the faster they will melt. Lay them inside the silicone cavity – we chose to only fill up about halfway through because we didn't want a super thick crayon.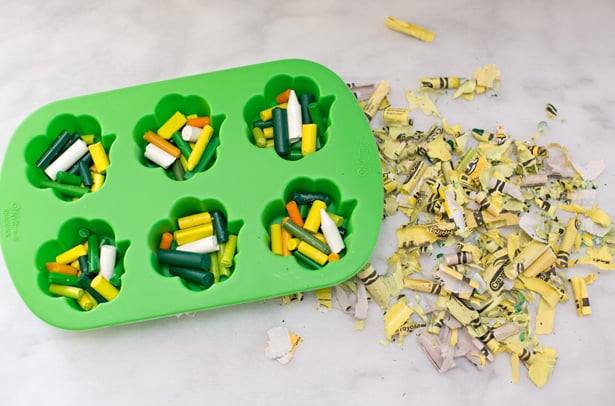 However, if you are wanting a thicker crayon, you can fill close to the top. Just make certain that you leave some room as you don't want the crayons to spill over and make a mess.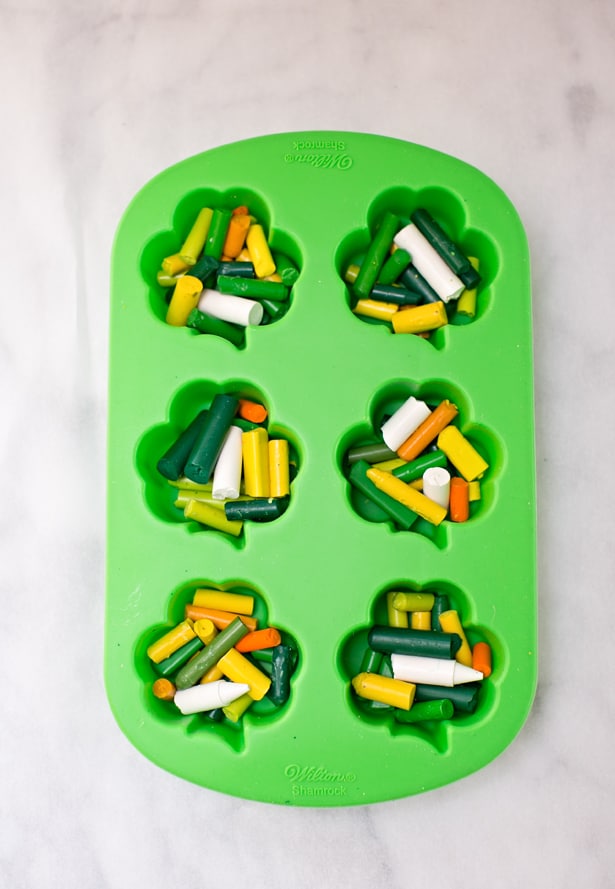 Step 2. Bake at a preheated 300-degree oven for 15-20 minutes or until completely melted. Remove from the oven and make sure to cool completely before you remove them.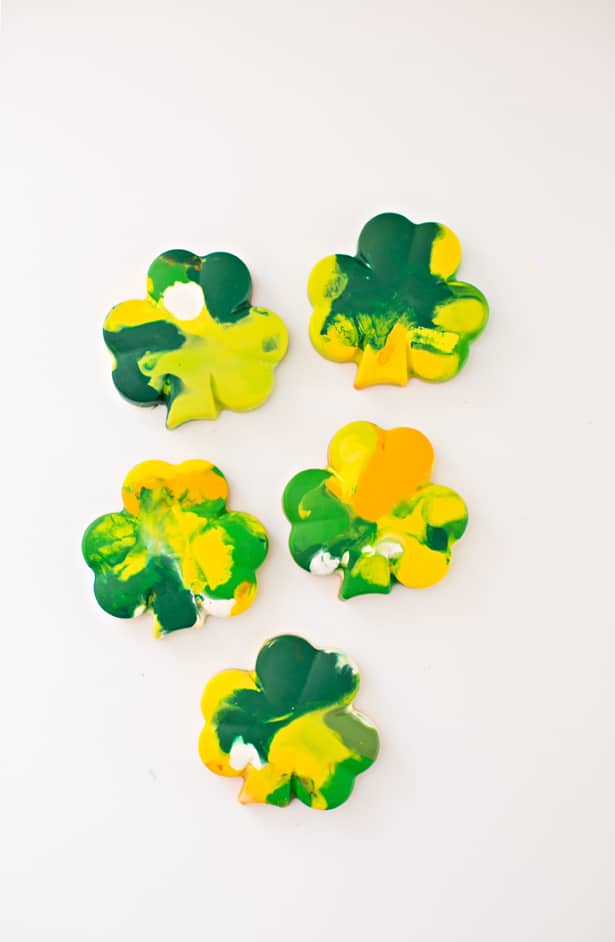 The size of the shamrock crayons will vary depending on the size that your mold is. As you can tell from the picture above, these are pretty good sized and are easy to hold.
I find that the bigger sizes are great for smaller hands as it gives them more control when they're coloring. They also tend to last a lot longer as well and you don't feel as though you're constantly having to melt crayons to remake over and over again.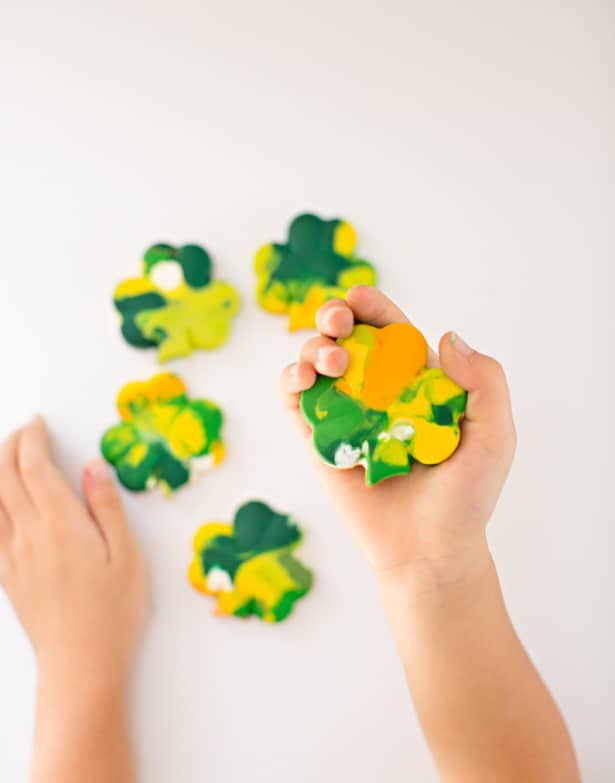 Just a few broken crayons were used and we were able to get these fun and beautiful Shamrock Crayons because of them!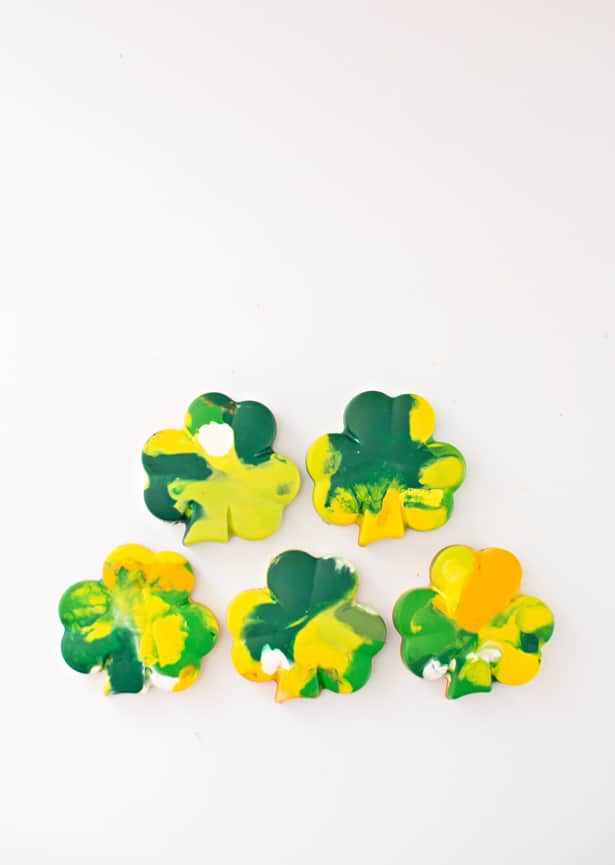 What are fun ways to reuse crayons?
Reusing crayons is a great way to teach your child about repurposing items. It's also a fun way to give another gift to a child, too.
And of course, using broken crayons is an awesome way to stretch the budget and be creative to get many more uses out of those broken crayons that were just about to be discarded into the trash.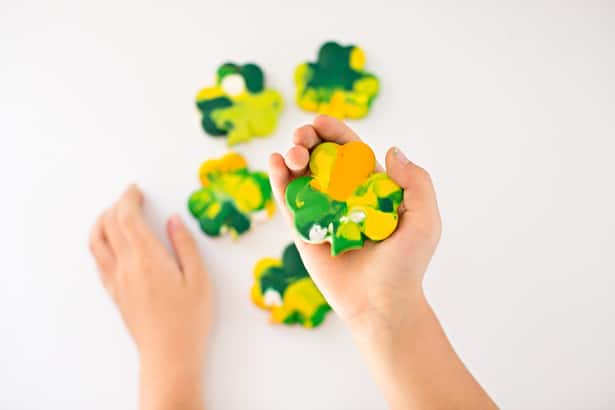 Have you ever tried melting crayons? You can do with them any old crayons and turn them into any new shapes.
Take a look here for more St. Patrick's Day crafts!
Make certain to check out some of our other fun crafts as well:
______________________________________________________________________________________________________
Disclosure: Some of the links in the post above are "affiliate links." This means if you click on the link and purchase the item, we will receive a small affiliate commission. Regardless, we give our promise that we only recommend products or services we would use personally and believe will add values to our readers.