We're excited to have creative mom Elisa Allen here from Room to Grow TV. Elisa shows off adorable and simple crafts for kids centered around play, celebrations and cooking. What sets apart Room to Grow TV's creative site from others are the clear, step-by-step videos for many of the activities, which you can find on their YouTube channel. I love how Elisa offers affordable and easy projects, often using recycled materials. It can sometimes get overwhelming to sit down and create with the kids, but the videos make it feel achievable!
Thank you Elisa, for stopping by and sharing your creative tips for kids!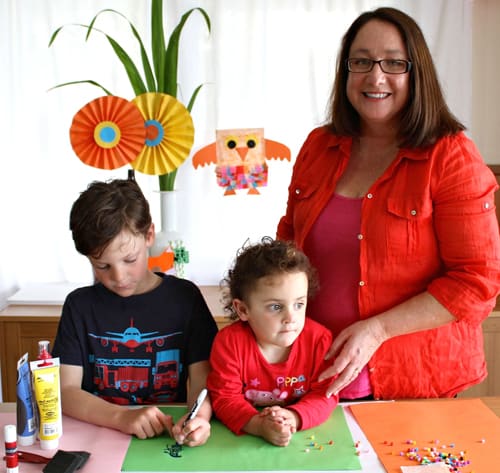 Please tell us a bit about yourself and your blog.
I'm a mum of two children, Josh & Chloe. Just after my son was born, I was faced with a barrage of conflicting information and advice on parenting. Having worked for a community television station in Melbourne, Australia, I decided to create a TV program on parenting, called Room to Grow.
After seven years of filming the TV show, I felt I wanted to take Room to Grow in a new direction. I started creating more arts and crafts with the kids and felt this was the direction to take.
My blog features kids craft activities, cooking with kids and DIY projects, I try to make the craft activities easy, affordable and achievable.
What are your tips on getting creative with kids?
I usually have my crafts planned and have everything set out on the craft table (which is really the dining room table), to try to contain the mess in one area.
2. My ideas are just a starting point I encourage my kids to take their creative direction with the crafts and let them just go for it and see what they create!
3. For a spontaneous craft "I'm bored, I have nothing to do" moments, I have a small table set up with pens, paper, crayons, books and other craft items, where the kids can scribble, cut paper and paste whenever they feel like it.
Where do you draw your creative inspiration?
It varies. Sometimes it can be a simple walk along the beach or a wonder through a craft shop. Also reading books and playing games with my kids will idea will spark an idea!
What are a few favorite activities you've done with the kids?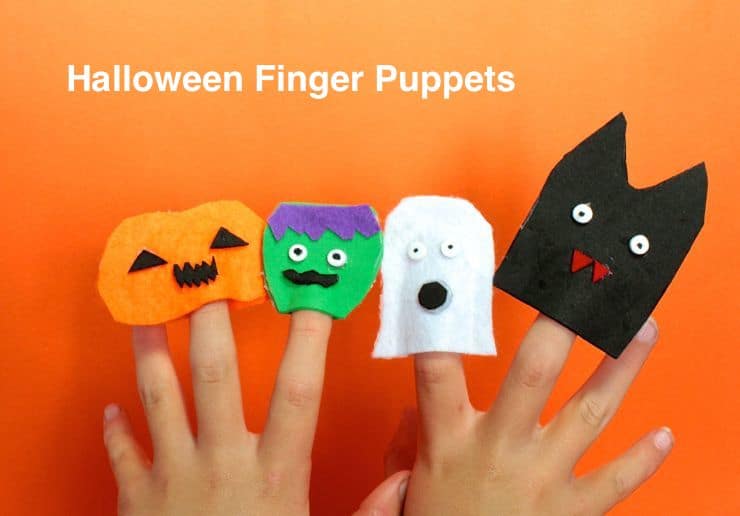 Recently we have been making puppets. We came up with Halloween finger puppets. My son and I sat down and planned our Halloween characters together. I made up the patterns from his drawings, and we used felt and foam to make them.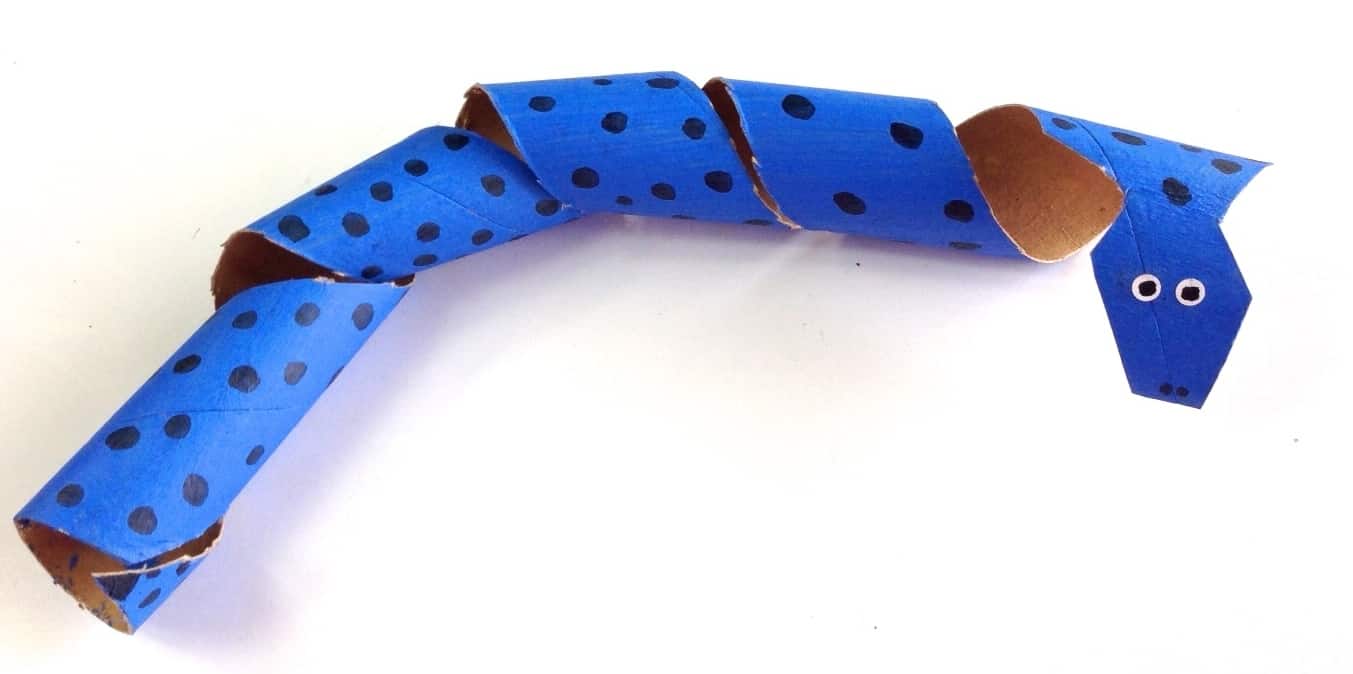 The other craft project was with my little girl; I have been collecting toilet rolls, as you do. We love upcycling! I encourage my kids to play with the bits and bobs I collect, and we came up with a snake made out of a cardboard roll.
If you were stuck on a desert island with the kids, what crafting materials would you absolutely need to have?
I would use what was available at hand; palm fronds, sand, shells seaweed. If I could bring the materials with me then glue, paper, scissors, and pens.
And because we love books and are always looking for good recommendations, what are some of your favorite children's books?
My Eldest likes Roald Dahl, especially "The BFG", my youngest loves "We're Going on a Bear Hunt" and "Meg and Mog."
Last, who are some of your favorite bloggers that inspire you?
– Pink Stripy Socks
– Mer Mag
– Handmade Charlotte
Thank you Elisa! Those puppets are adorable and I can see them easily being turned into different animal shapes for holidays beyond Halloween. Like you, my kids have collected quite a range of toilet paper tubes. The snake is now on our list for fun crafts to make with them!
To get Room to Grow TV's latest creative projects for kids, follow them on Facebook, Pinterest, Twitter, Instagram and of course their YouTube channel.