Meet Sharkie, the wooden spoon puppet. Personally, I find rod and cone puppets a bit creepy. Strange clown shapes in big clothes just waiting to give you a fright. Sharkie is different; he is scary in a good way and AWESOME!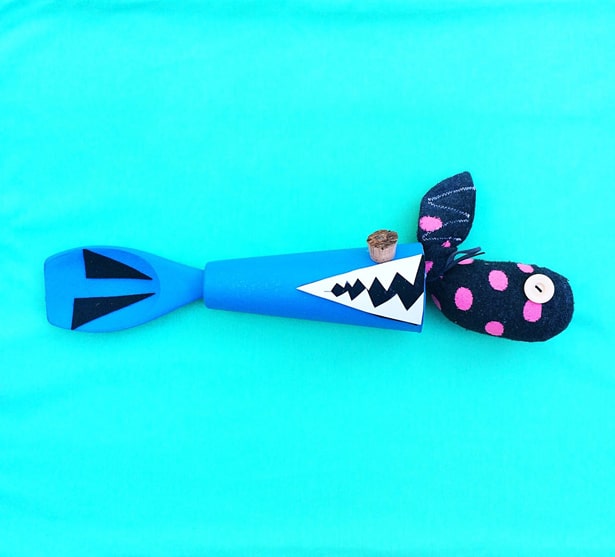 Wooden Spoon Shark Puppet – Materials:
A wooden spoon with a hole in the end (you know the ones that you can hang on a hook)
A cotton cylinder (we bought one from an industrial remnant shop but you could use thick card stock cut and shaped into a cone)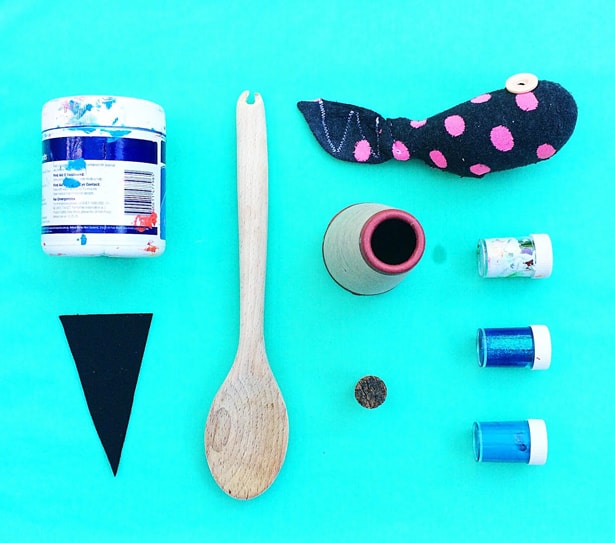 Instructions:
Find a small stuffed toy then think of an animal that might eat it!!
We had an old sock fish lying around from my brief foray into sewing so we turned our cone into a shark with the following simple steps. These are just a guide and could really be adapted for lots of different predators.
Step 1. Paint the spoon and cone blue and leave to dry.
Step 2. Cut two triangles of black felt or card and glue to the 'tail' end of the spoon.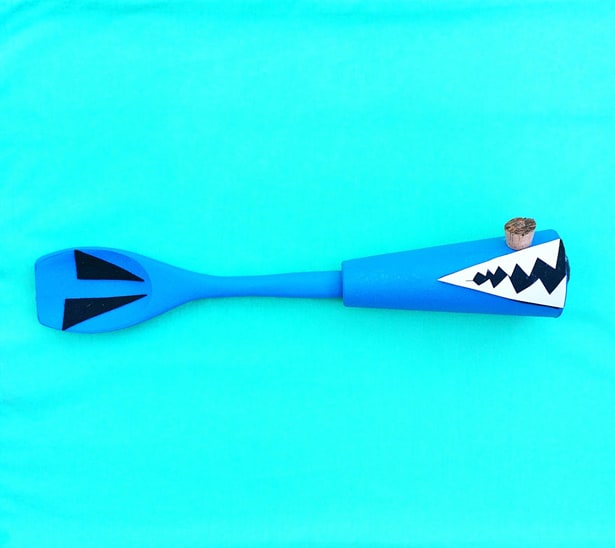 Step 3. For the mouth, cut another larger black triangle and add some teeth. We used a simple paper cut out glued onto the felt. Attach the mouth to the large opening of the cone using PVA or hot glue.
Add a cork eye (or anything you have lying around)
Step 4. To finish, feed the spoon through the small cylinder hole and attach the toy with a small piece of string.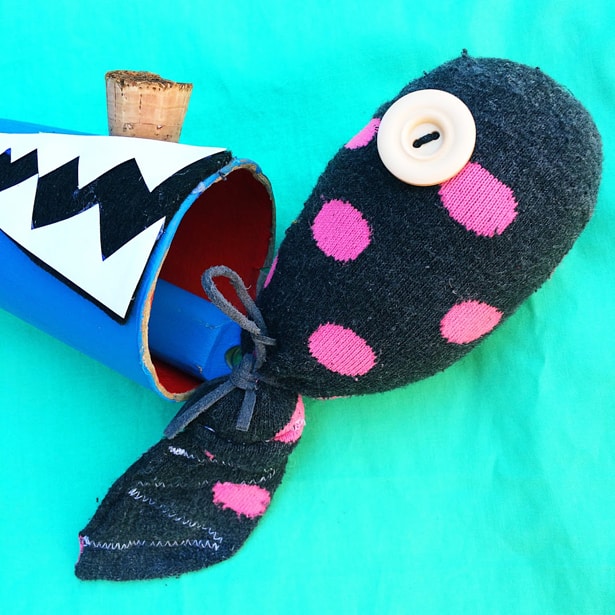 Aaaaargh! You are done!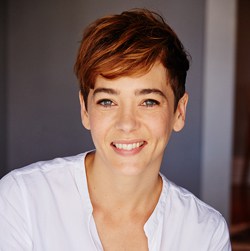 Susie Rugg, the creative mind behind the crazy fun Handy with Scissors is a Sydney based mum and maker with a passion for turning 'junk' into art. She has a degree in Object Art from the University of Sydney and when not at home trying to get her reluctant 3 year old excited about craft, she hangs out at The Museum of Contemporary Art Australia where she is the Children and Families Coordinator. Follow Susie on her creative adventures on Instagram and her blog.
ABOUT THE PUPPET SERIES:
It's no secret that I love puppets, I always have and I always will! For my recent self-induced puppet challenge, I decided to make 7 different puppets over 7 days that were both simple to make and to operate. Mr Finn (age 3) and I had lots of fun and are really excited to share a few of our favorites here. They are perfectly imperfect and like most of our projects, use predominantly recycled and repurposed materials.