Everyone remembers their home economics class as a pre-teen, the one where you learned how to bake, but more importantly you remember that pillow you made all those years ago, some of us may even still have it. As kids we were so proud of that project we had sewn together all by ourselves, and those strong feelings remain with us for a lifetime.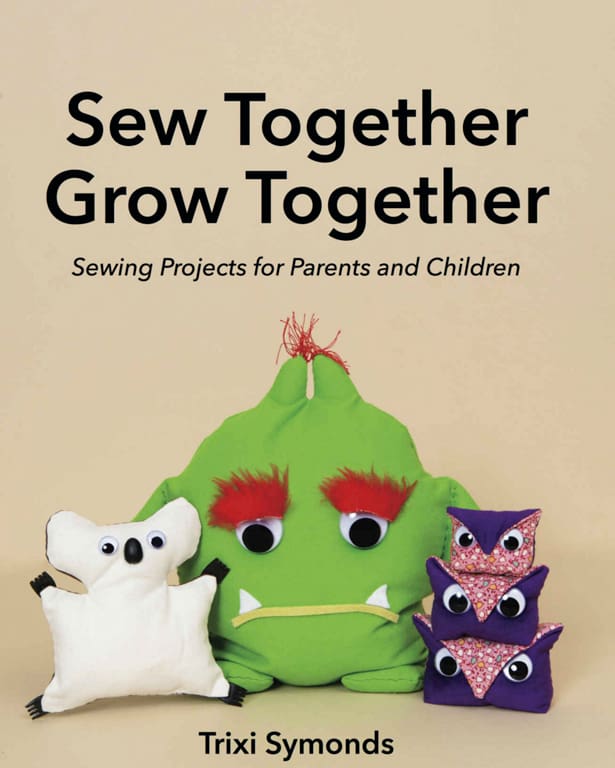 Sew Together Grow Together by Trixi Symonds is a fantastic book about making a variety of felt projects with your kids. Now, I don't know a thing about sewing or stitching but I can do the basics, and it's gotten me through so far. Trixi's book has helped me learn a few new tricks. This is definitely the book to get for you and your children if the thought of not being able to sew has entered your mind. You CAN sew and Trixi is going to show you how.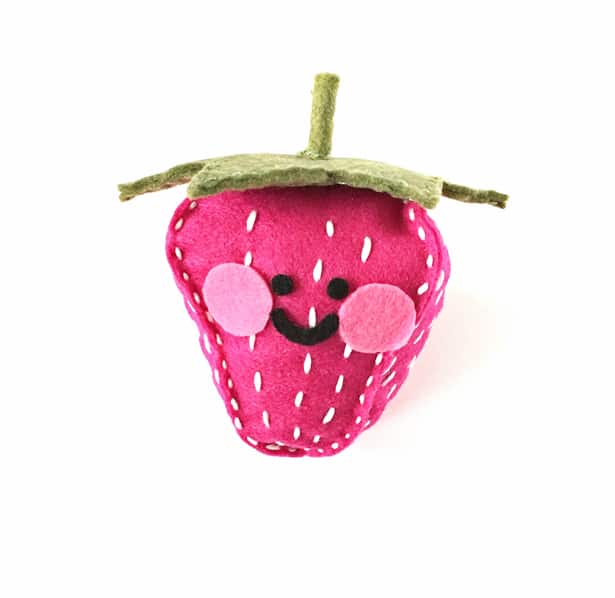 Sew Together Grow together provides you with all of the patterns you'll need to make any of the projects in the book. I had chosen to make the strawberry cushion. It was so much fun and relaxing too. There's a total zen that falls over you when you get into the heart of a sewing project and start stitching. Hopefully kids can feel a sense of calm also when creating a sewing project like the ones in Trixi's book.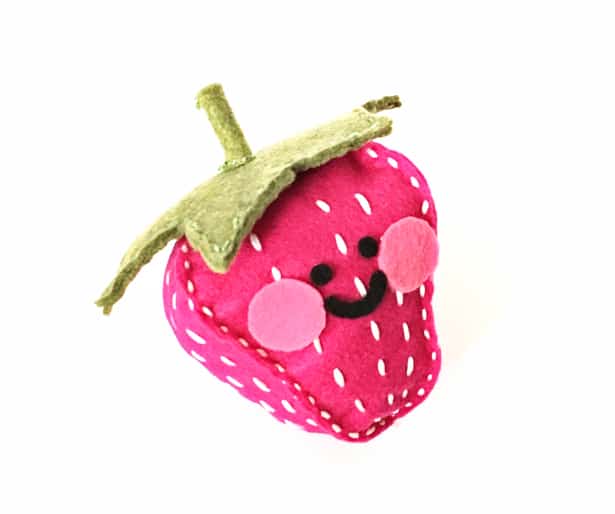 To make this adorable felt strawberry cushion, I followed the easy pattern and instructions from the Sew Together Grow Together book along with the step by step guide and pattern to put it all together simply. There are many great projects in the book to try with your children and learning how to sew is such a useful skill to have.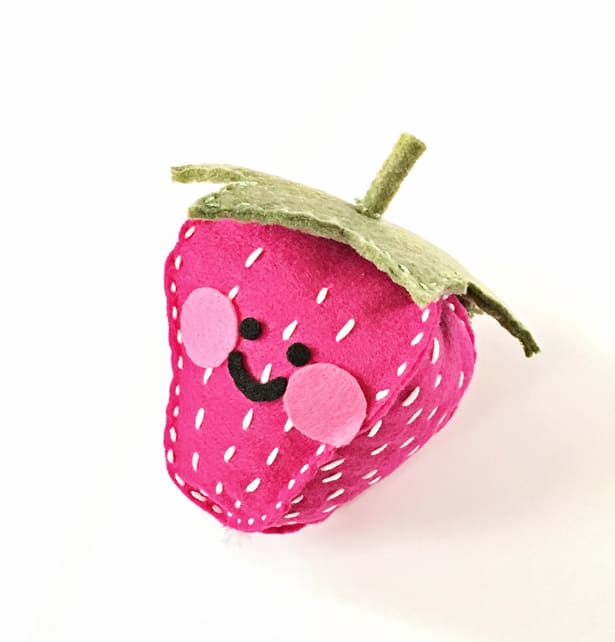 Strawberry Felt Cushion Toy – Materials:
Felt
Embroidery floss
Sewing/embroidery needle
Fabric scissors
Fiber fill
Hot glue
Step 1. I copied the strawberry pattern and resized it also, making it the size I preferred. Trace your template and cut out two pieces simultaneously. I pinned the pattern to the felt and cut around. You're going to need four pieces of the strawberry body.
Step 2. Begin sewing two pieces together one on top of the other using the running stitch technique and only on one side. Refer to Trixi's book, she explains it very well. Leave room at the top for the turning gap.
Note: It's up to you if you'd like to add a seed detail. Do this before stitching all four sides together.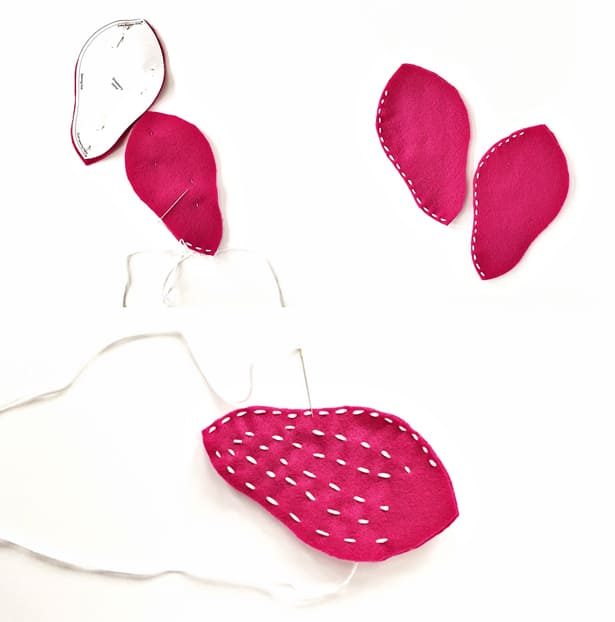 Step 3. Now stitch the two halves (all four sides) together using the running stitch technique. I chose not to invert my strawberry but it will look much better if you follow the directions and turn your project right side out because it will hide all of the knots.
Step 4. Cut out the leaf pattern the same way you did the body of the strawberry. Stitch two pieces together. Create the stem by rolling up a square piece of felt and stitch that closed as well. Then stitch it to the top of the leaf.
Step 5. Stuff your strawberry with poly fill, I like to stuff it really well so that it doesn't collapse. Once it's full stitch the top closed. You can stitch your leaf to the strawberry but my green felt was premium so it was too thick, I hot glued it on top.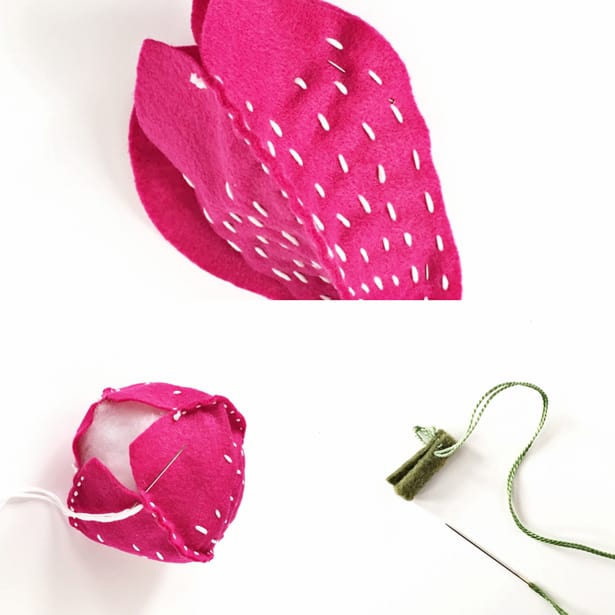 Step 6. Cut out any extra features you'd like and adhere them to the strawberry. If you'd like to stitch on the features, do this at the very beginning.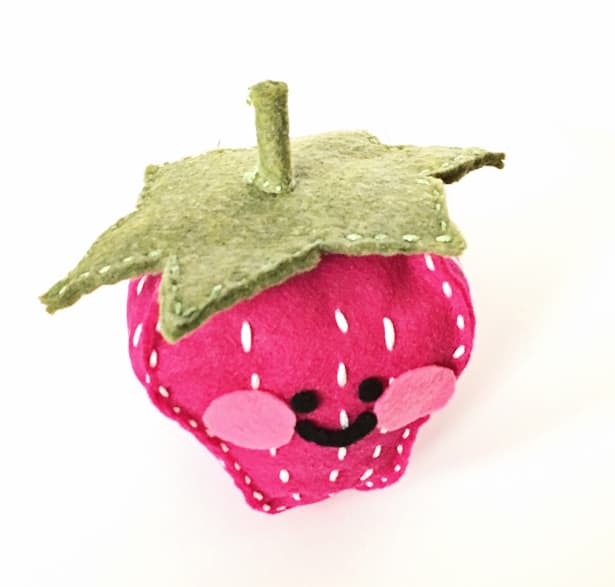 My little strawberry came out really nice thanks to the patterns that Sew Together Grow Together provided and it's a fun one for kids to make along with you. I'm looking forward to making more in the near future.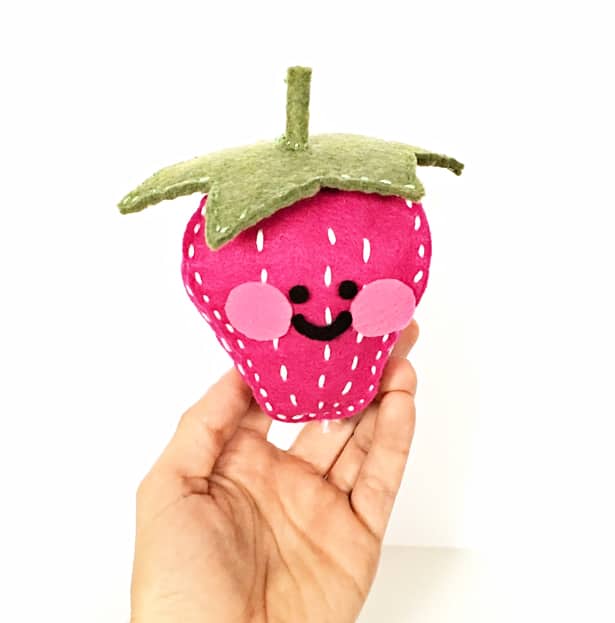 Sew Together Grow Together also reassured me that it's ok to deviate from what you see in a book. Your final project does not have to look exactly like what's in the photos. Sew Together Grow Together encourages you and your children to make their own creative choices and I can't agree with this more!
What's also great about the book is that it gives you a comprehensive list of materials, such as fabrics, needles, thread and scissors with a pattern which for me are pretty important, I now know what a running stitch is! Yipee!
Overall, Sew Together Grow Together provided the tools and encouragement for me to get started, it will certainly do the same for you and your children.
You can get Sew Together Grow Together here on Trixi's blog Coloured Buttons as an eBook or hard cover copy or on Amazon.
(I was provided a free review of Sew Together Grow Together. All opinions expressed are my own).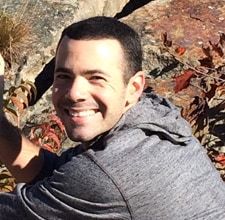 John Lavelle is an artist and art teacher who loves working with all things paper – cardstock, cardboard, foam board, tissue paper, and of course toilet paper tubes. John graduated from the School of Visual Arts with a Bachelors degree in cartooning and earned his Masters degree in Art Education.
Over the past few years, John has been working with young individuals who have ASD, which constantly keeps him on his toes and who are the inspiration behind the creative projects he prepares for their daily art classes. You can follow his latest projects on Instagram and on his site, theArt Dream.
______________________________________________________________________________________________________

Disclosure: Some of the links in the post above are "affiliate links." This means if you click on the link and purchase the item, we will receive a small affiliate commission. Regardless, we give our promise that we only recommend products or services we would use personally and believe will add values to our readers.