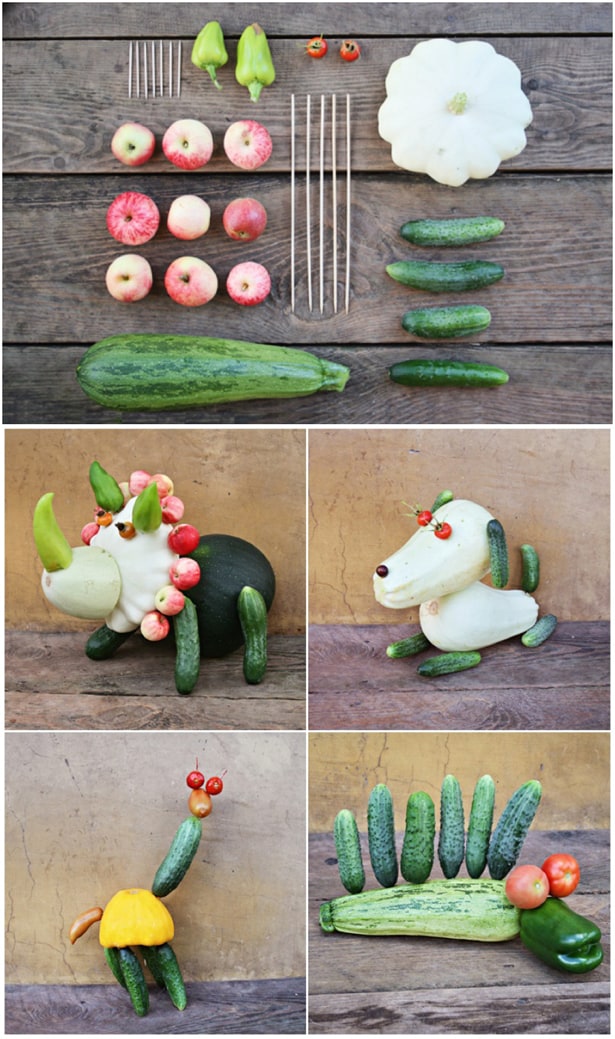 Halloween
is coming up, and it's about time to decorate your porch. However, with so many varieties of seasonal fruit and
vegetables
available, don't you think it's unfair that pumpkins steal the show year after year? Why not let your peppers, tomatoes, cucumbers and
apples
take the stage for a change? They are so versatile, you'll be spoiled for choice of what to make. Also, the projects you'll find below involve little to no cutting – perfect activity for children of all ages.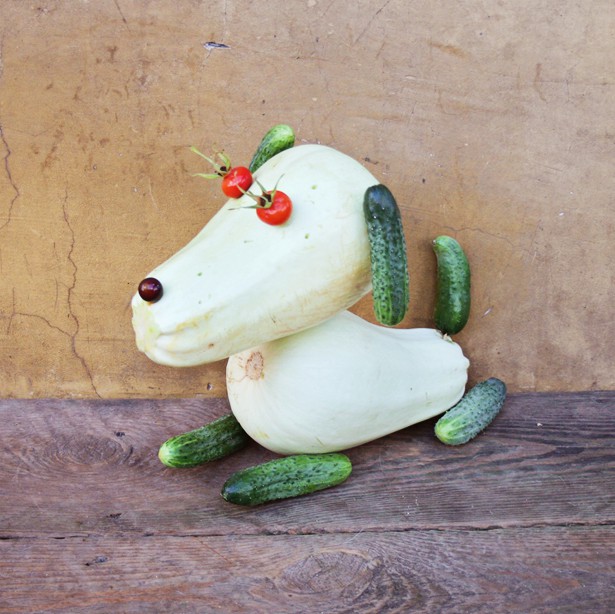 1. Doggy.
Ingredients:
2 Large Butternut Squash
5 Cucumbers
1 purple tomato (for the nose)
2 Hibiscus Berries (for the eyes)
Small vegetables can be easily substituted for any other veg available at your grocery store. If you want to make your doggy last though, avoid grapes and soft berries as they rot quickly.
Instructions:
1. Connect one squash with another using chopsticks or skewers. You may need for than two for a better hold.
2. Attach other body parts with toothpicks. Done!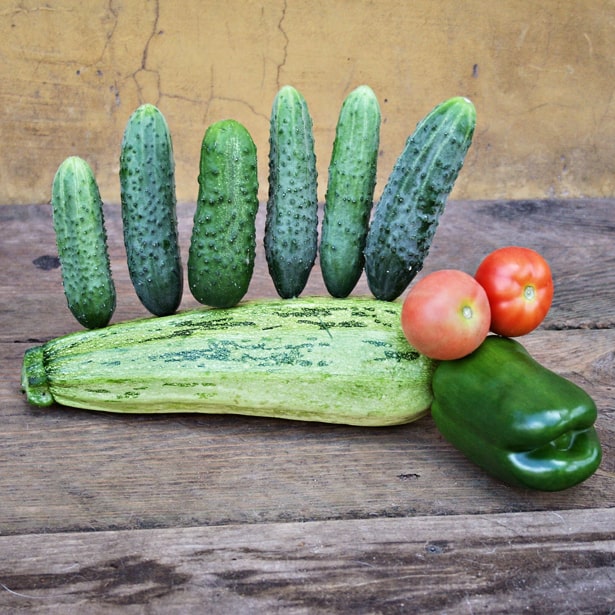 ​2. Monster
Ingredients:
1 Large Zucchini
6 Cucumbers
1 Bell Pepper
2 Tomatoes
Instructions:
As before, connect all the large parts with chopsticks or skewers, then add on details with toothpicks. Un-peeled pumpkin seeds can make great teeth.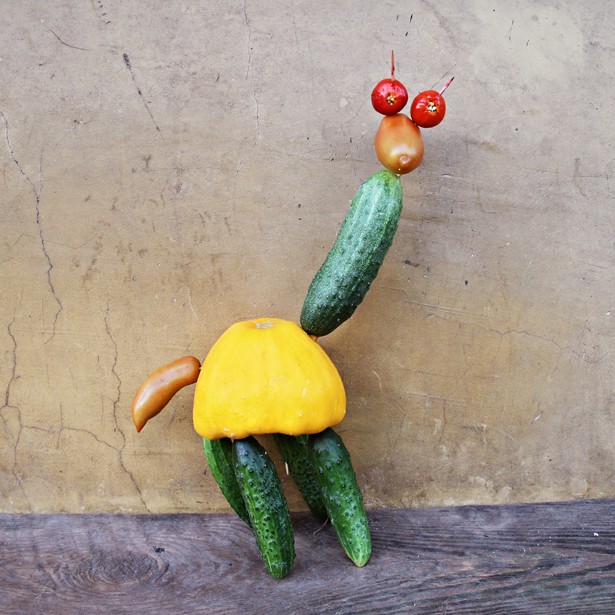 3. Giraffe
Ingredients:
1 Yellow squash
5 Cucumbers
2 Tomatoes
2 Hibiscus berries
Instructions: as above.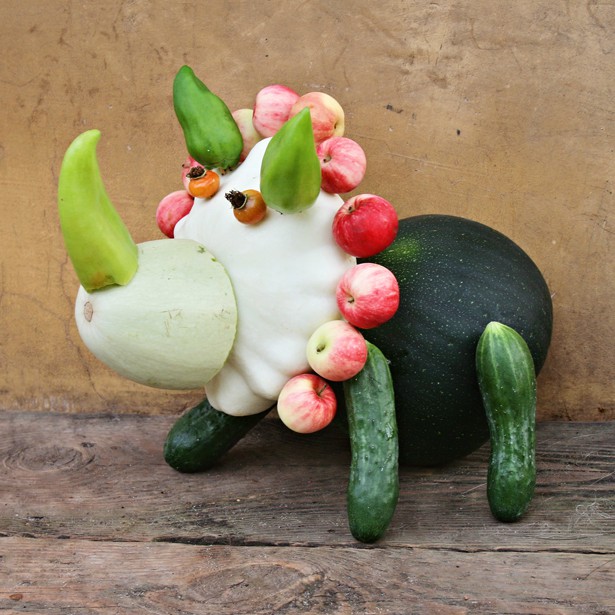 4. Triceratops
Ingredients:
1 Large White Scallop Squash
1/2 White Squash
1 Large Green Round Squash
4 Cucumbers
3 Peppers (1 large and two smaller ones)
A Dozen of Apples
2 Hibiscus Berries (for the eyes)
Instructions:
1. As before, connect the white scallop squash with the green squash using skewers. You may need to use 4-6 to make a solid body.
2. Connect the half of your white squash with a scallop squash using toothpicks. This will make a face of your triceratops.
3. Chop off the stems of your peppers – they will fit better when flat – and attach them to the face of your creature.
4. Now distribute the apples evenly around your animal's neck and secure them with toothpicks.
5. The final part is legs. As the creature has a heavy head, it is important to get the balance right. Using longer cucumbers for front legs and shorter ones for the back will help you keep triceratops on its feet.
We can't wait to see what you create! Please, share your images with us and have a happy Halloween!
Check out more creative Halloween ideas for kids.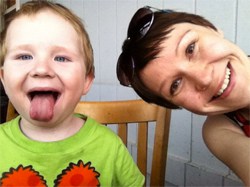 Helga Stentzel is a London-based designer with a passion for fun and useful things. She is also mother to two adorable boys aged six and two, who eagerly model her creations and give their straight and honest feedback on new ideas.Helga's designs are practical at heart: how do you convince kids to keep their gloves on in winter? How do you make them tidy up? Her brand's philosophy is to encourage children (and adults!) to approach tasks playfully as any problem can be solved if taken a little less seriously and a little more creatively. Check out Helga's website and follow on Instagram, Twitter and Facebook for parenting life hacks, product updates and some silly doodles for a good measure.