I know it's not the season for cold treats, but given the choice, my kids would eat ice cream everyday! I came across this easy method via Food 52 for Nigella's Lawson's no churn, one-step ice cream. The base requires just two ingredients (cream and condensed milk) and there's no need for an ice cream maker. Whipping up the ingredients results in creamy ice cream that's a cinch to make. You can literally make up any flavors with this base.
Since we're a huge ice cream loving family, we decided to make fresh blood orange ice cream to take advantage of this seasonal winter fruit. We added semi-sweet chocolate for extra flavor. The ice cream has zest and juice from the oranges and we made a jam compote to go along with it. Follow along below and make this delicious ice cream – next in our Cooking with Kids series!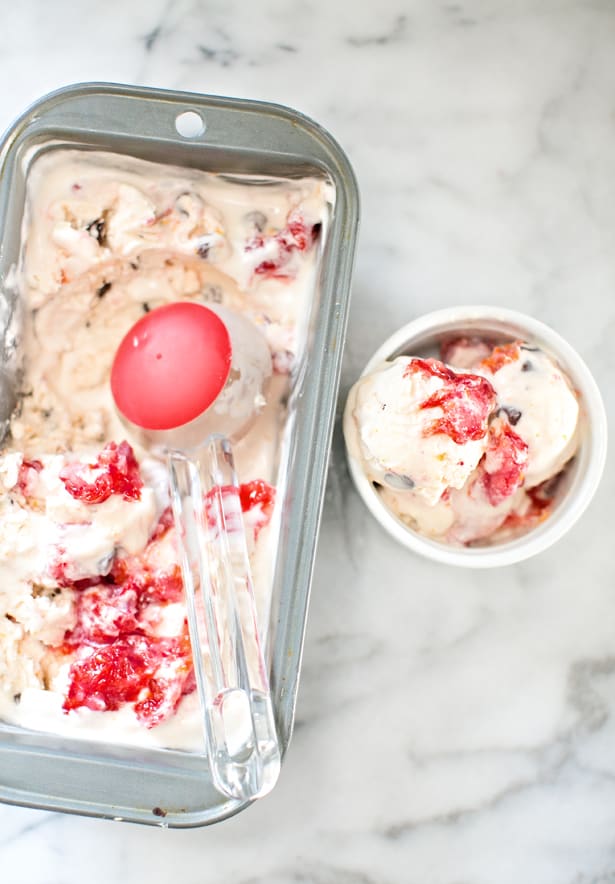 No Churn Homemade Blood Orange Ice Cream – Ingredients:
– 1 1/4 cups heavy whipping cream, chilled
– 2/3 cup sweetened condensed milk
– 2 medium blood oranges
– 1/2 cups semisweet chocolate chips (optional)
– 1/3 cup sugar + 1/4 cup water (for compote)
Instructions: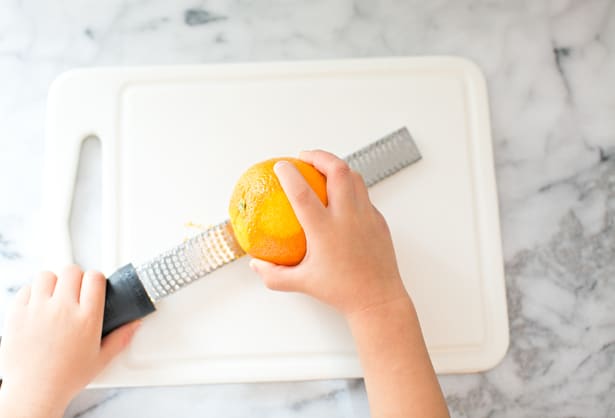 Step 1. Help your child zest the skin from two blood oranges, set aside in a small bowl.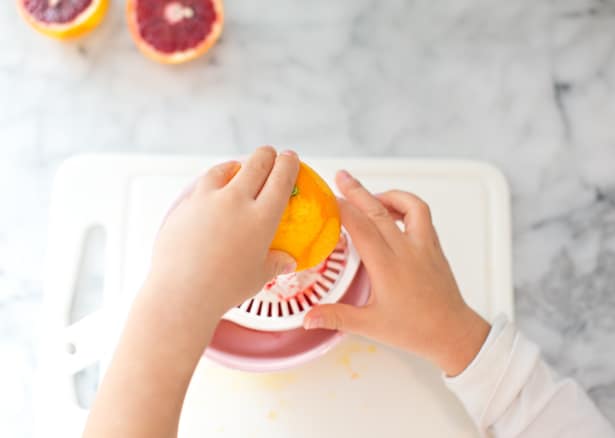 Step 2. Juice the blood oranges and set aside.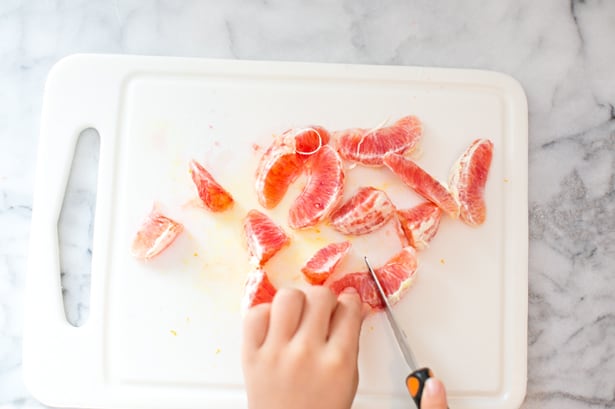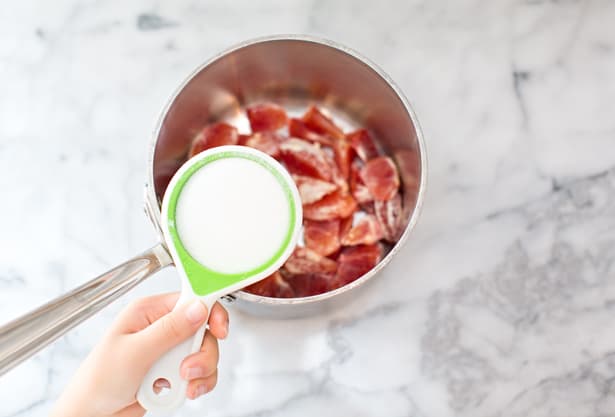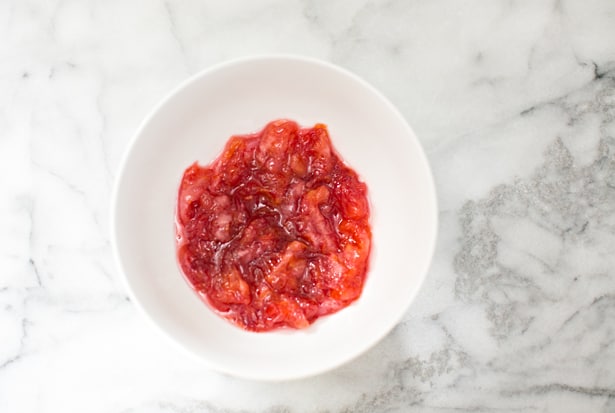 Step 3. Have your child cut the blood oranges into sections using a kid safe knife (our favorite here). Add the orange sections into a small saucepan along with the sugar and water. Heat on medium-high heat until water evaporates and oranges resemble a soft jam.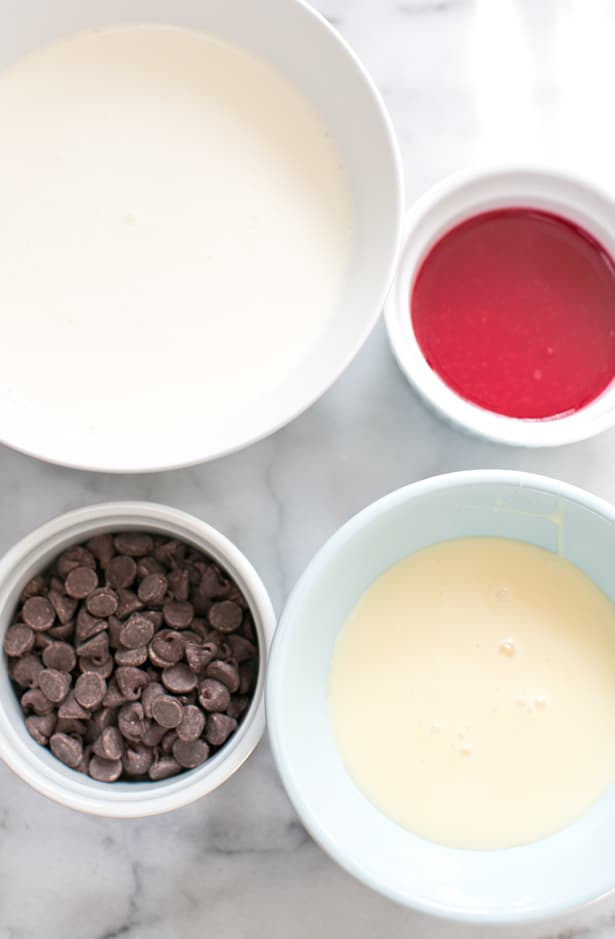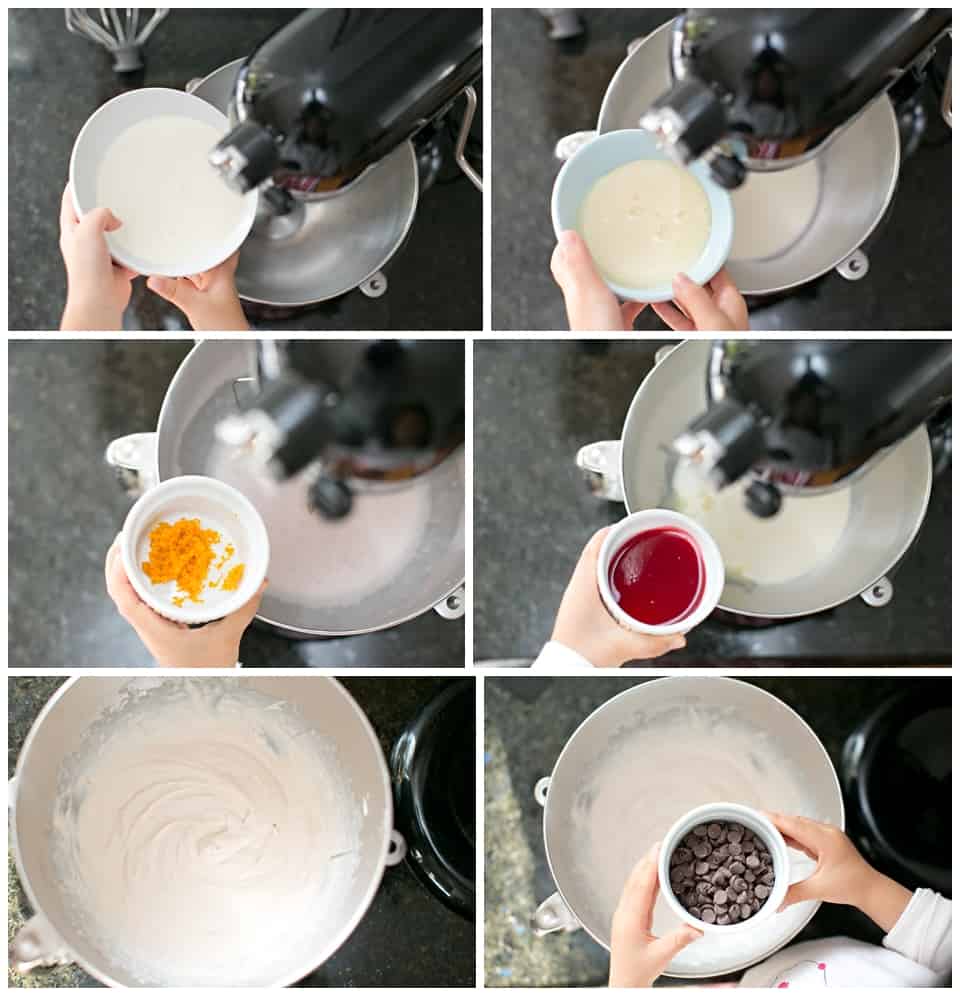 Step 4. Now here's where the fun part begins. Gather your ingredients for the ice cream (cream, condensed milk, juice, zest and chocolate if using). Add all the ingredients except the chocolate chip into a stand mixer or you can use a hand mixer too. Whip on high speed until you get a thick creamy mixture with small peaks. This can take 10-15 minutes depending on your speed and coldness of ingredients. Fold in the chocolate.
Step 5. Pour ice cream into a freezer safe container and cover the top with plastic wrap. Allow to freeze for at least 4-5 hours or until frozen.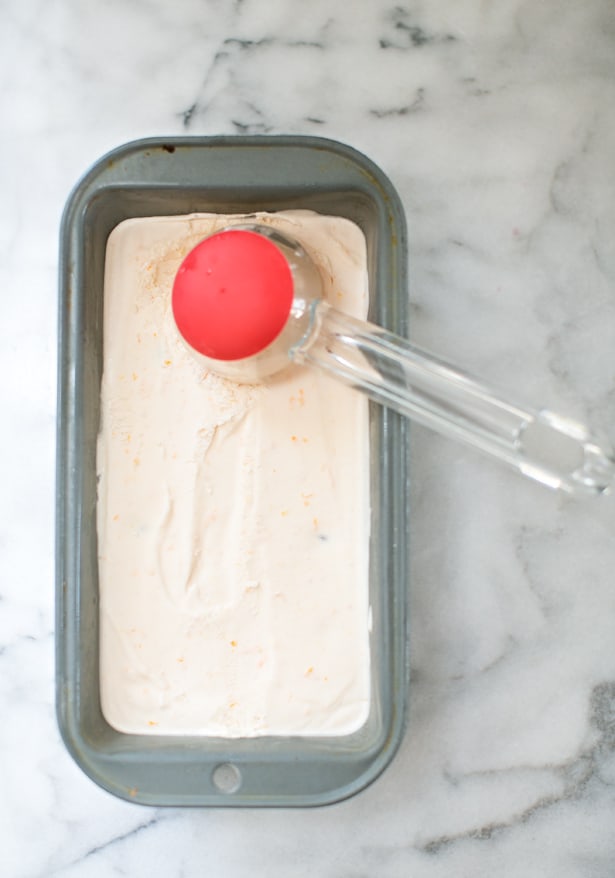 When you're ready to serve, allow it to stand at room temperature for several minutes so it's easy to scoop out. I love the pretty specks of zest peeking through the ice cream.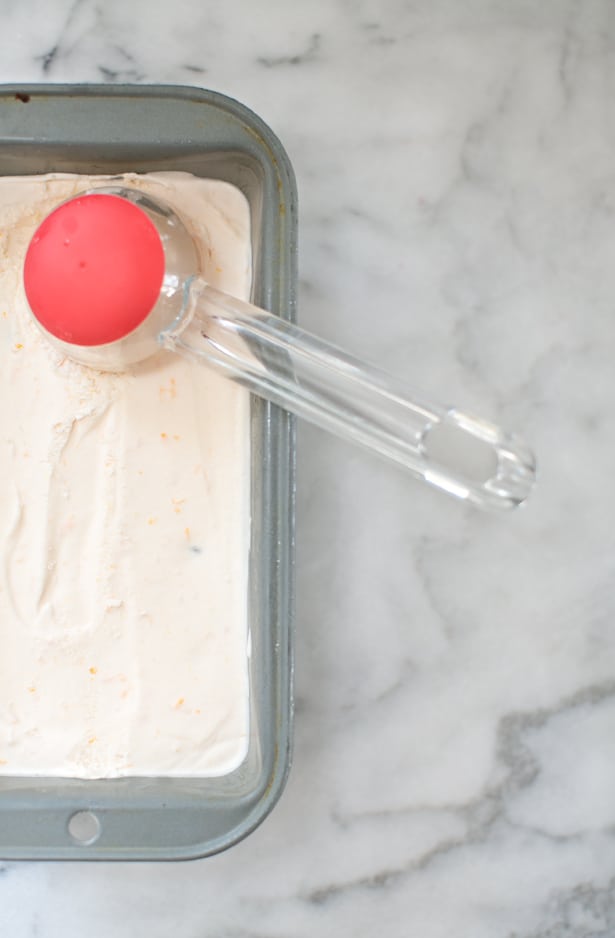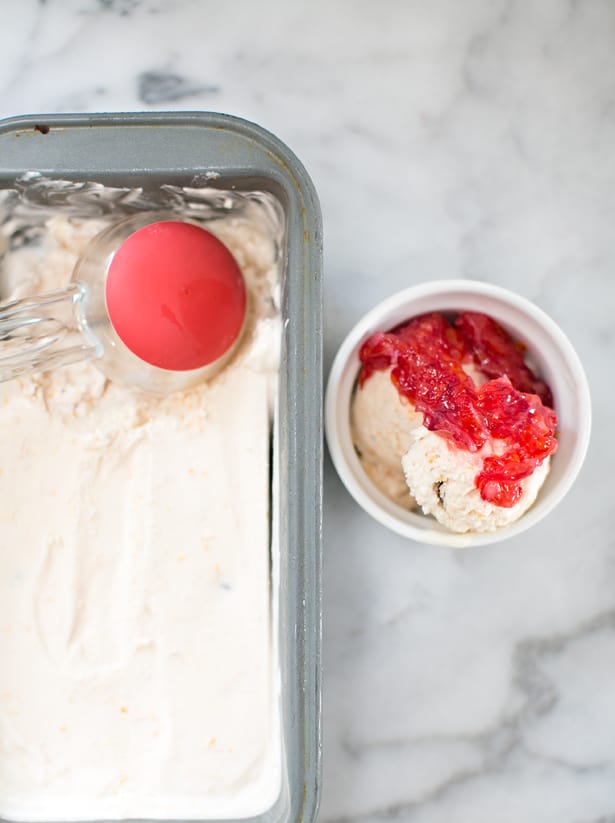 You can serve the ice cream a couple of different ways. By either scooping and adding some of the delicious blood orange compote on top.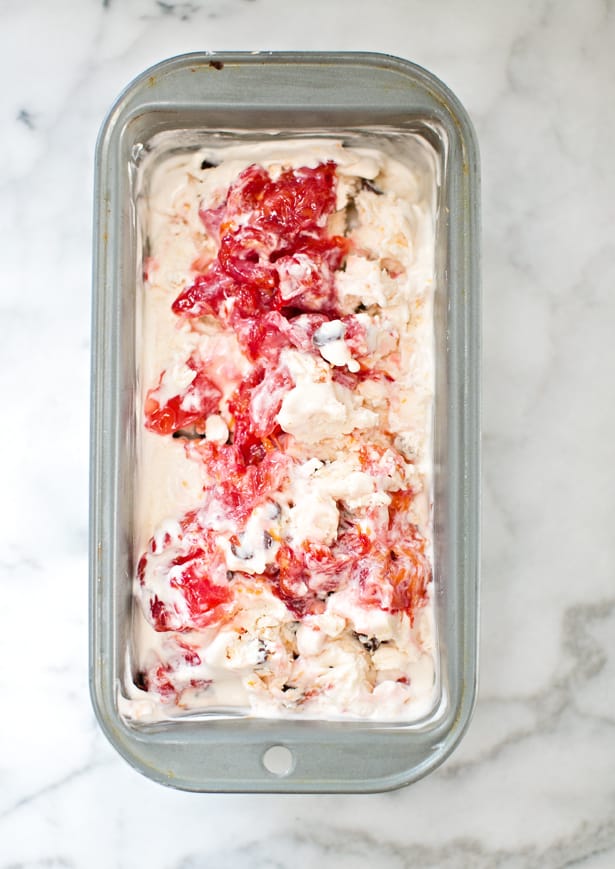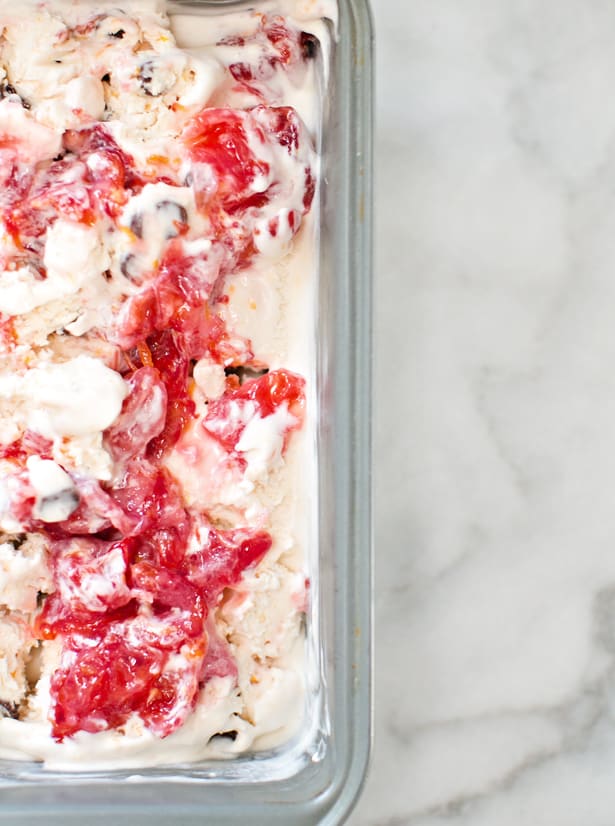 Or mix in the compote directly to create swirly effects that ensures a good mix of ice cream and jam into every bite. This was our favorite method of serving. It makes it irresistible to eat!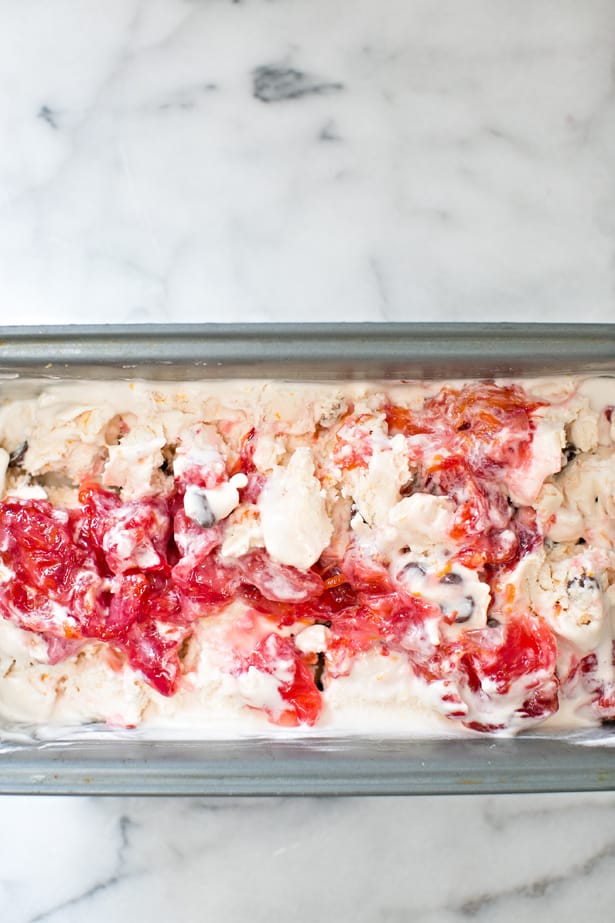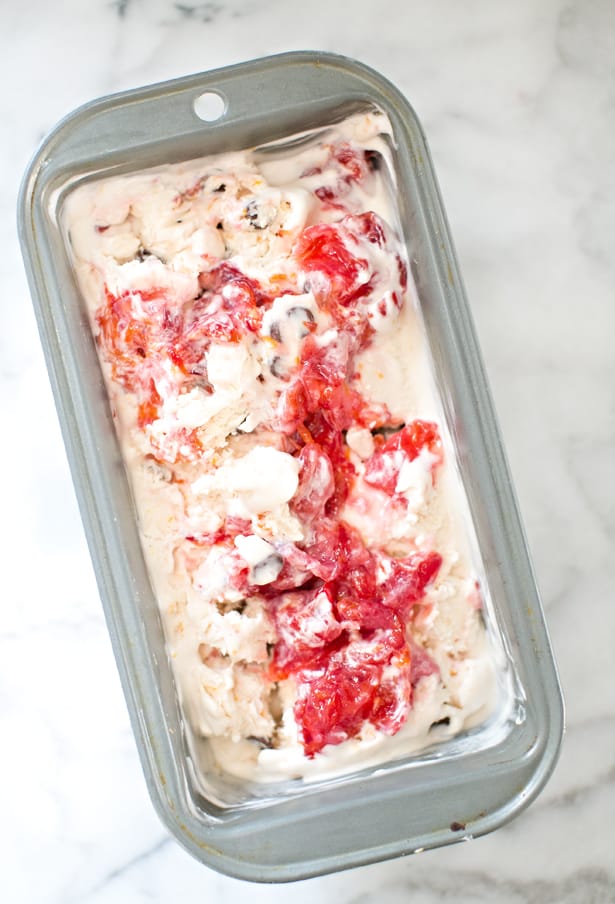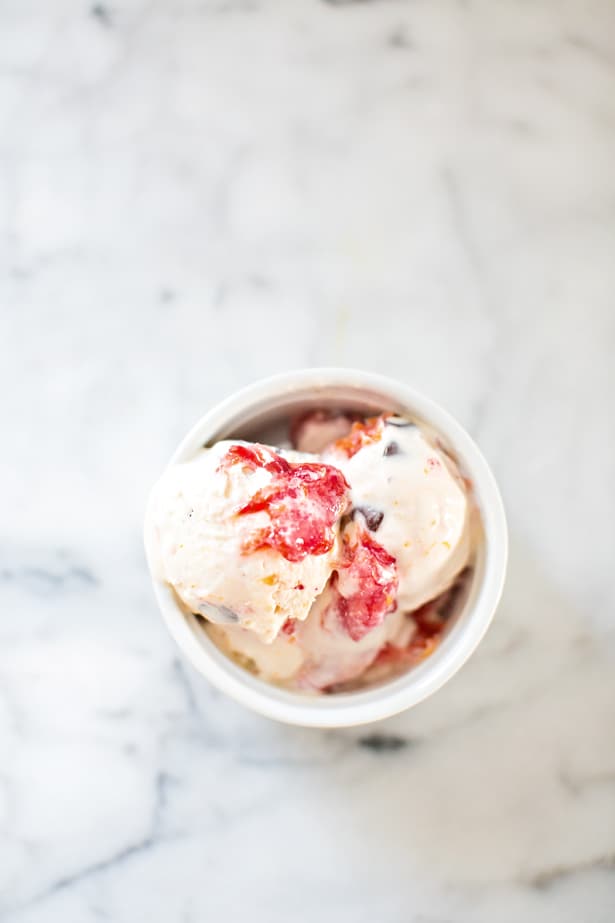 This was by far, the easiest ice cream we've ever made. It was nice to not have to depend on a machine and I love how you can get a creamy base without using eggs or making a custard. The sweet, flowery flavor of the blood orange was a nice balance against the semi-sweet chocolate. The compote adds texture to the cream and is refreshing. Of course, you can omit the compote or chocolate if you're pressed for time. You'd still end up with creamy, delicious and fresh orange ice cream.
What are your favorite way to make ice cream? And flavors?
Follow along here for more Cooking With Kids recipes!