My son just turned 3 and I wanted to throw a fun celebration at his preschool with all his classmates. Since his school has a strict no candy/treats policies, I decided to put together a hip temporary tattoo stand where he could hand out tattoos for all his little buddies.
I got the inspiration from this cute tattoo stand featured at a party from On To Baby and amazing DIY balloon stand from Studio DIY. Combining these two ideas, we made our own version of a hip and edgy tattoo stand, perfect for any kids' celebration! Read more to find out how easy this was to put together.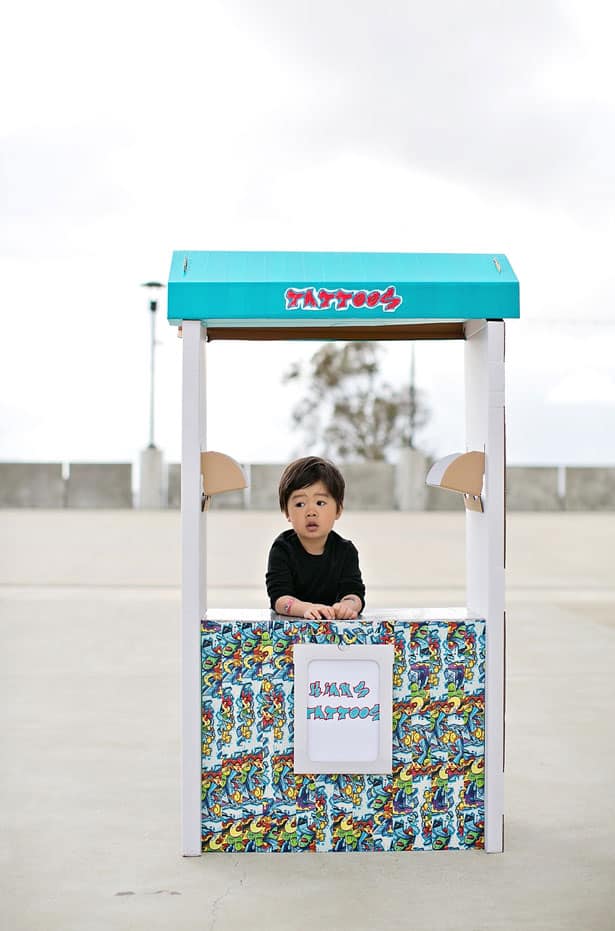 Hip Temporary Tattoo Stand – Materials:
– Cardboard Stand from Ikea
– Graffiti, blue and silver duct tape (you will only need one roll per color)
– Any temporary tattoos (I love the hip designs by Tattly which are the ones we used)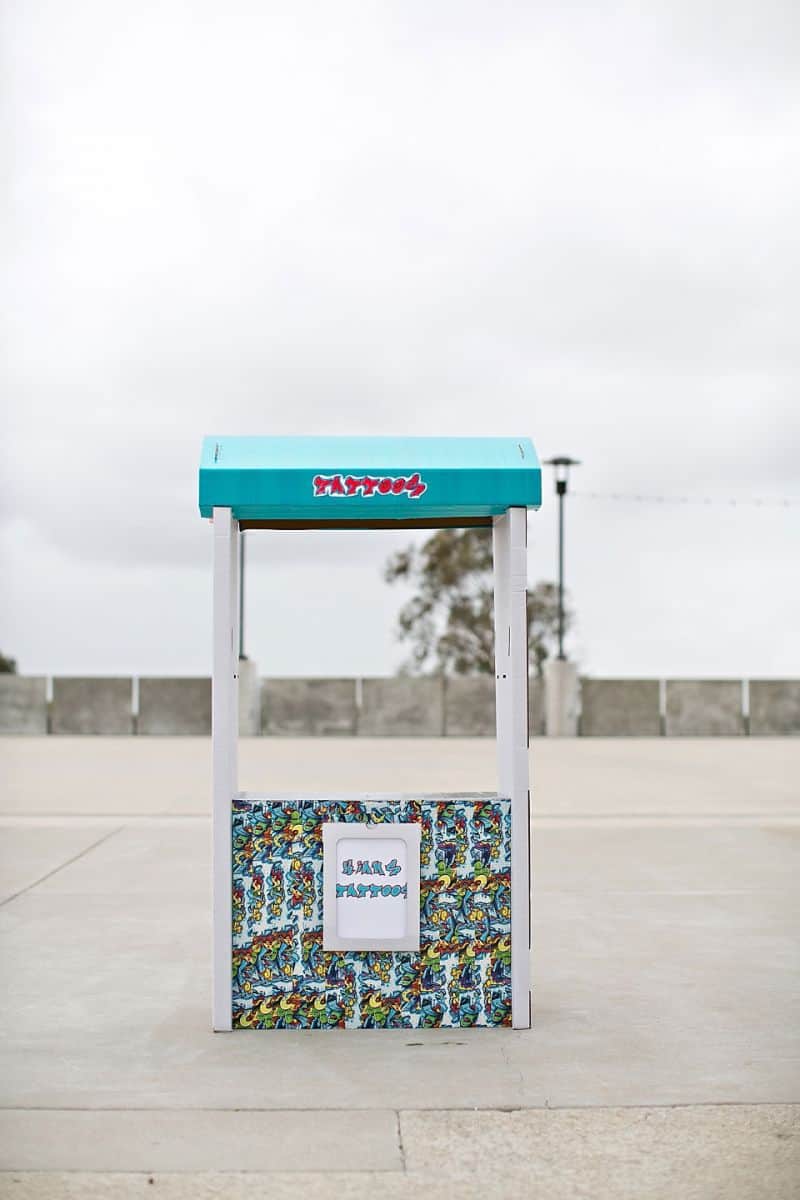 Steps:
1. Assemble the cardboard stand (this was very easy and took about 5 minutes)
2. Apply blue duct tape all along the roof, silver tape on the table and graffiti tape on the bottom of the stand. The pictures are pretty self-explanatory in showing where we placed the tape.
3. The stand comes with an insert where you can place a sign. I simply found a cool graffiti like font online and printed out "Kian's Tattoos" as well as a sign that said "Tattoos" which I asked my kids to color in.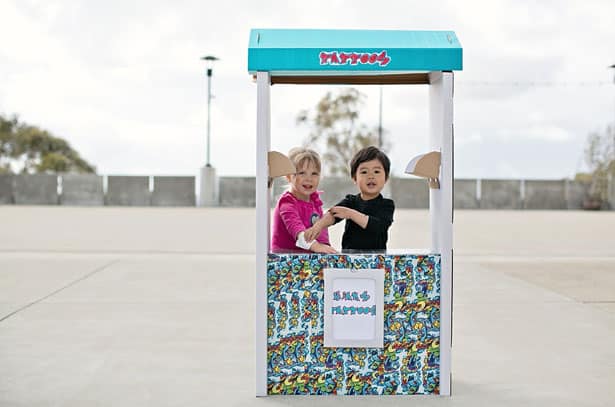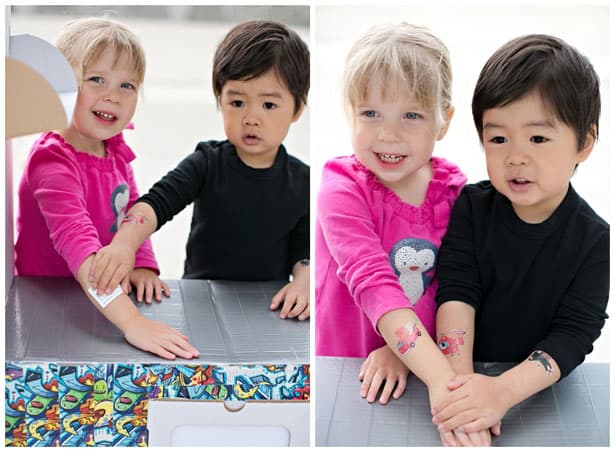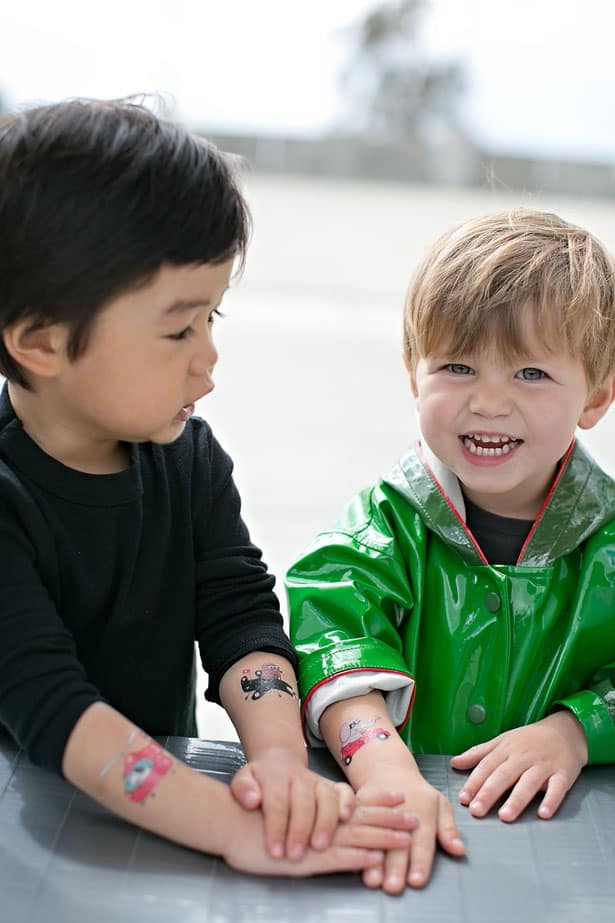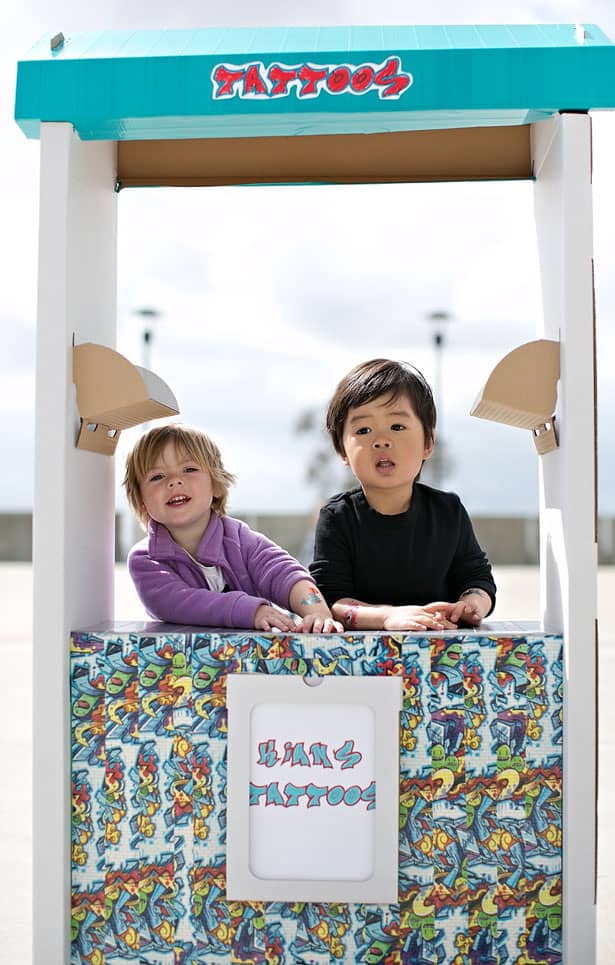 It was so cute to see my son's classmates line up one by one to get a tattoo. I had a small bowl of water nearby with a wet paper towel folded up and my son was able to place it over each tattoo to apply it. This was a super easy activity for children as young as 3 to do on their own!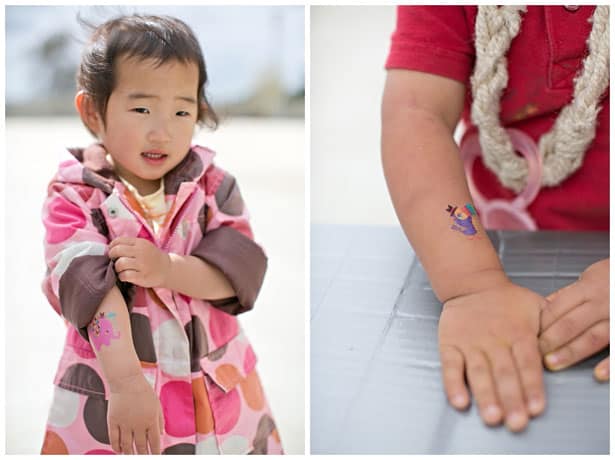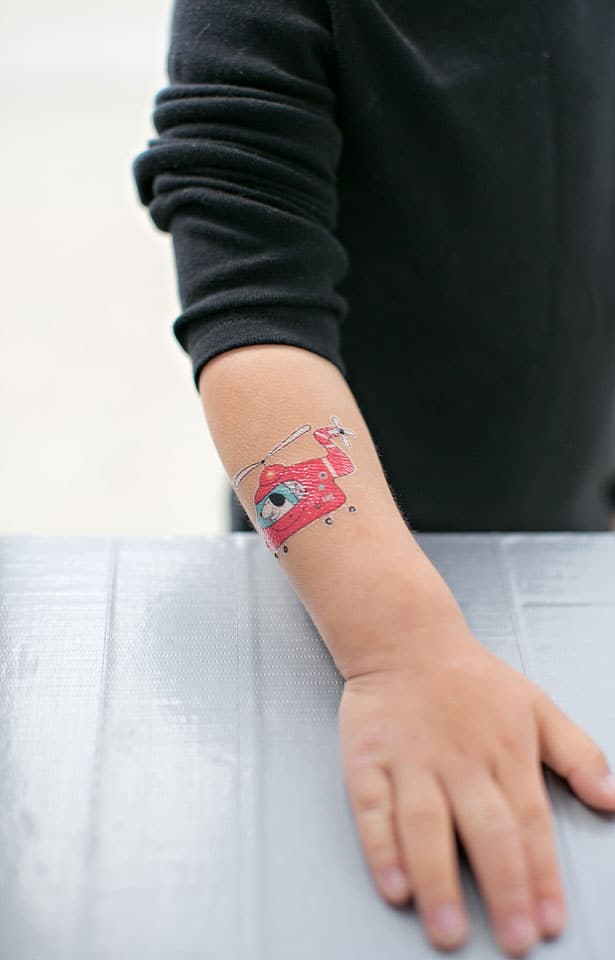 The designs by Tattly are so whimsical and creative. The kids just loved the designs and they applied so easily and lasted quite a while.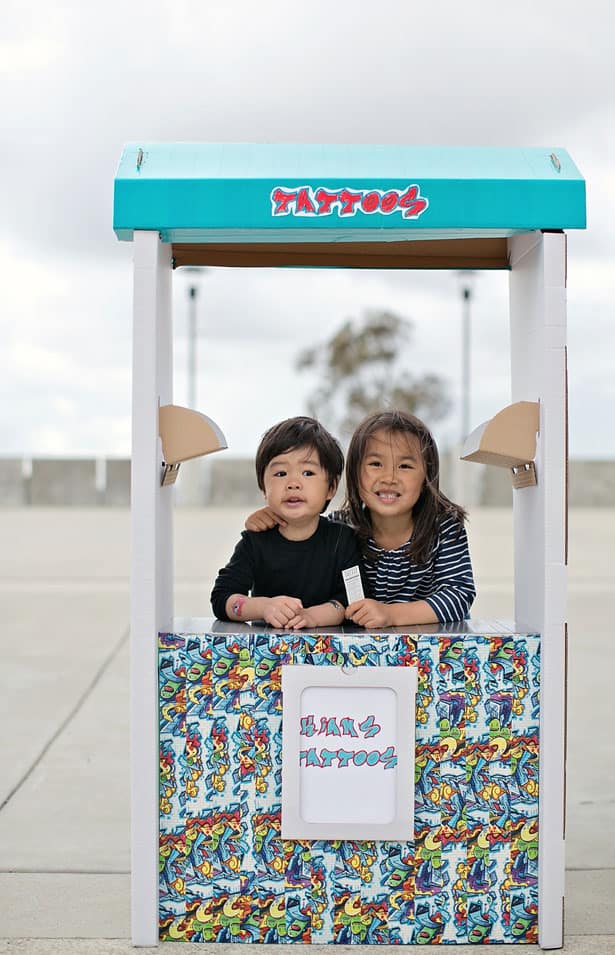 My son and daughter having fun behind the stand (they attend the same preschool so it was great to have big sister there to help out).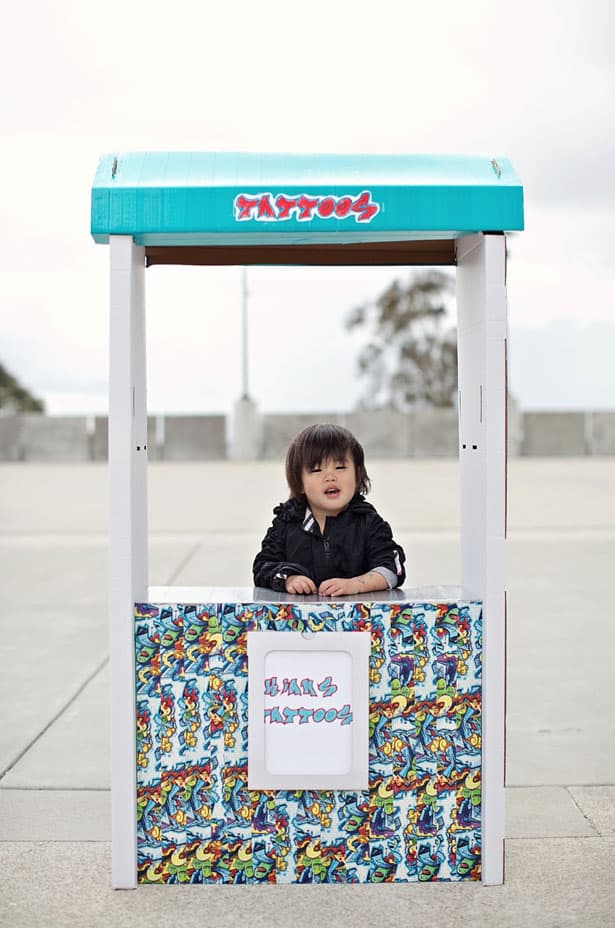 The kids loved standing behind the tattoo stand and getting their photos taken!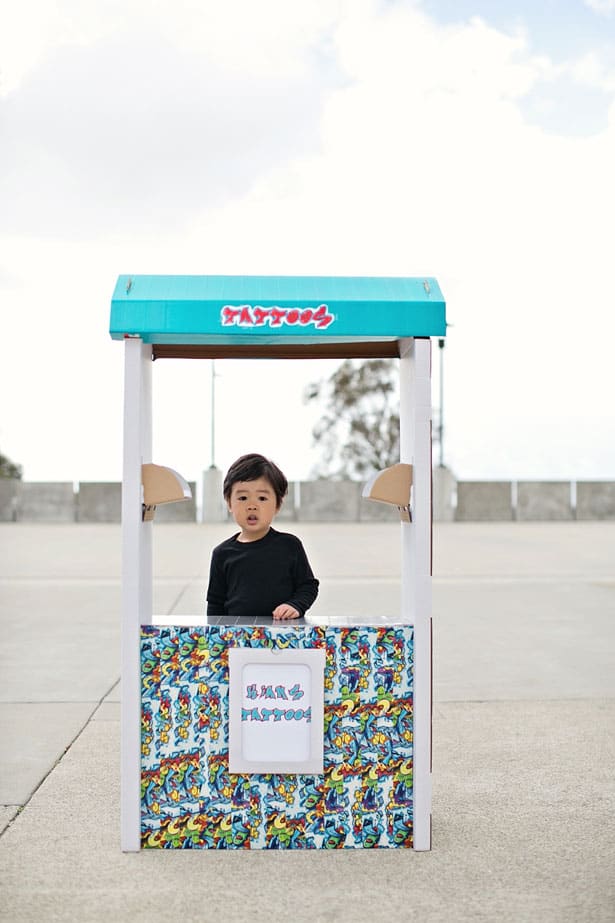 My son had so much fun celebrating his special day with all his friends at school in such a unique and creative way. The tattoo stand was so easy to make and took all about 20 minutes to put together including the taping. I think this would be a great way to celebrate any birthday and a fun activity at a party too!
What are some unique ways you've celebrated a child's birthday?
Also see:
Make Temporary Tattoos Out of Kids' Art
9 Fantastic Birthday Surprises
Balloons! A Fun Way to Celebrate Any Birthday
______________________________________________________________________________________________________

Disclosure: Some of the links in the post above are "affiliate links." This means if you click on the link and purchase the item, we will receive a small affiliate commission. Regardless, we give our promise that we only recommend products or services we would use personally and believe will add values to our readers.