Photo credit: Canva
By using this site, you agree to our Terms of Use. This post may contain affiliate links. Read our disclosure policy. As an Amazon Associate I earn from qualifying purchases.
Follow us on Instagram for more fun ideas for kids!
These sweet crochet heart patterns make adorable Valentine gifts to treasure for years!
Love is in the air and today we're sharing a few of our favorite heart Valentine crochet projects! If you want to have some extra fun while adding a little bit of love to your next crochet project, crochet heart patterns are the best way to go about it.
Whether you're a beginner or an advanced crocheter, there are plenty of patterns to choose from. From simple hearts to heart blankets, you can find the perfect one for your project.
We've gathered together 12 of the cutest crochet heart patterns for you to choose from. My mom was an avid crochet and I know she would have loved every single one of these lovely yarn projects.
With detailed instructions and photos, these patterns are easy to follow and perfect for any occasion, even if you are new to crocheting.
Whether you're making a gift for someone special or simply adding a sweet touch to your home decor, these crochet heart patterns are sure to make your project stand out and be cherished for years to come.
12 Heart-Filled Crochet Patterns You'll Adore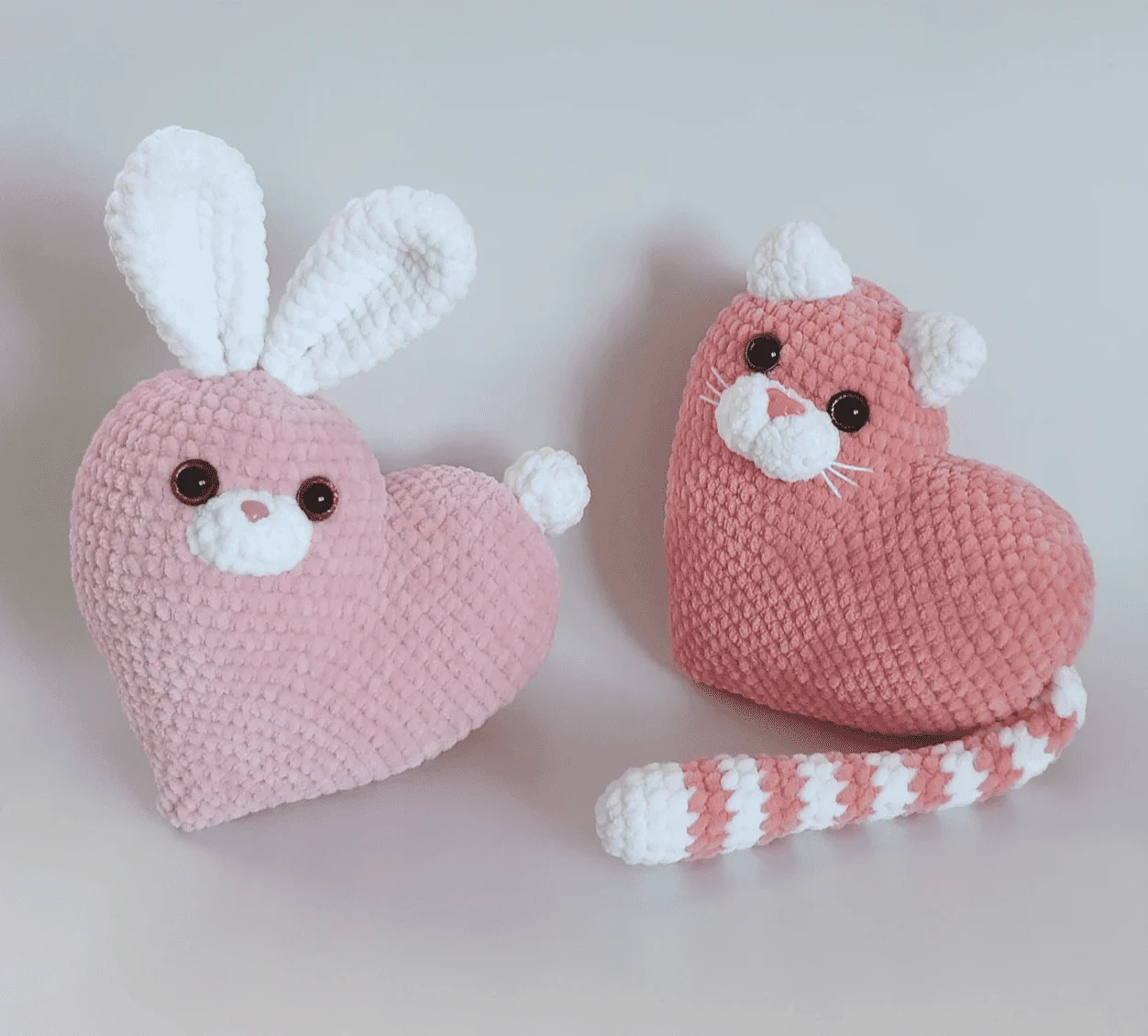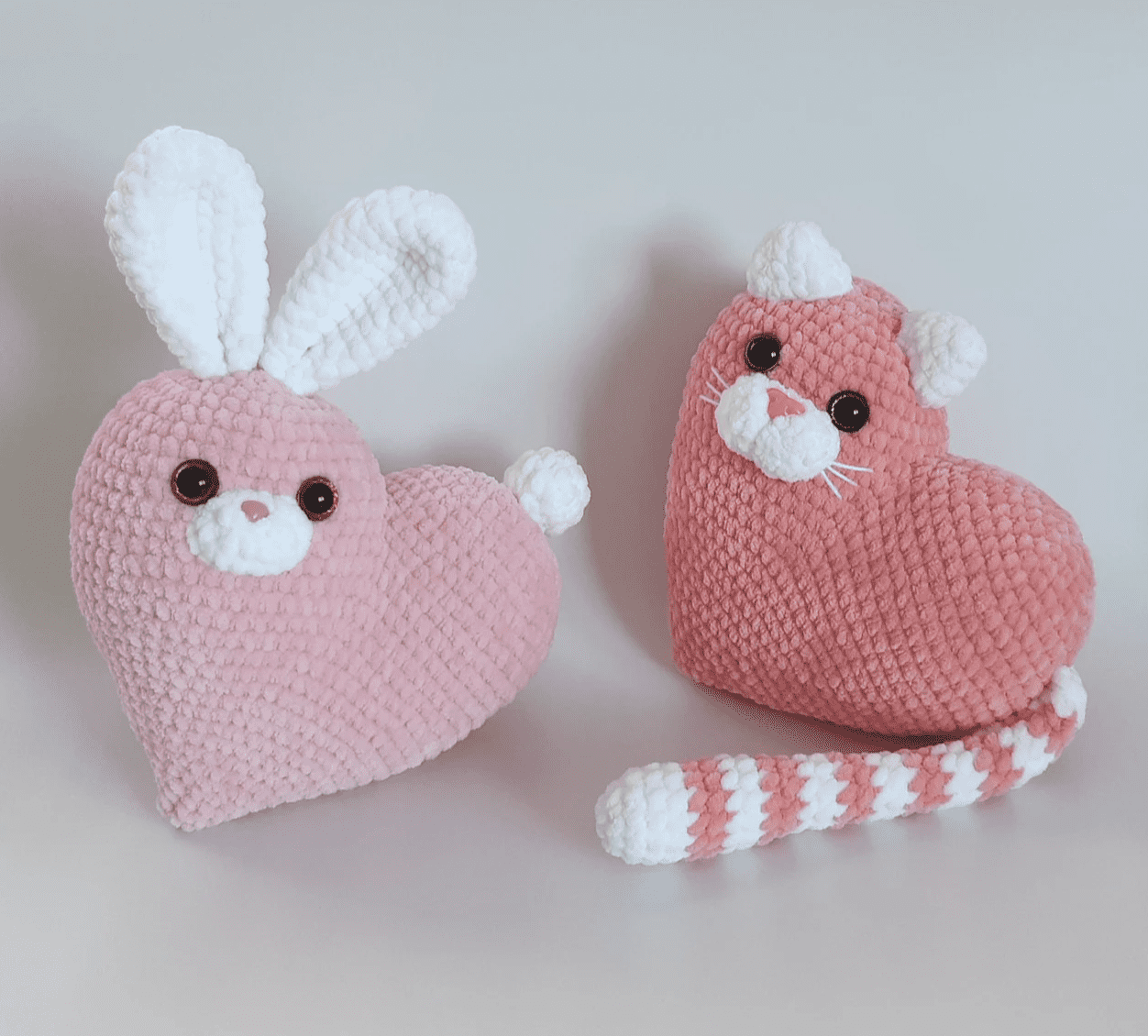 Photo Credit: Via Etsy
This adorable crochet heart pattern is perfect for making a special present for a loved one.
It's perfect for those with basic crochet skills and will make a perfect gift for Valentine's Day, Easter, or even just as a cute nursery decor.
Plus, the pattern includes instructions to make a soft plush Kitty or Bunny – both of which are symbols of 2023. Whether the gift is for a child or an adult, they will love this thoughtful gift.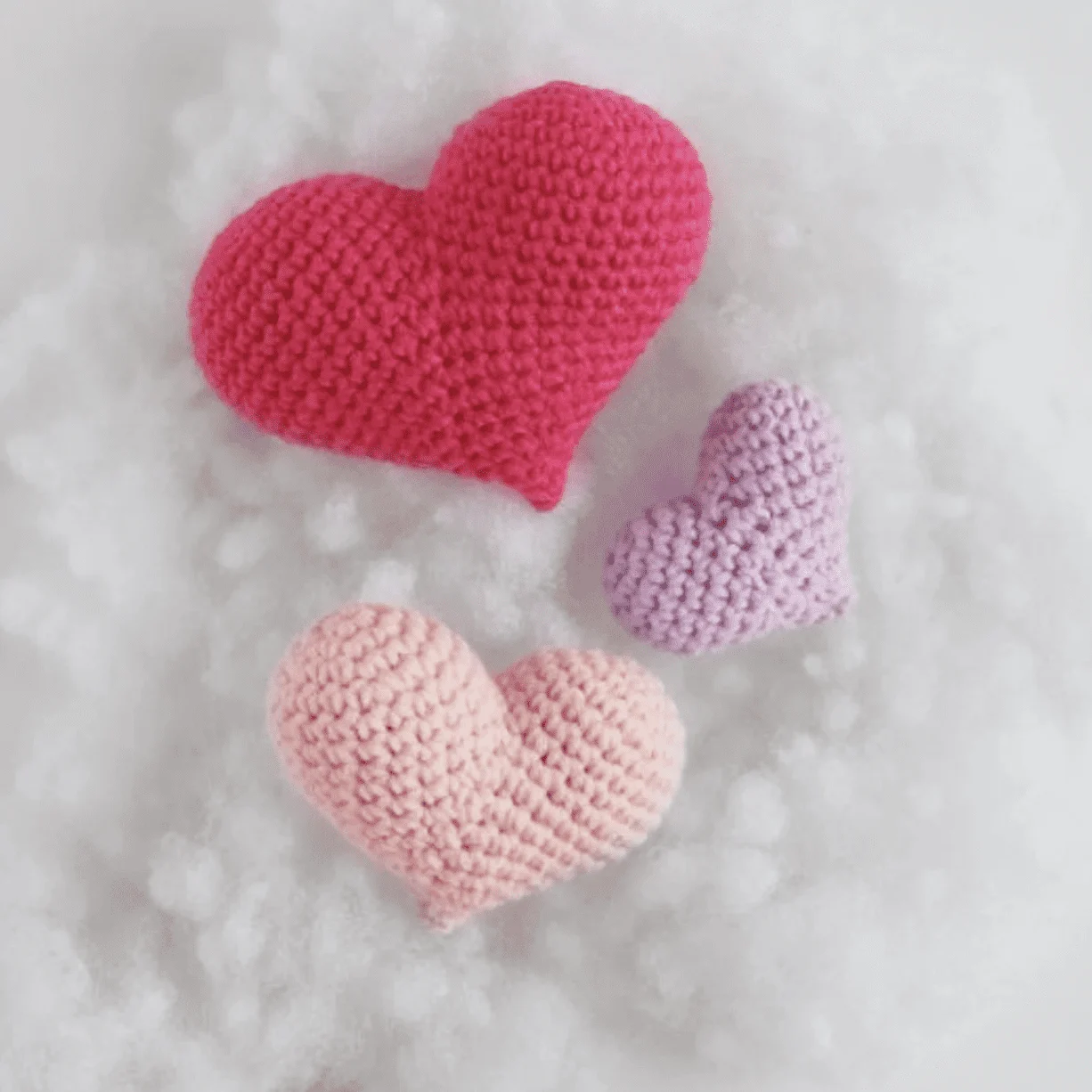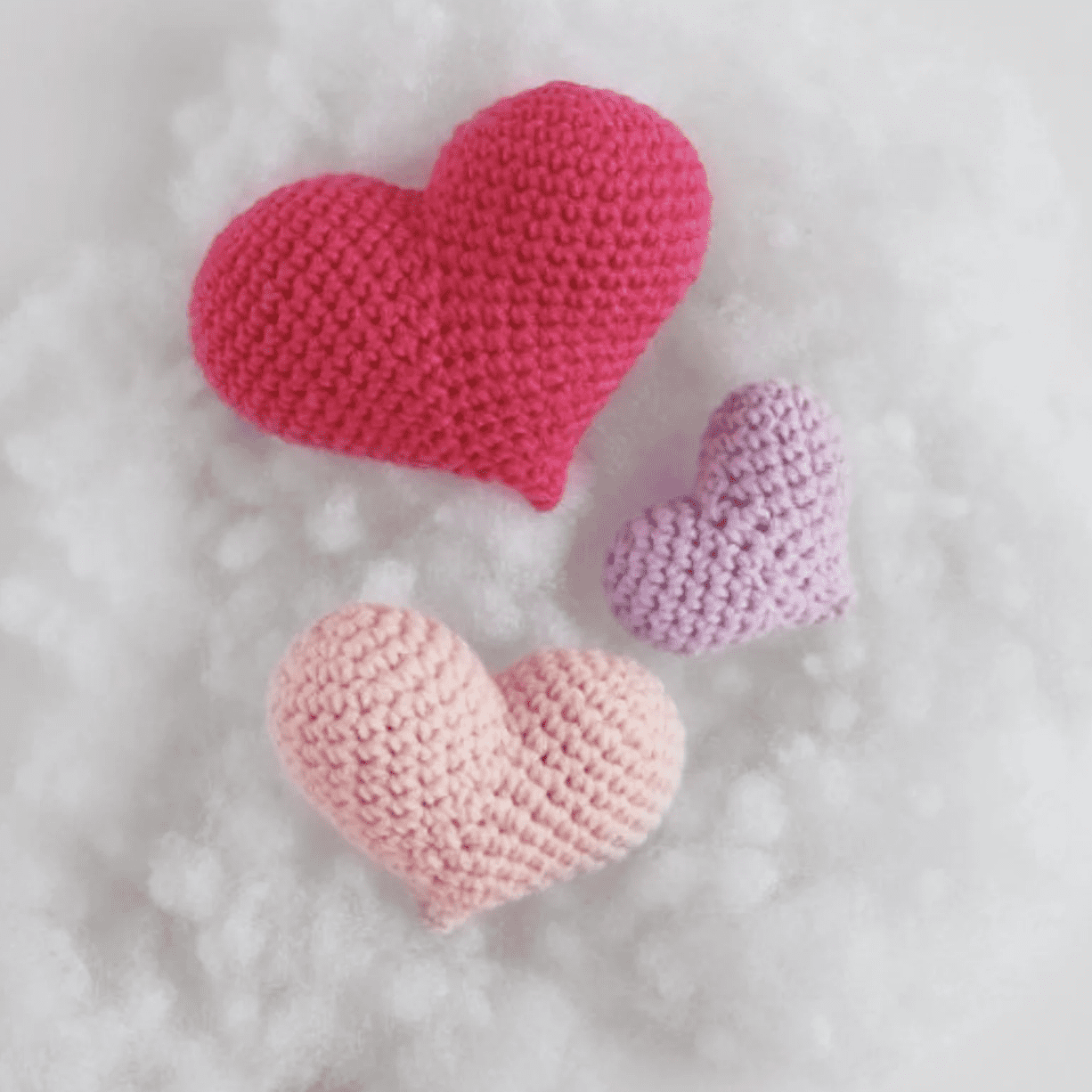 Photo Credit: Via Etsy
Anyone looking for a cute and simple project will love this pattern for a crocheted heart. It includes comprehensive directions for crocheting amigurumi-style hearts in three different sizes.
Any yarn can be used for this pattern, and the finished toys will be 2.3 in (6 cm), 1.9 in (5 cm), and 1.2 in size (3 cm).
The pattern comes with step-by-step instructions for crocheting as well as suggestions for tools and materials. Anyone can make the perfect crochet hearts using this pattern.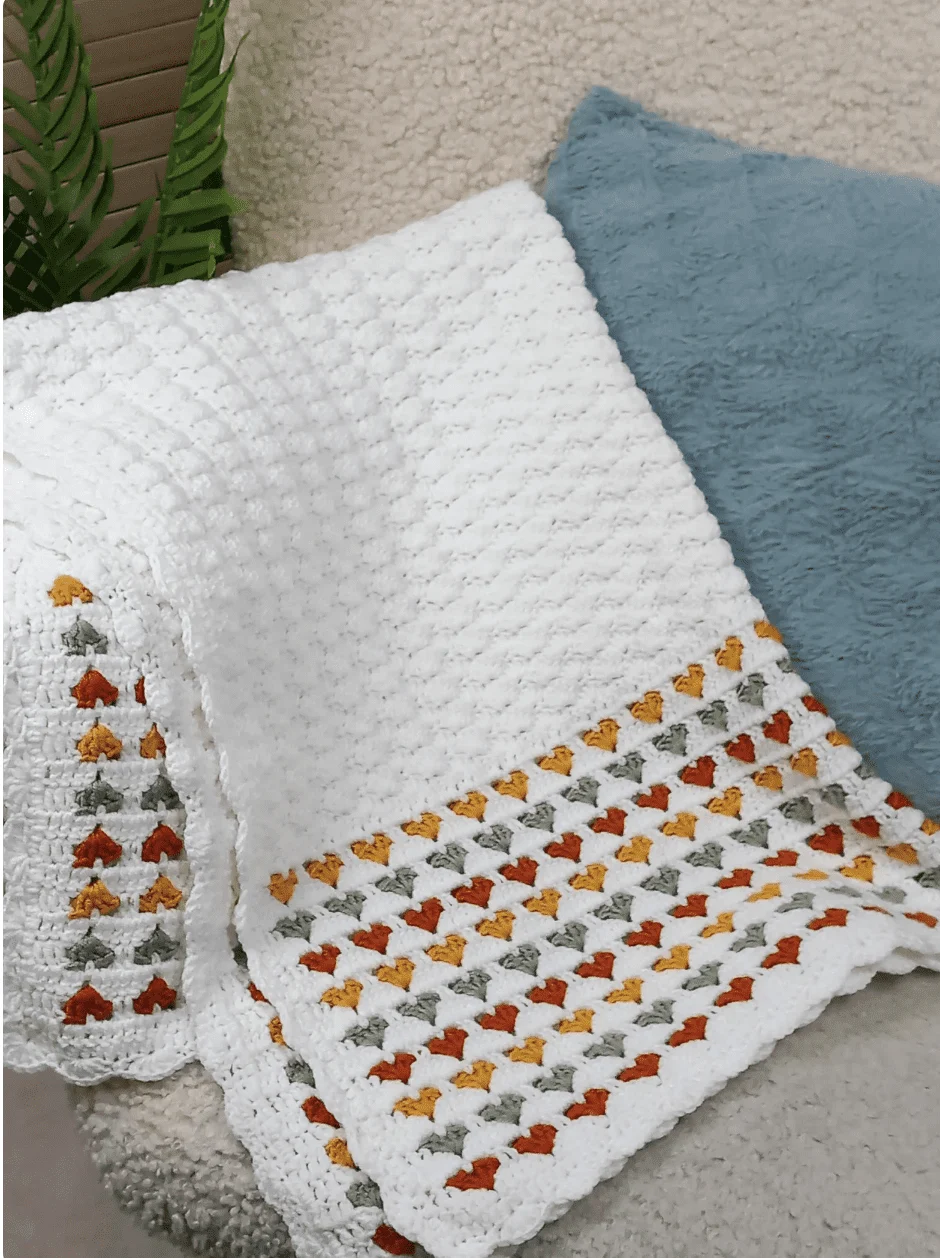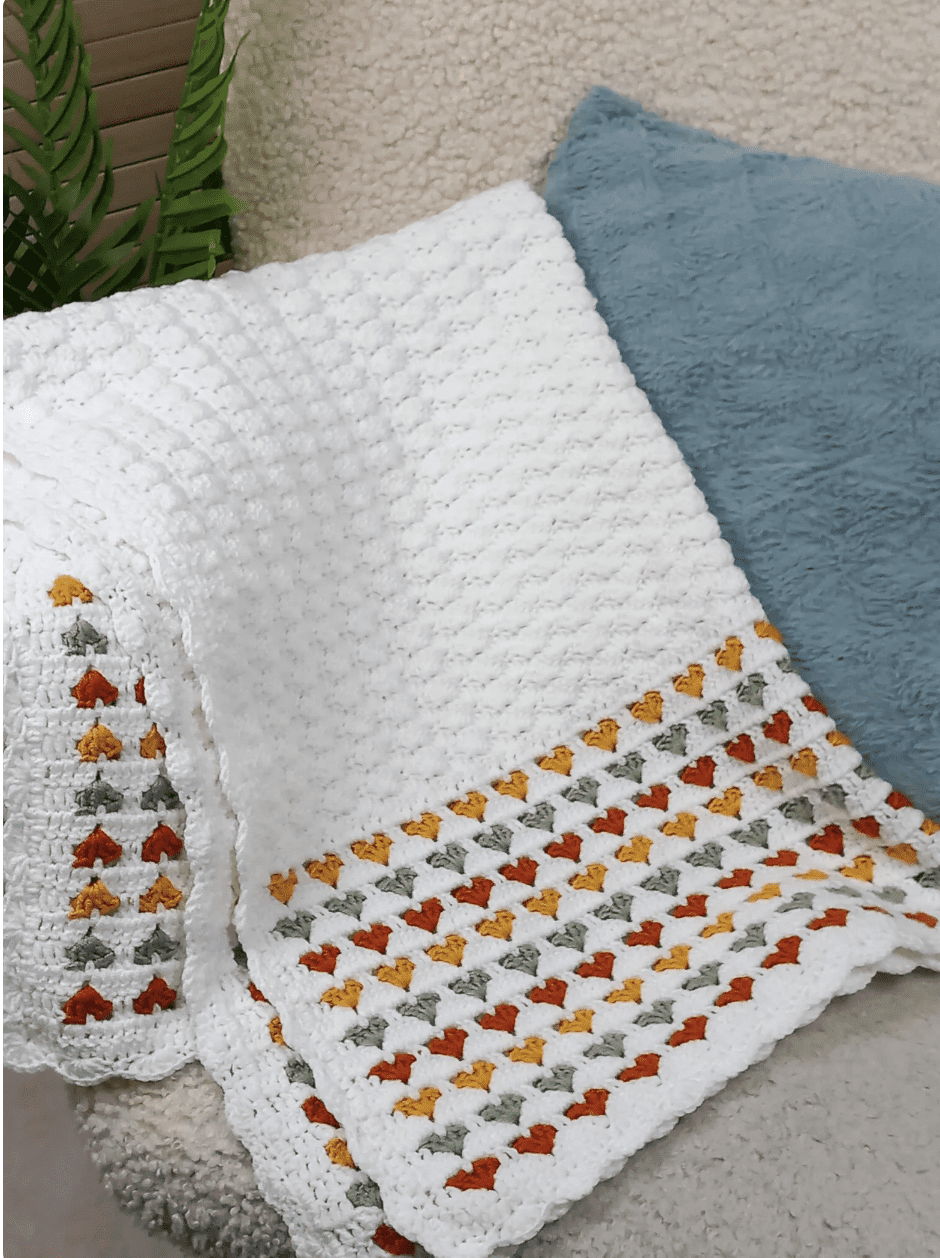 Photo Credit: Via Etsy
This wonderful crochet heart blanket pattern is perfect for any occasion. The 24-page PDF pattern includes clear instructions and illustrations, making it simple to follow and quick to finish.
Because your main color doesn't need to be "carried" or cut, making it is much simpler, and there are fewer ends to weave in.
You can cut it to any size you desire and use it to create a baby blanket or a temperature blanket.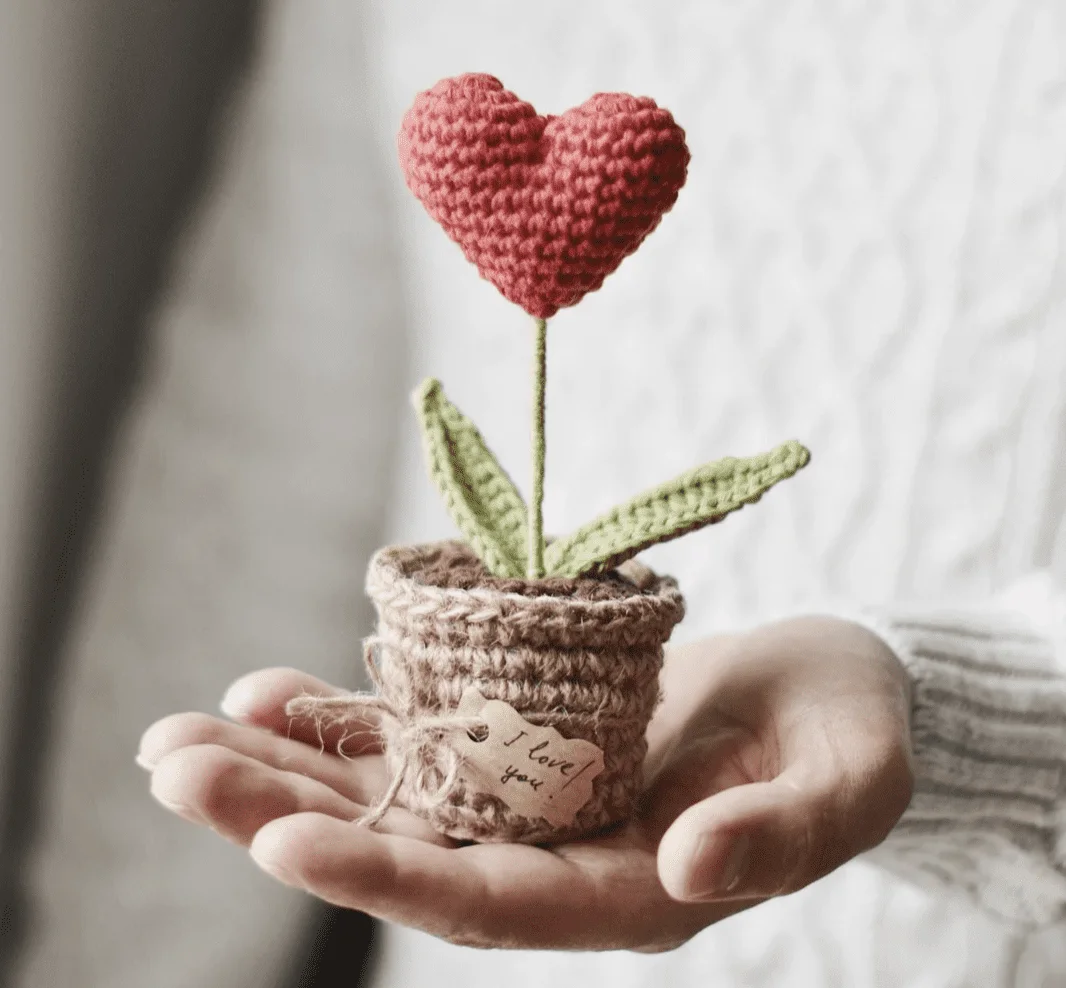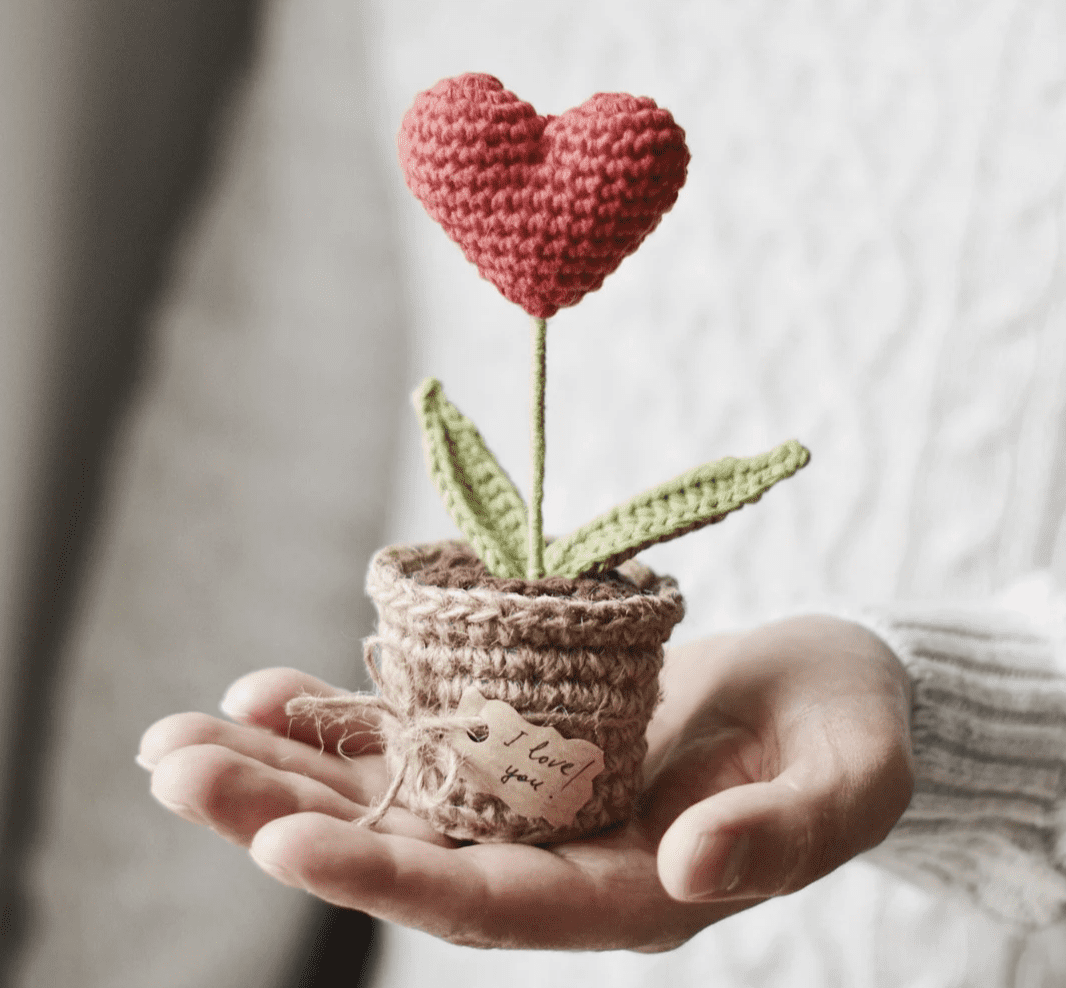 Photo Credit: Via Etsy
This mini heart in a pot is a dainty gift for the plant lover who doesn't want to spend time taking care of their plants!
Love will thrive regardless in these adorable mini crochet flower pots.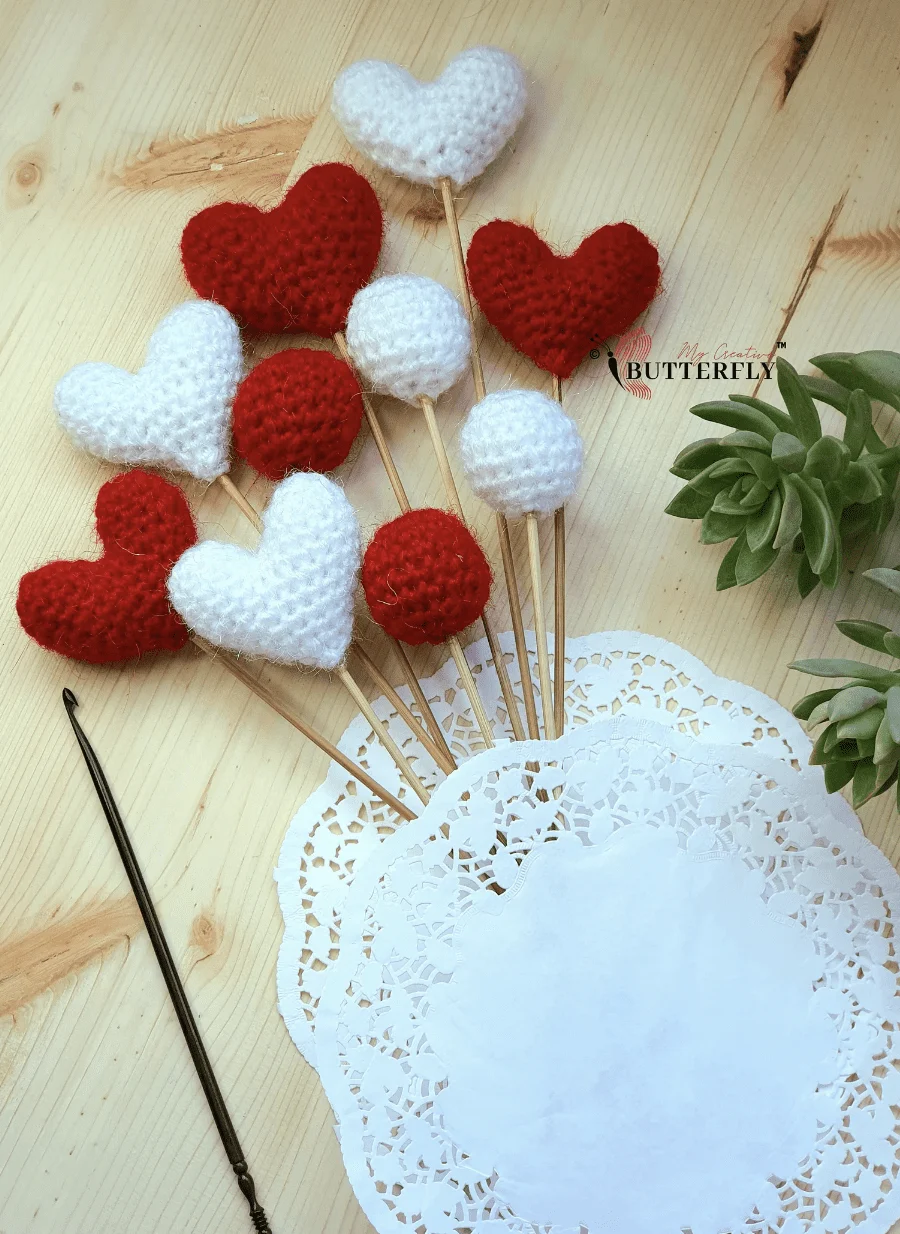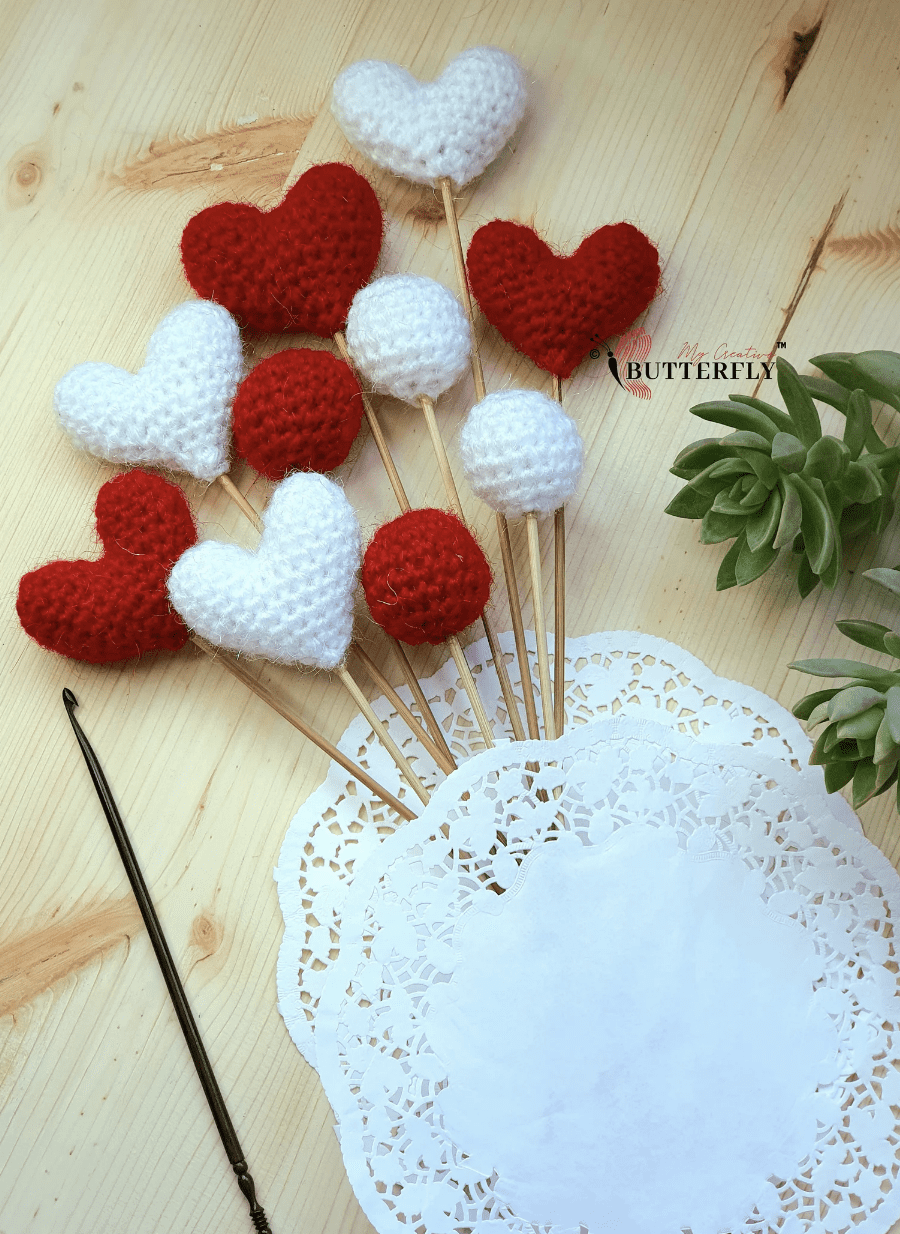 Photo Credit: Via Etsy
The pattern is a simple, step-by-step tutorial with illustrations. A 3.5mm crochet hook and little Worsted weight yarn (size 4) are both required.
Making a distinctive and memorable gift or decoration using this pattern is the perfect option.
You can create a completely unique look by using different colors, so you'll have a lovely and heartfelt bouquet in no time.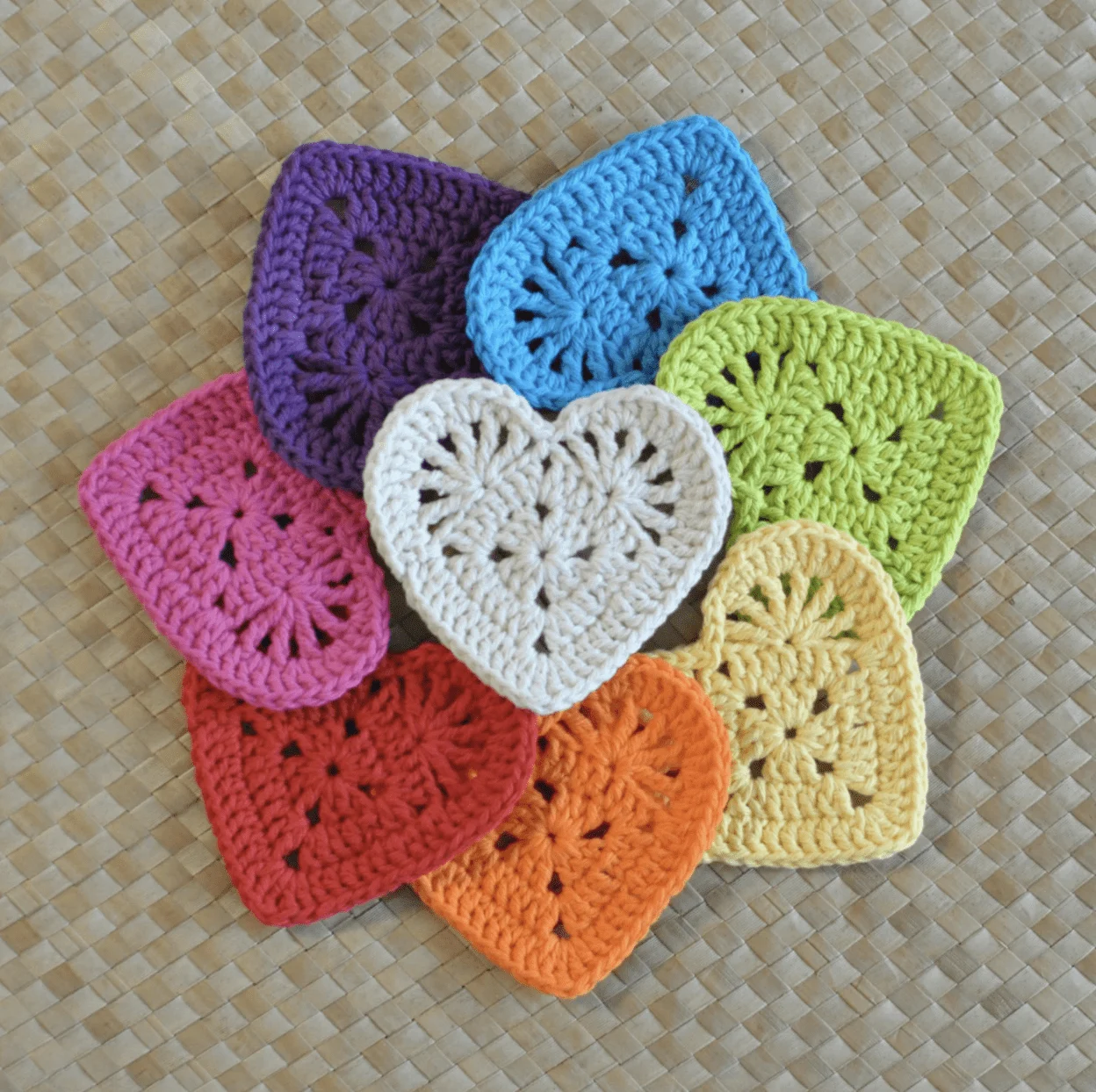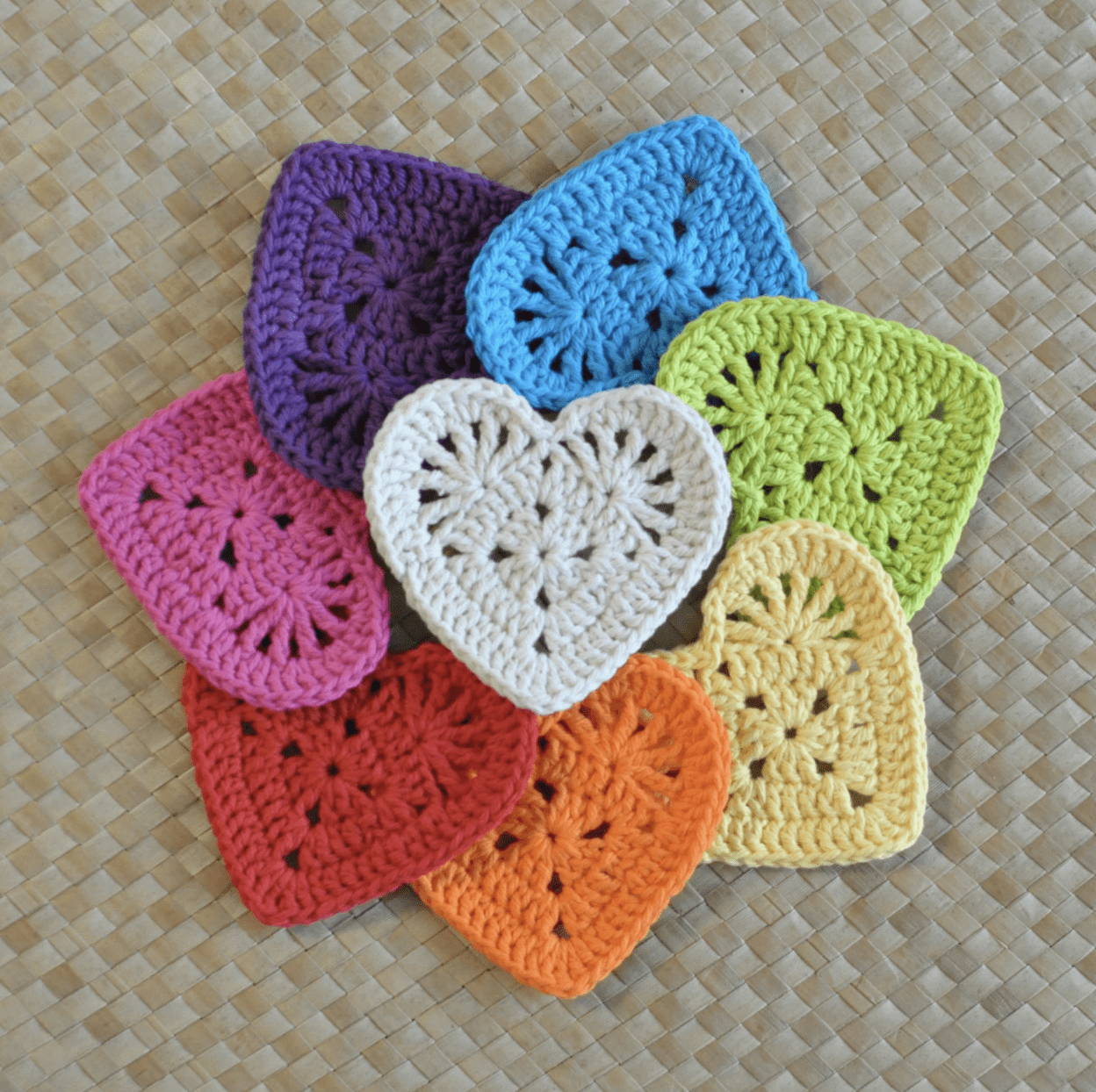 Photo Credit: Via Etsy
Anyone looking to make a versatile coaster for Valentine's Day or any other day of the year will find this Granny Heart crochet pattern to be the perfect choice.
Despite being made for worsted yarn, the pattern can be used with any yarn and a hook size smaller than what is suggested on the label.
The detailed photo tutorial that is included will be helpful to beginners even though this pattern is intended for intermediate crocheters.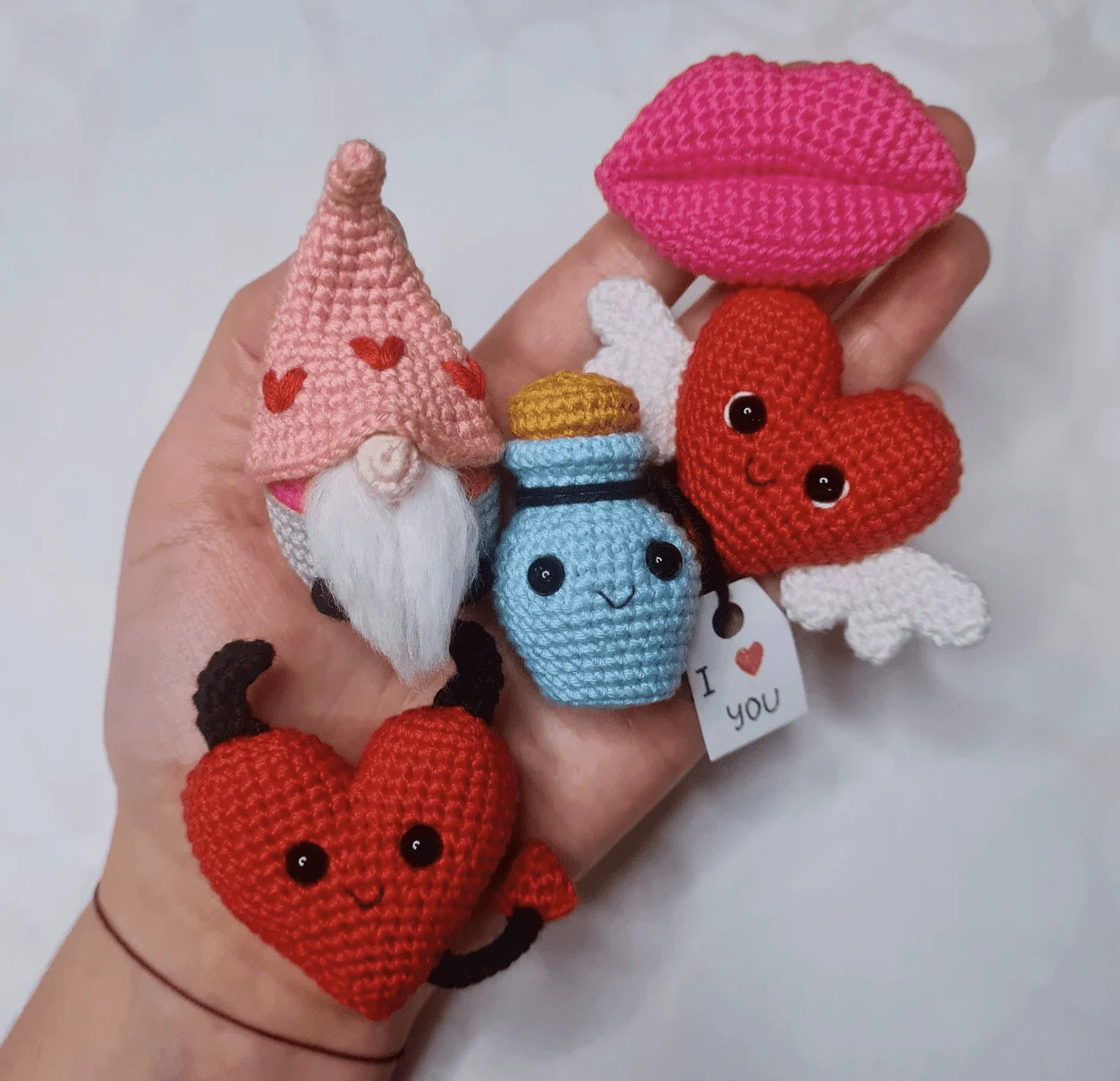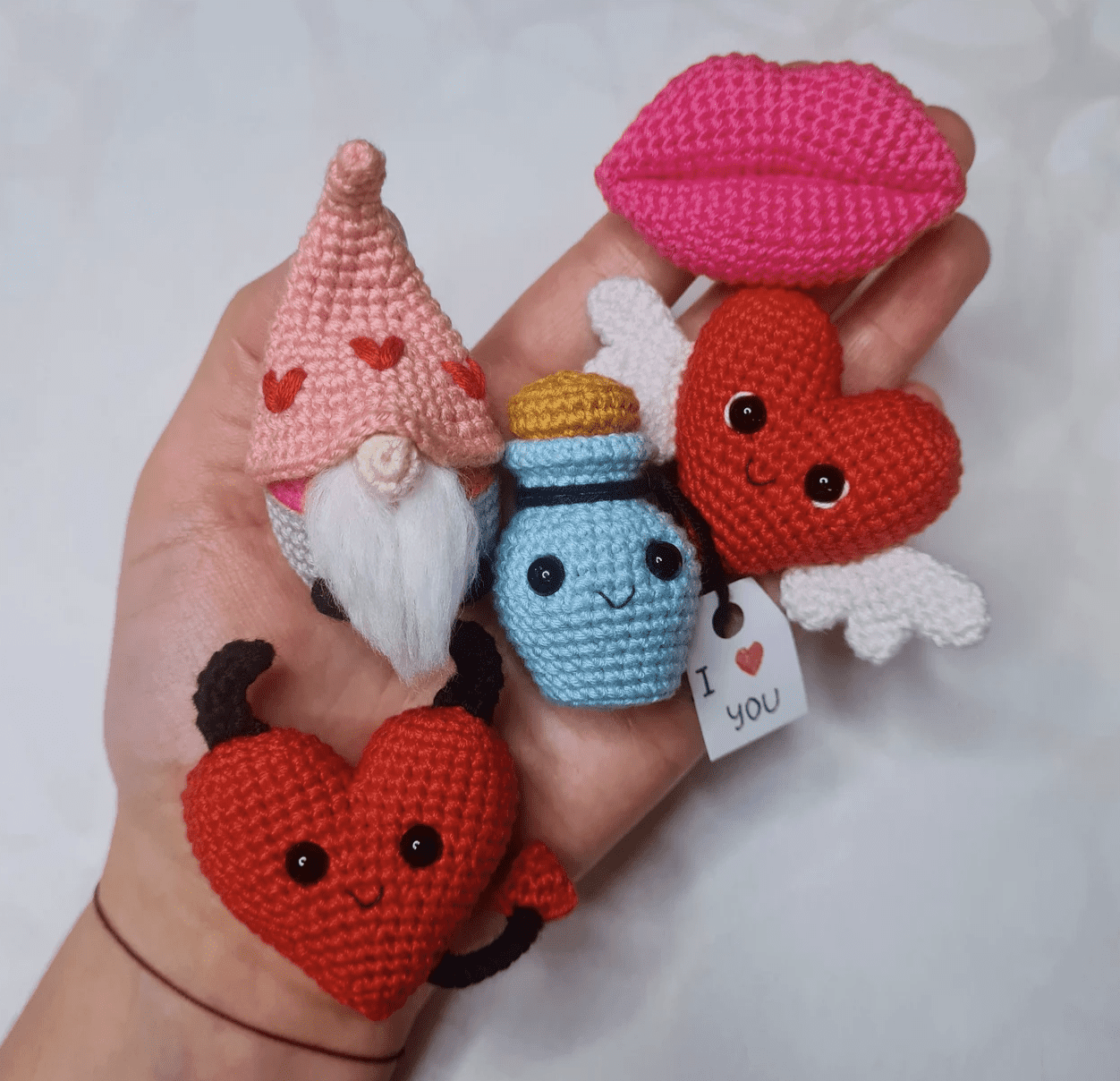 Photo Credit: Via Etsy
A variety of crochet heart patterns and keychains are included in this 5-in-1 bundle from Etsy, which is great for Valentine's Day.
Two hearts, a gnome, lips, and a bottle of love potion are included in the bundle. It is the perfect pattern for intermediate crocheters who want to make something special for Valentine's Day.
The project is simple to complete because the crochet pattern includes detailed instructions and photos to show each step.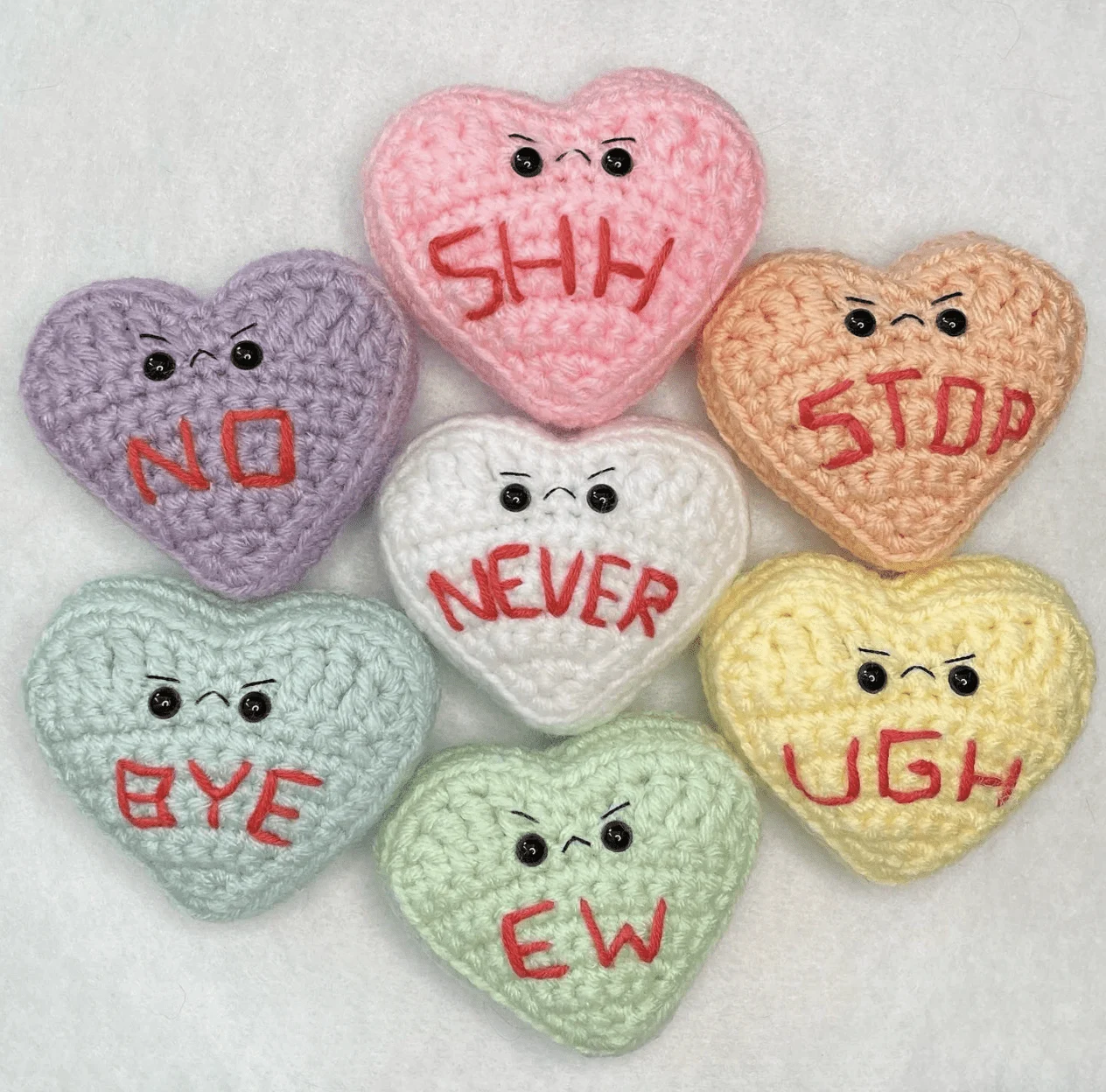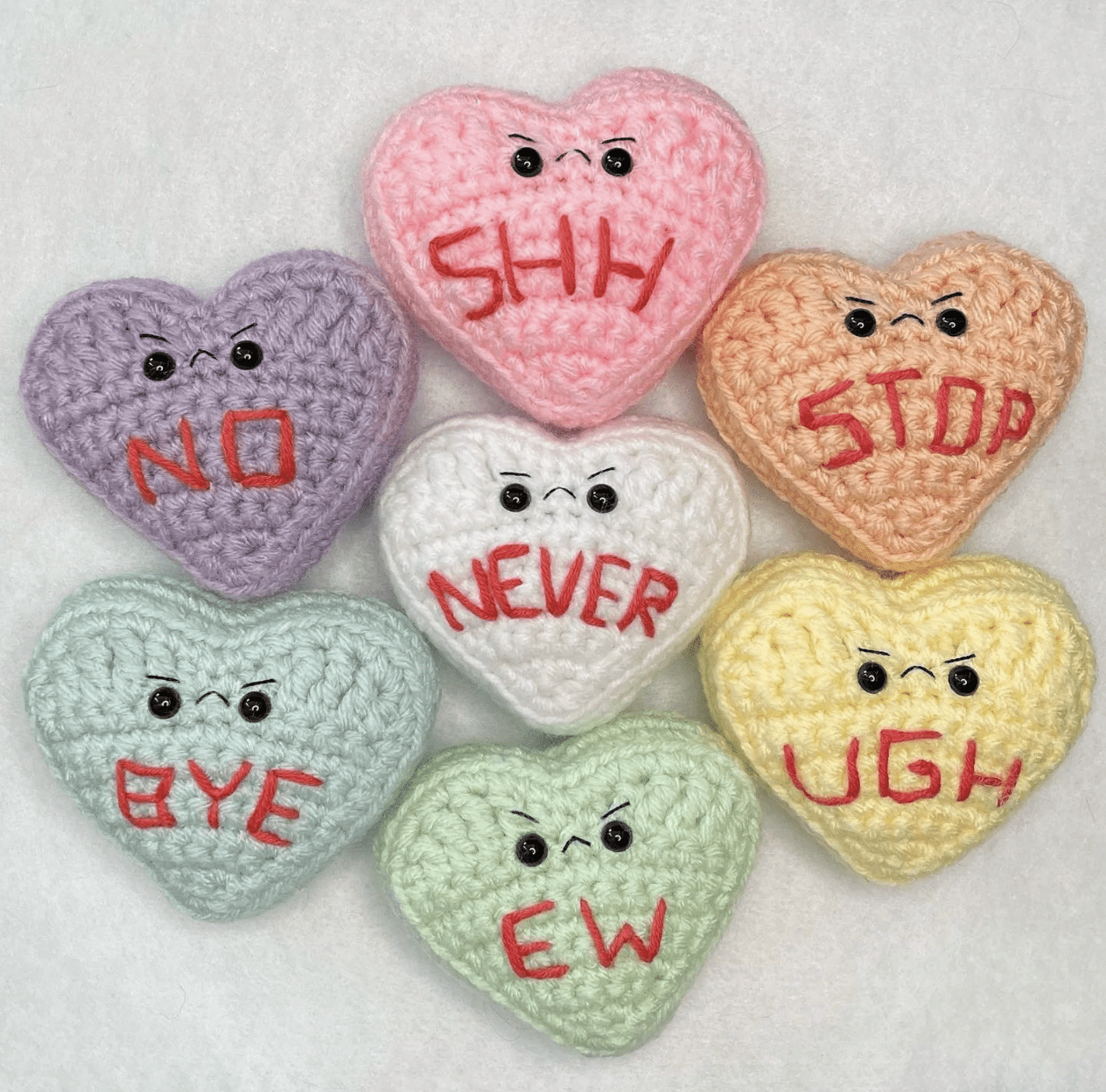 Photo Credit: Via Etsy
An easy-to-follow crochet heart pattern can be found in this downloadable PDF pattern.
These hearts are ideal for people who either love or hate Valentine's Day because they can be embroidered with something sweet for those who do or something else for those who don't!
It's best for new crocheters who feel comfortable using a variety of stitches.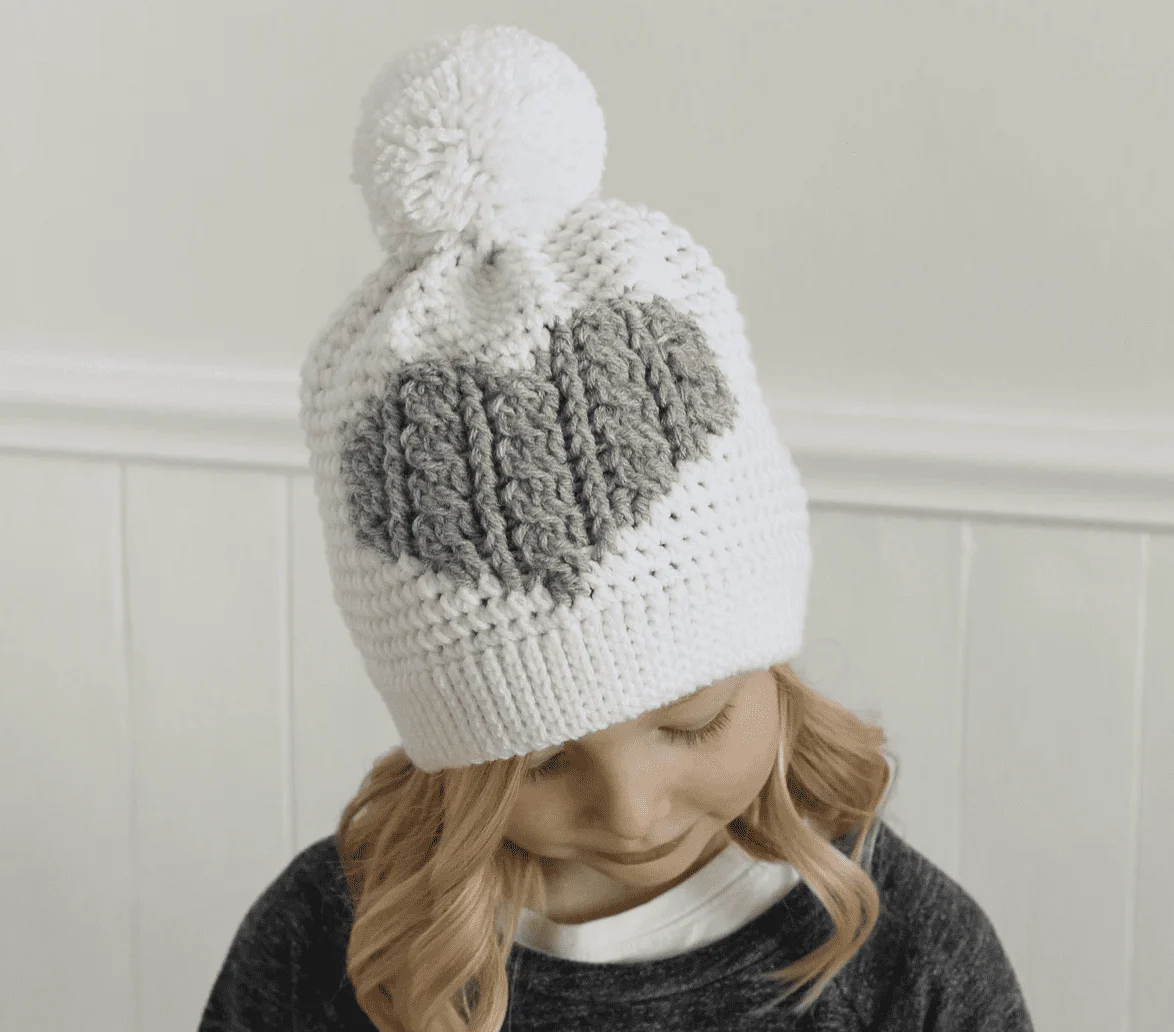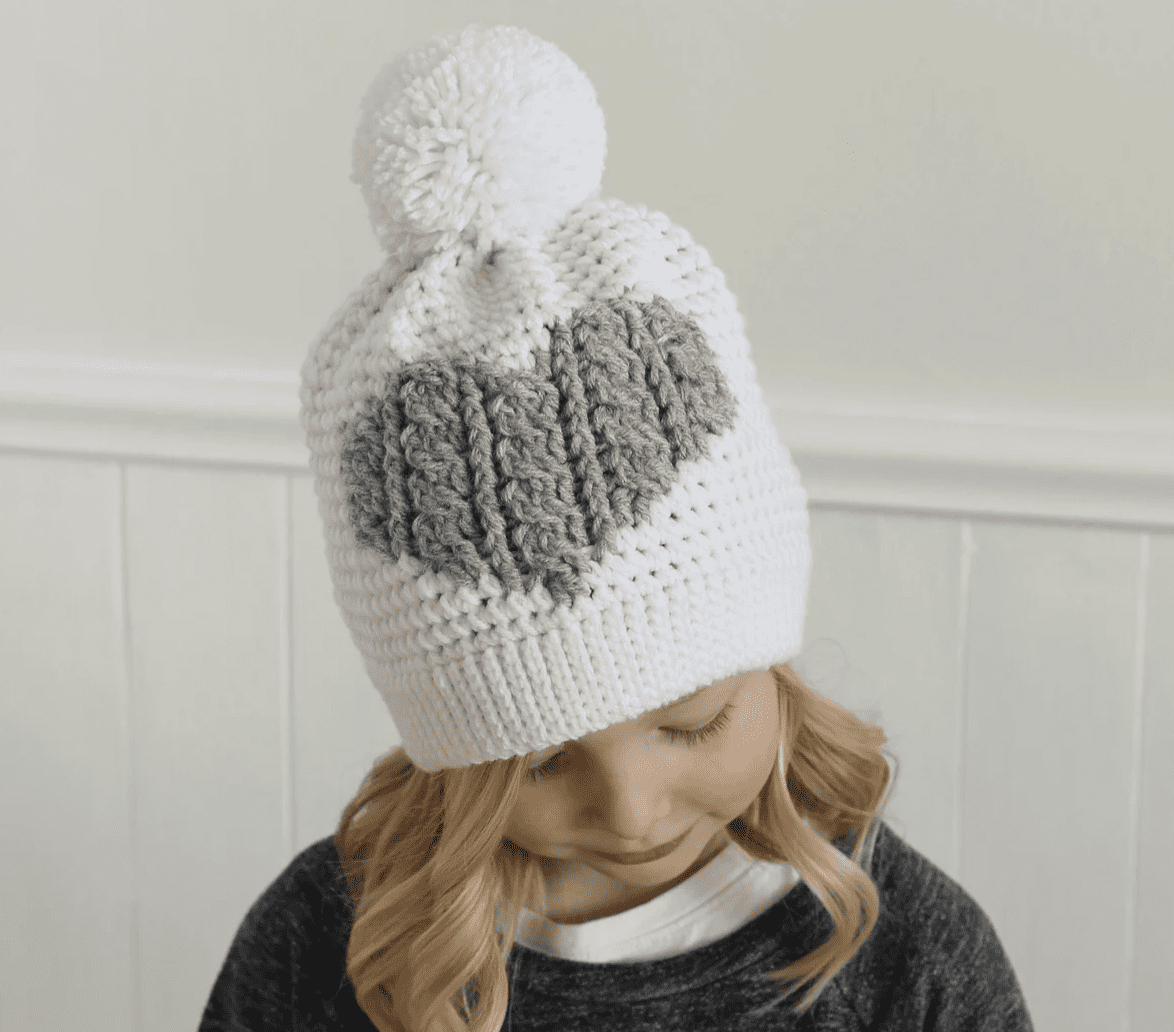 Photo Credit: Via Etsy
This toque has been created to be the ideal accessory for intermediate to experienced crocheters thanks to its timeless and entertaining cable heart silhouette.
The brim and crochet cables resemble knit pieces, but they were made with simple crochet stitches. There are five different sizes of this contemporary toque, ranging from toddler to adult.
Additionally, this beanie will keep everyone warm and fashionable during the winter thanks to its distinctive design.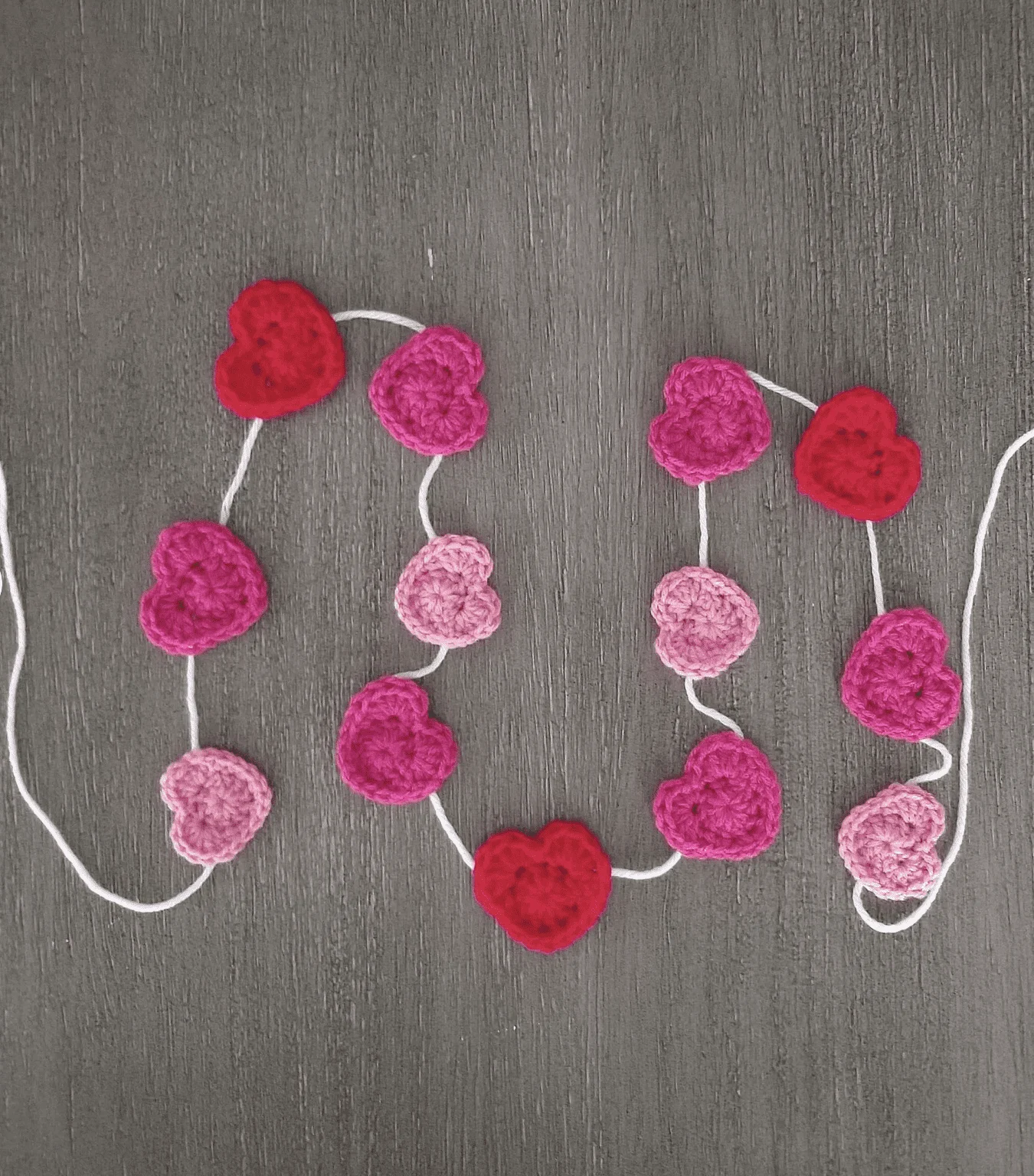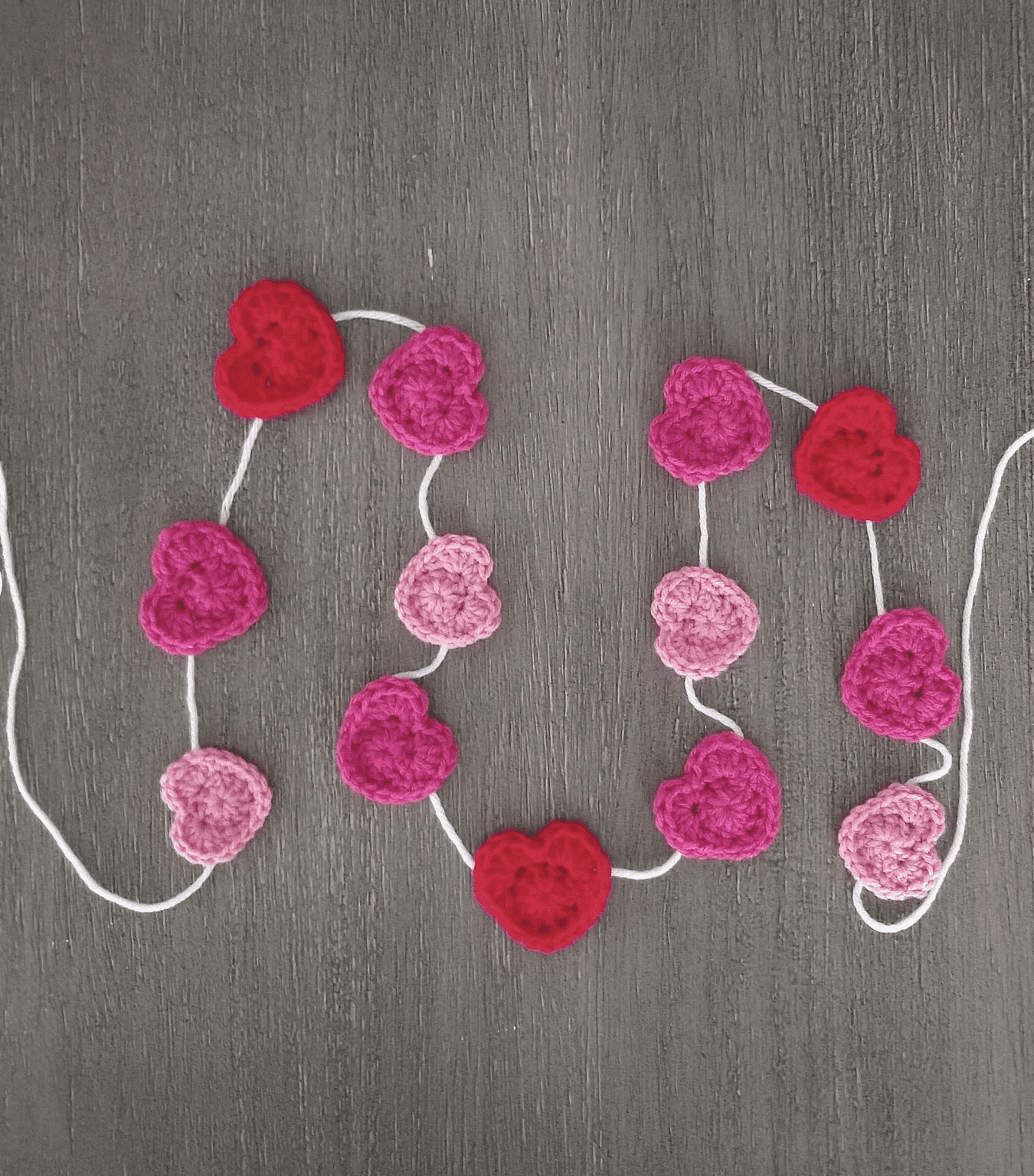 Photo Credit: Via Etsy
To create a beautiful garland, use this crochet heart pattern. It involves sewing tiny crochet hearts to a crochet string and is a simple pattern for beginners.
It looks great when used as year-round décor or for Valentine's Day decorations. The pattern calls for the use of K, J, and H hooks and is written in standard US crochet terminology.
The finished product is not included in the pattern, which is offered in PDF format.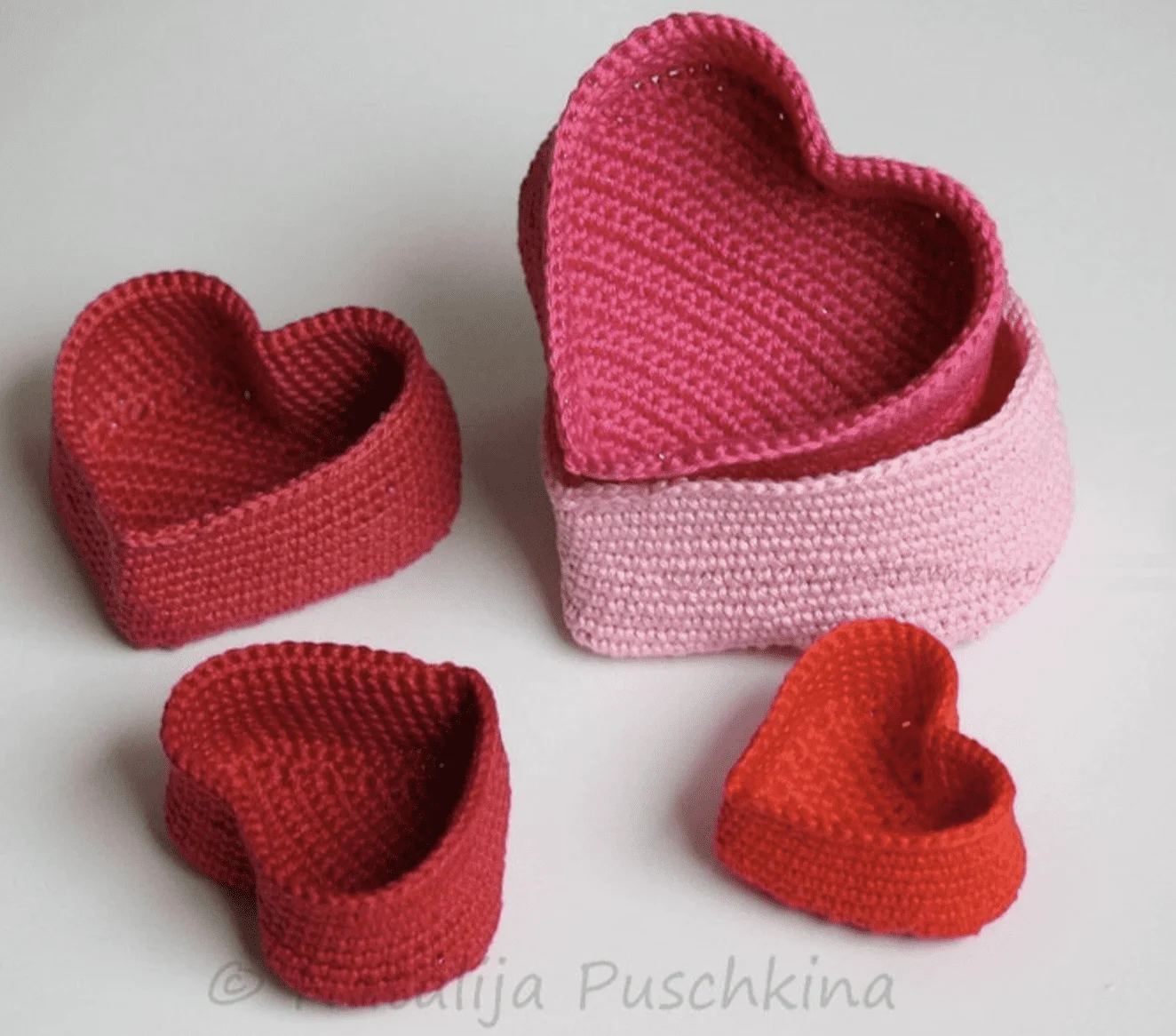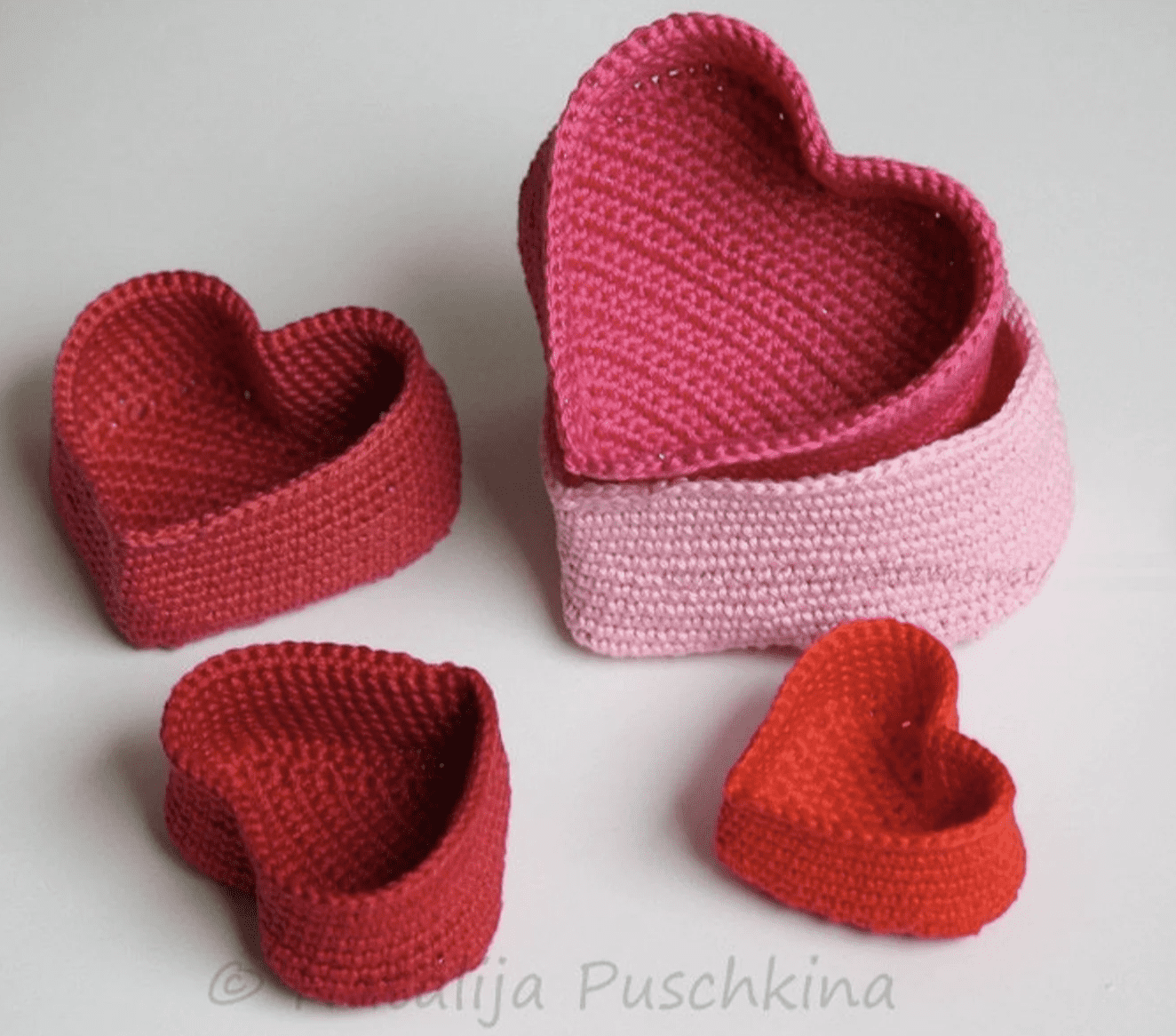 Photo Credit: Via Etsy
Each basket's crochet pattern comes with a pdf file that is filled with clear instructions and eye-catching pictures.
These heart-shaped baskets are great for arranging and storing various items, including jewelry, soap, shampoo, and sewing supplies.
With the help of this pattern, you can make gorgeous, useful baskets that will look fantastic.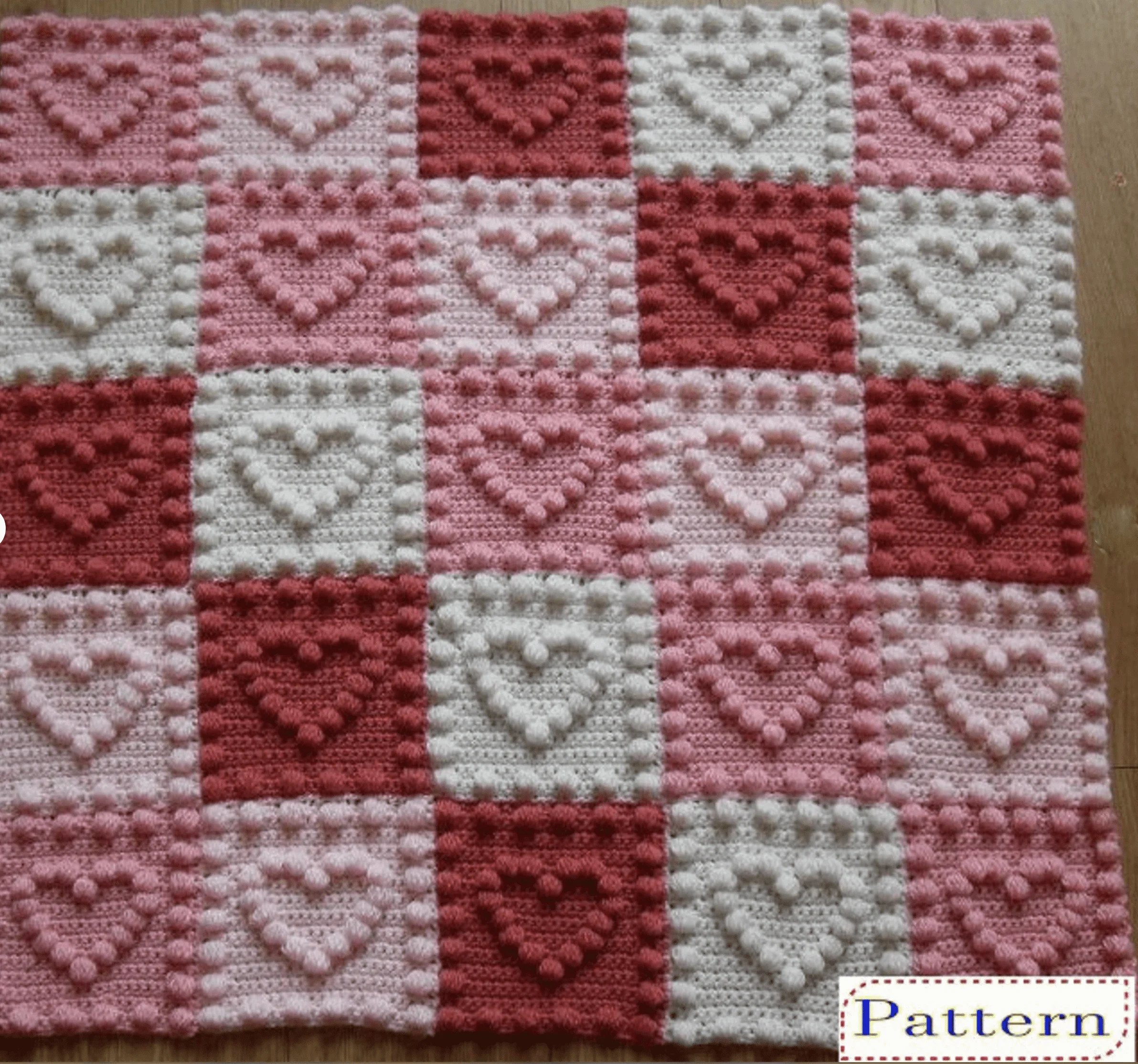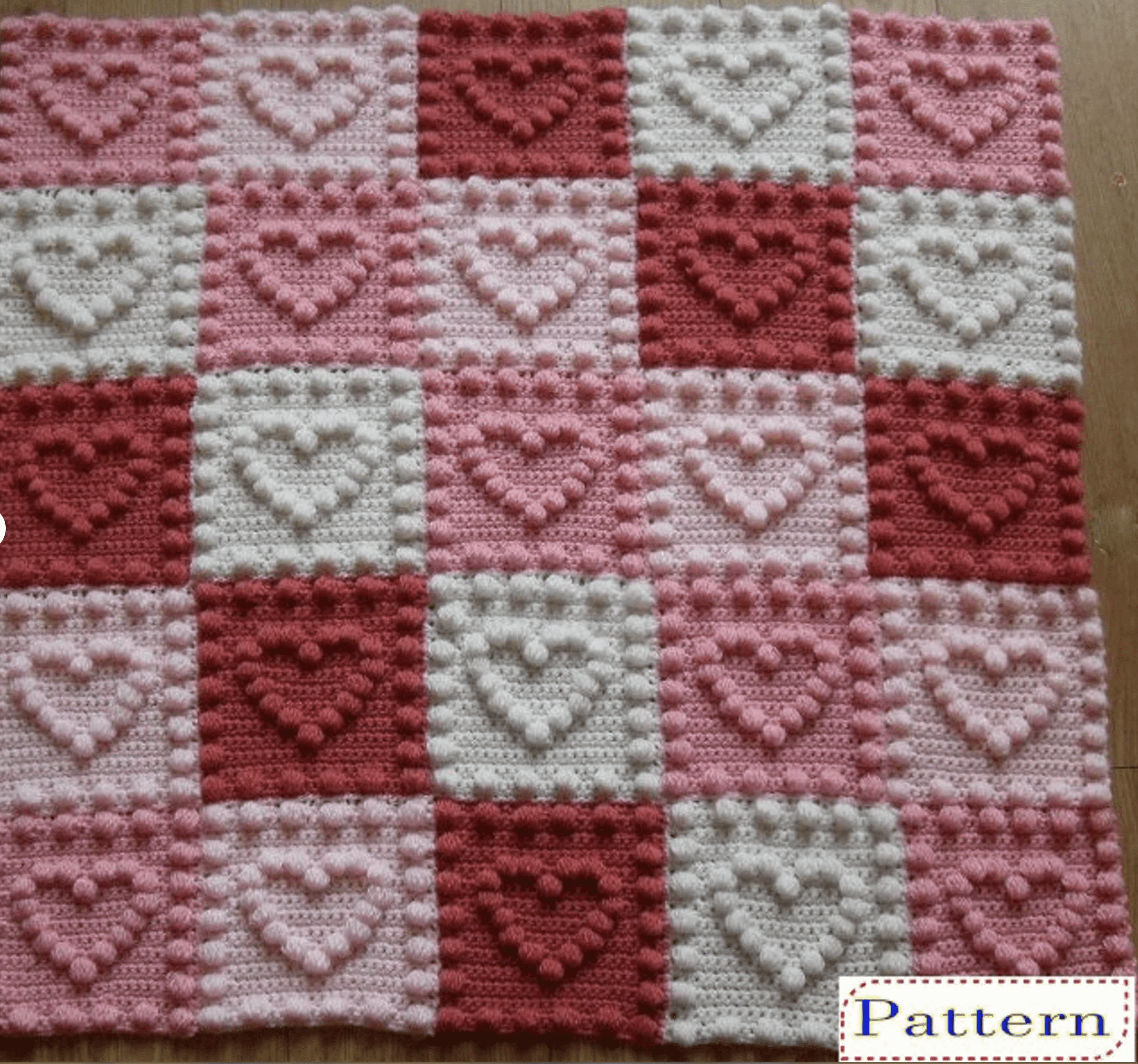 Photo Credit: Via Etsy
For an experienced beginner, this Heart Motifs Baby Blanket Crochet Pattern is perfect.
There are 25 variations of the same motif used to create the blanket, and it includes a chart and written instructions.
For those who are already familiar with the chain, single crochet, and puff stitch, this pattern is excellent. You can create a soft and fashionable baby blanket for your child using this pattern.
Takeaway
Crochet heart patterns are a great way to add a special touch to any project. Whether you're a beginner or an advanced crocheter, there are plenty of patterns to choose from.
With these 12 cute crochet heart patterns, you're sure to find the perfect one for your project. You'll be able to express your love in a unique and special way!
Plus, if you purchase any of the patterns, you'll support independent designers and makers!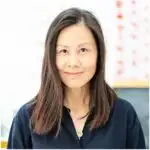 Agnes Hsu is a mom of three and has been inspiring parents and kids to get creative with easy activities and family friendly recipes for over 10 years. She shares her love for creative play and kids food to her 2MM+ followers online. Agnes' commitment to playful learning and kindness has not only raised funds for charity but also earned features in prestigious nationwide publications.