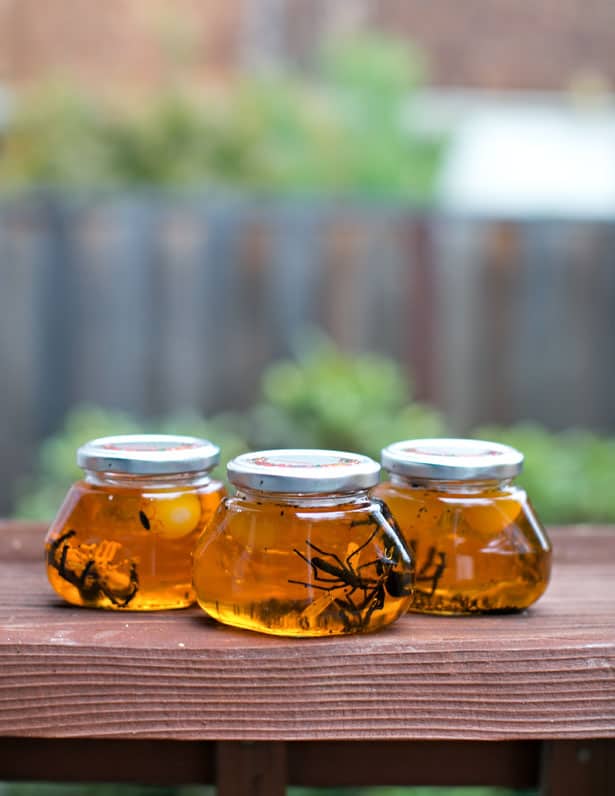 We're just a few days away from Halloween and if you're looking for one more quick craft, these Halloween sensory jars are perfect and take minutes to make. Similar to our Aquarium Mason Jars, the concept is simple – gather plastic figurines and tint the water according to the jar's theme to fit the occasion. We put some black glitter in the jars so they had a pretty snowglobe effect when shook.
These jars were made during a small Halloween gathering with the kids' friends and made cute party favors the kids were hrilled to make and take home.
Halloween Sensory Jars – Materials Needed:
1. Any lidded jars
2. Black glitter
3. Halloween figurines (we used plastic spiders and eyeballs)
4. Orange food coloring
Instructions:
1. Fill the jar with filtered water (tap will make the water cloudy)
2. Tint the water with orange food coloring
3. Place black glitter and Halloween figurines inside
4. Screw lid on tight (you can seal the lids with glue to make them air-tight and place the jars upside down but we skipped this step and left them lid side up) You could also paint the lids black or orange to give the jars a more festive Halloween look.