This giant scarecrow is a fun, seasonal twist on body tracing! Kids will love painting a self-portrait, tracing their bodies and adorning their scarecrow with old jeans, a great way to recycle worn clothing.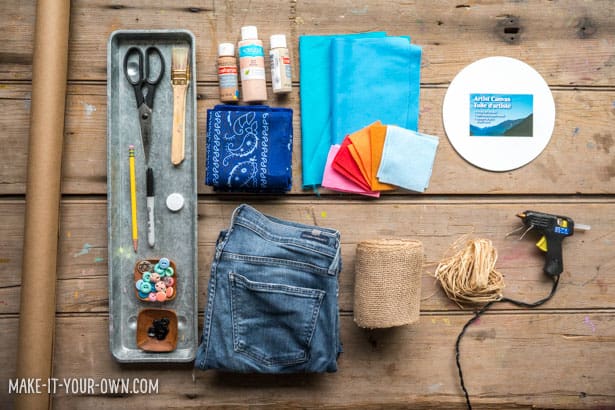 Kraft paper
Old jeans
Fabric
Felt
Buttons
Pencil
Permanent marker
Cap (For tracing cheeks if you like! We also used blush on one too.)
Paint brushes
Scissors
Paint (We used acrylic in various skin tones)
Brushes
Bandana (optional)
Burlap (optional)
Raffia (or straw or yarn)
Circular canvas
Glue gun & glue sticks
We always find these items helpful too: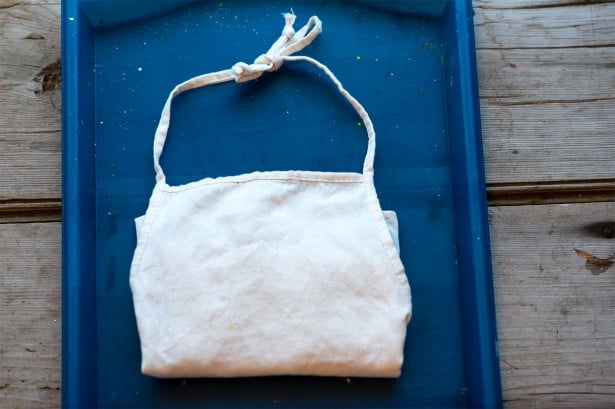 Directions
Don your smock and paint your face. Allow to dry. You could skip the circular canvas and trace your head onto your paper if you like. Once dry, add details to embellish your face such as button eyes, a felt nose and a stitched mouth (created with a permanent marker). Use what you have on hand (beads, chenille sticks etc.) or cut the pieces out of paper. We added a bit of "straw" hair and a fabric hat. (Simply flip your hat over to hide your pencil lines!)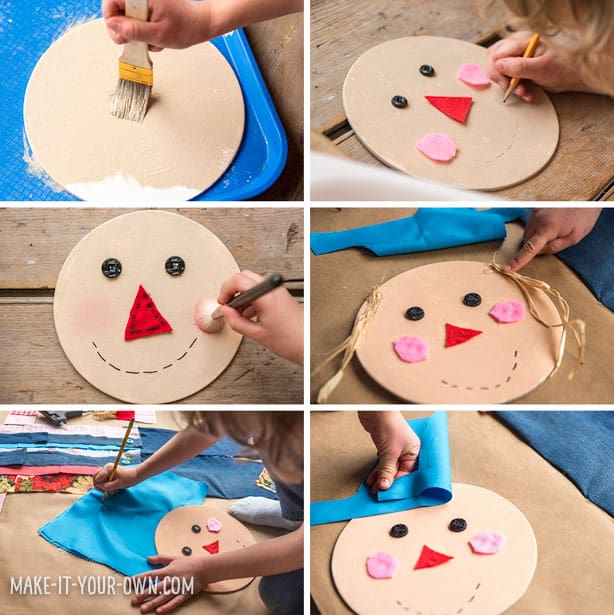 Roll out your kraft paper and lay down with your head over the top of the edge. Have an adult or partner trace around your body. Our paper wasn't wide enough for a scarecrow's out-stretched arms, so we traced the lower portion of the arm and the hand along the edges of the mid-section where there was space.
Cut and lay out your pieces (The kids chose the fabric and I cut the pieces into rough rectangles using a rotary cutter and cutting mat prior to starting.) You could use wallpaper samples or scrapbooking paper instead of fabric if you like. The opportunity to experiment and manipulate the position of items prior to gluing allows for the final product to be closer to what the child may have envisioned. In the kids working together they were also able to give each other ideas and suggestions.
Glue your pieces on. There is no correct way to do this- each scarecrow will be unique, however, we found a few tricks helpful: 1) Be sure to either glue your "straw" on first and the layer over the fabric or jean or don't glue the end down (so for example the cuff of the jean) and then lift it up and glue the straw underneath. 2) We found that layering the fabric created more polished edges. 3) As jean sometimes frays when cutting, make a line of glue on the edge of the leg, flip your jean upside down and then put the edge into your glue and fold it back over for a clean edge. (You can do the same by tucking it under on the other side.)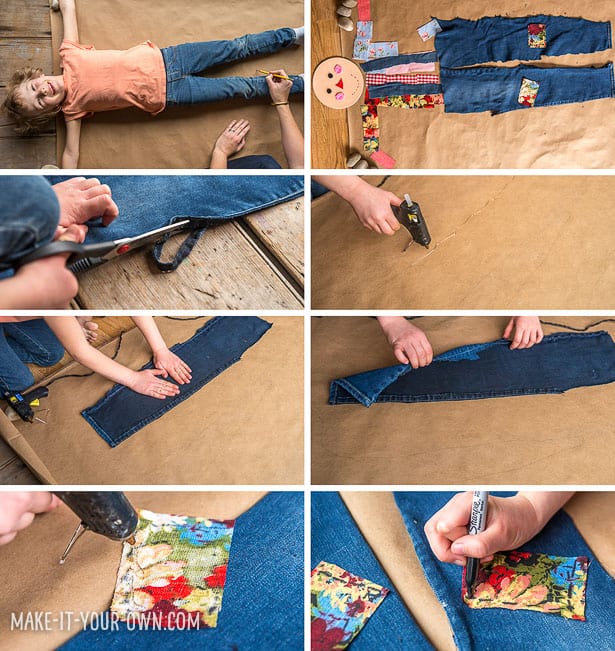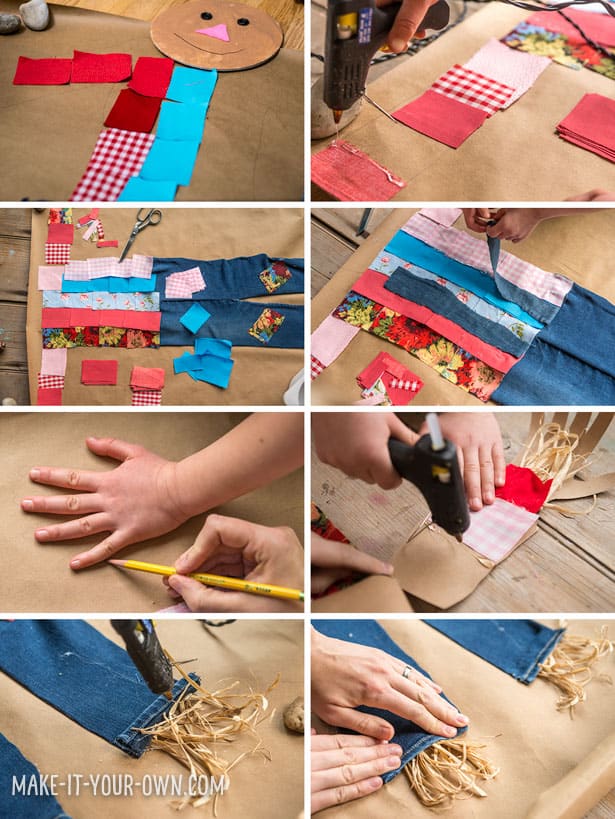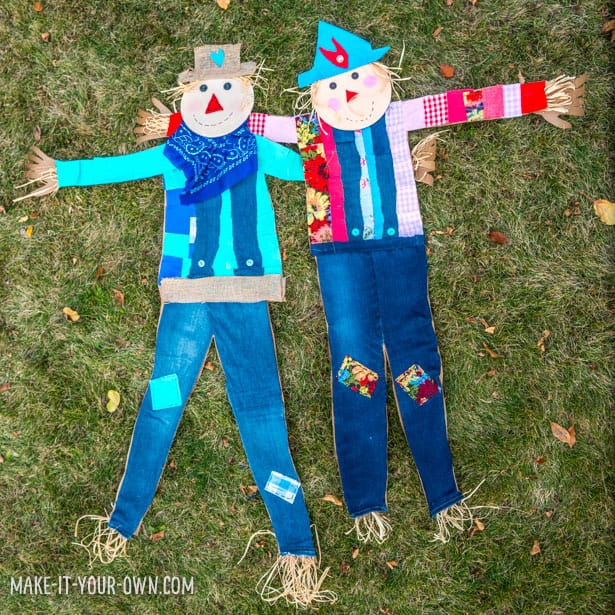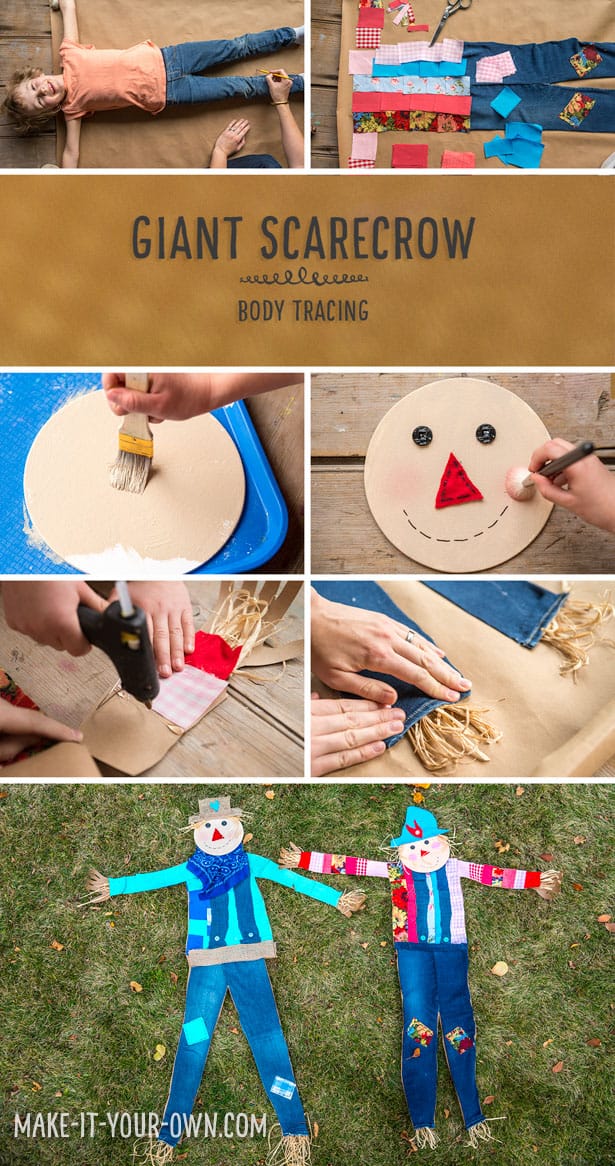 Check out more creative fall projects for kids!
Purpose
Creating on a larger scale.
Working with various tools.
Recognizing symbols typically associated with various seasons and holidays.
Safety Notes
We suggest that you wear a smock and use a craft tray to protect your clothing and surfaces.
Use scissors and a glue gun with care and direct adult supervision. Be sure to unplug your glue gun when done.
Cord, yarn, raffia etc. can be a strangulation hazard, therefore be sure to use with direct supervision and for its intended purpose.
Buttons and other small objects can be a choking hazard, therefore be sure to keep them out of the reach of children ages 0-3 years of age or those that tend to put things into their mouths.
Use non-toxic products.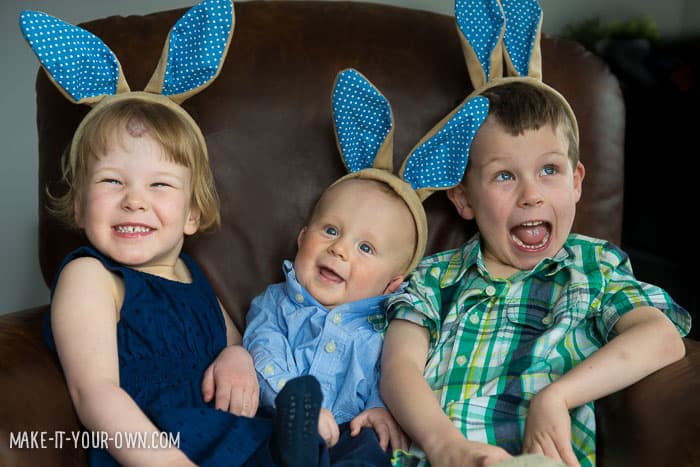 Make it Your Own is a Canadian children's website. We hope to inspire educators and families with projects to do together, explorations of various mediums and techniques and to get out into nature to source supplies. We love re-imagining items and thinking of new ways to share children's artwork. We are often described as "an educational mom, a digital dad and their three mini-makers.