My 4 year old daughter and I made these Christmas decorated chocolate truffles as gifts this year. I like making truffles because there are only two ingredients and it's kid-friendly when you add sprinkles. We placed them in paper candy boxes which can be drawn on by kids to personalize the gift. These make delicious and elegant edible gifts!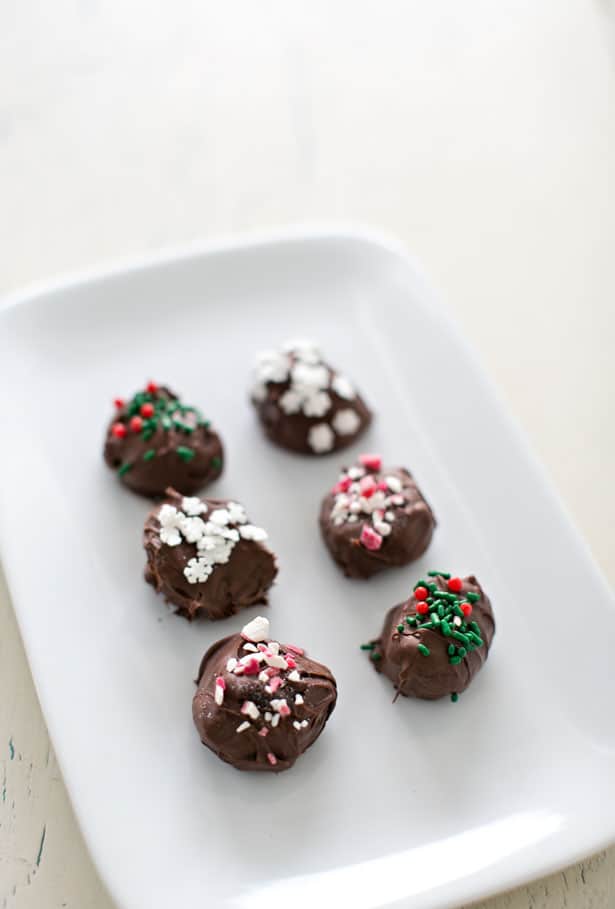 Dark Chocolate Truffles – Ingredients:
(Recipe adapted from Epicurious)
1. 1 1/4 C. cream
2. 9 oz semisweet chocolate chunks (we used Trader Joe's brand)
3. Assorted holiday sprinkles (we used India Tree decorations, found in our local kitchen store, but you can use any holiday sprinkles)
Chocolate Coating
1. 8 oz. semisweet chocolate chunks
Packaging
2. Mini cupcake liners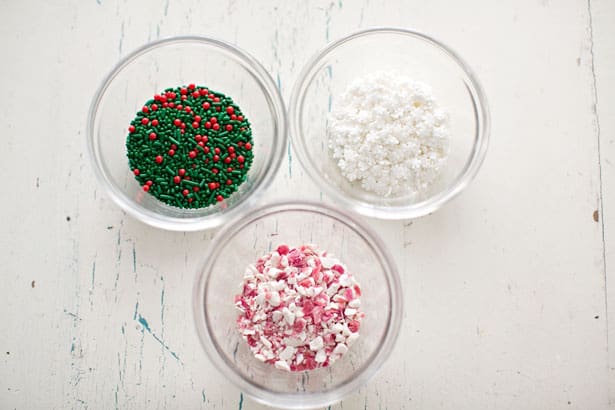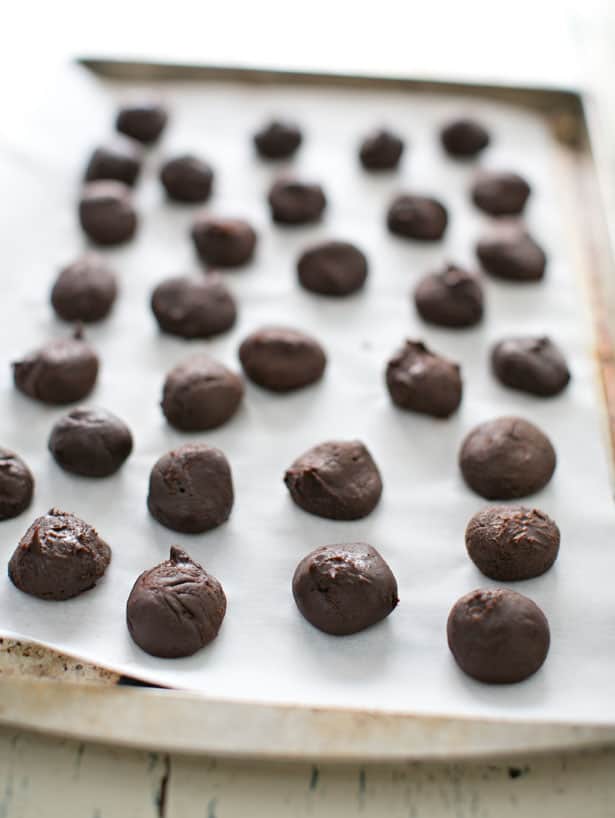 Steps:
1. Place 9 oz of chocolate chunks in a shallow heat safe glass container.
2. Simmer the cream in a heavy saucepan. Remove from heat and pour over the chocolate chunks. Let sit for 5 minutes.
3. Stir the cream and chocolate mixture until well incorporated. Let mixture cool at room temperature and then chill in the refrigerator for at least 3 hours or until the mixture sets.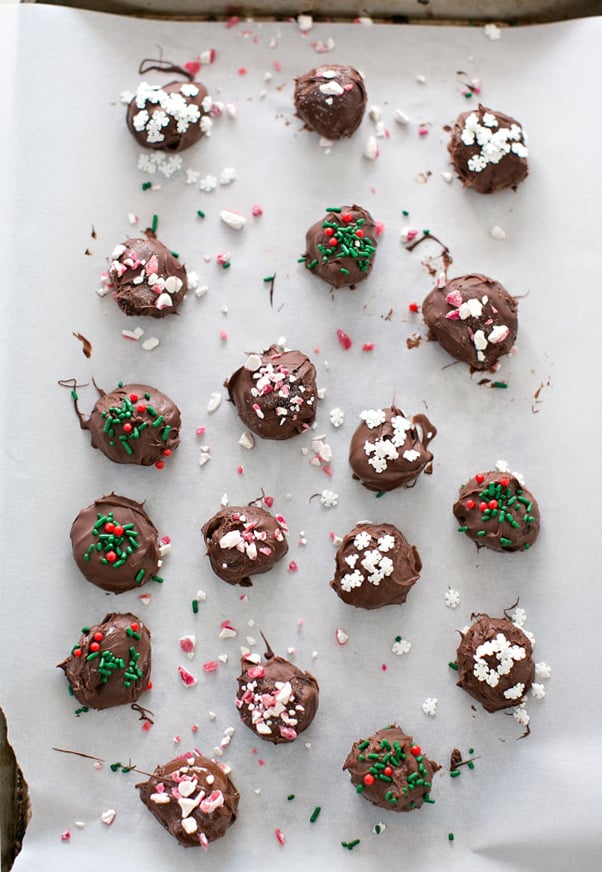 4. Once the mixture is chilled, scoop balls out or use about 2 teaspoons worth. Roll them with your hands to make balls (if mixture is too soft, chill the mounds until they can be rolled).
5. Place back in the refrigerator to chill the balls.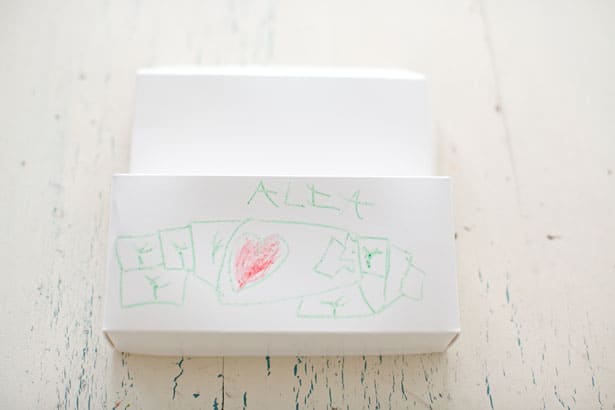 At anytime during this process, you can ask your child to draw pictures on the candy boxes for gifting.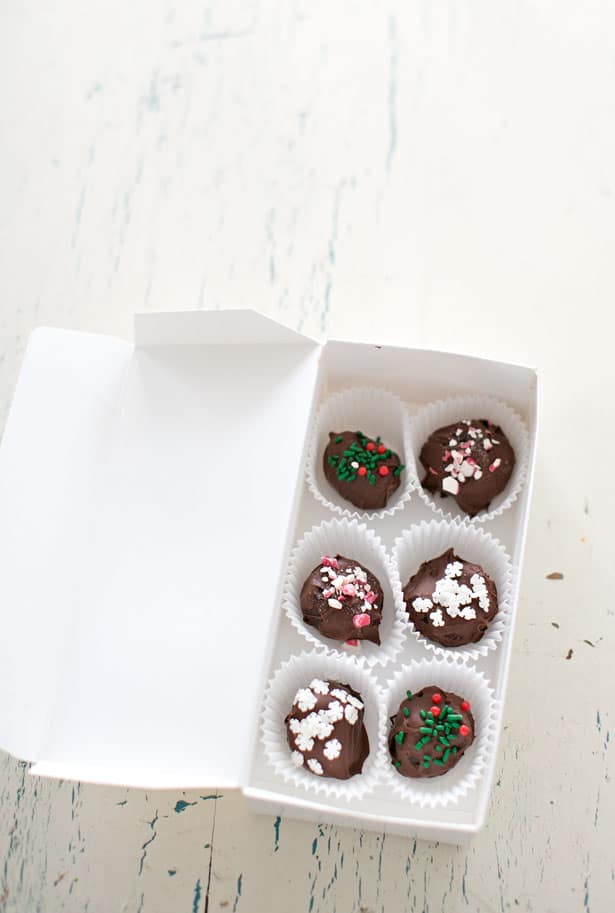 6. Melt 8 oz of chocolate for coating. With one hand hold a chilled truffle ball, with the other hand a spoon. Coat the spoon with some chocolate and quickly roll the ball over the spoon to cover in chocolate.
This is when your little assistant becomes handy – as soon as the truffle ball is coated, place on a parchment lined pan and have your child sprinkle the decorations over the truffles before the chocolate hardens.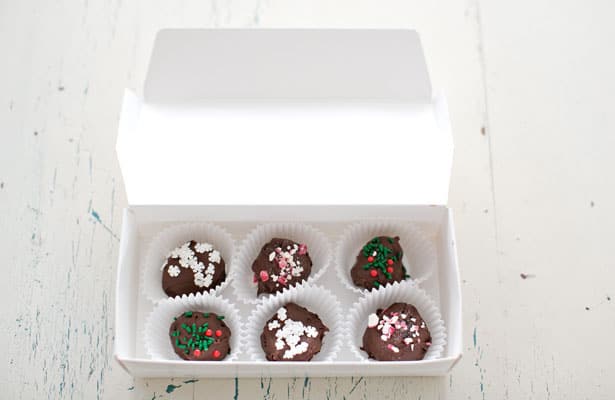 Although there are few ingredients and it's easy to make the chocolate ganache, this recipe does take time for the chilling in between…and it's messy! But I love how some of the steps are easy enough for even young kids to lend a hand. Decorating the candy boxes was also a fun way to put a personalized touch to this homemade gift.
Have you ever made truffles before?
For more holiday treat ideas, see 12 Jolly and Cute Holiday Treats, 12 Unique and Delicious Ways to Eat Gingerbread, 8 Cute and Healthy Christmas Treats and 12 Days of Holiday Cookies.