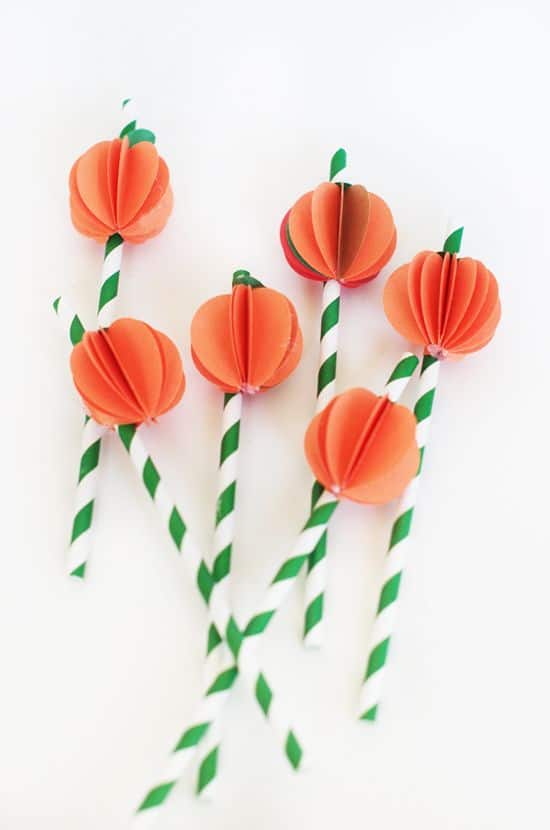 Fall is my favorite time of year. I love the fall leaves, crisp air and the pumpkins. They are festive, bright, and great inspiration for fall party decor. Here is a fun, easy paper project that will add a joyful touch to a Halloween party or a fall birthday party. By simply folding and glueing paper circles together, you can create these sweet three-dimensional pumpkins.
Materials:
– 1 1/2″ whole punch
– Glue Gun
– Orange and green construction paper
– Straws

Instructions:
First, punch out 6-8 1 1/2″ holes from the orange construction paper. Fold the holes in half leaving one flat. Using your glue gun, add a strip of glue down the center of the flat circle. Attach the seam of the folded circle to the strip of glue. Flip over and repeat by gluing another folded circle to the other side. Repeat this step a few times, adding more folded circles to create a sphere. As a result, you will have all your folded circles connected at the center and fanning out.
Add as many or as little to the sphere to create the desired density. For the stem, cut a small heart or circle out of the green construction paper. Glue the stem to the top of the pumpkin.
Next, select two neighboring pieces of the circle. Add a small dot of hot glue at the center edge of one of the pieces. Glue the two pieces together leaving the inside open. This will form a pocket for you to slip your straw through.
These little pumpkins can be used on there own as fall decor around the house, or sprinkled on a table for a fall decor setting. Have fun!
Check out more creative fall ideas for kids and playful pumpkin art projects!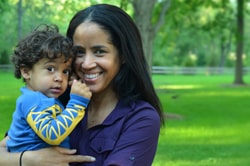 Lisa Fyfe is a graphic designer and mom to a lovely 4 year old boy, Rowan. After having him, life changed ten-fold. From life as an art director in publishing in New York, to a slower paced life in Connecticut, and now San Diego, creativity has always been the constant. Rowan changed everything and amazing inspiration came from this unexpected place. Little Monster is where she shares diy's and recipes inspired by motherhood. You can follow her on Facebook, Instagram, Twitter and Pinterest.