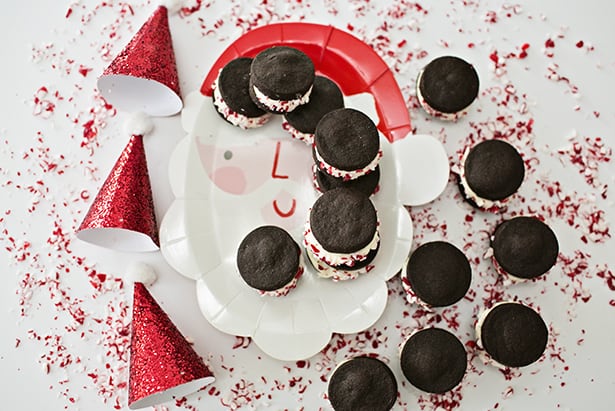 Thank you to Horizon for sponsoring this post.
The holidays are a fantastic time for friends and family gatherings, parties and celebrations. All these events inspire me to spend more time in the kitchen baking up my favorite holiday recipes. Today, I'm sharing a simple chocolate cookie sandwich recipe rolled in crushed peppermint.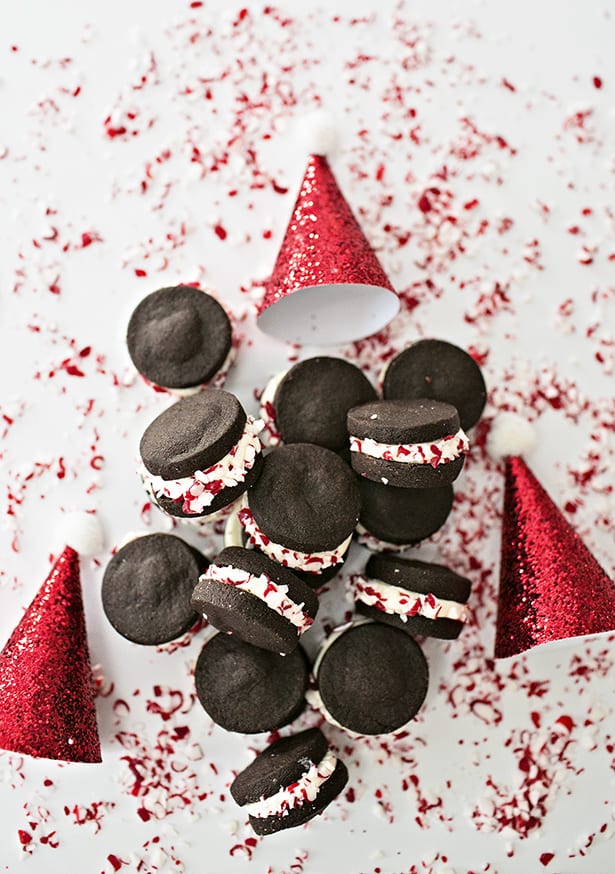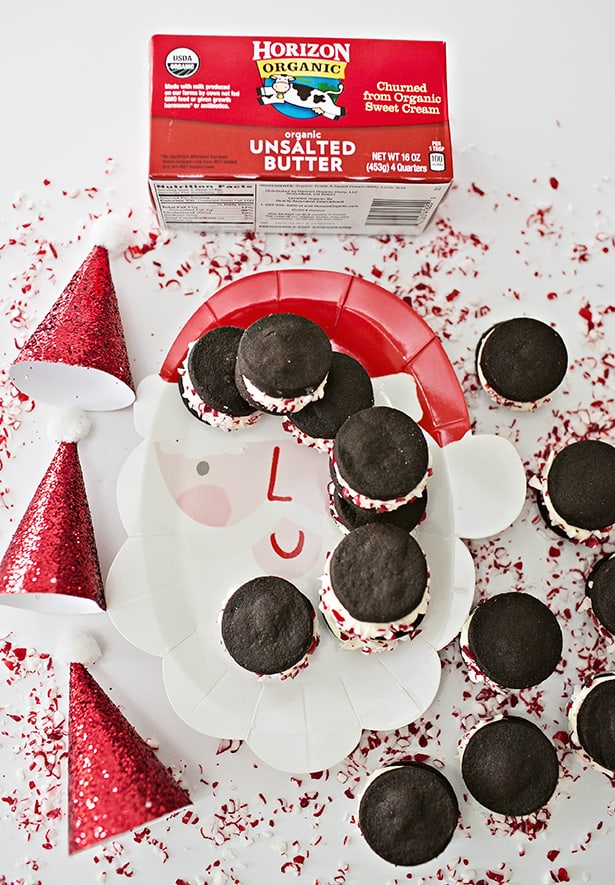 These are always a star at any holiday party and the dough is one of the easiest to make, based off a standard shortbread recipe requiring just flour, butter, sugar, and cocoa powder.
To save time, you can buy store bought, ready-made frosting as we did or make your own. We also saved time by buying crushed peppermint sprinkles. I know the holidays are one of the busiest times of the year for families and so I've shared these shortcuts in the hopes they will help you in making a delicious homemade treat without spending tons of time in the kitchen.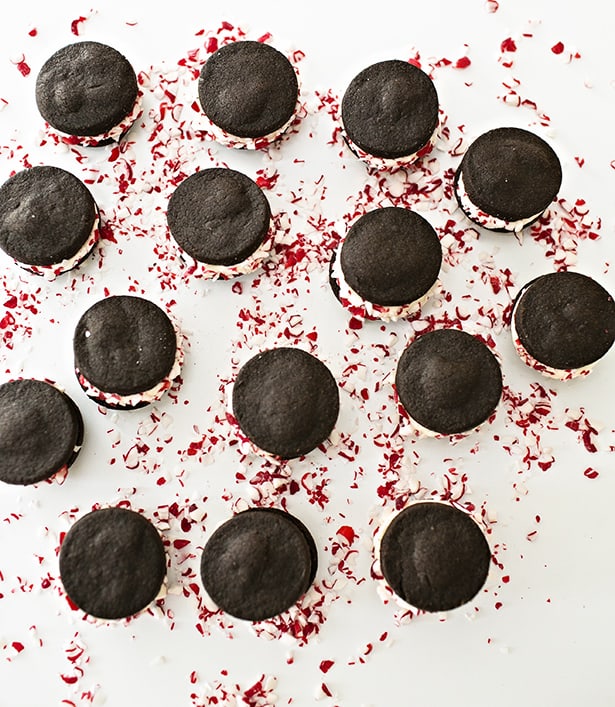 Since the cookie recipe calls for few ingredients, it's important to use the best quality ones you can find. Our go-to butter is Horizon organic butter made with sweet, fresh organic cream.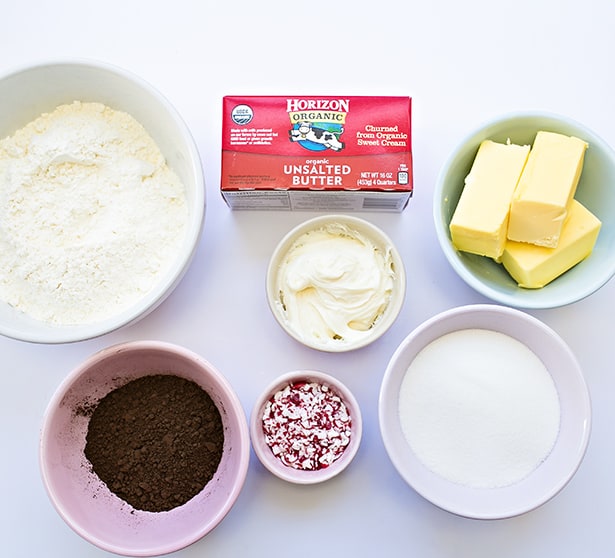 Here's what you'll need to make these decadent and delicious Chocolate Peppermint Sandwich Cookies (makes approximately 70 mini sandwiches).
Ingredients:
– 2 1/4 Cups Flour
– 1 Cup White Sugar
– 1/2 Cup Dark Cocoa Powder
– 1 Cup (2 sticks) Horizon Organic Unsalted Butter (softened or room temperature)
– 1/2 Teaspoon Kosher Salt
– Vanilla frosting (store bought is fine)
– Crushed peppermint sprinkles
*You'll also need a baking pan, parchment paper, rolling pin, and a circle cutter 1.25″ wide.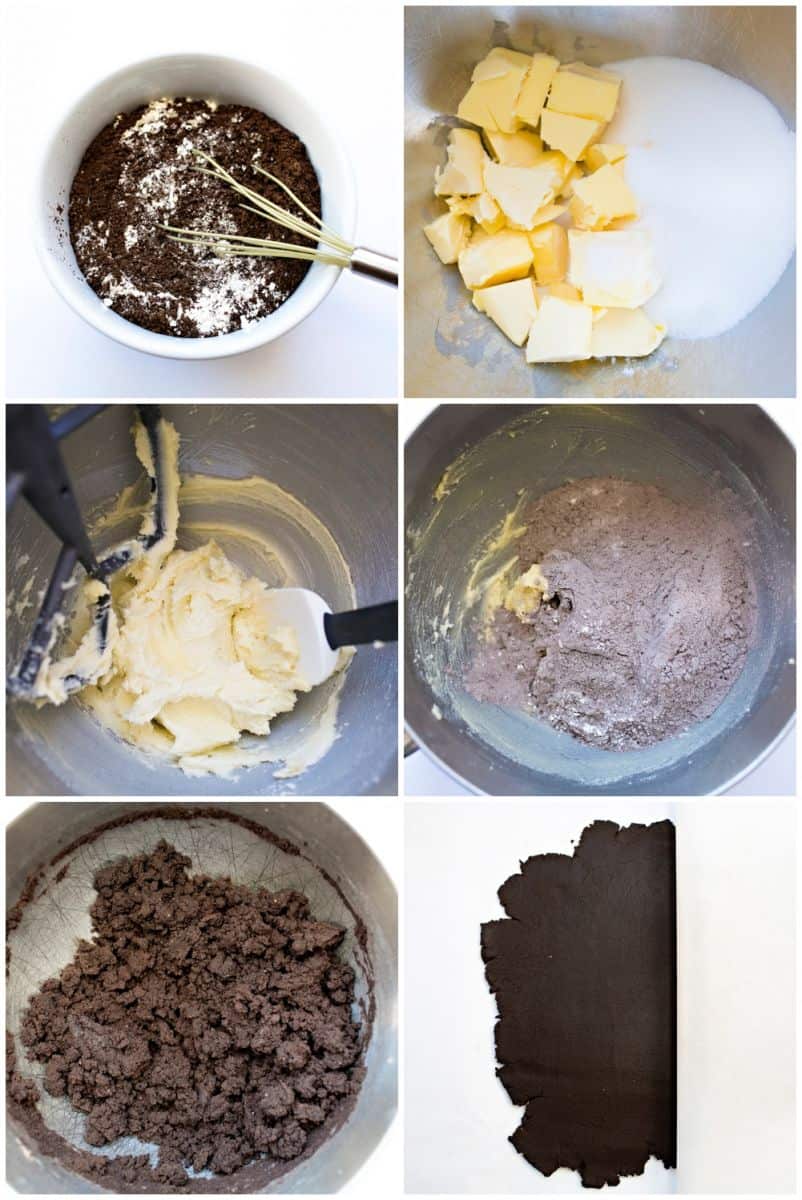 Step 1. In a medium bowl, mix the flour, salt and cocoa powder, set aside.
Step 2. Cut up your butter and add to sugar in a mixer, creaming on medium-high speed for 5-7 minutes until fluffy.
Step 3. Add your flour/cocoa mixture to the creamed sugar/butter. Mix on low speed until dough comes together. It will look crumbly at first, but you will need to use your hands to form it into a dough.
Step 4. Place the dough onto a piece of parchment paper. Place another piece of parchment paper on top and use your rolling pin to roll the dough flat to about 3/8″ width. This trick takes away the need to later roll out the dough once chilled and use flour to prevent from sticking.
Place the entire flattened dough (still on the parchment paper with the other piece of parchment on top, inside the refrigerator to chill for at least 30 minutes.
Step 5. Preheat your oven to 375 degrees. Take your chilled flattened dough from the refrigerator and cut circles of dough out. Place on a parchment lined baking pan. Bake for 12-13 minutes. Allow to cool on the pan or on a wired rack before filling. Take any remaining scraps of dough and re-roll using the parchment paper trick as described above in step 3.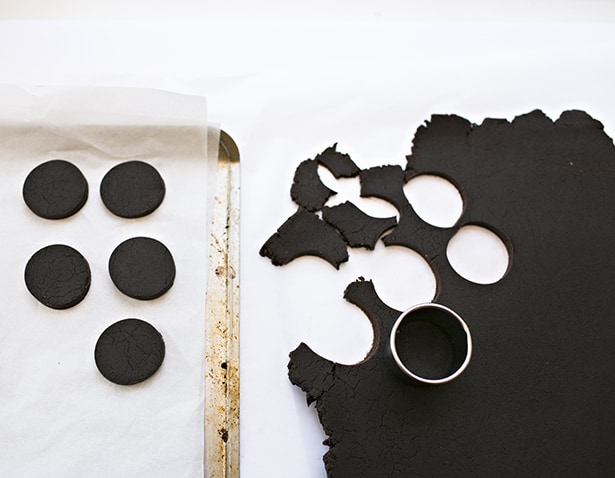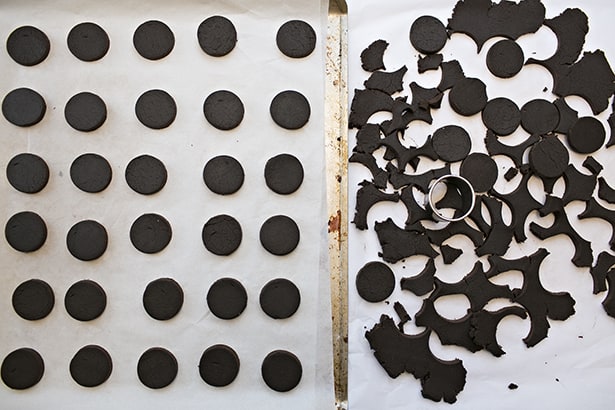 '
Your sandwich cookie rounds should look like this baked from the oven.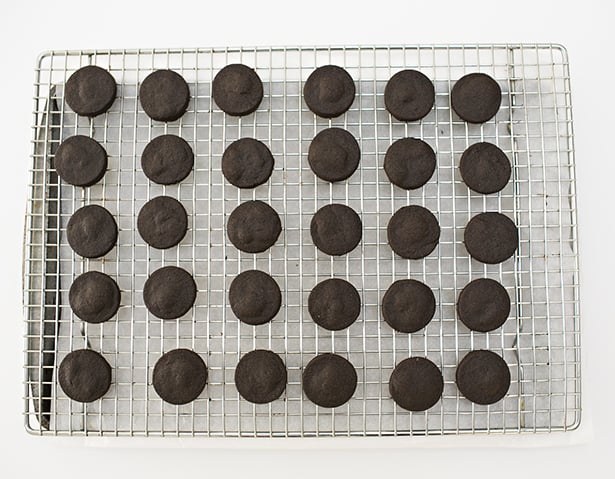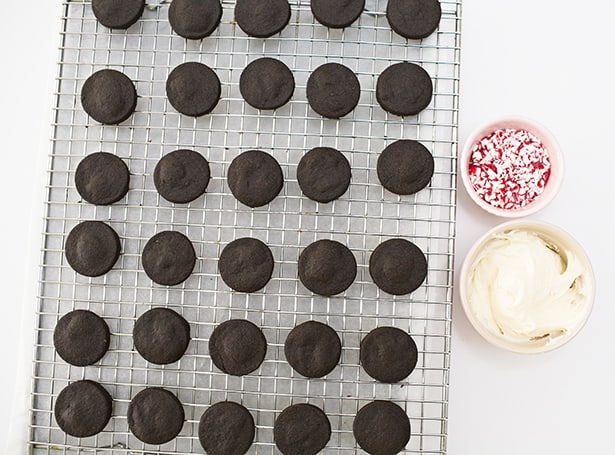 Step 6. Now it's time to fill your cookies. Gather your crushed peppermint and frosting. An easy trick to pipe frosting is to add it to a plastic zipper bag and snip off one end. Fill half your cookies with frosting. Add another cookie on top.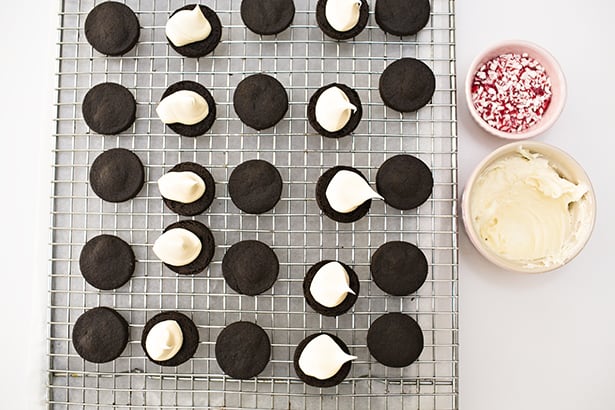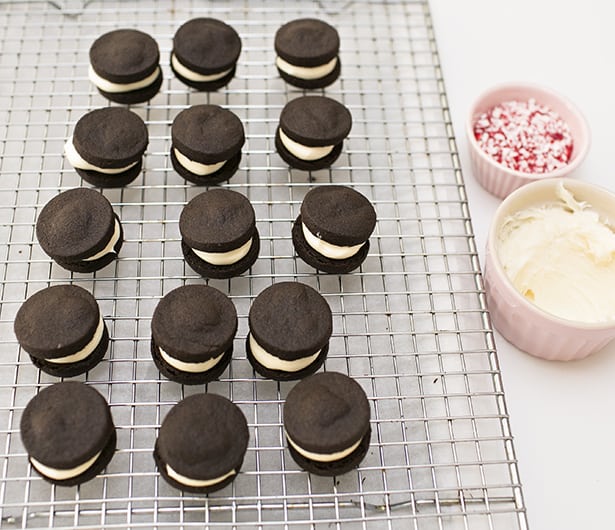 Step 7. Add crushed peppermint to a plate and gently roll so the sides are covered with peppermint.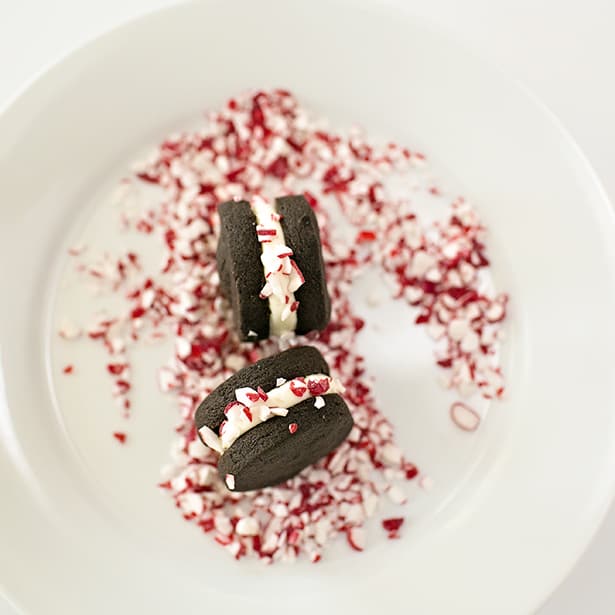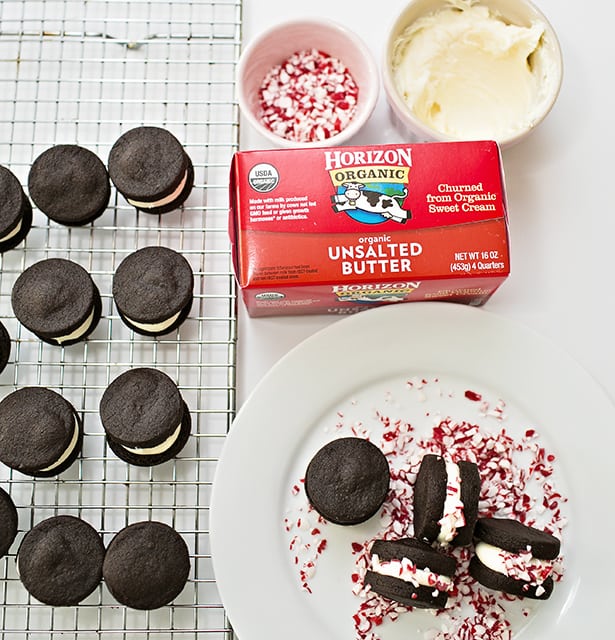 These can stay at room temperature for up to 5 days and taste delicious! You get a nice texture from the rich chocolate crisp dough softened by the creamy frosting and crunch from the peppermint.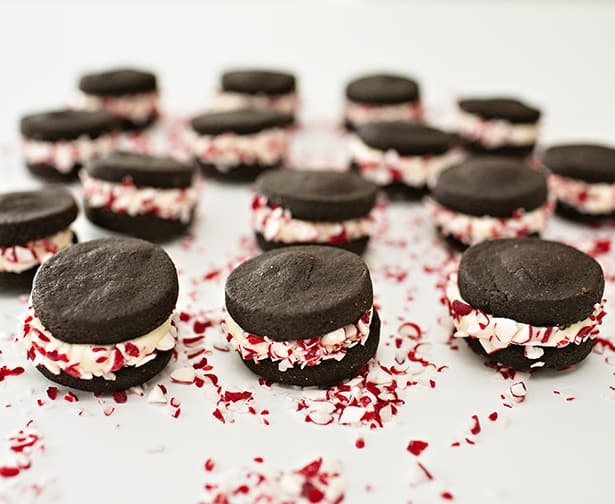 They're a big hit with kids and adults and I like how small they are so you can keep from over-indulging yet still have a treat. Wouldn't they make awesome cookies to leave Santa?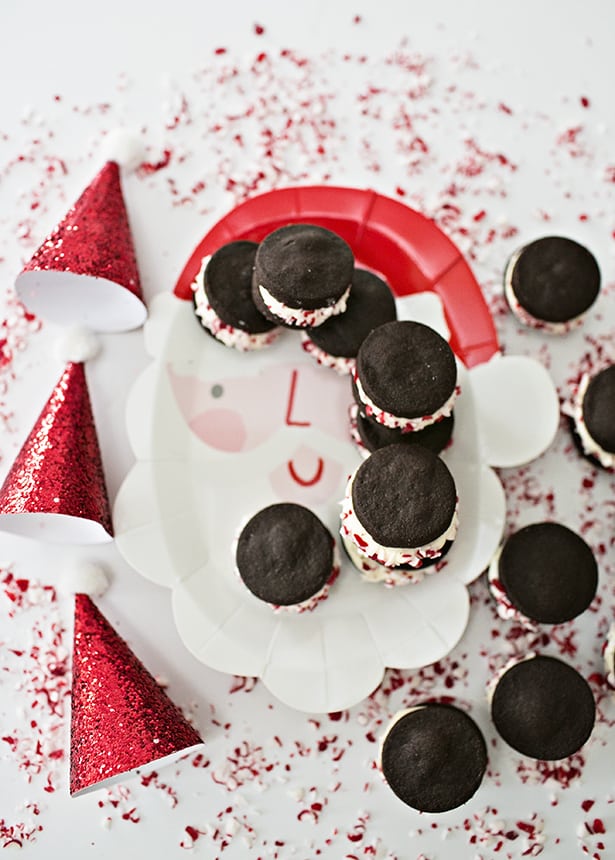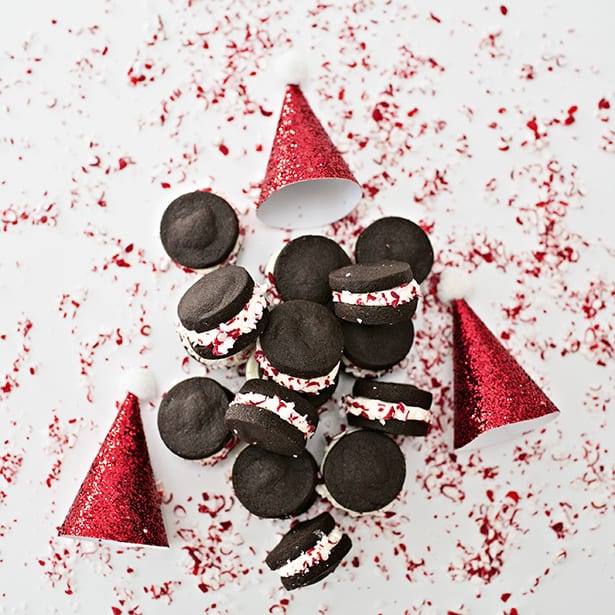 What are your favorite holiday treats? Check out more peppermint recipes and lots more creative holiday projects for kids!
Make sure to follow Horizon Organic on Facebook, Twitter, Pinterest and Instagram.
This is a sponsored conversation written by me on behalf of Horizon Organic. The opinions and text are all mine.
var ts=document.getElementById('ti-pixel-tracker'); var axel = Math.random() + ""; var num = axel * 1000000000000000000; var ti=document.createElement("img"); ti.style.display="none"; ti.src="https://tracking.tapinfluence.com/trk/y3JgL/BJFPV/p.png?p=fRJAk" + String.fromCharCode(38) + "i=N6HNI" + String.fromCharCode(38) + "ord="+ num + String.fromCharCode(38) + "s=" + encodeURIComponent(document.referrer); ts.parentNode.replaceChild(ti,ts); new TAP.CogFrame('/v1/cogs/79b052c0-d763-11e5-9c7c-22000a7d00a4/comments').drop({"program_id":"79ab44f6-d763-11e5-9c7c-22000a7d00a4″,"post_id":"0e48e34a-083b-11e6-8621-22000a7d00a4″,"host":"api.tapinfluence.com","apiHost":"api.tapinfluence.com","sort_order":"desc","limit":"20″,"offset":"0″,"sort_by":"created_at","protocol":"https://"});