This easy broccoli beef with leeks recipe is one of my family's favorite weeknight dinners. It can be made in just under half an hour, all in one pan! Delicious served over rice, it's one of my kids' most requested meals.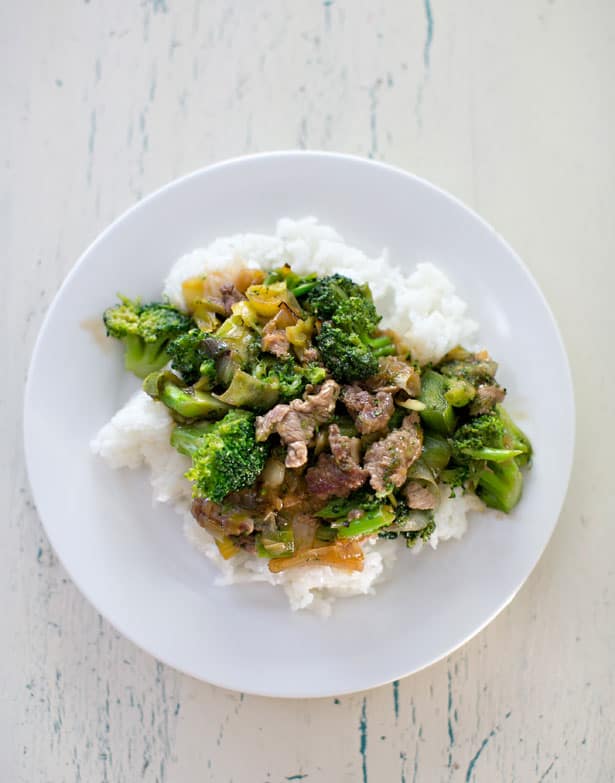 Easy Broccoli Beef With Leeks – Ingredients:
– 3/4 lbs of boneless tender cut steak, sliced into 1/2″ pieces (I use prime rib since it's a tender cut that is easier for kids to chew)
– 12 oz. fresh broccoli florets, washed
– 2 Small leeks (whites only), washed and thinly sliced
– 2-3 Tbsp oyster sauce (this can be found in the Asian section of most supermarkets)
– 1 1/2 Tbsp oil (vegetable or olive oil is fine)
– 1 Tbsp teriyaki sauce
– 1/4 C. water
– 1 Tbsp cornstarch
– Salt
– 1 Tbps sugar
Steps:
1. Sprinkle the cornstarch over your sliced beef and let it sit for a few minutes while you prepare the leeks and broccoli.
2. Place a large sauce or frying pan over medium-high heat. Add oil and saute the leeks for about 5-7 minutes until softened. Add the broccoli florets and stir fry for another few minutes.
3. Add the beef, oyster sauce, teriyaki sauce and water and stir fry over medium-high heat until broccoli florets steam up and appear bright green and beef is just cooked (this takes about 5 minutes). Add the sugar and season with some salt if you think it needs some.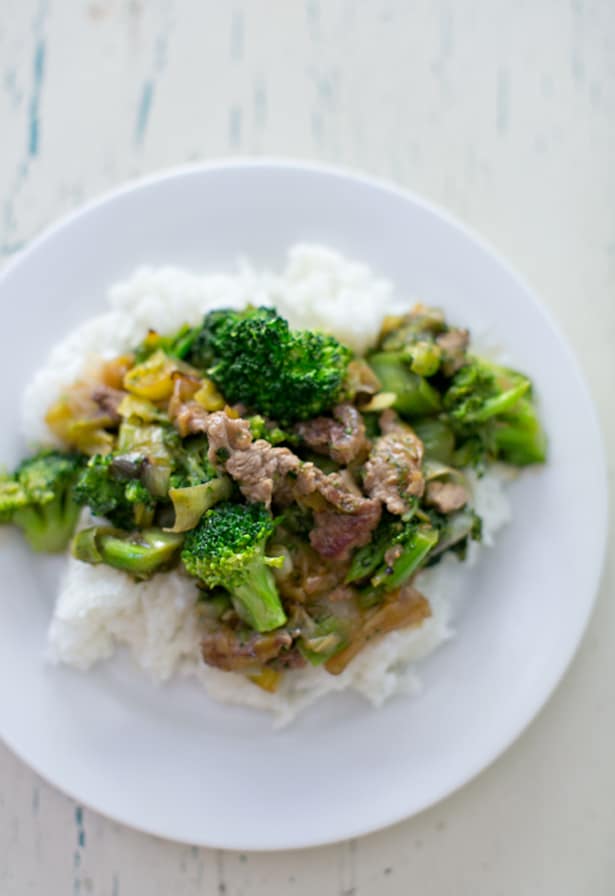 This is a delicious Asian inspired dish that takes minutes to prep. The kids love eating this over rice and it re-heats well for the next couple of days as well. If your kids aren't huge broccoli fans, you could substitute a different vegetable such as green beans or asparagus.
What are some of your favorite easy weeknight dinners?
For more kid-friendly meal ideas, see:
11 Kid-Friendly 5 Ingredient Dinners

15 Delicious And Kid-Friendly Slow Cooker Meals

12 Hearty Casseroles Kids Will Love