You all drink Frappuccinos right? I know you do. The clear lids with the hole for a straw is a useful art project material, plus I love transforming something we'd normally throw away into something awesome. This spring flower uses that little plastic lid as base to hold it up. Flowers are finally in bloom here and I've replicated the outdoors with this colorful flower children will love. How about making a bunch for a school play or to give to a special teacher?!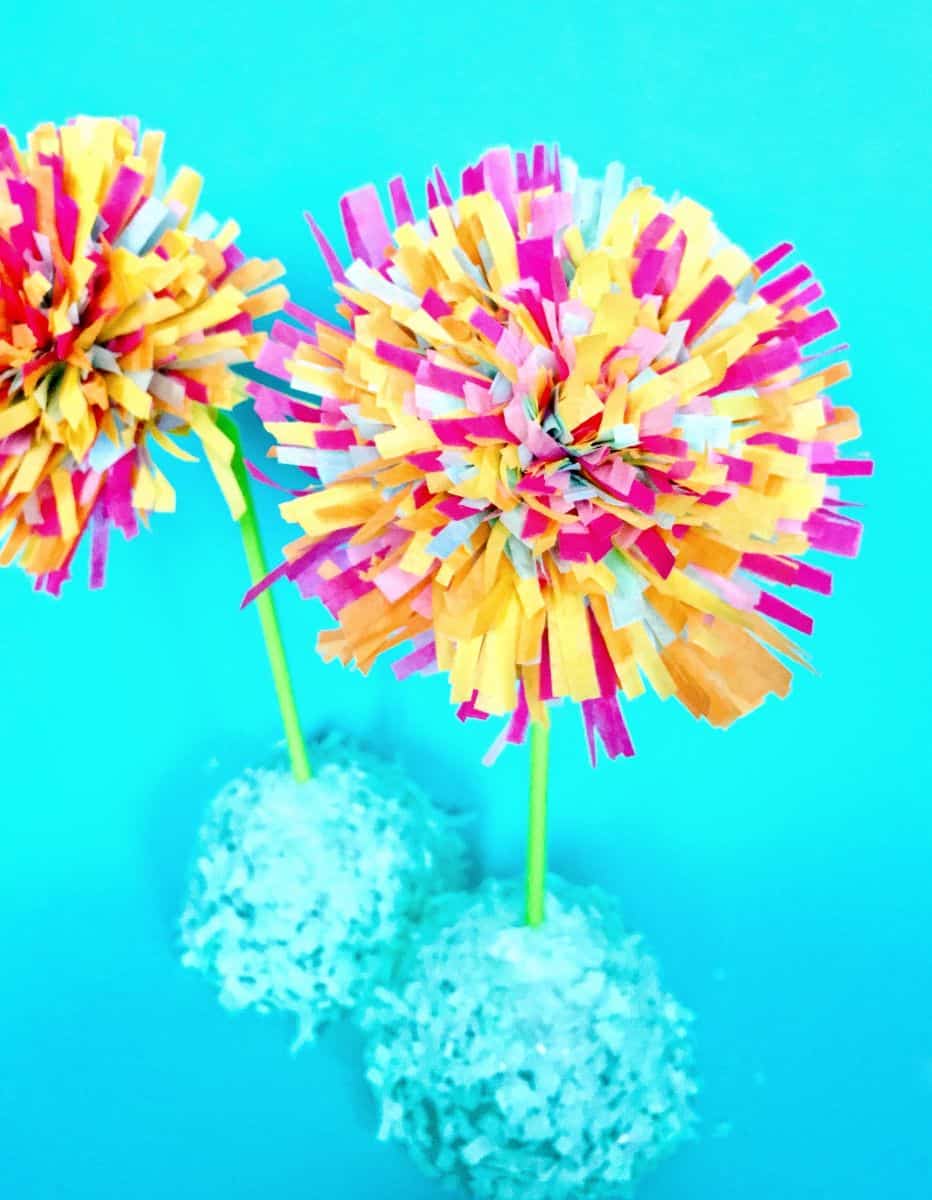 Spring Tissue Paper Fringe Flowers – Materials:


– Plastic dome lids

– Small styrofoam balls

– Tissue paper

– Colored straws

– Lollipop sticks

– Hand shredding scissors

– Regular scissors

– Tacky glue

– Hot glue

– Tape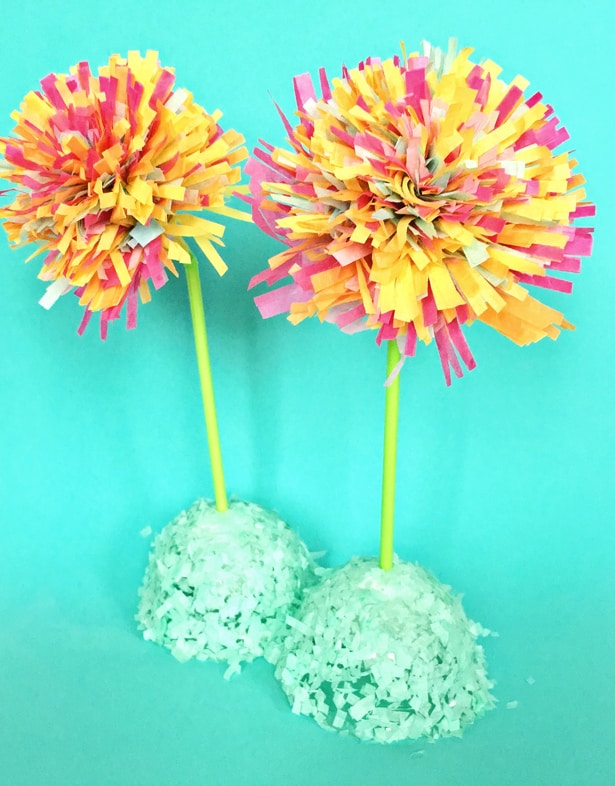 Step 1. I purchased some small styrofoam balls from the dollar store, awesome find, cheap and the bag contains many sizes. Puncture a hole in the styrofoam ball with the lollipop stick and hot glue with the hole side up to the inside of the plastic lid.

Step 2. Cut strips of colored tissue paper of your choice at about 2 inches. I kept the tissue paper folded up and lopped a chunk off the top. You'll need two long strips of each color per flower. I used a total of 14 strips.

Step 3. Fringe cut your tissue paper two colors at a time, any more than that will be too difficult. Layer your colors two strips of each color in rainbow order, or however you choose.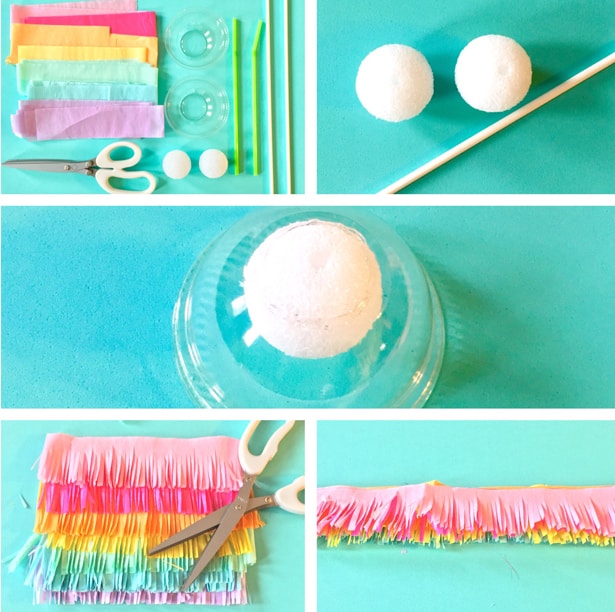 Step 4. Add a dab of hot glue to the top of a straw and glue it to the strips, it's ok that it doesn't "touch" every color it's just to help keep the straw in place. Now begin wrapping the tissue paper around the top of the straw.


Step 5. Once it's all wrapped up, secure the bottom with some tape.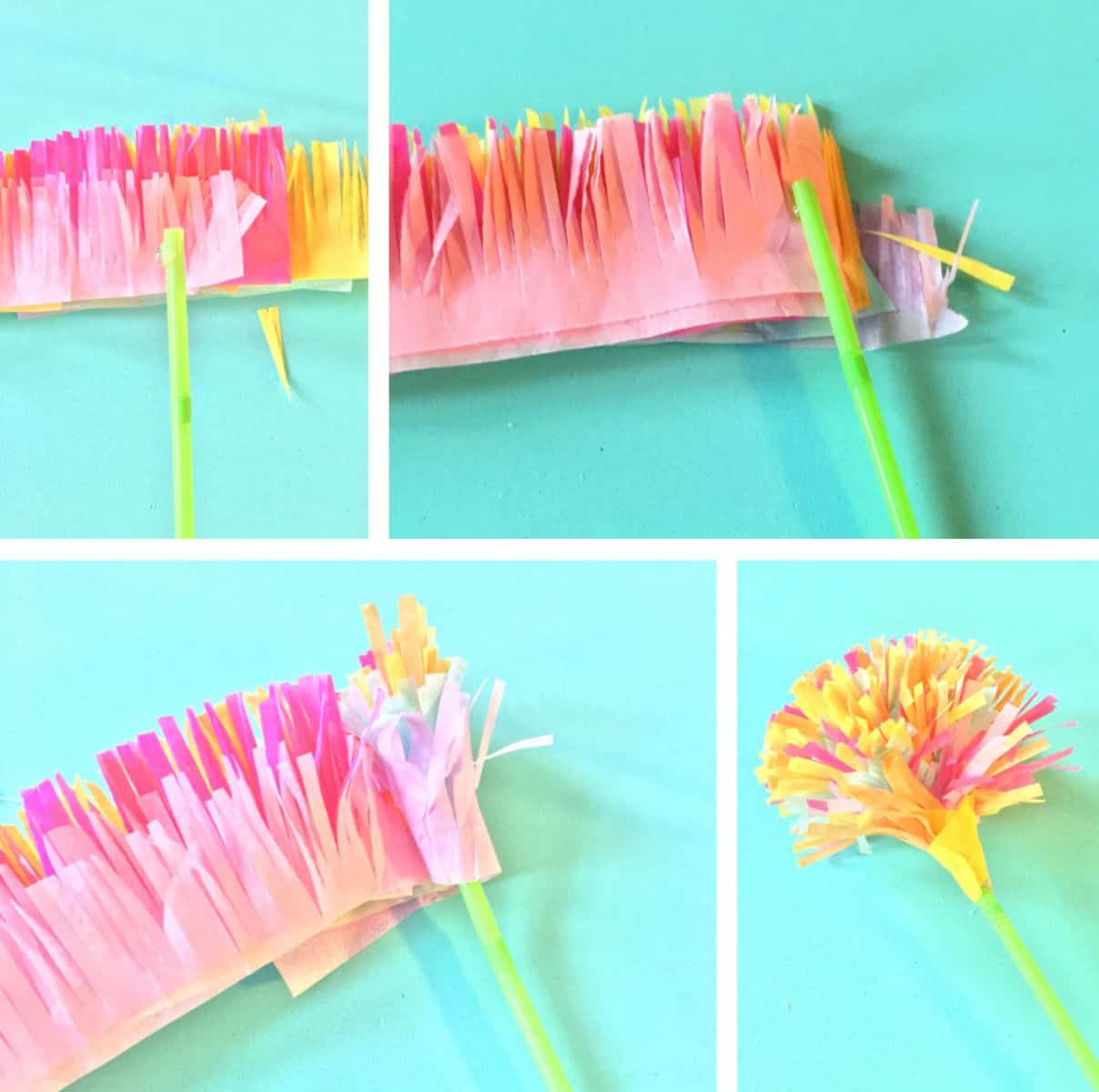 Step 6. Next I cut up some green confetti with the hand shredding scissors. Paint the plastic lid with glue and dip the lid in the confetti.


Step 7. I slid a lollipop stick into the straw for extra support and then stuck it into my frappuccino lid base, now your flower is ready to display!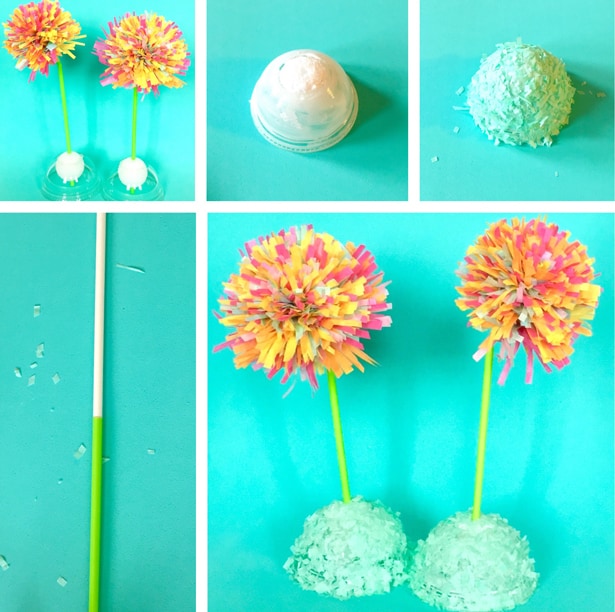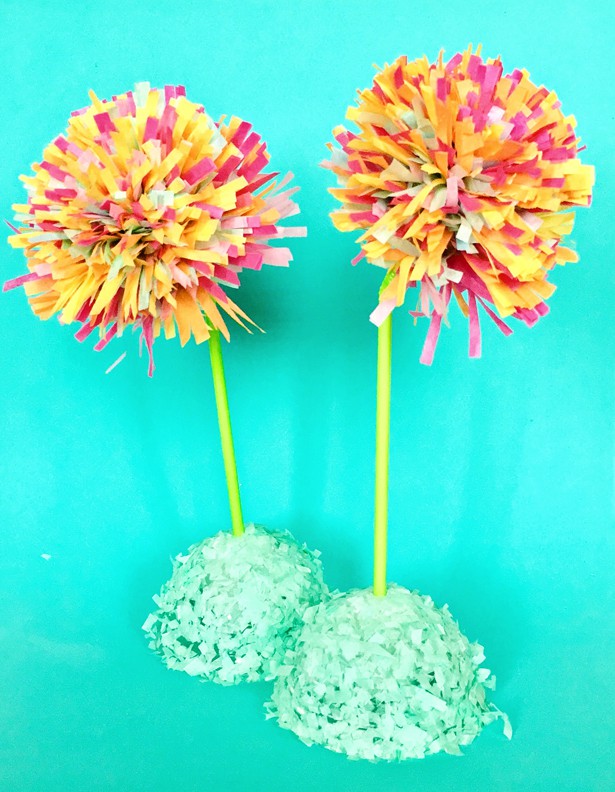 '
What are your favorite spring flower crafts? Check out more creative spring ideas for kids!
John Lavelle is an artist and art teacher who loves working with all things paper – cardstock, cardboard, foam board, tissue paper, and of course toilet paper tubes. John graduated from the School of Visual Arts with a Bachelors degree in cartooning and earned his Masters degree in Art Education.
Over the past few years, John has been working with young individuals who have ASD, which constantly keeps him on his toes and who are the inspiration behind the creative projects he prepares for their daily art classes. You can follow his latest projects on Instagram and on his site, The Art Dream.