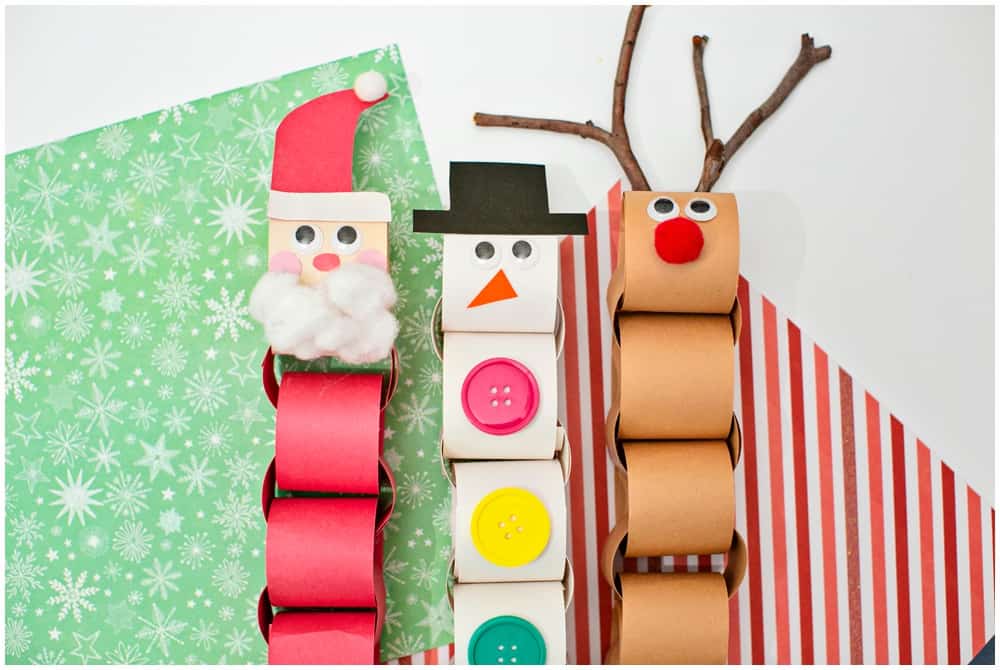 By using this site, you agree to our Terms of Use. This post may contain affiliate links. Read our disclosure policy.
Follow us on Instagram for more fun ideas for kids!
This cute Christmas Paper Chain Garland Craft is a fun holiday paper craft kids can make as a holiday decor to celebrate the festive season.
The holidays are all about decking the halls and your home and Christmas tree with festive decor! Today we have a super cute Christmas Paper Chain Garland craft kids will love making to decorate the home for the holiday season. We took regular paper and transformed them into a cute Santa, Rudolph and Snowman paper chain! Follow along below to see how to make this easy Christmas craft.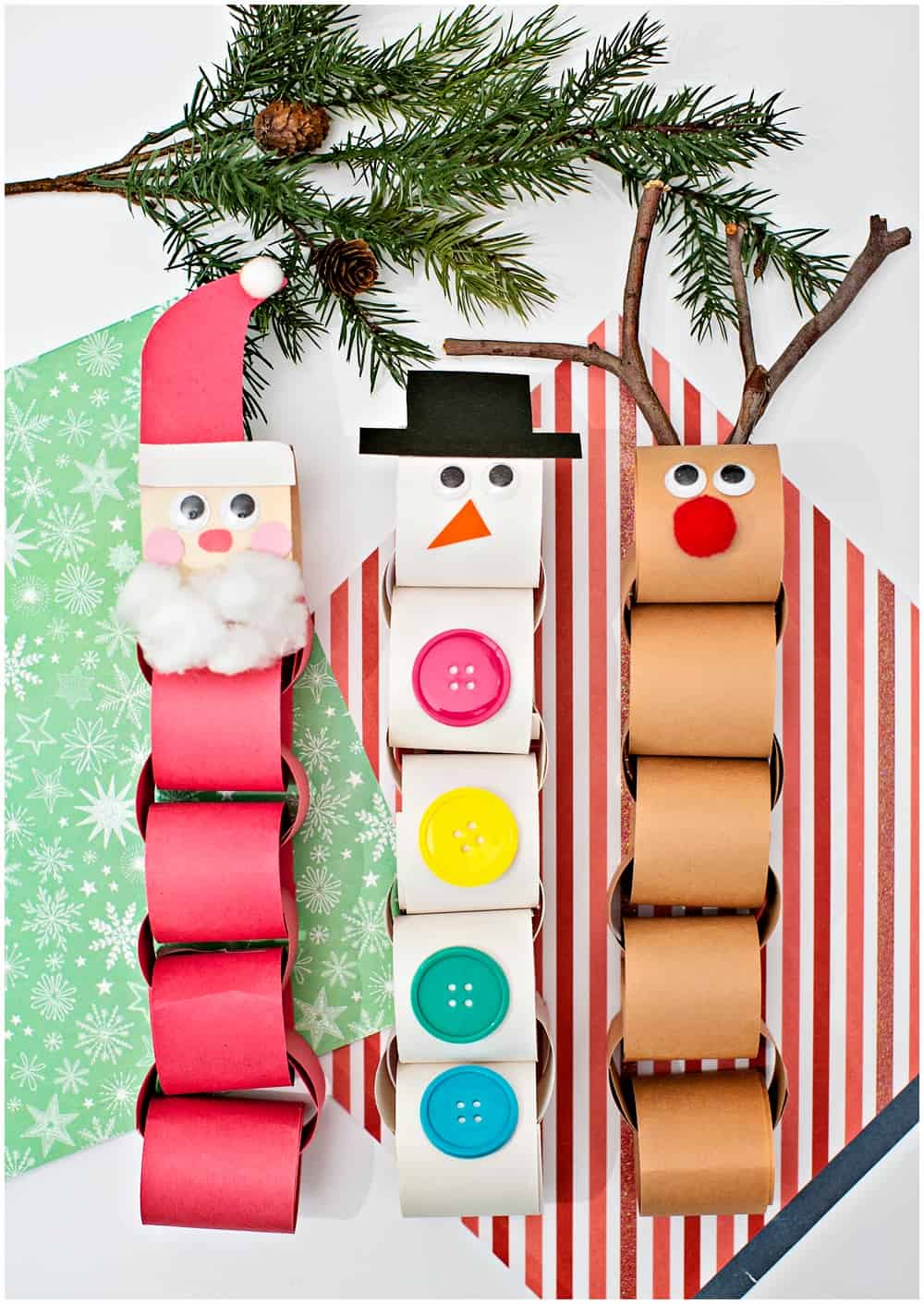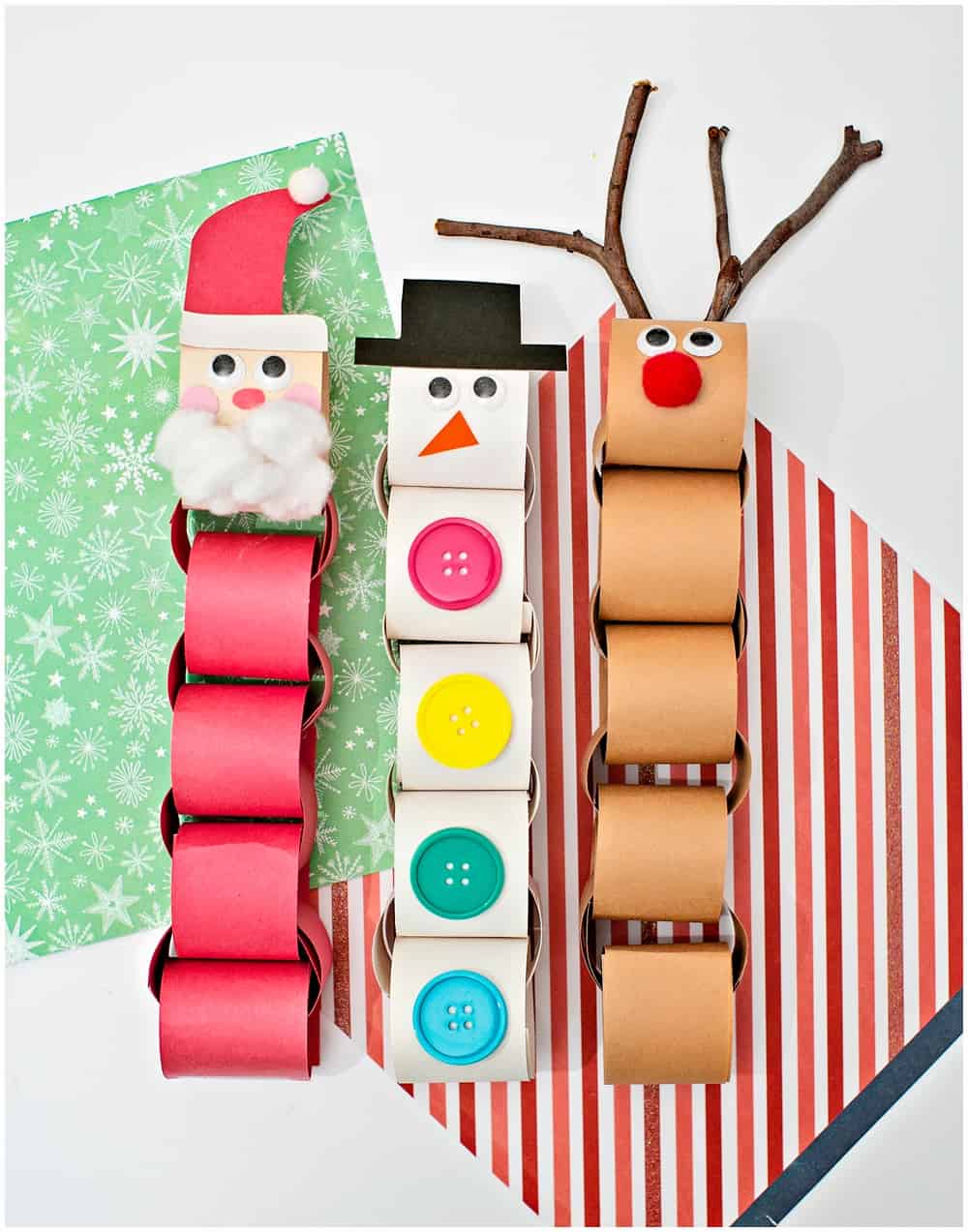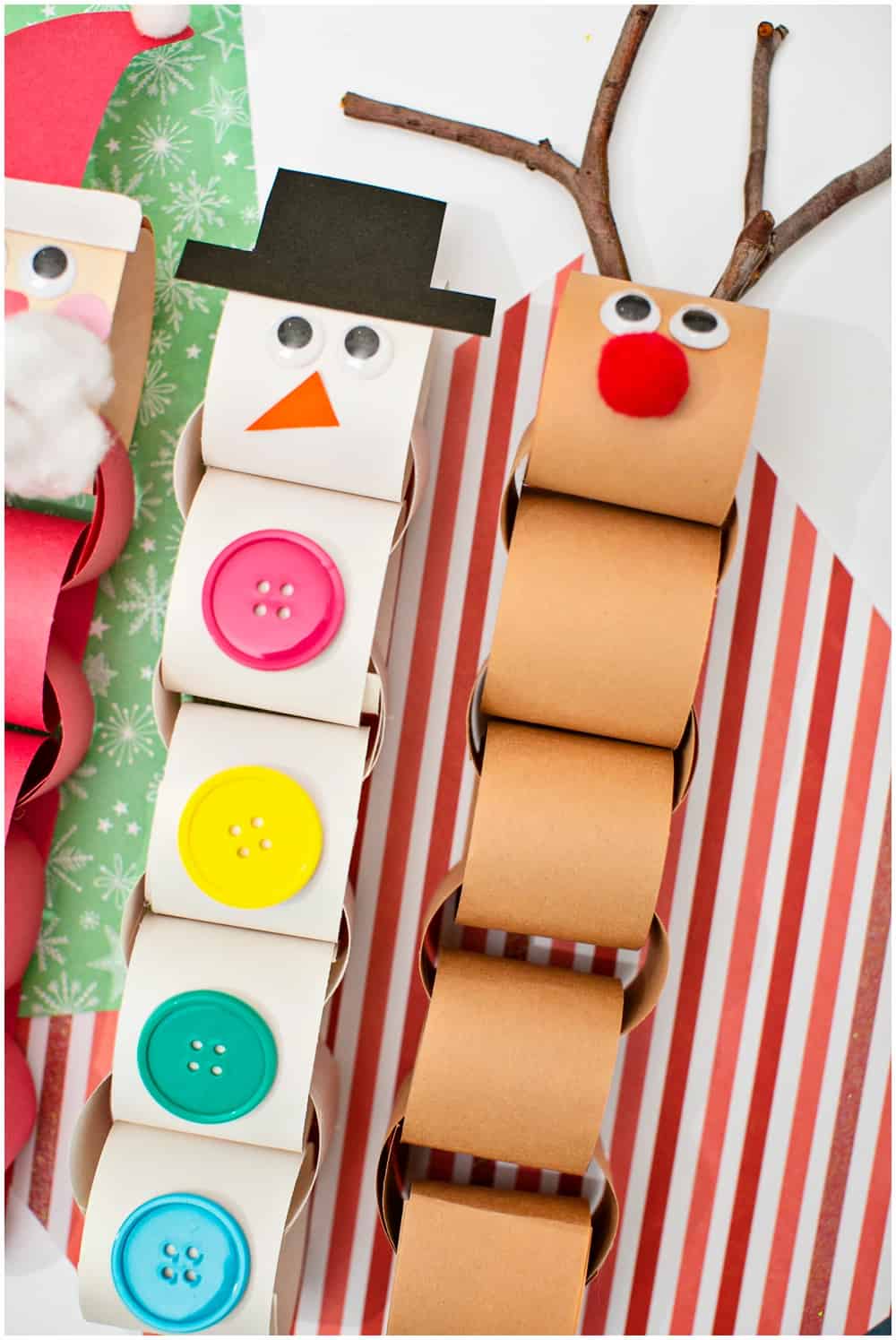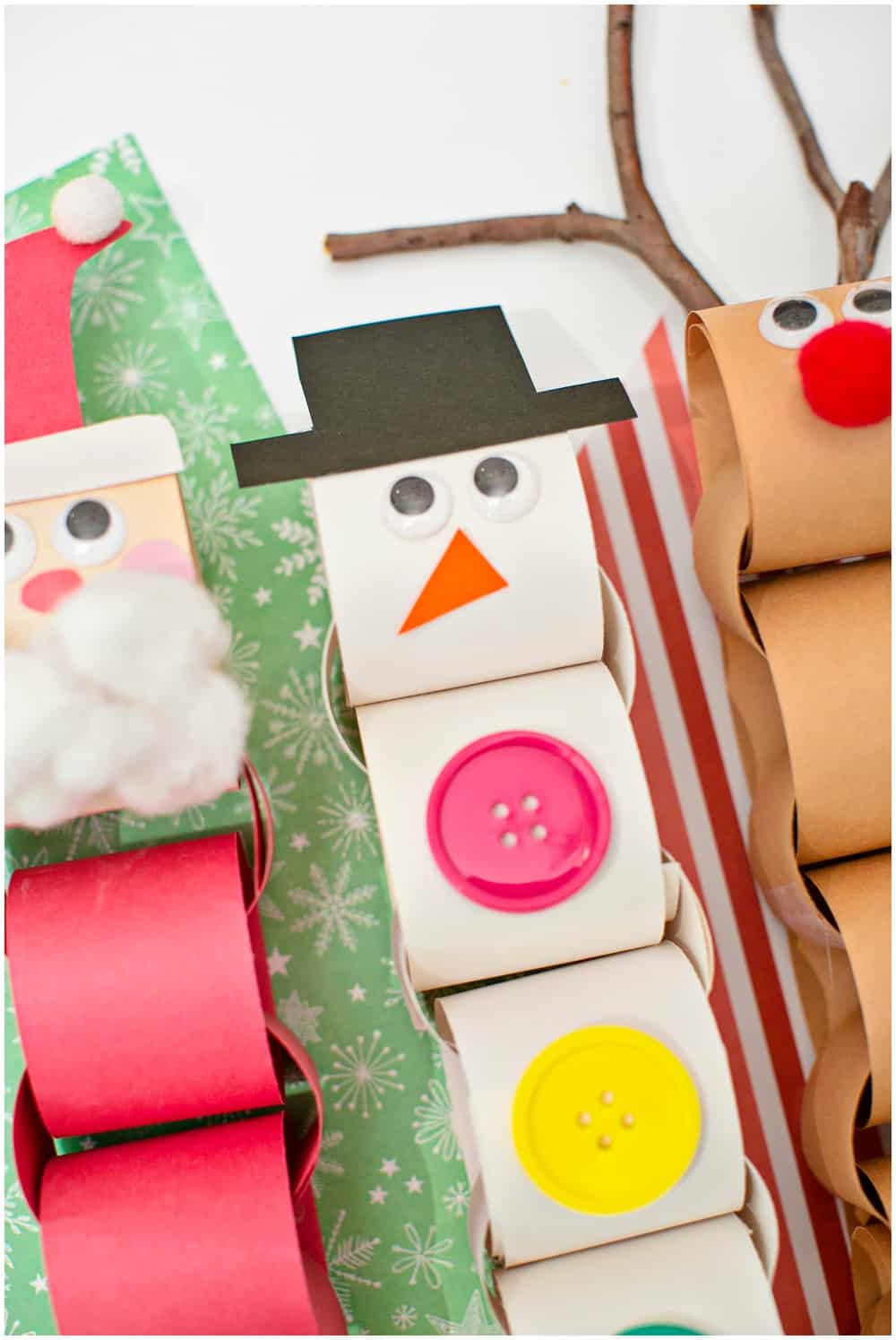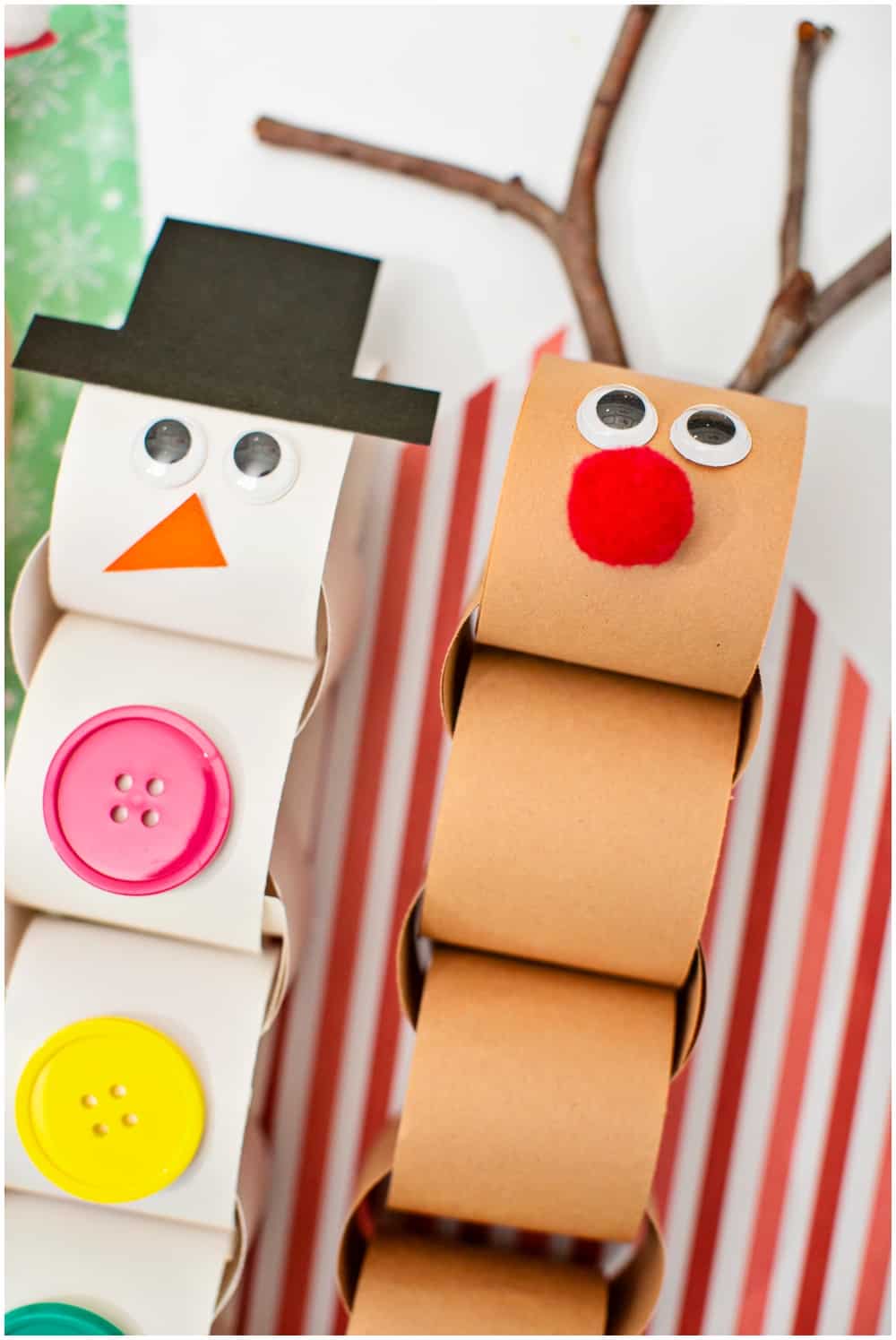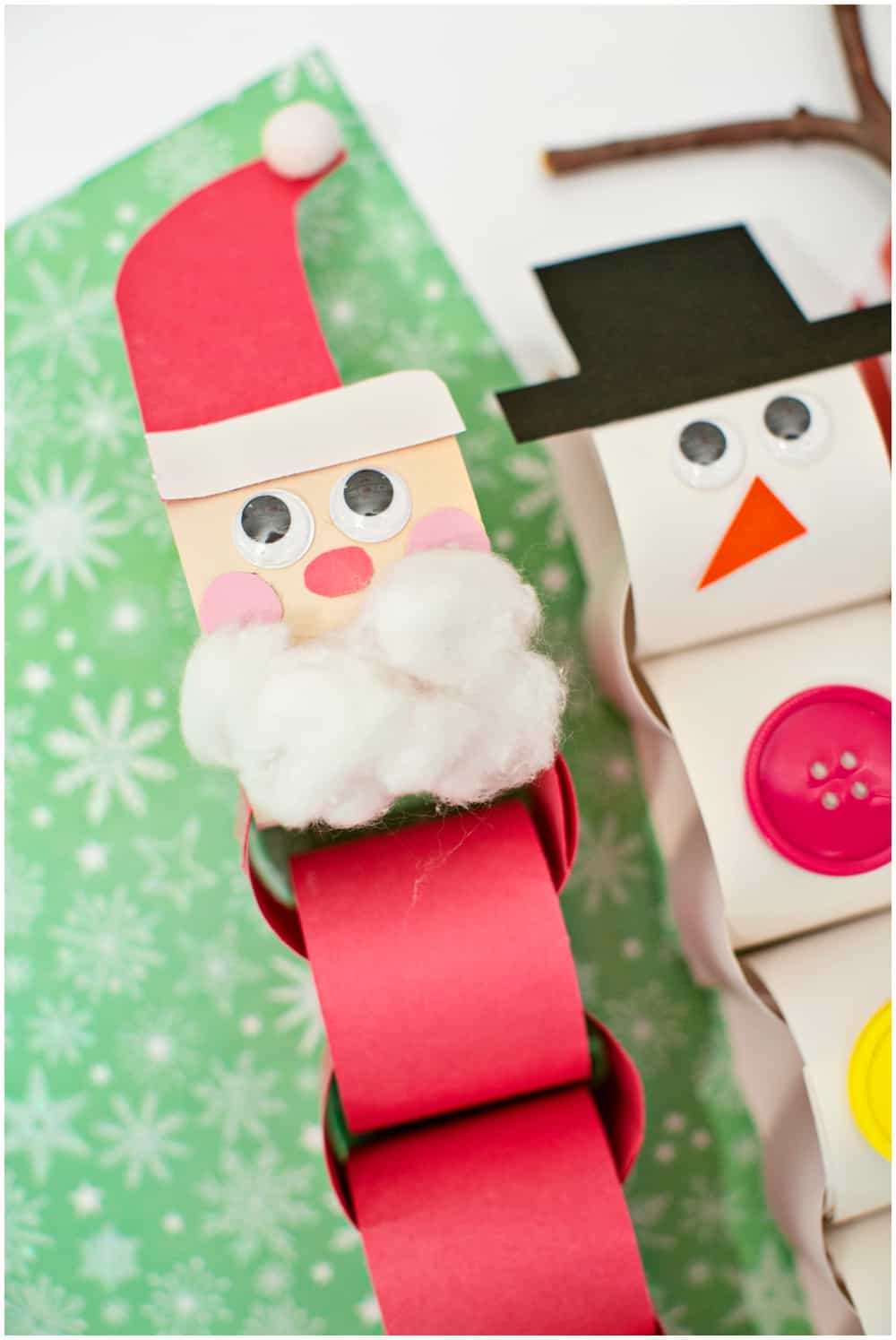 What do you need to make a Christmas Paper Chain Garland?
The beauty of this craft is that it's super easy to make with some regular old construction paper! You can use colored cardstock too, but we found thinner construction paper is just perfect for making this type of paper garland. Once you link the paper rings together all it takes is some simple craft materials like googly eyes and some fun touches like buttons, pom poms and twigs to transform your chain into a cute Santa, Rudolph and snowman!
How do you make a paper ring chain?
We wanted our chain to look "full" and not have a wide gap in between rings so there are two ways to achieve this look: 1) Cut your paper thicker than you normally would (ours measured 2″ wide); and 2) Interlock one horizontal ring in between two vertical rings as shown. This way the rings look tighter and there is no white space between the paper.
How can you display your DIY Christmas garland?
We made ours a bit shorter as we wanted them to be more like Christmas characters, so only 5 rings are showing vertically. But you can continue onwards and make as long of a paper chain as you want to put across your tree or across the mantle as a garland!
This would make an adorable door decor as well on your kids' bedroom door to signify that the holidays are coming!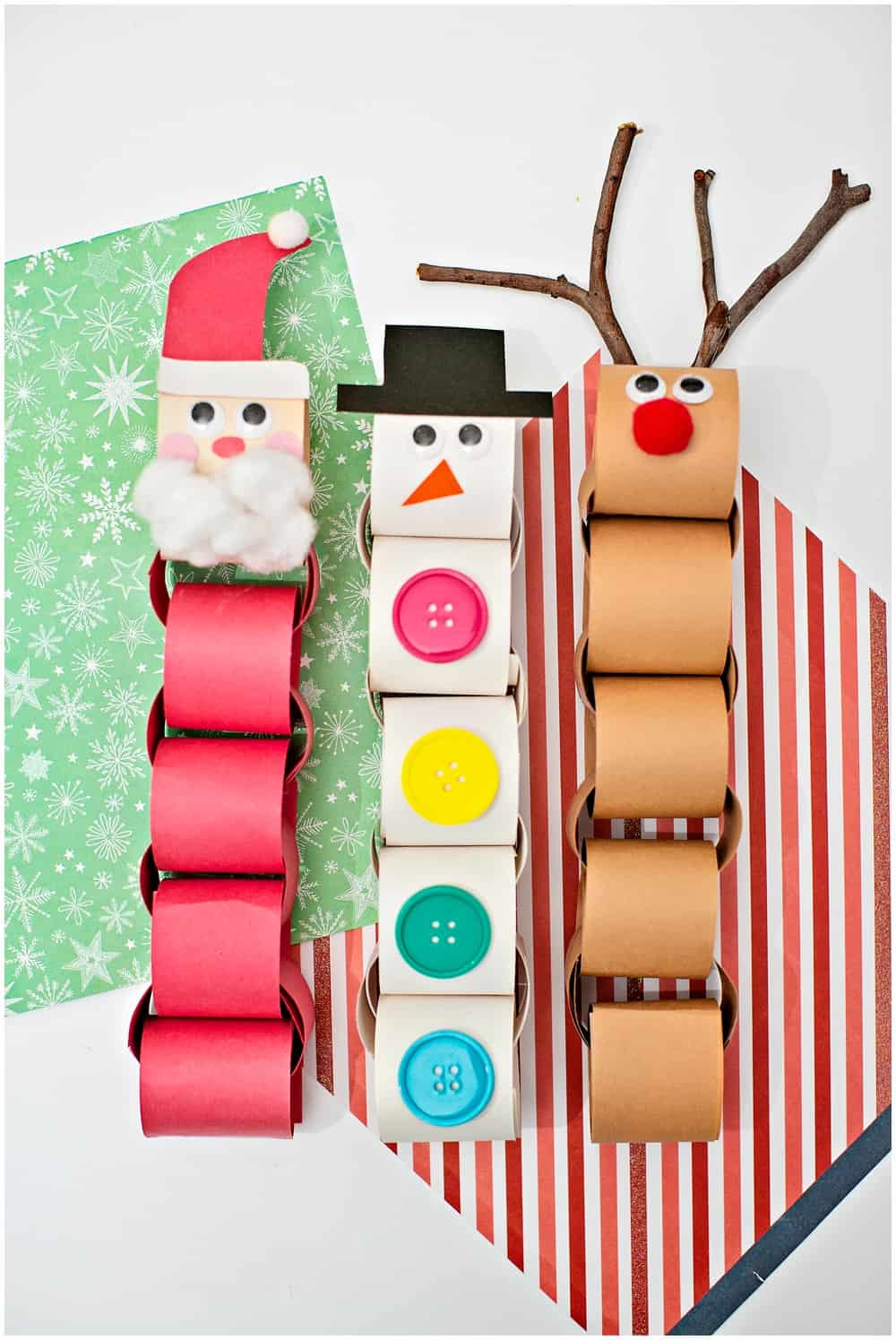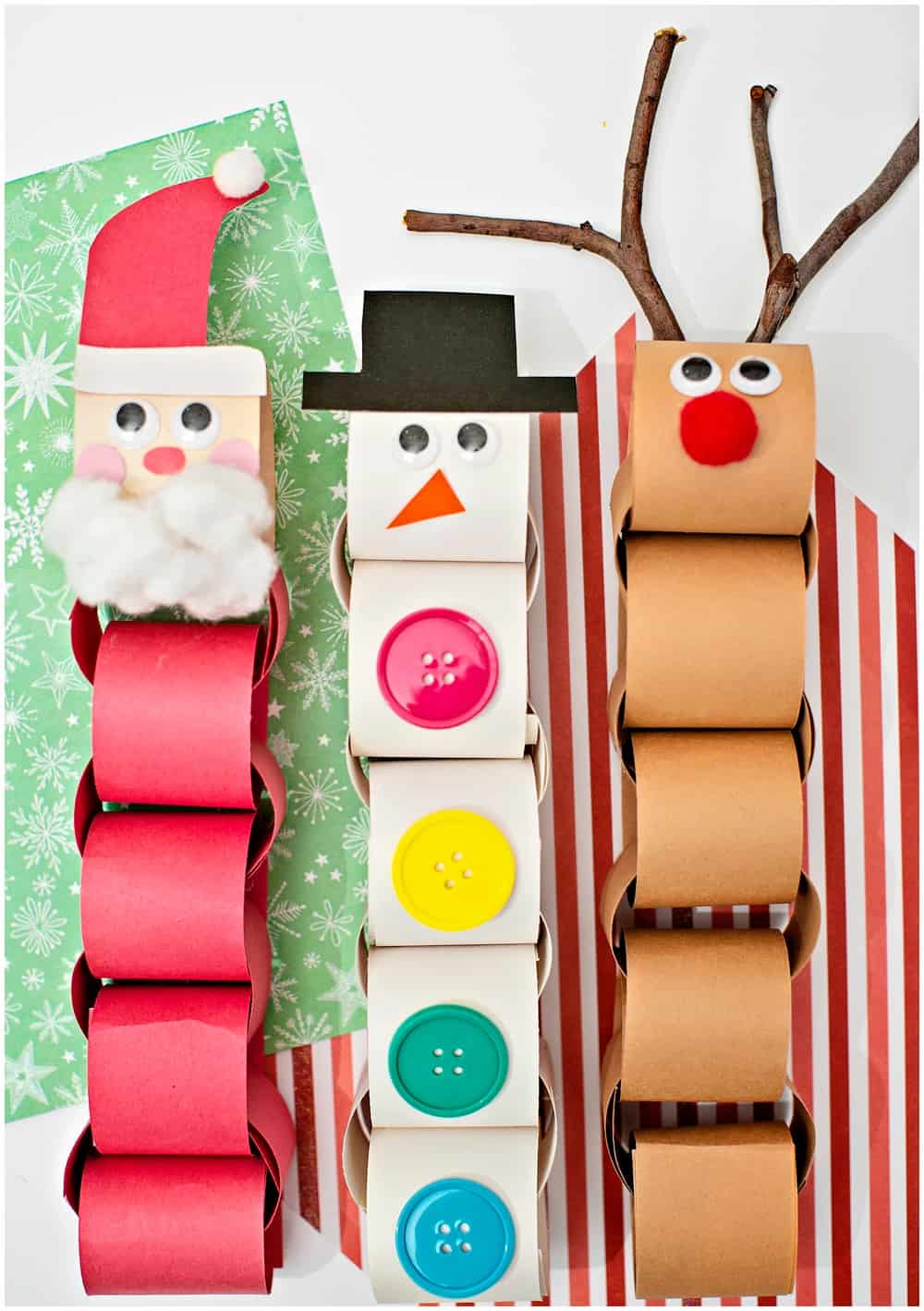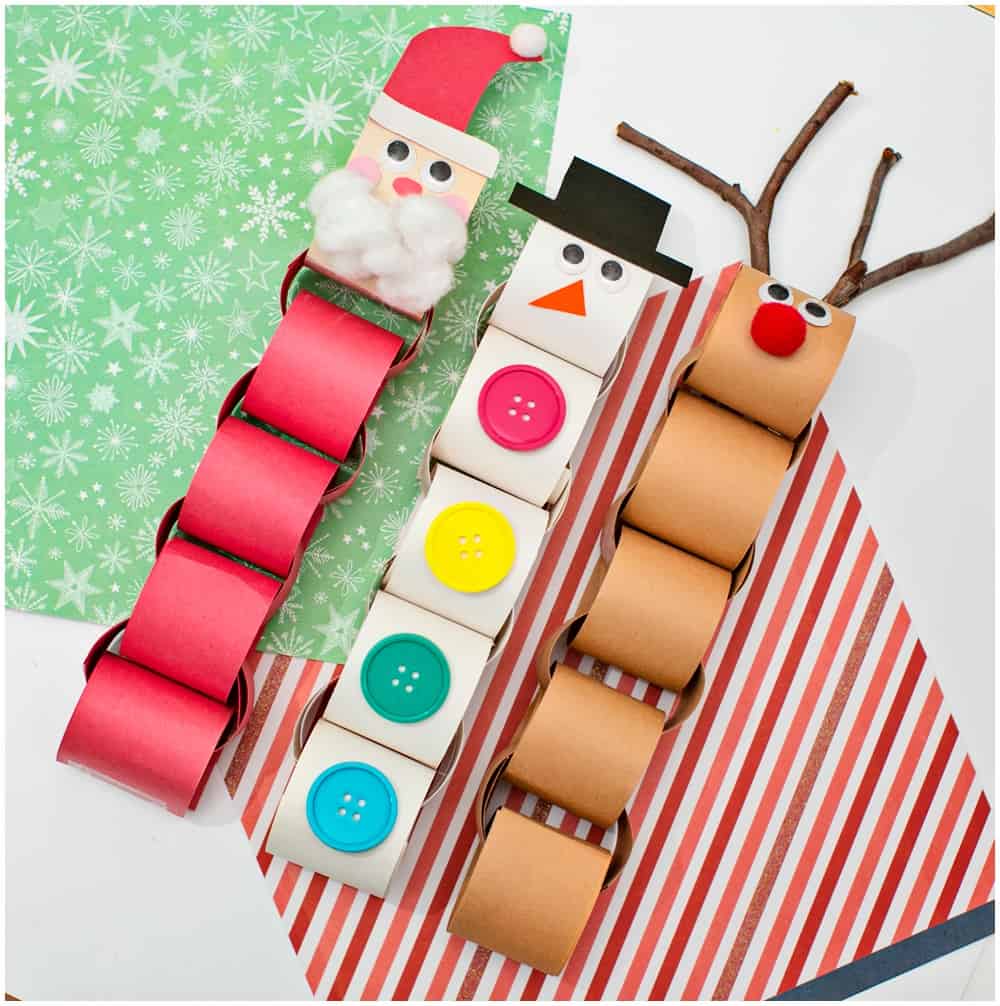 Christmas Chain Garland – Materials:
Construction paper in white, brown, red (for the garland) and scrap pieces in orange, black, cream, pink and white for the details
Buttons
Twigs
Googly eyes
Red and white pom pom
A few cotton rounds
Tape
INSTRUCTONS
Watch the video in this post
Yield: Christmas Paper Chain Garland Craft
Christmas Paper Chain Garland Craft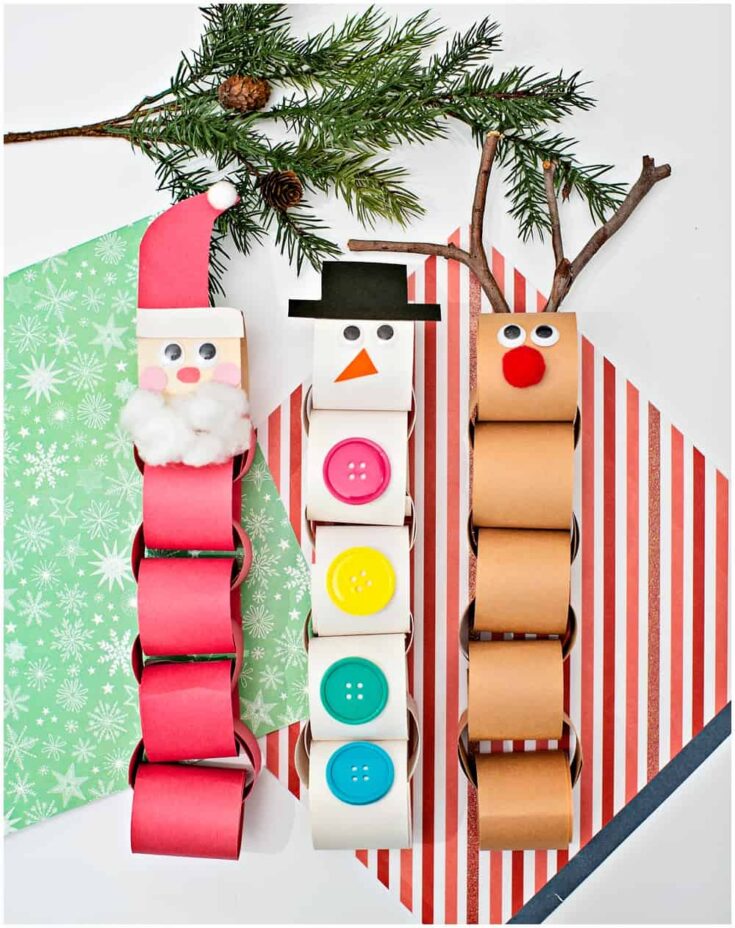 This cute Christmas Paper Chain Garland Craft is a fun holiday paper craft kids can make as a holiday decor to celebrate the festive season.
Materials
Instructions
For each paper chain, cut strips of paper 2 inches x 8 inches long. Make as many as you want depending on the length of your garland. Use red for the santa, brown for Rudolph and white for the snowman. Reserve a cream or white ring for Santa's face. Use tape to connect the strips. Interlock two vertical strips with one horizontal strip.

For Santa, cut a hat shape out of red and add white paper trim and a pom pom by gluing them down. Cut a small red oval for the nose and two small circles for cheeks. Break apart a few cotton rounds for the beard. Glue all the details together as well as two googly eyes on the cream or white ring. beard

For Rudolph, glue two googly eyes and a red pom pom for the nose. Take a few twigs and use hot glue to create antlers and glue those on the back of your firset paper ring.

For the snowman, cut out a black hat and carrot nose out of orange paper. Glue on the first ring with the eyes. Glue on the buttons.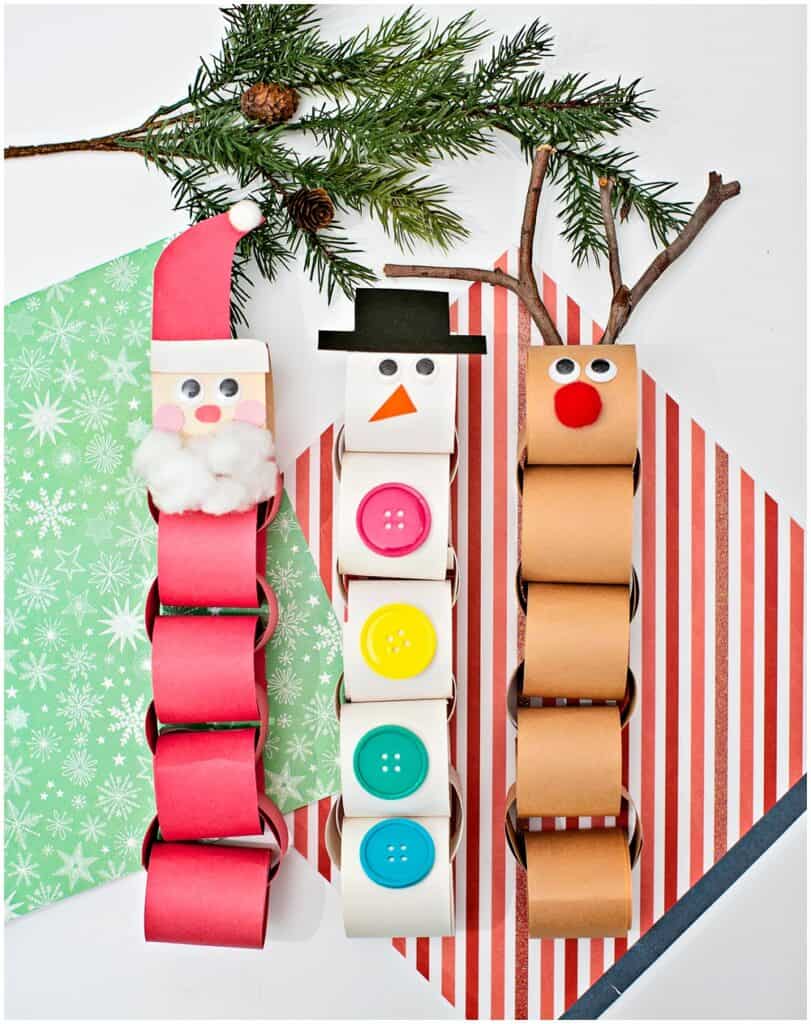 You Might Also Like