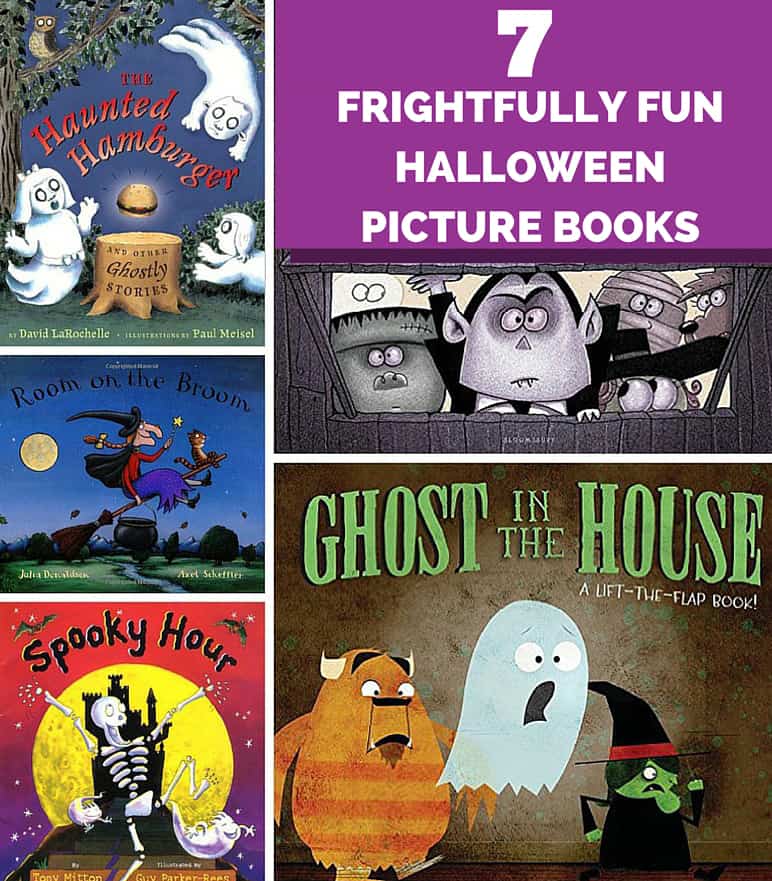 For all the spooks and ghouls that tend to populate Halloween-themed picture books, they are, most of the time, not at all scary and, indeed, a whole lot of fun to read! Here are some of our favorites to help you get into the spirit (pun intended) of the season.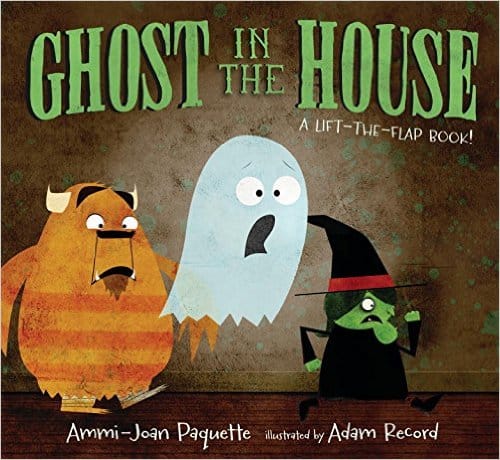 Ghost in the House by Ammi Jean-Paquette and Adam Record
In this deceptively simple counting book, five creatures lurk around a "creepy haunted house" until they run into something apparently even scarier that sends them running. The illustrations are more kooky than spooky, but what really makes this book stand out is the way the brilliantly rhythmic rhymes roll off the tongue; plus, they sound deliciously spooky when read aloud with just the right voices! p.s. The new edition has flaps for more interactive fun. (Age: 1+)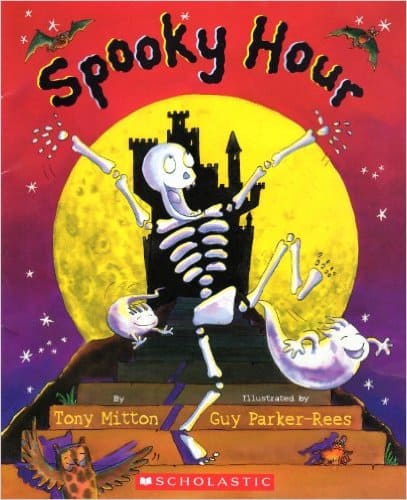 Spooky Hour by Tony Mitton and Guy Parker-Rees
When the clock strikes midnight, it's time for some spooky fun for two unlikely companions: a cat and a dog. Written in rollicking rhyming prose, join the intrepid pair as they gingerly make their way together to a spooky castle for a Halloween party to remember. This also cleverly doubles up as a counting book since, along the way, they run into 11 witches, 10 ghosts, 9 skeletons, and so on. With illustrations that are bright, cheerful and the furthest thing from scary, this is a fabulous read-aloud that the little ones will love! (Age: 1+)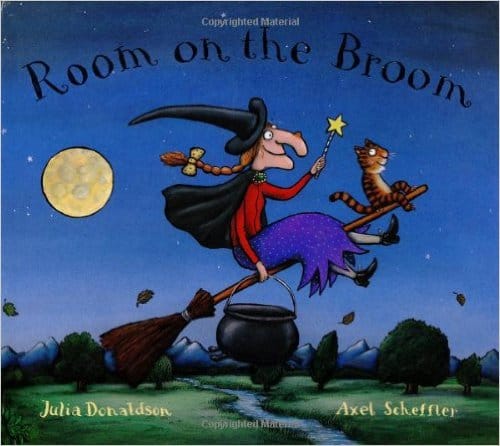 Room on the Broom by Julia Donaldson and Axel Scheffler
The winning combination of Julia Donaldson's rhythmic, rhyming prose and Axel Scheffler's appealingly quirky illustrations, is again demonstrated in this classic tale about a likeable friendly witch who, accompanied by her cat, flies around on her broom one night and makes room for some helpful hitchhikers along the way. When disaster strikes and danger looms in the form of a hungry dragon, however, her new friends join forces and help to save the day. A perennial favorite! (Age: 2+)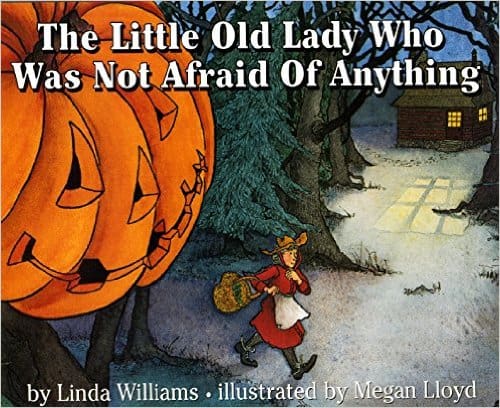 The Little Old Lady who Was Not Afraid of Anything by Linda D. Williams and Megan Lloyd
As a spunky little old lady makes her way home on a dark night, she sees a pair of shoes floating closely behind her; soon, a pair of pants join the shoes; then a shirt, gloves, hat, and finally a scary pumpkin head. Good thing that she's not afraid of anything… right? Well, let's just say that when the pumpkin head also trailed closely behind her, she ran all the way home! With lively descriptions of each item — the boots go "clomp clomp clomp", the pants go "shake shake", etc. — this makes for a fun cumulative story to read aloud with just the right amount of chills, thanks to the atmospheric illustrations. I also love how, in the end, the little old lady manages to summon her wits to put the silly floating things to good use! (Age: 3+)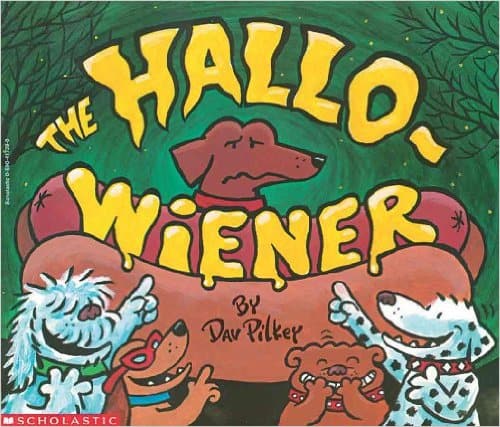 The Hallo-Wiener by Dav Pilkey
For a pun-tastic Halloween treat, chomp on this hilarious and heartwarming underdog story of Oscar the petite dachshund who proves that his physical shortcomings are no barrier to him being a heroic friend in need on an eventful night of trick-or-treating. Full of witty details and lively illustrations, this is a definite Hallo-winner! (Age: 4+)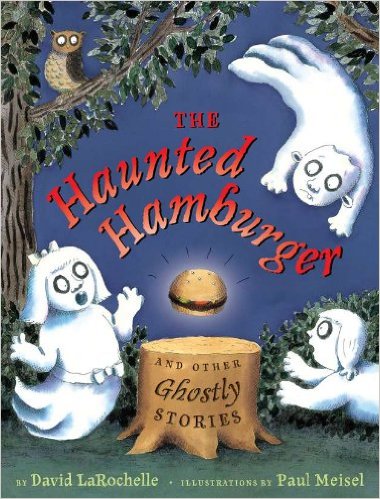 The Haunted Hamburger and Other Ghostly Stories by David La Rochelle and Paul Meisel
Ghost stories take on a whole new meaning in this wacky and highly original book. When two little ghosts beg for some scary bedtime stories, Father Ghost obliges with three short, ghostly tales. The twist, of course, is that these stories are really only "scary" to ghosts, and the only screams you're likely to hear are those of laughter. (Age: 4+)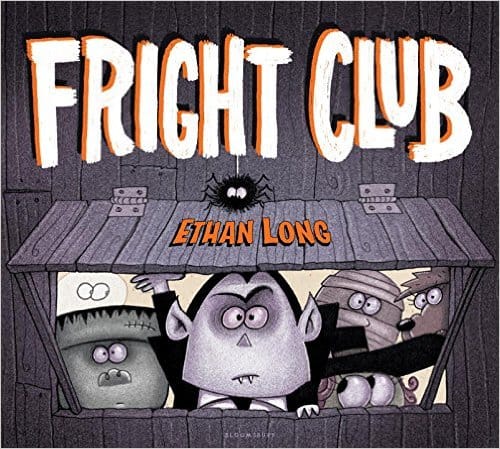 Fright Club by Ethan Long
Somewhat reminiscent of Monsters Inc., this new picture book pits the traditional monsters against a group of oh-so-cute wannabe scarers who are turned away when they try to join Fright Club. But, as the Fright Club members (who aren't exactly scary themselves) soon find out, even cute critters can be creepy — and the more, the merrier and scarier when it comes to the all-important Operation Kiddie Scare that they've planned for Halloween night. Mike Wazowski will approve. (Age: 5+)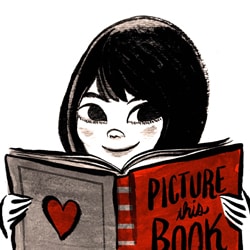 Eileen is a magazine sub-editor and camera-shy mom of two littles, who are also her inspiration (and excuse) for spending way too much time hunting down an eclectic selection of what she firmly believes to be some of the best children's books ever created, as well as reviewing them on her children's book review website Picture This Book. A lifelong bookworm, Eileen set up Picture This Book two years ago to encourage more parents and educators to read to the children under their care, as she believes quality books to be as crucial to early childhood development as water, food and air. You can also follow Eileen's book-hunting adventures on her Instagram page.
______________________________________________________________________________________________________

Disclosure: Some of the links in the post above are "affiliate links." This means if you click on the link and purchase the item, we will receive a small affiliate commission. Regardless, we give our promise that we only recommend products or services we would use personally and believe will add values to our readers.