I've been tasked this year to bring on the appetizers for our Thanksgiving dinner. There will be lots of families with young kids, including mine, so I definitely want to bring kid-friendly appetizers, dips, and small bites that even the pickiest eaters will try. Here's a delicious round up of appetizers, perfect for your Thanksgiving dinner with little ones or great for any holiday party, event or potluck. What are some of your favorite Thanksgiving dishes for kids?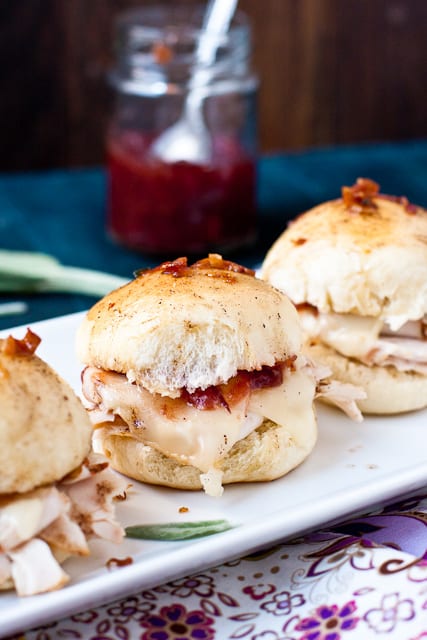 Baked Turkey and Cranberry Sliders (via Confessions of a Foodie Bride)
I love the idea of having snack-size Thanksgiving sandwiches for kids with turkey as the filling of course!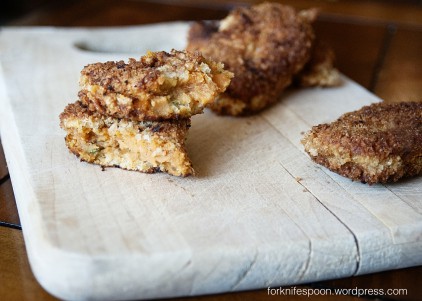 Sweet Potato Croquettes (via Fork, Knife and Spoon)
A crispy and delicious way to get kids to eat their sweet potatoes – serve these bite-sized croquettes with your favorite dip.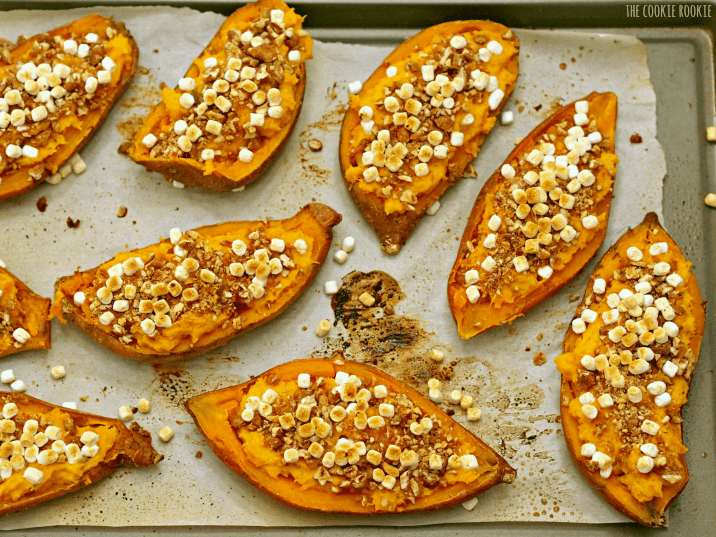 Loaded Sweet Potato Skins (via The Cookie Rookie)
Kids will love the mini marshmallows on this sweet twist off the traditional sweet potato casserole dish.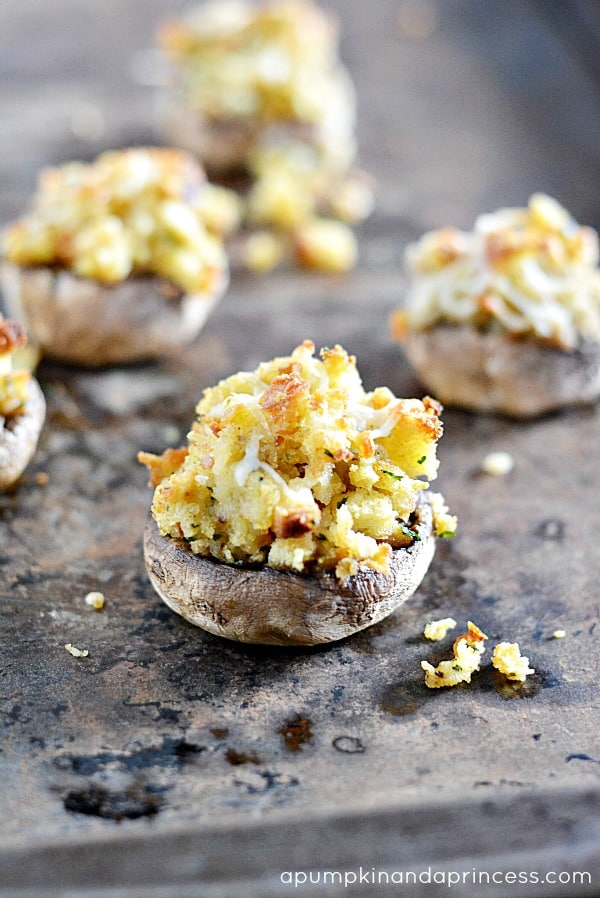 Stuffed Mushrooms (via A Pumpkin and a Princess)
If the whole family loves stuffing, they will love it even more when it's served appetizers style filled in mushrooms and baked off with a crunchy top.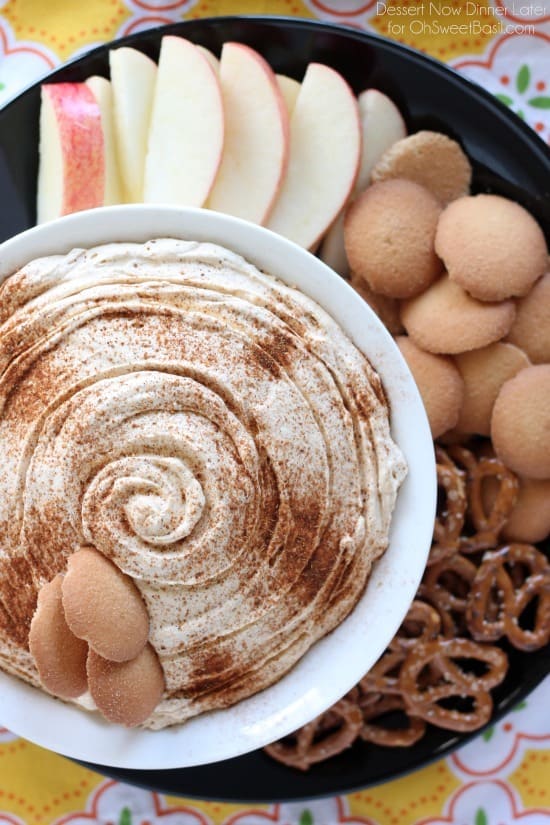 Pumpkin Cheesecake Dip (via Oh Sweet Basil)
Serve this yummy and creamy pumpkin dip with crisp apples to balance off the sweetness.
Sweet Potato Stacks (via Fit Foodie Finds)
A super easy way to serve up sweet potatoes, in tiny stacks with some baked gooey cheese in the middle.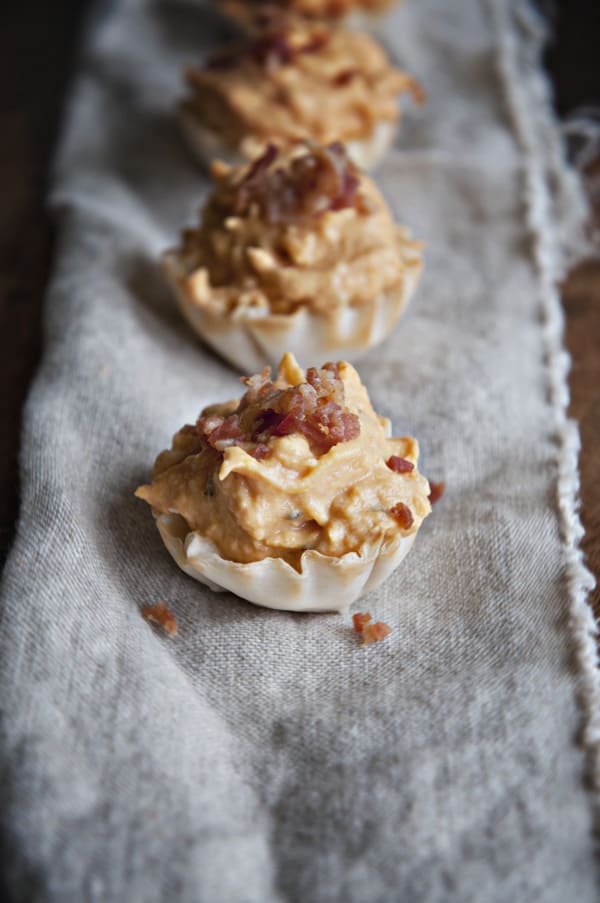 Savory Creamy Pumpkin Cups (via Dine and Dish)
Ready-made Phyllo cups make it easy to whip up this savory pumpkin appetizer with crumbled bacon on top.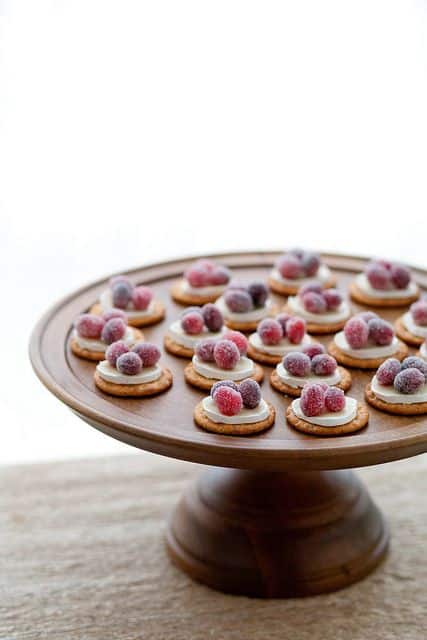 Sparkling Cranberry Brie Bites (via Annie's Eats)
Kids will love the "sparkling" sugared cranberries on top of this easy cheese and cracker appetizer.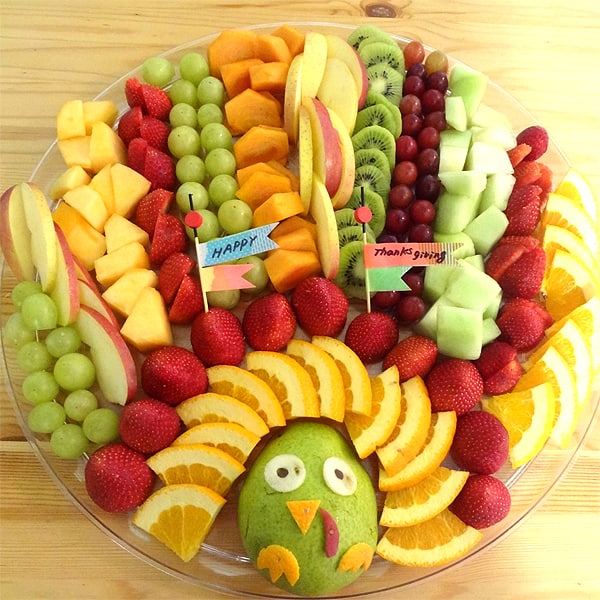 Turkey Fruit Platter (via Working Mom's Edible Art)
Bring something sweet, edible and cute that's sure to dazzle the kids to balance out all those decadent Thanksgiving dishes.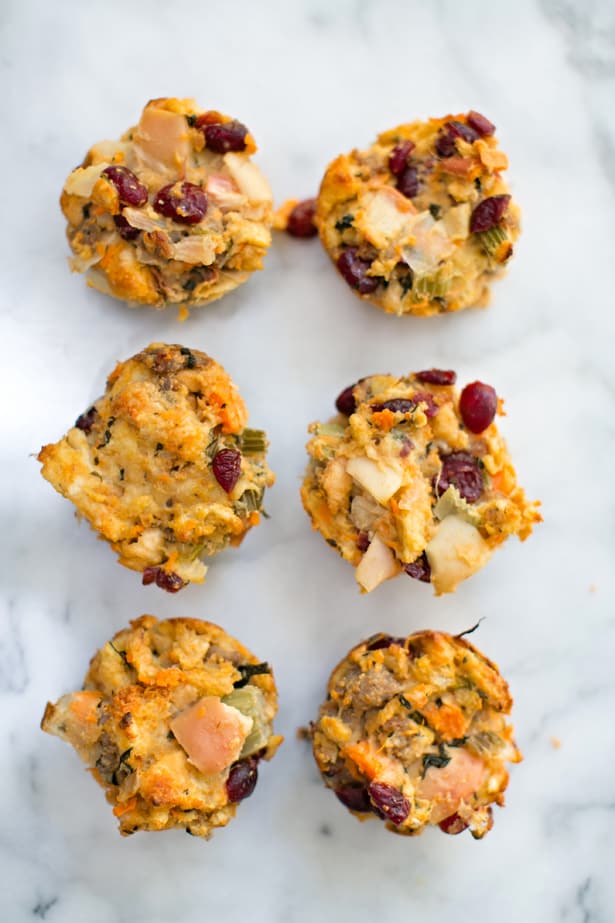 Muffin Sausage Sweet Potato Stuffing with Apples and Cranberries (via hello, Wonderful)
A savory and sweet stuffing that's baked off in easy muffin-sized portions .My kids love the sweetness of this delicious stuffing from the apples and cranberries.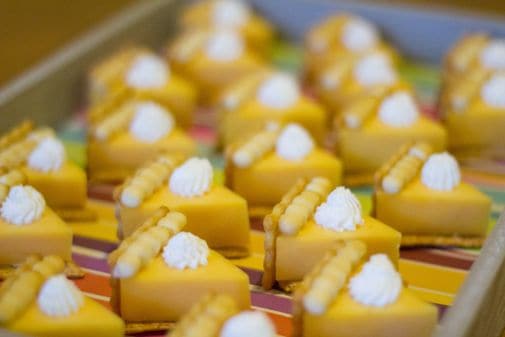 Cheese Pumpkin Pie Bites (via Project Denneler)
There isn't actually anything that tastes like pie in these cheese appetizers, but their cute shapes will make kids reach for them as if they were actual pies!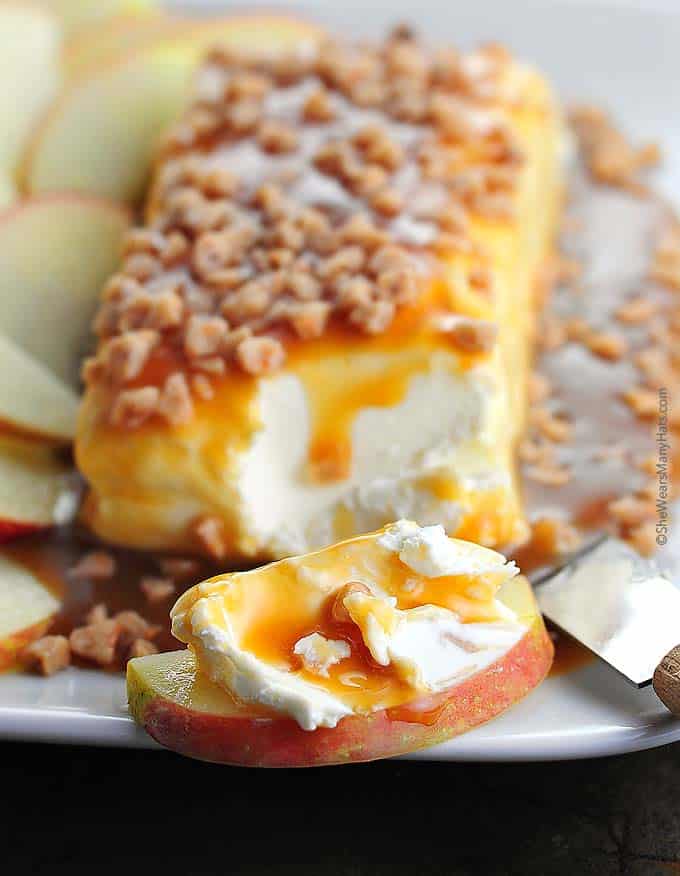 Caramel Apple Cream Cheese Spread (via She Wears Many Hats)
This decadent creamy caramel spread is a breeze to make and is a yummy fruit dip for pears, apples and other fall fruits.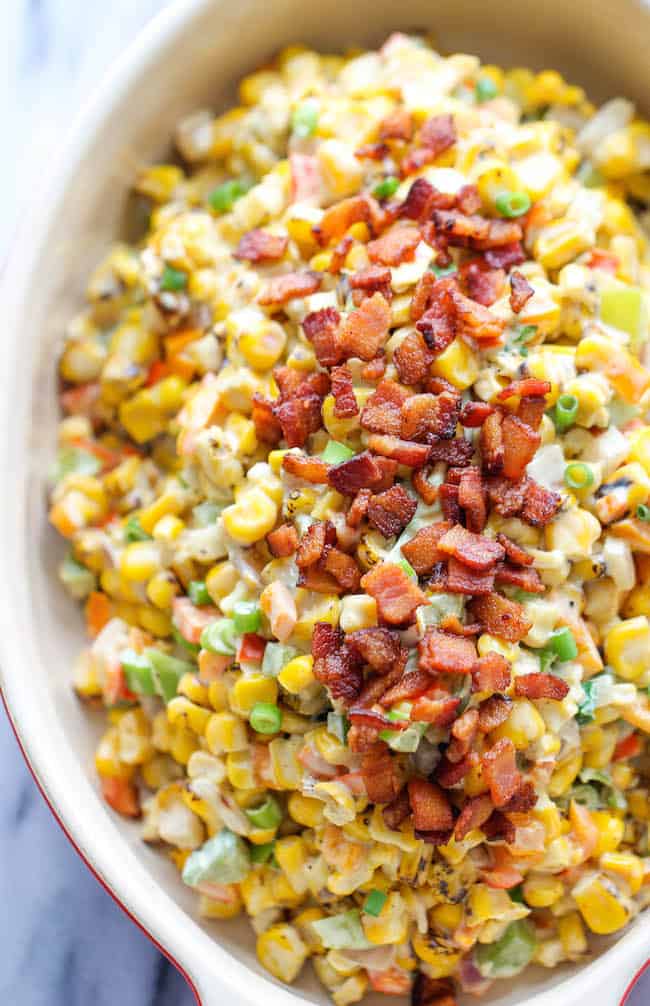 Bacon Corn Dip (via Damn Delicious)
If you're looking for a non-pumpkin appetizer that's sure to wow a crowd, try this creamy, savory corn and bacon dip, oozing with flavors.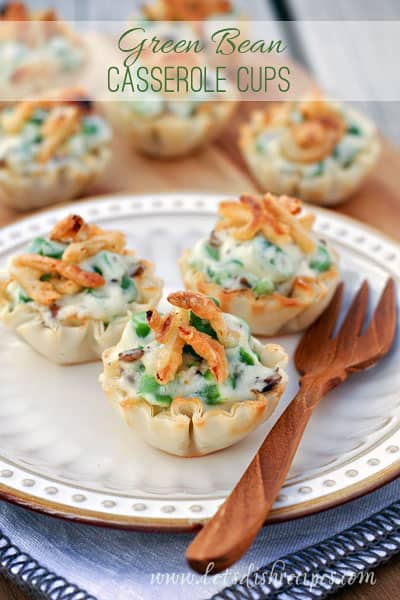 Green Bean Casserole Bites (via Let's Dish)
Take a classic Thanksgiving dish and revamp it into a fancy bite-sized appetizer that's easy for kids to grab and eat.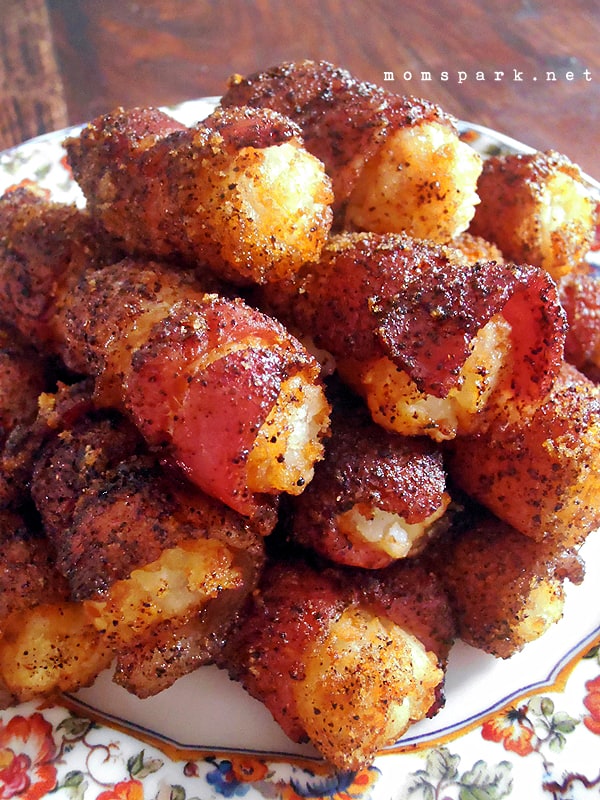 Sweet Bacon Tator Tots (via Mom Spark)
Savory and sweet and so easy to make, these tator tots are sure to be a hit with the whole family. Try them with sweet potato tators for a fall flavor.
Take a look at more kid-friendly Thanksgiving dishes here.