Originally posted: 03/07/2014
I have a little girl who's just starting to enjoy wearing jewelry accessories and it's fun to see her "style" evolve since she's now interested in accessorizing.
Instead of spending money on fast fashion jewelry, why not inspire your kiddies to design their own pieces. Not only is it a great craft for kids to do, but it leaves them with DIY jewelry for kids that are completely wearable.
Things like a DIY kids necklace can be created using vibrant colors and sparkles. While the tinier items like rings fit for a toddler can be crafted using clay. Let your imagination run wild and get creative with your kiddies as you spend the day designing all kinds of wonderful jewelry pieces.
Take a look at these beautiful jewelry making ideas for kids. They'll love showing off their pretty, sparkly bling and are sure to have lots of fun in the process!
7 Jewelry Making Ideas for Kids: Colorful Creations
There are all kinds of quirky and unique ways of creating your own jewelry projects for kids. You can gather around all kinds of bits and bobs you have laying around the house, hidden in old boxes or tucked under beds, and give them a new purpose.
These easy jewelry-making crafts allow children to express themselves creatively while making all kinds of wacky and weird designs for themselves or their friends.
Wondering how to make jewelry for kids? Let's get started!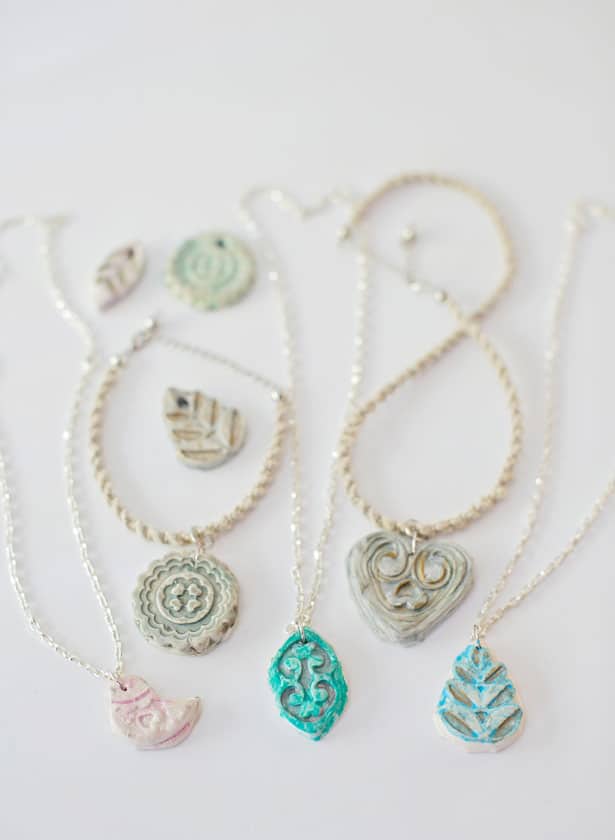 I made these clay pendants with my daughter and they turned into beautiful pieces that were so easy to make using oven-bake clay and a bit of paint.
Use all kinds of beautiful silicone molds to create your one of a kind pieces. Give them a splash of color with golds and silver, which resembles vintage pieces, or something bolder like bright yellows and reds.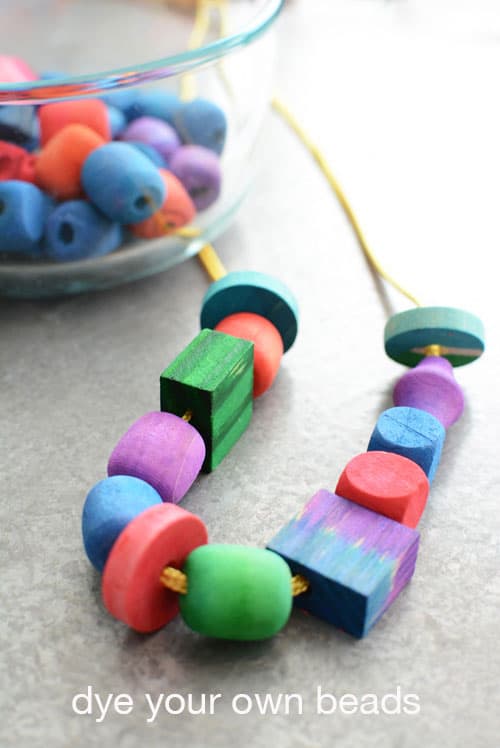 Painted DIY Necklace for Kids (via Meri Cherry)
Turn plain wooden beads into the most vibrant colored necklaces that kids can make – which doubles as a fun art project! Because these wooden beads come in all kinds of shapes and sizes, each piece will be unique in its own way.
As well as adding some color to the wood, why not get the glitter glue ready? Stickers and diamante add an extra personal touch. Follow these steps on making a necklace for kids, but be sure to check out how you can creatively dye the beads.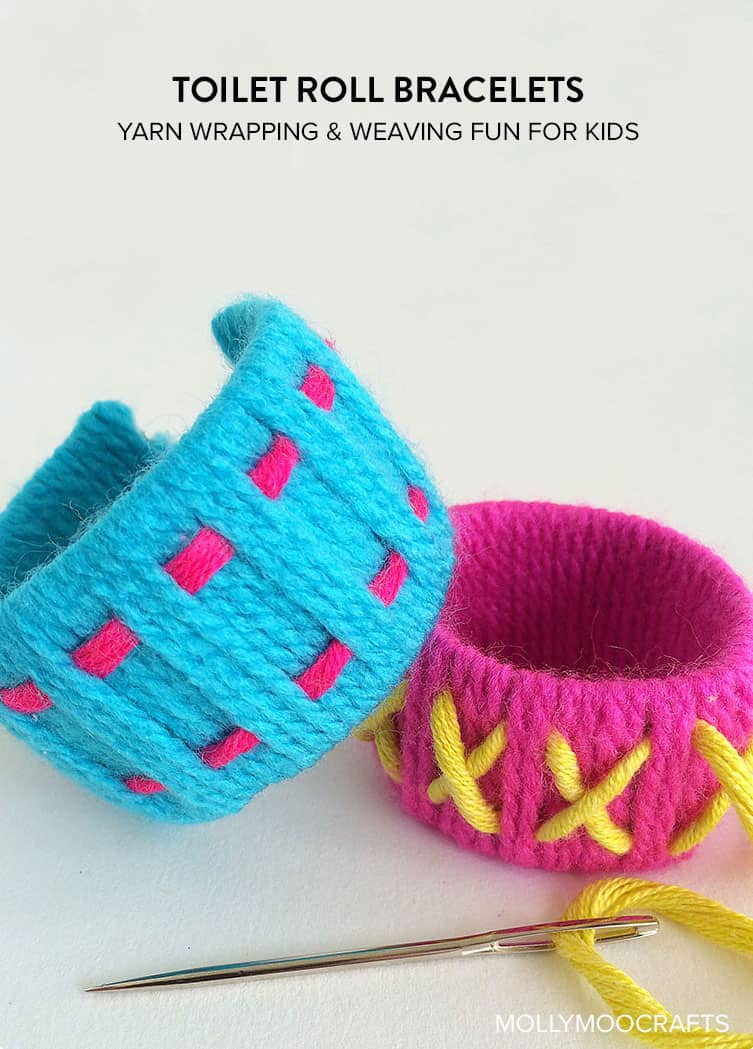 Toilet Roll Bracelets (via Mollymoo)
How clever and fun are these "toilet roll" cuff bracelets? This is a fun exercise in teaching your kids some basic weaving as well.
And who doesn't have a few toilet rolls laying around the house when you've got little ones.
Keeping a few toilet rolls aside is a great way of storing up on craft supplies. With some spare wool, you can create at home bracelet kits for kids. Let them play around with their favorite color wool and see what works.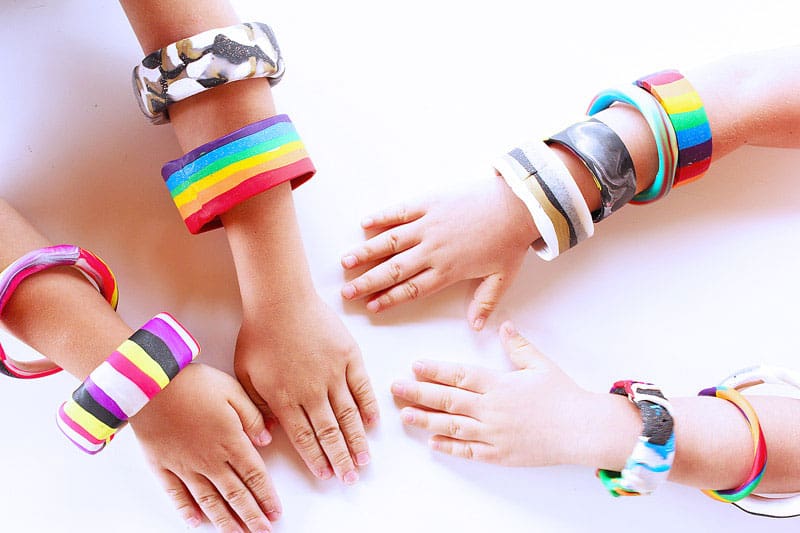 These bracelets are so fantastic looking and they're a great project for kids. They can get their hands working to create and shape clay into so many different fun shapes and patterns.
The polymer clay can be molded into the perfect bracelet shape for all kinds of ages, whether you're designing DIY toddler jewelry or for older tweens. Once they've decided on an adorable design, you can simply pop them in the oven to create long-lasting pieces.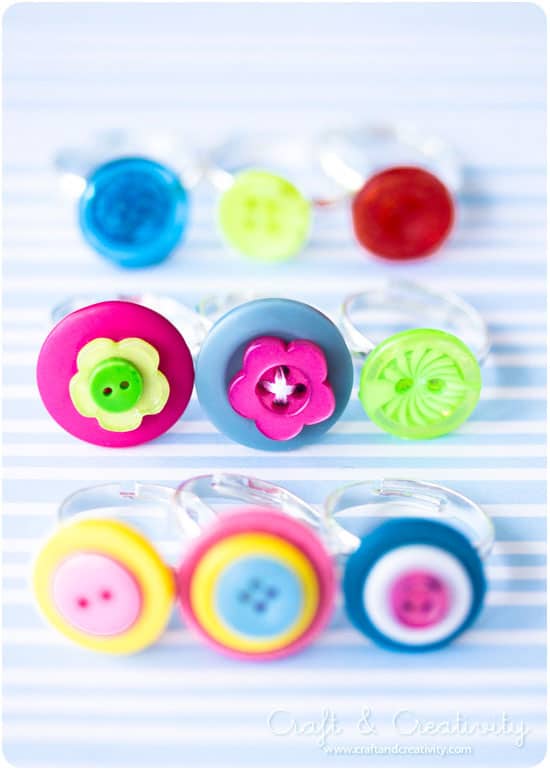 Here's an easy project that results in such bright and vibrant button rings. You could really create endless variations.
It'll require you to purchase the adjustable rings. Once you have your rings ready, you've got the freedom to add all kinds of pieces. As well as funky buttons, you can attach anything you find special. Think of things like gluing on tiny toy animals, crafty flowers, and pom-pom balls.
Upcycled Magazine Bangle Jewelry DIY (via Arty Crafty Kids)
Because who doesn't have old and unused magazines laying around the house? Instead of letting them just collect dust, let the kids give bangle making a bash. It's a great activity that younger children can master, and it also helps develop their fine motor skills.
Get your hands on some cheap plastic bangles and simply start wrapping around strips of newspaper with glue. After the bangle has been designed, add some buttons or glitter to spruce it up.
How to Make a Necklace for Kids: Mermaid Style (via The Educators Spin On It)
Have you ever traveled to the sea together as a family? If you've traveled there with your kids, you must have gathered some seashells along the way. Transforming the shells into magical mermaid necklaces is a great way of remembering your time together at the sea!
Blue sparkles and glitter glue give it that classic under the ocean appearance that works so well with any cream-colored shells.
Jewelry Ideas for Kids
These easy jewelry crafts for kids are the perfect way of spending a lazy afternoon. Instead of popping on the TV, let your kids get their imagination going and transform these simple household items into beautiful jewelry pieces.
Jewelry made by kids is always more special. Keep their pieces in a life capsule for them to reminisce over once they're all grown up.
If you're in the mood to get crafts with the kids, check out some of these posts:
6 Pretty Hair Accessories Made From Pasta
10 Crazy Simple Headbands For Girls
6 Easy Ways to Make a Girl's Hair Tie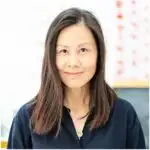 Agnes Hsu is a mom of three and has been inspiring parents and kids to get creative with easy activities and family friendly recipes for over 10 years. She shares her love for creative play and kids food to her 2MM+ followers online. Agnes' commitment to playful learning and kindness has not only raised funds for charity but also earned features in prestigious nationwide publications.