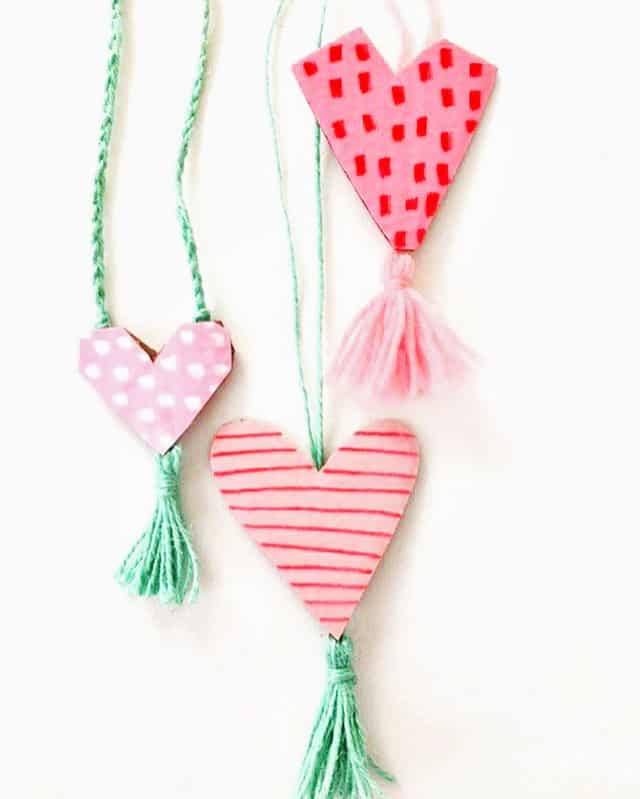 Make some sweet heart necklaces with your little Valentines to celebrate this love-filled day. Kids will adore decorating their own yarn tassel necklaces in this fun recycled art project using cardboard!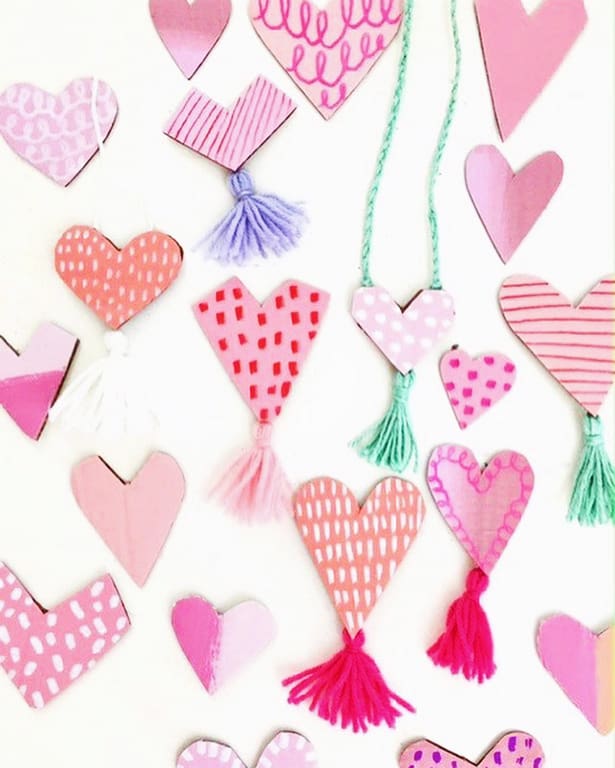 Materials:
– painted cardboard cut into strips and squares
– scissors
– glue gun
– yarn for necklace + tassels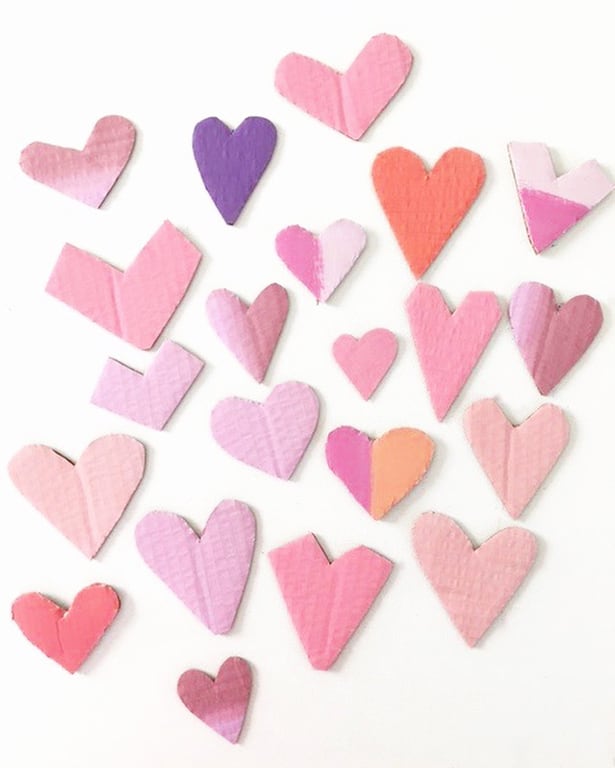 1. Paint your cardboard in sunset colors (pinks, reds, peaches, violet).
2. Trace a heart shape onto your cardboard in pencil.
3. Cut out your heart shape with very sharp scissors or a box cutter.
4. Add details to your hearts with chalk or paint markers (dots, dashes, flowers).
5. Create your tassel (see below for a step by step).
6. Attach your tassel and necklace to your heart pendant with hot glue or by hole punching your cardboard and knotting your yarn necklace through the hole.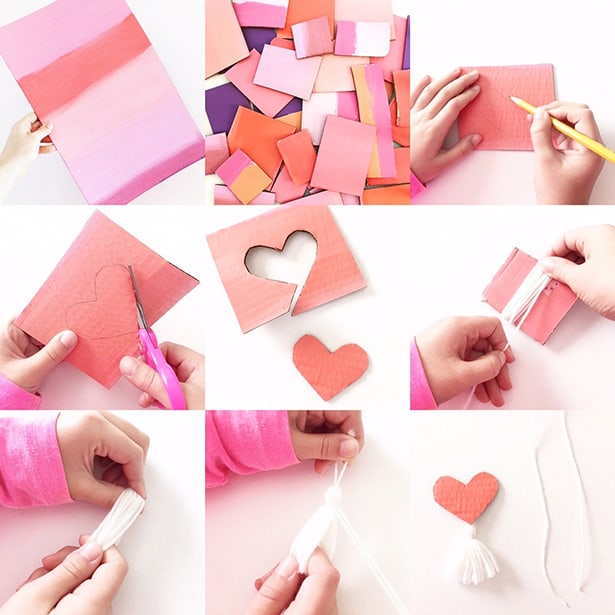 How to make a tassel:
1. Gather your yarn or embroidery thread. 2. Cut a small rectangular piece of cardboard (the longer your cardboard, the longer your tassel). 3. Cut a piece of your thread and tape it to the top of your cardboard (you can use contrasting color here if you like the look). 4. Start wrapping your string around your cardboard about 20 times. 5. When you reach your final wrap you will cut your thread and tie your ends together. 6. Cut the wrapped string along the bottom and take it off the cardboard. 7. Cut an 8 inch piece of string to wrap around the top of your tassel (creating a small bell shape). You will wrap this around about 6 times, finishing it off with a double knot. 8. Trim the bottom of your fringe.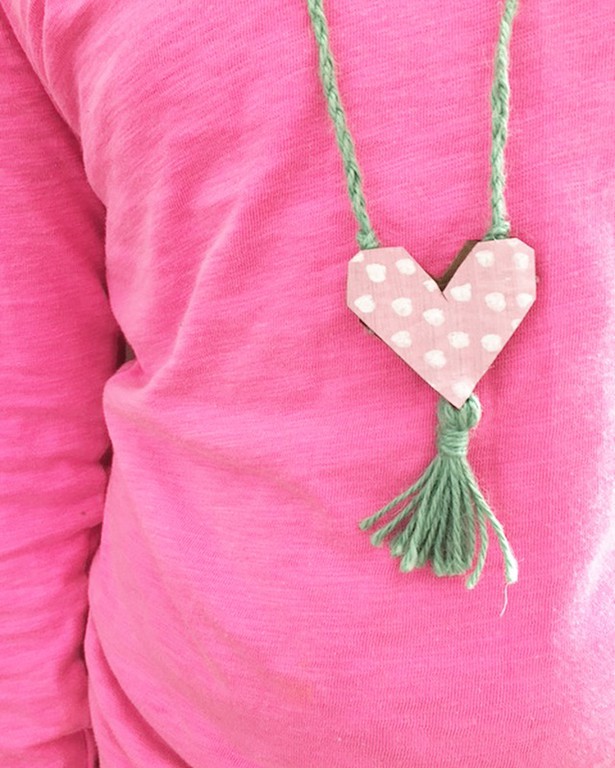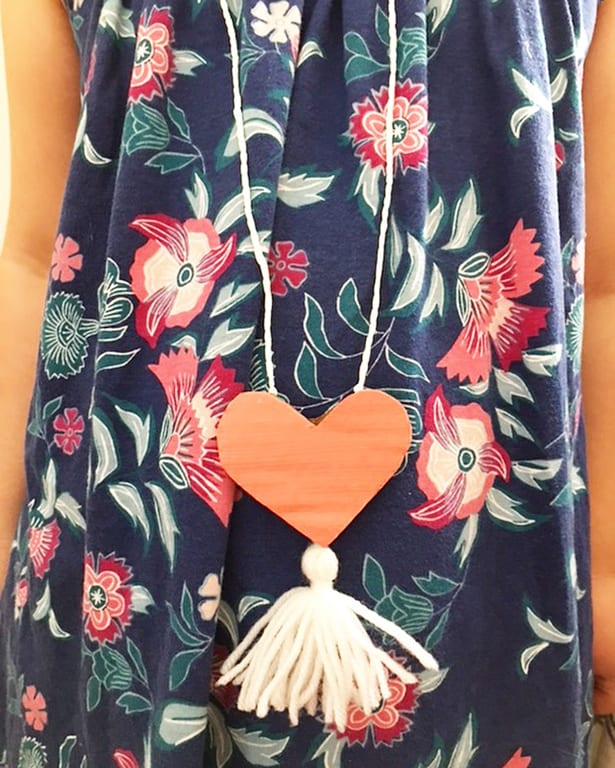 Check out our unicorn necklaces using same method for a fun twist!
How are you celebrating Valentine's Day with the kids? Get inspired with more creative Valentine's Day ideas for kids!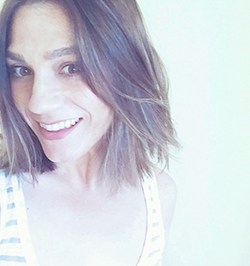 Meet Arielle Goddard – Los Angles based artist, designer, arts educator, mother of two girls, and founder of ART CAMP. Arielle has been teaching and developing art programs for close to 20 years. If you are looking for fresh, elevated, arts, crafts, and DIY inspiration follow her blog, Instagram and Pinterest.
______________________________________________________________________________________________________

Disclosure: Some of the links in the post above are "affiliate links." This means if you click on the link and purchase the item, we will receive a small affiliate commission. Regardless, we give our promise that we only recommend products or services we would use personally and believe will add values to our readers.