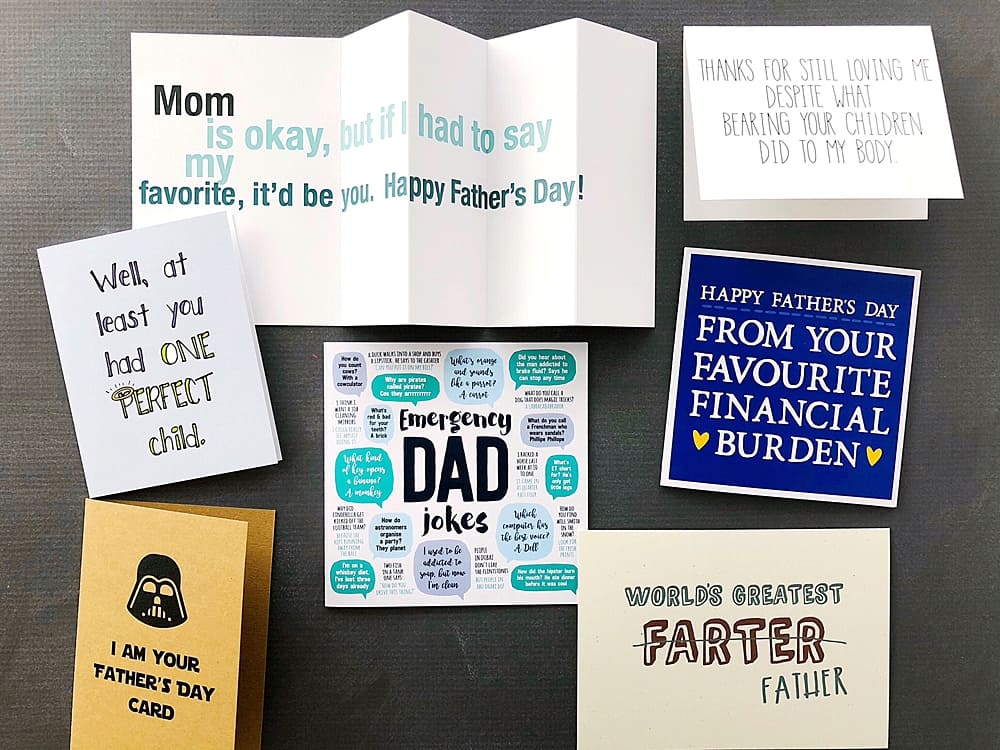 Dad jokes are the best jokes, and for Father's Day, there's nothing punnier than these 10 Funny Father's Day cards to give pop (or the father of your kids)! We've curated our favorite one-of-a-kind, hilarious cards from Etsy to make dad feel extra special and stand out this Father's Day. Click on the links below to take you right to to the shop and card descriptions.
Want to make Dad his own special card? Don't forget to check out our cute origami shirt cards or why not make him his own rock self-portrait or Dad Book this year?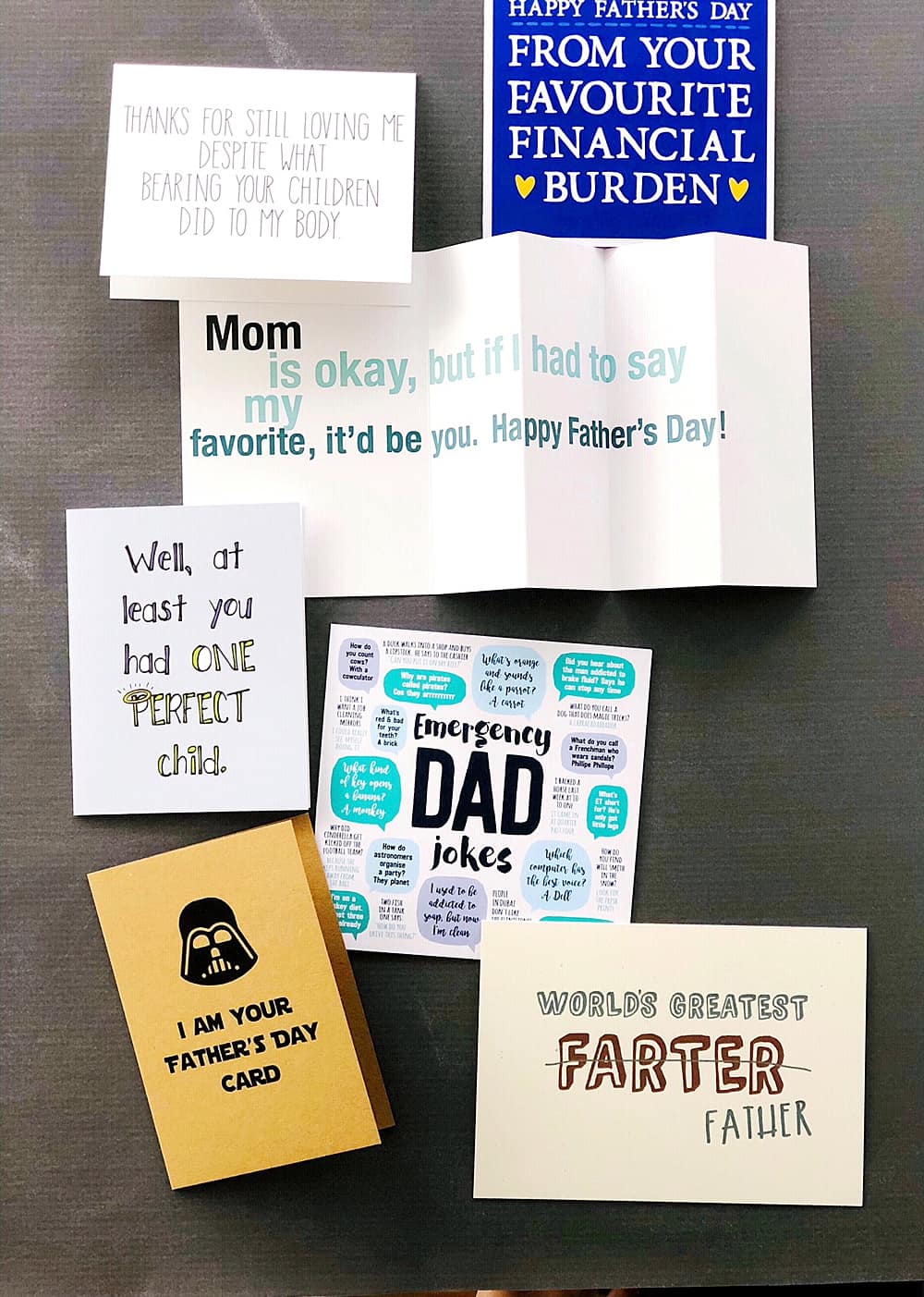 Star Wars
Even though your kids' dad is nothing like Darth Vader, the "I am your father" quote still will give the Star Wars fan dad a chuckle.
Mom is My Favorite
This card may seem like an ode to mom, but open it up to see that it's really all about dad!
Financial Burden
Teenagers and older will love giving this sarcastic card perfect for the paternal parent.
Thanks for Loving Me
Mothers, pick up this card to thank hubby for loving you through childbearing years and beyond.
Need You the Most
Dads are wonderful, especially when you need them to kill spiders, open jars, or fix things!
Pop Card
Enjoy these pop pun cards for dad!
Farter
Nothing wrong with a little fart pun on "Farter's Day"!
Dad Jokes
Break out the emergency dad jokes, perfect for anytime of year but especially Father's Day!
First Father's Day Card
Remind dad what he signed up for (3am feedings, changing diapers to name a few) and that it's all worth it in the long run.
Dad Card From Daughter
Everyone loves hearing the phrase 'I love you' and a promise to not turn it into awkward talk tops off this cute card.
These ready-made Father's Day cards are fantastic for your favorite dad, husband, or father figure. What card are you gifting for Father's Day this year?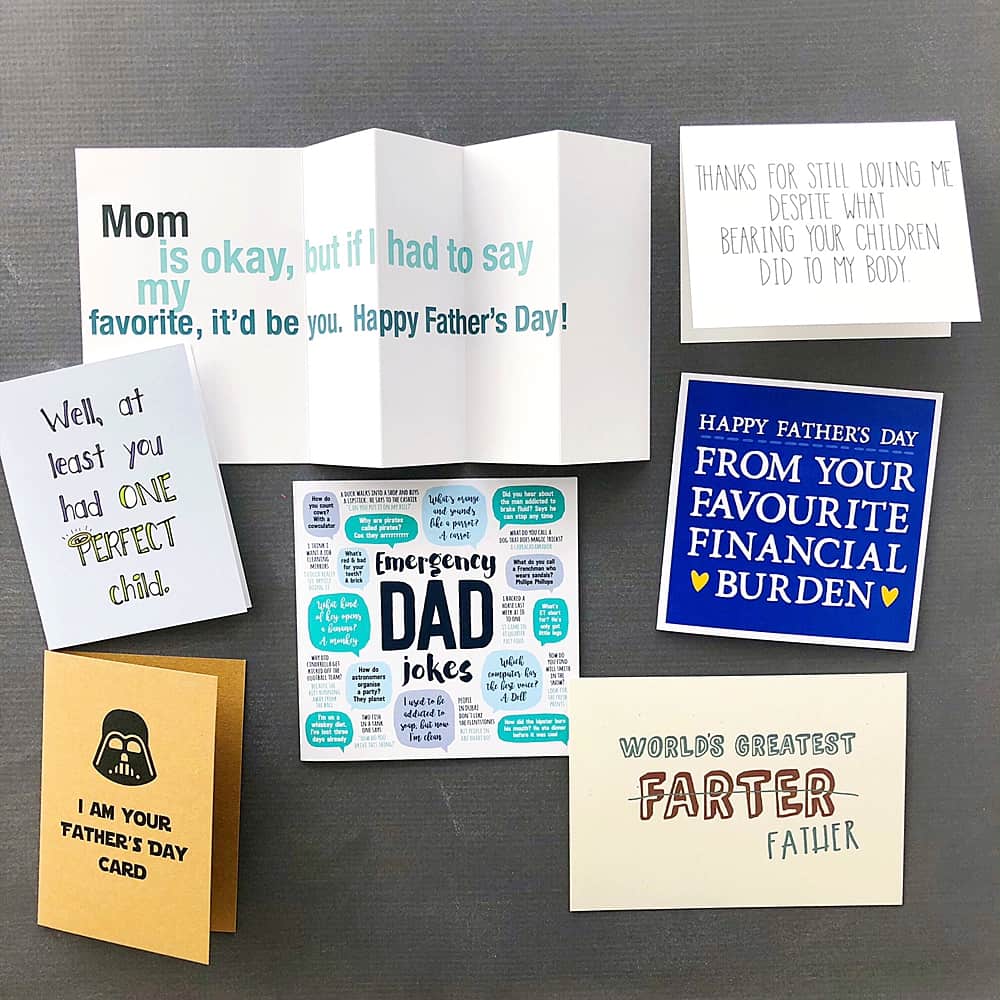 ___________________________________________________________________________________________________________
Disclosure: Some of the links in the post above are "affiliate links." This means if you click on the link and purchase the item, we will receive a small affiliate commission. Regardless, we give our promise that we only recommend products or services we would use personally and believe will add values to our readers.