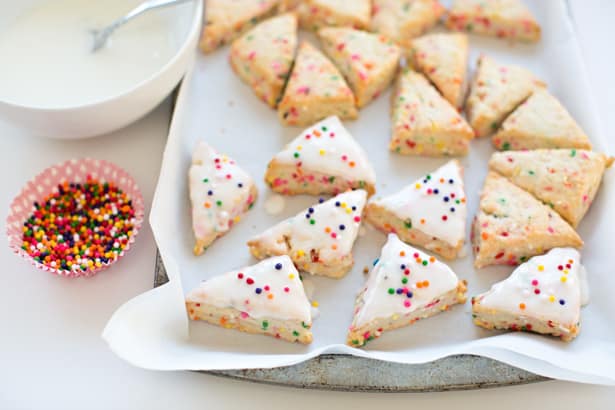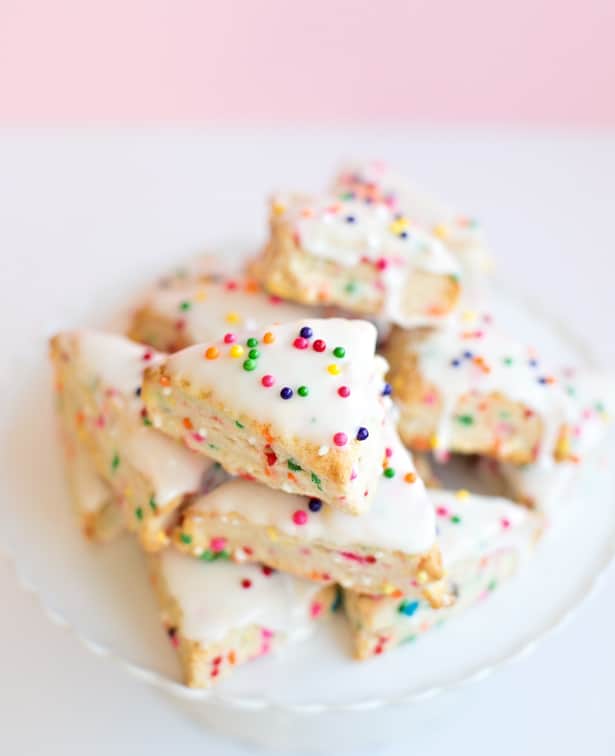 If you're looking for a fun party treat for kids that's lower in sugar than traditional cake, these Funfetti scones are just as yummy and festive for any celebration! I recently made them for my son's preschool for his class birthday treat. Since his school has a low sugar policy, I wanted to bring a less sweet alternative to cupcakes or cake. By making these mini size, you can also cut down on the sugar.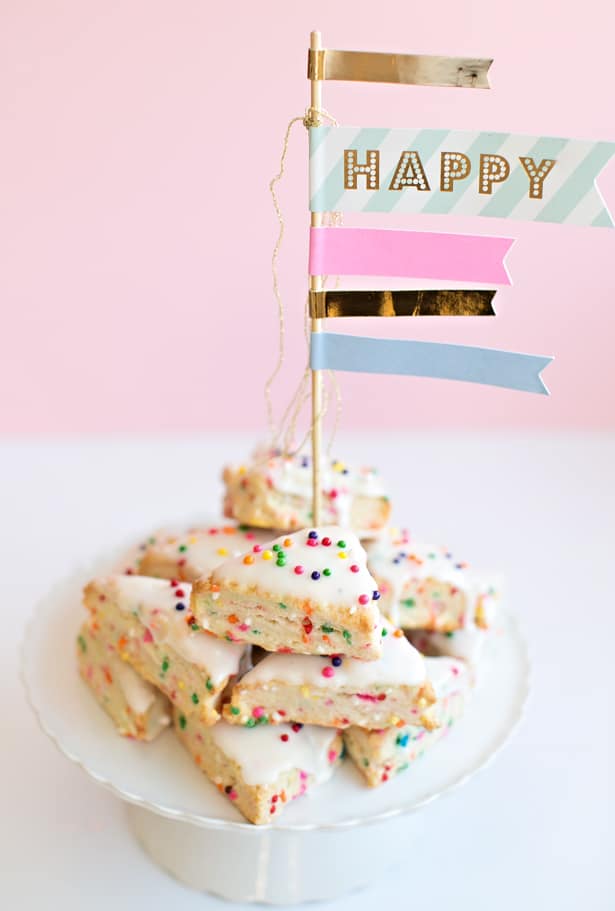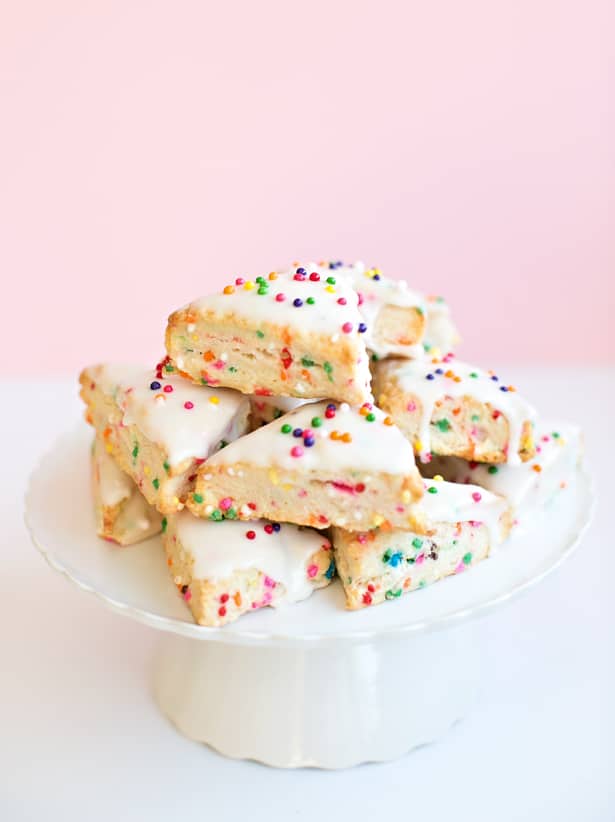 Funfetti Mini Scones – Ingredients:
(Makes approximately sixty 2.5″ mini scones – you can halve the recipe to make less)
– 5 cups all purpose flour


– 2 tablespoon baking powder


– 1 teaspoon salt


– 2 sticks (8 oz) chilled, unsalted butter, cut into 1/4 inch cubes


– 2 cups heavy cream


– 1 cup sprinkles (jimmies, not non-pareils)
– 1/4 cup sugar
Icing (optional)
– Powdered sugar and milk (1 Tablespoon + 2 teaspoon milk for each cup of powdered sugar. Triple the recipe if you want to cover all 60 scones)
– Sprinkles (to top the icing you can use any sprinkles you want)
*You'll also need a rolling pin, baking pan, and parchment paper.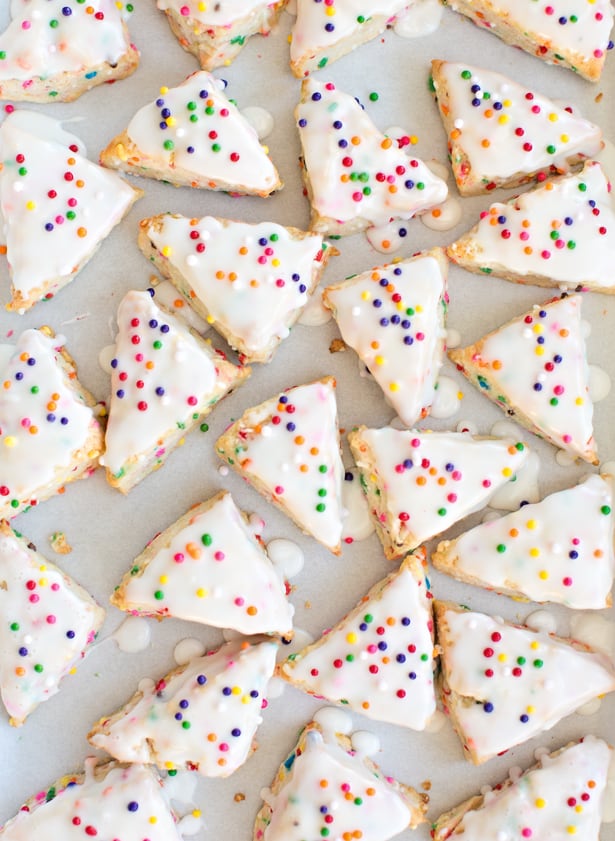 Instructions:


(preheat oven to 400 degrees)


1. Mix flour, salt and baking powder in a bowl. Add the butter and using a pastry cutter, two knives or your hands, quickly cut up butter into the flour until it resembles coarse meal.
2. Add cream and gently mix until a dough forms. Knead a few times until a dough comes together. Add your sprinkles and mix just until the sprinkles are mixed in dough.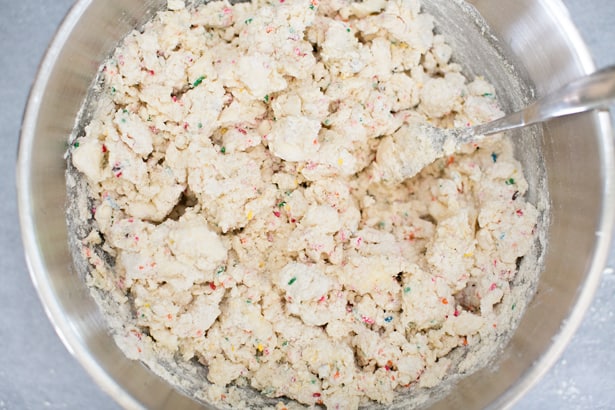 3. Transfer the dough onto parchment paper. Add another piece of parchment paper on top of the dough. Use your rolling pin to roll dough to about 1/2″ thickness.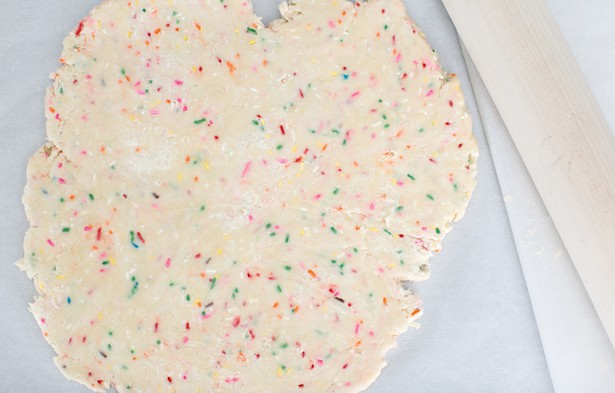 4. Use a knife or pizza cutter to cut your rolled out dough into a square then slice 2.5″ triangles. Transfer your scones onto a parchment lined baking pan. If your dough is soft by then, chill your unbaked scones on the pan in the refrigerator before baking for about 10-15 minutes.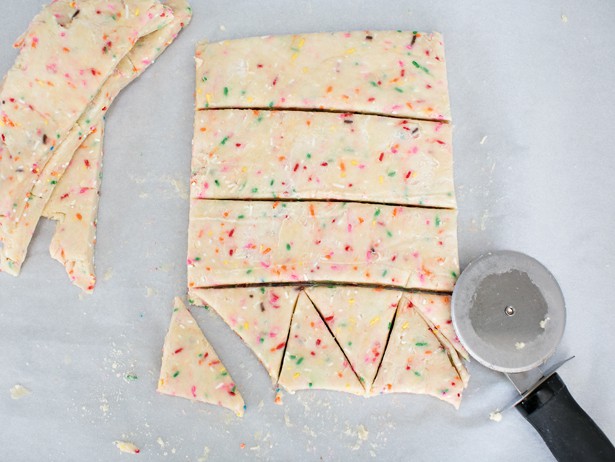 5. Bake your scones in a preheated 400 degree oven for about 12 minutes until lightly golden on top. Allow to cool completely before icing.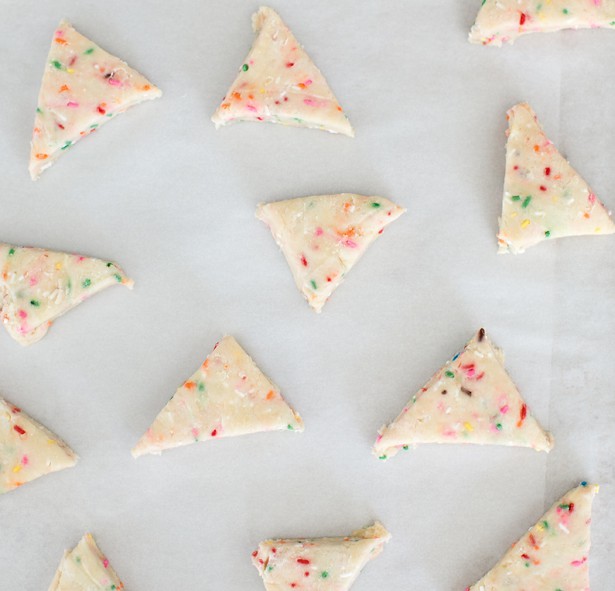 6. If you want to proceed with icing, mix your powdered sugar + milk together until icing consistency. Dip each scone into the icing, and let the excess run off. Lay on a parchment lined pan. Add sprinkles. Allow icing to harden.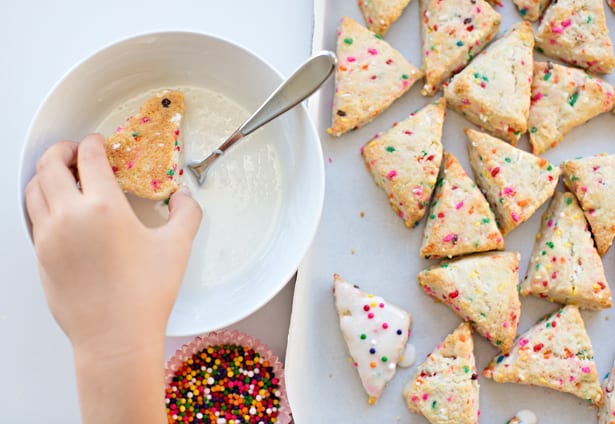 This is a fun step to involve the kids! My kids had fun dipping the scones and adding the sprinkles.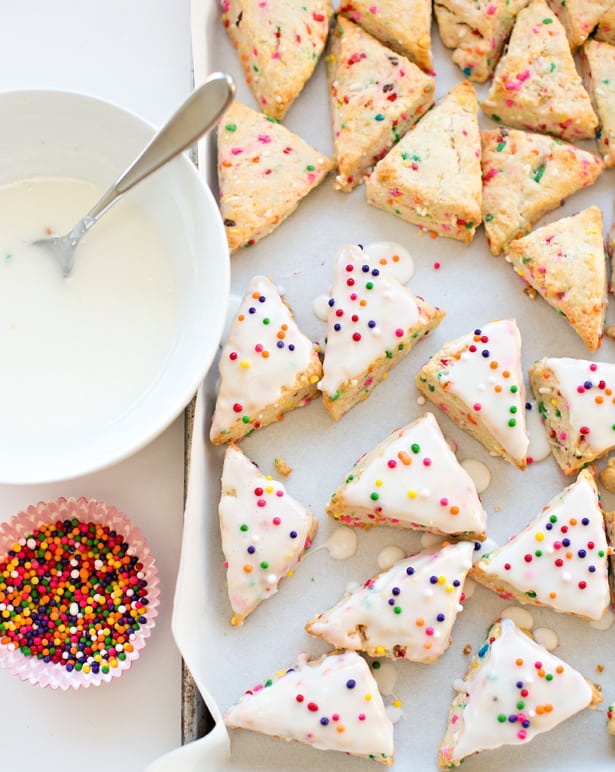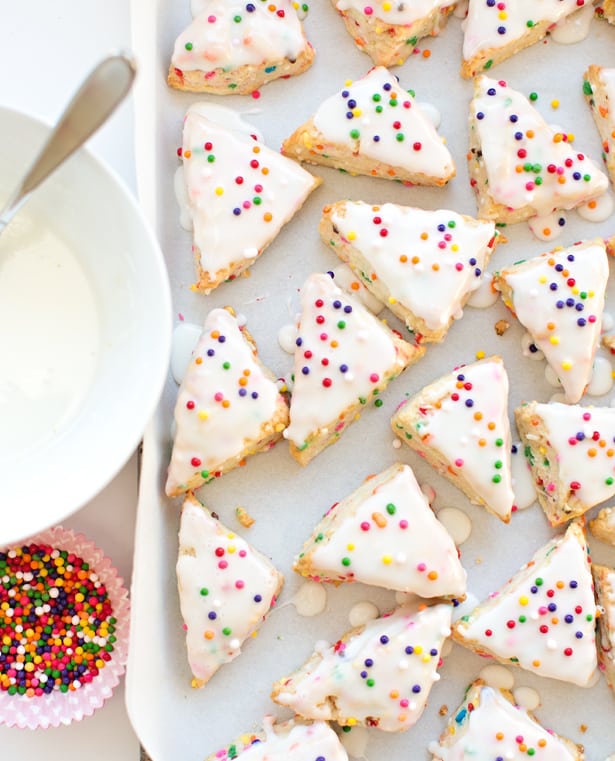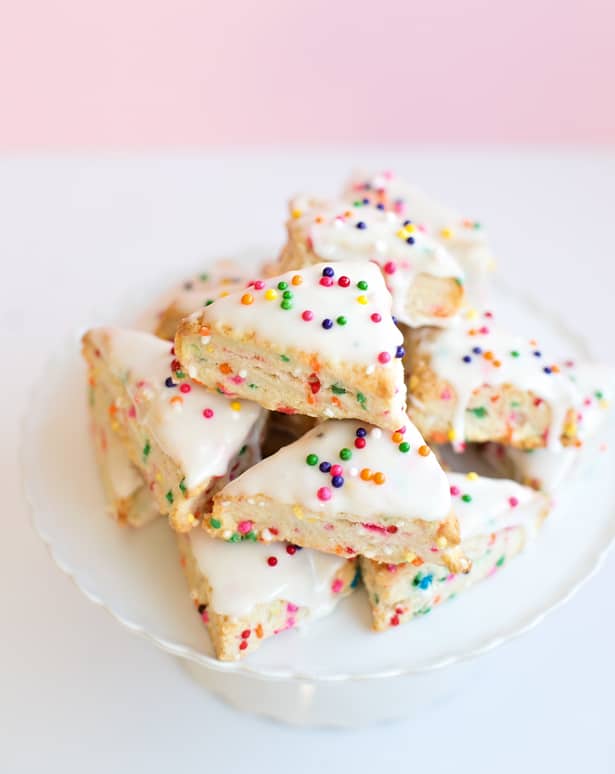 These delicious scones are flaky on the inside and lightly sweetened from the sprinkles and icing. Without the icing they are much less sweet if you're looking for a treat that looks just like a dessert, but with much less sugar.
The mini size is just perfect for little hands to consume!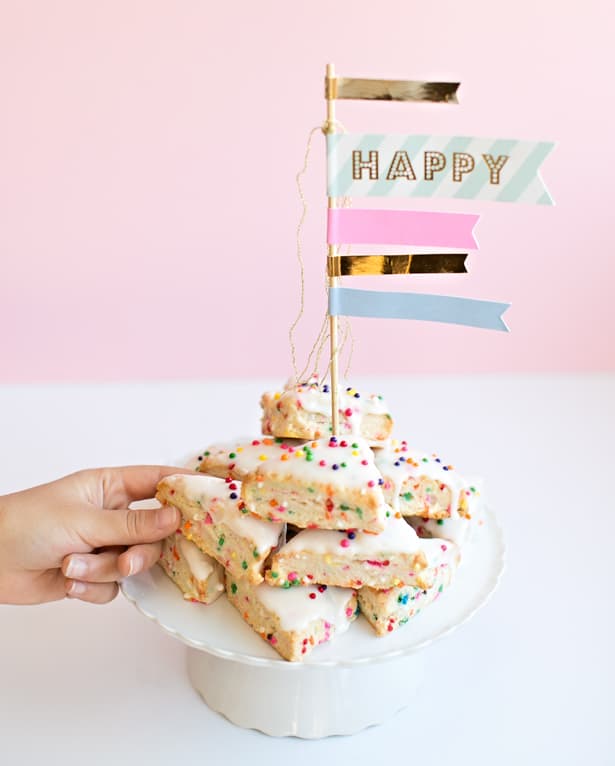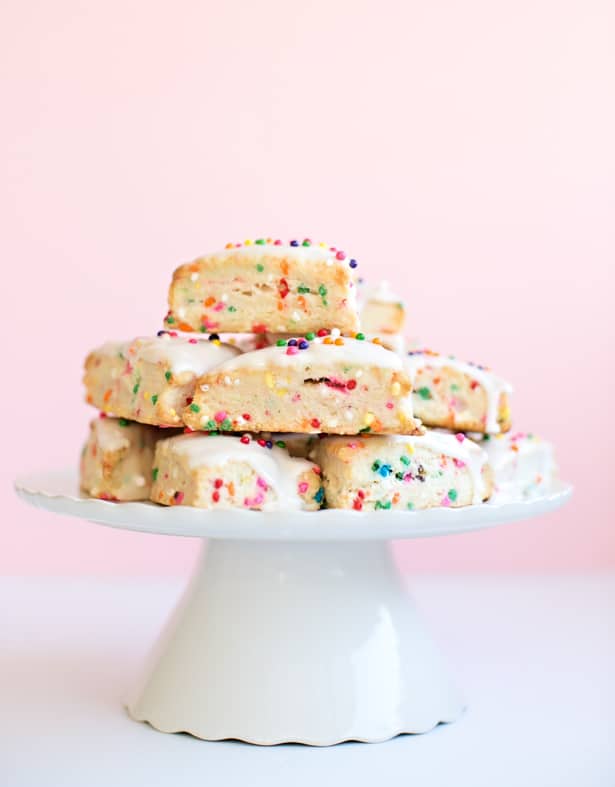 What are your favorite party treats for kids? Check out more kid-friendly recipes and celebration ideas for kids.
______________________________________________________________________________________________________

Disclosure: Some of the links in the post above are "affiliate links." This means if you click on the link and purchase the item, we will receive a small affiliate commission. Regardless, we give our promise that we only recommend products or services we would use personally and believe will add values to our readers.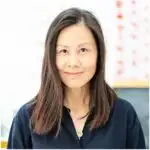 Agnes Hsu is a mom of three and has been inspiring parents and kids to get creative with easy activities and family friendly recipes for over 10 years. She shares her love for creative play and kids food to her 2MM+ followers online. Agnes' commitment to playful learning and kindness has not only raised funds for charity but also earned features in prestigious nationwide publications.