I'm slightly obsessed with getting my daughters into small worlds. I love the idea of these mini worlds that exist only in their imagination. Places where kids can share their secret thoughts, work out their feelings, and just play, play, play. We made recycled small worlds not too long ago in art class and I just love how each one tells a different story. Here's what we did. *This post contains affiliate links. Thank you for your support!
Materials:
– recycled toilet paper rolls, boxes, egg cartons, Cardboard
– soft pastels and oil pastels
– white glue
– pom poms shredded paper or yarn pieces
First we talked about small worlds. It went something like this. "If you could go anywhere in the world, where would you go?" Some kids needed some ideas, like a garden or a fairyland, or maybe the jungle. Where other kids knew right away. "Disneyland!" We talked about what we would do in different places and who we would want to be there. Then I said "What if we could make our own worlds of anyplace that we wanted to?" Everyone got really excited! Then we followed these steps.
Step 1. Choose a cardboard base for everything in your small world to live on. Color it with pastels or other drawing materials. Click here for a full tutorial on how to use pastels with kids.
Step 2. Choose different recycled materials to turn into important buildings in your small world. Toilet paper rolls work really well. We also had some cardboard spools I scored at Trash for Teaching. Color those with your drawing materials. It might be fun to add details first with sharpies and then add the pastels. You can put in windows, doors, etc. Once you are done coloring, dip the recycled materials in a bowl of glue and then set them down on your base. I always encourage kids to count slowly to ten while holding their pieces in place one at a time.
Step 3. Take time to glue on different embellishments for details. Pom poms are always fun. You might want to use gems or cotton balls too. We also dipped these in glue and held them to our worlds for the count of ten. Most of them stuck pretty well.
Step 4. Give your world some really fun character with yarn or shredded paper. It's fun to stuff the paper into the tubes for an extra fluff. No glue necessary. We also tied some ribbon around some of the towers the girls made.
Each world was different and had it's own story attached to it.
Of course, a lot involved Elsa. She pretty much always pops up in my art classes with 3 to 4 year olds. *A Note About Pastels* Pastels can easily rub off your artwork. If you want, an adult can spray fixative to it and it will keep the pastels from rubbing off for better playing.
I definitely recommend making some little friends to use in your imaginary worlds. These pom pom people are really fun and pretty easy to make. In the meantime, you can grab some toy characters from around the house and invite them into your small world. I'm sure they'll want to play. Thanks for reading along and have fun! Meri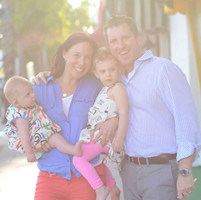 Meri Cherry, yes, that's her real name, is an arts and crafts blogger at mericherry.com. She lives in Los Angeles with her husband and two daughters. Meri works as an art teacher. She is passionate about the process of art, thrift stores, and the Reggio approach to learning.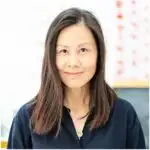 Agnes Hsu is a mom of three and has been inspiring parents and kids to get creative with easy activities and family friendly recipes for over 10 years. She shares her love for creative play and kids food to her 2MM+ followers online. Agnes' commitment to playful learning and kindness has not only raised funds for charity but also earned features in prestigious nationwide publications.