Hi Everybody. I'm so happy to be back on hello, Wonderful today. Last time I shared how to make clay bird nests with your little ones. Today I am going to share how to make rainbow pinch pots, a great color sorting activity you can try with toddlers on up. Pinch pots are a classic process you can do with all sorts of clay. Read on to see how these pinch pots were made and how you can use them for all sorts of learning and play possibilities.
*This post contains affiliate links. First, you will need one of my very favorite art supplies, sculpey. Sculpey is a polymer clay that hardens after baking. It's well worth the purchase price and as I always say to my students, a little goes a long way. Once you have your sculpey, take a little piece, about half a bar, and knead it. Kneading means moosh it all together over and over until the heat from your body softens the clay. Roll it into a ball and set it on the table.
Push your thumb into the top of the ball, leaving a big hole. Make sure not to press your finger down so far that you break the clay. Once you have your thumb hole in the center of the ball, your going to pinch with your thumb and pointer round and round to start to make a bowl shape in the clay. Use your fingers to smooth out any bumps. You can stretch out the sides so that it's a flatter shorter bowl, or leave them upwards, so it's more of a cup shape. It's up to you. I flattened mine so I could print the names of the colors with these super cool little alphabet stamps.
Once you have all your pinch pots ready, set them in the oven. Directions are on the back of the sculpey box. Every oven is different so keep an eye on them so they don't burn. Once sculpey is baked, it's forever hard. These are sturdy little pinch pots, which is great if you'll be using them with your toddler.
My kids may be a little young for making the pinch pots (ages 2 and 3) but they are just the right age for color sorting. I set out the rainbow pinch pots on a tray with a bunch of beads, pom poms and alphabet letters and watched as they had a ball finding the right color bowl for each object.
My three year old is just starting an interest in the alphabet, so she tried matching some of the alphabet beads to the letters on the pinch pots. It was great. This is a perfect project if you have multiple age kids. The oldest can make the pinch pots and the younger ones can do the sorting. You may want to try setting up a tray with tweezers, pom poms or other rainbow objects and the pinch pots.
Kids can practice their fine motor skills with the tweezers by placing the different objects in the pots with them. This was a favorite when I taught kindergarten. These tweezers are made for kids and regular blunt ones are also really great. Happy sorting everyone and thanks for reading along.
Meri Cherry, yes, that's her real name, is an arts and crafts blogger at mericherry.com. She lives in Los Angeles with her husband and two daughters. Meri works as an art teacher. She is passionate about the process of art, thrift stores, and the Reggio approach to learning.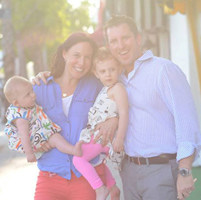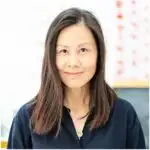 Agnes Hsu is a mom of three and has been inspiring parents and kids to get creative with easy activities and family friendly recipes for over 10 years. She shares her love for creative play and kids food to her 2MM+ followers online. Agnes' commitment to playful learning and kindness has not only raised funds for charity but also earned features in prestigious nationwide publications.