Who doesn't love the smell of fresh cinnamon rolls baking in the oven? If I could, I'd make these delicious sweet rolls every day. As a busy mom though, it's hard to justify the time spent making homemade rolls entirely from scratch.
Here's an easy shortcut using ready made pizza dough! You'll still get the bread like texture of cinnamon rolls in about half the time. These pizza dough cinnamon rolls take about 20 minutes to prep and 35 minutes to bake up. Which means homemade cinnamon roll flavor wafting through your kitchen in just about an hour's time.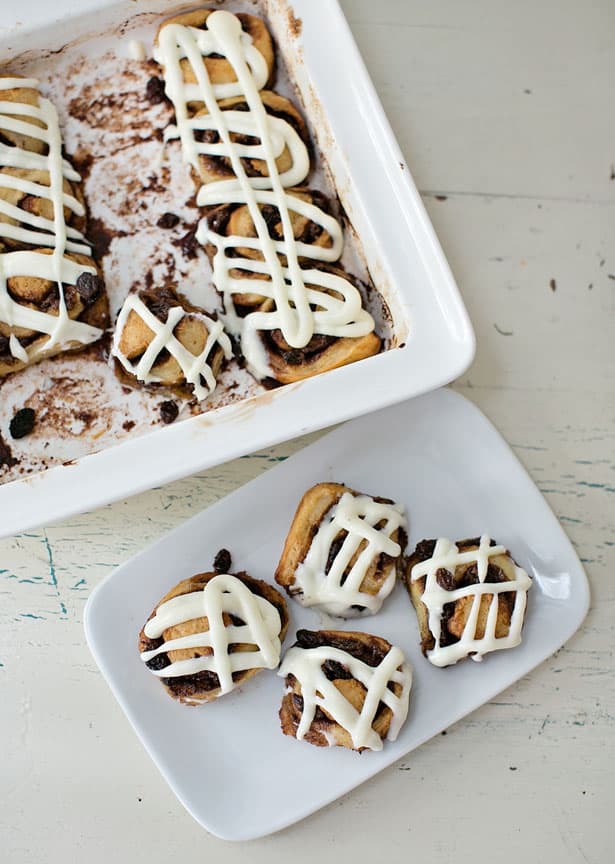 Pizza Dough Cinnamon Roll With Cream Cheese Icing – Ingredients:
– Ready made pizza dough (I love Trader Joe's, found in the refrigerated section)
– Flour for dusting
– 6 + 2 Tbsp softened butter, divided
– 2 Tbsp cinnamon
– 6 Tbsp brown sugar
– 1/ 2 Cup raisins (optional)
Cream Cheese Icing:
– 4 oz softened cream cheese
– 1/2 Cup powdered sugar
– 1 Tbsp milk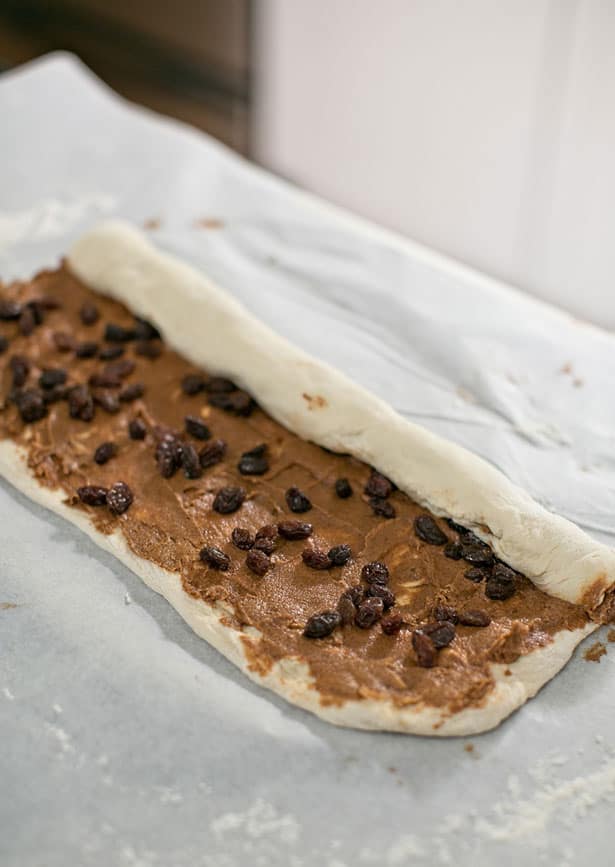 Steps:
(preheat the oven to 375 degrees and grease a 9 x 9″ pan, set aside)
1. If you have time, let your pizza dough rest at room temperature for about 30 minutes, this makes it easier to roll out.
2. Mix 6 Tbsp softened butter with brown sugar and cinnamon.
3. Dust a clean surface with flour and roll out your pizza dough (adding more flour as necessary) to about a 14″ x 9″ rectangle.
4. Spread the cinnamon/sugar/butter mixture over your pizza dough from edge to edge. Sprinkle raisins over if you are using.
5. Roll the pizza dough into a log away from you. Cut in half, then cut each halves into 6 rolls. You should have a total of 12 rolls.
6. Place each roll into your 9 x 9″ greased pan. There should be some room between the rolls to allow them to rise in the oven. Bake for about 35 minutes or until golden brown.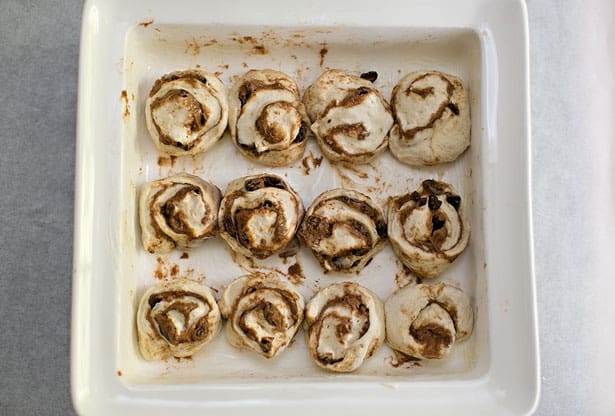 Rolls about to go in the oven. These were so easy to assemble and simple enough for young children to help. My five year old daughter had fun spreading the cinnamon sugar butter and sprinkling the raisins.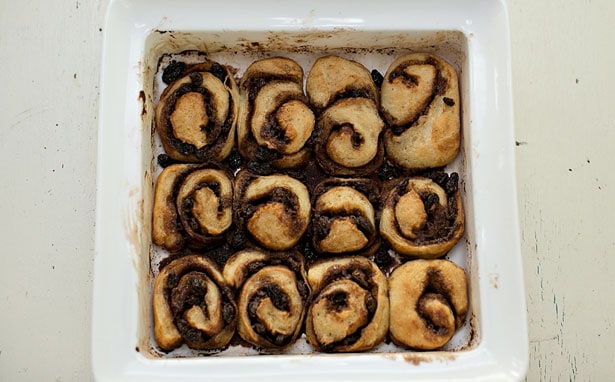 Fresh out of the oven and golden brown. I wish I could bottle the smell – the whole kitchen smelled divine.
While the rolls are baking, you can prepare your cream cheese frosting with takes all about 5 minutes.
Cream Cheese Frosting – Steps:
1. Mix the softened cream cheese with powdered sugar and milk until you get an icing consistency. If it's too thin, add more powdered sugar, if too thick, add more milk.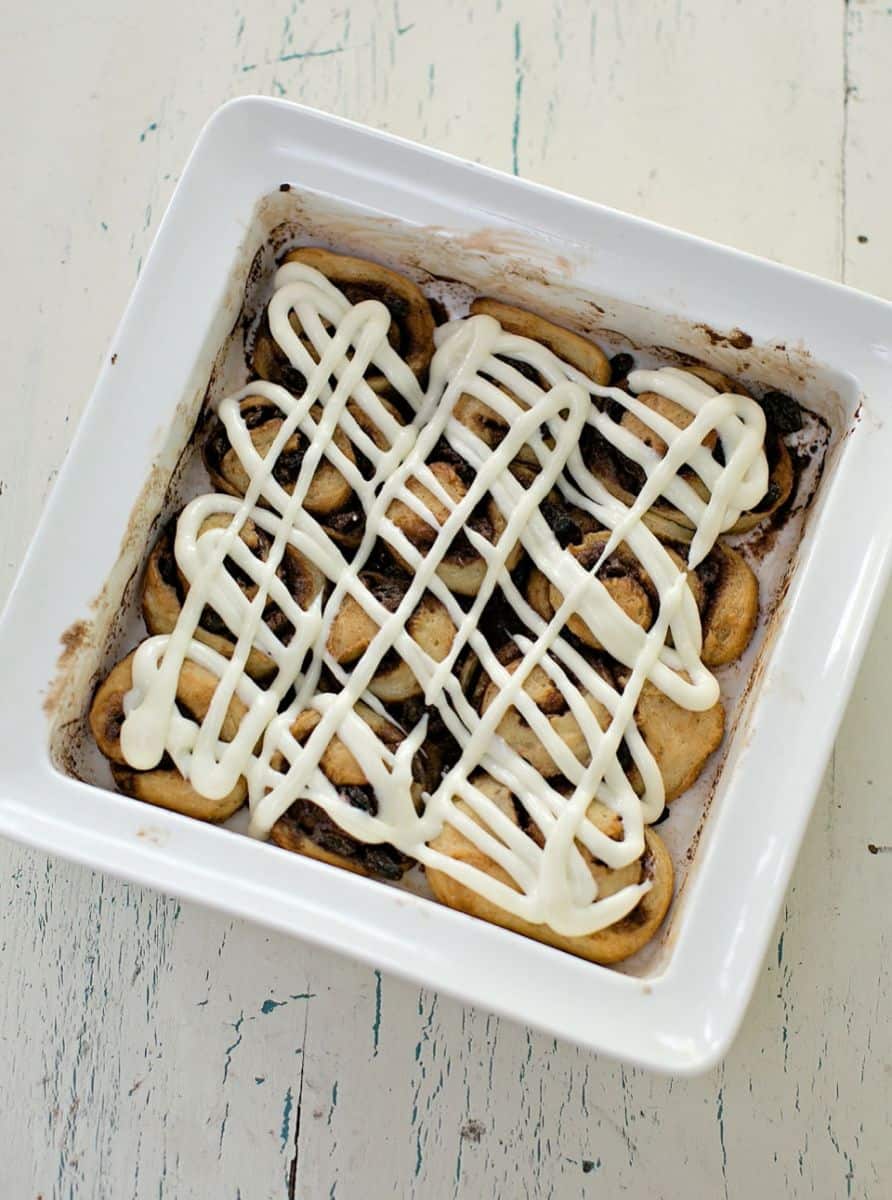 You can add the icing when the cinnamon rolls are cooled for a bit but still warm. We decided to place our icing in a plastic zipper bag with the end snipped off to drizzle over the rolls. Or you could easily just spread the frosting over with a knife or spatula.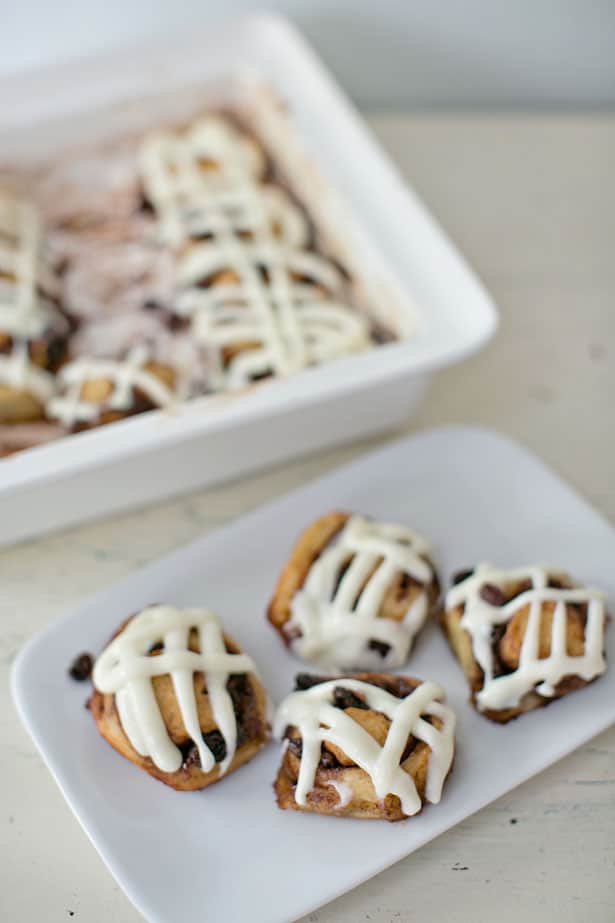 I'm sure you're wondering, do these taste like pizza? No, they actually don't. More like a buttery, cinnamon bread. These were delicious and for the little amount spent on them, totally worth making if you want to get your cinnamon roll fix!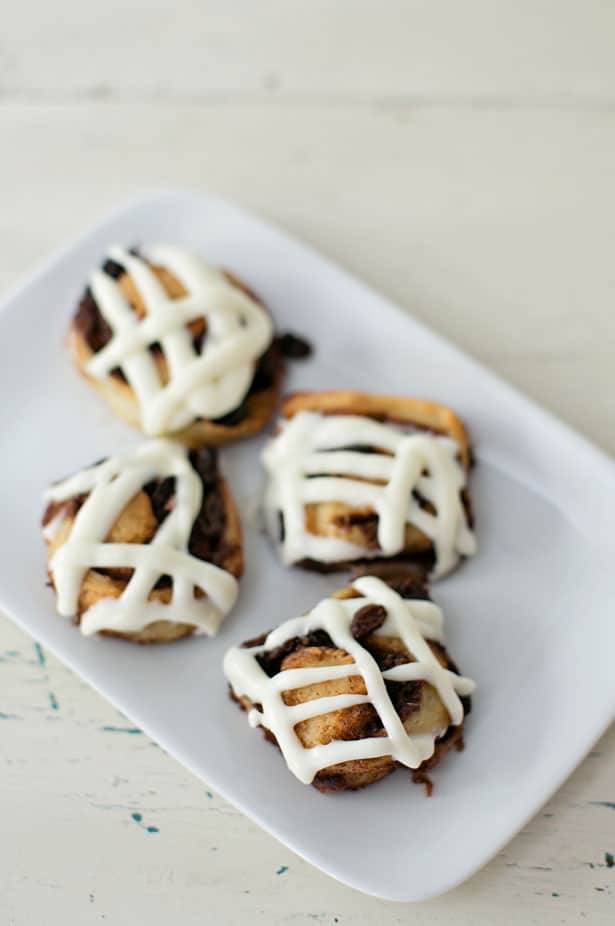 It was hard to stop eating just one of these delicious rolls. And as if I didn't already love ready made pizza dough, I now have a newfound respect for it. Fun for the kids to eat and easy for them to make, you have to give these cinnamon rolls a try!
What are some of your favorite ways to make cinnamon rolls?