I'm so excited to introduce you today to Michelle McInerney as our next Maker Mom who is the superstar crafter behind MollyMoo Crafts. Michelle hails from Ireland and is a graphic designer by trade, but a true craftaholic all around. Her vibrant blog is filled with adorable ideas for kids and parents to make together. Michelle is a pro at taking simple materials like paper tubes and creating toys to bring story telling alive. She's also a whiz at taking a plain cardboard box and creating magical play scenes with it. I adore her playful design aesthetic and know you will too! Welcome and thank you Michelle!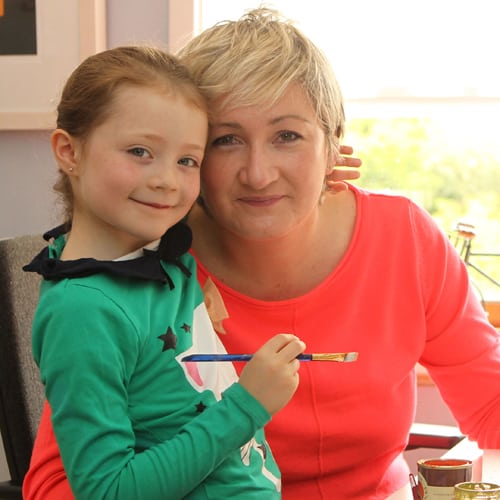 Please tell us a bit about yourself and your blog.
I am Michelle McInerney (pronounced mac e-ner-nee!) from http://mollymoocrafts.com/MollyMooCrafts – a blogger and freelance craft writer. A mom first and foremost to a beautiful and loving girl called Molly, I live in the west of Ireland, where I run my own graphic design and web design business… or rather the business runs me!!. MollyMoo blog was born out of a love of my creative time with my daughter, recording and publishing the step by step in the hope that friends and fellow moms might be inspired by the ideas and have fun making and creating in their homes too.
What are your tips on getting creative with kids?
My daughter is now 8 and when she was younger her sleeves were rolled up to make everything and anything at any time. I think through the camera clicking a little more than she would like (!) she felt a little overexposed and shied away from crafting with me for a while. So I just left the door open to the craft room as an open invitation to her instead, and left it to her to decide the when and what, and as a result she now initiates, creates on her own, the materials are all there to use as she wishes (providing she cleans up after herself of course ). I love nothing more than to get up on weekend mornings and find her 'making me something.' xx
Where do you draw your creative inspiration?
As a graphic designer I find it hard to switch off because design, packaging, typography, clever ad campaigns are everywhere, every second of the day inspiration can pop up in front of you when you least expect it. Everything can light the bulb, from a character in one of my daughters books, a soft toy, an illustration, the shape of a building. I just have to have the sketchbook ready or the idea will flitter away just as quick – I have a head like a sieve!!
What are a few of your favorite activities that you've done with the kid(s)?
Anything to do with a cardboard box really. I just love making from cardboard: cardboard box aquarium, cardboard pirate ship, box spiders, shoebox pretend play school, cereal box notebooks, shoebox dollhouse.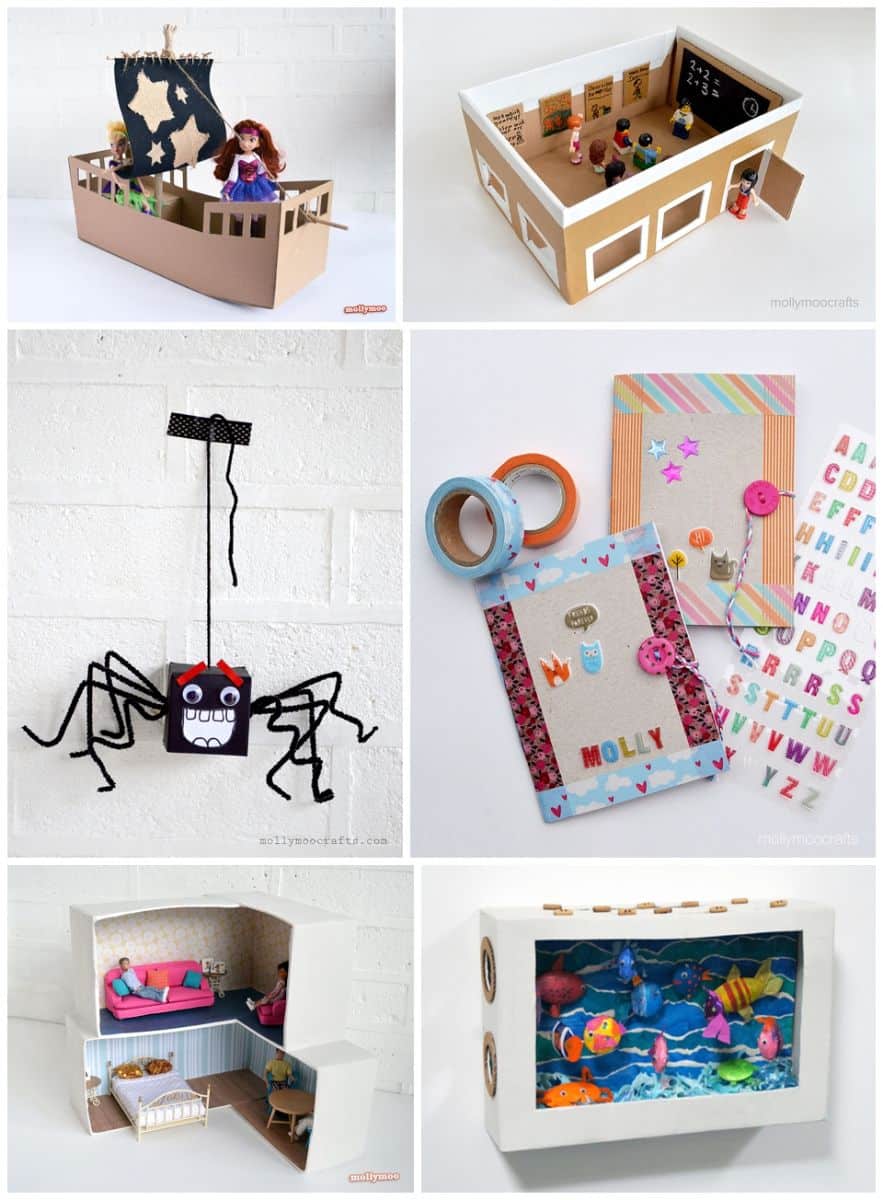 1. Pirate Ship; 2. Pretend School; 3. Spider Box; 4. Cereal Box Notebooks; 5. Doll House; 6. Aquarium.
I also love crafting with toilet roll cores/paper tubes, my favourites being toilet roll cats, bats, planes, owls, yarn wrapped bracelets and even minions! My love of recycled crafts is also evident over on KidsActivitiesBlog where I have shared how to make a simple toilet roll rocket, city stacking toy, fun wiggle octopus and ninjas.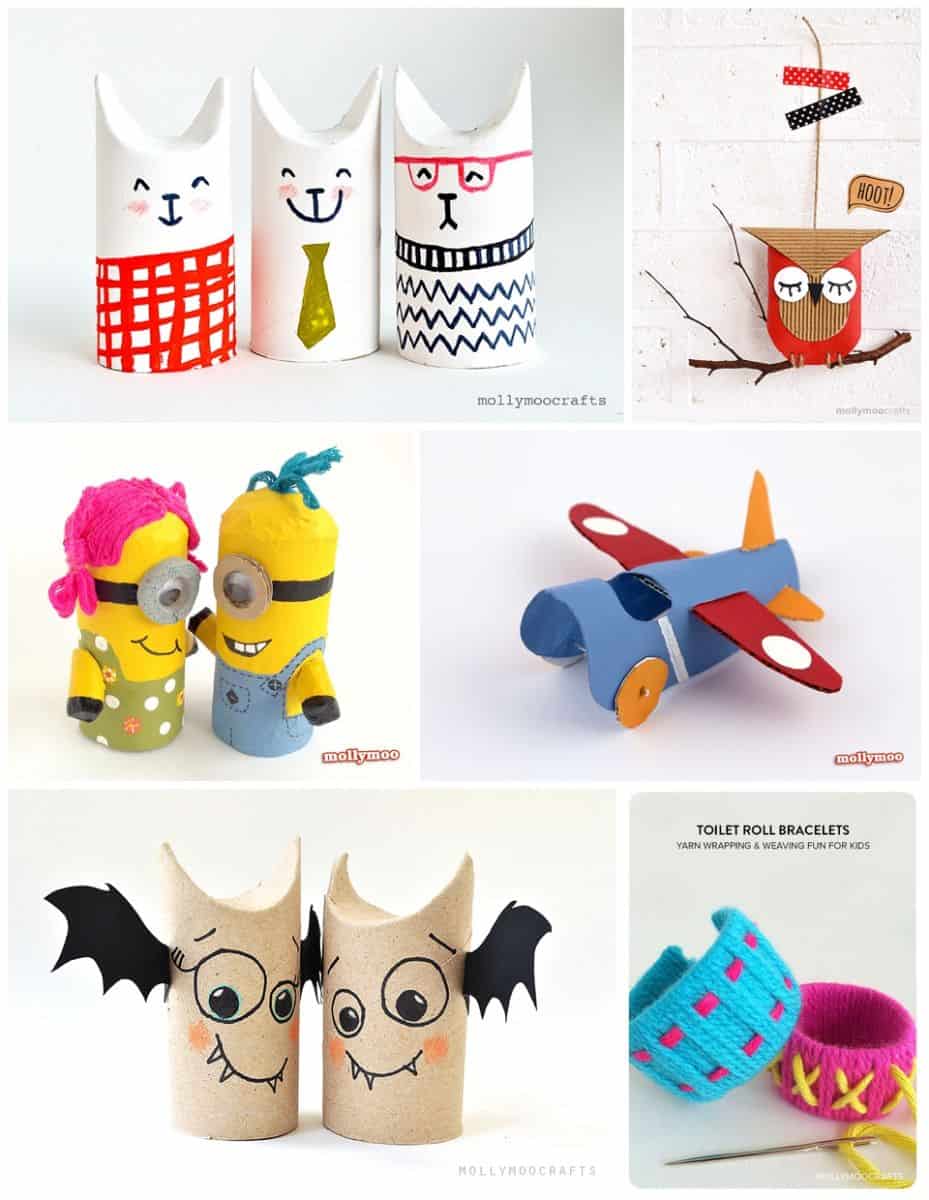 1. Cats; 2. Owl; 3. Minions; 4. Planes; 5. Bats; 6. Yarn Bracelets.
I also love pom pom crafts, and love nothing more than seeing Molly get all tangled up as she makes them – my favourites made to date are pom pom hedgehogs, pom pom and bead birds, snowball sweethearts and a pet pom pom bee!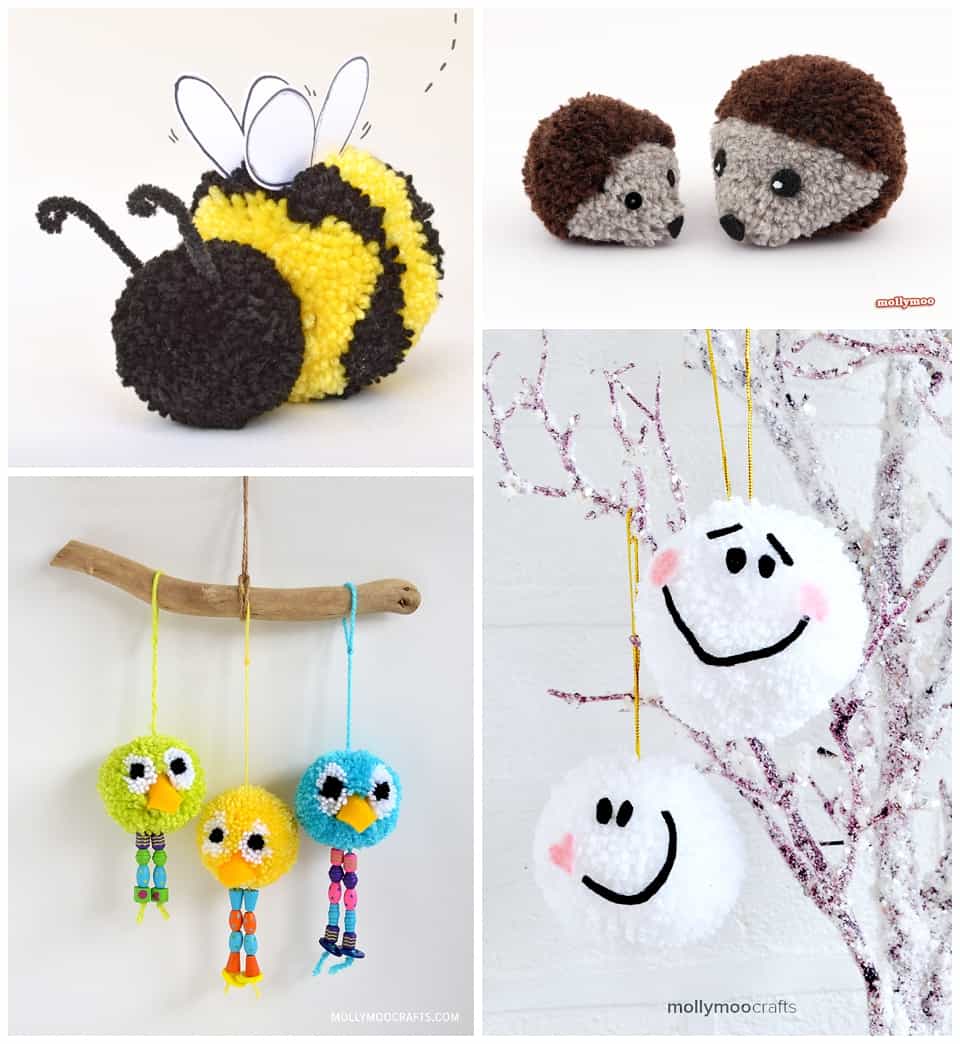 1. Bee; 2. Hedgehogs; 3. Beaded Birds; 4. Snowball Sweethearts.
And finally I guess I have to include my love of handmade toys, particularly pocket dolls made with wine corks. You can have great fun with simple painted winecorks, (my local Italian restaurant always keeps bags of corks for me) winecork superheros and sidekicks, wine cork animals, a circus troop, wine cork fairy, wine cork bunnies, Halloween wine cork characters.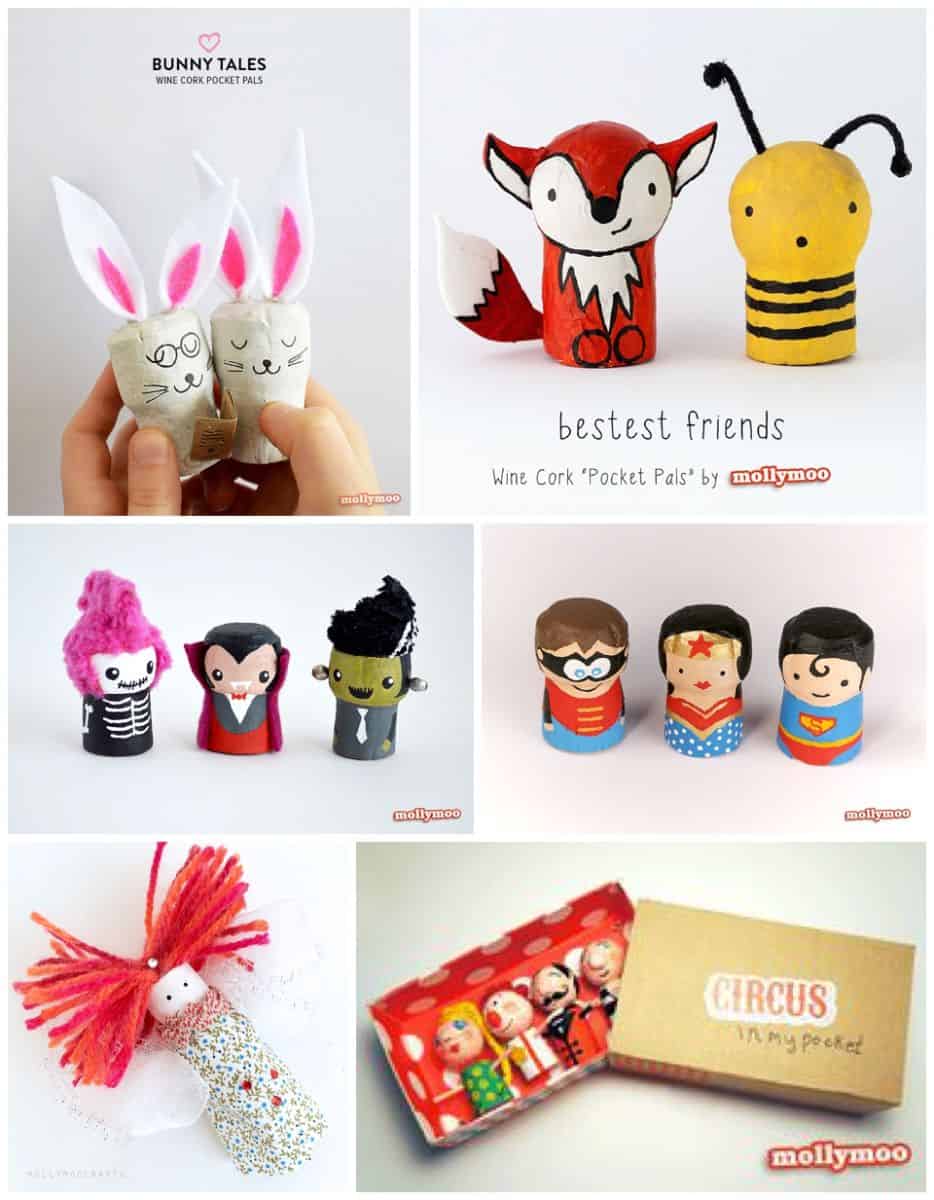 1. Bunnies; 2. Animal Pals; 3. Halloween; 4. Superheroes; 5. Fairies; 6. Circus.
If you were stuck on a desert island with the kid(s), what crafting materials would you absolutely need to have?
Cardboard boxes, toilet roll cores, a sharpie, duck tape and a knife I think!
And because we love books and are always looking for good recommendations, what are some of your favorite children's books?
El Deafo by Cece Belle is No.1, the cream of the crop, THE most gorgeous book you could gift your child. We adore this book so much in our house I had to write about it here.
Another gem is If I Wrote A Book About You, illustrated by Denise Homes. Honestly I bought this book for myself it was that gorgeous. The mother/daughter bond in the book just 'gets' me and my sensitive little tear ducts!!
My favourite extract from the book is:
"If I wrote a book about you….. and how wonderful you are, I would write it everywhere
I would write that you are lovable in the freckles on your face…
And in the wrinkles on mine I would write that you are loved."
Last, who are some of your favorite bloggers or maker moms who inspire you?
Oh how do I keep this list short, there are so many truly talented moms that inspire me every day!
– Stacy Teet of KidStuffWorld, such a supportive blogging friend and pinterest queen
– Caroline Gravino of SalsaPie, love this lady to bits.
– Leslie Manlapig of Pink Stripey Socks, just awesome #creativemama.
– Mari Richards of SmallForBig, I just love her style and design eye. She's the curator of awesome.
– Rachel Faucett of Handmade Charlotte, I can't get through the day without a HC fix xx my go-to blog.
– Jennifer Cooper of Classic Play, a style goddess in my eyes xx.
Thank you so much Michelle, for sharing a bit about your creative process. Your blog is like craft heaven for kids (and adults)! I love your approach of taking the simplest materials and recycling them into something truly magical. Oh and side note, I also have the the book "If I Wrote a Book About You" and it's one of my favorites to read to my daughter. Gets me sappy every time 🙂 Thank you again for stopping by and visiting with us!
To get Michelle's latest creative projects for kids, make sure to follow her on Facebook, Pinterest, Twitter and Instagram.
P.S. If you'd like to be featured as a Maker Mom, please drop us a note here!