Meet mom of two little ones, Laura Marschel, creator behind the super cute blog Lalymom. You'll first notice Lalymom's motto which is "home with two, creativity will brew!" This pretty much sums up the awesomeness of Laura's blog which is chock-full of fun, interactive and easy crafts for kids, especially toddlers. There's a good amount of learning activities as well, with an impressive focus on fine motor skills. You'll also find cool DIY toys you can make with simple craft materials, or what you have on hand in the home.
Thanks for stopping by Laura and sharing with us your tips on playing creatively with kids!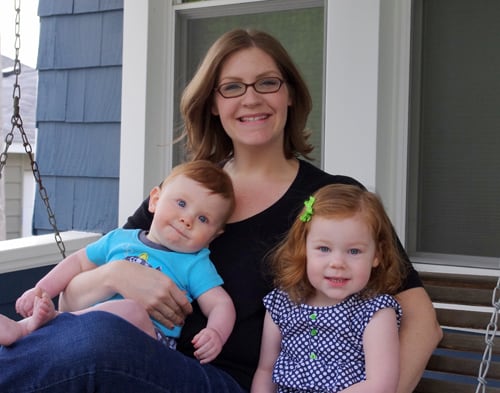 Please tell us a bit about yourself and your blog.
I'm Laura from Lalymom. I'm a Chicagoland stay at home mom to two super cute redheads. I blog about activities, toys and crafts I make with my kids. Or *for* my kids- sometimes I don't need their help until it is time to play!
What are your tips on getting creative with kids?
Try to imagine each craft or activity through their eyes…everything is new and awesome when you're a kid! Be patient and allow them to explore the materials and process rather than focus too much on specific results.
Where do you draw your creative inspiration?
I am inspired by my kids' interests… and their interests often surprise me. If you ask your kids questions about what they see in the world, what they like, etc, you might find something totally new and unexpected to explore.
What are a couple of favorite activities you've done with the kids?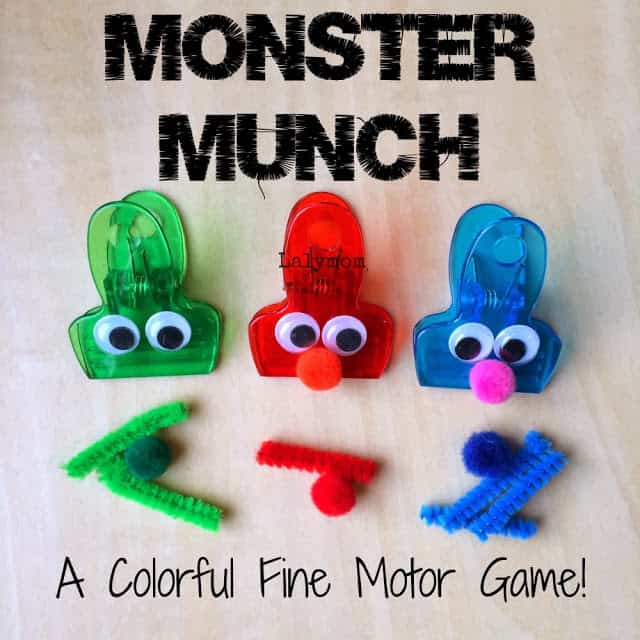 Monster Munch is a super fun game that was part of my Fine Motor Friday weekly collaborative series. It uses dollar store chip clips to make Muppet-like monsters for all sorts of games. My daughter's fingers get a lot of exercise playing with them!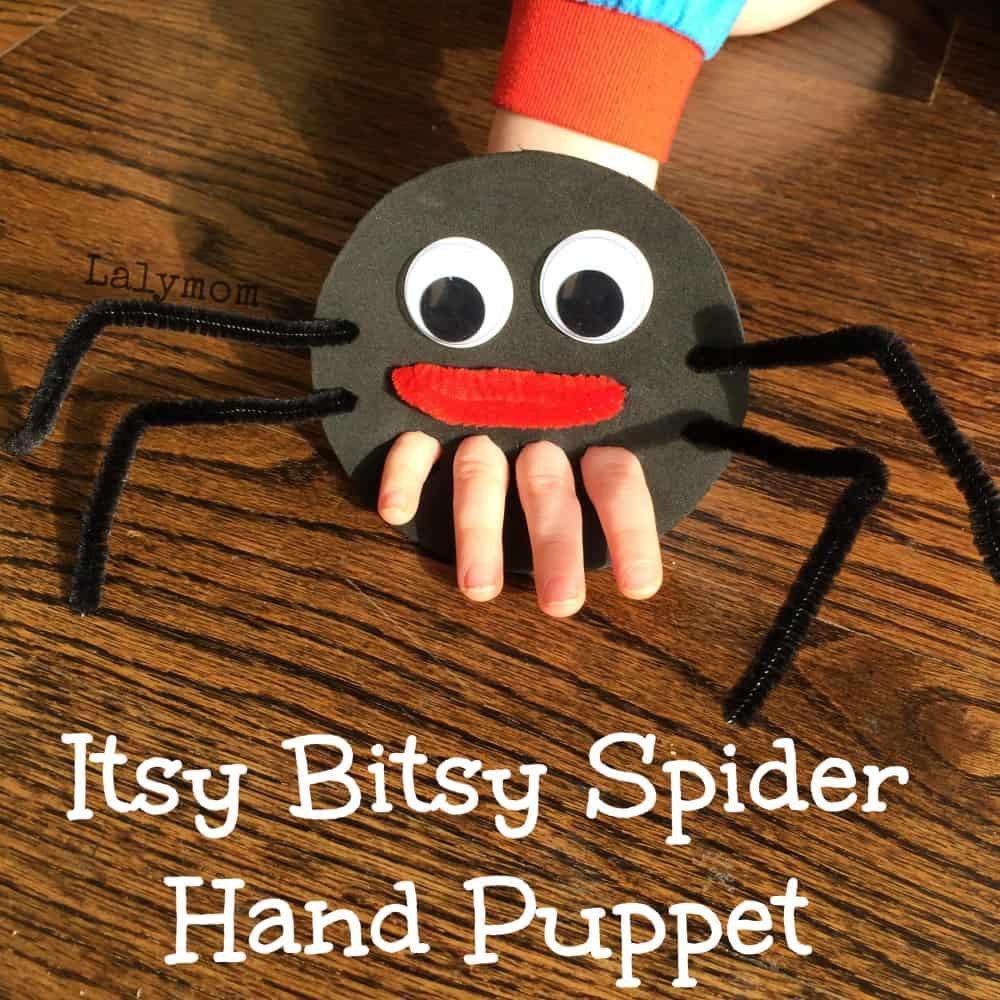 This itsy bitsy spider hand puppet is incredibly easy to make and was a favorite of a three year old boy who is a friend of ours. He also happens to be obsessed with Spider Man, so there was kind of a theme. 😉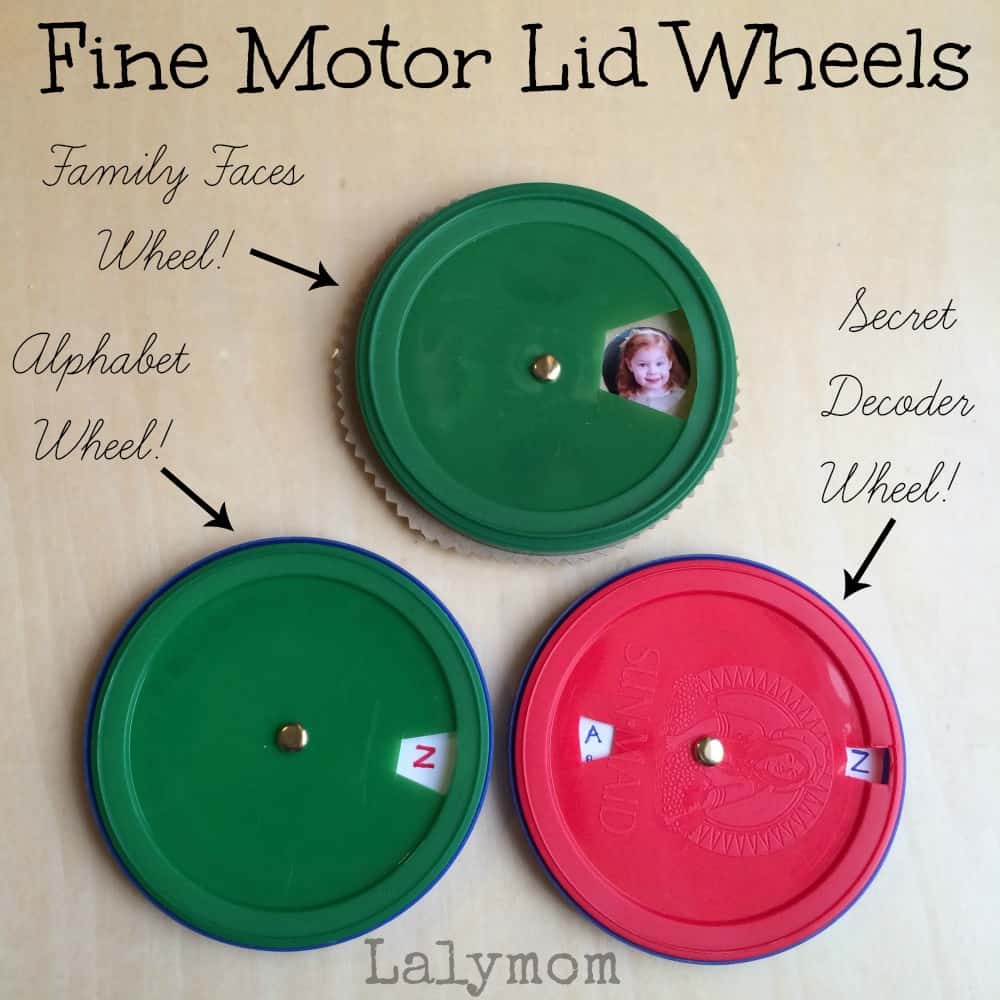 These paper and plastic wheels were designed specifically for my toddler son who loves to tinker and figure things out! We have a board book with a spinning wheel and he could do it all day so I wanted him to have a more personalized version!
If you were stuck on a desert island with the kids, what crafting materials would you absolutely need to have?
It sounds boring but construction paper! I love folding up different things, and ripping and cutting with the kids.
And because we love books and are always looking for good recommendations, what are some of your favorite children's books?
Giraffe and a Half by Shel Silverstein
Press Here by Herve Tullet
Miss Suzy by Miriam Young
You Are My I Love You by MaryAnne Cusimano
Last, who are some of your favorite bloggers that inspire you?
George Bomer from Craftulate
Nicolette Roux from Powerful Mothering
Dyan Robson from And Next Comes L
Thank you so much Laura, for sharing your creative approach with kids! You can instantly tell how much fun your kids are having and it's so wonderful for you to share their love of learning and playing with others. I love your thematic approach to crafts and activities, like the Itsy Bitsy hand puppet. And your imaginative take on making things that specifically fit your child's interests (and make it a fun learning tool as well)!


Visit all of Laura's creative projects over at Lalymom and follow her over on Pinterest, Facebook and Twitter to get the latest updates!


P.S. If you'd like to be featured as a Maker Mom, please drop us a note here! We'd love to hear from you.