I'd be surprised if you haven't already heard of Willowday, a beautiful blog full of artful and and unique ideas. Mom of three, Gina, is the creative force behind Willowday, recently named one of the top 10 craft blogs to follow in 2015 by Yahoo. She also happens to be one of our contributors and I'm proud to also call her a friend and introduce you to her today as our next Maker Mom!
Willowday is filled with beautiful, simple ideas, sprinkled with Scandinavian aesthetic, as Gina hails from Sweden. What I love about perusing Willowday are the many projects kids and adults can enjoy making together. You'll be hooked on Gina's gorgeous photography and simple tutorials, but what will get you coming back is her voice. Gina's genuine words and warm heart touches the pages as you follow along and get a glimpse into her charming life. You get the sense a friend is with you along the way, and it truly inspires you to create with the kids.
Thank you and welcome, Gina!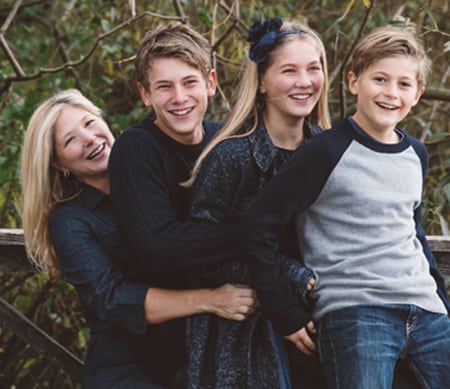 Please tell us a bit about yourself and your blog.
Thank you for inviting me here to join you. There are two things about me that I know to be true: 1. I'm passionate about kids and creating with and for them. 2. My family motivate + inspires me constantly.


While it's easy to imagine that my name is Willow, my "willow" life actually began on the day that I got married, moved to Sweden, and took my Swedish/French husband' s Swedish last name, which sounds to me, like the word for "willow." My first name is Gina and to add to the story: my Scandinavian appearance means people assume that I'm the "true" Swede rather than my Swedish husband; who's actually 1/2 French.
I was born in the U.S. to a happy, creative, family with a love of travel and of a very Scandinavian heritage which even included a Great-Grandmother who could still speak fluent Norwegian at 104 when she met my soon-to-be-husband. My parents instilled everyday imagination and were role models who let me believe anything was possible. My mother set up the creative home and shared her abilities and imagination with myself and my siblings. One of my favorite things to do with my little brother and sister, as a child, was to dance next to or sit on top of our upright piano, as she played songs and sang for us on the piano painted bright yellow in the 70's. My mother also taught me how to sew, bake and cook; and then, later, entitled me to wield knives to cut through paper cartons to eventually create a 19 room Barbie Doll House that took over a corner of our play room.
This Willowday story is now unfolding itself in Sweden and grows daily from our eclectic Swedish, French, American home; between the city and the sea, where I live with my husband and our 3 children who inspire and motivate me daily. (The kids would add our dog to this list, too!) I'm hopelessly addicted and influenced by all of them. (I promise, no tests on these details.)


When you come visit us as Willowday, you'll often find us creating around our kitchen table which doubles as both an art studio + kitchen table. We make and share simple projects that we've created with our own two hands, for you to make with your own two hands, too. I share on Willowday with hopes to inspire everyone, everywhere, to find inspiration for an artful everyday.


I've studied art in a BFA program and after graduating, I've worked continuously as a creative on both sides of the ocean, primarily as a designer and illustrator. I currently freelance which allows me creative flexibility to schedule around the kids and travels. Raising trilingual kids abroad creates a deep interest in language development which led to work as an elementary school English Teacher, too.
What are your tips on getting creative with kids?
1. Have good quality art supplies. Keep them readily available and easily accessible. If the supplies are in cupboards, it makes spontaneous creation less likely. If you're lucky enough to have an area with open shelves for storage, wonderful; but, you can also solve this by filling a small, transportable, cart filled with the essentials or by pulling out supplies regularly and setting up a workspace, as an invitation for the kids to play + create.


2. Think outside the box. Keep it simple. Don't over complicate.

I find that if you just take a moment to look around there's often something creative waiting to be found and shared, such as: a walk and gathering flowers, sticks or leaves that can later be turned into meaningful art projects. In the winter, experiment with snow + ice or simply listen to a new piece of music while painting water colours together.


3. Exposure: share experiences together like listening to musicattending a ballet or seeing an exhibit at a museum; visiting a new park, area of your lawn or trying a new food. If it's an interest to you, share it and see where that connection take you.

When it comes to making – whether from the art table or kitchen, I like simple, well-made projects and foods.
Where do you draw your inspiration?
I have a vivid imagination. I wake up and fall asleep exploding with ideas and could be constantly creating. I leave a trail of notes and sketches behind me wherever I go. Like many creatives, I don't suffer from a lack of ideas, but a lack of time.
For me, the kitchen is central and the heart of a family, and therefore, a place of inspiration, too. While I love to cook + bake, I can also be distracted when I have an art project on my mind, but since I'm responsive to my environment and driven to create harmony, happiness, and connection around me, I enjoy being imaginative there. I try to make everything we eat from scratch, expose the kids to new flavours, experiment with lots of interesting, healthy foods and build good relationships towards food and dining. The kitchen is also a place to unite our cultures and share our extended families and stories through the foods we eat that are a part of our stories.
If I lived alone, I'm afraid that I could occasionally paint the day and night away and almost forget to eat or survive on handfuls of nuts + fruit.. and due to this awareness of myself, have an appreciation for the touch-stone of my husband's French-influenced reverence and relationship to food that is essential in our house and filled with creativity.
What are a few favorite activities you've done with the kids?
In the winter, I love to have the kids make Ice Lanterns, have winter picnics or just cut and fold a Paper Snowman or Paper Garland inside and enjoy meringue Snowmen.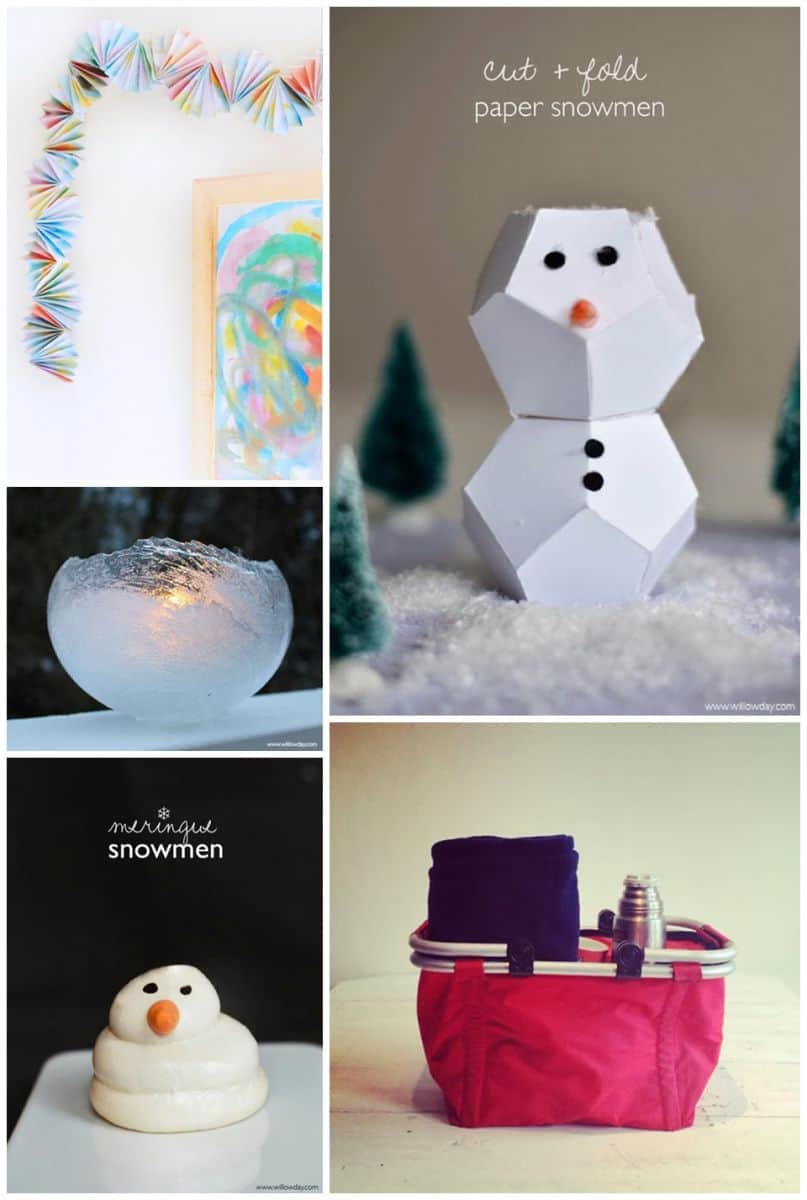 1. Paper Fan Garland; 2. Paper Snowmen; 3. Ice Lanterns; 4. Meringue Snowmen; 5. Winter Picnic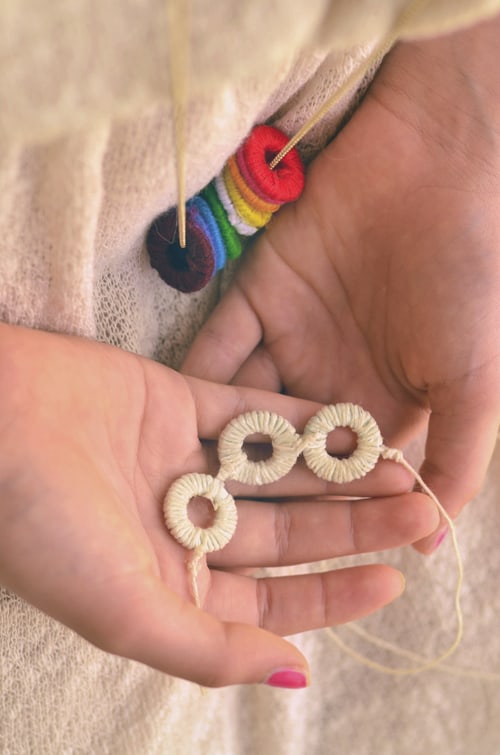 Another one of my favorites is this upcycled washer necklace project which encourages kids and adults to create side by side.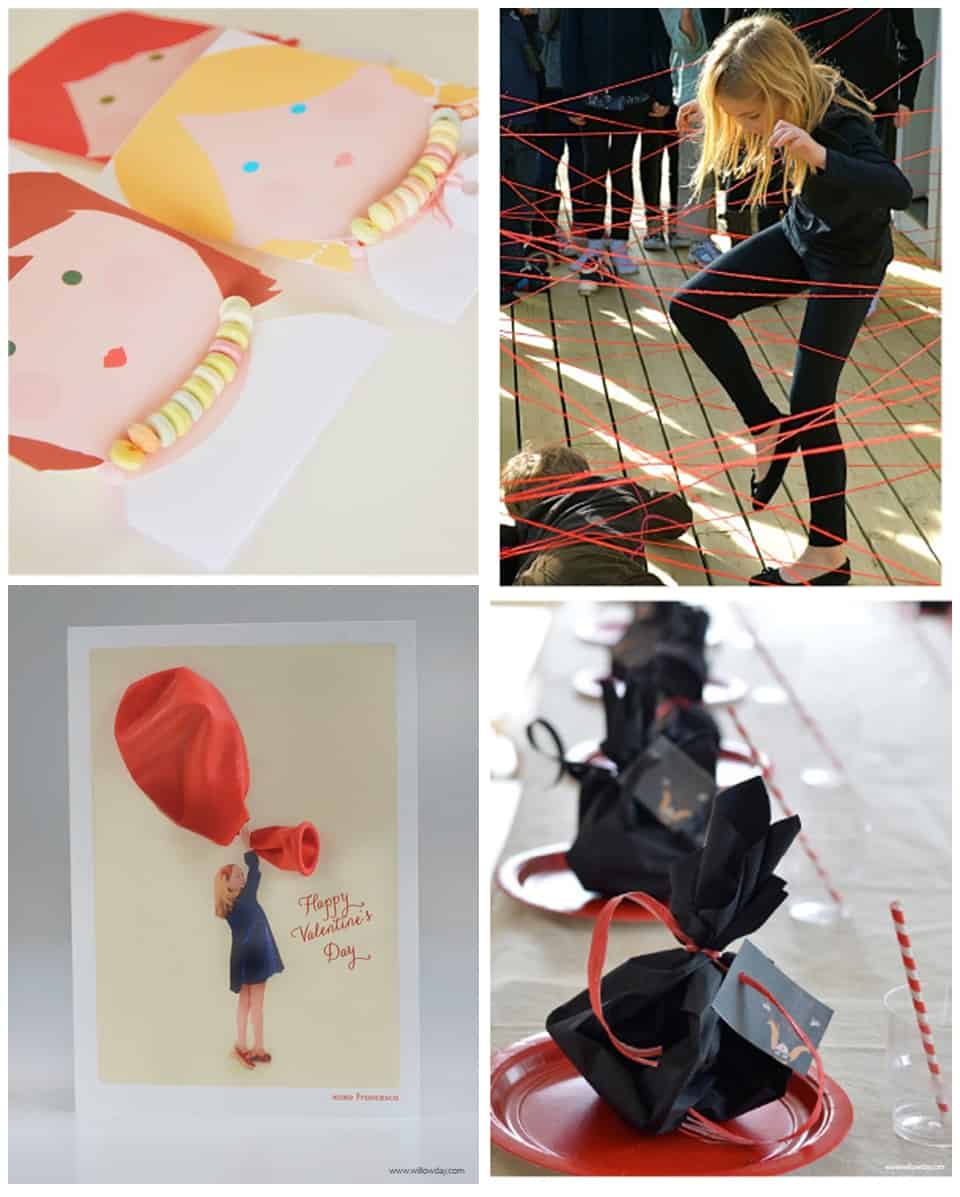 I also love making dual purpose cards with the kids, like these Candy Necklace Cards and these 3D Balloon Valentines. This spy party is a thrill for both boys and girls and perfect for making a Yarn Labaryinth.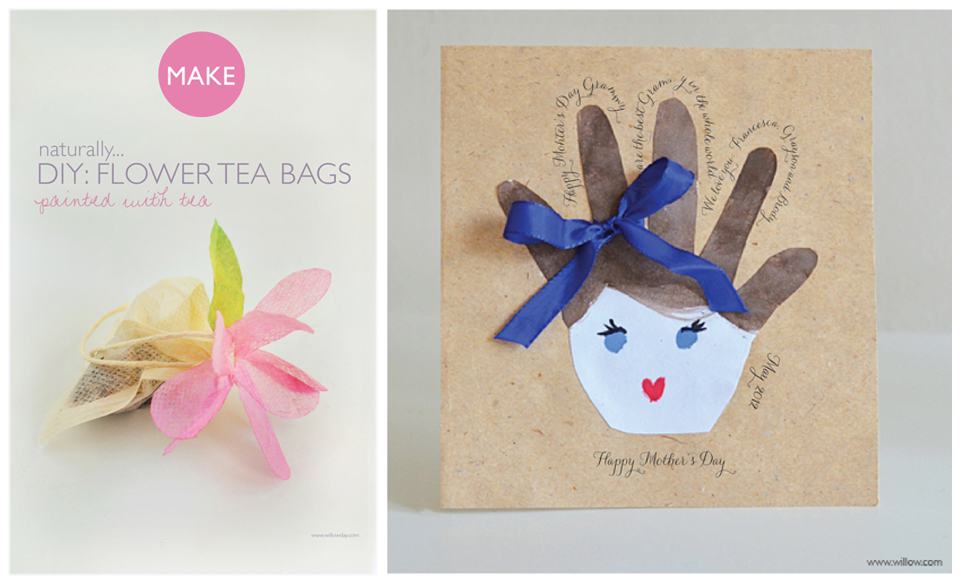 Here is a flower tea bag gift I like to make with the kids and a handprint card.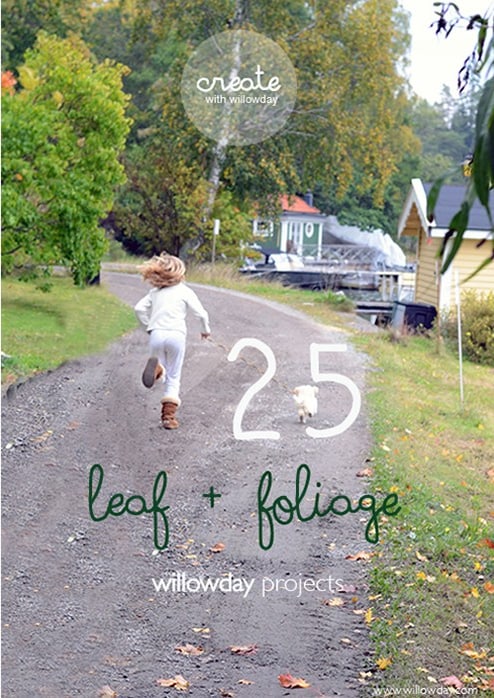 Last, take a walk with the kids and make any of these 25 Leaf and Foliage Projects.
If you were stuck on a desert island with the kids, what crafting materials would you absolutely need to have?
Paints, a huge supply of paper, brushes, scissors + cutting knives,yarn, and glue, pop to mind. However, I get distracted by the images that come to mind when picturing a desert island which make classic supplies less interesting than what I could imagine might be found there (and a challenge) like seashells, coral, sand, palms, sea glass…
And because we love books and are always looking for good recommendations, what are some of your favorite children's books?
Favorite Picture Books:
Good Night Moon
Good Night Gorilla
Harold and the Purple Crayon
Chicka Chicka Boom Boom
Little Bear
Don't let the Pigeon drive the bus
Simon and Adele
Snow, Go, Car, Go, Are you my Mother by P.D. Eastman
Richard Scarry Illustrations
Madeline
The Little Engine that Could
The Little Red Hen
The Snowy Day by Ezra Jack Keats
Caps for Sale, Crictor
Babar by Jean De Brunhoff
The Very Hungry Caterpiller by Eric Carle (and all Eric Carle)
Olivia
Favorite Swedish Picture Books: Elsa Beskow:
The Hat Hut (Hatt Stugan,) The Sun Egg (Sol Ägget,) The saga of the tiny, little, old woman (Sagan om den lilla lill a gumman) Putte's Blueberry Forest Adventures (Puttes äventyr i blåbärsskogen)
Favorite French Book Series:
If you are a French speaker or Francophile, these are a must. The inventive stories are read beautifully by French actress, Marlene Jobert, which are often filled with classical music that become a part of the story. I've long wished this series were translated into English for others to enjoy.
Beautiful series of books with Audio, recorded by Marlene Jobert:The route to the stars (with music by Vivaldi) En route pour Les étoiles: Pour faire aimer la musique de Vivaldi
Panic at the Witches House (Panique Chez Les Sorcieres)
The Boy who Bit Dogs (Le petit garçon qui mordant les chien)
And Classic Père Castor (3 contes du Père Castor à écouter dès 3 ans : Roule Galette ; Poule Rousse ; La plus mignonne des petites souris)
Last, who are some of your favorite bloggers that inspire you?
First, I have to start with Gabrielle of Design Mom because I feel she is such a creative, mother, blogging pioneer and continues to lead the way along with her sister from Oh Happy Day and sister-in-law from Say Yes; Rachel of Handmade Charlotte, too with kids projects. I thank my lucky stars to have had the possibility to work with them both.
If you have young kids, the entire Pinterest Rockin' Art Moms group that I am a part of is a team of creatives with endless ideas and I have to mention, ultra creative, art mom, Meri Cherry who I'm lucky enough to have met and who introduced me to the group.
I always enjoy the modern, stylish, simple makings of Mermag.
Food blogs that I peak into the most are Sweet Paul, Manger for her cake photography, Call Me Cupcake, My New Roots, and 101 Cookbooks.
And last, you! (hello, Wonderfu).
Gina, thank you so much for your thoughtful responses and sharing so many of your favorite projects. It's like eye-candy for creatives and there are so many good ones to choose from! Thank you for sharing your wonderful story and letting us peek into your childhood and present family life. I love your genuine desire to inspire creativity among kids (and grown-ups). Thank you for sharing your daily dose of creativity and passion!
To get Gina's latest creative projects for kids, make sure to follow her on Facebook, Pinterest, Twitter and Instagram.
P.S. If you'd like to be featured as a Maker Mom, please drop us a note here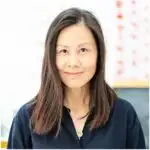 Agnes Hsu is a mom of three and has been inspiring parents and kids to get creative with easy activities and family friendly recipes for over 10 years. She shares her love for creative play and kids food to her 2MM+ followers online. Agnes' commitment to playful learning and kindness has not only raised funds for charity but also earned features in prestigious nationwide publications.