We have an awesome Maker Mom to introduce to you all today! Meet Chelsey from Buggy and Buddy who is a prior teacher. This is evident in her blog which is a treasure trove of creative activities that also foster learning and play. There are tons of fun projects by themes so you can search for what fits your child's interests most. The learning activities offer fun ways to apply literacy, math and science. You can also browse through the great list of free printables that accompany fun projects. Chelsey's also got many wonderful ideas around the themes of outdoor, sensory and toddler specific play.
Read more below to get Chelsey's take on how she draws inspiration for learning and playing creatively with kids!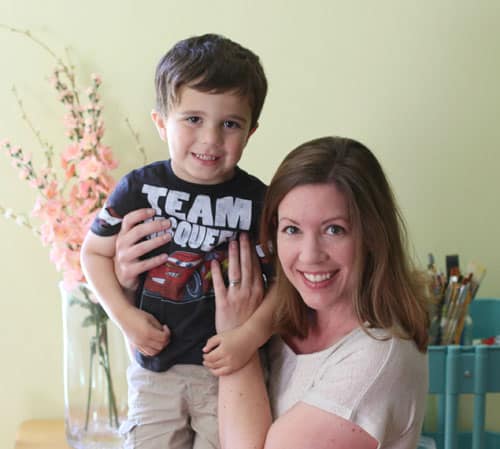 Please tell us a bit about yourself and your blog.
Hi! I'm Chelsey, the creator of Buggy and Buddy. I have two children, Lucy (age 6) and Theo (age 3), who inspire me each day. I'm also lucky enough to be married to funniest and most supportive husband (who also happens to be a teacher).
Before beginning Buggy and Buddy, I was an elementary teacher. I taught kindergarten, first grade, and second grade for 13 years and loved it! Once we had children, I decided to stay home. Watching them grow and develop inspired me to create a blog so I could share our activities with others. Because my children were my main inspiration, I named it after them- Lucy's nickname is Buggy and Theo's is Buddy! Creating Buggy and Buddy has been a fabulous opportunity allowing me to instill a love of learning in my children, while also allowing me to share my experiences with other parents and teachers around the world.
What are your tips on getting creative with kids?
My two main tips for creating with kids are: don't worry about the mess and don't worry about the end product. It's so much more fun for both the adult and child if it's all about the process!
Where do you draw your creative inspiration?
My main inspiration comes from my kids. I love sitting back and observing them to see what their interests are and what skills they are developing. I then try to come up with projects based on those discoveries.
What are a couple of favorite activities you've done with the kids?
I love any activity that gets the kids thinking! Our balancing robot activity is a great example of this. Kids print out a robot, cut him out, and then try to figure out where to attach two pennies to make him balance on their finger.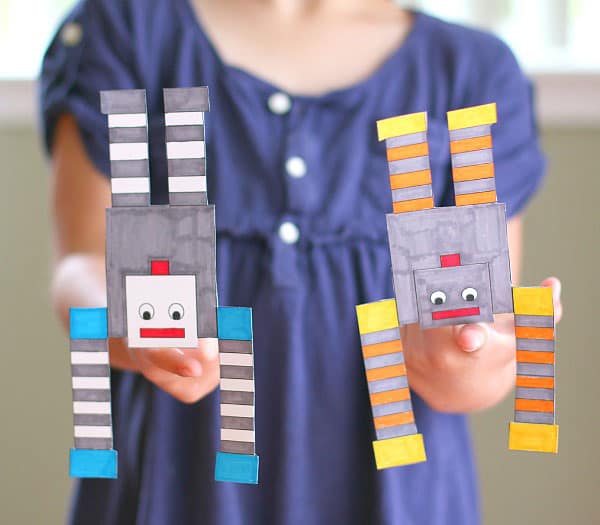 Another fun activity is the egg drop challenge. Kids try to design a contraption that will keep an egg from breaking during a fall. I love how it's a great learning activity for a huge age span. We've done this for the last two years at home and with my husband's 4th grade class.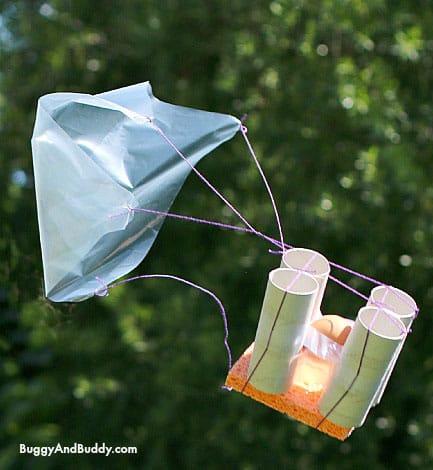 If you were stuck on a desert island with the kids, what crafting materials would you absolutely need to have?
That's an easy one- definitely felt! Felt is my go-to craft material, and I have two giant bins full! I love how felt feels and looks, and it's so easy to work with. I use it to make felt toys, felt story pieces for our felt board, simple costumes, and play invitations.
And because we love books and are always looking for good recommendations, what are some of your favorite children's books?
That's a hard one because I have so many favorites! Our favorite book for fall is Nuts to You by Lois Ehlert. It's a cute story about a squirrel that finds his way into a child's room. The child lures him out with nuts yelling, "Nuts to you!" The kids and I always yell "nuts to you" anytime we see a squirrel now!
Last, who are some of your favorite bloggers that inspire you?
There are SO many inspirational kid bloggers out there! Tinkerlab was the first blog I ever followed and still remains a favorite of mine to this day. She has tons of activities that promote creativity. I also admire Shaunna of Fantastic Fun and Learning. She always has the perfect craft or learning activity for just about any topic you can think of!
Thank you so much Chelsey, for sharing your insights and passion on how to stay creative with kids! That balancing robot is the cutest thing ever and such a clever way to teach kids about balance. And I'm already thinking of how to get my kids to enter the great egg drop challenge. What a fun way to learn about science in an interactive way!
Visit all of Chelsey's creative projects over at Buggy and Buddy and follow her over on Pinterest, Facebook and Twitter to get the latest updates!


P.S. If you'd like to be featured as a Maker Mom, please drop us a note here! We'd love to hear from you.