I'm so excited to introduce you today to Maker Mom Bonnie Scorer from Make It Your Own. However, I should say "Maker Family" because as you'll read more below, Make It Your Own is a family affair involving Bonnie's 3 adorable children and her husband's participation in the many creative and inventive projects they share with their readers. The family's blog is a wonderful resource for creating, but also play-based activities, often inspired by the family's explorations in nature, the seasons, holidays and their children's imagination. You'll find simple ideas for recycling and re-puprosing materials into making unique, kid-made crafts. You truly get the sense that the Scorer family enjoys spending time making and creating family memories together.
Welcome Scorer family!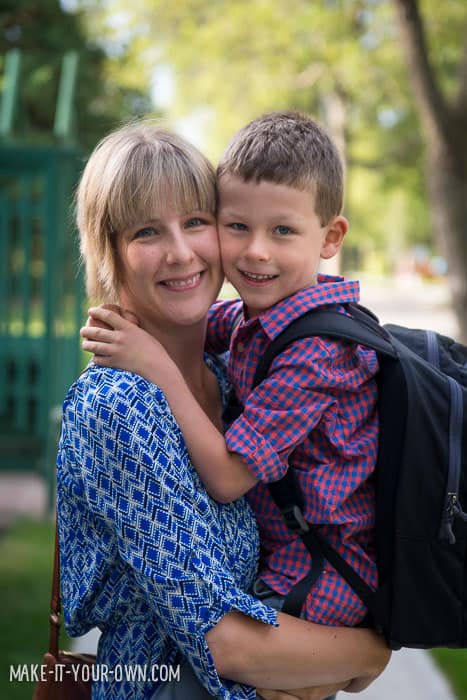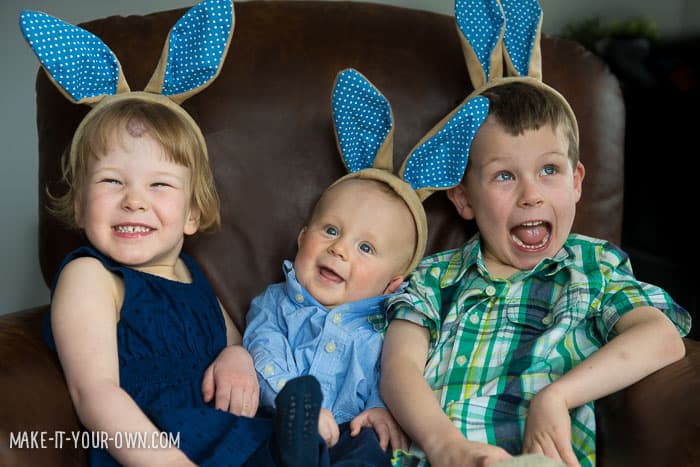 Please tell us a bit about yourself and your blog.
We are a Canadian children's website called Make it Your Own. We hope to inspire educators and families with projects to do together, explorations of various mediums and techniques and to get out into nature to source supplies. We love re-imagining/re-cycling items and thinking of new ways to share children's artwork.
My husband comes from a background in digital media and my background is as an educator so our website is a combination of our skills along with the talents of our three mini makers who are 6, 4 and 1 and a 1/2.
Galen and I met at a summer camp for families when we were in University. When he made a room wrapped in plastic into a paintable fish bowl and a support post into a tree that dispensed real maple syrup for the kids through a tubing system, I knew we were meant to be!
Our oldest son loves to draw and envisions himself as a future film director/engineer. He has a very clear creative esthetic and throws himself intensely into his current interests/obsessions! True to an older sibling, he is both the initiator of all sorts of ideas and very protective (think angry bear type!)
Our daughter is fiercely independent. She loves making up her own games and is the bridge between her brothers with her silliness, elaborate story-telling and caring nature. Like her siblings, one of her favourite things to do is snuggling up to read books.
Our baby is a happy-go-lucky guy who loves food colouring in the bath, talking on the telephone and eating sand! Once he gets his hands on a paint brush, he runs about the house, pretending to paint everything.
Many of our projects are nap-time (for baby) collaborations where our daughter may have painted the beads, our son drew out a face and I laced it all together to form a necklace, while dad takes photos of the process. We are always happy to hear from readers about what they are up to with their children or students or modifications they have made to a project idea, thus the name: Make it Your Own!
What are your tips on getting creative with kids?
Experience & Exposure: Whether this means picking out a new material at an art store, going to a museum while on a trip or simply digging through your recycling box- exposure to varied artists and makers, tools and different activities are all opportunities for learning. Even the most small and surprising materials can spark creativity! (We gave our eldest kids some leftover washers, nuts etc. from a small construction project last weekend and they spent the afternoon incorporating them into various paper robots for a game.)
Exploration: 1) Provide un-structured creating time. 2) Even when you have a specific project in mind to make, try to incorporate the time for experimentation with the materials and techniques you present. Sometimes this can yield the most delightfully unexpected results! What we show on our site, like many, is a selected portion of the projects we do.
Play: We think an important part of being creative is also being active. Daily play and physical activity have so many documented benefits for developing one's body, thought-processes, social skills and imagination.
Excitement: Children are quite intelligent. Your attitude conveys a great deal to them when approaching anything new. Additionally, go with their interests. Open-ended projects where they can delve into something they are into are often very successful!
Encourage Difference: Something I always taught my students was to "set yourself apart" – meaning how can you make your work be unique from others and generate interest?
Organization: Having materials ready and accessible always makes creating go more smoothly. Put out and arrange materials in a manner that draws them in!
Where do you draw your creative inspiration?
Re-imagining materials: Our friends and family give us all sorts of treasures- whether it be vintage buttons and fabric or left-over beads from a projects that they made for a gift etc. Re-use stores and garage sales can provide access to unique materials.
Colours, shapes and textures: For example, when a package came in the mail encased in gold bubble wrap we thought- "This looks like honeycomb!", spurring a bumble bee necklace idea. We love looking at the clever ways artists and designers have incorporated colours and materials into their paintings, installations and even window displays. These are great opportunities for talking about the emotions that were conveyed, what was effective about a piece and what you would have done differently if you were the artist, developing your child's critical thinking skills.
Seasonal Changes & Celebrations: We enjoy making things that coincide with holidays that we celebrate, those of our friends and new ones that we are learning about. When I was a teacher my most treasured gifts were the homemade ones, so we try to extend our appreciation to others through handmade items.
What are a couple of favorite activities you've done with the kids?
Nature Inspired Projects
These are some of our favourites as they all began outdoors, whether it was from collecting materials such as twigs or leaves to use within the activity or from seeing a beautiful bird and wanting to create a costume in its likeness for imaginative play.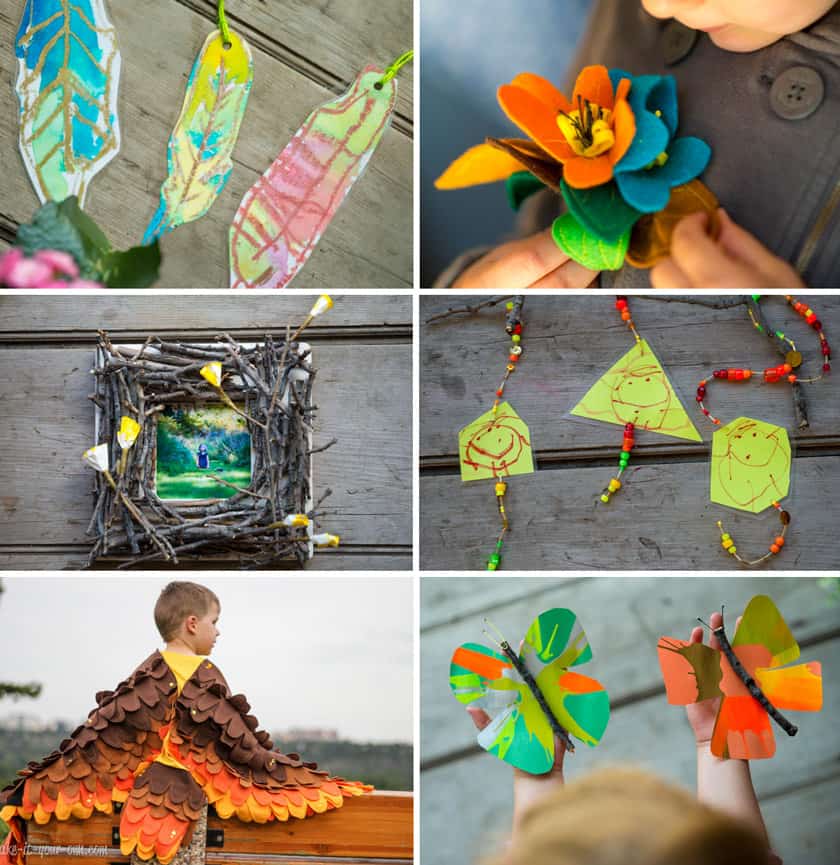 From left to right: Trace Feather Bookmark; Floral Pin; Twig Frame; Kids Artwork Mobile; Bird Wing Costume; Spin Art Butterflies
Seasons & Celebration Inspired Projects
Growing up, both my husband and I came from families where we made things as gifts for various occasions. Our mothers worked with children both professionally and on a volunteer basis so creating holds many fond memories for us.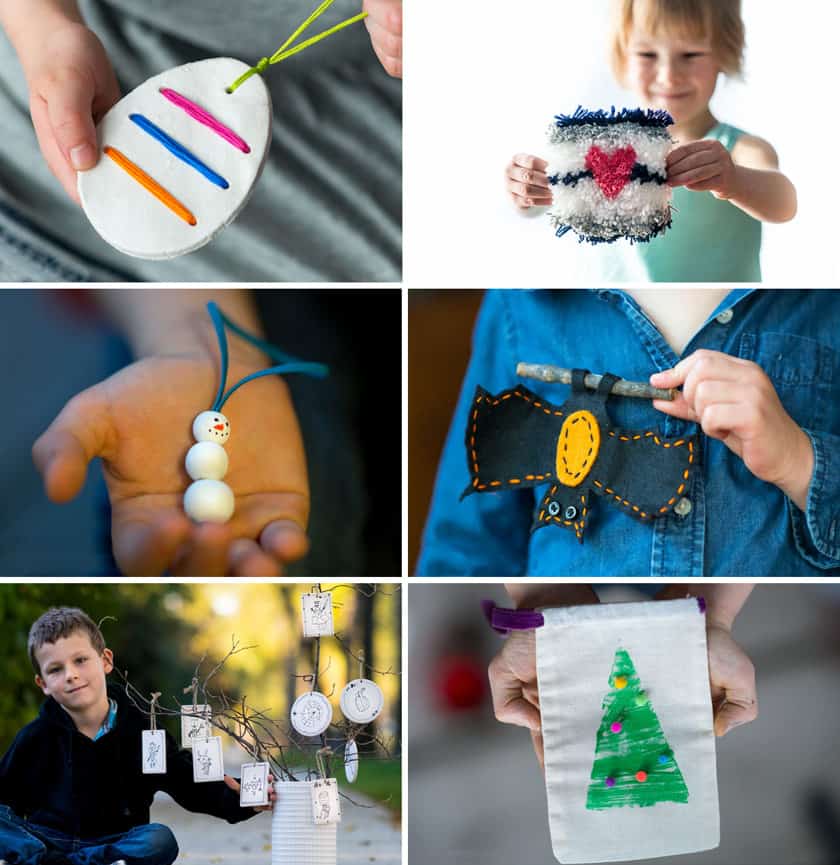 From left to right: Egg Gift Tags; Wall Hanging; Snow Person Ornament; Bat Pin; Halloween Centerpiece; Cardboard Stamped Bags
If you were stuck on a desert island with the kid(s), what crafting materials would you absolutely need to have?
The kids would bring liquid watercolour paints, metallic pastels, drawing materials and definitely tape, lots and lots of tape! (I admit, we may have had to replenish the Kindergarten teacher's supply last year a few times with our eldest son's prolific book and mural making with tape!)
And because we love books and are always looking for good recommendations, what are some of your favorite children's books?
We are so glad you included this question! I think the effect of a positive engagement with literacy is tremendous and word-of-mouth recommendations from other parents and educators bring to light so many excellent titles. Children's Literature is a passion of mine. Whether you have a collection of books at home or use a public library, books are a fantastic vehicle for studying various illustrators, teaching a math concept, looking at social issues and of course developing a love of reading.
Currently the kids are into the works of;
Jan Brett (for her detailed illustrations and amazing borders)
Oliver Jeffers (for the playfulness of his ideas)
Barbara Reid (for her plasticine creations)
David Shannon (for his colourful illustrations)
Other favourites for the month include:
– Edward the Emu, Edwina the Emu, (by Sheena Knowles)
– Rosie Revere, Engineer
– Press Here
– Not a Box
– Scaredy Squirrel
– Click, Clack, Moo: Cows that Type
– Pete the Cat

Last, who are some of your favorite bloggers or maker moms who inspire you?
There are so many of them that we love to read on a regular basis, but here are a few current favourites:
Olive Us (short films from Design Mom's Gabrielle Blair and her family) Our kids love them because they show sibling relationships in a positive light.
The Crafty Crow – a fun collection of all sorts of activities and projects ranging in complexity that are beautiful, inspiring and useful.
Deep Space Sparkle – lots of stunning projects with the purpose behind them outlined- great for educators.
Art Bar Blog – we enjoy her playful colours and found a recent interview with her quite refreshing!
We Bloom Here lovely ideas for peg dolls and felt work with a gentle, magical, imaginative feel to it.

Thank you so much Bonnie, for sharing a bit about your family's creative process. I love how the entire family is involved in creating and how supportive you and your husband are of your children's explorations of all the things that interests them. It's so great that you encourage outdoor play and and take it a step further by re-purposing found objects into creative mementos that will remind the kids of their outing. What a fantastic list of books and literary resources too! We love Oliver Jeffers, Herve Tullet's art books, and Pete The Cat as well and can't wait to dig more into your other recommended books!
To follow Make It Your Own's creative adventures, follow them on Facebook, YouTube and Instagram.


P.S. If you'd like to be featured as a Maker Mom, please drop us a note here!