My daughter just turned 5 and we put two of her favorite things together – fairies and rainbows – into one sweet and memorable party.
The fairy house was a craft activity each child enjoyed making with endless open-ended creativity and fun. It was amazing to see how each house evolved into its own magical, mini fairy dwelling, complete with wooden peg dolls, furnishings, pom-pom trees and pebble-paved paths.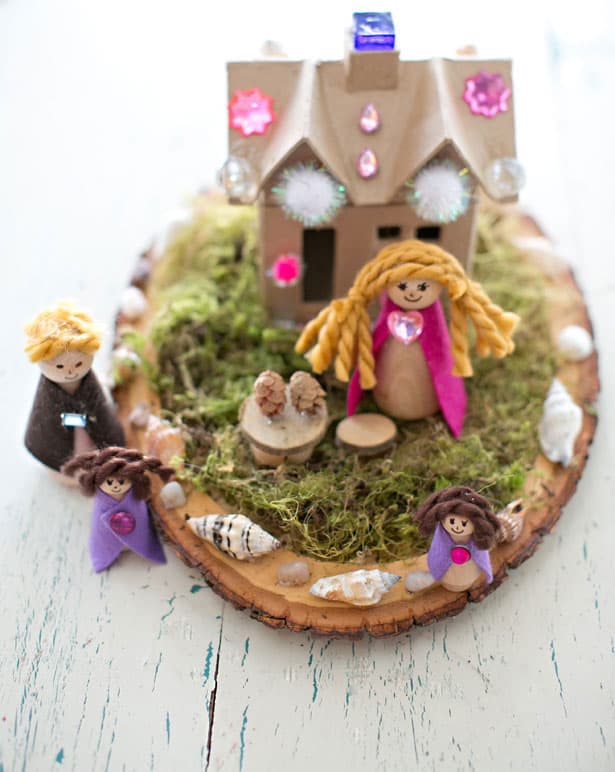 Fairy House – Materials:
– Various decorative items (we used seashells, glass stones, tiles, pom poms, jewels, pine cones, etc). All these are easily found online or at your local craft store.
– Glue dots and craft glue
– Moss
– Twine
– Wooden knobs
– Small wooden picks
– Decorative tape
– Small wooden discs
– Wooden peg dolls
– Felt
– Yarn
– Scissors
*Note: the list of materials includes everything we had on hand at the party, but you could use any amount of craft materials you have (more or less) as long as you have the basic elements of the house and base.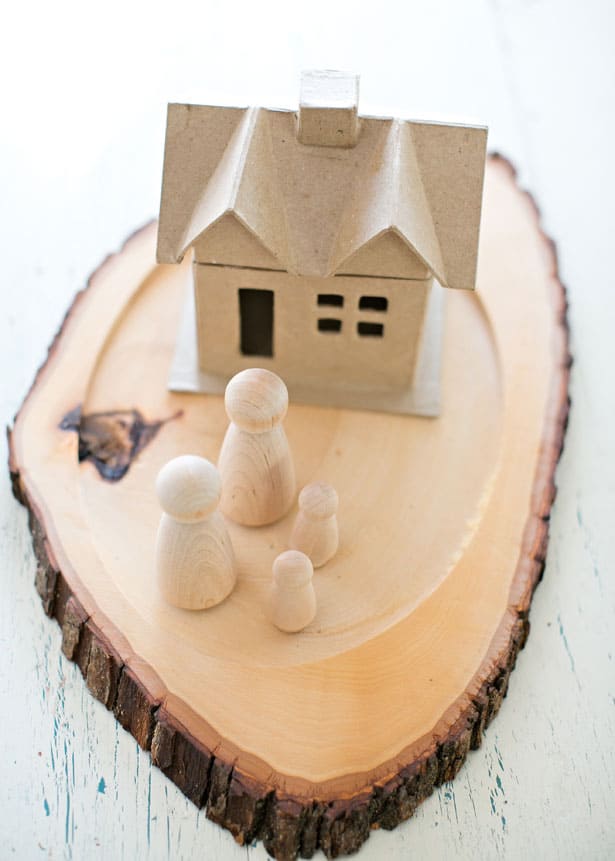 Basic building blocks were the house, wooden slab and peg dolls. The wooden slab was key for giving the house a rustic look and feel. You could also use a cardboard base, or any piece of salvaged wood.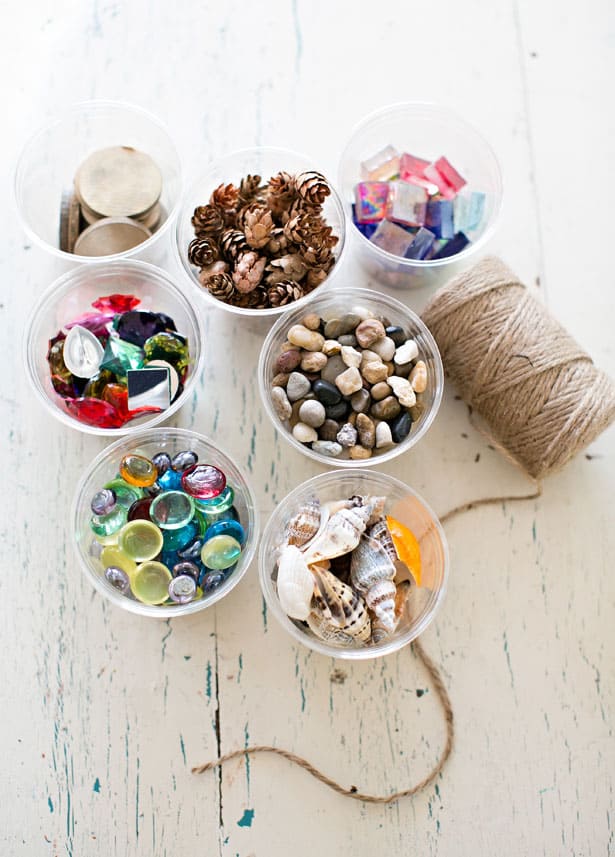 Craft materials for decorating the house – feel free to use up any leftover arts and crafts items you may have. This project is great for using them up!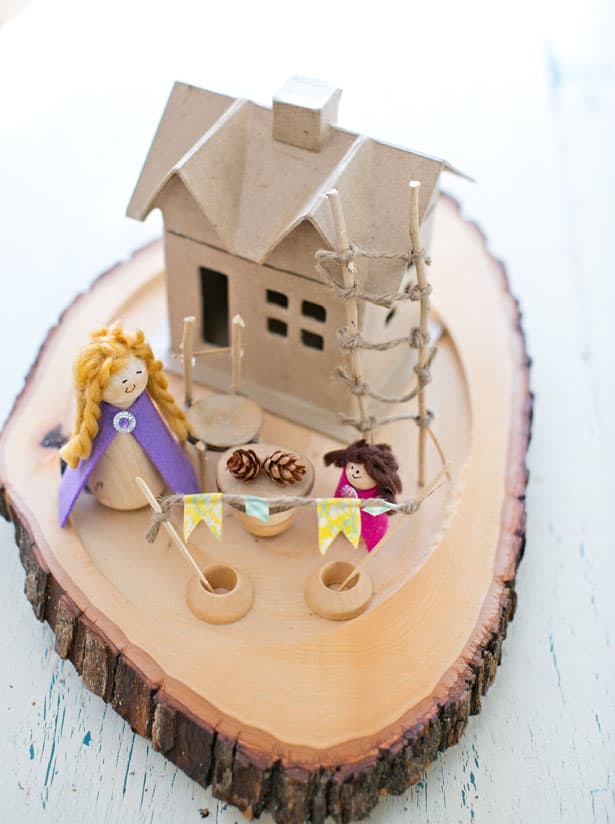 Steps:
(There is no right or wrong way to do this, so have fun with it! Here are some basic instructions for what we did for some starting inspiration.)
1. Lay out craft materials in small plastic cups and bowls so they're accessible for everyone to use.
2. Glue your house to the wooden slab. Then cover remaining wood area with glue and gently press down moss.
3. Have the kids go wild decorating with tiles, stones, shells, jewels, etc.
Here is how we made some basic furniture:
Ladder:
1. Grab two twigs of similar size, cut twine piece and tie them up as "rungs."
Table:
2. Use a wooden disc and glue a wooden knob base undereather it. Glue mini pine cones on top for a decorative look.
Washi Tape Bunting:
1. Cut a piece of twine and tie it to the ends of two small wooden picks. Cut out decorative tape and fold down.
Wooden Chair:
1. Use a small wooden disc as the seat and glue twigs to make the top and bottoms. Using glue dots here was easier than craft glue to make the legs "stick."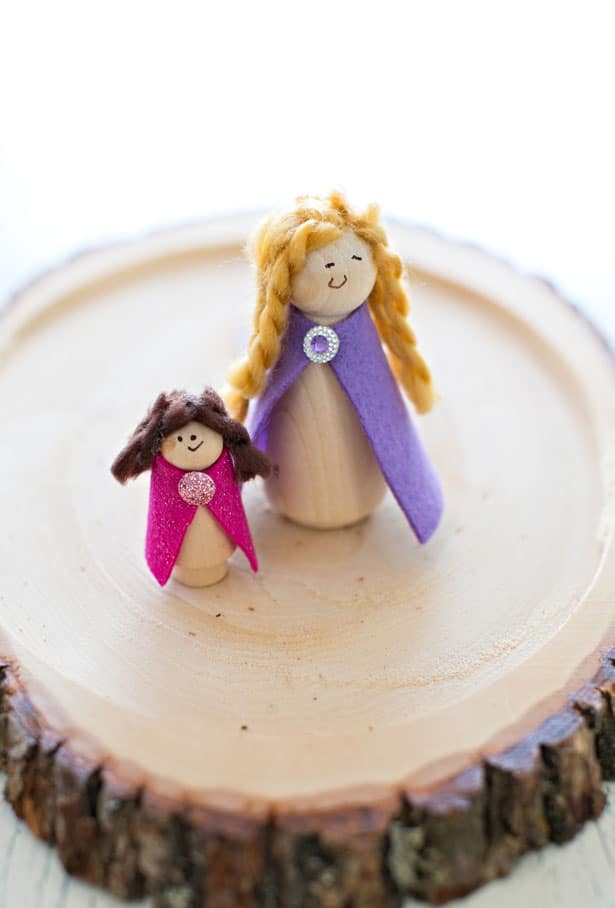 Peg Dolls:
1. Cut out felt "capes" and tie with decorative jewels. You can use ones that already have sticker backings or use a dot of glue.
2. Glue yarn onto heads. See various fairy houses below for ideas on different "hairstyles."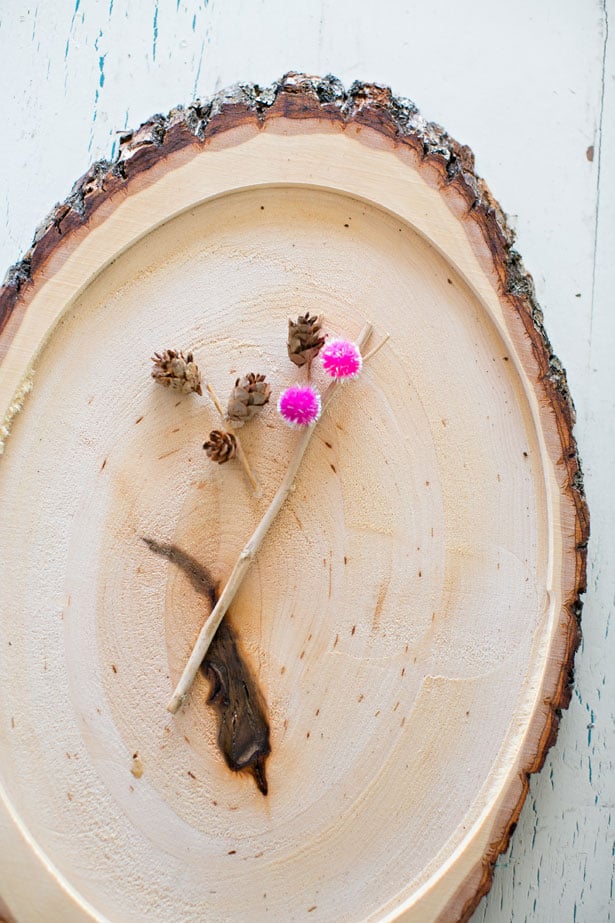 Pom Pom Tree:
– This one's pretty self-explanatory – glue mini pine cones and pom poms to twigs to form branches.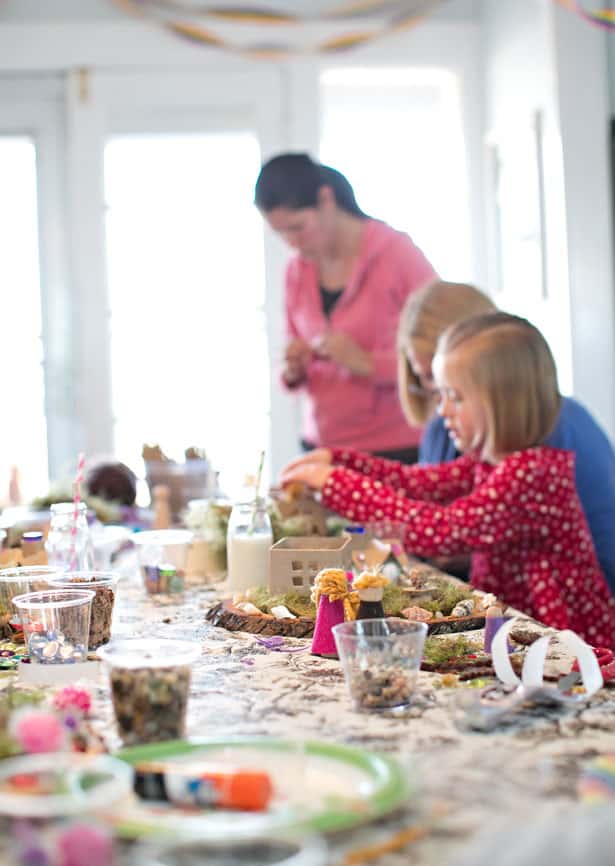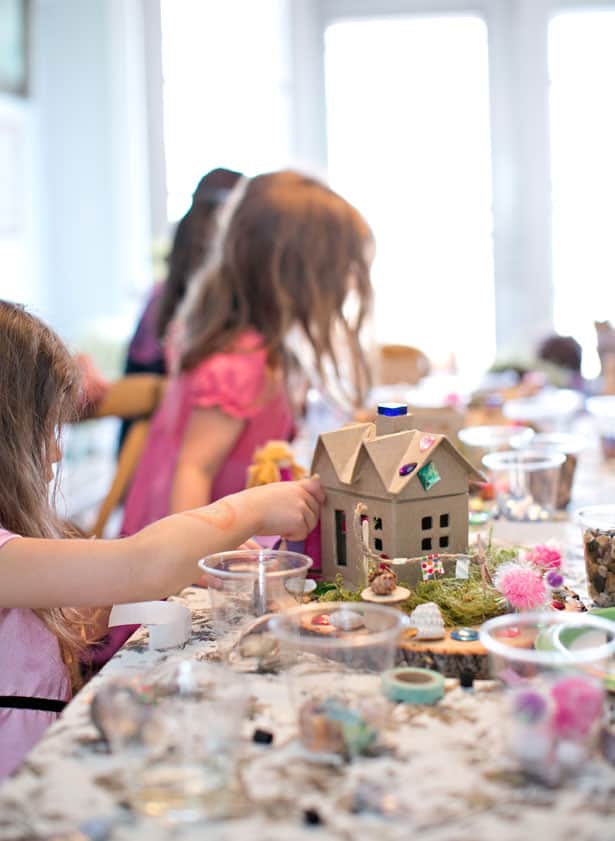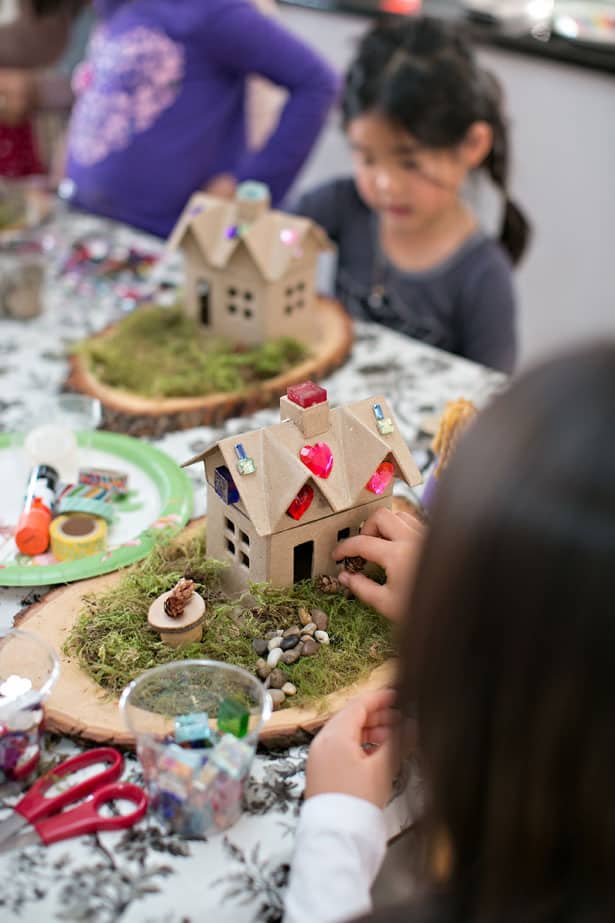 Here are the girls (and moms) having fun making their houses. We could have gone on for hours!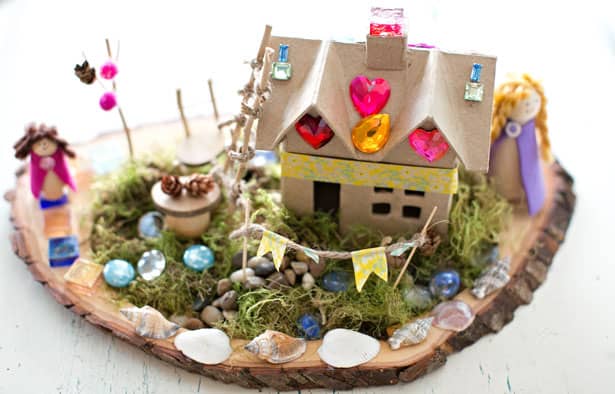 House #1. This is the one my daughter and I decorated with some detailed shots right below.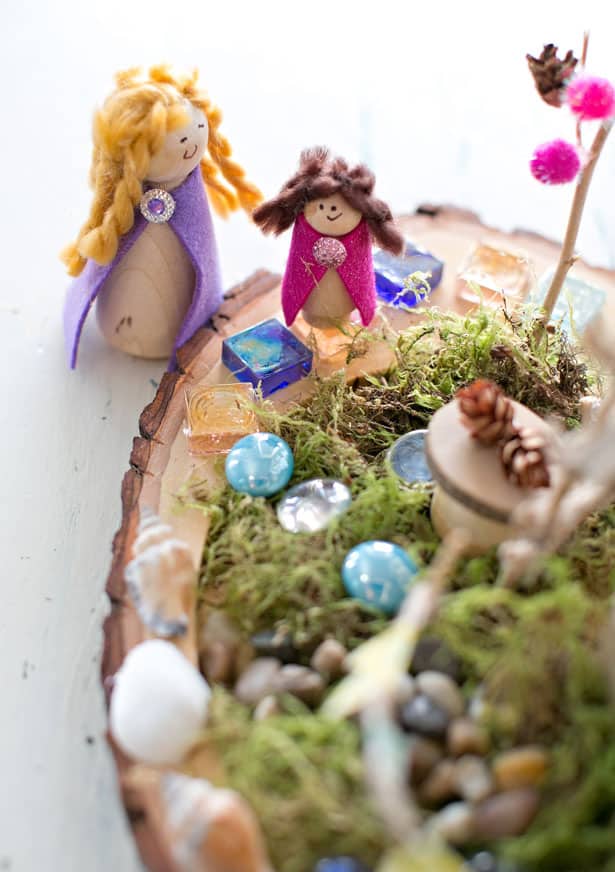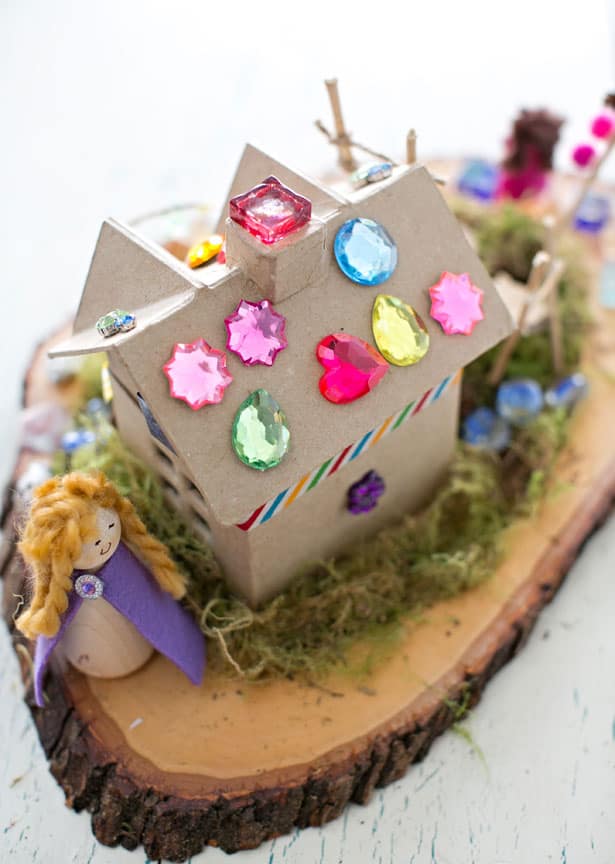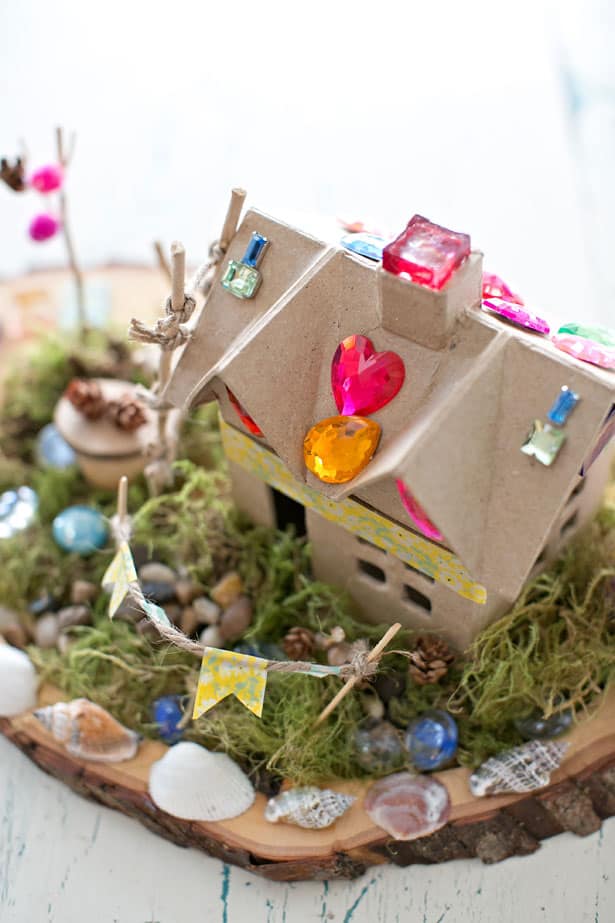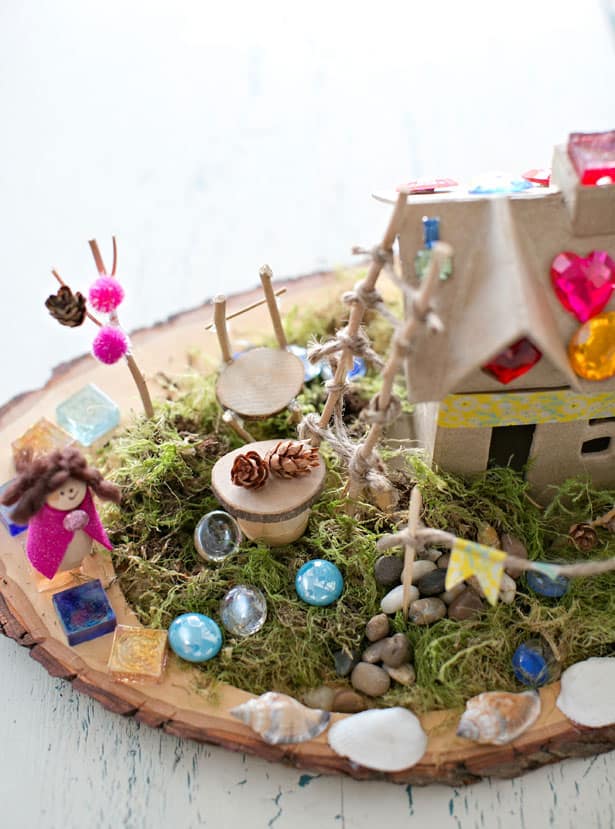 Notice the cute tile path the doll is walking on? 🙂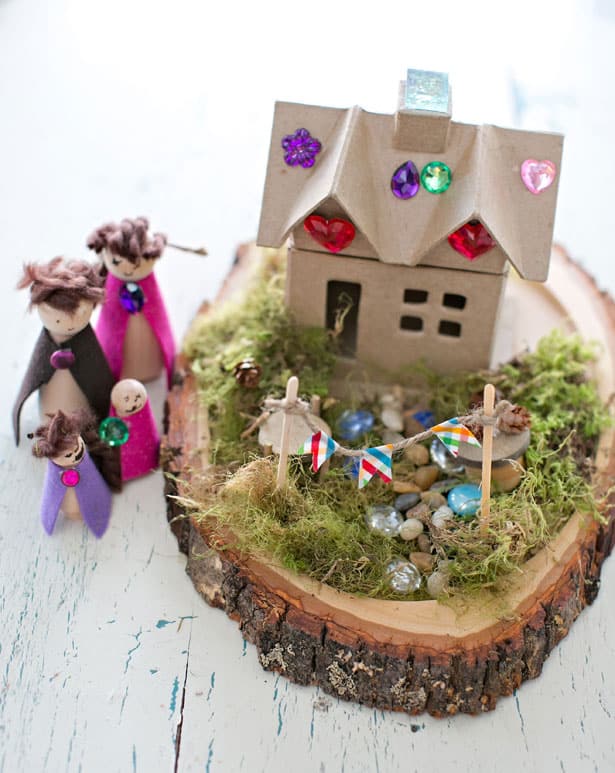 House #2. Love the funky and cool hairstyles on this one!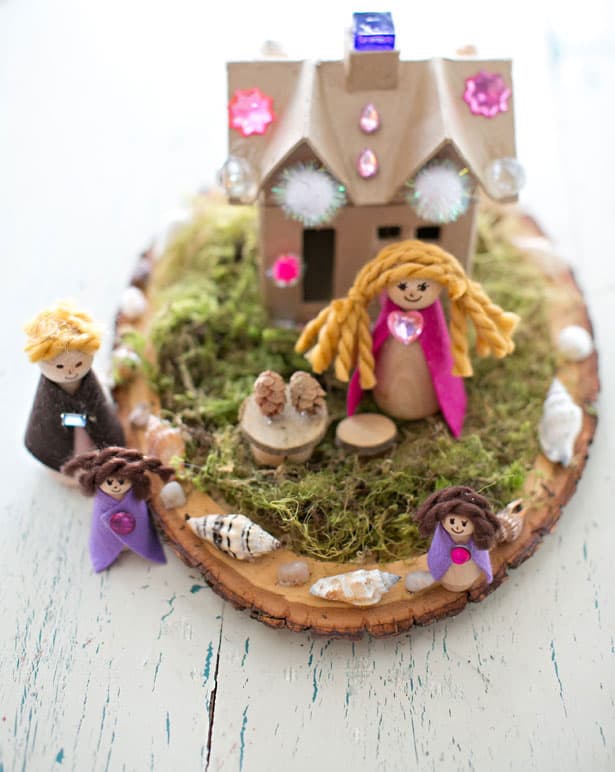 House #3. The pig tails are adorable on these dolls.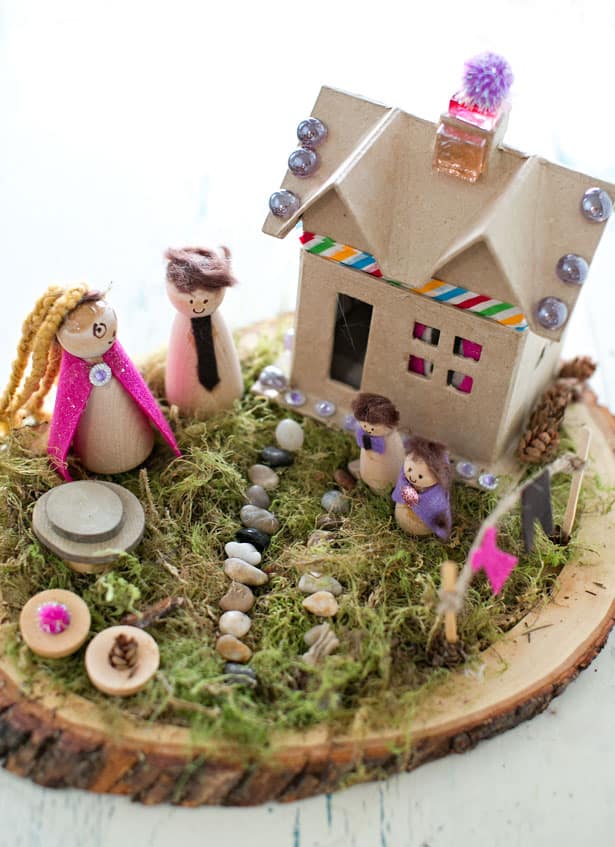 House #4. There are curtains peeking out of this one and a clothesline too!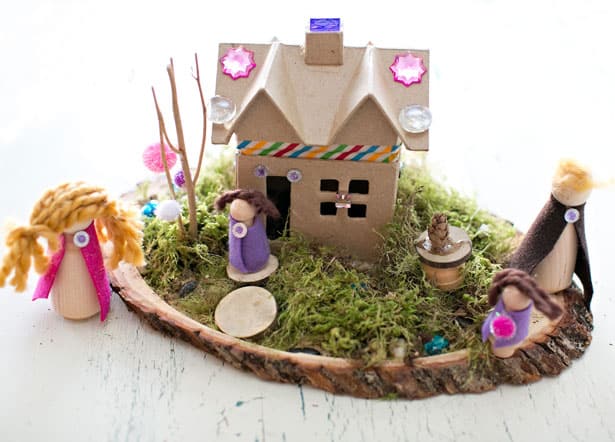 House #5. Another beautiful and simple fairy house with wooden disc pathway.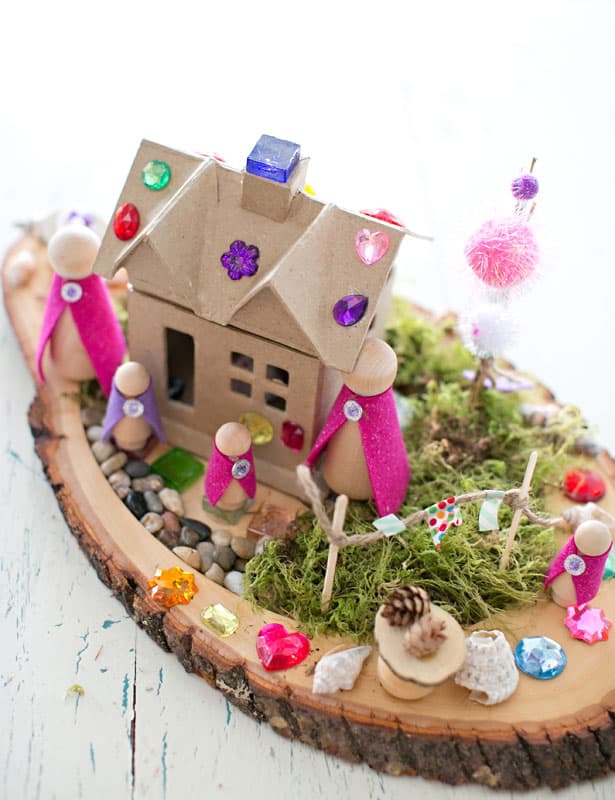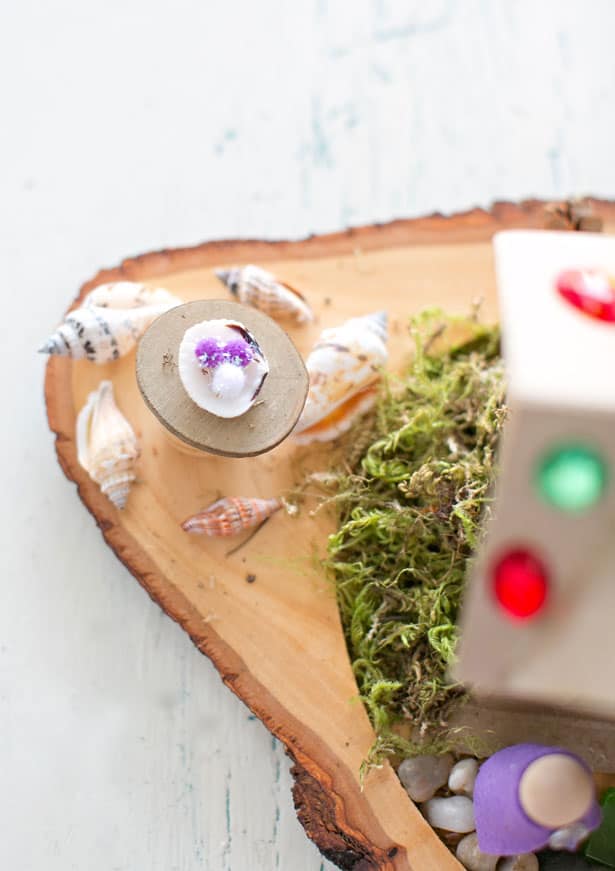 House #6. I just had to show you a close-up of the "fruit bowl" on this design. How sweet!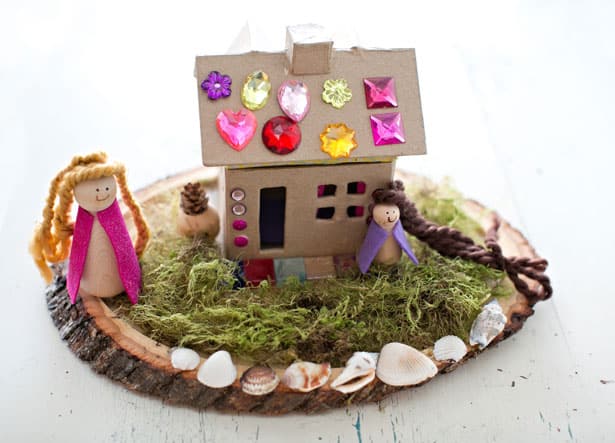 And finally, House #7. Watch out. Rapunzel meets her match.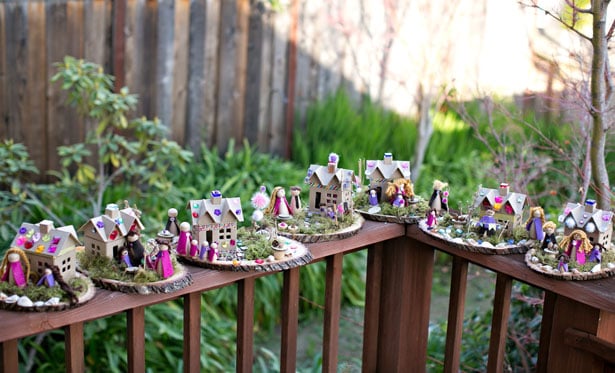 These magical fairy houses were such a memorable way to celebrate a special birthday, but make a wonderful activity for any day! The best part is watching your child play with something truly special they made themselves.
You just need some basic building blocks (slab, house, dolls) and can use any craft materials on hand to make your own. It can be as simple or elaborate as you want it – which is the beauty of this fun activity.
Have you ever made a fairy house before?