I've seen so many different ways of using Borax, a common cleaning ingredient, to make beautiful crystals. The premise is simple – dissolve Borax in water to create a suspension that forms beautiful crystals that adheres to the item suspended.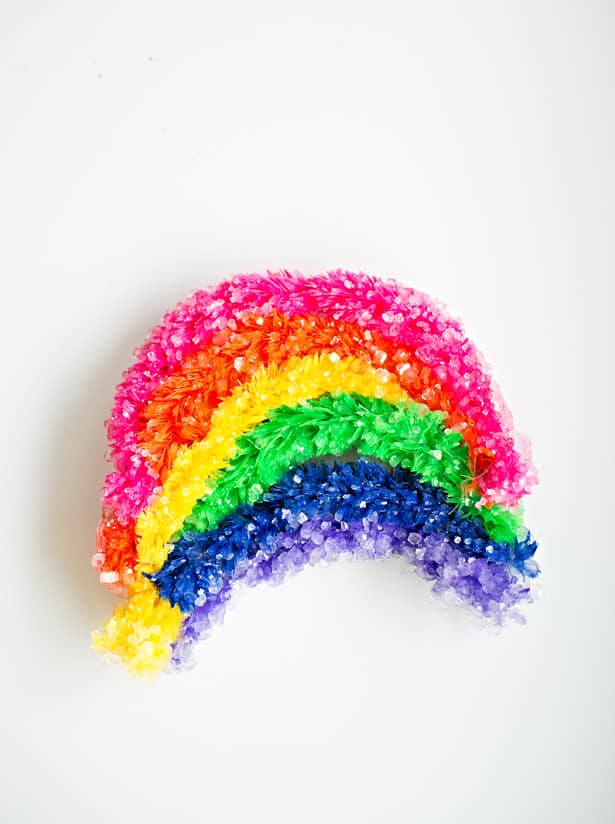 The kids and I decided to experiment with this classic science project and make a fun St. Patrick's Day craft at the same time. We wanted to create a HUGE rainbow. Well, as large as we could fit in a container of water. So we got big, poofy pipe cleaners – these are soft and bendable like traditional pipe cleaners, but about 5x as large and very fluffy.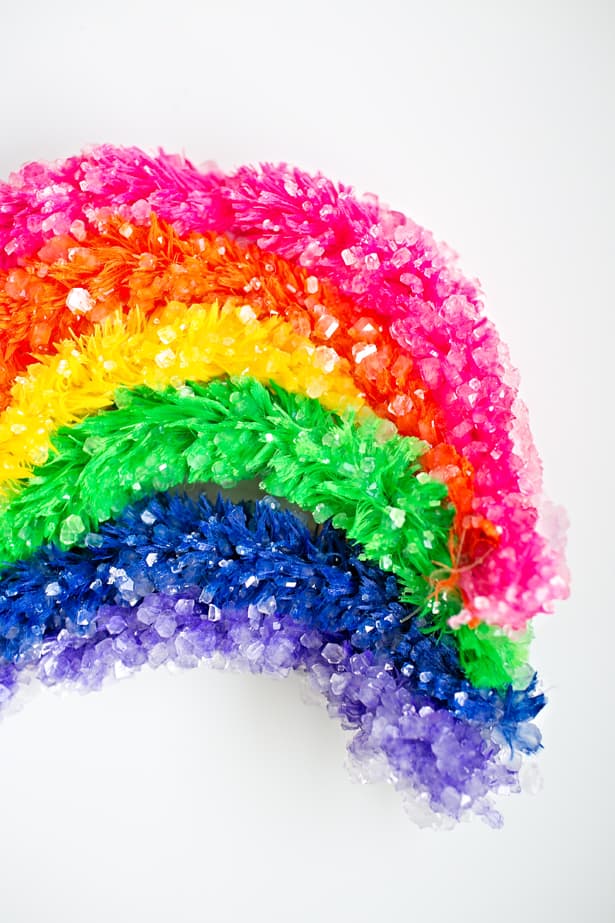 Giant Crystal Rainbow – Materials:
– Borax
– Hot water
– Clear plastic thin string (similar to this)
– Pencil or chopstick
– Large container to fully submerge your rainbow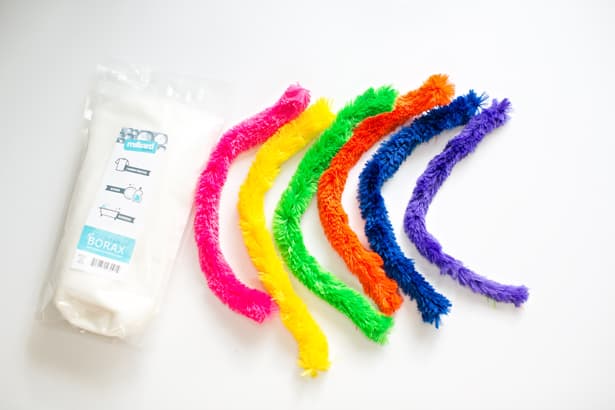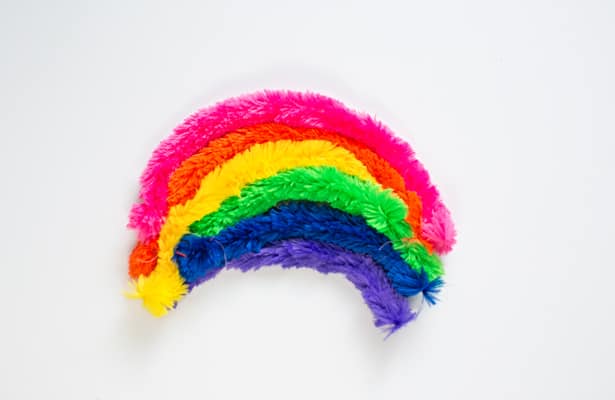 Step 1. Form a rainbow with your large pipe cleaners. Hold it together by tying the bottom right and left sides together loosely with your string. You don't want to tie too tightly in order to maintain your rainbow shape, just enough to keep the rainbow in one place. We used a very clear, stretchy string that could easily be snipped off after it was soaked. If you look at the photo right above, the string is there, but you can barely see it.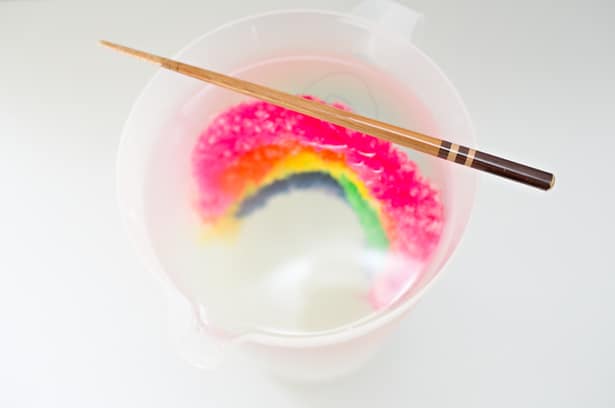 Step 2. Fill a large container with Borax and hot water to dissolve. We used Steve Spangler Science's recipe for making Borax crystals – click here for the ratio to use.
Step 3. Use a pencil or chopstick (in our case) and tie your string through two ends of the rainbow to suspend it. Allow to soak uncovered and undisturbed overnight. We let it soak for at least 12 hours.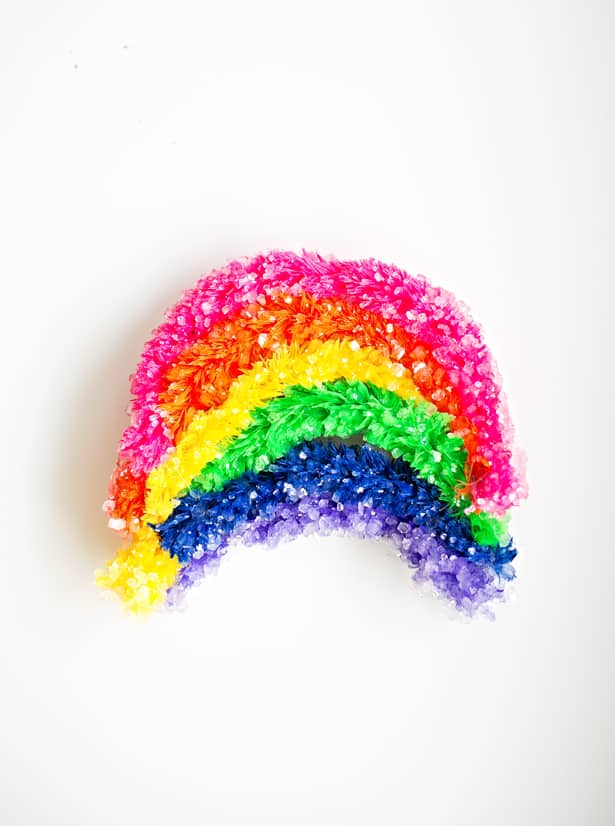 The next morning, lift the rainbow out carefully and snip off the string. You'll have a beautiful giant crystal rainbow!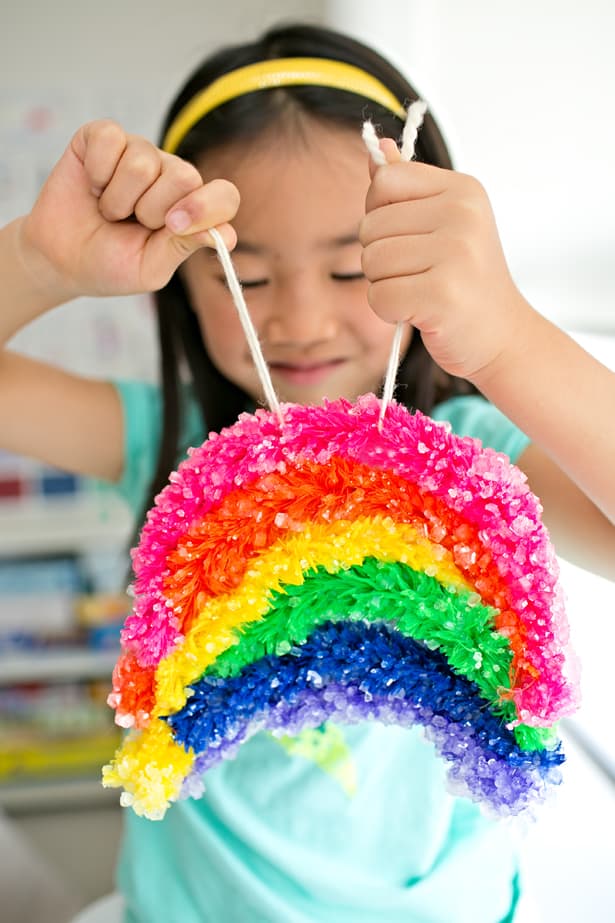 The kids were excited to see the crystals growing and we strung yarn through to hang it up as a cheerful decoration. After the string was snipped off the rainbow stayed in one piece, laced together with the crystals.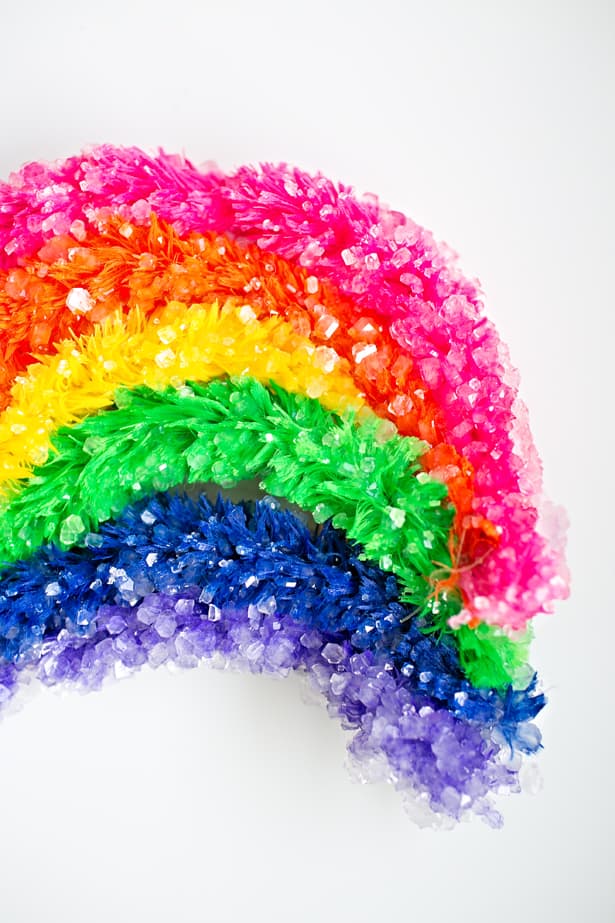 One troubleshooting tip – the crystals didn't surround our huge pipe cleaners evenly. I suspect it's because the container we used was too narrow and the sides of the pipe cleaners were too close to the container's sides. If you are wanting a very full crystallized look, I'd suggest filling a container large enough to make sure the suspension is even on all sides.
Have you tried making Borax crystals? It's definitely an experiment we want to try again with different shapes and colors!
Take a look here are more fun St. Patrick's Day Crafts.
______________________________________________________________________________________________________

Disclosure: Some of the links in the post above are "affiliate links." This means if you click on the link and purchase the item, we will receive a small affiliate commission. Regardless, we give our promise that we only recommend products or services we would use personally and believe will add values to our readers.