By using this site, you agree to our Terms of Use. This post may contain affiliate links. Read our disclosure policy.
Follow us on Instagram for more fun ideas for kids!
This pasta sculpture activity is a wonderful building and tinkering activity that lets kids use their creativity and imagination.
Art projects that involve tinkering and building are important for children because they help develop critical thinking skills. Ever wonder why kids and grown-ups are fans of LEGO blocks?
Now that my kids are starting to grow up, I can see all the hard work and play that we've done over the past years really paying off in a huge way.
Not only do they have great hand-eye coordination from building, but they are able to use their imaginations to create with virtually any materials on hand.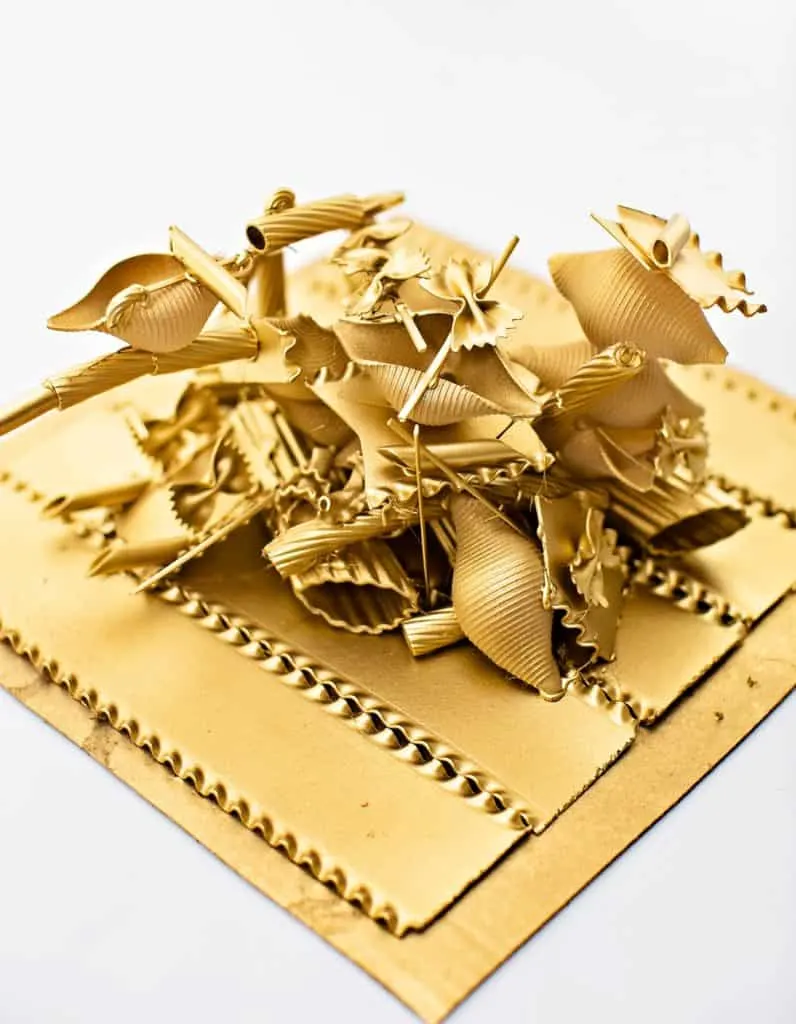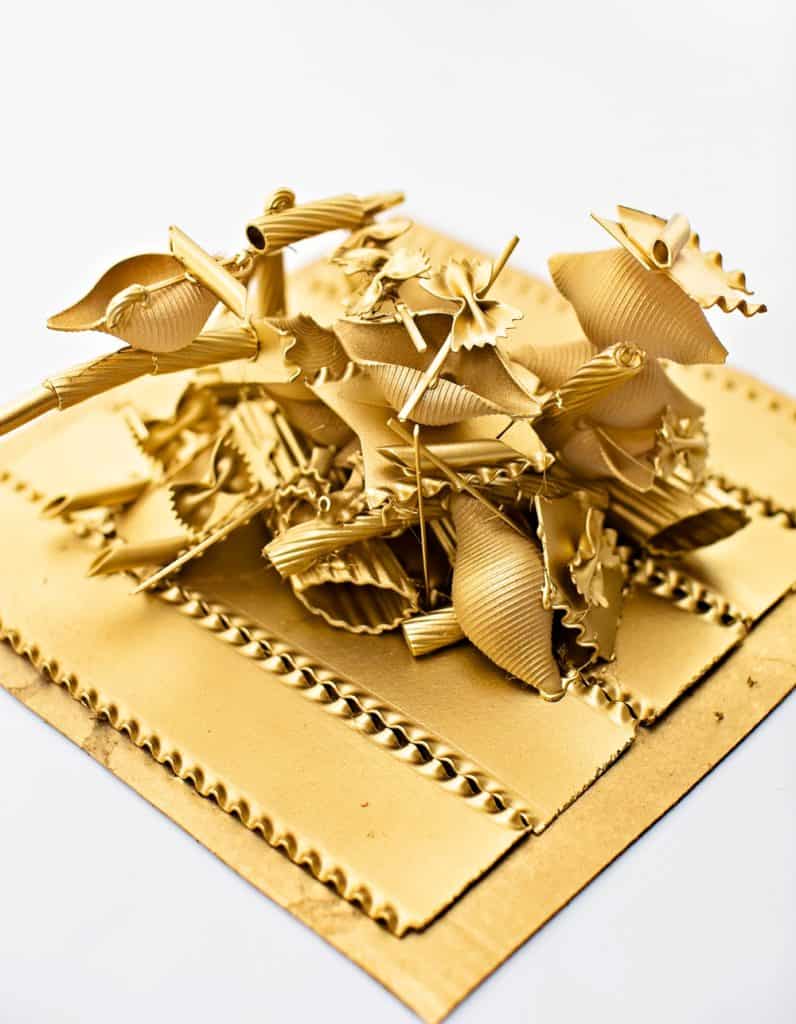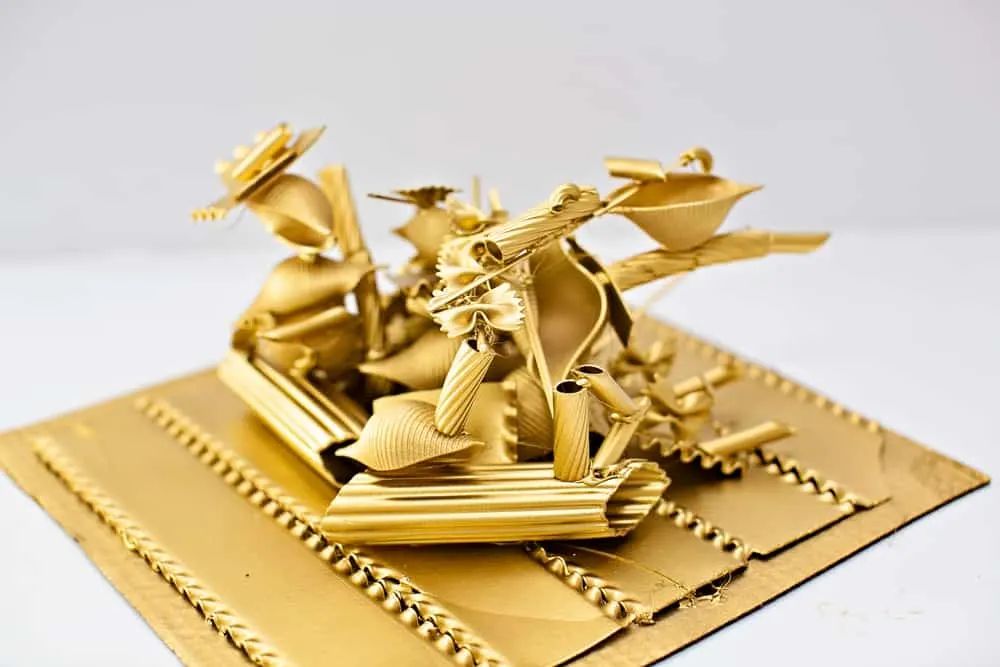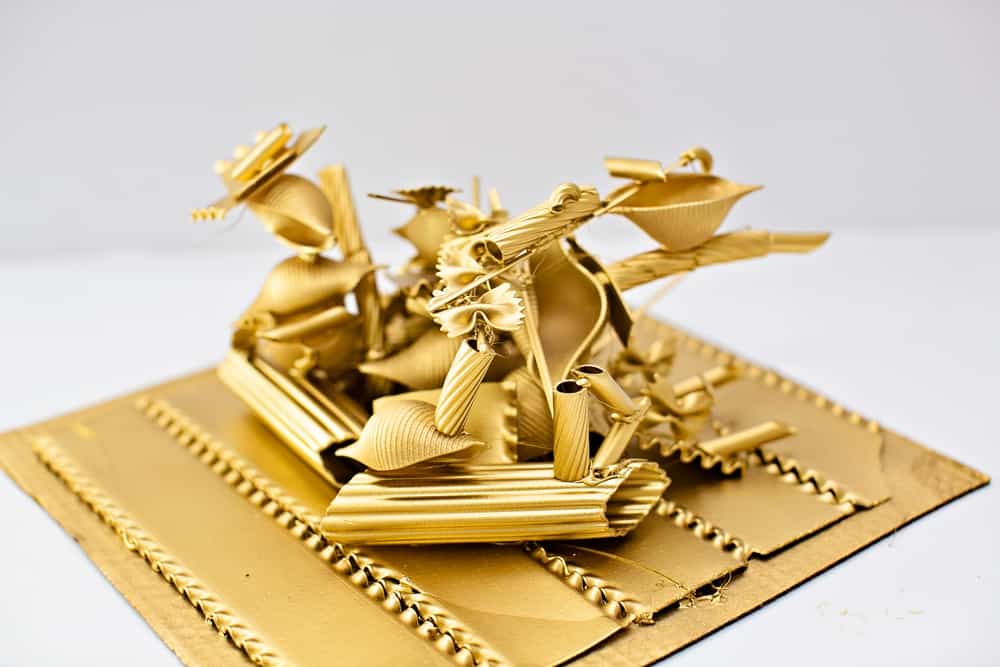 How does this pasta craft help develop your child's creativity?
This pasta sculpture activity is a great open-ended project that results in a brilliant piece of art. Just paint and the humble pasta is all you need to make a masterpiece worthy of display in your home and beyond.
I hope that this art activity shows your kids that they are a true artist indeed! Creating with pasta is just too much fun!
Making pasta sculptures is a great STEAM activity.
The final result is art, but the thinking and creating involves engineering and critical thinking. With various pieces of pasta, large and small, and of odd shapes, your child is forced to think of how all the pieces will fit to create a sculpture that has dimension and height (if that is what they are after).
Whatever they imagine, they must think of each piece as a critical building block to shape their final vision.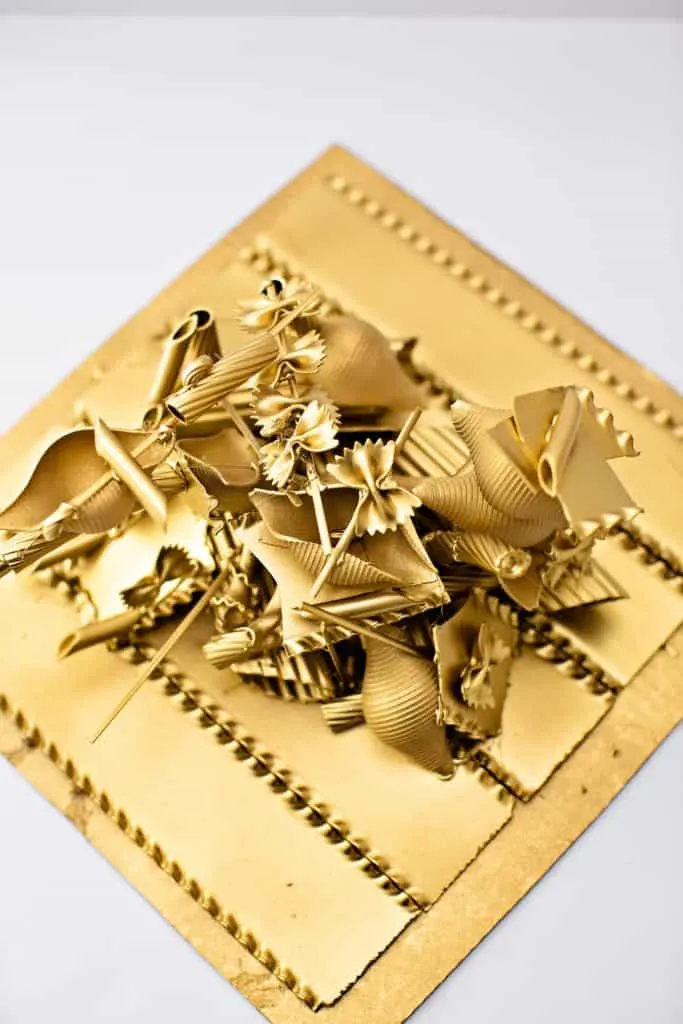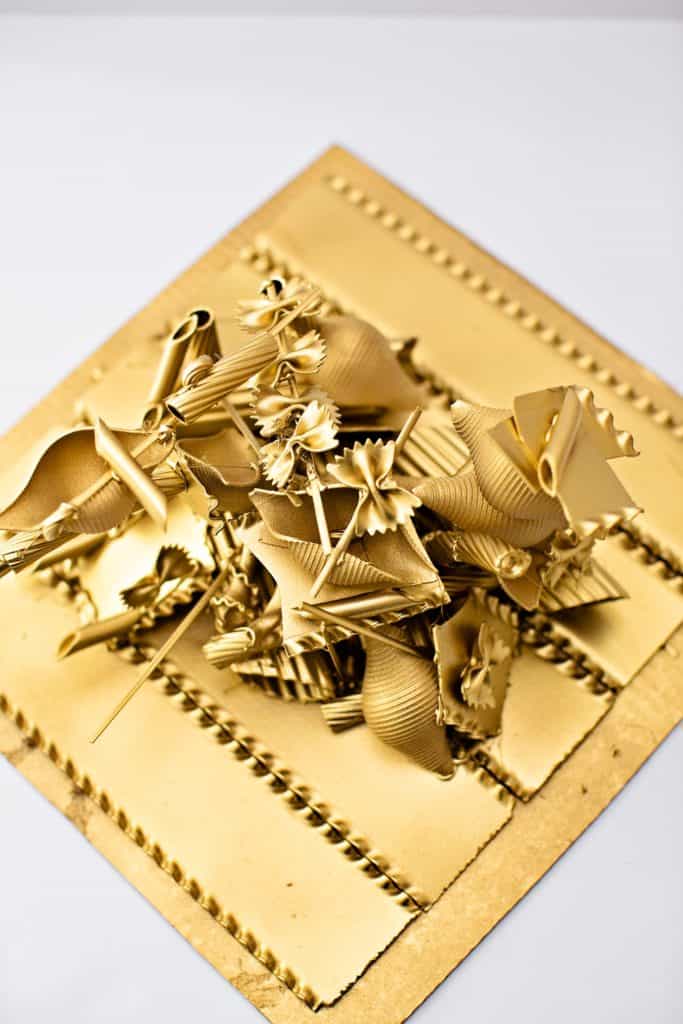 Does this craft using pasta require adult supervision?
While you might be tempted to set up this craft and let your child work on it on their own, don't. All the crafts on our page require adult supervision. This is because most of them are geared towards smaller children and smaller children still like to put things in their mouth. Instead of worrying about if they're putting smaller pieces of uncooked pasta in their mouth, just sit and create with them instead.
That way you know that they're being safe and you're also spending quality time together, too.
How to set up this Pasta Craft Sculpture
This craft is seriously so simple! Once you have your pasta chosen and glue, that's all you need to create! There are no set rules or directions for how this is supposed to be, either. If your child wants to create their own masterpiece, let them!
If you're wanting to add some color to it, you can let them paint their sculptures when they're done as well. Or, buy colored pasta at the store and just skip out on that step! We had some gold spray paint and went for an upscale art piece. Love how pretty the gold turned out!
I also recommend building the sculpture on a flat platform like cardboard. That way it can be moved easily and won't crumble. Or if you do paint, there isn't a big mess to worry about underneath.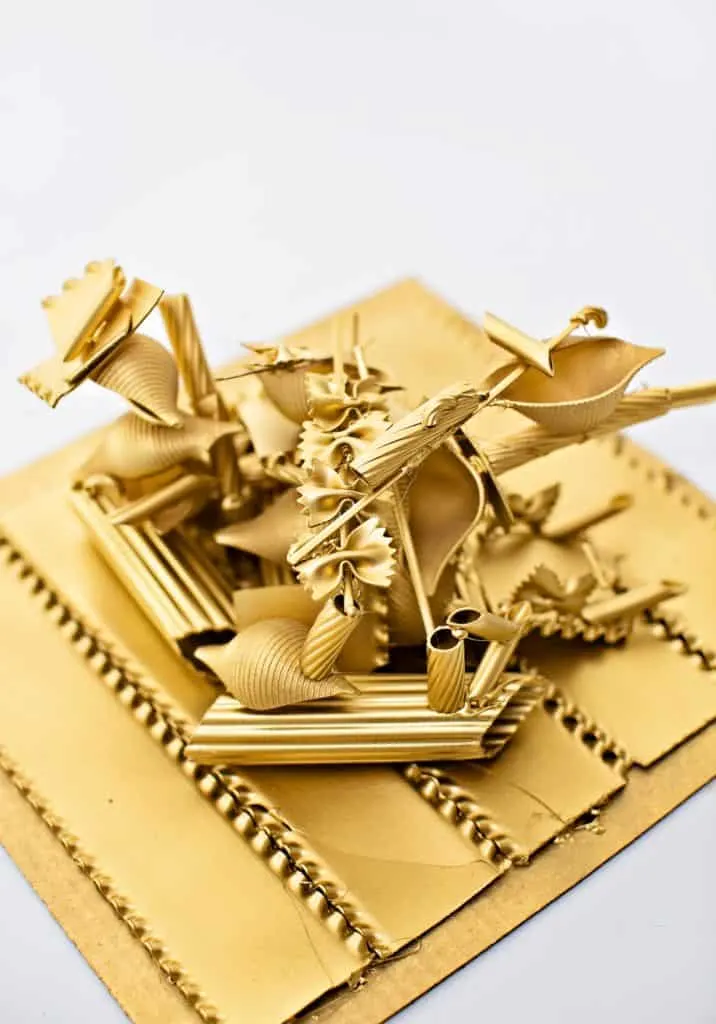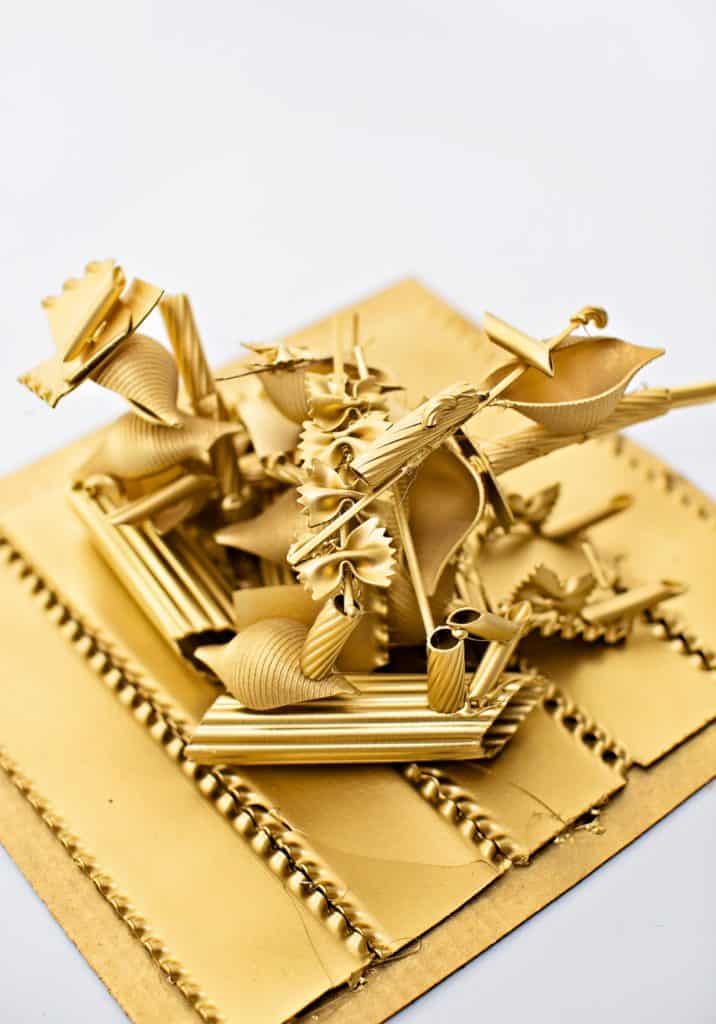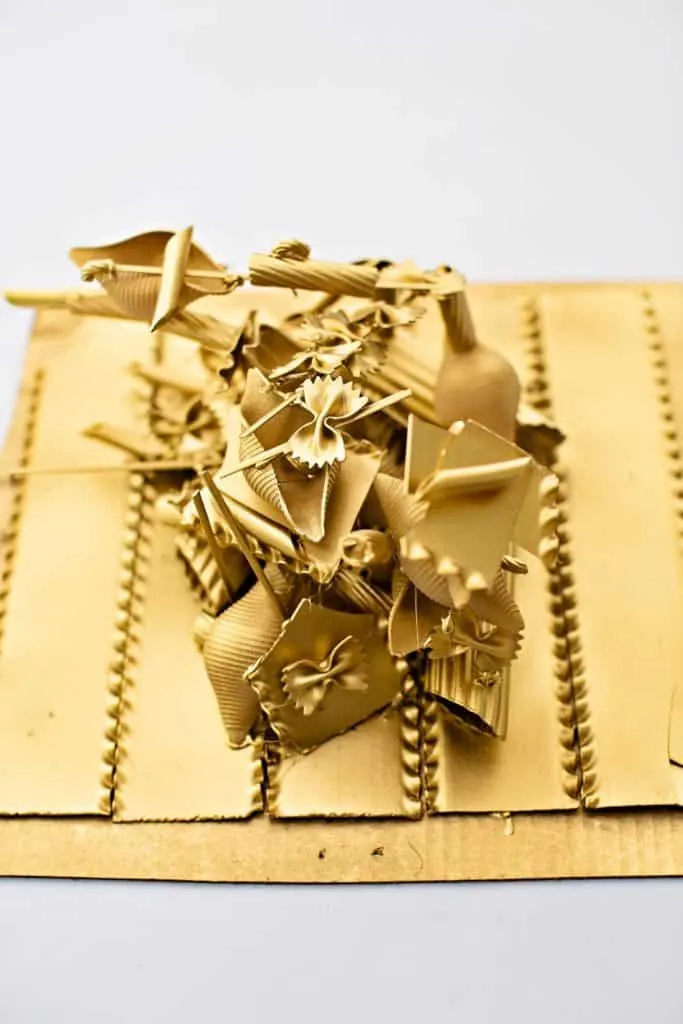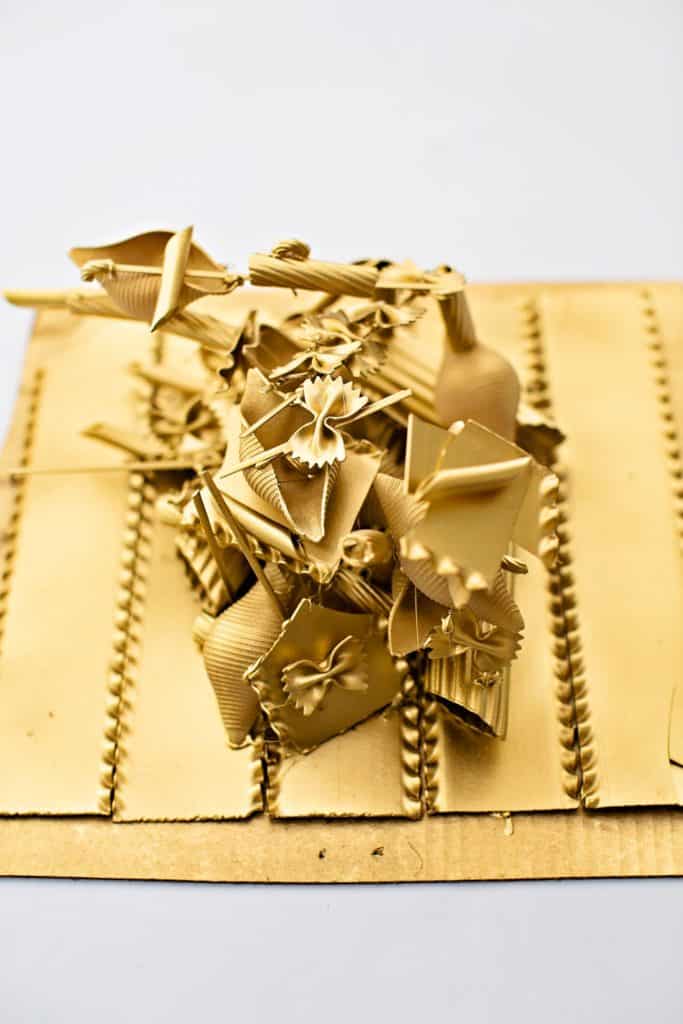 Pasta Sculpture Craft – Materials:
pasta, all various shapes and sizes

cardboard

paint, optional (we used gold spray paint, you can use any type of paint like acrylic or tempera)

paintbrush, optional
INSTRUCTIONS:
Lay out all your pasta pieces by shape and size. Fill containers by type so they are easy to find.

It's helpful to have a platform to build upon. A piece of sturdy cardboard is great.

You can ask your child questions like "do they want to build up and high?" or "wide and flat?" Or both? This will help gauge their thinking of what pieces should go on top first and next and so on,

A hot glue gun is best because it adheres the pasta pieces instantly so you can go on to create the sculpture and not have to stop for glue to dry. A low temp glue gun is great for children to practice using a glue gun.

Continue building until your child feels the sculpture is done

You can leave it blank or have them paint! Or spray paint. We chose a gold spray paint and love the beautiful artsy effect!
If you love this fun Pasta craft, make certain to check out these other fun pasta crafts as well:
______________________________________________________________________________________________________
Disclosure: Some of the links in the post above are "affiliate links." This means if you click on the link and purchase the item, we will receive a small affiliate commission. Regardless, we give our promise that we only recommend products or services we would use personally and believe will add values to our readers. As well, as an Amazon Associate I earn from qualifying purchases.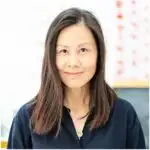 Agnes Hsu is a mom of three and has been inspiring parents and kids to get creative with easy activities and family friendly recipes for over 10 years. She shares her love for creative play and kids food to her 2MM+ followers online. Agnes' commitment to playful learning and kindness has not only raised funds for charity but also earned features in prestigious nationwide publications.