Have you ever made homemade marshmallow before? It's actually not that hard, and makes a sticky, gooey mess, but is so worth it. There's no beating that heavenly flavor, taste and texture of homemade marshmallows. Store bought just can't compete. The kids helped me make homemade marshmallow recently and we turned them into conversation hearts. It's hard to write on marshmallows, so we wrote simple X's and O's. These turned out so cute and make fun Valentine food gifts!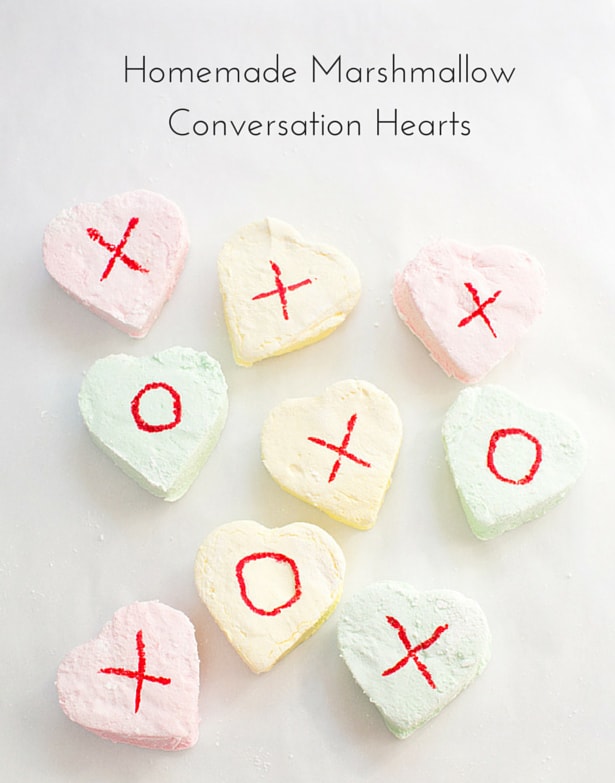 Homemade Marshmallow Conversation Hearts – Ingredients:
(recipe adapted from Ina Garten)
– 6 packages of unflavored gelatin
– 1 cup cold water
In a saucepan:
– 2 cups light corn syrup
– 1 cup water
– 1/2 teaspoon kosher salt
– 3 cups sugar
– 2 tablespoons vanilla extract
– You'll also need powdered sugar, a candy thermometer, heart cookie cutter, 3 disposable aluminum 8″ square pans (or similar containers), food coloring, parchment paper, nonstick oil spray, a stand mixer and red food pen if you want to write on the hearts.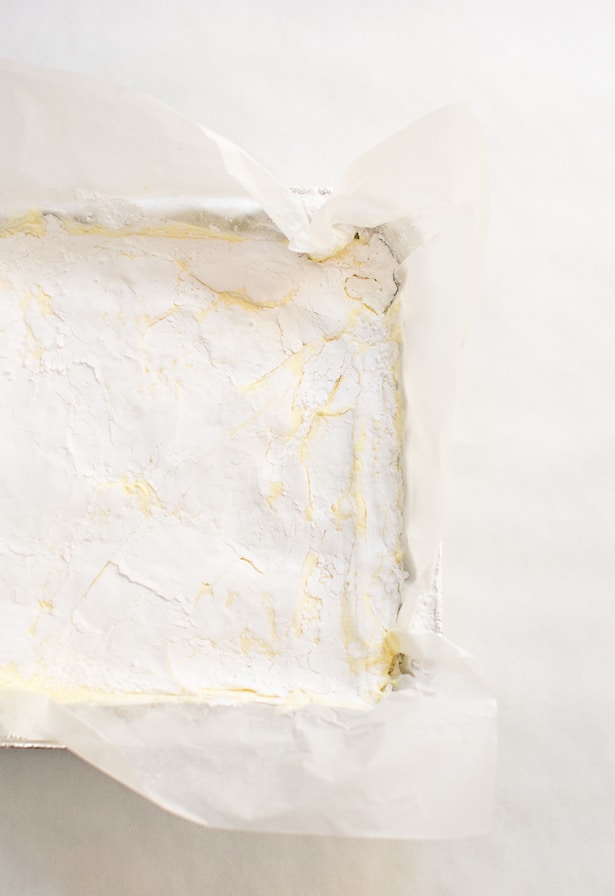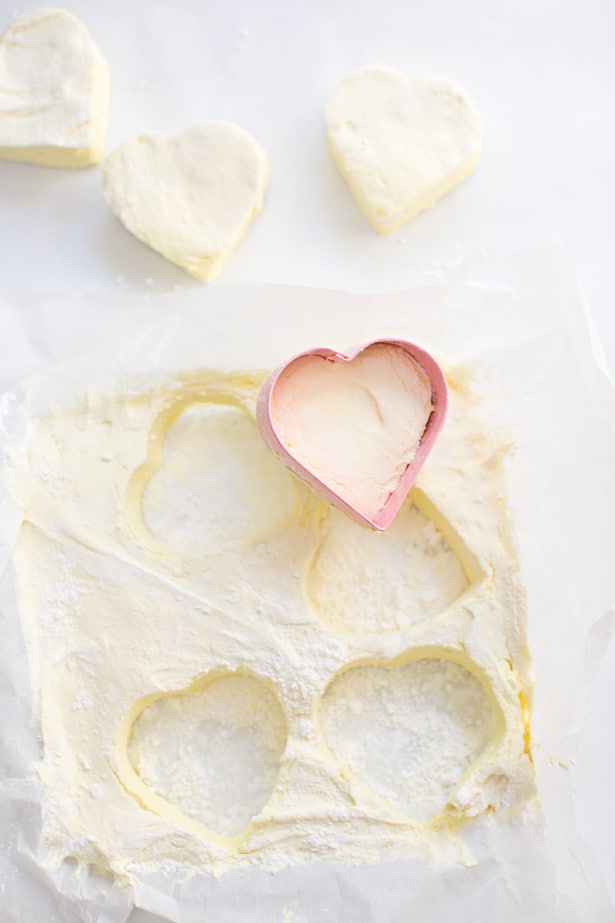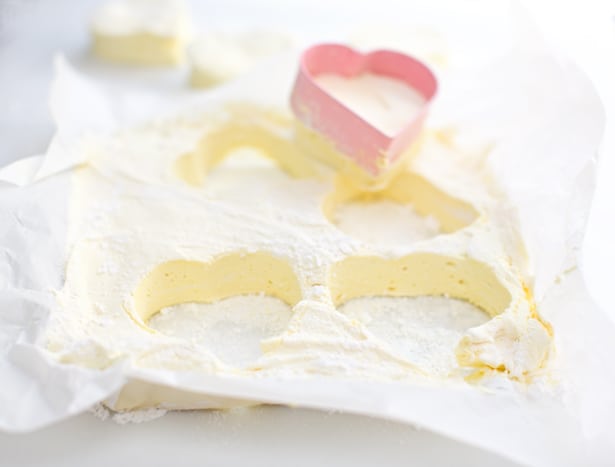 Instructions:
Step 1. Prep your pans. Add nonstick spray to the disposable container bottoms and line parchment paper on top. Sift powdered sugar on top of parchment. Set aside the pans.

Step 2. Dissolve your gelatin in your stand mixer with 1 cup of cold water. Allow to sit while you prepare your syrup.

Step 3. In a saucepan, add corn syrup, 1 cup water, sugar and salt. Cook on high heat until sugar dissolves and then reduce heat to medium. Add candy thermometer and remove pan from heat when it reaches 240 degrees. Make sure you don't leave the pan unattended, as it can bubble over quickly if you are not there to monitor the heat.

Step 4. On low stir speed, pour hot syrup mixture slowly into the gelatin mixture. Increase speed to high and whip for 15-20 minutes until it becomes white, thick and fluffy, resembling marshmallow fluff. Add vanilla and mix to stir evenly.

Step 5. Separate the marshmallow mixture into 3 bowls. Add your food coloring (we did pastel green, yellow, and pink). Work quickly as you don't want your marshmallow to start setting, which will make it harder to smooth into the pans.

Step 6. Pour the marshmallow mixture onto the pans you prepped earlier. Smooth down with a rubber spatula covered in nonstick spray. Sift powdered sugar on top. Allow to set overnight uncovered or until set.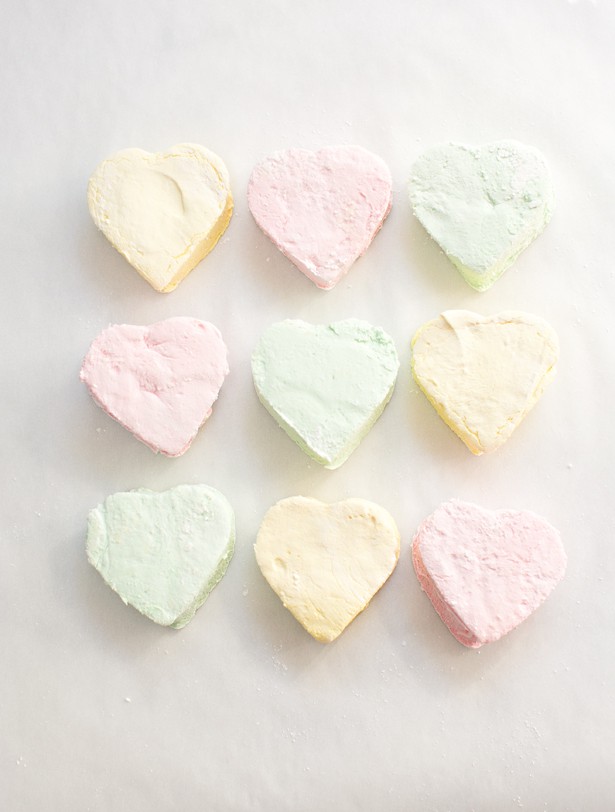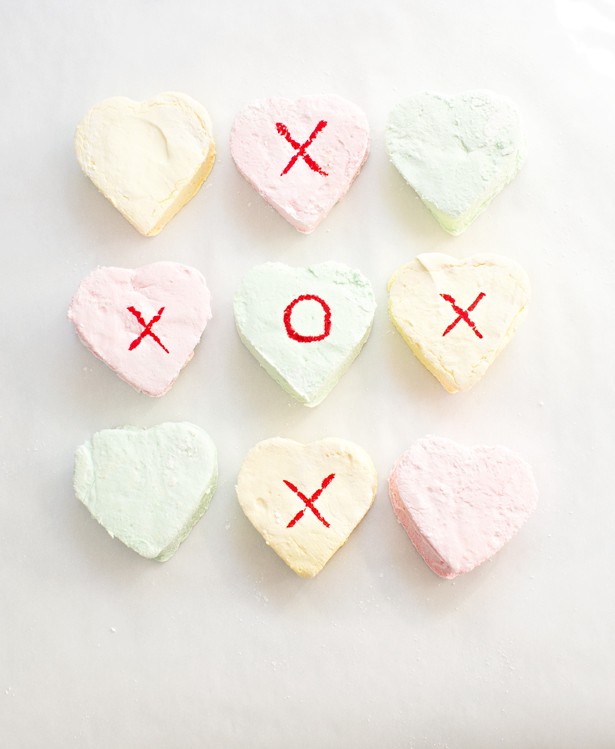 The next day, you can lightly peel off the parchment paper and cut out marshmallows with hearts. Dust the sides with more powdered sugar and write on top with your food edible marker.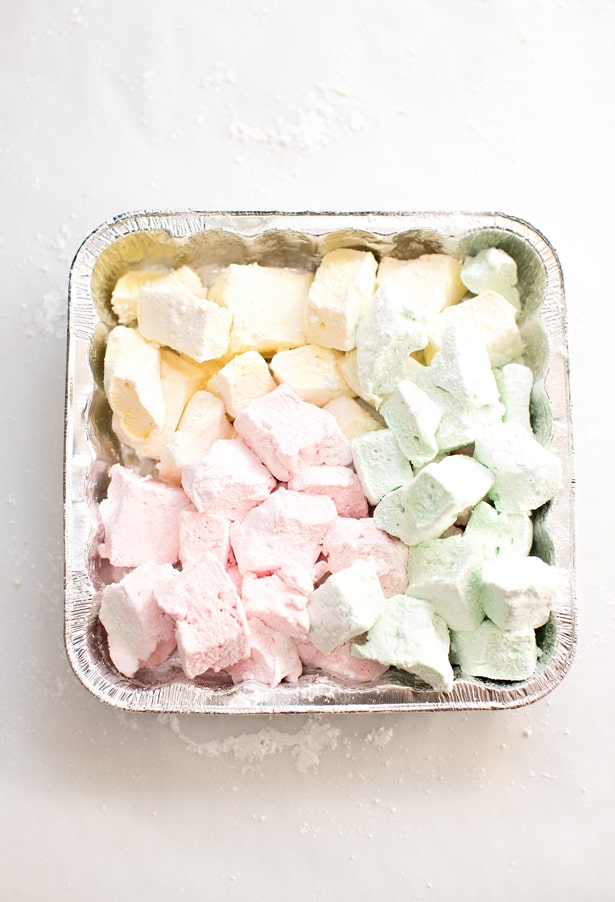 Each pan will cut out 5 hearts about 3″ wide. For remaining pieces around the heart cut-outs, save these "scraps" and dust in powdered sugar. They're great for making S'mores!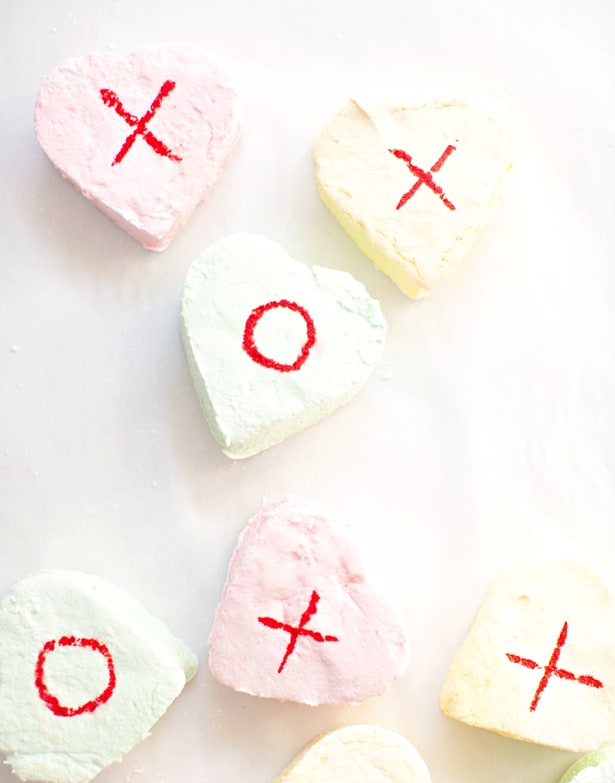 There really is nothing like homemade marshmallows, the taste can't be beat – these are fluffy and soft with a light vanilla flavor. These adorable hearts would make cute Valentine gifts tied up in a small gift box.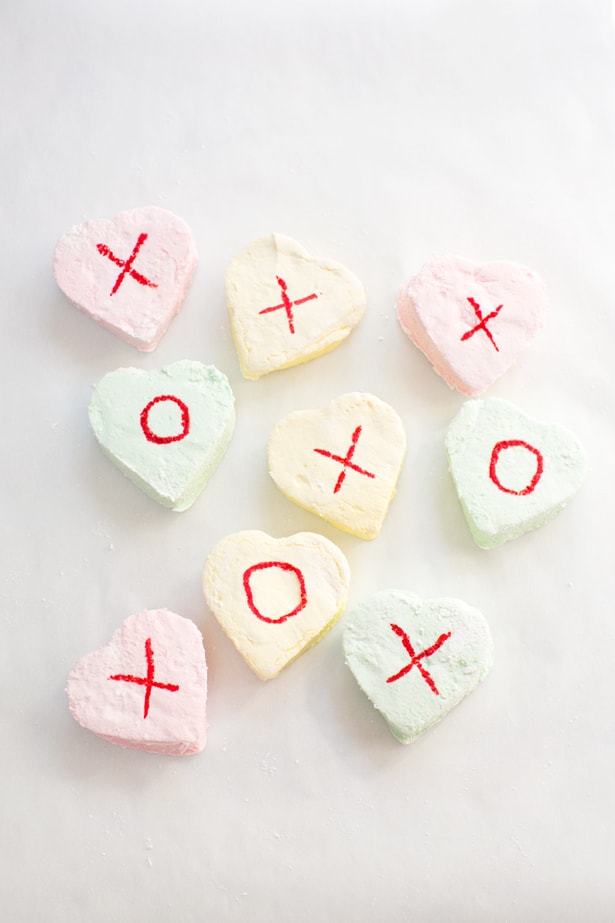 Have you ever tried making homemade marshmallows before? It's sticky but totally worth it!
Follow along our Valentine's page for more fun Vday treats and gift ideas.