This is such an original twist on homemade playdough – create natural scents and colors by using herb and spice powders. It's a wonderful sensory learning activity on all ends, especially for young toddlers just learning to experiment with different colors and flavors. Oh and the cocoa powder one – I can only imagine my kids trying to spoon feed that one to each other!
For more homemade playdough ideas, check out our list of 8 Homemade Play Dough Recipes.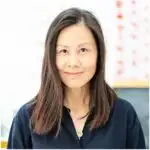 Agnes Hsu is a mom of three and has been inspiring parents and kids to get creative with easy activities and family friendly recipes for over 10 years. She shares her love for creative play and kids food to her 2MM+ followers online. Agnes' commitment to playful learning and kindness has not only raised funds for charity but also earned features in prestigious nationwide publications.