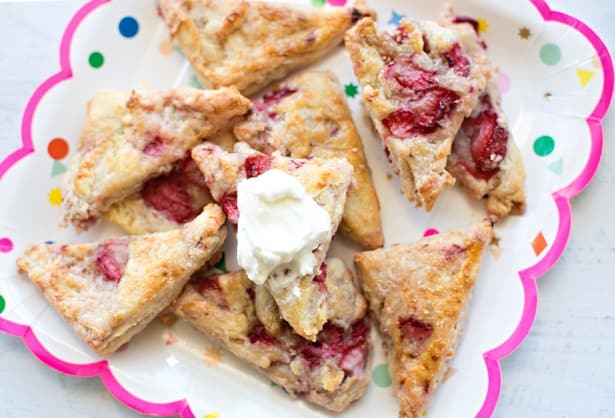 Thank you to Horizon for sponsoring this post.
One of our favorite summer activities is to go strawberry picking with the kids. We try to visit a strawberry farm at least twice in the summer to get the kids to appreciate how food is grown.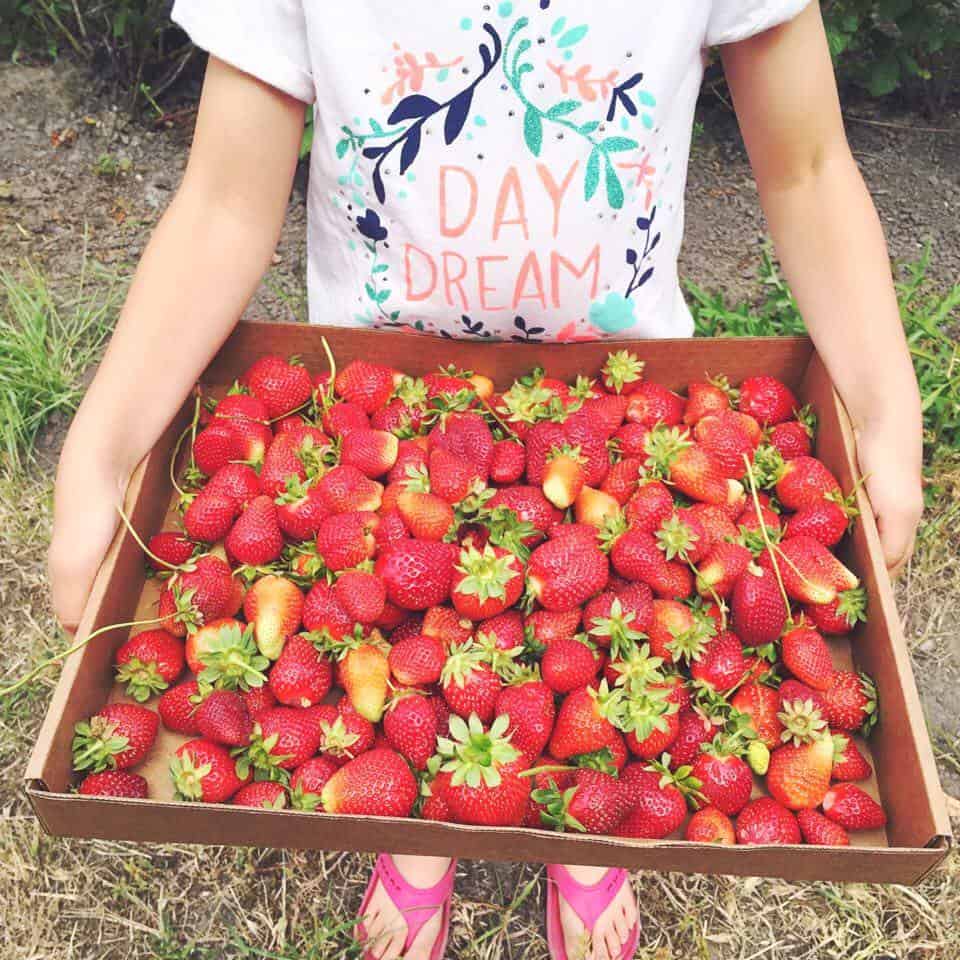 Once we've picked our berries, the fun part begins – brainstorming all the delicious treats and snacks we can make with them!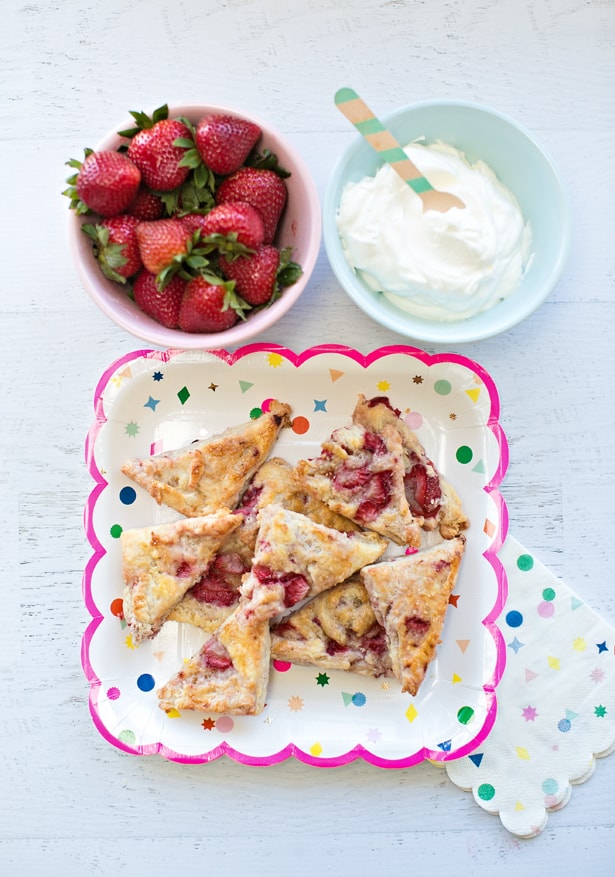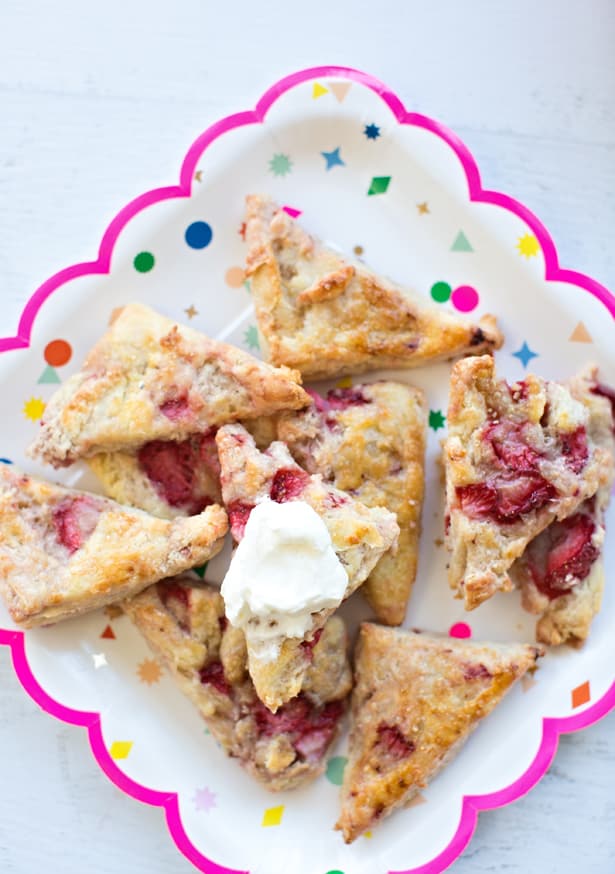 We decided to make these easy and fresh strawberry and cream scones They're awesome to take on a picnic, or make tasty, hand-held breakfast or snack items. The best part is the fresh dollop of whipped cream on top. These scones are lightly sweetened from the berries and fun to make with the kids too!
You just need a few simple, wholesome ingredients like flour, butter and cream and of course fresh sweet strawberries. We used Horizon Organic Whipping Cream for both the scone recipe and the fresh whipped cream to spread on the scones after they're baked.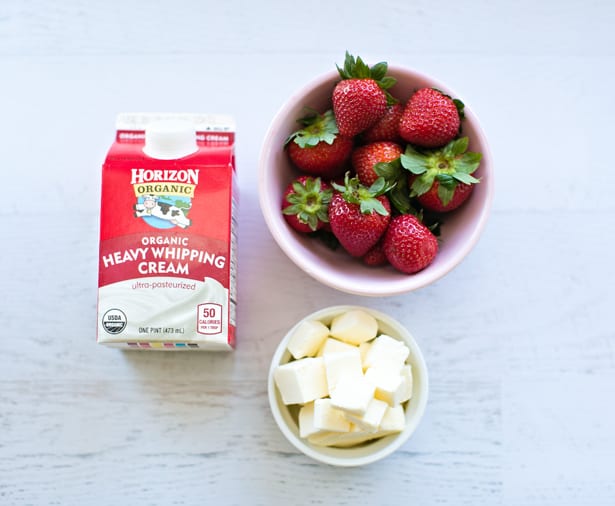 Strawberry and Cream Scones – Ingredients:
(Makes approximately 25 3″ mini scones)

– 2 1/2 cups all purpose flour

– 1 tablespoon baking powder

– 1/2 teaspoon kosher salt
– 2 tablespoons sugar

– 1 stick (4 oz) chilled, unsalted butter, cut into 1/4 inch cubes

– 1 cup Horizon Organic heavy cream
– 1 1/2 cups sliced fresh strawberries
Whipping Cream:
– 1 cup cold Horizon Organic heavy cream
– 2-4 tablespoons sugar
– Mixer
*You'll also need a baking pan, rolling pin and parchment paper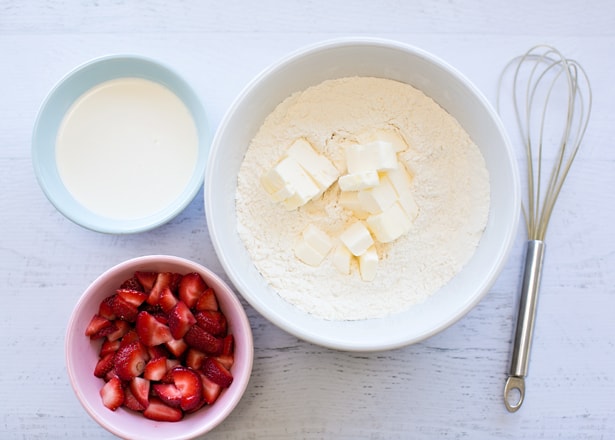 Instructions:
(preheat oven to 400 degrees)

1. Mix flour, salt, sugar and baking powder in a bowl. Add the butter and using a pastry cutter, two knives or your hands, quickly cut up butter into the flour until it resembles coarse meal.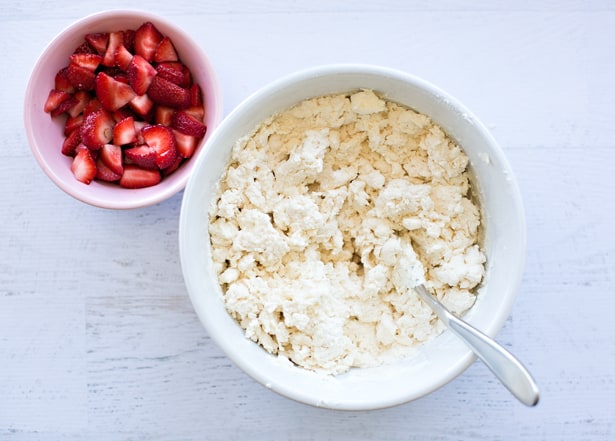 2. Add the cream and gently mix until a dough forms. Gently mix in your sliced strawberries.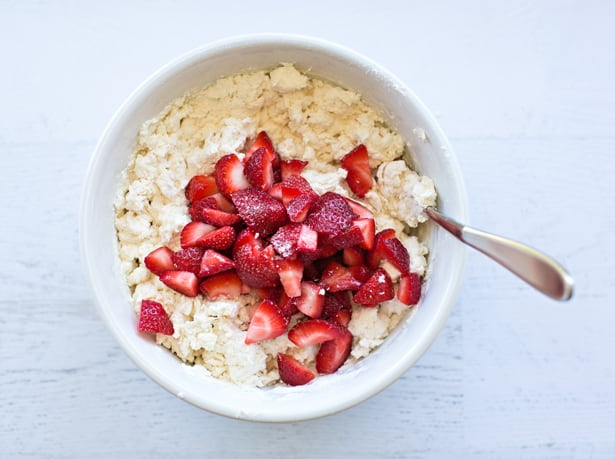 3. Transfer the dough onto parchment paper. Add another piece of parchment paper on top of the dough. Use your rolling pin to roll dough to about 1/2″ thickness.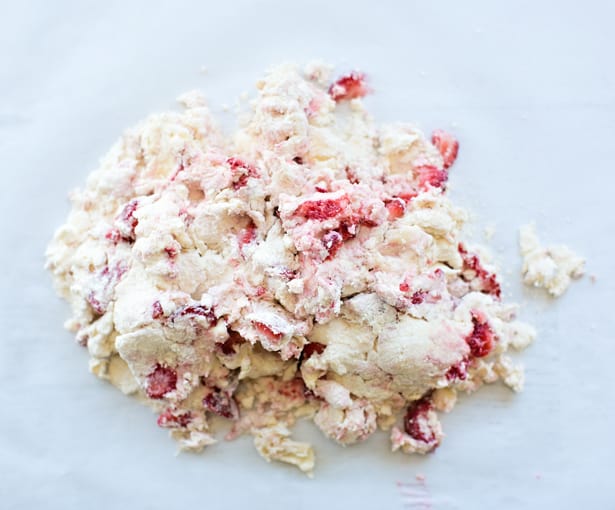 4. Use a knife or pizza cutter to cut your rolled out dough into a loose square then slice 3″ triangles. Transfer your scones onto a parchment lined baking pan. If your dough is soft by then, chill your unbaked scones on the pan in the refrigerator before baking for about 15-20 minutes.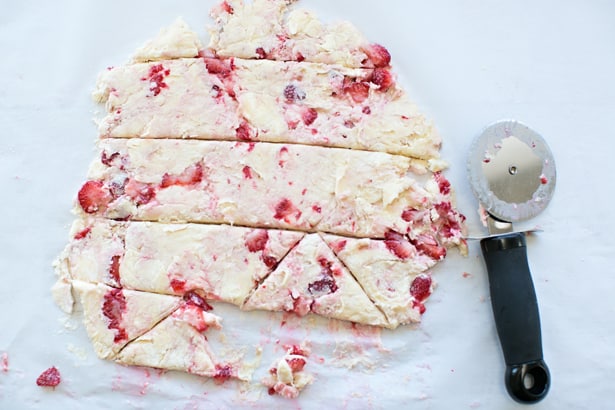 5. Bake your scones in a preheated 400 degree oven for about 15-18 minutes or until lightly golden on top. Allow to cool completely before eating.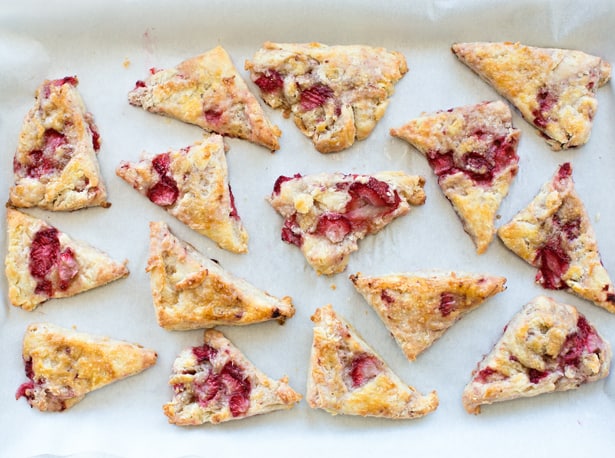 Step 6. While the scones are baking, add 1 cup cold whipping cream into a stand mixer or a bowl using your hand mixer. Add 2-4 tablespoons of sugar to taste. Whip on medium to high speed until whipped cream forms, about 5-7 minutes. You want to watch carefully as the whip cream forms as you don't want to over whip and make curds, but instead are looking for a fluffy whipped consistency.
Chill your whipped cream until ready to use.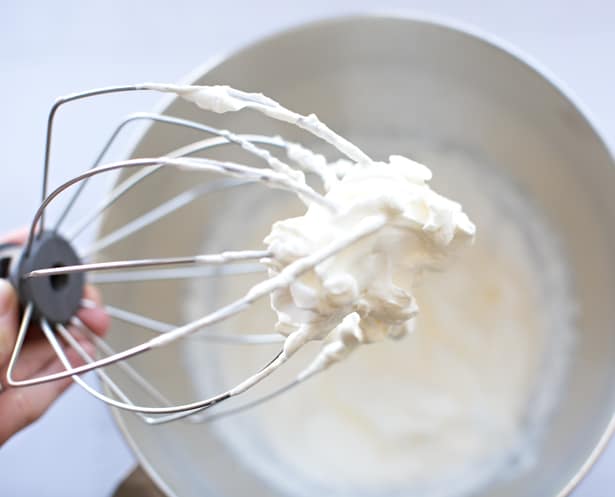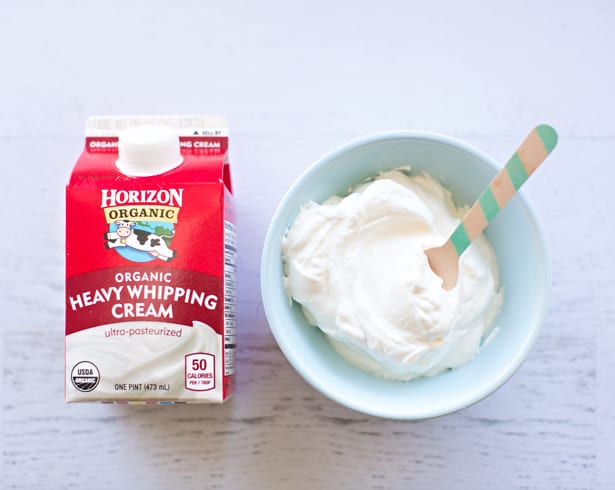 These fresh strawberry scones are delicious, flaky and taste even better with a dollop of fresh whipped cream. They're perfect for taking advantage of fresh summer berries to pack on a picnic or mini adventure with the kids!
Make sure to refrigerate the scones after one day because of the fresh fruit. If you don't have fresh strawberries, you can try using dried berries as well.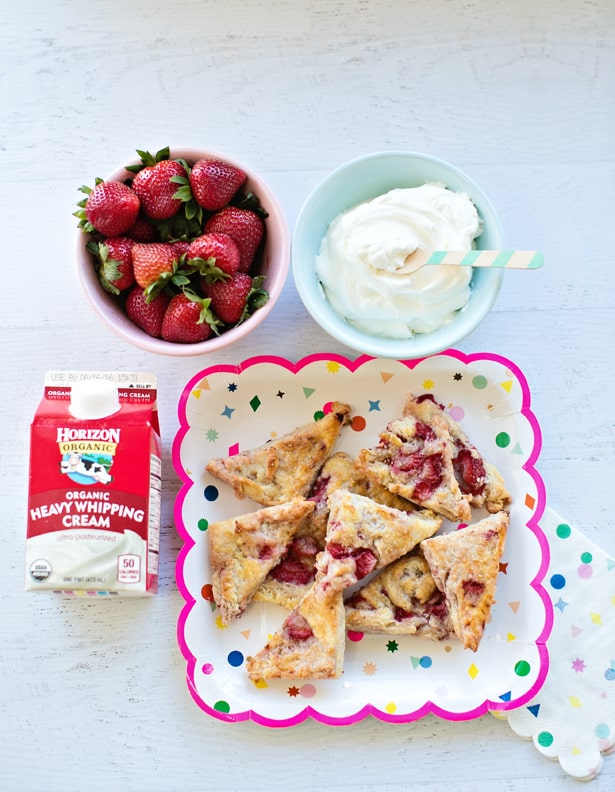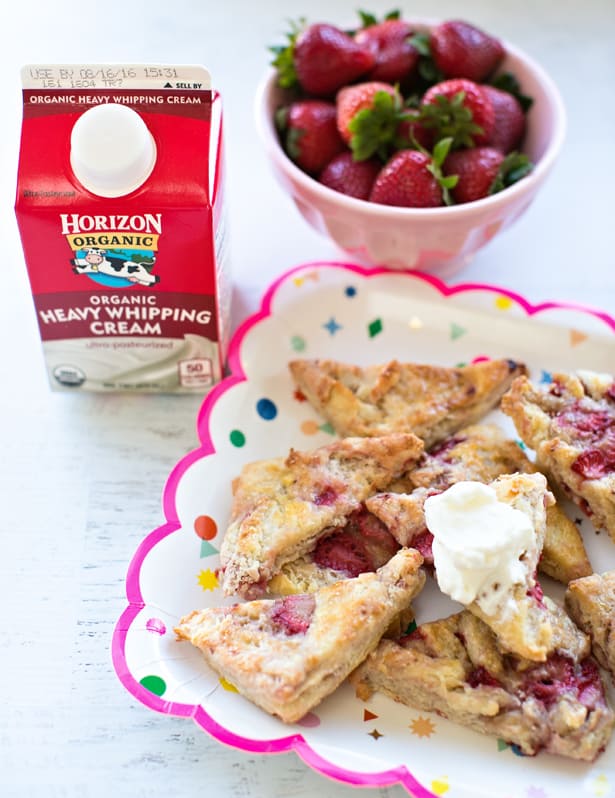 What are your favorite summer snacks for kids?
This is a sponsored conversation written by me on behalf of Horizon Organic. The opinions and text are all mine.