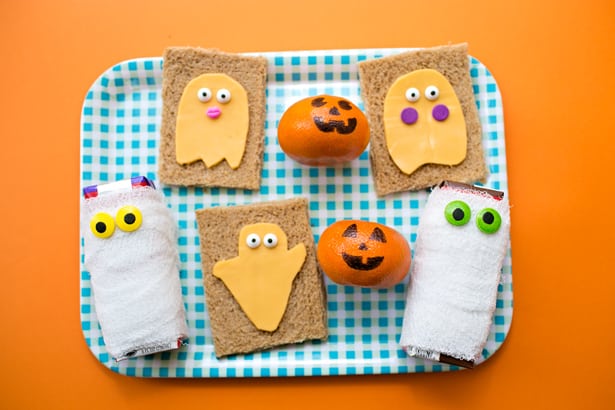 Thank you to Horizon for sponsoring this post.
​Halloween is one of my favorite times of the year for making cute lunches for the kids. There are so many fun spooky characters to choose from and it doesn't have to take a lot of time to create a creepy and cute lunch.
I made these easy ghost open-face cheese sandwiches using Horizon Organic cheese slices and just wrapped their favorite milk boxes from Horizon Organic with gauze and googly eyes.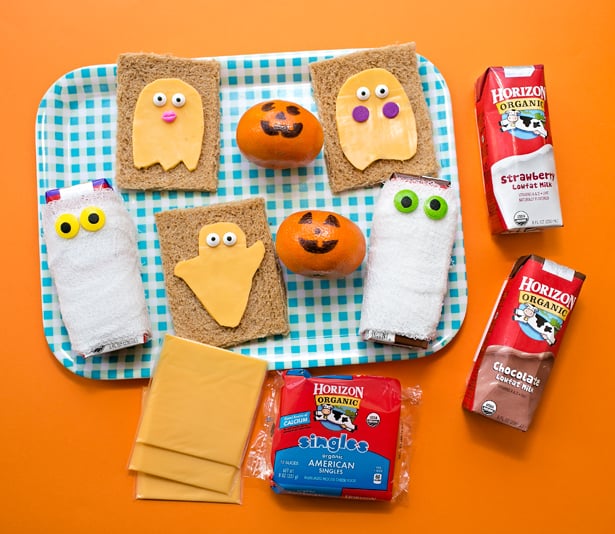 You can round off the lunch with tangerines and make adorable Jack O' Lantern faces with a marker.
With just a few extra minutes to your lunch routine you'll have a spooktacular Halloween lunch that is sure to delight your kids! I know my kids were thrilled to eat their ghost sandwiches and mummy drinks.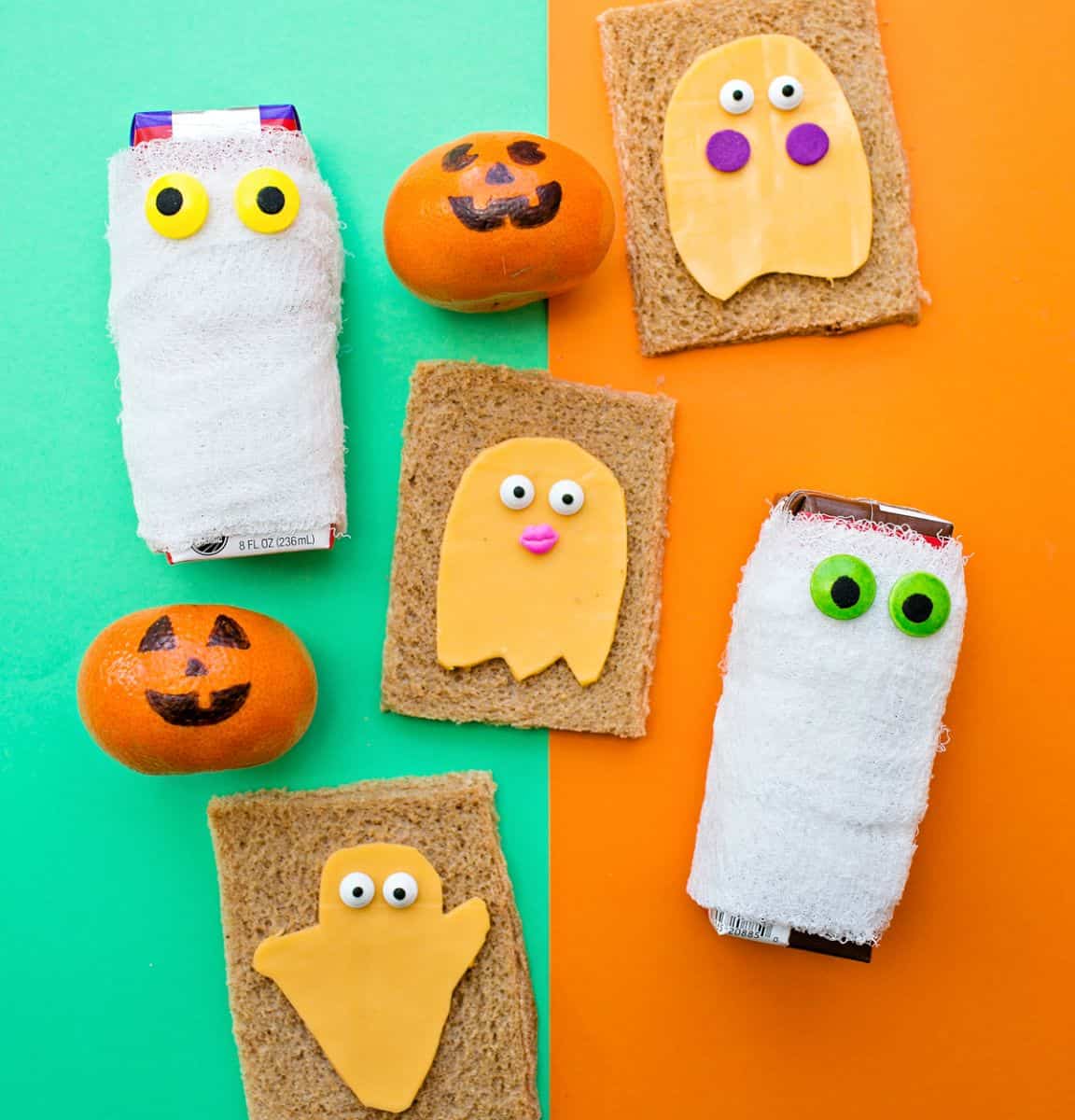 To make this Halloween lunch you'll need:
– Horizon American Cheese Slices
– Horizon Organic Low Fat Milk Boxes
– Sliced bread
– Tangerines
– Black marker
– Gauze
– Candy Googly eyes and any other candy decorations like sprinkles or candy lips for features
– Tape or glue and scissors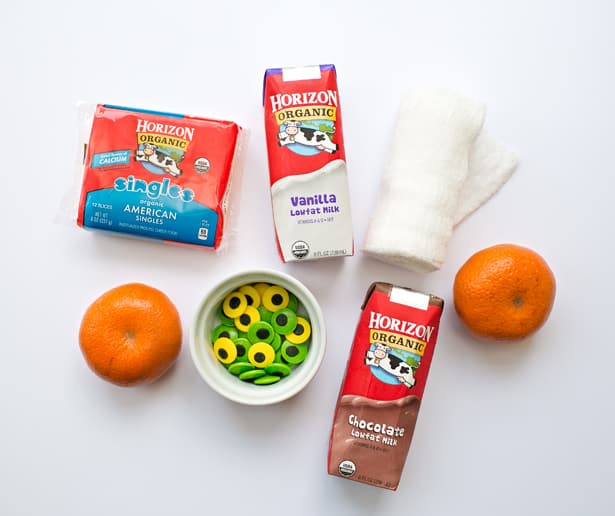 To make the mummy drinks, simply wrap gauze around the milk boxes and use tape to secure. Glue or tape your googly eyes on.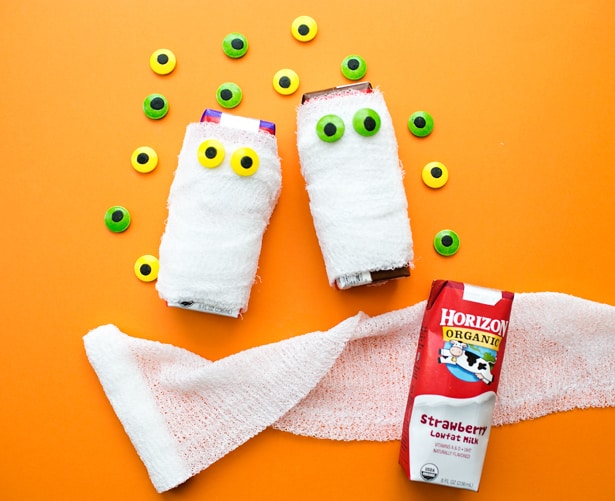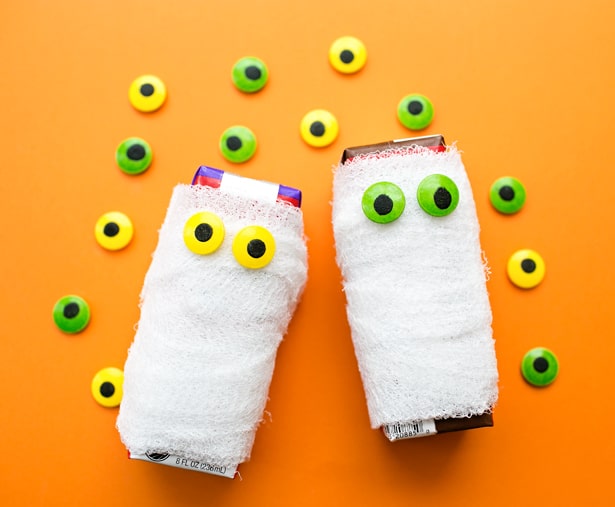 To make the ghost cheese sandwiches, use scissors to cut ghost shapes and press down candy features like eyes, lips and large round sprinkles for cheeks. Then press down your sliced bread. You can use a bit of mayo spread to make sure the cheese adheres well or just press down.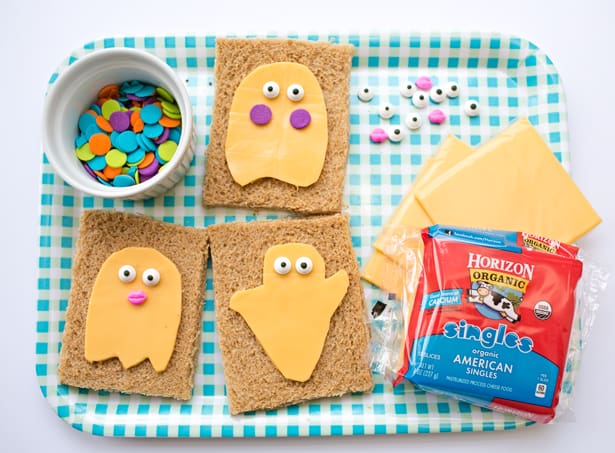 The Jack O' Lantern oranges are easy, just draw on some faces with a black marker!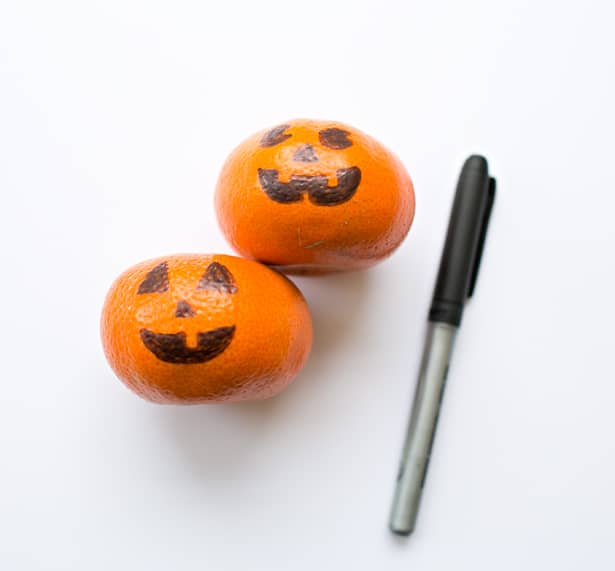 Now you have a kid-friendly Halloween lunch that's not filled with candy, spooky to admire, and well-rounded with organic dairy and fruit.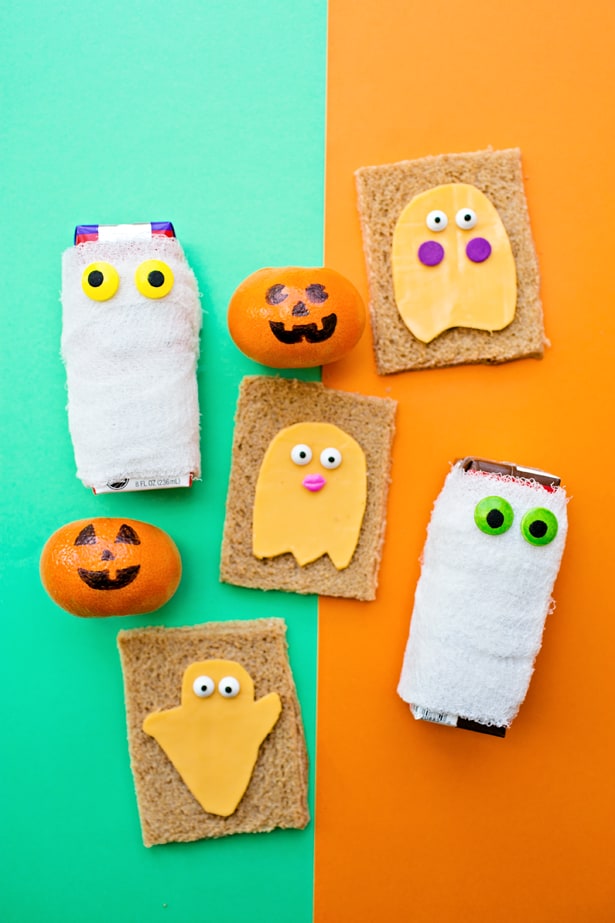 What are your favorite Halloween lunches to make?
Check out more creative Halloween ideas for kids!
Make sure to follow Horizon Organic on Facebook, Twitter, Pinterest and Instagram.
This is a sponsored conversation written by me on behalf of Horizon Organic. The opinions and text are all mine.
var ts=document.getElementById('ti-pixel-tracker'); var axel = Math.random() + ""; var num = axel * 1000000000000000000; var ti=document.createElement("img"); ti.style.display="none"; ti.src="https://tracking.tapinfluence.com/trk/y3JgL/BJFPV/p.png?p=nUtKF" + String.fromCharCode(38) + "i=N6HNI" + String.fromCharCode(38) + "ord="+ num + String.fromCharCode(38) + "s=" + encodeURIComponent(document.referrer); ts.parentNode.replaceChild(ti,ts); new TAP.CogFrame('/v1/cogs/79b052c0-d763-11e5-9c7c-22000a7d00a4/comments').drop({"program_id":"79ab44f6-d763-11e5-9c7c-22000a7d00a4″,"post_id":"0e3ebcf8-083b-11e6-8621-22000a7d00a4″,"host":"api.tapinfluence.com","apiHost":"api.tapinfluence.com","sort_order":"desc","limit":"20″,"offset":"0″,"sort_by":"created_at","protocol":"https://"});