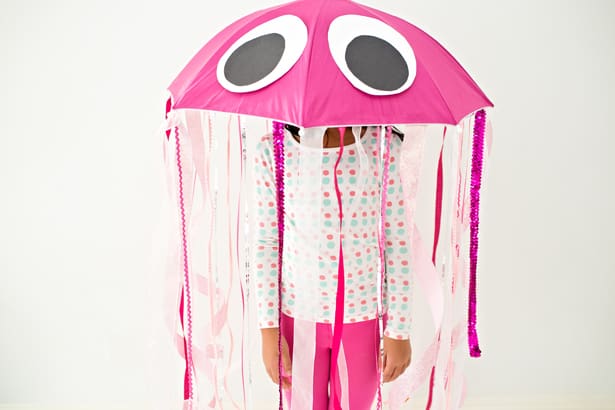 Looking for a SUPER easy and adorable Halloween costume that will turn heads and make eyes pop? This pink jellyfish costume is hands-down one of the easiest costumes we've ever made.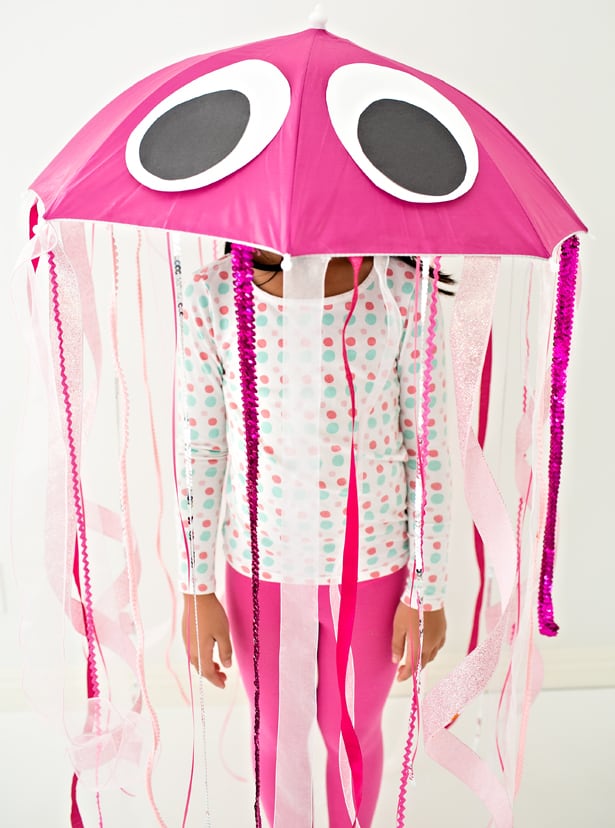 What's great is that you can customize it in your favorite colors with different ribbon options, but in this case we chose pink, one of my daughter's favorite colors.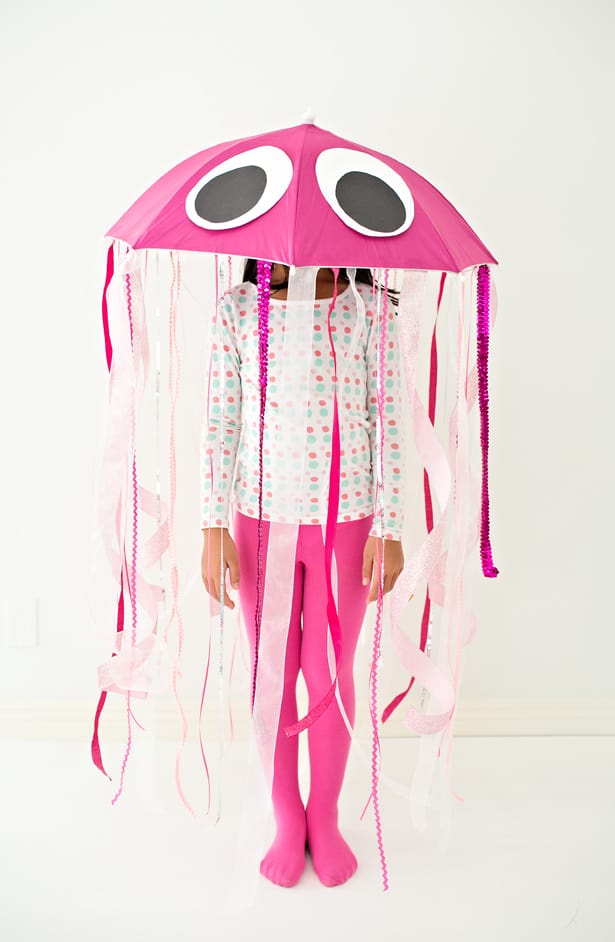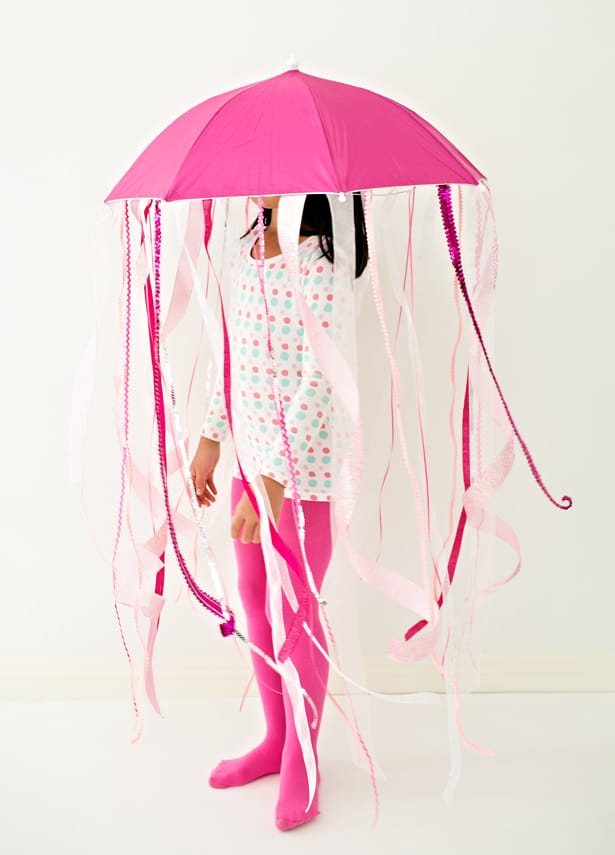 Easy DIY Jellyfish Costume – Materials:
– Ribbon in a variety of textures (we chose sheer, glittery, wide and thin ribbons, some with sequins for sparkle)
– Tape
– Scissors
Eyes (optional)
– White and black construction paper and glue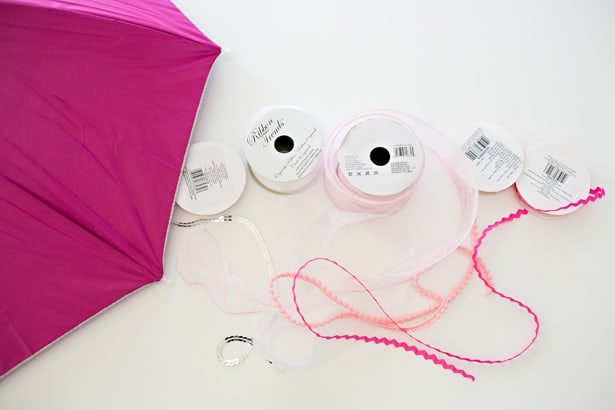 Instructions:
Step 1. Lay out your ribbons and start cutting them in varying lengths, really it's up to you how long or short you want them to dangle.
Step 2. It helped us to first use tape to adhere the ribbon to the underneath edge of the umbrella so we could see the placement of the ribbons before gluing.
Step 3. Once we were satisfied with ribbon placement, we added a bit of hot glue to attach the ribbon to the umbrella. The tape is nice because we just lifted it, added a dab of hot glue and pressed the tape back on.
If you want to make the eyes, simply cut out two oval-like shapes from your white paper and two smaller black oval shapes. Glue the black to the white. If you want to make the eyes permanent, glue to umbrella. We just added double-sided tape because we wanted to reuse the umbrella one day.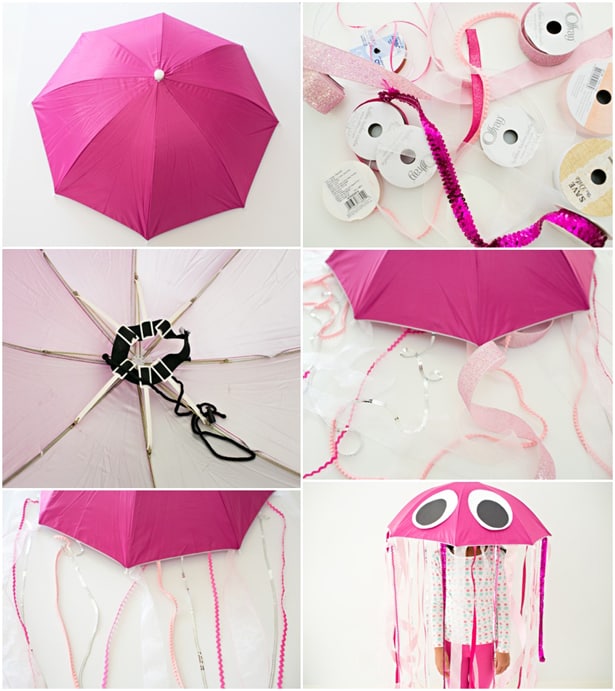 Now it's time to try on your jellyfish! As you can tell from the top middle left photo in the collage, the umbrella has a wrap-around adjustable string so you can wear it as a "hat." The ribbon doesn't weigh much so it's quite comfortable to wear and although you can't tell from the photos, you can definitely see from under! Definitely important when trick or treating 🙂
Here are some photos before adding eyes. We think they add character but they are totally optional so wanted to show them without.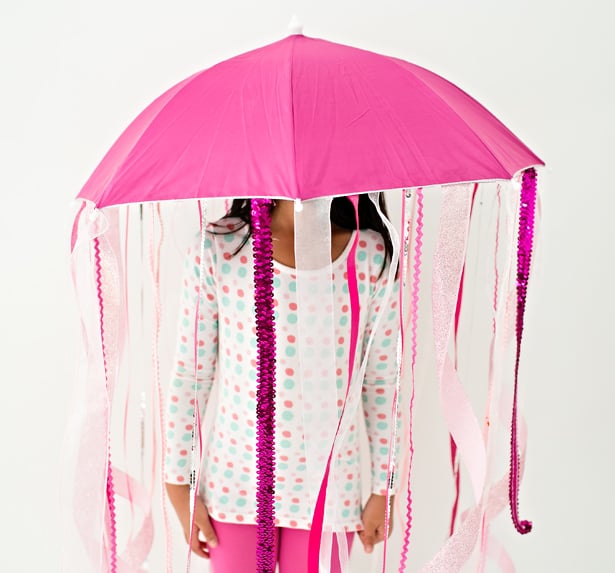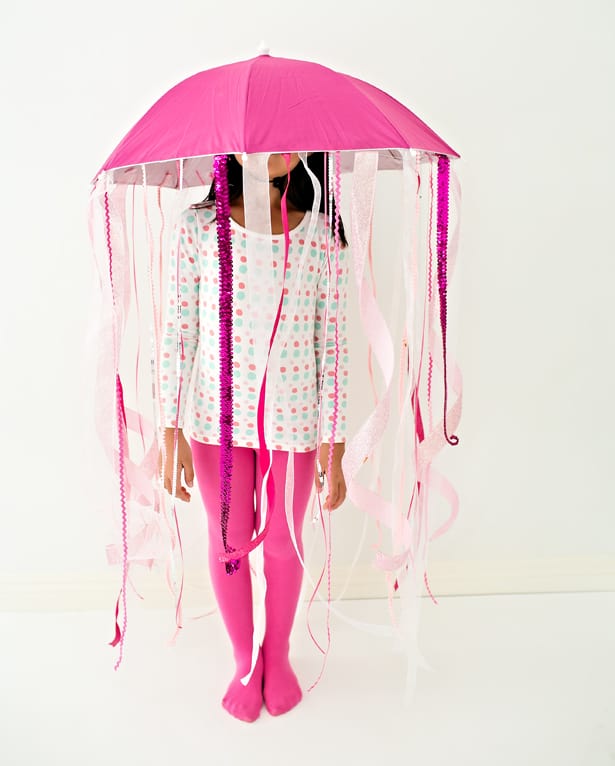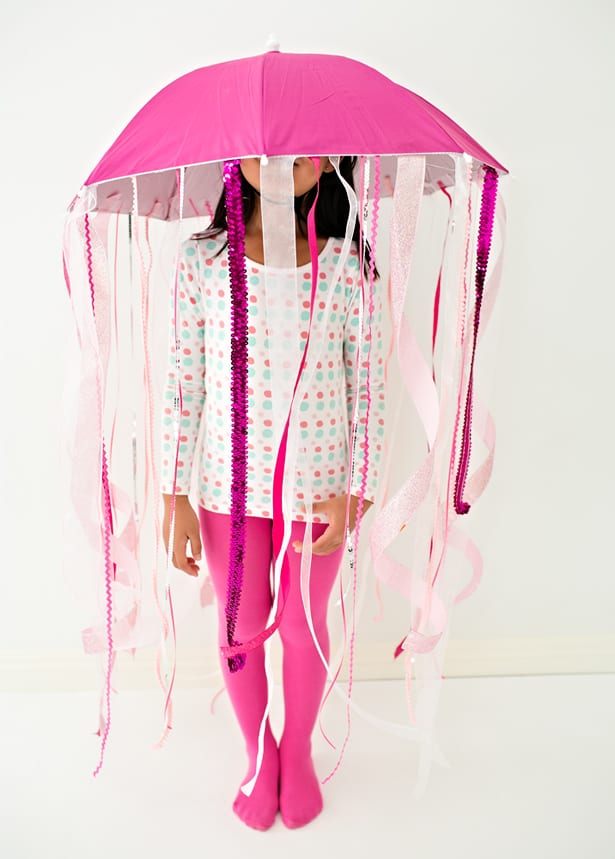 And here are some final photos with the eyes.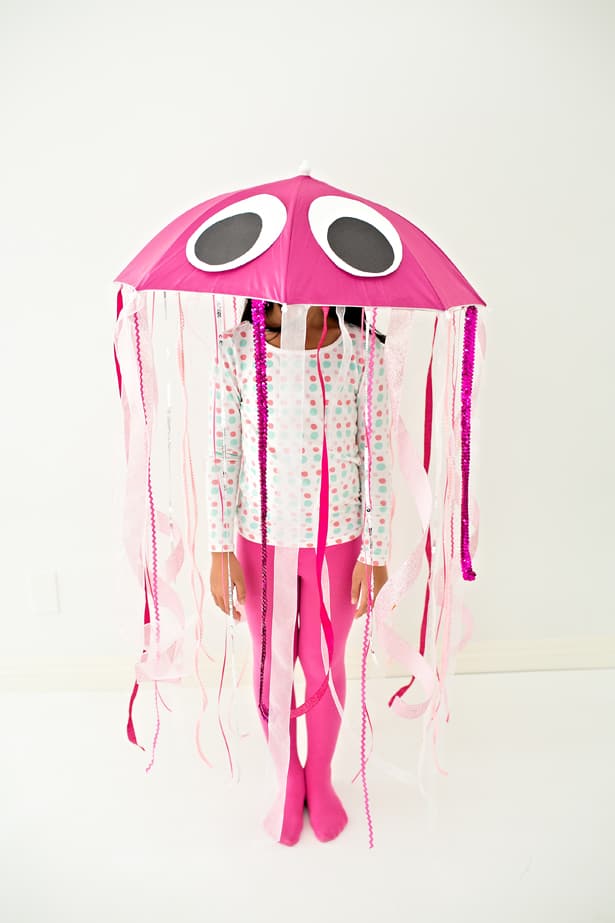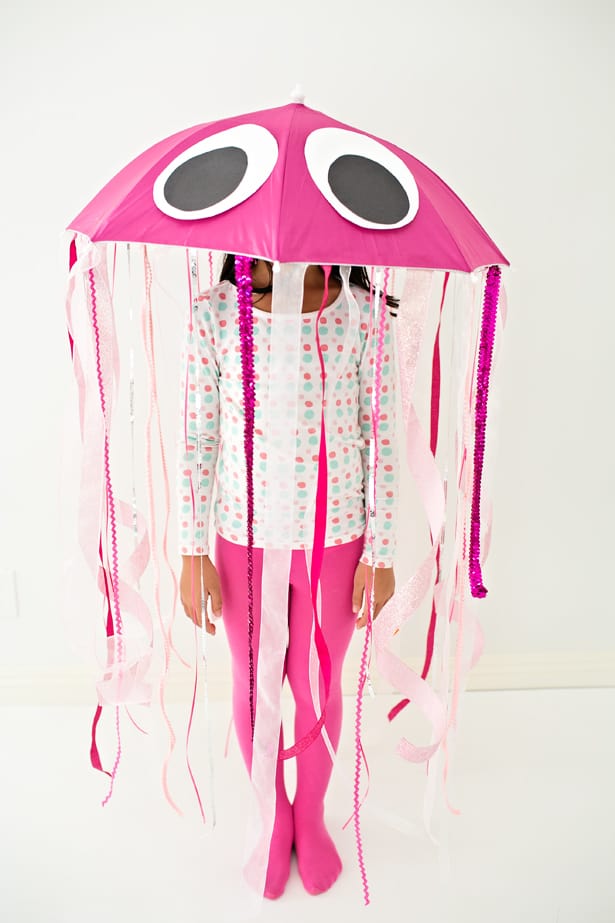 This cute jellyfish costume is so fun to dance around in and we love how easy it was to make!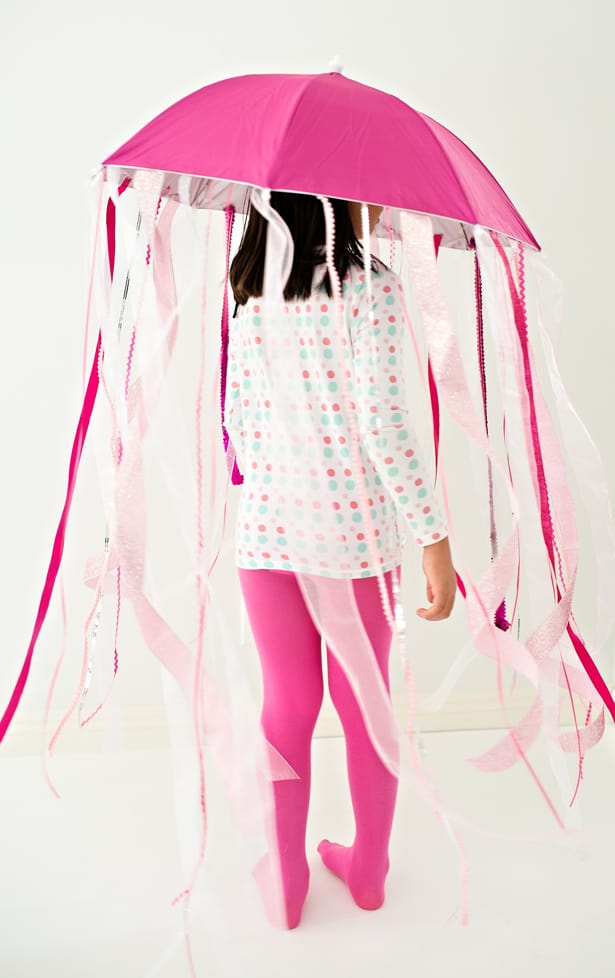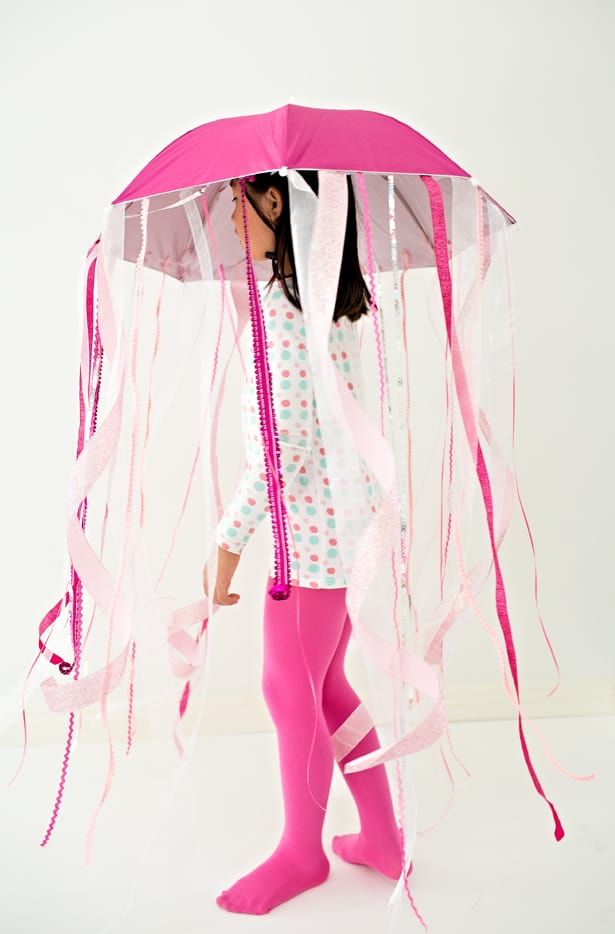 Check out more Halloween ideas and costumes for kids.
P.S. If you're looking for a good book to go along with this costume, our book contributor Michelle recommends this one!
______________________________________________________________________________________________________

Disclosure: Some of the links in the post above are "affiliate links." This means if you click on the link and purchase the item, we will receive a small affiliate commission. Regardless, we give our promise that we only recommend products or services we would use personally and believe will add values to our readers.